Last week, I shared that we're getting ready to give Jackson's room a miniature makeover since it's time for us to let go of the crib. My heart is still breaking over the fact that he's not a tiny little infant anymore, but I guess it's time to face the music and admit defeat.
Time marches on. Unfortunately.
Since we're getting ready to change the room up pretty significantly, I figured it was high time I share some updated photos of how the room is looking. I shared some photos of the room when I very first finished it, but I haven't talked about it again other than little snippets here and there. I love this room so much and am going to miss having this sweet little nursery in the house once it becomes a "big boy" room, so I made Jackson hang out in there for a little while with me and snapped a few photos of the room how it looks now, along with some sweet memories of how he spends his time here.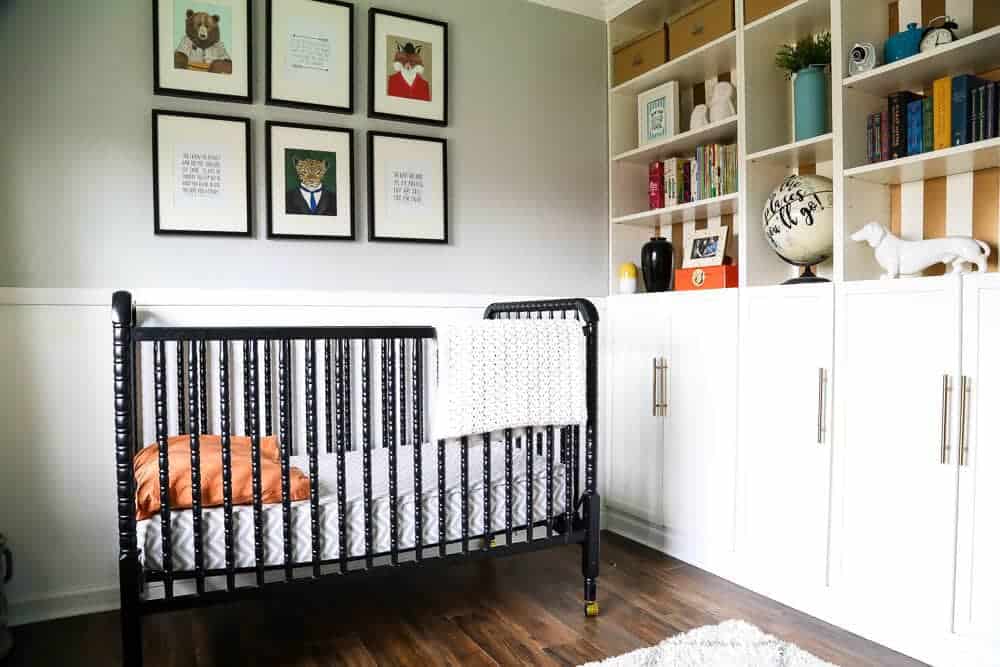 (This post contains affiliate links. Click here to see my full disclosure policy.)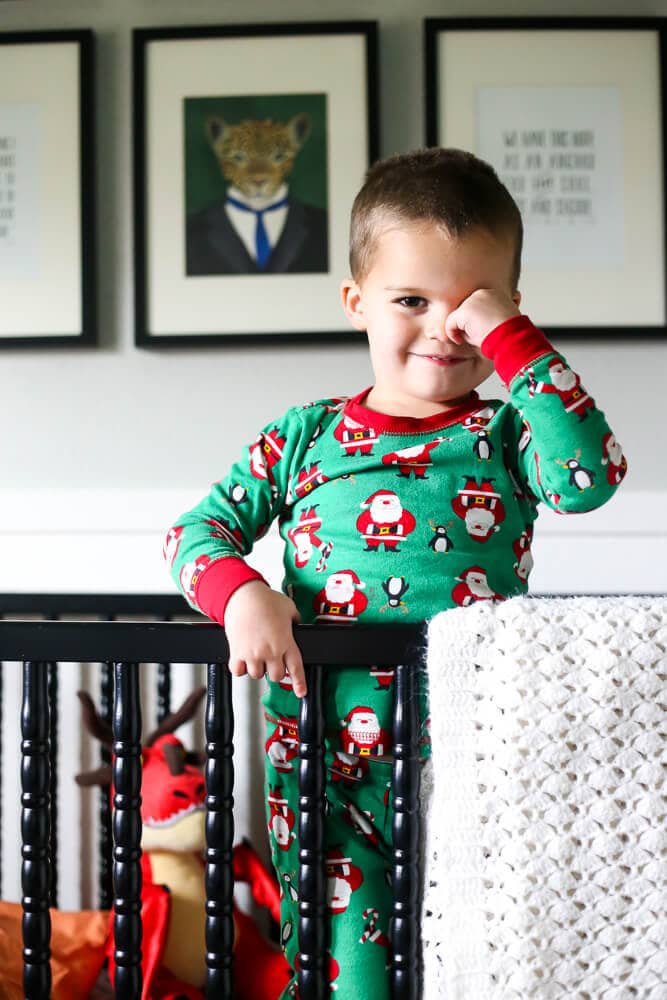 Crib | Animal art | Word Art | Crib sheet | Baby monitor | Pajamas | Rug
This crib is one of my favorite pieces in the room – I love the dramatic color and all of the texture it brings to the room.
But, um, pro tip: don't buy a crib on wheels.
Seriously. It's just a bad idea. When they're all tiny and can't move it will add a lot of style to the room, but once they get a little bigger you'll regularly walk into the room to find that the bed is in a totally different spot than it was when you left.
Sometimes your toddler will even manage to wheel the bed over and get his hands on a metallic sharpie you left in a box on his shelf (for tracking his growth, of course), and he'll use it to paint his entire body.
Not that I would know anything about that.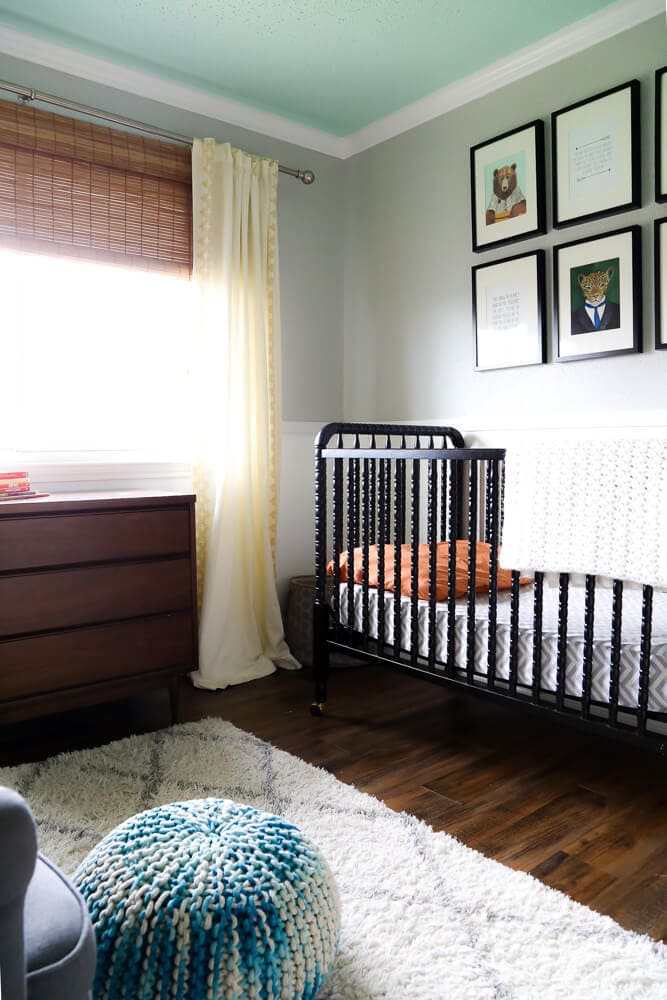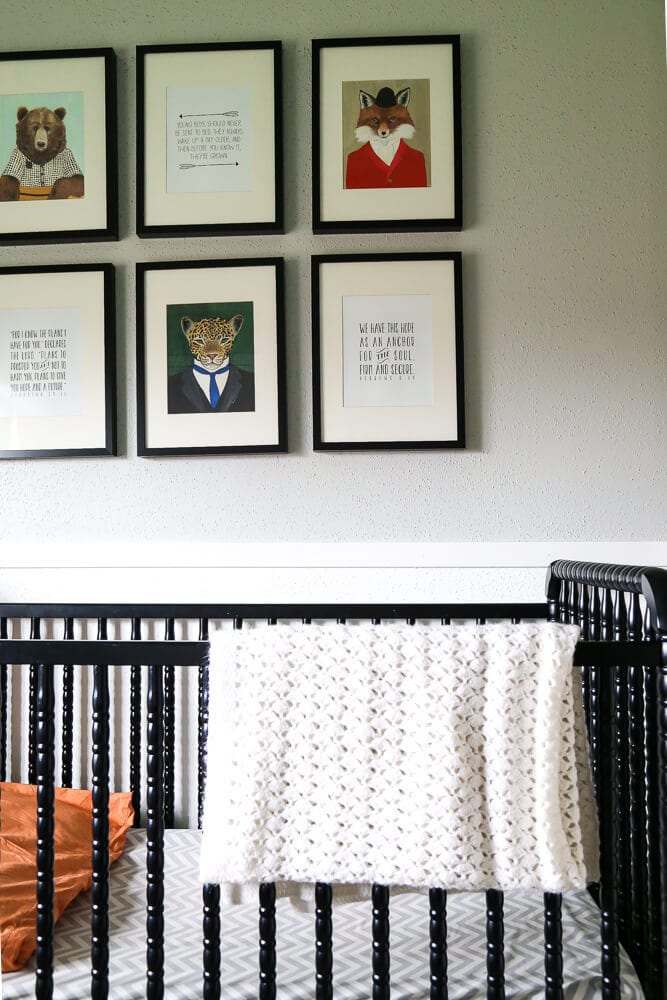 Pouf (similar) | Crib | Animal art | Word art | Crib sheet | Rug
And sometimes, he'll kick the walls so hard when he's trying to avoid taking a nap that he'll launch the bed straight into the middle of the room.
That's never happened to us, of course.
But it might happen to you.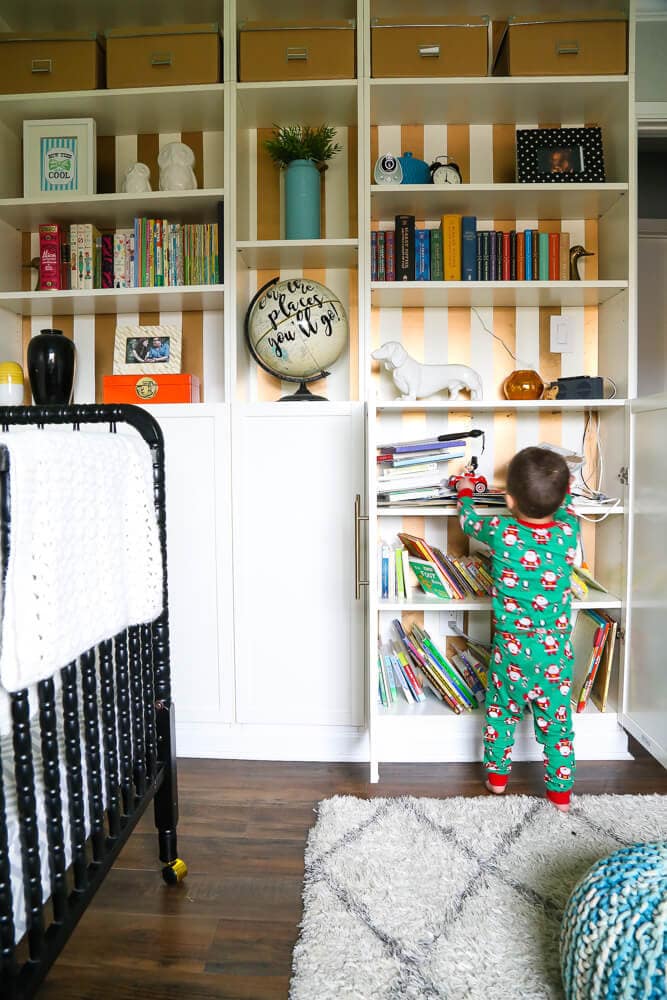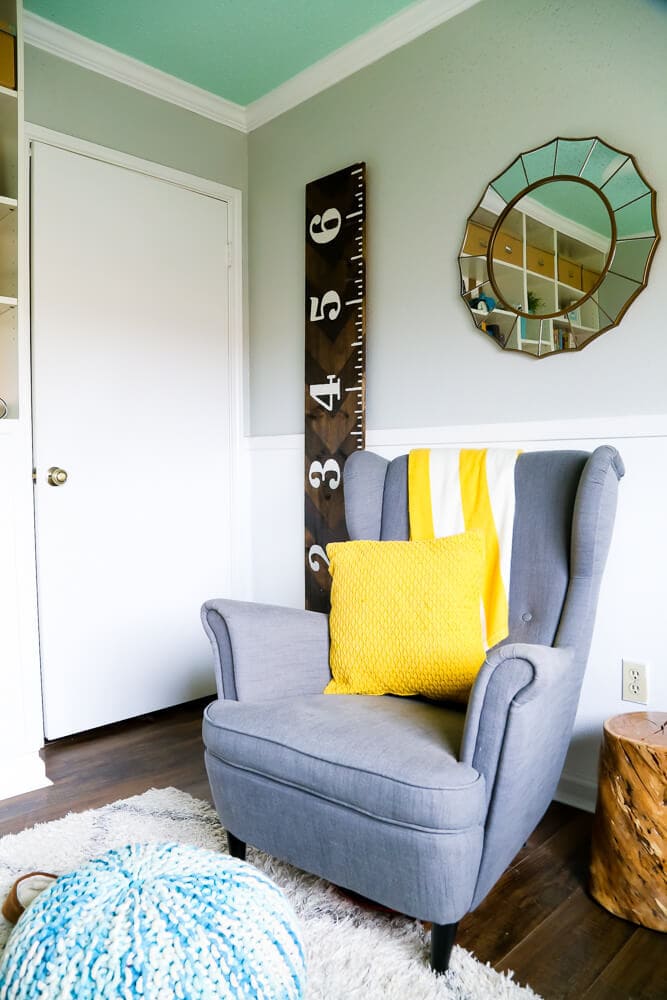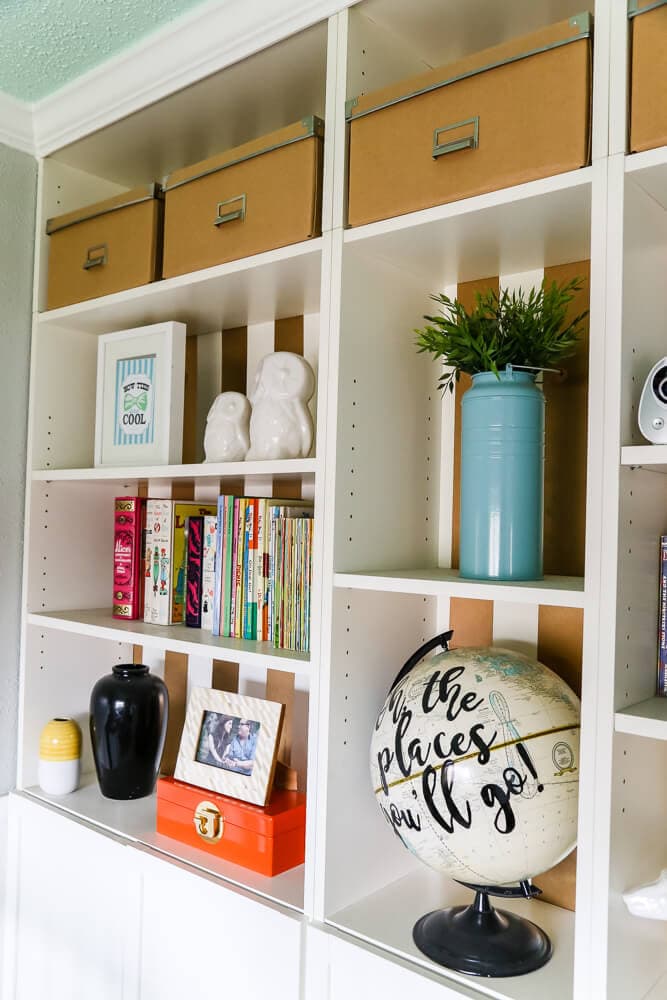 Mirror | Globe | Growth chart | Tree stump table
We still need to do a bit of rearranging in this room before we totally unleash our little monster in here without a jail cell crib. The cabinet where we currently keep his books also has an outlet in it, so we're going to add baby locks to those doors and move everything we don't want him to access in there. Then, his books and toys will get moved to the other cabinets.
We'll probably also end up moving the chair out of the room. Sad day, but it doesn't get used too terribly often anymore (he prefers to read books on the floor before bed) and once we add a bed into this tiny little room there just won't be that much room.
That's okay, though.
I have a feeling it'll look just fabulous in my room.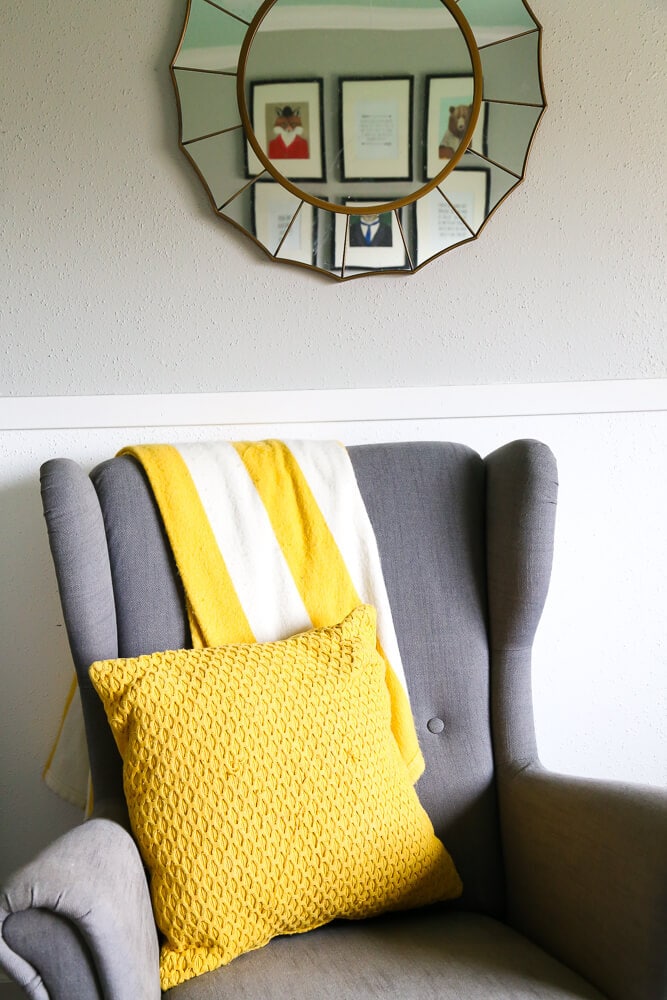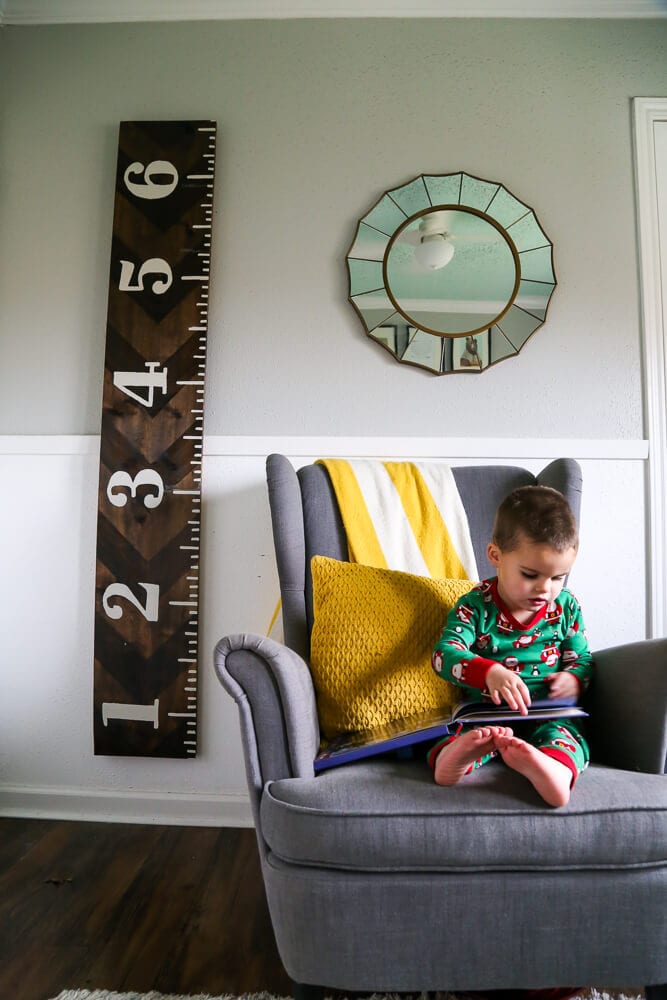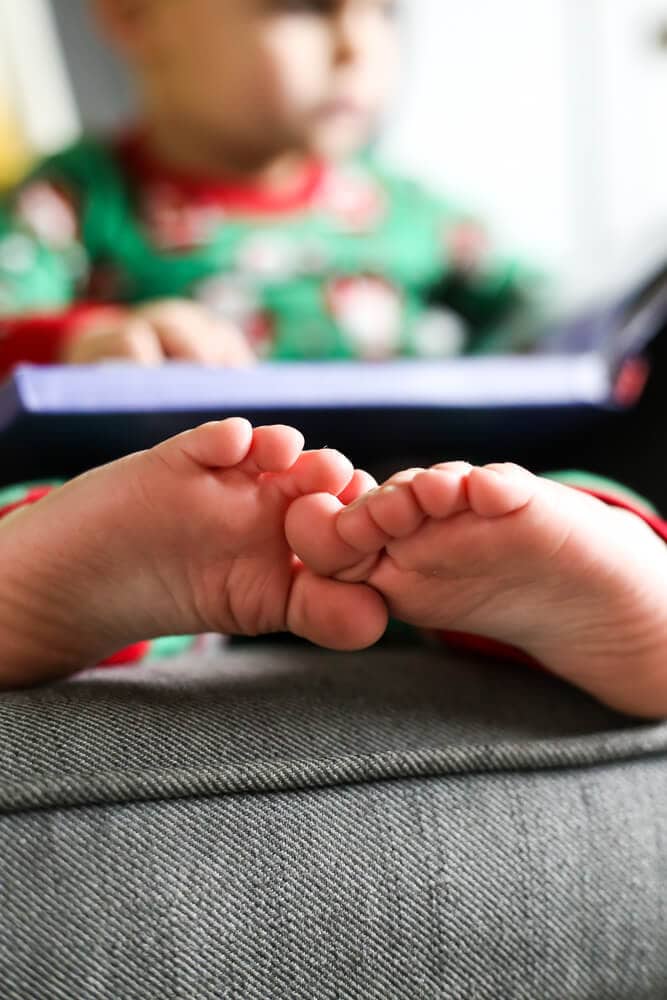 OMG those tiny toddler toes, though.
Can you even handle it?
I can't. I'm dead.
One thing in this room that I've always struggled with is the shelving. I love that there's so much of it but it's firmly established at this point that I'm not so great at styling, so all this space is just intimidating for me. It hasn't changed all that much since Jackson was a baby, so I'm thinking that with the new bed and everything else, it'll be a good time for me to really focus on making these cute and kid-friendly.
Because goodness knows I don't need him climbing up his shelves because he wants to pet the cute ceramic dog that's just out of reach.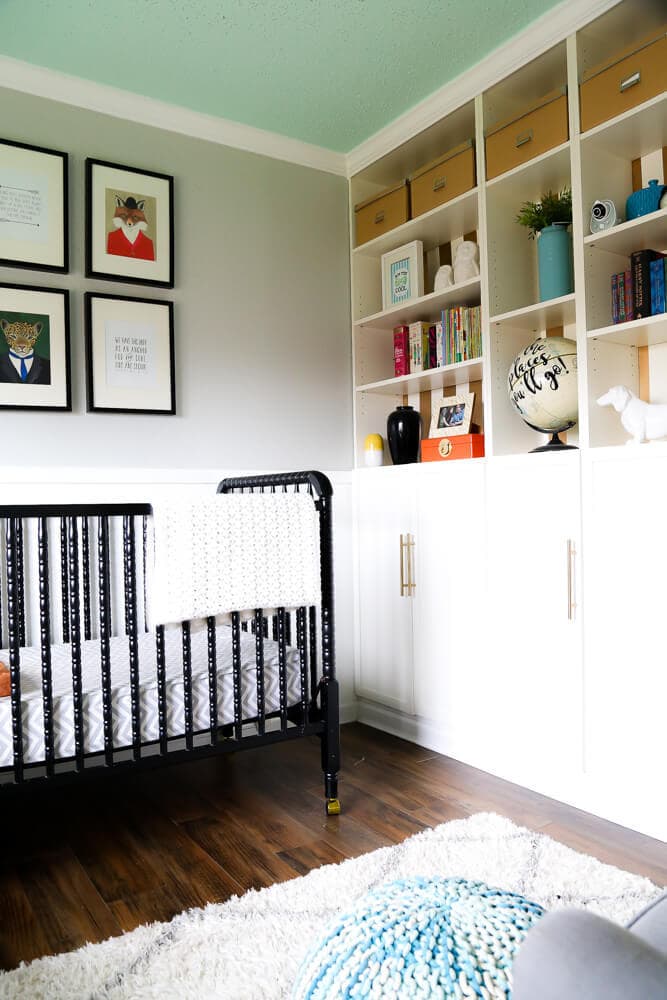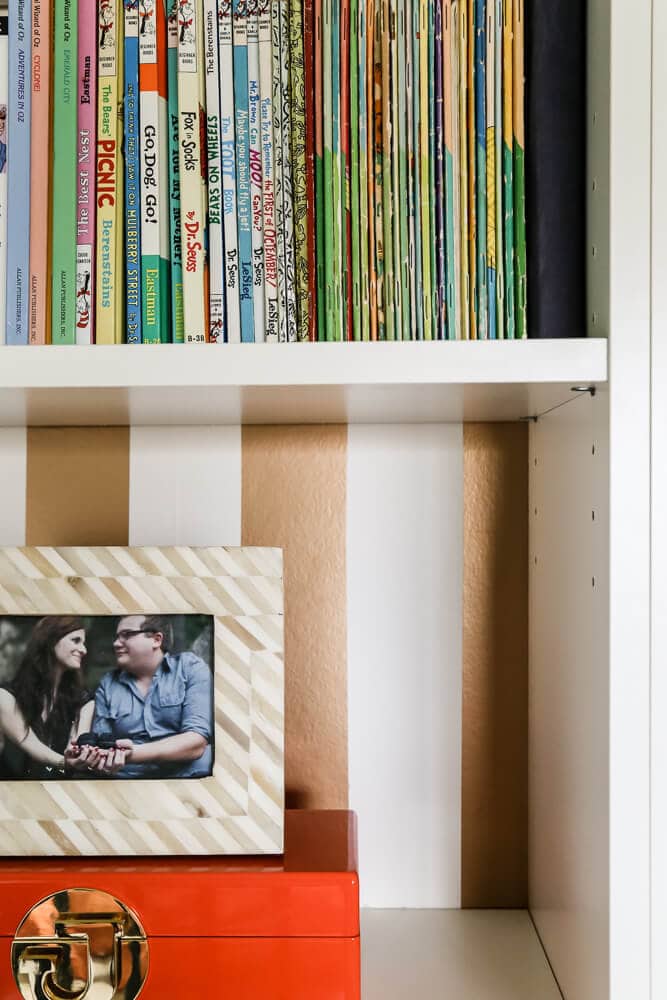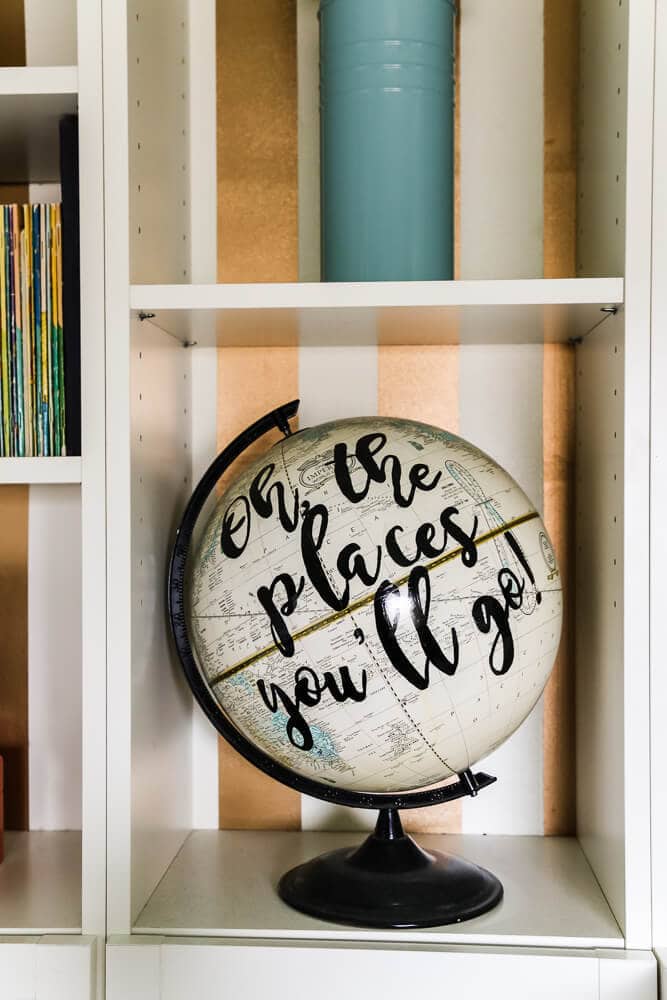 The top of that adorable orange box may or may not be covered in silver marker from The Great Sharpie Incident of 2016.
Not that it actually happened. Because it didn't.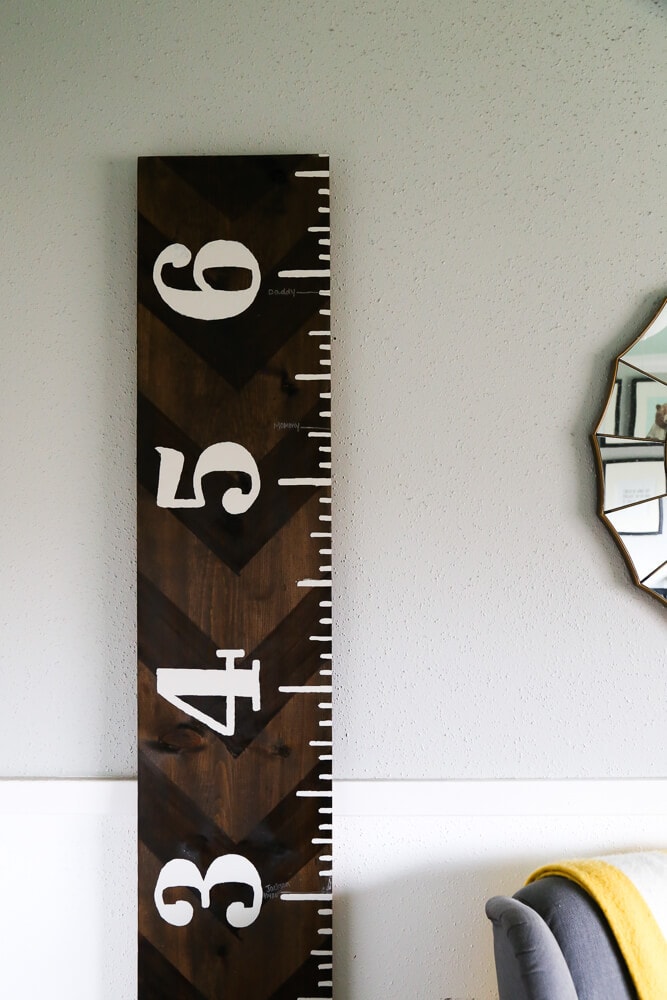 I can't believe my tiny little baby who I just brought home from the hospital is about to turn three and need a big kid room. How did I let that happen?
Has anyone figured out how to pause time yet?
Because I sure would appreciate if it would slow down just a tad.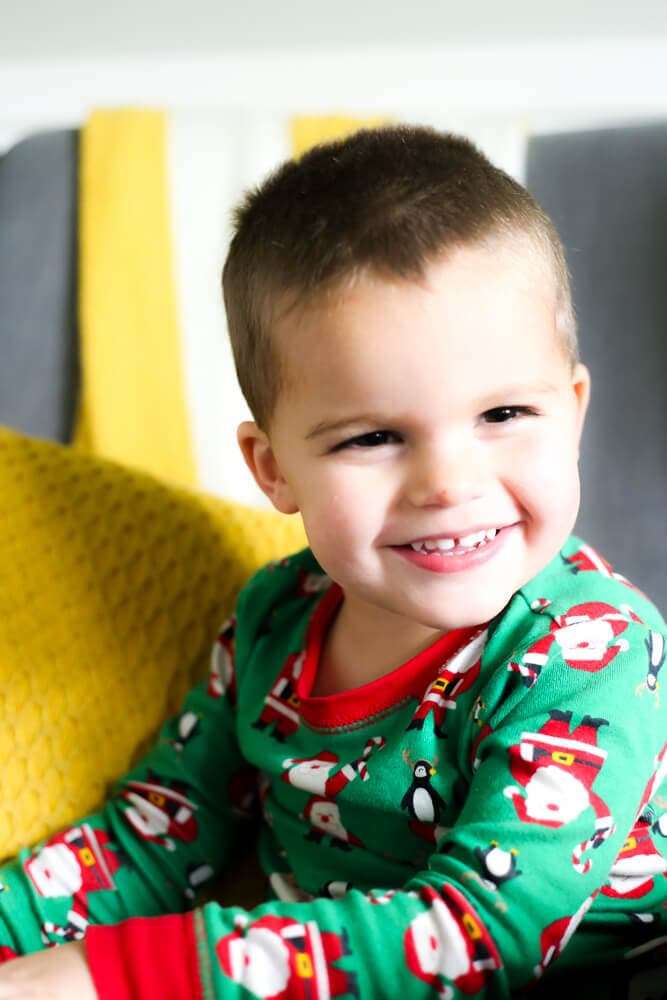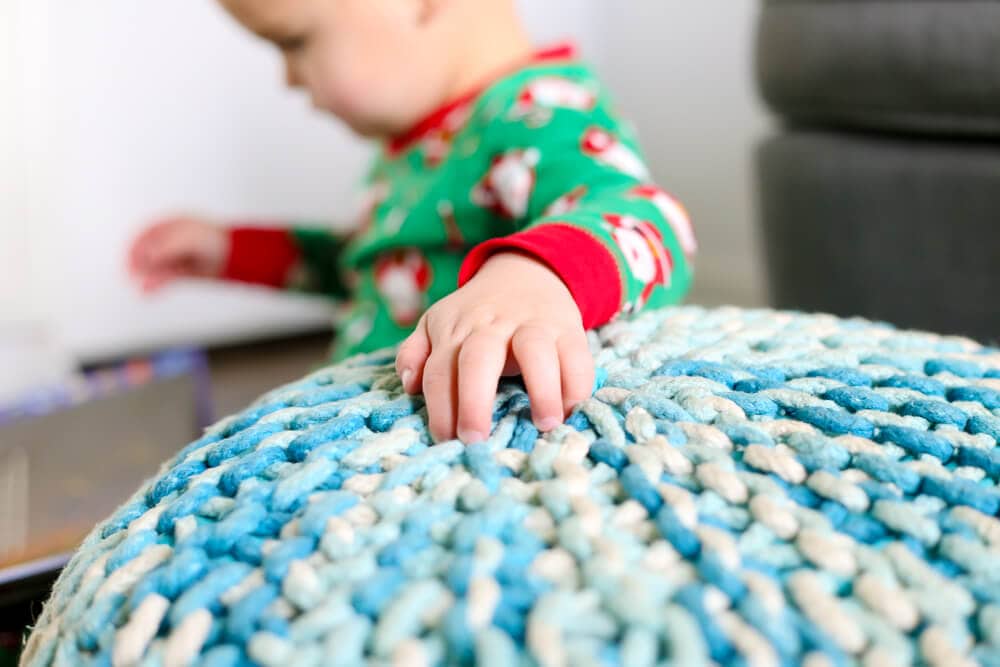 Yes, that's strawberry jelly on his nose. And no, I didn't edit it out because 90% of the time that's what he looks like, anyways.
Oh, and I'm sure you've noticed we're still wearing our Christmas pajamas around here. These photos taken slightly before Christmas, so technically we weren't breaking any rules yet…but last year he wore them well into June so I anticipate we'll be fully embracing the Santa pajamas for a few weeks yet.
Who doesn't want the magic of Christmas to last a little longer, right?!
We're in the process of finishing up Jackson's new big boy bed and we'll have it in the room and ready to share within the next couple of weeks – and when I share that, I promise I'll have a full mood board with my plans for his big kid room. I'm going to take my time getting it done because I don't want to admit that this is actually happening and he's not a baby anymore, but I'm sure I'll have it done by the time he goes to kindergarten.
Maybe.
If you want any details about where to find something specific in the room, you can see most of it below (or in the links above). If I missed anything, leave a comment and I'll track it down for you!