The KonMari Method: One Year Later
Last year, I read The Life-Changing Magic of Tidying Up, and Corey and I went through the KonMari method to get our home all organized. I blogged the entire process, and had so much fun chatting with you guys about it. I still get tons of questions and emails about how it went, how we're doing now, and if our home is still clean.
So, how are we holding up?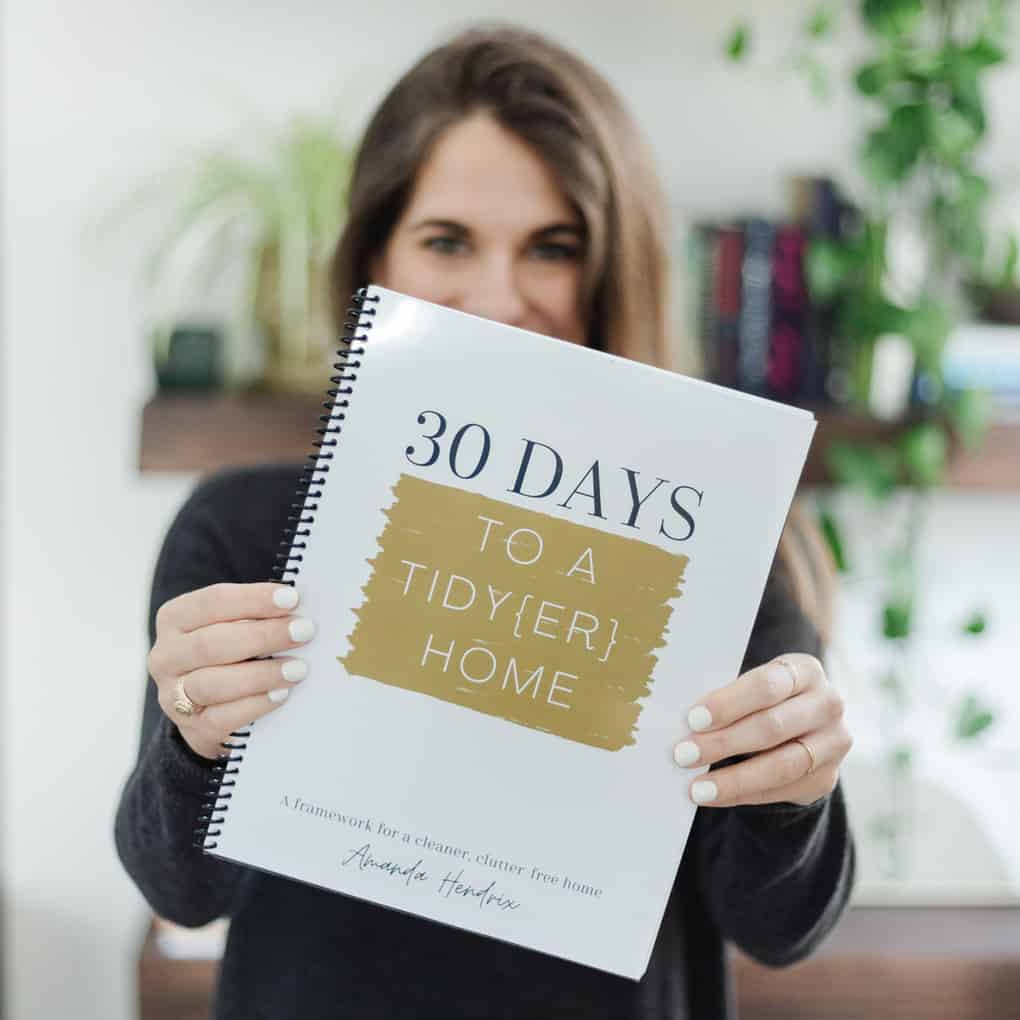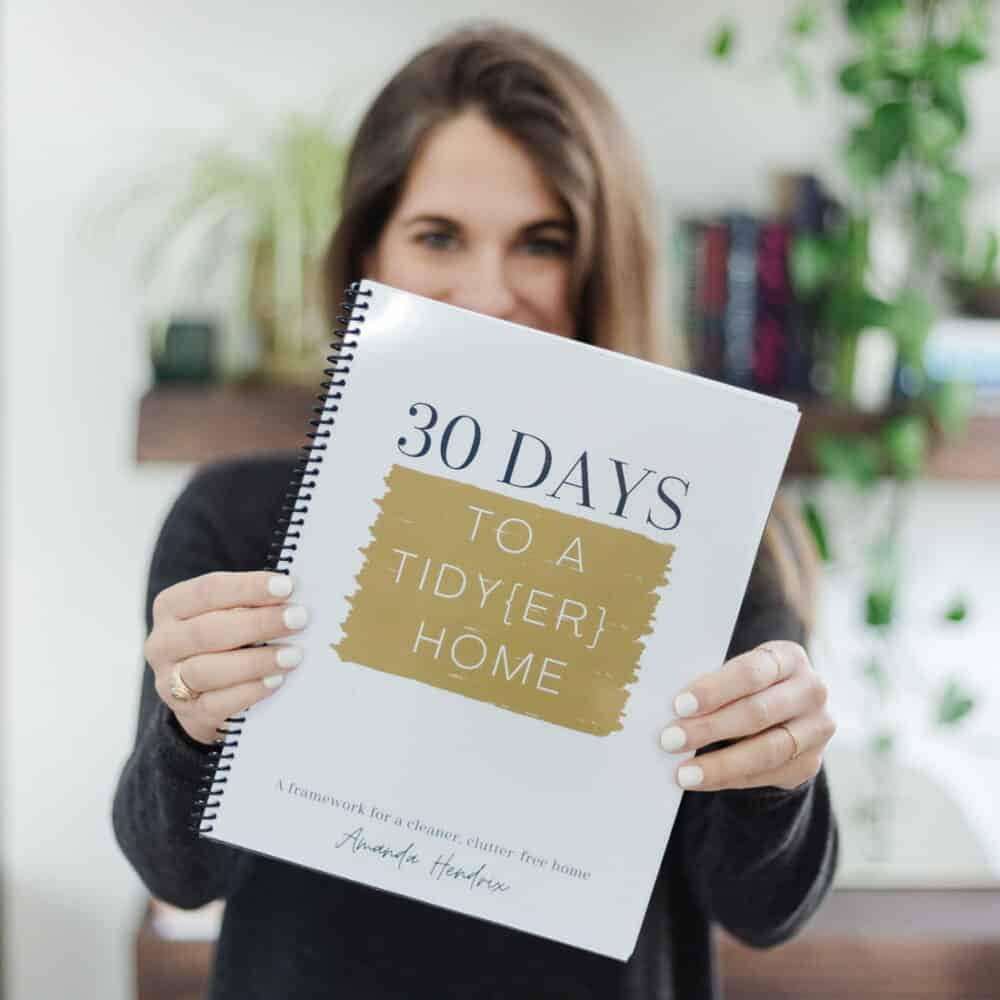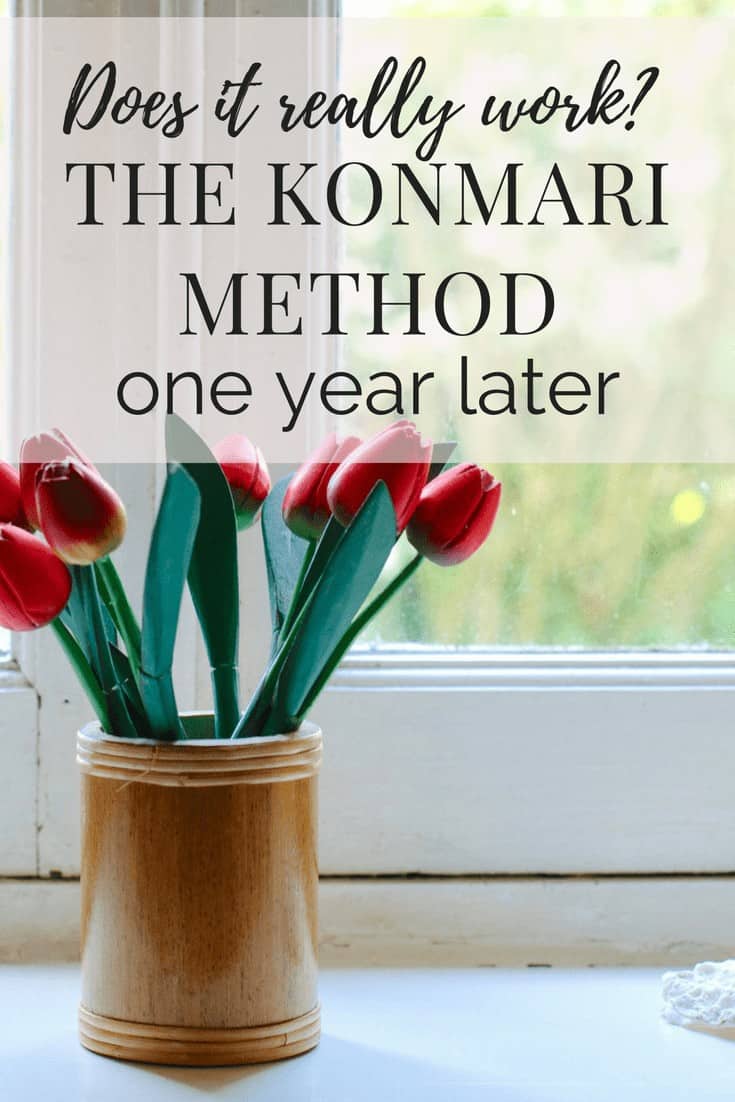 (This post contains affiliate links. Click here to read my full disclosure policy.)
Well, if my guest room is any indication, we've totally relapsed. But, it's really just unorganized – not full of things we don't need. Some of it is waiting to get returned to various places, and some of it is waiting for a new home elsewhere in the house, or to be needed again (for example, Jackson's crib). So, while it's a total disaster zone (bad enough that I won't even show you a photo!), it's organized chaos.
Or, at least, that's what I'm telling myself. It's probably a lie. But that's okay.
Other than the guest room, however, I think we've done a surprisingly good job of keeping up with what we learned from reading through The Life-Changing Magic of Tidying Up. There are a few key things that I've noticed we're doing differently, and so I thought I'd share what has changed over the last year and how it's affecting our lives.
We don't buy things we don't need. (Usually.) I've noticed that since we went through the process of decluttering our entire home, we're both a lot more conscious of what we're bringing into our home and whether or not we truly love it. I used to be the type to buy home decor or clothing that I only kind of liked because it was on sale or I was in the mood to shop. But now, I'm much more thoughtful about the choices that I make, and unless I feel like a piece will really bring value to my home or life, I don't waste my money (or my storage space!) on it. I still make the occasional mistake, but in general, I'm a lot better about avoiding purchases that I don't need.
We're quick to donate things we haven't used in a while. It used to be like pulling teeth to get Corey to agree to donate anything. He likes to hold onto stuff forever and ever amen, just in case we need it someday. Me? I'd rather get rid of it and replace it down the line if we end up missing it. We've learned to strike a balance between our two attitudes – if we have a logical place to store something and a reasonable expectation that we'll need it in the future, it stays. If we don't have a place to keep it or we have absolutely zero indication that we'll never need it again, it goes. It's a simple (and pretty obvious) system, but it works for us and has helped us purge a lot of unnecessary clutter!
Everything has a place. Everything! This is the number one thing that has helped us stay on top of the clutter in our home since we got it all organized. It can be so easy to just shove something in a drawer and say that it belongs there, but if you don't take the time to actually think about what makes sense for that item, and if it doesn't have a particular place to go within the drawer, the whole system will fall apart pretty quickly. I've learned that for me, I stay way more organized if everything I access on a regular basis has a very specific spot. For example, my scissors go in a very specific spot in the drawer in the kitchen. Not just tossed in there. And my washi tape goes into a specific little basket inside a drawer in my desk. Once I started taking the time to find little "mico-spots" for things in my house (is that a thing? I just made it up.) and stopped trying to just call a drawer or a shelf good enough, I discovered it was a million times easier to find everything I needed, and it was so much less painful to put it away. The little things make a big difference, y'all.
We've realized how few toys Jackson actually needs. Once we really did a good purge of the things in our home, I started to pay more attention to the toys Jackson actually plays with. And guess what? It was about a quarter of the toys we own. As soon as I realized this, I went through and cleared out any toys he hadn't touched in a while, and not only did he not notice, he began playing with what was left way more often. Since then, I've been sure to do a quick perusal every few months and either donate or put away things he's not really using. It has made a huge difference in his ability to play independently (less overwhelm means he can make a decision easier about what to play with!) and it helps my home feel way less cluttered.
The KonMari method of folding is legit. You guys. It's worth reading the dang book just to learn how to fold your clothes. I don't know what it is about the method she teaches, but I swear it's some sort of voodoo magic that lets me store three times as many clothes in a single drawer. It's absolutely amazing and everyone should be doing it.
Obviously, some of these lessons are things we probably would have learned on our own, and I'm sure many of you are wondering why it took me so long to get my act together.
Good question. I like stuff?
Looking back over the last year and our experience with reading and implementing the things we learned in this book, I can pretty confidently say that it did change our life – albeit, in really subtle ways. I definitely feel like my house is significantly more organized (though I'll never reach actual KonMari levels of greatness), and I find it much easier to get back on track if I fall off the wagon for a while.
One thing I have noticed, though, is that this will be an ongoing process. I feel like one year in, we've reached a point where it's time for another mini-purge, and within the next few months I plan on going through our home category by category again and see what I can do to reduce our clutter even further.
Plus, I've got to get that guest room under control.
I'd love to hear your experiences with getting your home organized! Have you ever gone through the KonMari method?