Design Mistakes That Make Your Home Look Cluttered
Have you ever walked into a just-cleaned room in your home, stared at it, and felt like it was totally cluttered and messy?
And then, have you ever stood staring at the room for a good 10 minutes just trying to figure out why in the world it feels cluttered when you know you just cleaned and there isn't anything out of place?
And afterwards, have you ever felt like you just want to throw away everything in the room and start fresh because you're just so annoyed with how the room looks?
I've been there. More than once. It's annoying.
Over the years, I've worked really hard to learn how to minimize this feeling in my house. I hate it when things feel cluttered, and I was so tired of constantly feeling like my house wasn't clean when I knew it was. I finally realized that I was making a few significant mistakes that were making my home feel cluttered. Once I addressed them, things were suddenly feeling a lot cleaner. It's like magic!
So, today I wanted to share a few of those mistakes with you in the hopes of helping you never have to feel that feeling. I've made all of these mistakes at one time or another, and I can tell you from experience that if you address them, it'll make a huge difference in your home.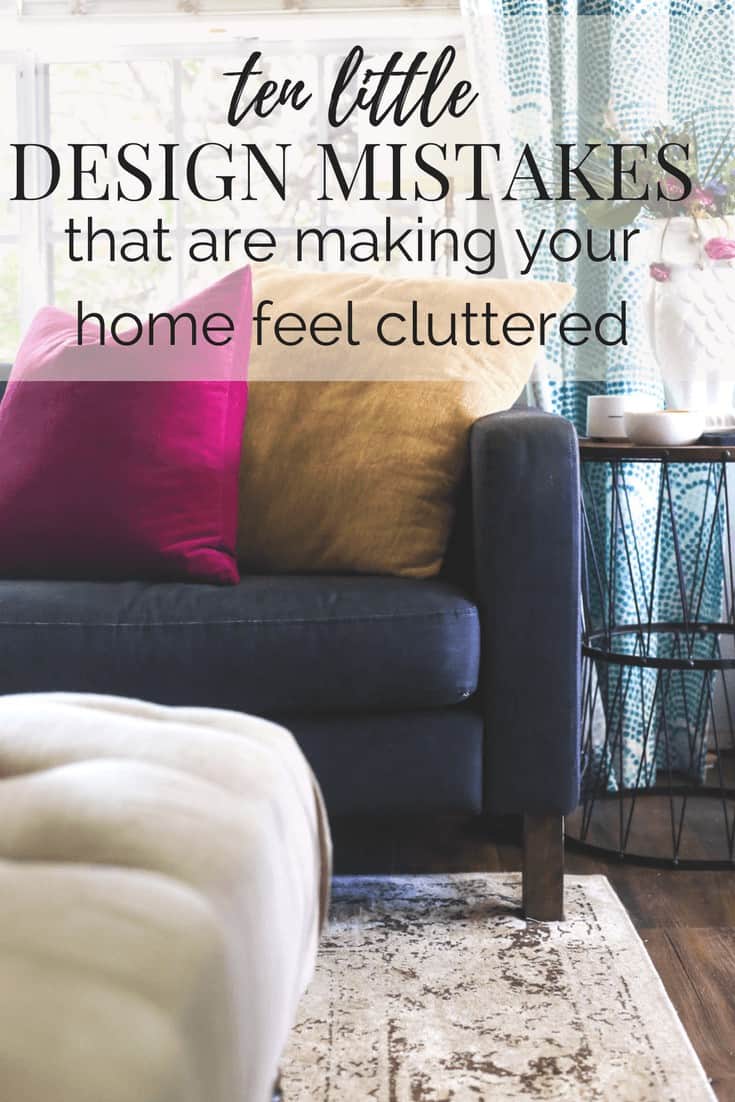 This post contains affiliate links. Click here to read my full disclosure policy.
Ten Decorating Mistakes that Make Your Home Feel Cluttered
1. You over-decorated your surfaces. It's so tempting to fill every table, console, and counter with decor. I get it. I've been there. But! If you leave a few of them blank, your home will feel a lot less cluttered – and it won't look boring, I promise! I try to keep decor on consoles (like our entertainment center and our entry table) focused on either side and keep the middle clear. On our dining room table, I tend to alternate between a full centerpiece and pretty place settings and a more bare approach, depending on the season and my mood. The counters? I always keep them as clear as possible to help my kitchen feel cleaner. There isn't any hard and fast rule here, but this should definitely be a go-to consideration if you're feeling like your home might be a bit too cluttered.
2. Everything is too matchy-matchy. It might feel counter-intuitive, but a home that's too matchy can actually feel more cluttered! If you take a more "collected" approach, things tend to layer together nicely to feel really well-decorated without feeling like too much. If everything matches, you often feel like you need to add too many decor pieces in order to make the room feel decorated, and you end up with a cluttered room. Let the large pieces in the room stand for themselves and make the room feel more layered, and avoid letting everything match too much.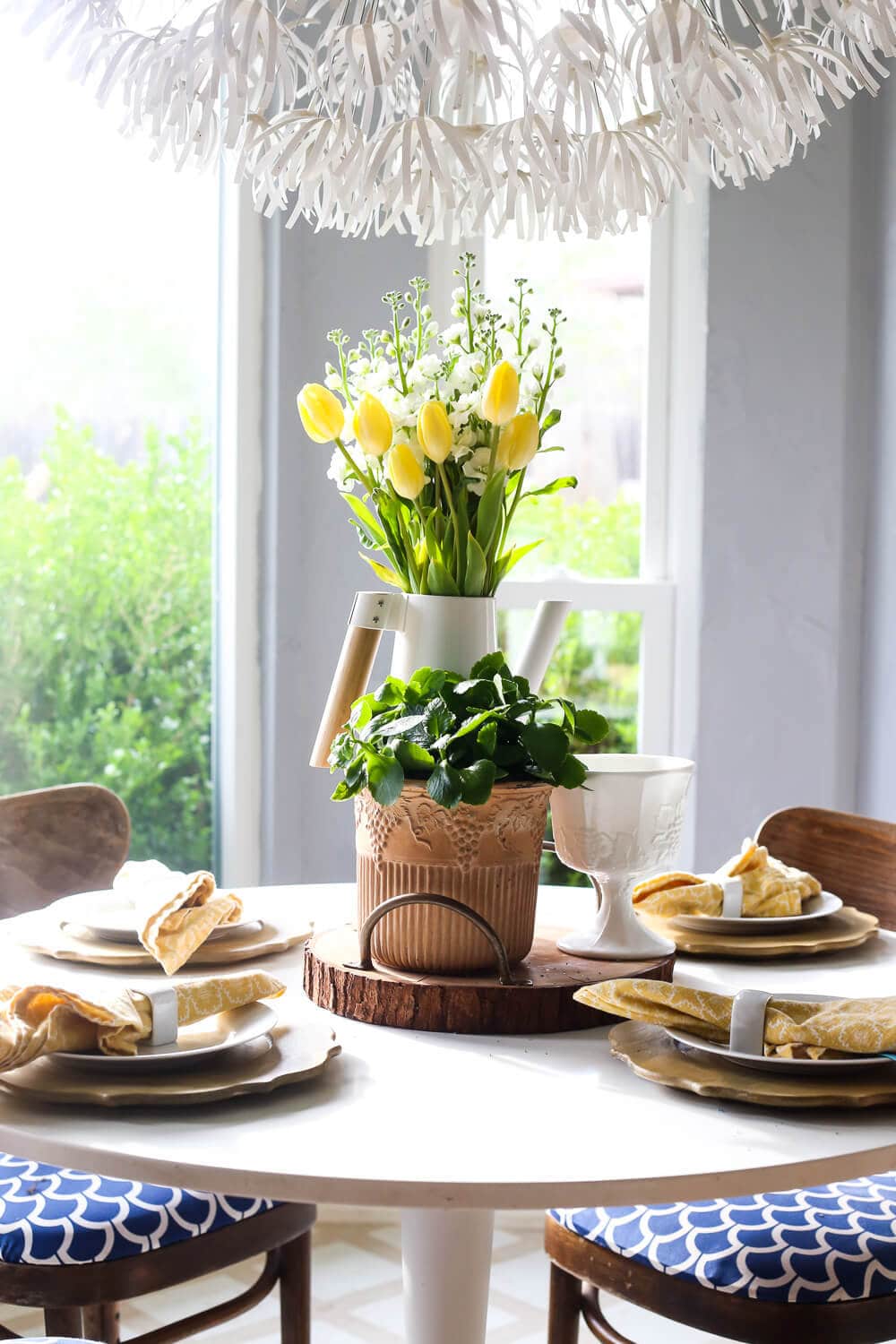 3. You don't have enough light. Dark rooms tend to feel more cluttered. It's just a fact of life. Natural light is, obviously, the ideal way to make your home feel more decorated, but if you're short on that you can achieve the same feel by making sure your overhead light is large enough to light the whole room and by adding a few lamps. I find that the rooms I love the most have an overhead light, several lamps for ambient lighting, and a fair amount of natural light. Plus, adding a few candles doesn't hurt either! Basically, the more light, the better.
4. Your curtains are hung too low. If you've been reading design blogs for any length of time I'm sure you've heard us all preach to "hang 'em high and wide," but it's worth repeating. If you want your room to feel bigger, airier, cleaning, and less cluttered, hang your curtains as high and as wide as possible. It makes the windows feel bigger and, consequently, makes the entire room feel bigger. It's like a magic trick – the cheapest, easiest, most wonderful magic trick in the world.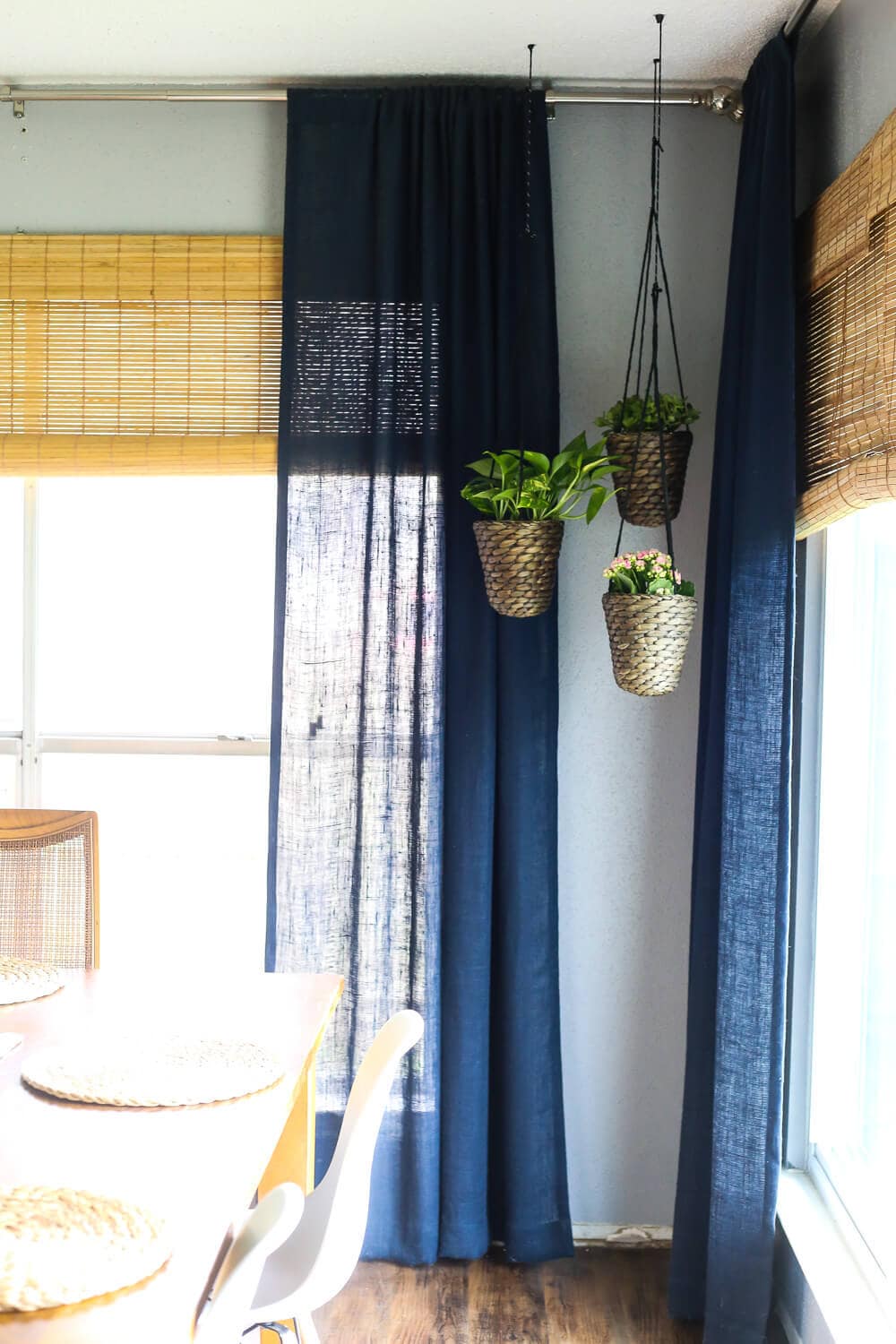 5. Everything is pushed up against the wall. If you have a space that seems small, it can feel like you almost have to push everything up against the walls to avoid making it feel even smaller. But guess what? That doesn't help. In reality, if you want to make the room look better, feel cleaner, and seem more put-together, you want to pull at least some of the furniture away from the walls. Maybe it's just a side table or a small chair, and maybe it's just a few inches, but if you can ensure that there is something in the room that doesn't look like a 6th grade boy at a school dance (you know, pressed as close to the wall as humanly possible), it'll help your room out more than you know. I swear.
6. You didn't hide your cords. I know. It seems overwhelming. It seems like a lot of work. It seems like a pro should have to do that. It's not. You can do it. I promise. This post is a great reference if you're feeling like you need a visual guide, and this is the tool that we use to mount our televisions on the wall without any cords showing. Cords can also be visible under tables and consoles where you have electronics – just use some of these to tie 'em up and mount them to the back of the table or console and you're good to go.  I swear, your room will feel ten times cleaner. It's ridiculous.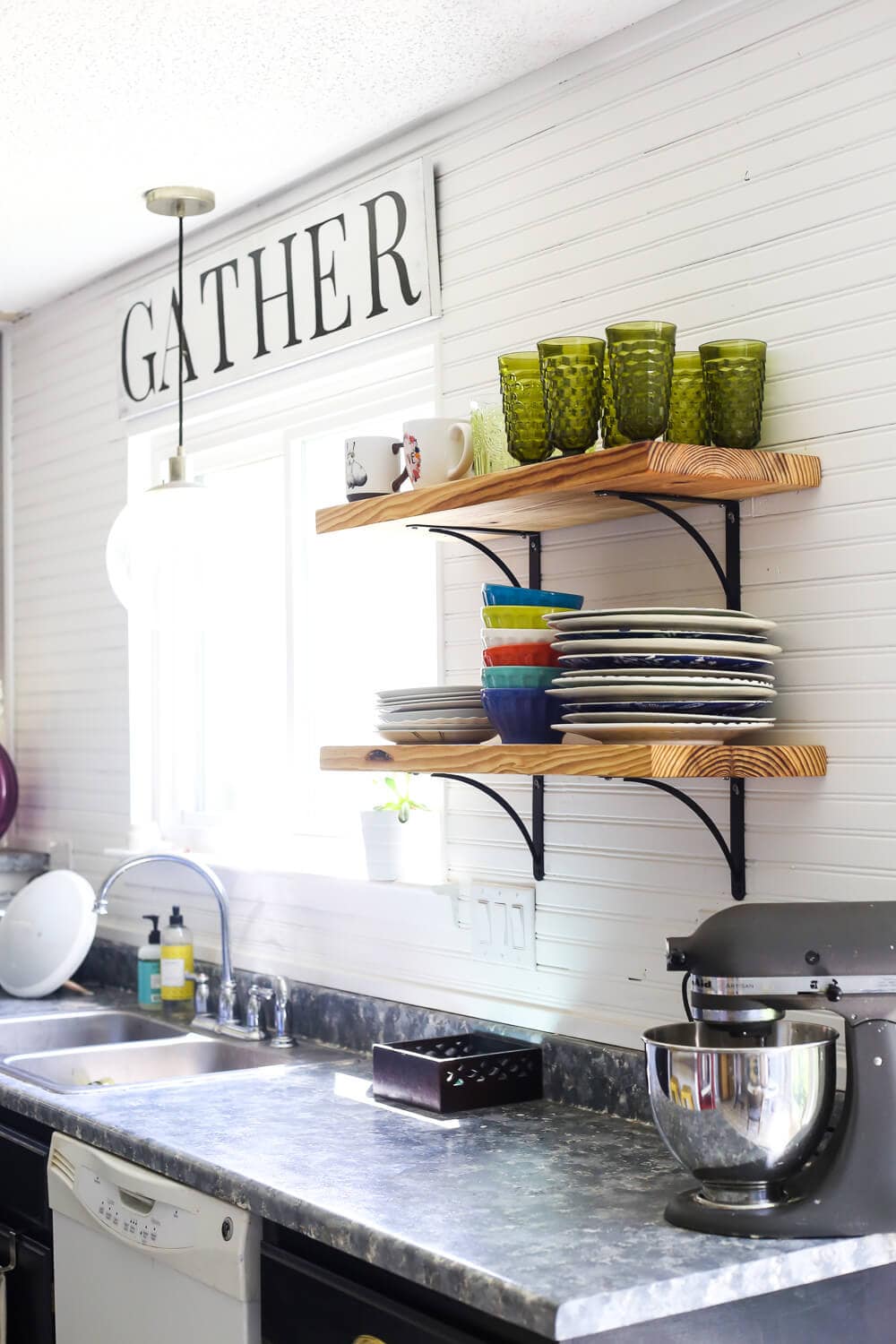 7. There isn't anywhere for your eyes to "rest". This is a phrase you'll hear often in home decor – your eyes need a place to rest in the room. I know it sounds like fancy designer-speak, but really all it means is that you need a few calm, clean spaces in each room that don't "excite" your eyes. Something peaceful where you can look without having to process any new information, colors, or design pieces. If a room doesn't have anywhere for your eyes to rest, that means that when you walk in for the first time you feel like your eyes are constantly bouncing around, trying to take in all of the elements of the room at once – and it automatically feels cluttered. If you have a spot for your eyes to rest, it means that there's some good white space (or at least, neutral space) where you don't really have to process anything and your brain has a moment to rest. It's a simple concept, but it's important if you don't want your rooms to feel cluttered!
8. You haven't chosen a color scheme.  This is a problem we suffered from in our downstairs for a long time. We hadn't really decided on where we wanted to go with the room, so we just purchased things we liked without any real design plan. The problem with that when you have an open floor plan or a large room is that what starts off as feeling eclectic and funky ends up feeling totally cluttered and crazy because nothing really flows together. We've since picked a nice color scheme for basically the whole house, and since we've started sticking to only buying things that fit into that (relatively broad) color scheme, things are feeling a whole lot more cohesive and a whole lot less cluttered.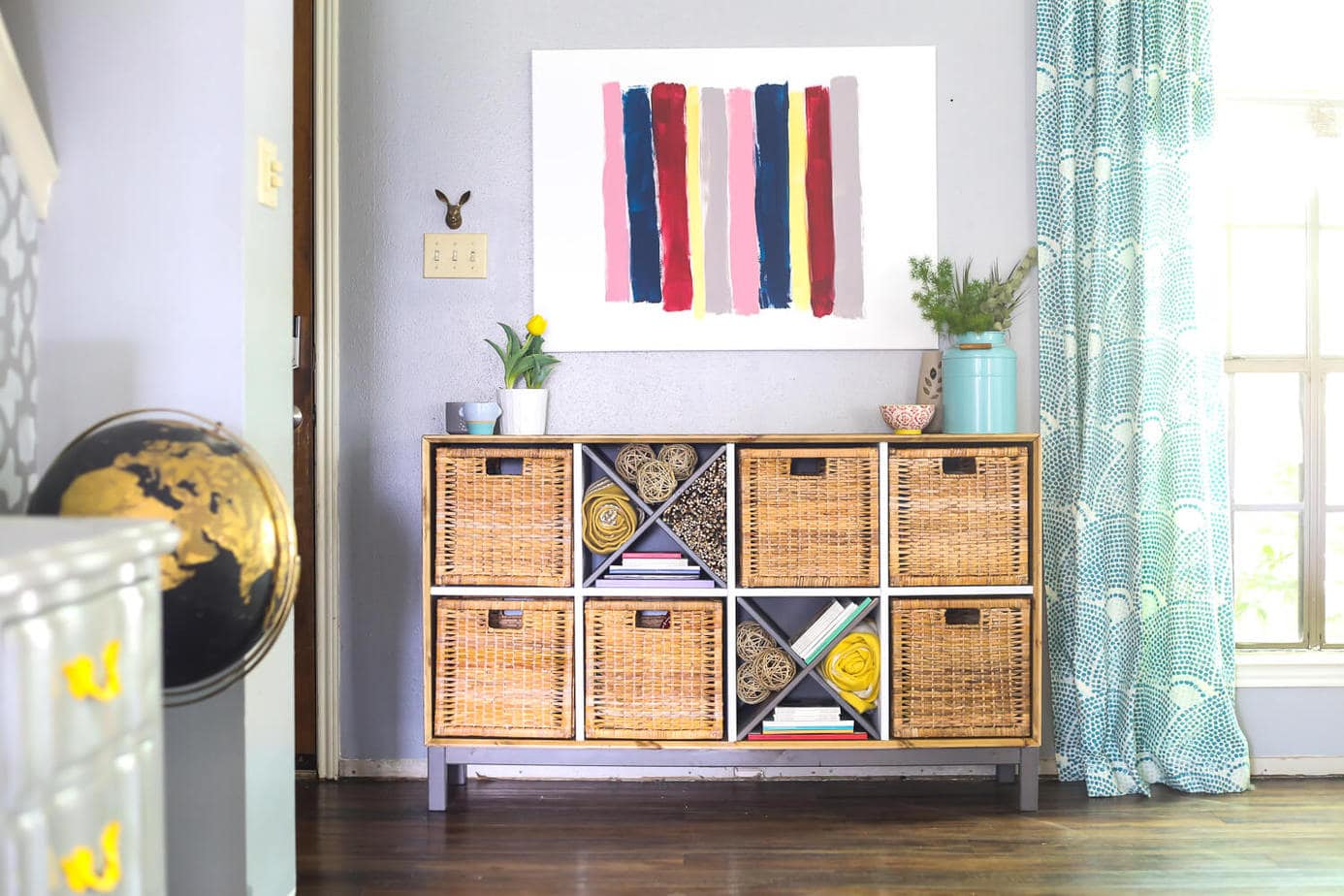 9. There isn't a clear division of spaces. If you have an open floor plan and you aren't intentional about how you divide the spaces within it, the whole space can very quickly start to feel cluttered and messy. Even something as simple as adding a rug to define a space or arranging your furniture to more clearly separate the spaces can make a huge difference in how the entire room feels.
10. You haven't been intentional with the finishes in the room.  I'm a huge fan of mixing metals and different wood finishes. It makes a room look really collected, and can add a really cozy feeling to a space. However. If you aren't intentional with how you do it, the space can end up looking a bit disjointed and sloppy – which leads to a visually-cluttered room. The general rule I try to follow is to make sure each finish appears in the room at least twice. So, for example, if you want to bring some brass hardware into your kitchen that already has a chrome faucet and some other silvery details, be sure to also add in another gold detail somewhere else in the room – maybe it's just an accessory or a picture frame, but bringing in at least two pieces in every finish will make the room look put-together, intentional, and not cluttered.
I have to say, since I've started paying attention to all of these things I find myself feeling like my house is cluttered a lot less often. We definitely have some room to improve (don't we all?) but I feel like we've made so much progress, and now that I know how to make things feel cleaner, it's so much easier.
I'm sure there are a few I forgot, though – what are some of your favorite tips for keeping a house from looking too cluttered?
Need some other tips on keeping your home clean and organized? Let me help…