Who's ready for a laundry room makeover??!
Can you see me over here waving my hand in the air like I'm Hermoine Granger?
Because I'm SO READY.
Friends, let me introduce you to my laundry room.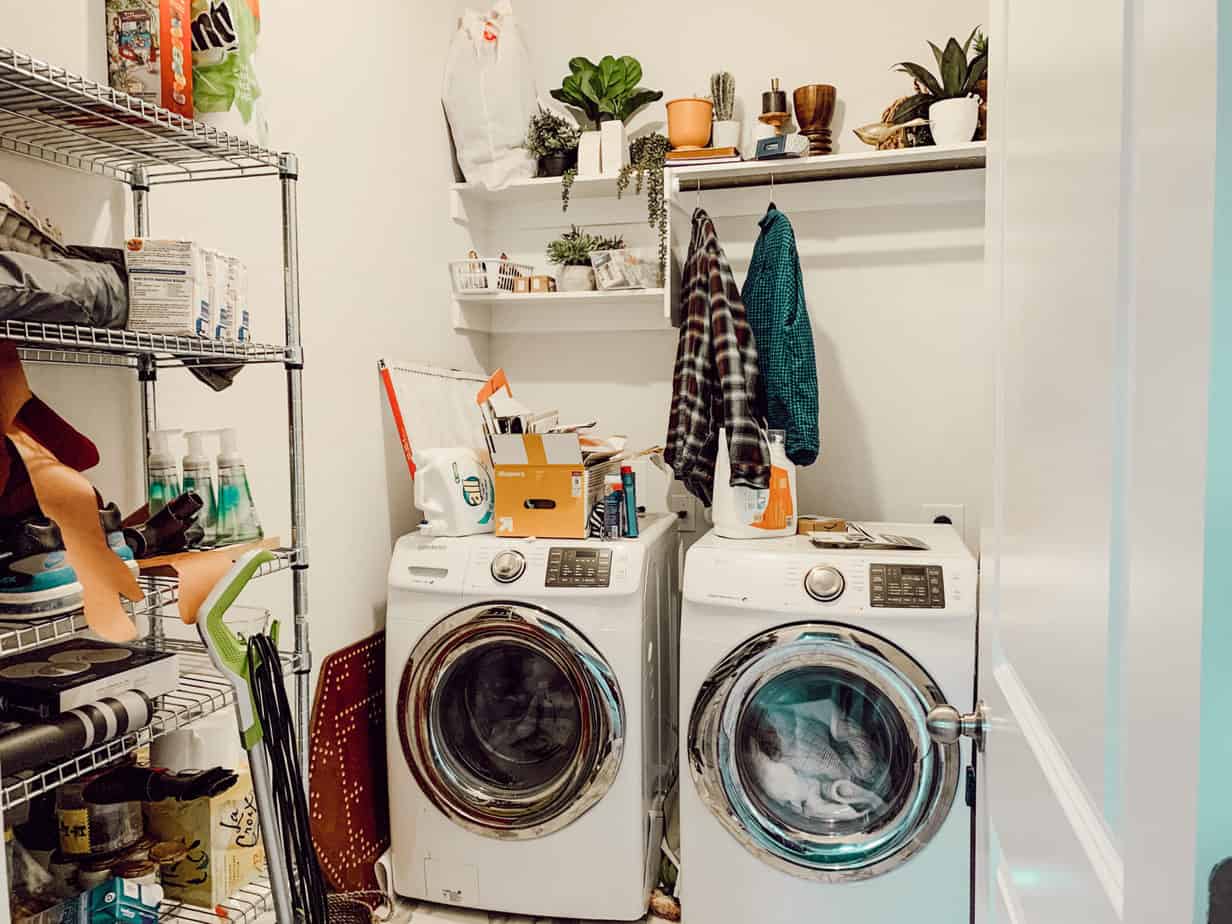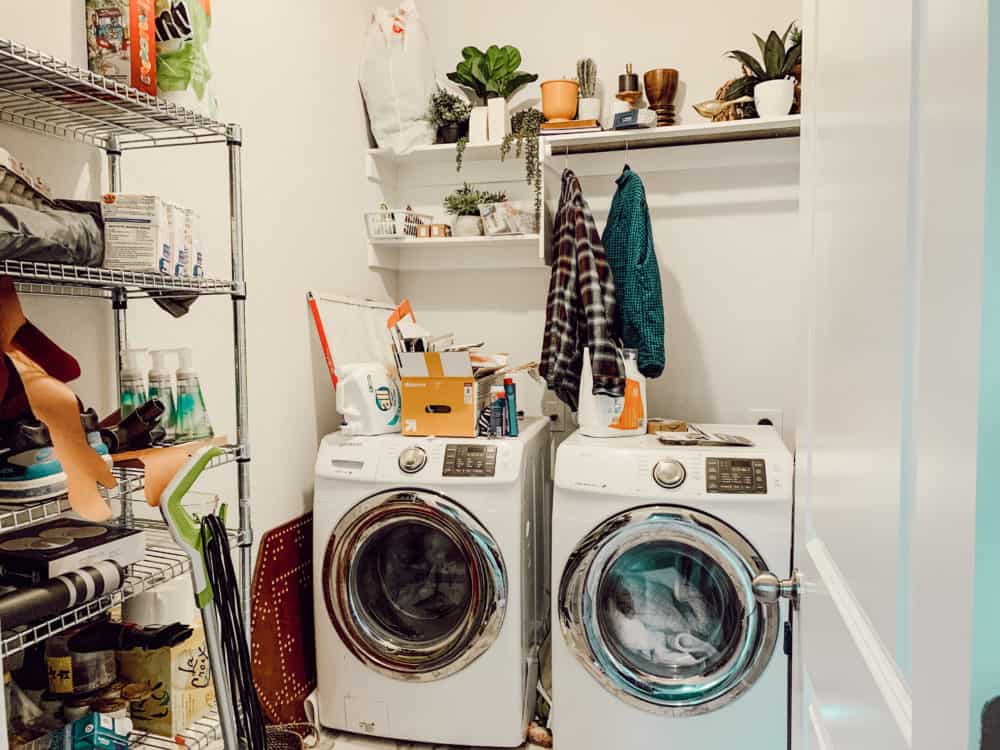 It's not anything hugely special but it is (by FAR) the largest laundry room I've ever had and it feels so luxurious every time I get to use it (because it's an actual ROOM! That I can stand in without being squished!).
It's the little things in life, you know?
Well, since we're all sitting at home without much to do and I'm suddenly finding myself doing more laundry than I ever thought possible (how do these people wear more clothes when we aren't even leaving the house?!), I decided it was high time I turned it into something cute.
Why the heck not?!
So today, I thought it'd be fun to walk you through my plans for the room, a few ideas I have, and give you a look at where I'm drawing my laundry room inspiration from. If you want to follow the process of transforming this space in real time, be sure to follow me over on Instagram stories because you know I'll be sharing all the details as I work!
Let's start with a little tour (it'll be quick, the space is small!).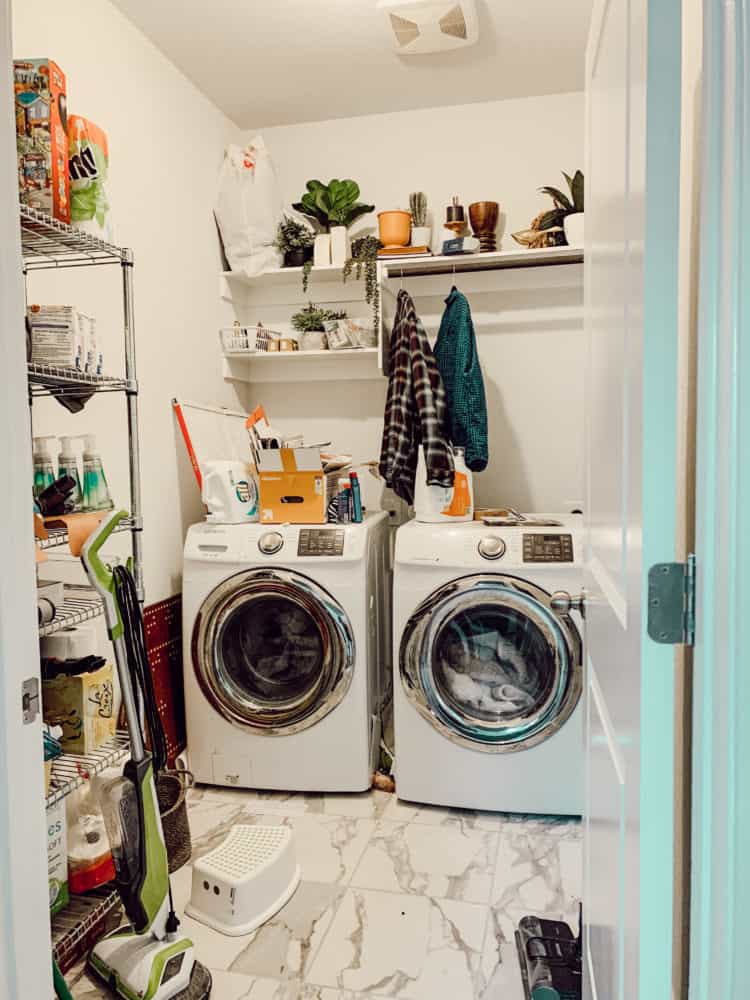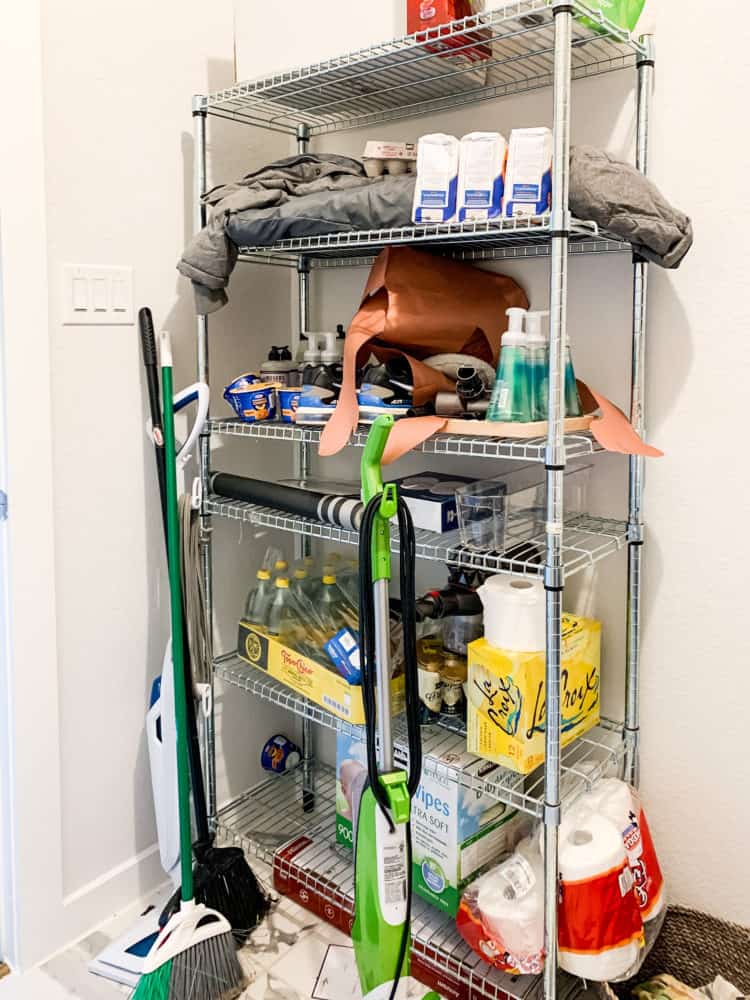 I did no cleaning before snapping these photos – this is what the room looks like on a day-to-day basis. There's a shelf that got tossed in here because I didn't need it in the garage (and I HATE it in here), shelves that aren't all that functional, and a box of important papers on the washer that was literally packed from our old house, tossed right here, and never touched again.
Sigh.
I think this space has some really great bones and with just a little love I can make it gorgeous – so let's chat plans!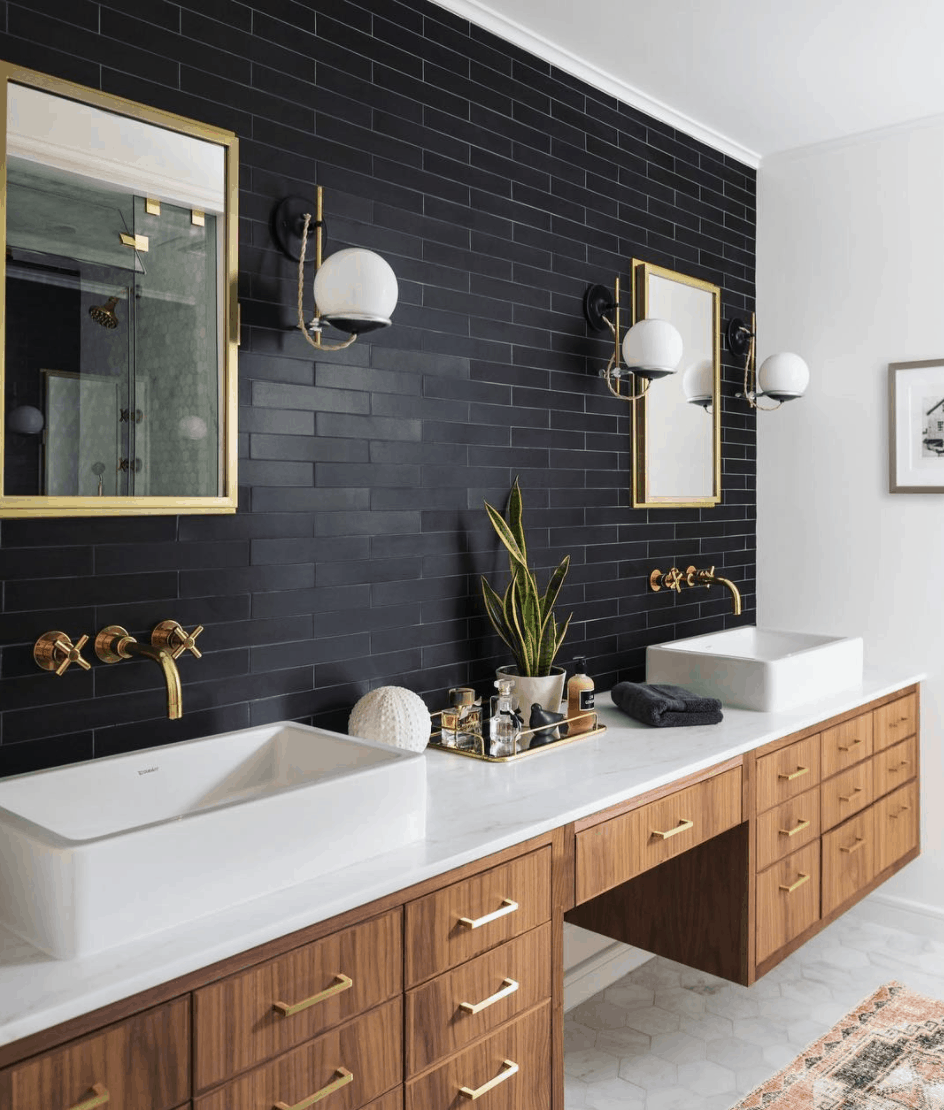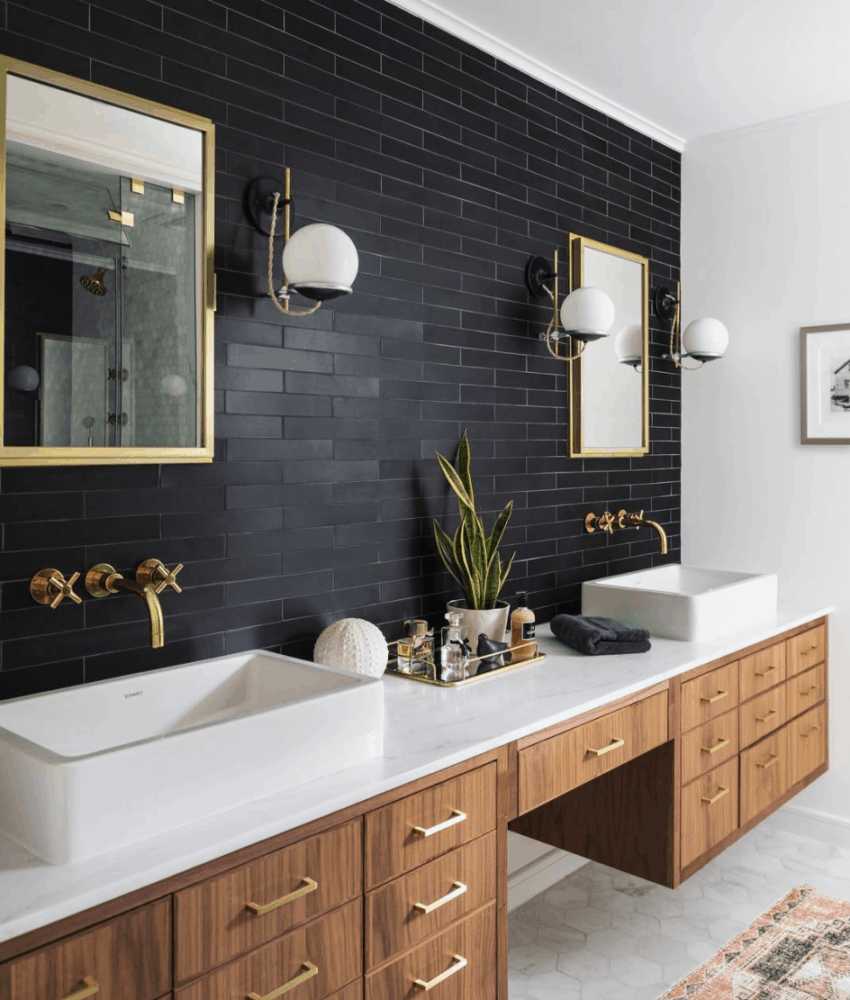 The best way I can describe my vision for this room is to tell you to picture this bathroom from Studio Dearborne…except as a laundry room.
Totally clear, right?
I'm envisioning black tile, wood shelving, a cute vintage rug, gold accents, and a killer light fixture.
I'm definitely going to be moving the metal shelving out of the room (it's not actually storing anything of importance) and finding a solution for all of our cleaning tools – we store the vacuum, broom, and mop in here so I want to build something in to give them an actual home.
You know, rather than just throwing them in there and closing the door.
The last problem I want to solve in here is that I'd love to bring Hadley's food and water bowls in here. We keep them in the little hallway outside this room – the original plan was to slowly transition them into the laundry room to give her time to get used to it, but the room was always such a mess due to lack of organization that we got as far as the door and gave up.
I'm really tired of water and bits of food being all over our hallway floor all the time, so I'm definitely going to be moving it – I just need to decide if I want to do a wall-mounted situation or just toss the bowls on the floor. I'd love your thoughts if you have any!
This should be a pretty quick and simple project, but I think it's going to have a big impact on how this space functions for us. I spend way more time than I wish I did in this little room and it's definitely time to make it a little more enjoyable to be in.
Don't forget to follow me on Instagram stories to see the play-by-play! I'm hoping to get started tiling within the next couple of weeks, and I've already got all of the supplies ready to go for the DIY wood countertop I'm planning!
If you want some more fun small laundry room ideas, be sure to check out this post I wrote a couple of years back when I was excited about how large our old laundry room was (which, looking back is laughable because I literally couldn't have a normal door in it or else I couldn't fit in the room).
I'm definitely referencing that post when I'm gathering ideas for this space!
And, of course, for those of you who actually have experience with a real laundry room, give me all the tips – what works for you? What doesn't? How do you store your mop and broom?! I need all the ideas you've got.