12 Gorgeous Small Laundry Room Ideas
We recently moved into a new home that actually has a real laundry room. I'm excited about it, but it's tiny and needs some help – so I rounded up some small laundry room ideas to help get my brain churning with ideas for how to get started!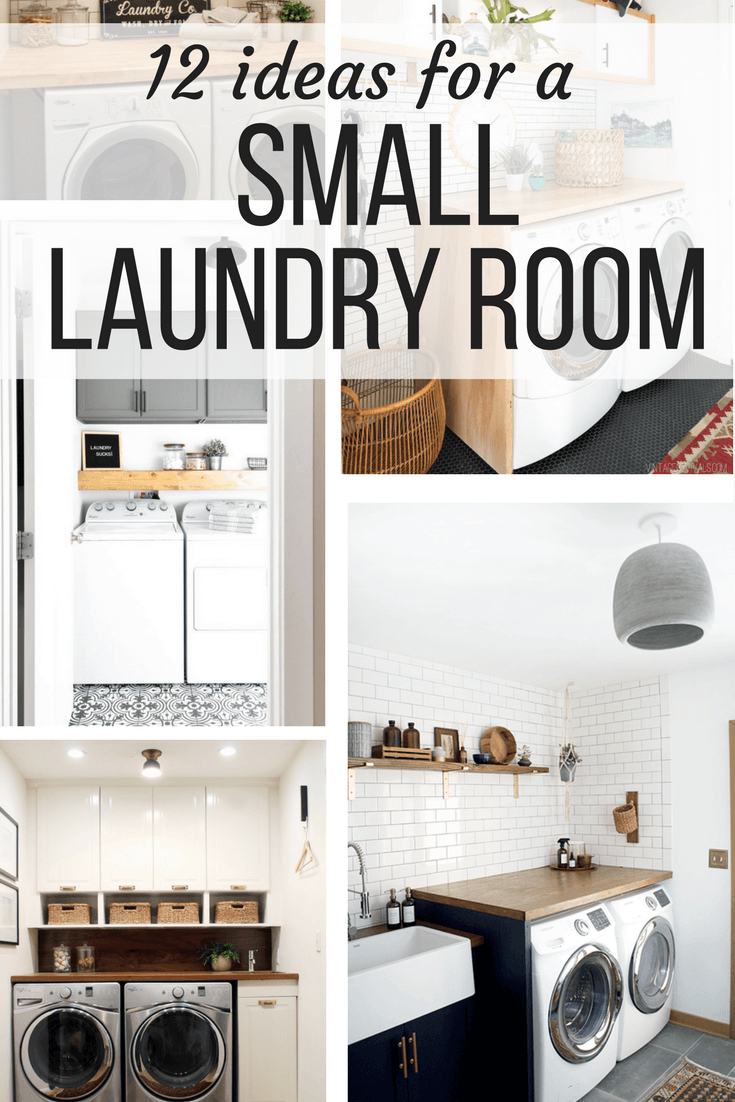 Can I admit something really silly to you?
There are a few things about our new house that I am abnormally excited about. They aren't big things. In fact, I feel like everyone I have mentioned them to has laughed at me at least a little bit when I talk about how excited I am.
But sometimes, it's the little things that matter, you know?
One of the things I'm really pumped about is the fact that our new home doesn't have popcorn ceilings or textured walls. I have literally never in my life lived in a home without textured ceilings and I am so excited about it I can't think straight.
Another little perk I'm really excited for? We're going to have a laundry room! In both our duplex and our current home, we have just had a long closet with bifold doors to house our washer and dryer. In the new house, we will have an actual functioning room with a real door and everything. It's tiny – just large enough for the washer and dryer and the door to the garage – but I'm unspeakably excited to not have to deal with bifold doors when I want to do my laundry, and it's a perk that we genuinely didn't think we'd find when we started house hunting.
I know. Silly. But y'all, I'm just really excited about this laundry room.
I've been gathering a ton of small laundry room ideas and inspiration as we have prepared to move into the house, so I thought I'd share a few of my favorites. I also want to beg for your input – I've never had a big girl laundry room before, so I don't know what's most important. Do I need a place to hang clothes or extra storage more? Is a counter necessary, or do you prefer just having an extra shelf above the machines? Be sure to leave some thoughts in the comments because I'm overly excited about this tiny little laundry room and it just might be one of the first spaces I tackle when we are all moved in!
Wanna save these ideas for later? Be sure to pin this post so you can find it easily! 
12 Small Laundry Room Ideas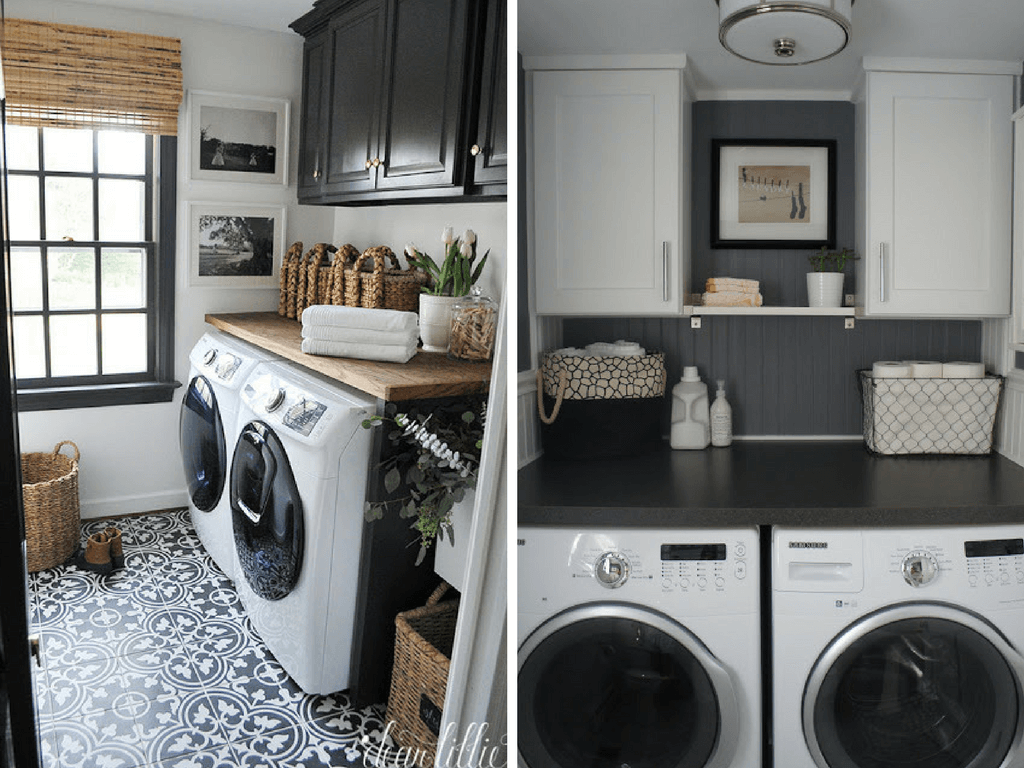 Dear Lillie Studio | Home With Baxter
I think a countertop is definitely in order for our new laundry room. I've always wanted to actually have a bit of space to work when I'm doing laundry, so I'm excited about the possibilities! I really love the fun flooring from Dear Lillie Studio – I feel like a laundry room is a perfect spot to have a little fun with some flooring! I'm also loving all of the baskets and organization in both of these rooms. It'll be so nice to have some solid space to store things!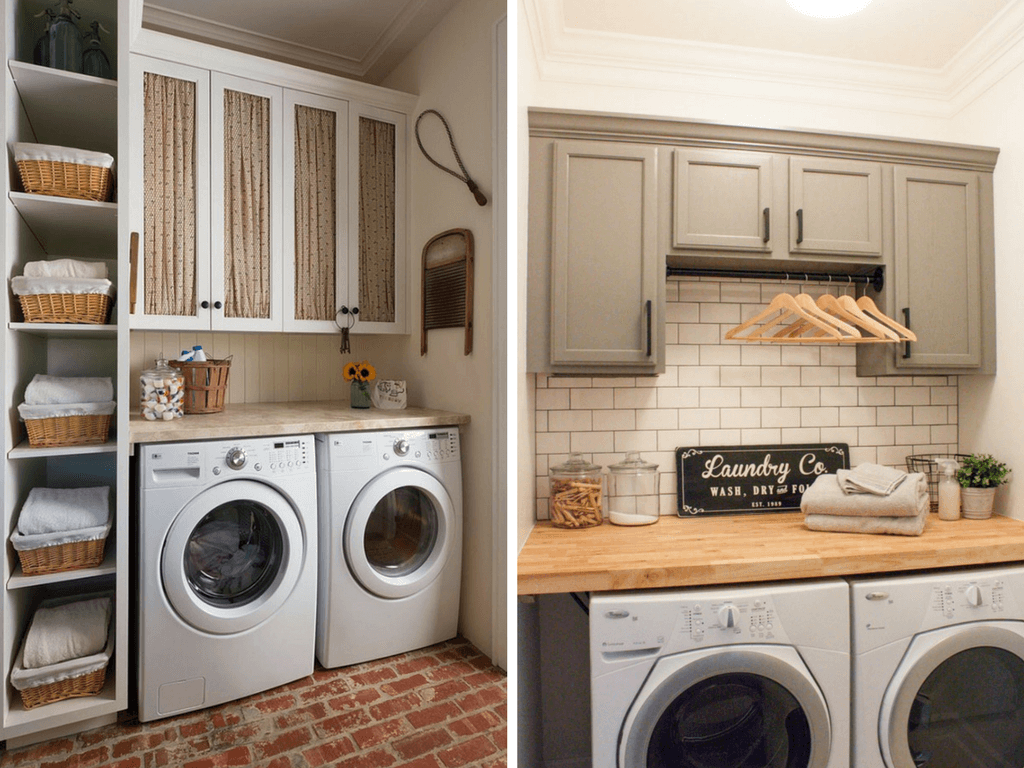 I'm not sure if our new laundry room will be large enough to accommodate vertical shelves like this one, but if it is, I think this is such a genius idea! It's a fantastic way to make good use of the space. Plus, I don't think it's possible to have too much shelving space in a laundry room. I love the hanging bar above the washer and dryer in Gather & Flourish's laundry room too. We always hang Corey's shirts to dry, and we don't currently have any hanging space for them – we just drape them all over the house! It's definitely time for some actual hanging space!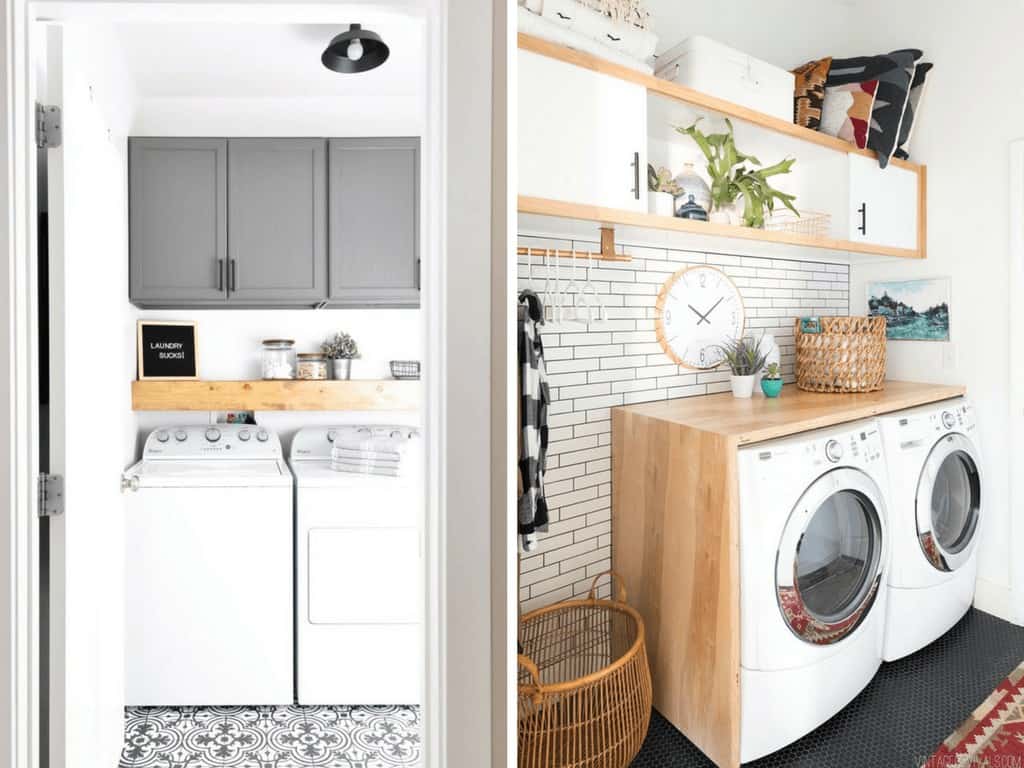 Cherished Bliss | Vintage Revivals
I love that thick wooden shelf idea! We don't currently have front loading machines (though we'd love to upgrade soon) so this would be a good option for us until we do. And, of course, I've loved Mandi's DIY waterfall plywood counter since I first saw it. How amazing is that laundry room?! It's much bigger than mine is, but I really do love the style! Plus, those skinny subway tiles are just gorgeous.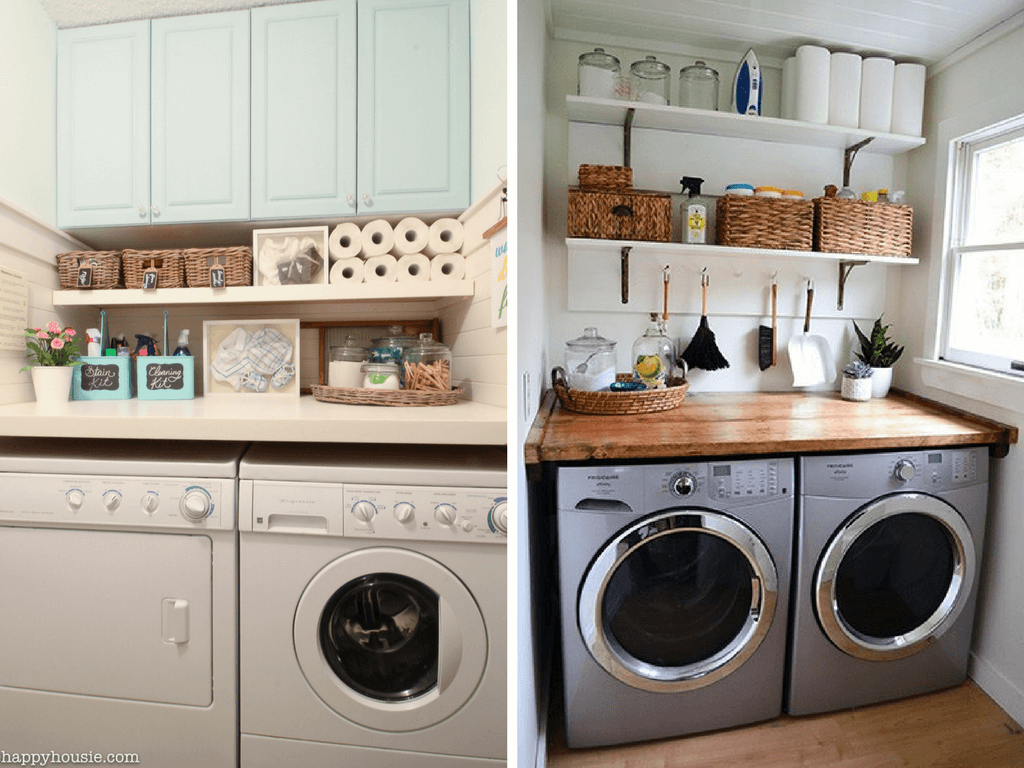 The Happy Housie | Angie's Roost
Countertops and shelving? Yes, please! I'm thinking Corey and I might build a shallow shelf for the time being, then eventually add a countertop once we move to front-loading machines. I love all of the organization in both of these! Oh, and the hooks for small cleaning tools are so cute, too!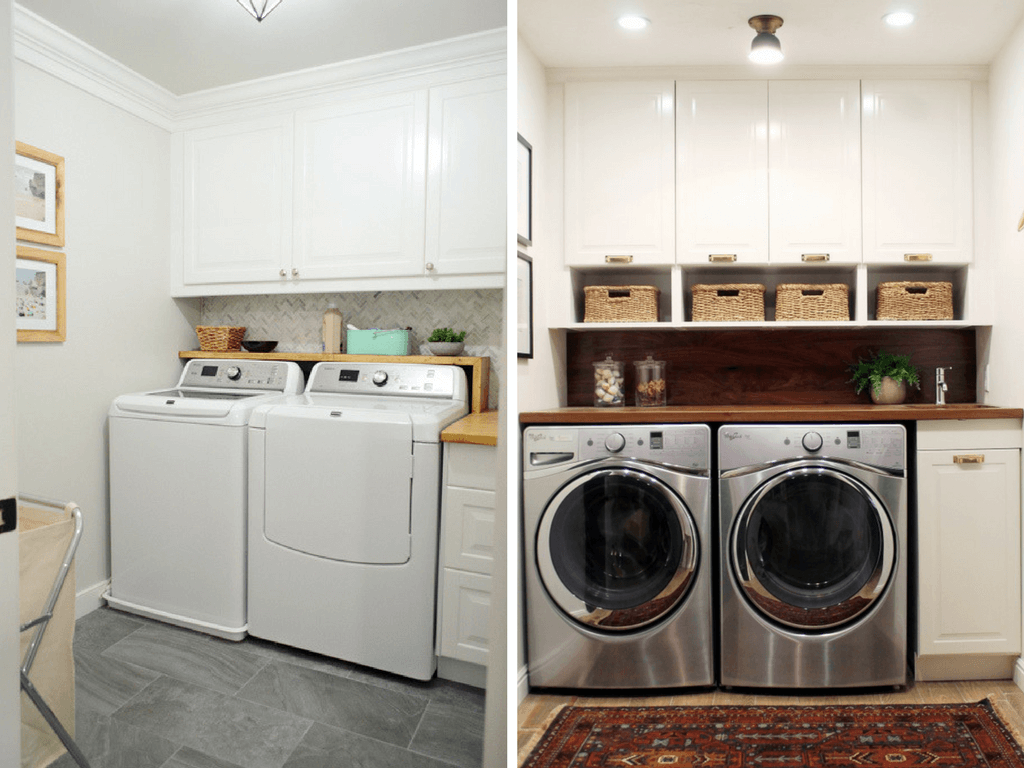 Young House Love | Chris Loves Julia
I love what John & Sherry did to add counter space with their top loading machines. That little shelf behind the machines is such a smart way to add functional storage in that little gap! Their laundry room is much bigger than mine will be, but they've got some great solutions for storage in here that I'm going to have to remember. I'm a huge fan of the style in Chris & Julia's laundry room – it feels so fancy – and I'm totally jealous of the sink!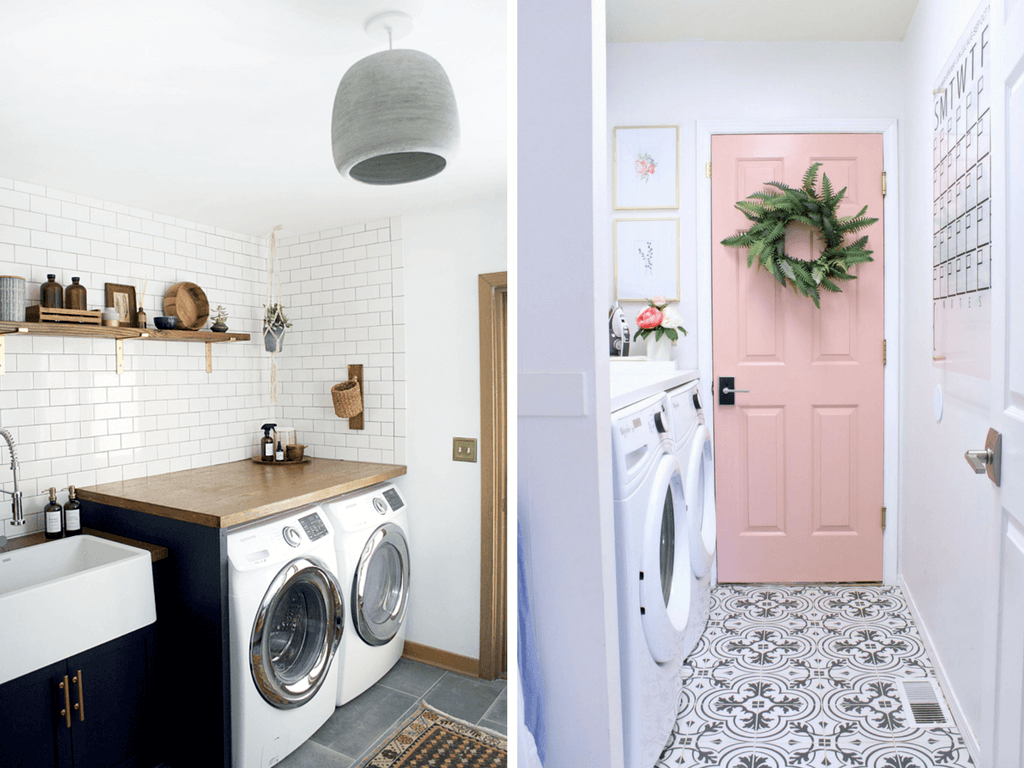 Bre's laundry room is the stuff dreams are made of! I can only dream of mine looking this good someday. I can definitely take a lot of inspiration away from it, even it mine is much smaller. Her attention to detail in the design is incredible – it's such a good reminder that the little things make a big difference! Classy Clutter's laundry room is actually probably much closer in size to what we'll be working with. I love that it's so fun and happy and that every single inch is used (and decorated) well. And, of course, I adore the fun color on the door!
Do you have a laundry room? Any tips for me on what I need to be sure to include as we start to design it?!
Looking for more home decor inspiration and ideas?