We're getting ready to dive into a master bathroom renovation, and I'm looking for bathroom floor tile ideas to figure out the best flooring for bathrooms. I'm sharing a few of my favorite bathroom tile ideas here today! 
Did you see the big news last week?
Corey and I are participating in the One Room Challenge for the first time ever and we're simultaneously thrilled and absolutely petrified.
I kind of feel like curling up into a little ball and crying for the next 6 weeks (wait, crap, it's just 5 weeks now) because we have way more items on our to-do list than we could ever actually complete. But, um, that's not an option. This is happening whether I like it or not, so it's time to buckle down and get 'er done.
There are a ton of things we need to talk about with this renovation over the next 5 weeks, but let's chat about tile today. The tile in our master bathroom is was very blah. It wasn't particularly offensive, but it definitely wasn't doing anything for me. We knew we would have to replace all of the tile in the room for this renovation, so it shouldn't come as a surprise to you that I was doing all sorts of happy dances in my house when Floor & Decor agreed to work with us!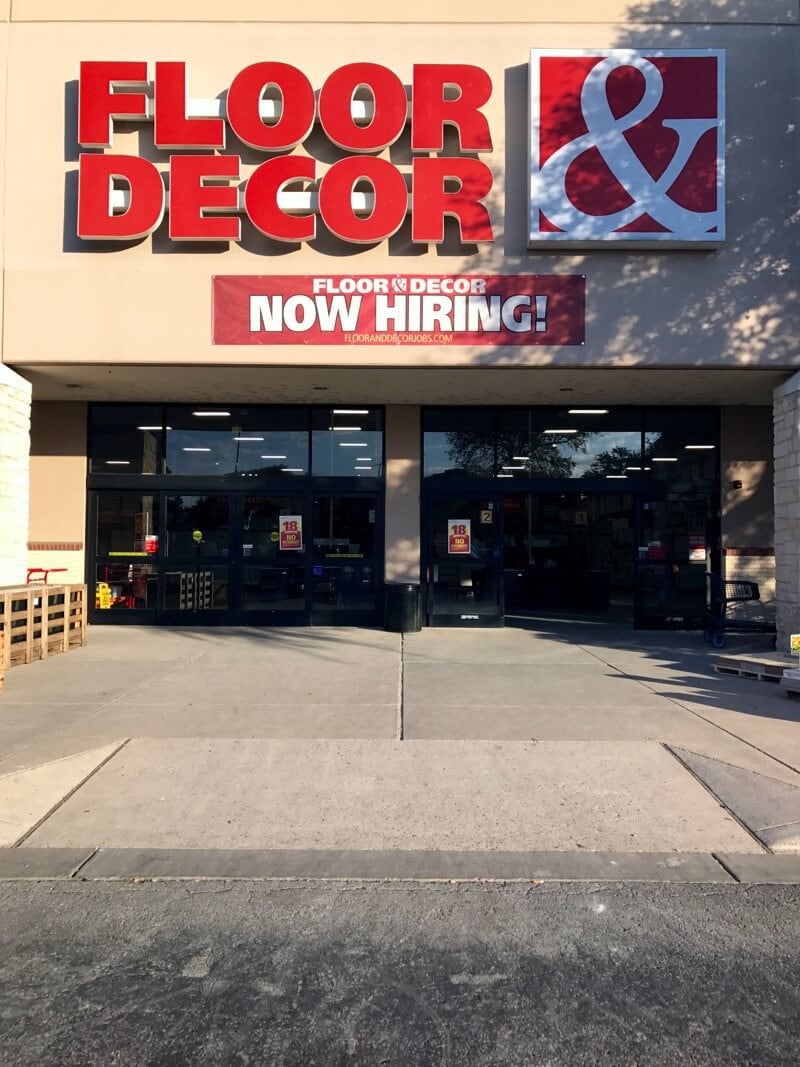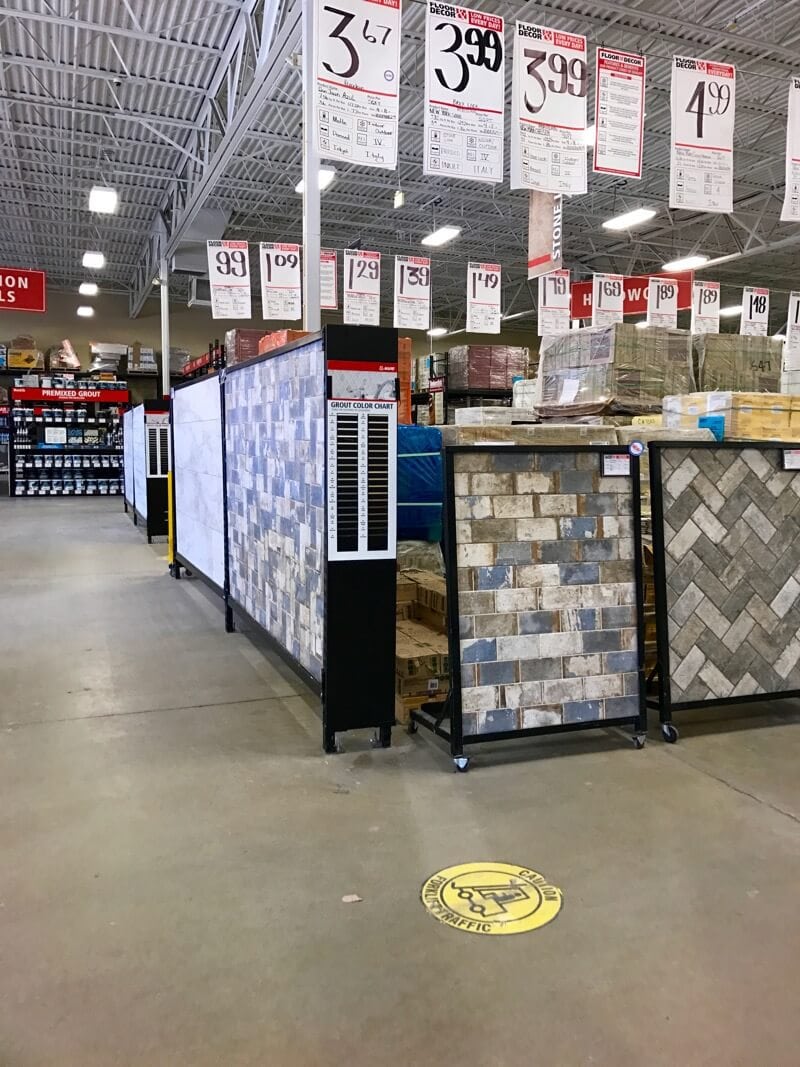 This post is sponsored by Floor & Decor. All opinions and enthusiasm about tile are 100% mine.
How to Choose Bathroom Tile
Have you ever been to a Floor & Decor? I hadn't been prior to starting to work with them for this, but my mom has been obsessed (seriously, y'all, OBSESSED) with them for years now. My parents used them a while back for the tile in their kitchen and I seriously think she's mentioned them to me once a week since then. So, I was pretty excited to head out to the store and see what all of the fuss was about.
Y'all.
She wasn't exaggerating.
This place is so cool.
We learned when we visited that our local store is actually one of the smallest stores in the entire chain – I was kind of shocked when we were told that because I feel like it's massive. There are so many options that it's practically dizzying – I can't imagine an even bigger store!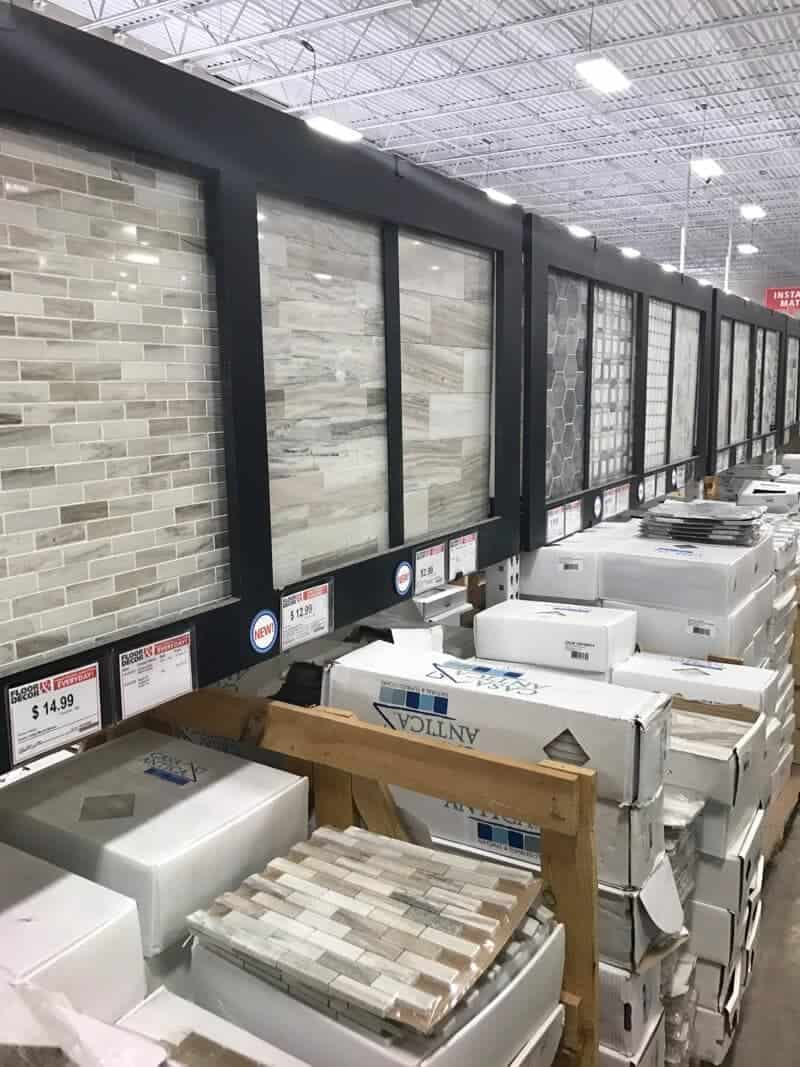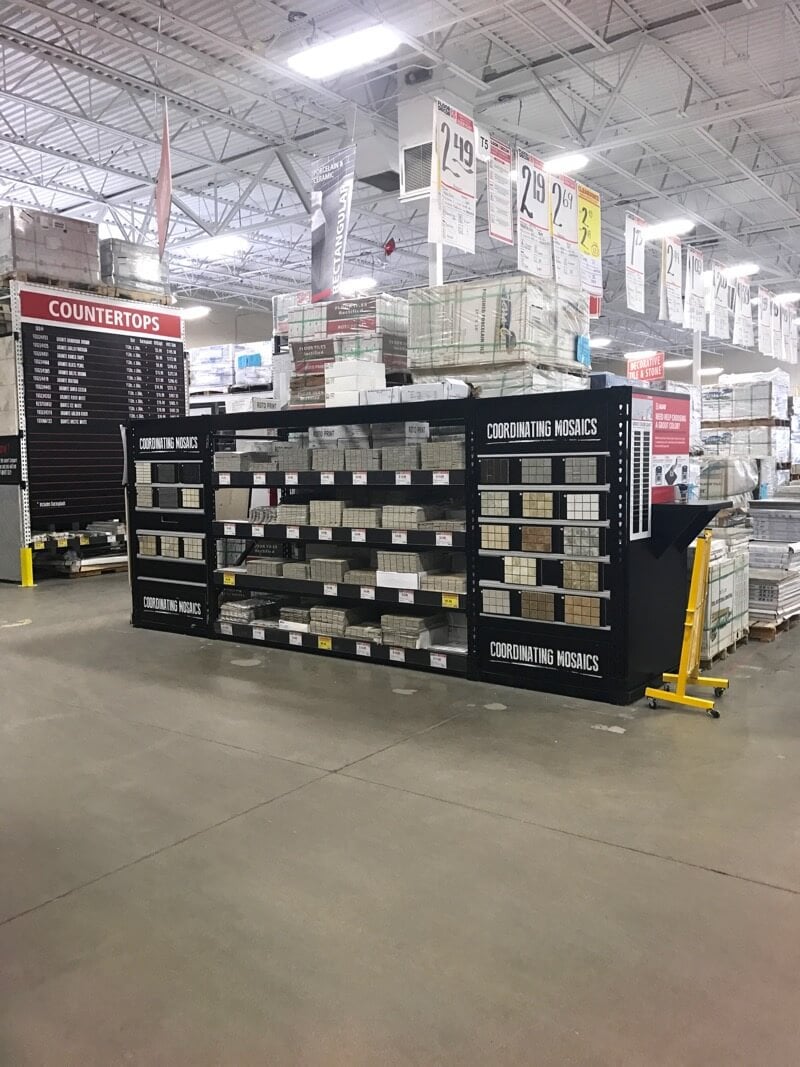 We got to walk around the store a bit with the designer, and it was so fascinating to hear him talk. These people have a sincere passion for what they do, they put so much thought into it, and they know their stuff. Everyone we talked to while we were in the store was extremely knowledgeable and helpful, and they made us feel a lot more confident about this project.
My favorite part about the store, though?
The prices.
You guys, Corey and I haven't done much tiling so I'll admit that I'm not super up-to-date on what things cost, but I was sincerely surprised by how affordable the options were here. I mean, this amazing marble-looking tile (it's actually ceramic) is only $1.99 a square foot.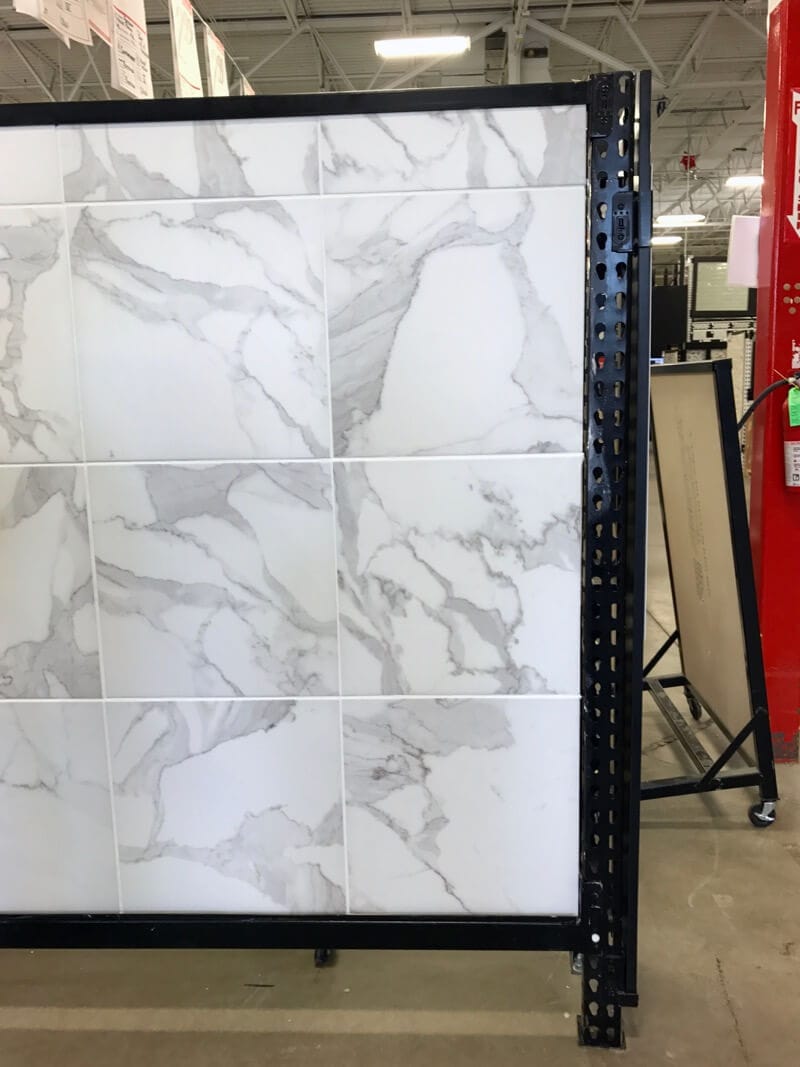 Swoon!
I was also pretty in love with the wood options – my parents are getting ready to replace all of the carpet in their house and I tried to convince my dad that they need this wood in their house. I am in loooooove.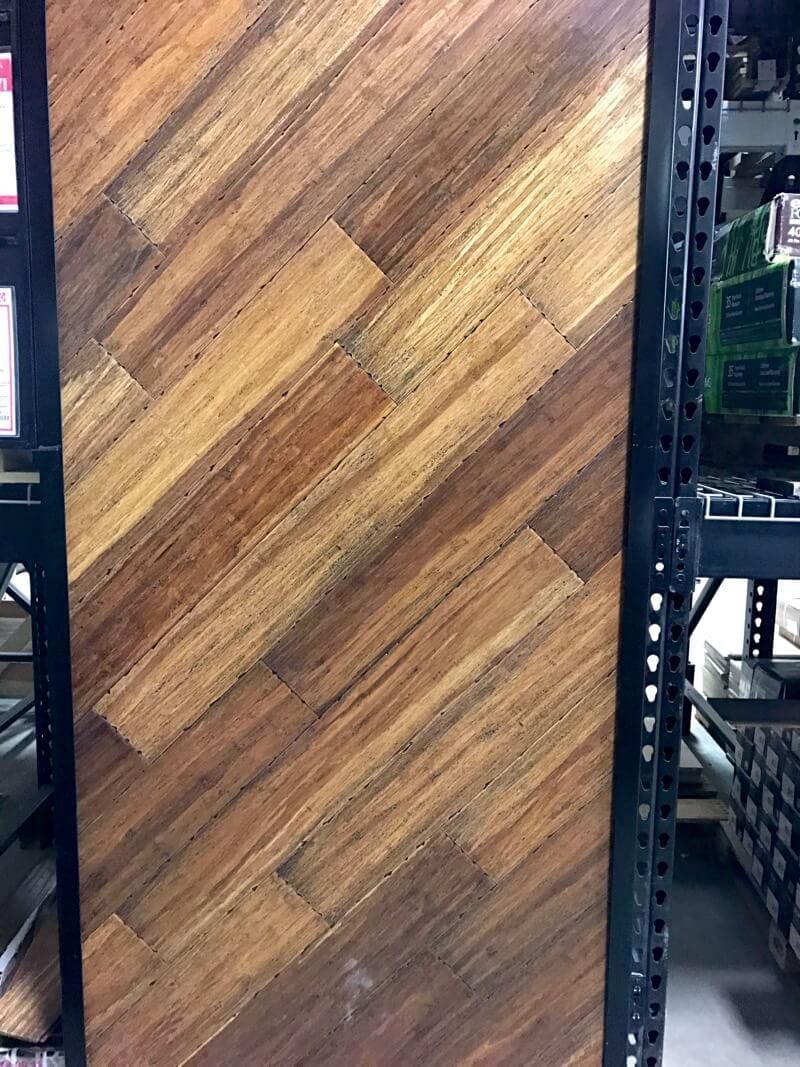 I also loved that they have these little stations around the store with tips & tricks for tiling jobs. Corey and I have a lot to learn about tiling, so we were definitely keeping our eyes out for these displays to help us avoid any rookie mistakes (let's be real, we'll still make a few).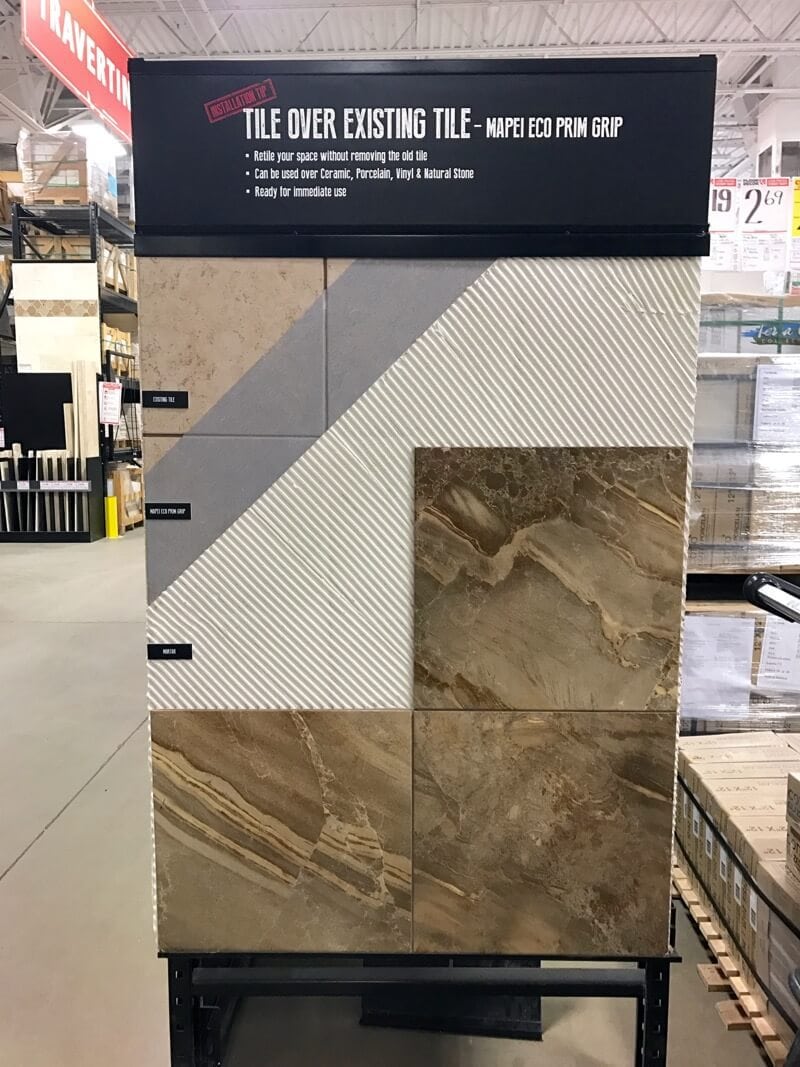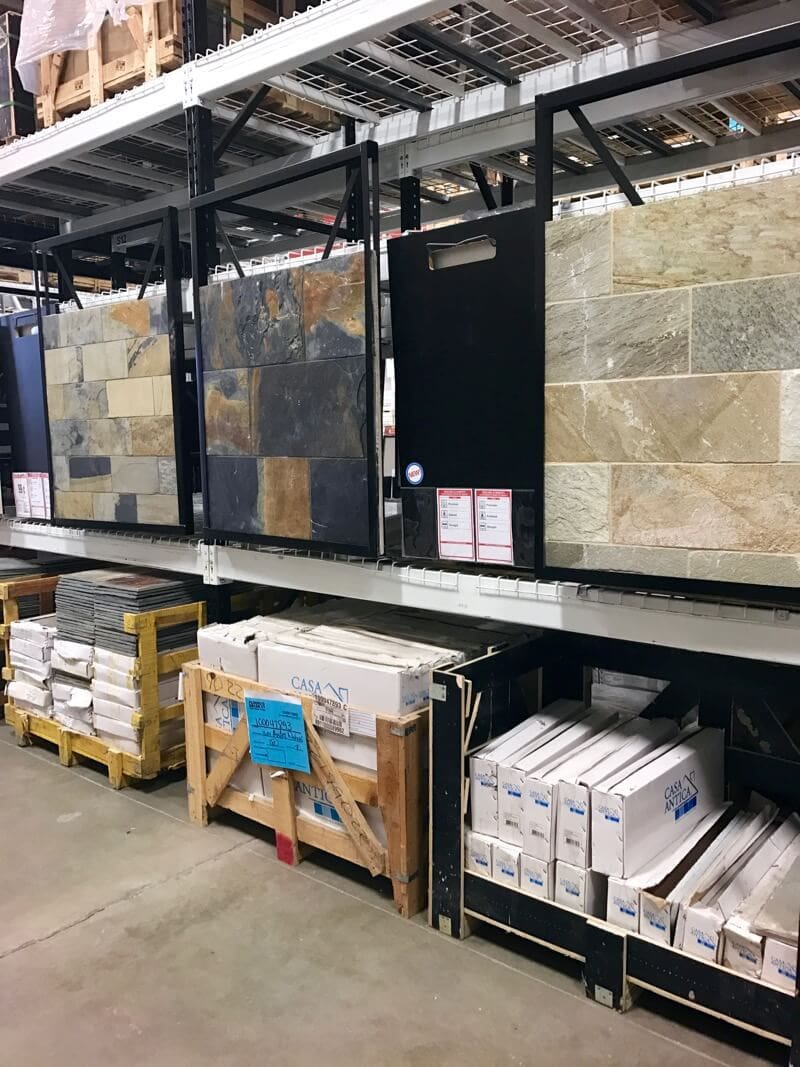 Do you think this amazing stone farmhouse sink would have fit under my shirt? Because I seriously considered trying to stuff it up there and sneak out with it on our way out the store.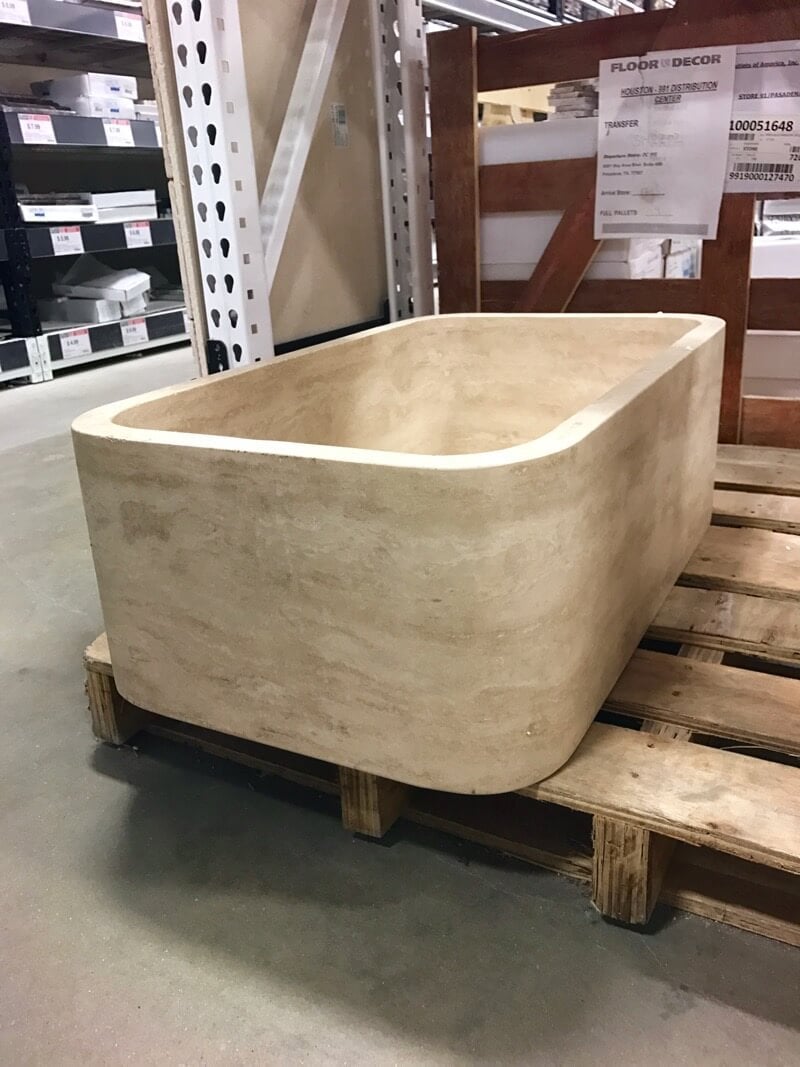 Oh, and can we talk about the countertops? You guys! They have countertops for so cheap. And they're gorgeous. This seriously gives me hope that we'll be able to replace our painted kitchen countertops sooner rather than later, because at these prices even we can afford new counters.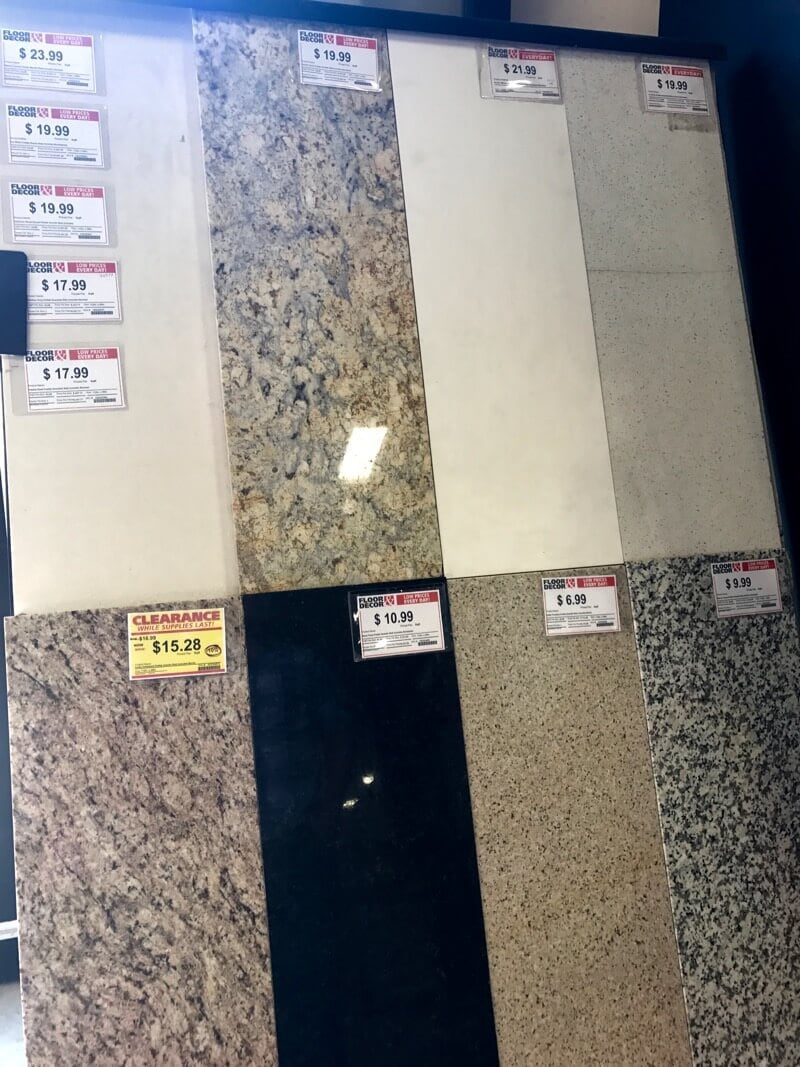 Oh, oh, oh. One more thing. I'm just gonna drop a photo of this tile here for you to feast your eyes on.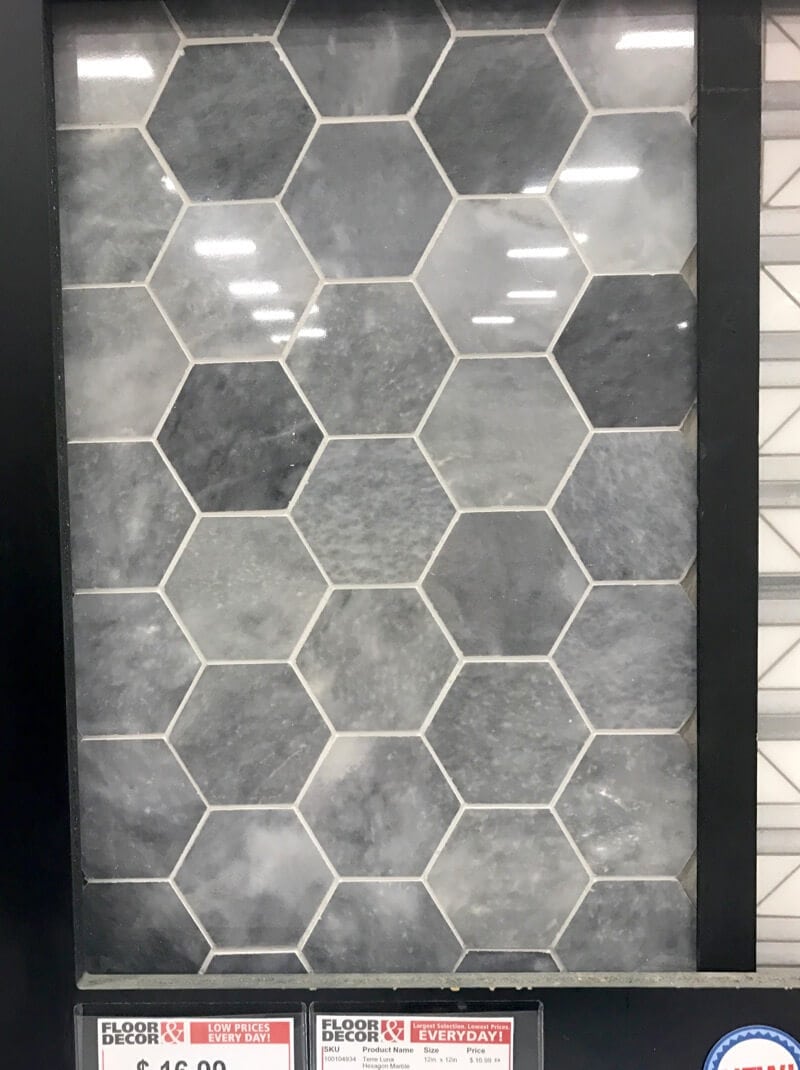 I'm seriously writing a sonnet to this tile. It's so pretty I get a little teary-eyed when I look at it.
Oh, and even if you don't have one near you, you can order just about anything they sell online too! I spent a LOT of time on their website gathering ideas before we went to the store, so we had it pretty narrowed down before we made our official decision. Here are a few of the options from their website that we really liked:
UPDATE: If you want to see our finished bathroom, just click here to see the big master bathroom renovation! 
Bathroom Floor Tile Ideas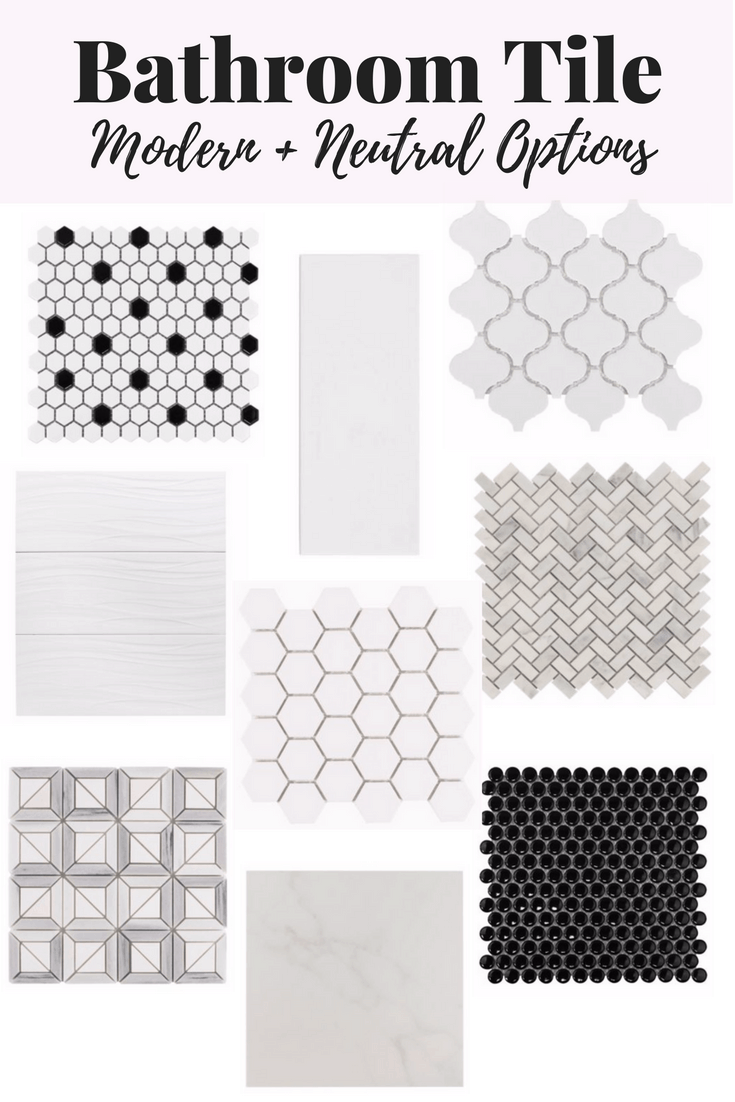 Our choices are all in that little graphic! Can you guess what we chose?!
I won't make you wait.
Corey and I knew going into it that we wanted white subway tile in the shower. I'm a giant sucker for a good subway tile, so that was non-negotiable for both of us. The rest of the tile, however, was pretty up into the air. We spent a few hours in the store one Saturday afternoon just walking around and trying out different options – we went back and forth (and back and forth) for foreeeeeever before we finally landed on a combination that we could agree on.
Are you ready to see it?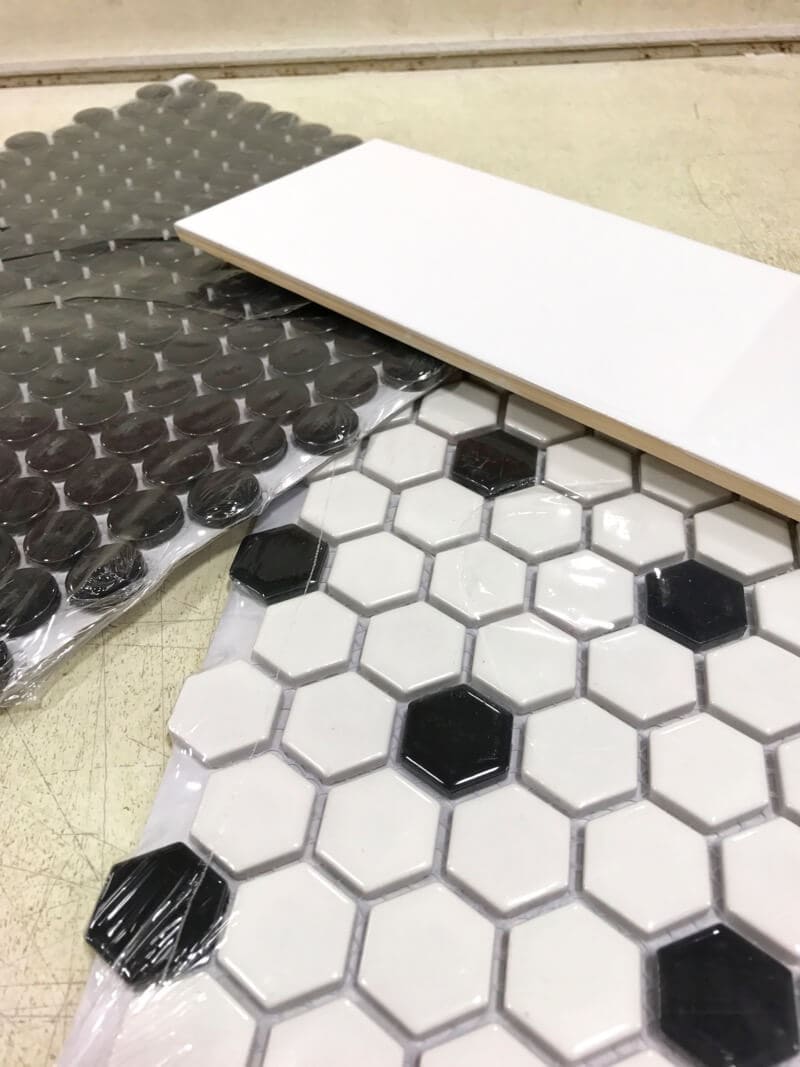 Eeeeeeek! You guys. I love our tile.
We're going to be doing the subway tile on the entire shower and bathtub area – it's a 4X10 tile, so it's a bit bigger than the standard 3X6. We liked the slightly larger size – I would have been willing to go even bigger, but I think this will look perfect.
The black penny tile will be used as an accent tile in the room – we're doing it in the shelf for the shower and in one other spot that we'll talk more about later (we're still working out the details, so I'll share when things are more settled). And, of course, the black and white hex tile will be our flooring. I don't know about you guys, but that tile makes me so happy – there's just something about that pretty black and white pattern that makes my soul sing.
I cannot wait to see how it looks when it all comes together.
In my head, it looks amazing. And my head is usually right.
I can't wait to show you the finished product (we've started working and it's going to be a LONG PROCESS but it's coming together!) – hopefully I don't die of exhaustion before we finish. At one point when we were picking up all of the tile my dad looked over at me and said, "You do realize how big of a job this is, right?"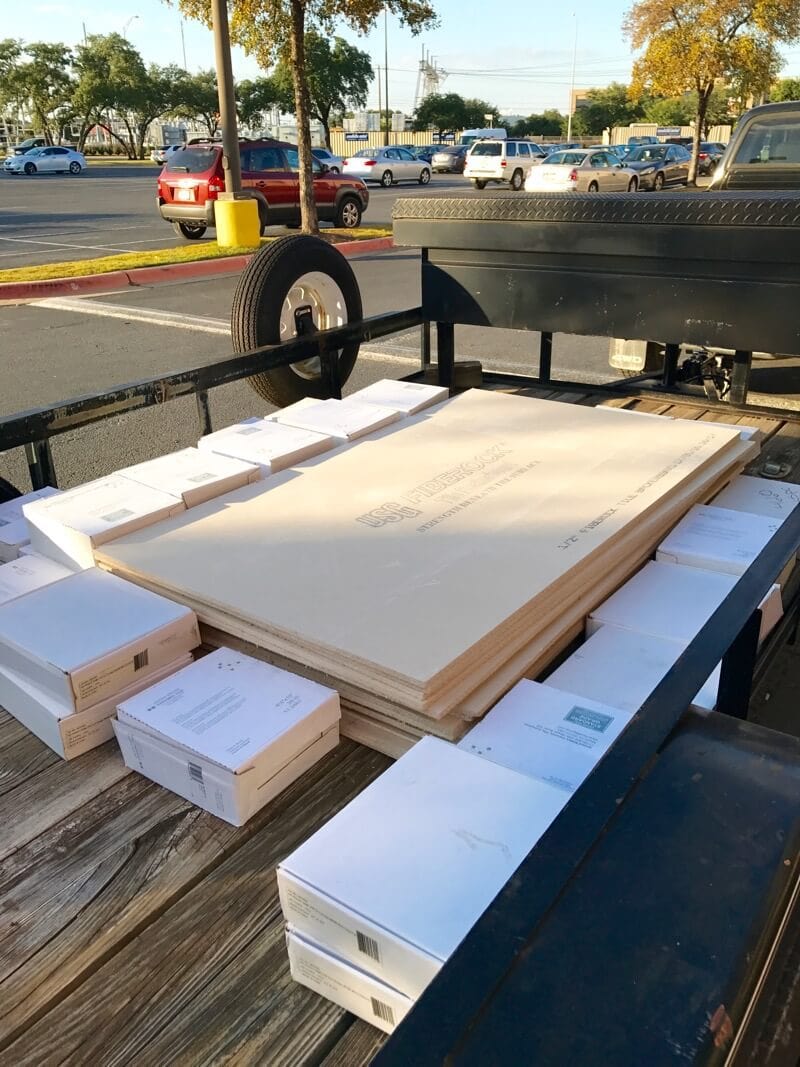 Well, geez, Dad, thanks for the encouragement.
(He's totally right, though. What were we thinking?!)
Be sure to pop back in tomorrow for an update on how the bathroom is coming together! I'll give you a little hint – the brown walls are gone! 
Have you ever been to a Floor & Decor store? I think I might be just as in love with them as my mom is, now!