One Room Challenge // Week Two
Behr is one of our sponsors for the One Room Challenge and they provided us paint for this post – all of the raving about it that you're about to read comes completely from me, though!
Are you ready for the first official bathroom update?
It's painted!!
We'll talk about the paint in a moment, but first let's chat about the fact that I have walls again! Y'all, it's been almost three years since this entire bathroom has had walls. There are no words for how good it feels to have this part of the renovation done.
So, let's chat about how we got here. First, we finished demo.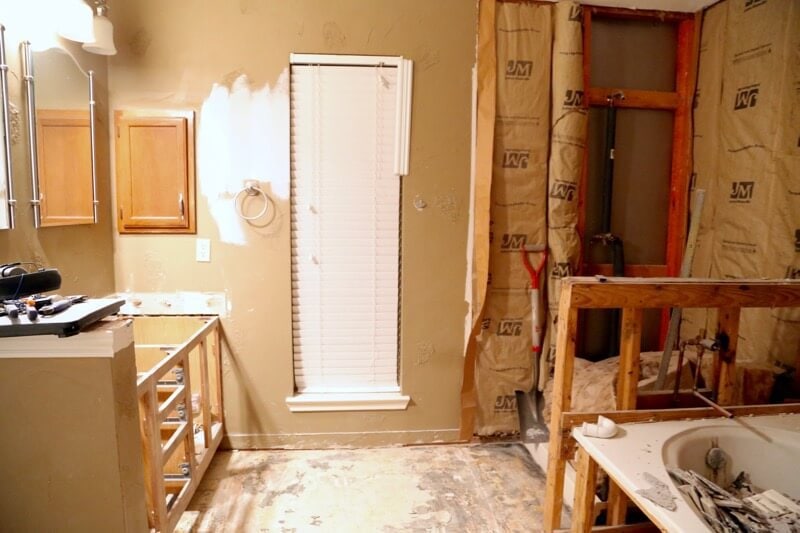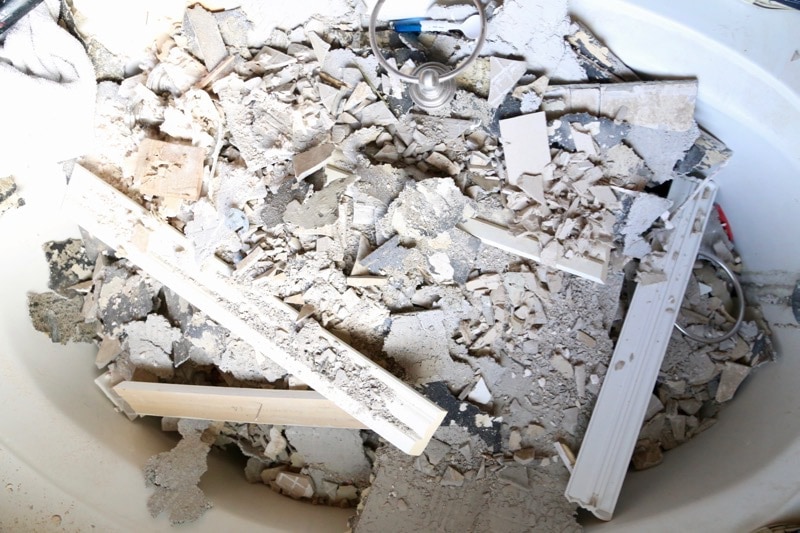 Demoing the walls was fun and easy – the floor, not so much. It was noisy, exhausting, and messy. But, we got it all done (thanks largely to the help of my amazing brother in law – did you SEE him on my Instagram story breaking up the tile? He's my hero.) and as soon as we did I felt like I could breathe a giant sigh of relief because it meant we could finally start putting the bathroom back together!
We spent all weekend (ALL! WEEKEND!) cutting up and installing the backer board for both the floor at the walls. I thought we'd be able to knock it out in one day but I was oh-so-wrong. It hours (and hours and hours) of backbreaking work. There was sweat. There were tears. There wasn't enough sleep.
Oh, and on top of all of it, I got sick on Saturday. Sweet.
BUT! We finished it! It nearly killed us, but we finished.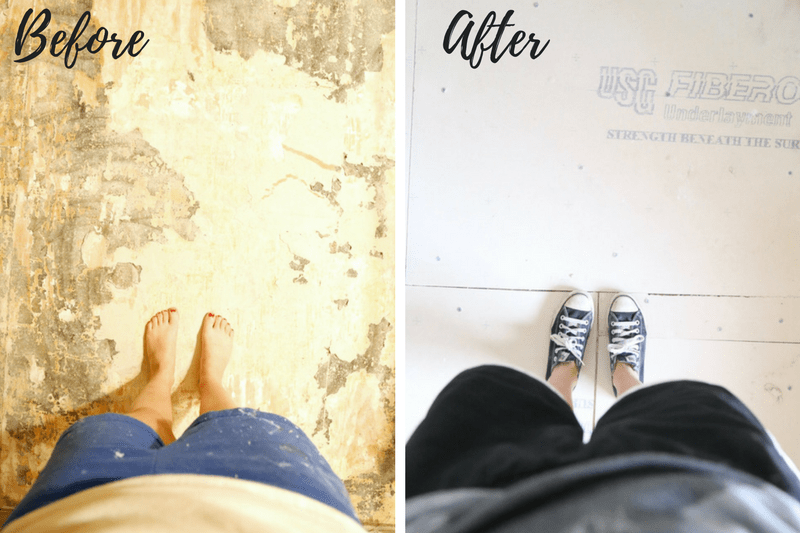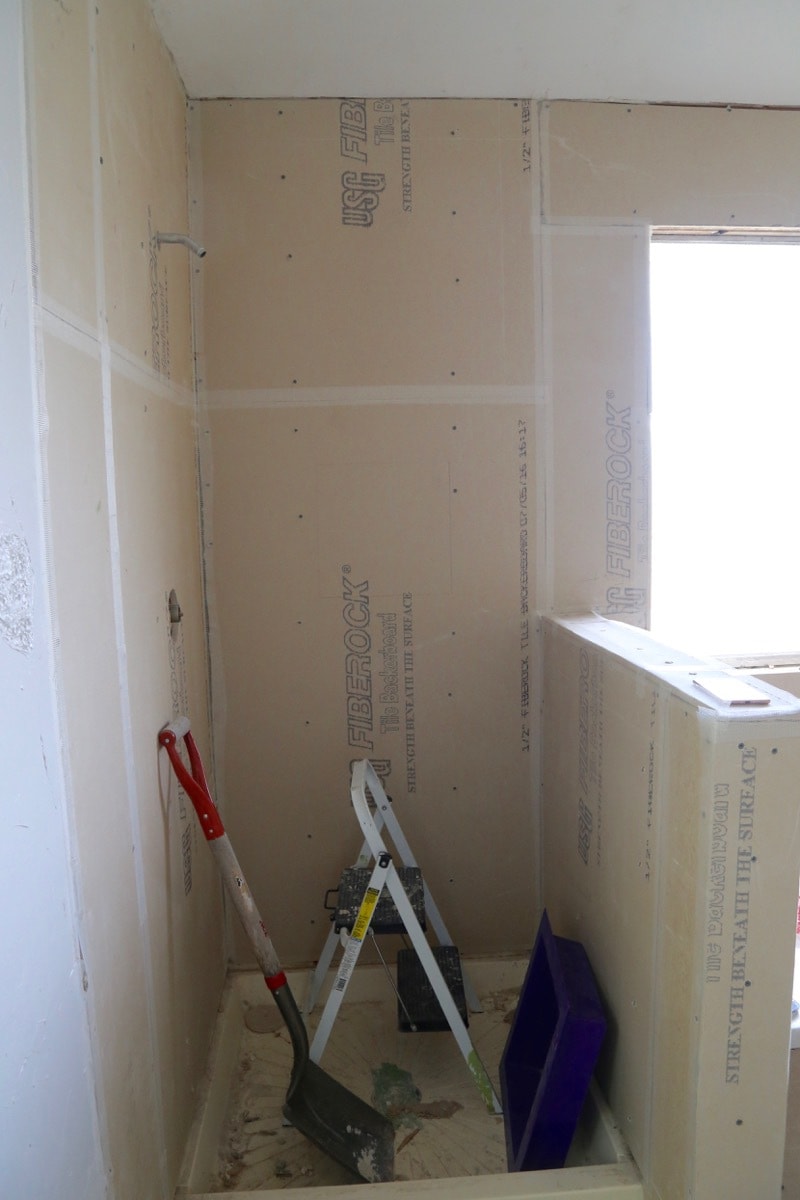 And that brings us to paint. As you know, Behr is one of our sponsors for the One Room Challenge, and I am so incredibly glad that we decided to work with them on this. I wasn't super familiar with Behr paint until recently, and I am not at all exaggerating when I tell you guys that I am 100% converted to using nothing but Behr from here on out.
Seriously. They're not paying me to say that. Behr provided us with the paint for this bathroom, but I can assure you guys that all of the gushing you're about to hear is coming from me…this paint is amazing. Oh, and be sure to keep reading, because there's a giveaway!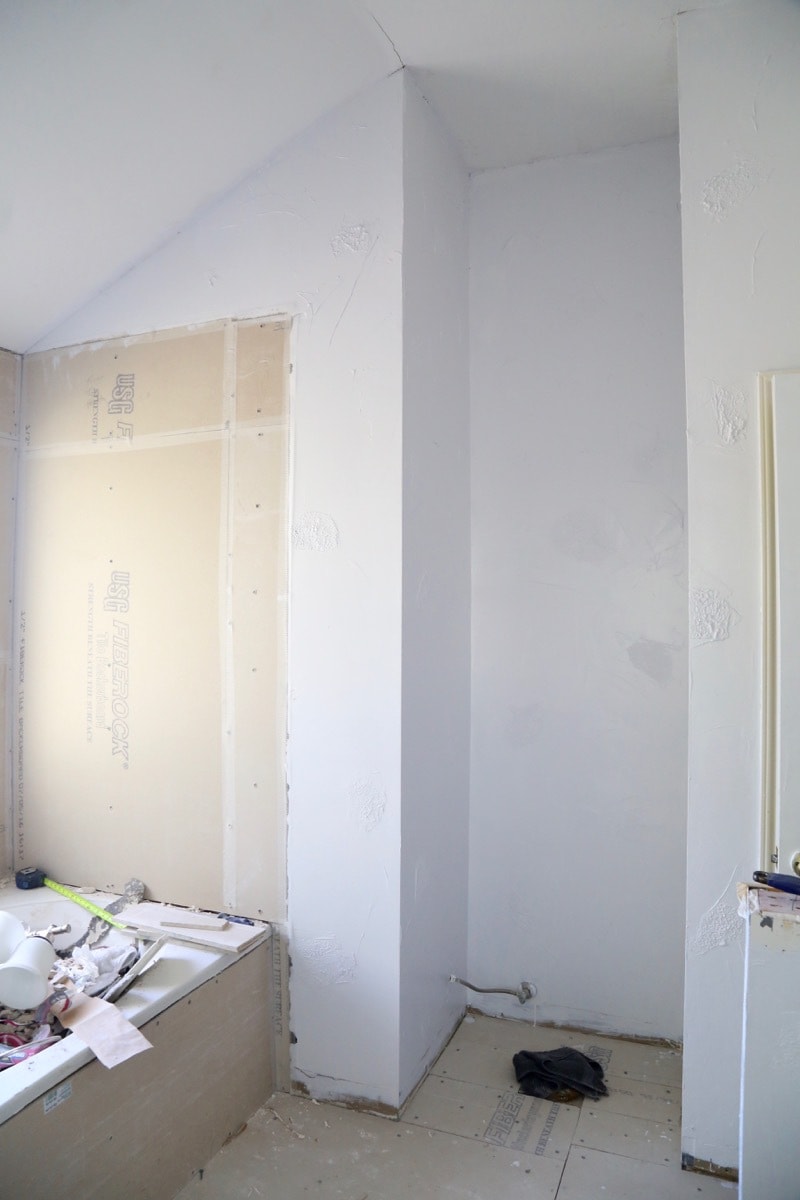 I've done a lot of painting in my day. We hadn't used Behr very much until they agreed to sponsor us for this challenge. We decided to give their paint a shot when we were re-painting the garage walls (I haven't given you that big reveal yet, but it's coming up next week, I promise!) and we were able to paint our entire garage with one gallon of paint.
Now, if you aren't familiar with the room, let me remind you how important that information is – we converted our two-car garage into a media room a few years back and made the mega mistake of painting the walls black. I hated it almost immediately, and I have been dying to re-paint it ever since. We recently gave it a major overhaul, and part of that was painting the walls a super pale blue. I was terrified of the project because I figured I'd have to use buckets of primer and paint and it would take ages.
But! I decided to try out Behr's Marquee line for the room. I didn't use any primer (you heard me right! No primer!) and I got fabulous coverage in the entire room with just two coats of paint and a few touch ups. And I only used one gallon of paint! We used Silent White, and it's the absolute perfect bright white – there's a hint of a blue/gray undertone (which is exactly what we wanted) and it shifts slightly throughout the day. In the mornings it's very bright and cheery, but when the sun goes down and there's less natural light in the room, the gray undertones come out and it feels more moody. It's basically perfect.
I've been shouting my love of this paint from the rooftops ever since we painted that room (seriously, all of the people in my life are tired of hearing me talk about this by now) so I was really excited to see how it covered up the ugly brown walls in our bathroom.
As you can see, it did a pretty fabulous job.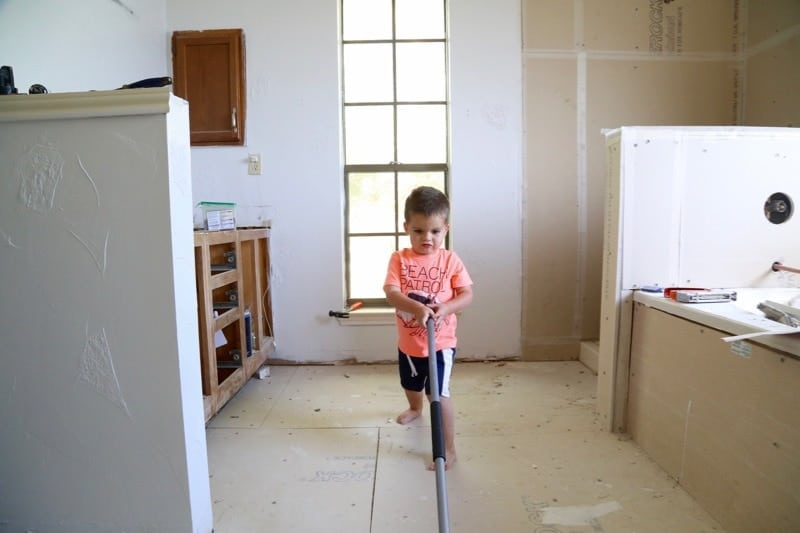 I ordered two cans of paint when I was preparing for this because I hadn't worked with it yet and didn't know how magical it was. I didn't even get through one of the gallons, so I have tons of it leftover! I'm definitely going to be using this in the guest bathroom when I get around to painting it, and I'm even considering using this color in our guest room (that is, if I can talk Corey into white walls).
I'm kind of blown away by how big of a different it makes just to be rid of the brown walls. It's always so much fun to see how a room can be completely transformed by just a couple of coats of paint! We still hate the texture on the walls in this room (who thought that was a good idea?!) but we don't have the budget (or time, or energy) to do anything about it, so we're rolling with it. It's much less noticeable now that the walls are brighter, and it makes me so excited to see how the rest of this room comes together!
Next up on the old to-do list is tile. You've already seen the tile we chose, and you can see from the photos where we're planning on doing tile in the bath and shower area – we're taking it up a lot higher than it was before around the bath, and we're bringing it out into the room a little further as well. We've already started doing a bit of tiling and it's looking amaaaaaazing. Be sure to follow me on Instagram and Facebook to see some sneak peeks of the tiling process as it starts to come together!
After the tile is done, we'll be tackling the vanity, swapping out the mirrors, doing something amazing to the ceiling, and adding in some really fun details. So much left to do! So little time!
We can do this.
I think.
Oh, before I go, I need your help!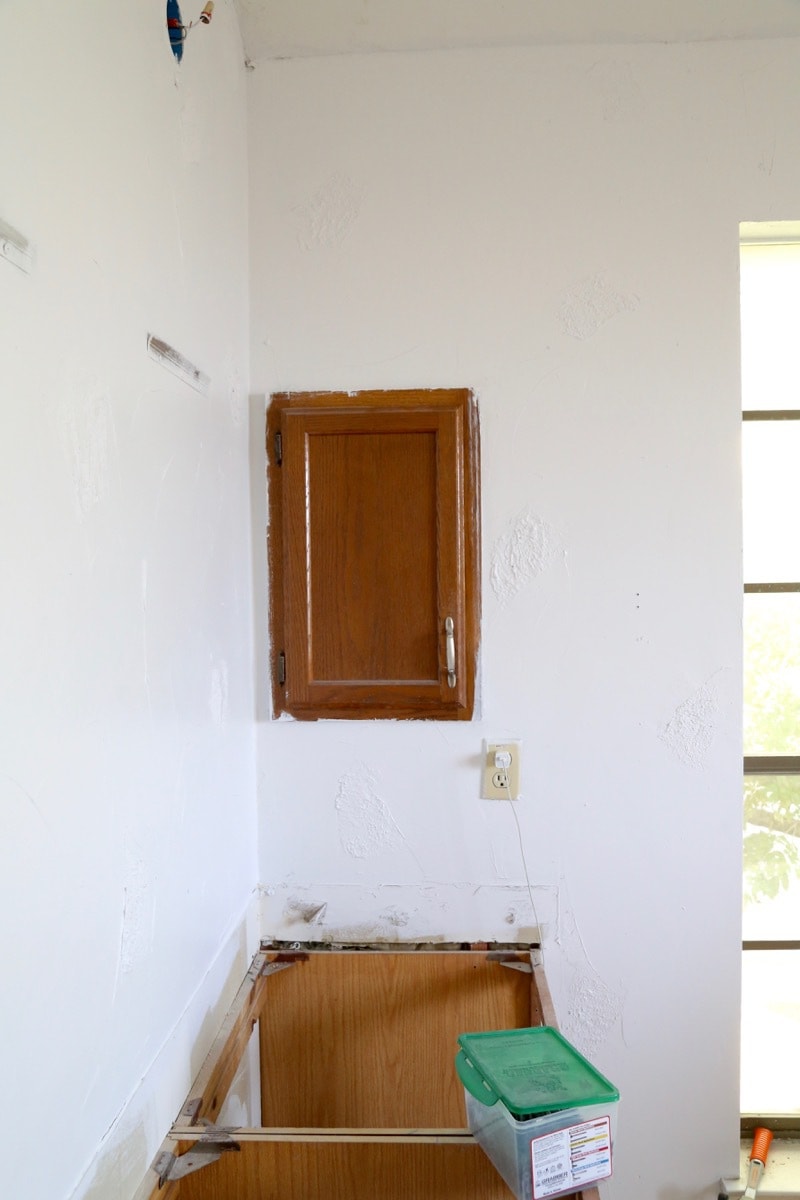 See the medicine cabinet? I'm stuck on what to do with it. The current options are to paint it the same color as the vanity (which I'm not wild about, because it's going to be a bright-ish color), paint it the same color as the walls, or paint it the same color as the trim (which is a brighter white than the walls). I'm leaning towards just painting it the same color as the walls so it blends in a bit, but I'm not sure. What do you think?
Alright, I promised a giveaway, didn't I? Behr generously offered to give a gallon of this amazing paint to two of you! Head on over to my Instagram page for the giveaway – it's open until next Friday!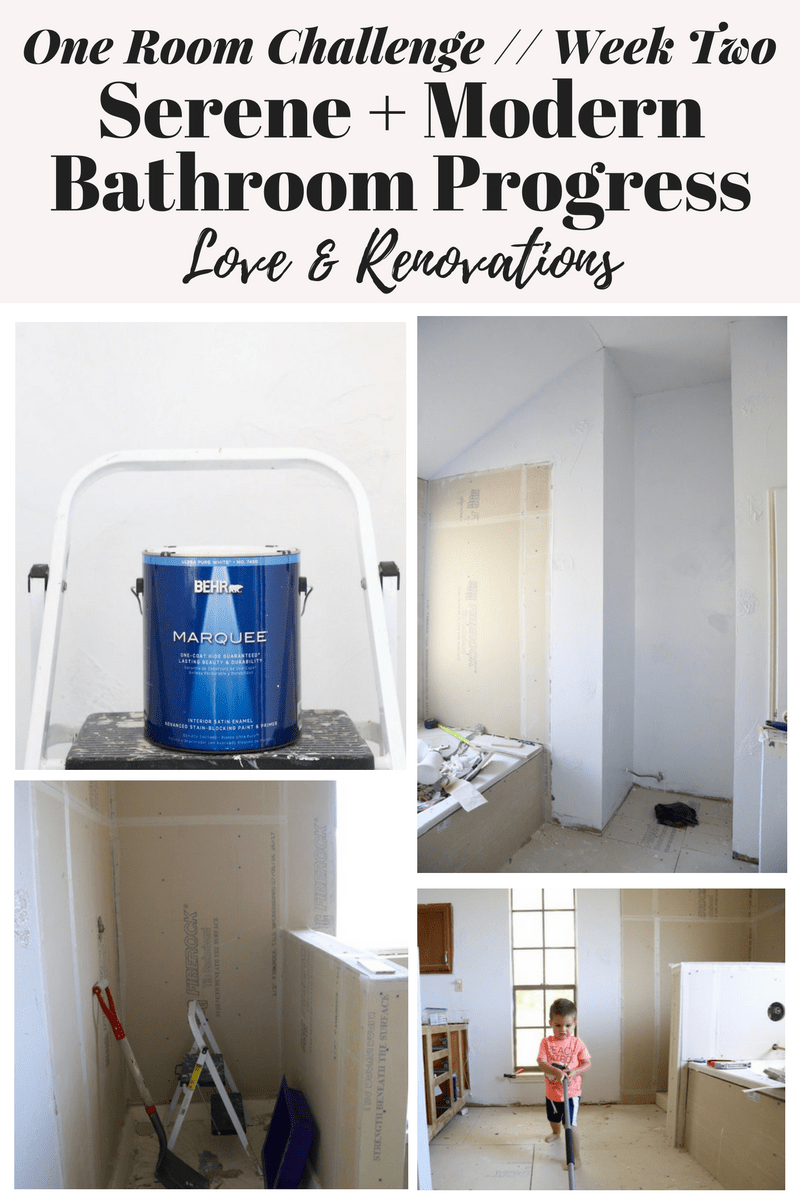 You can see all of the other fab bloggers linking up to the One Room Challenge here. Don't forget to give some love to our awesome sponsors for this challenge! We're honored to be working with so many amazing brands. Thanks for supporting the brands that support Love & Renovations!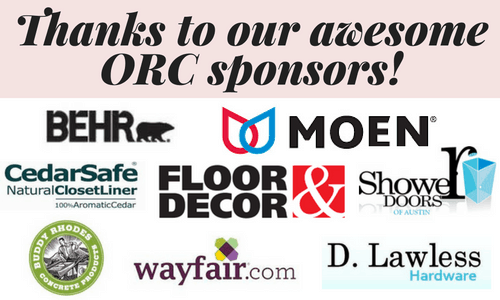 Behr // Moen // Floor & Decor // Shower Doors of Austin
CedarSafe // Wayfair // Buddy's Artisan Mix // D. Lawless Hardware
Miss a One Room Challenge Post? Catch up here: