Ahhhhh!!!
You guys! We have ONE WEEK left until the big reveal of our bathroom. And we still have a lot of work to do. Like, a lot. I'm freaking out a little bit.
We can do this, right?!
If you're not up-to-date on the big project, Corey and I are currently renovating our master bathroom for the One Room Challenge. It's been an absolute whirlwind and we're so totally exhausted, but also beyond thrilled that we're finally getting to do this. You can catch up on our progress by clicking through all of the links below – if you haven't seen the posts yet, you'll definitely want to see the evolution of the room so far before you keep reading.
Okay, so for an update – I was hoping to have a big update for you this week, but we're still waiting on a couple of things to get installed, so instead we're chatting about some smaller updates. Still exciting, just maybe not as dramatic.
Although, there's something about baseboards that just makes a room feel more complete.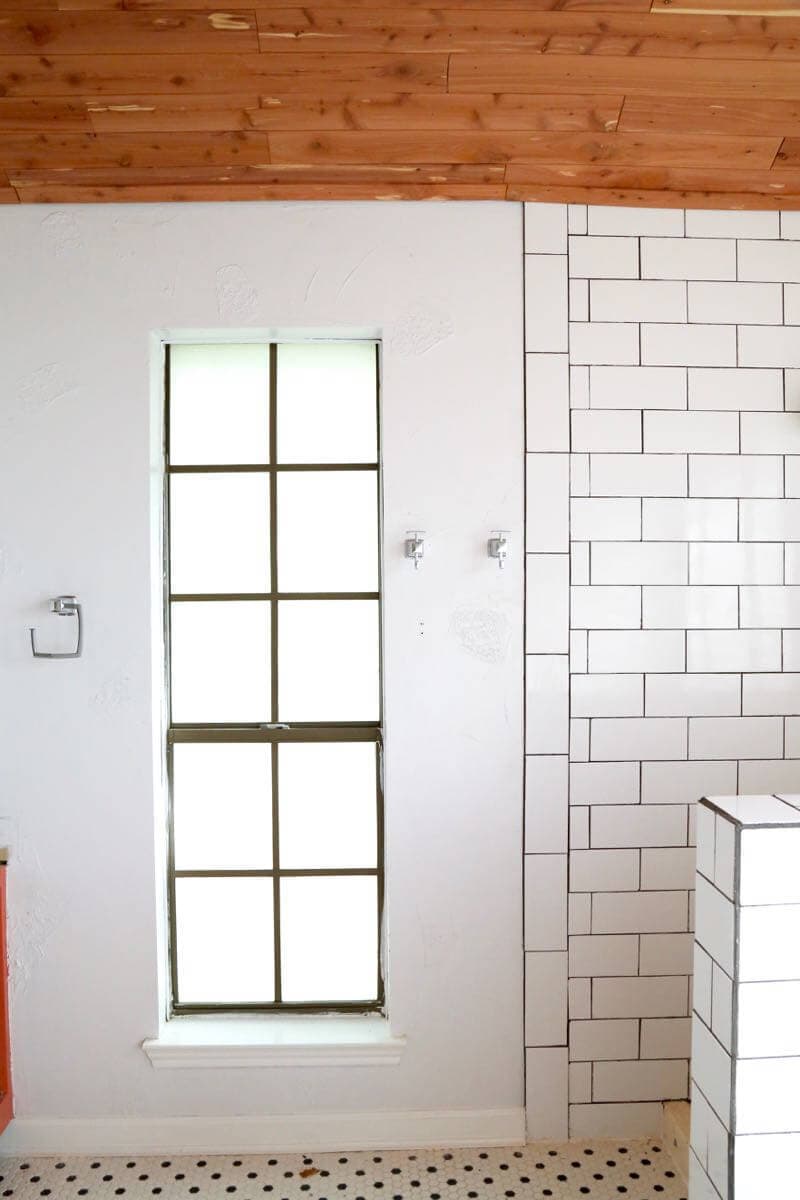 Mmm, much better, right?!
Oh, and we have a toilet again.
So that's nice.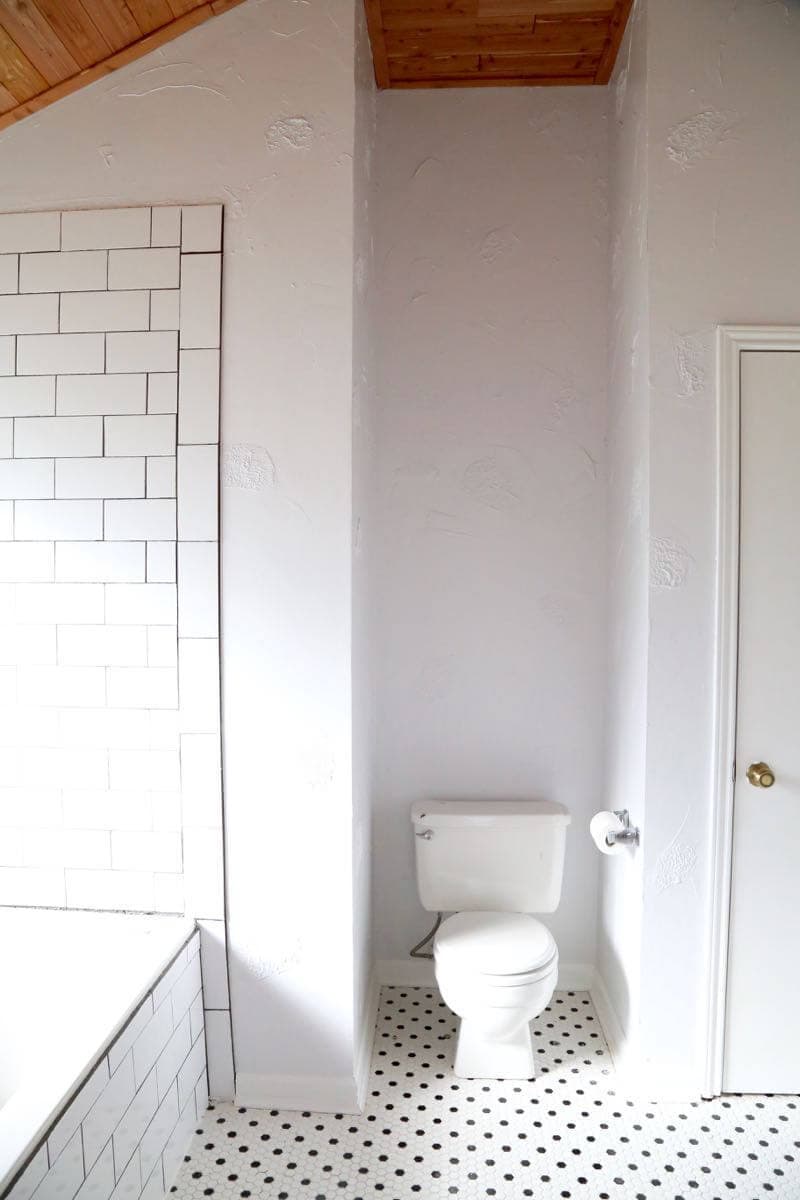 (This post contains affiliate links. Click here to read my full disclosure policy)
This week was all about cleaning up, finishing caulk, and putting some finishing touches on projects we've already done.
One of the more interesting things that happened was that we put some frosted glass film on the window – one of the windows in this room is privacy glass, but the other one is not. They both look out onto relatively busy streets in our neighborhood, and we have people walk by our house all the time – so it wasn't an option to leave the window uncovered, unless we wanted the whole neighborhood to be able to watch us shower and pee (we don't want that). Previously, the window had some blinds on it, but I really never liked the look and we had to leave them completely closed at all time, so it felt a little silly. I've used this glass film before and I really love how easy it is to install, and it's a really affordable option, so we decided to use that in here.
This stuff is crazy simple to use – you just cut it to approximately the size you need, spray on the applicator spray, plop it on there, squeegee any bubbles out, and trim the excess using their handy little tool. It looks really good in person and I love that it allows tons of light to come in the room without sacrificing any privacy. We may end up adding some sort of window treatment down the line, but for now I'm really enjoying the bare look.
What else happened in the bathroom this week? Well, we got the tile all cleaned up, and we installed the shower and tub faucets – which means we have a working shower in our bathroom for the first time in almost three years. This is monumental, y'all. Of course, we don't have glass in the shower yet so it's not actually usable…but it's exciting, nonetheless.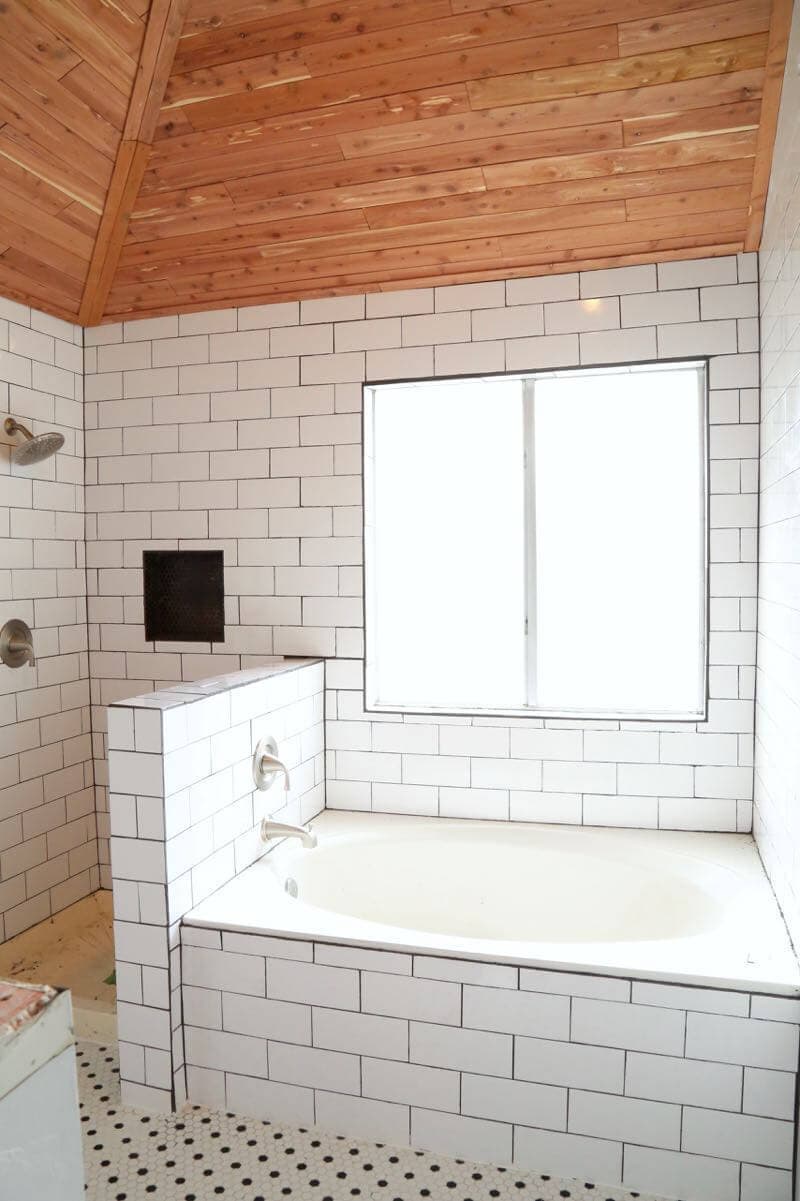 The faucets are all gorgeous – as you know, Moen is a sponsor of our renovation and we're so glad we decided to work with them for this. Close ups of them to come in the final reveal, promise! We also got all of the other bathroom hardware from Moen, and we installed that this week too. I fell in love with this stuff at Haven a few months back because of how incredibly easy it is to install. They have this genius technology called Press & Mark and each of the pieces has a little ink stamp on the back of it like so:
When you're ready to hang it, you just push it up against the wall where you want it, and it leaves perfect little dots where your screws should go. Brilliant! I'm a total idiot when it comes to hanging stuff, but even I can handle this.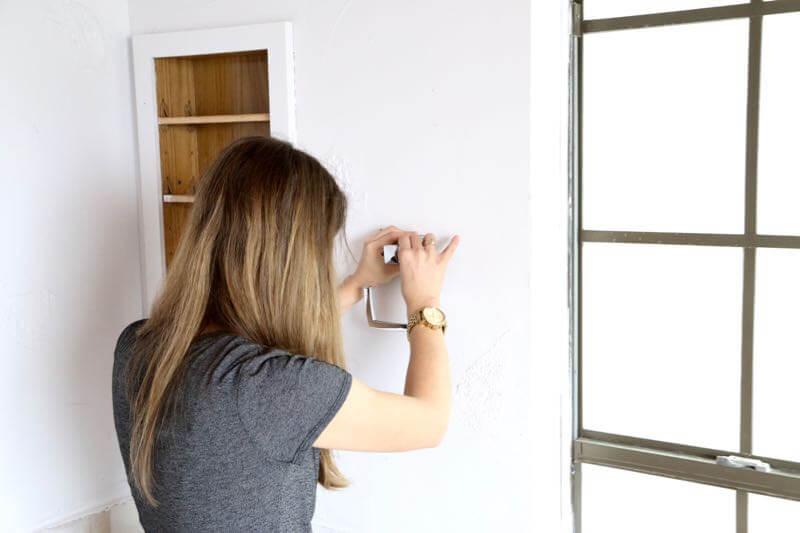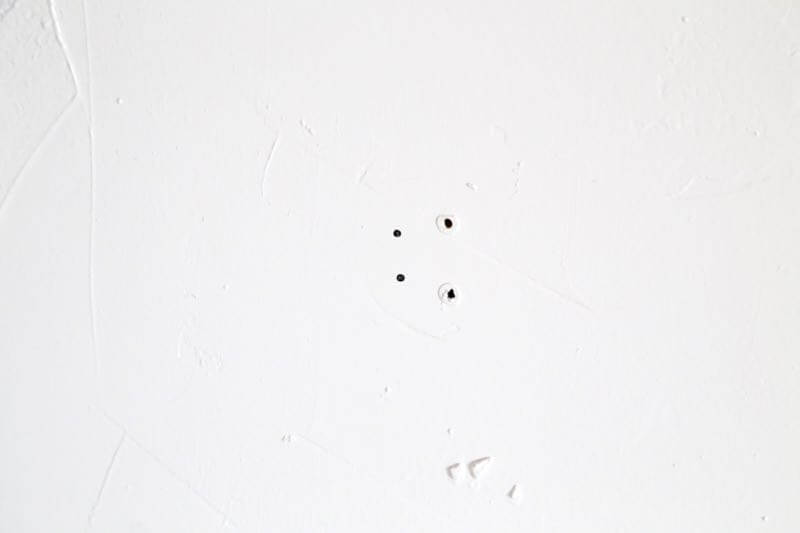 (Ignore the screw holes from the last towel ring, those got covered up with the new one!)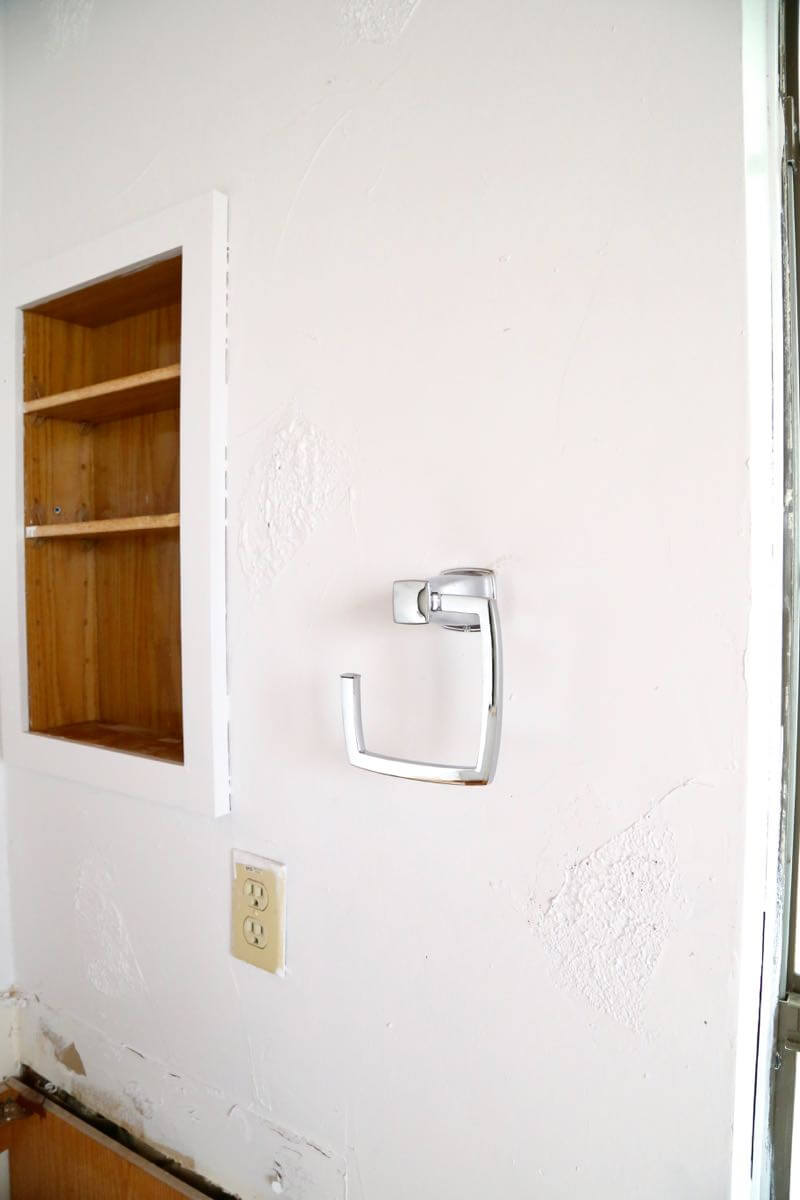 And I'm seriously still swooning over how pretty it all is. We used to have a long towel bar in this bathroom, but we wanted to extend the tile out a bit to make the shower seem bigger, so we opted for hooks instead. The jury's still out on how we fell about them in terms of functionality since we haven't actually used them yet, but they're pretty easy on the eyes!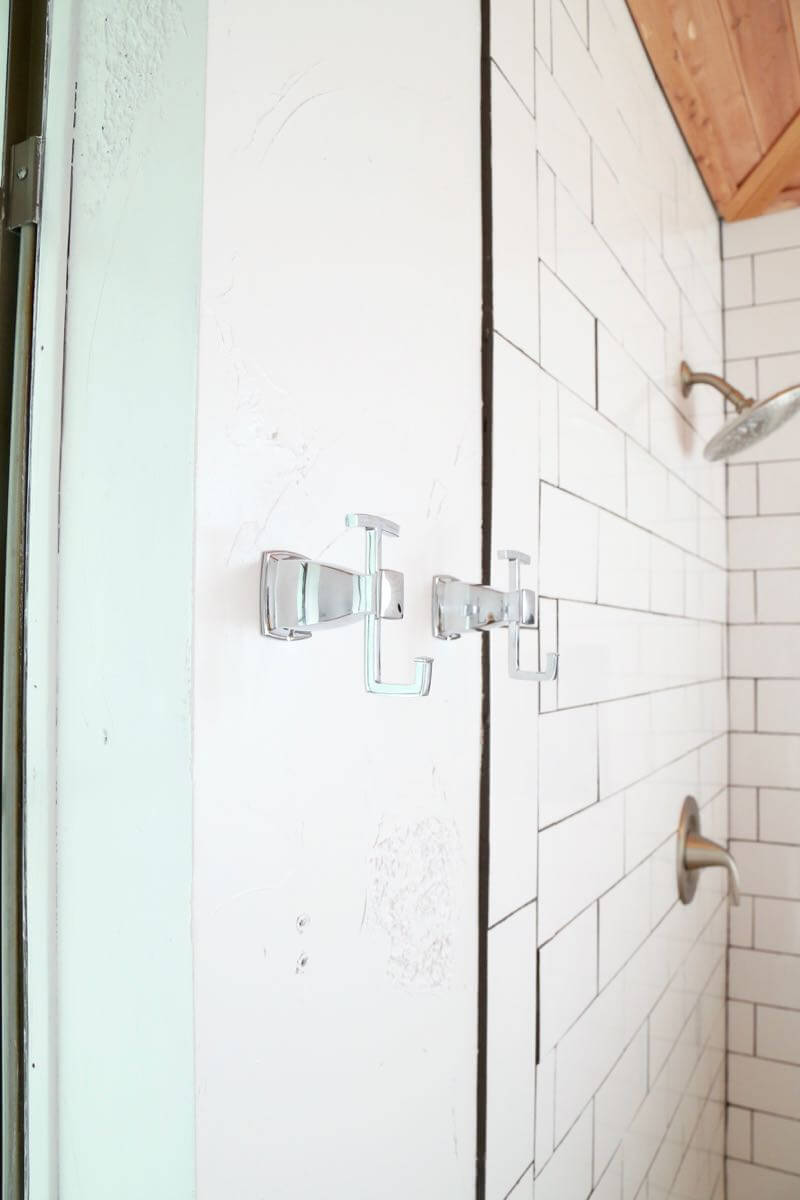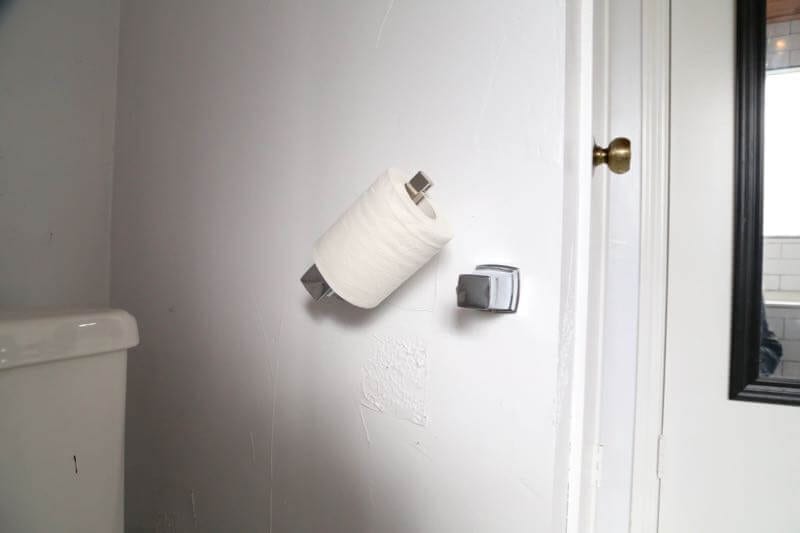 Oh, and the toilet paper holder pivots up instead of being spring-loaded. Maybe now Corey will take the two seconds to replace the toilet paper roll when it runs out?
This hardware is all so beautiful, and we've got even more Moen goodness coming up for the reveal – we're using them for the sink faucets too!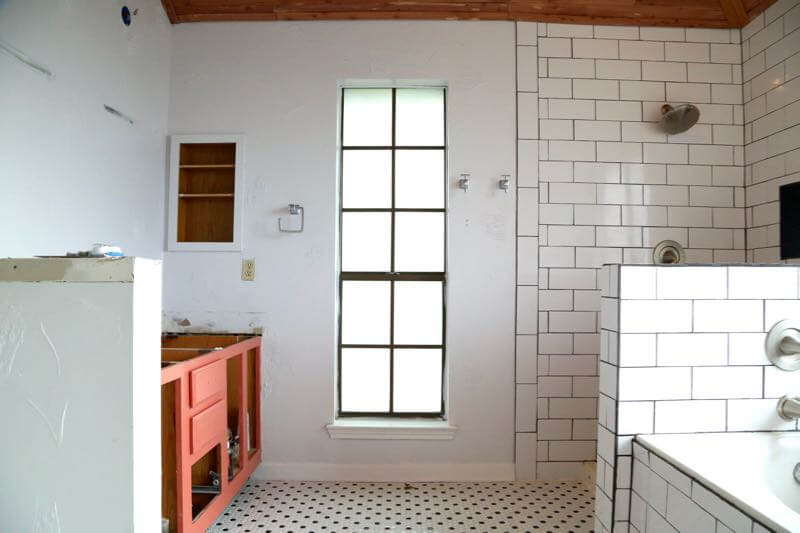 So, I'm sure you're dying to know what's left. Well, the list is long. Here's our to-do list between now and next Wednesday (if we're being honest, this list really should get done by Saturday so I have time to photograph. Ack!)
Have shower glass installed (happening TODAY!)
Install countertop + sinks (should be any day now!)
Finish painting cabinet doors, and re-install
Tile backsplash around countertop
Install shelf on vanity area
Paint + hang mirrors
Hang vanity lighting
Build + hang overhead lighting (it's a DIY project)
Swap out the outlet and light switch for white ones
Hang art
Do a final cleaning of the tub and shower
Style + add accessories
Y'all. That's a lot of stuff. I have a feeling I'll be up late every night this week working in the bathroom and I might just completely crash next week.
I already feel like I need a nap.
Oh – and be sure to check back on Friday for (hopefully, as long as all goes as planned) our first EVER video! It's about my new favorite really simple, yet life-changing DIY trick and I'm so excited to share our first video with y'all.
As usual, I can't chat about this challenge without sending out some major love to our sponsors. We're still pinching ourselves over the fact that we get to work with these brands, and we're so grateful they partnered with us for this renovation! Thanks for supporting the brands that support Love & Renovations!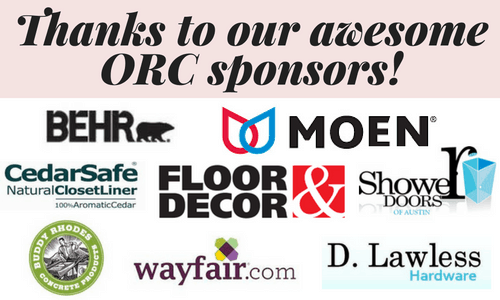 Behr // Moen // Floor & Decor // Shower Doors of Austin
CedarSafe // Wayfair // Buddy's Artisan Mix // D. Lawless Hardware