Y'all – for the first time in nearly three years, we have a working shower in our master bathroom.
I am so, so (so, so, so) excited to finally have a functional shower again and I want to take like 12 showers a day.
If you haven't been following along, let me catch you up – we're  currently renovating our master bathroom for the One Room Challenge. It's been exhausting, crazy, and very overwhelming and we are (thankfully) just about done. I'll be sharing all of the official "after" photos later this week, but today I wanted to walk you through the process of getting our new shower glass installed – this was a process we knew absolutely nothing about before getting started with this renovation, and I'm so amazed by how beautifully it turned out.
I mean, come on.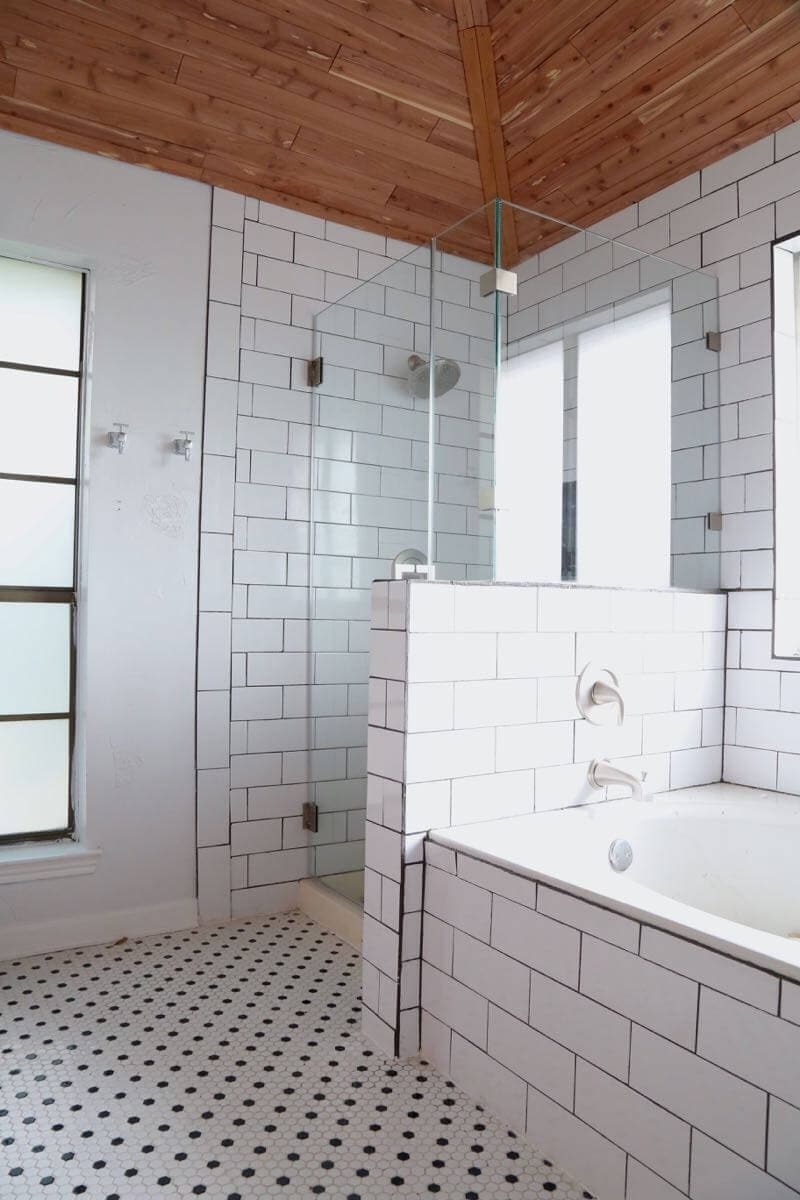 So, let's talk about how it happened. We have the (amazing) honor of working with Shower Doors of Austin for this renovation – I'm still pinching myself that they decided to sponsor this project, and I'm so grateful to them for the amazing job they did. When we got started, I was (more than) a little overwhelmed by what this whole process would look like, but they held my hand through the whole thing and made it was easier than I could have possibly anticipated.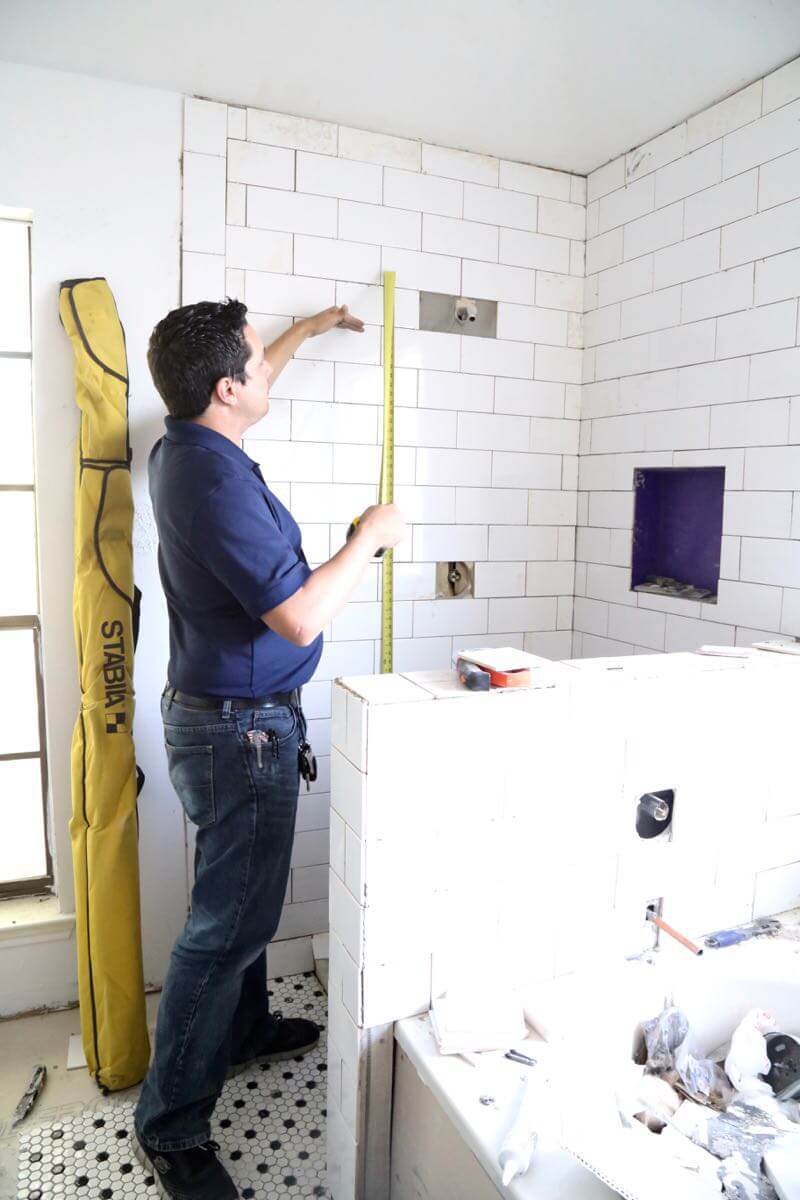 It all kicked off with a visit from Andrew to measure the shower. He was super gracious about the fact that we had some spots on the tile that needed to be fixed, and was incredibly flexible with our new-to-tiling selves. We had a bit more options in terms of customization that I originally anticipated – our shower is tiny but we maximized every inch by pushing the glass on the pony wall as far back as we could and extending the glass a bit higher than standard height to make things feel bigger. Having the tile go out a bit farther than it used to also makes the whole thing feel a little more spacious.
During this visit, we also got to pick out all of the hardware for the shower – we went with brushed nickel for all of the hardware, but I was drooling over the black too. They had a ton of options for door handles (seriously, y'all, I was surprised by how many details we actually got to choose!) and we went with the cleanest, simplest lines we could. Before this whole process I kind of thought that all shower doors/glass were the same, but I have seen the light! Those tiny little details really do make all the difference.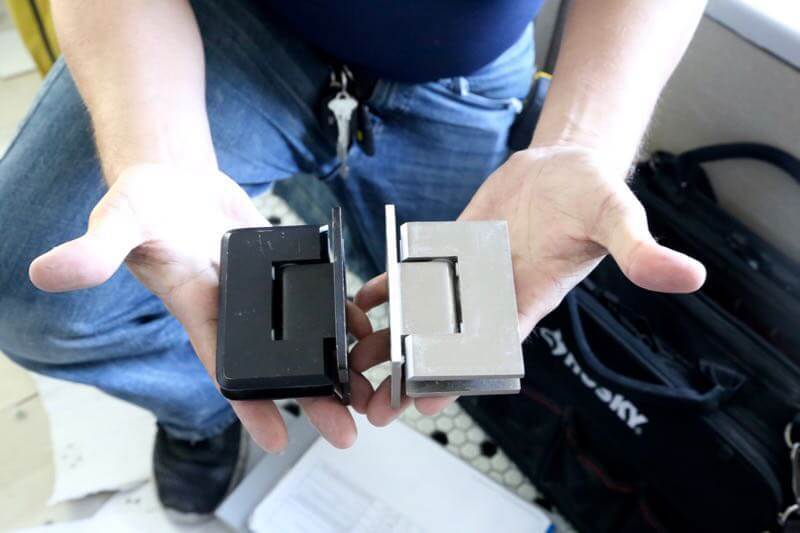 We also got to see a peek at what the shower glass would look like – I was blown away by how thick it was! I'm used to super flimsy, cheapo showers (our old glass was just a builder-grade glass so it wasn't anything special), and I was more than a little excited when I saw this. It's so much thicker than I expected!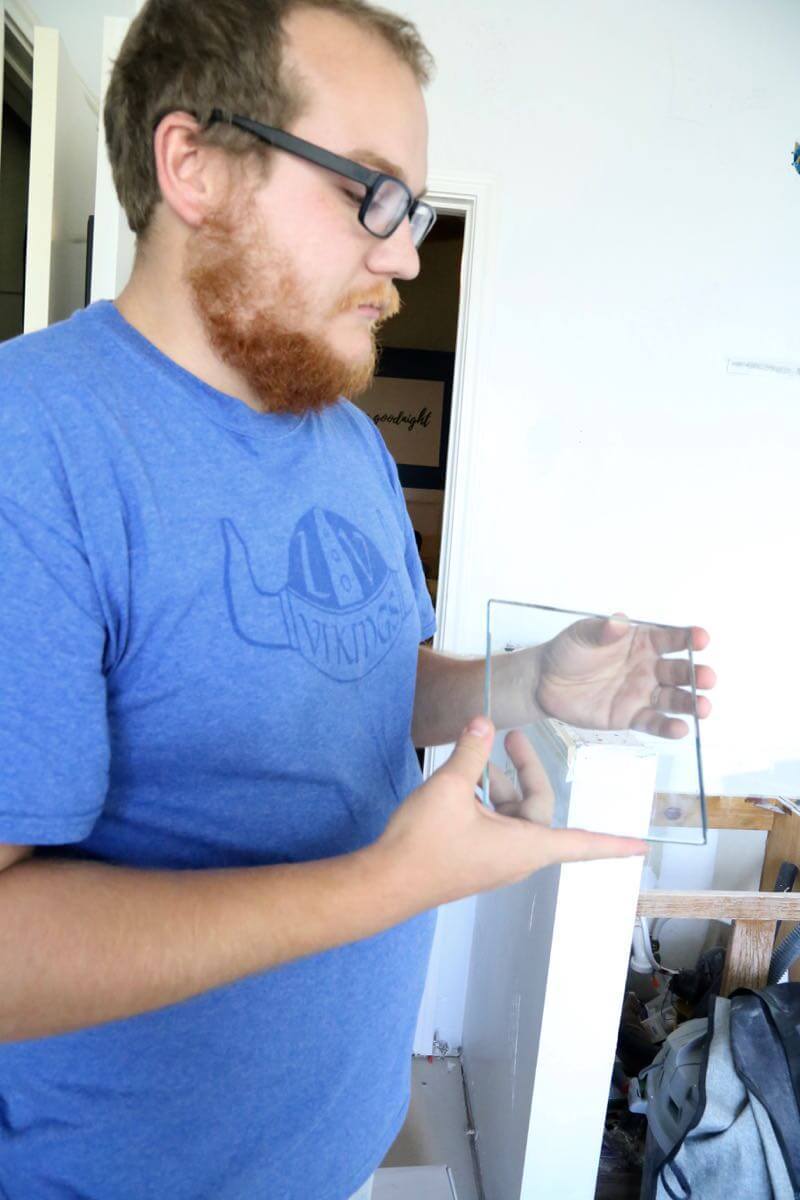 Oh, and we also got to see some photos of completed showers they've worked on – Andrew brought along an iPad with tons of photos on it and we had a blast scrolling through it and seeing all of the awesome work they've done. My favorite was this shower they called "the fishbowl" – the homeowners wanted a steam shower but the ceiling was too high to do it the traditional way, so they put glass on the top. How crazy is that?!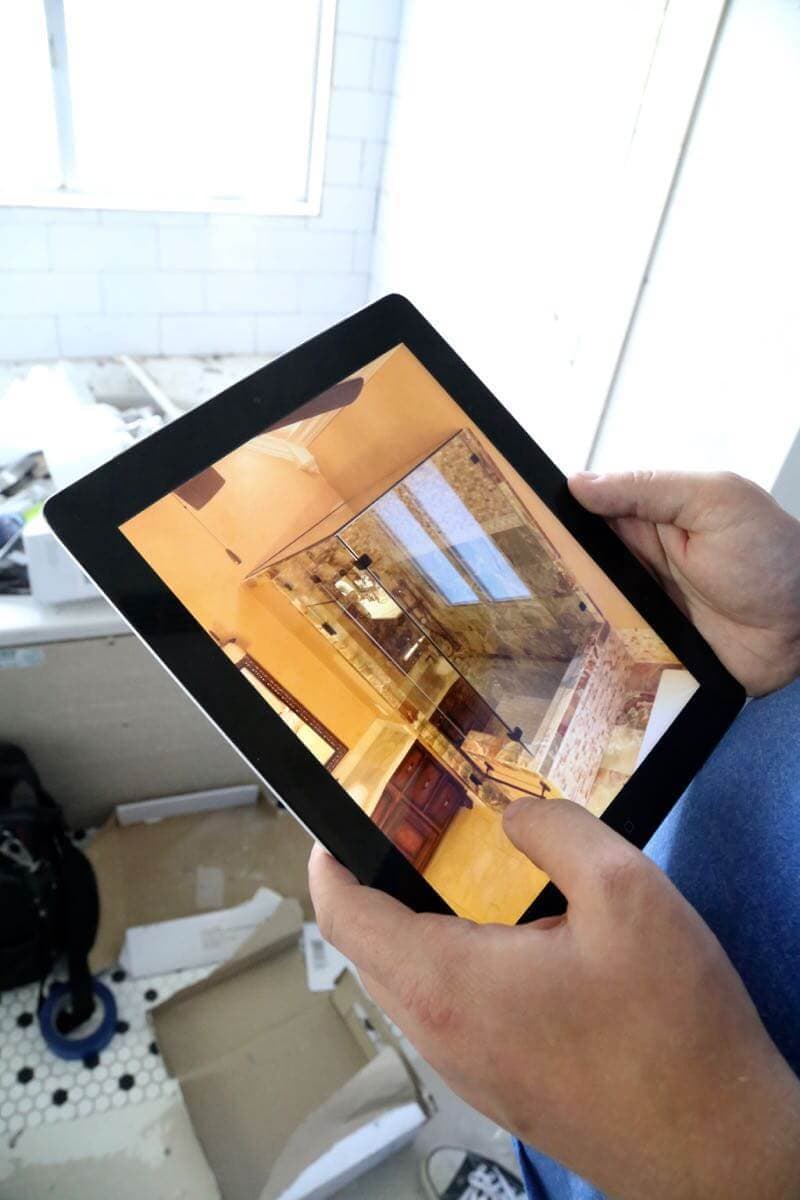 Once everything was all measured, we waited about two weeks, and then…it was time for the install!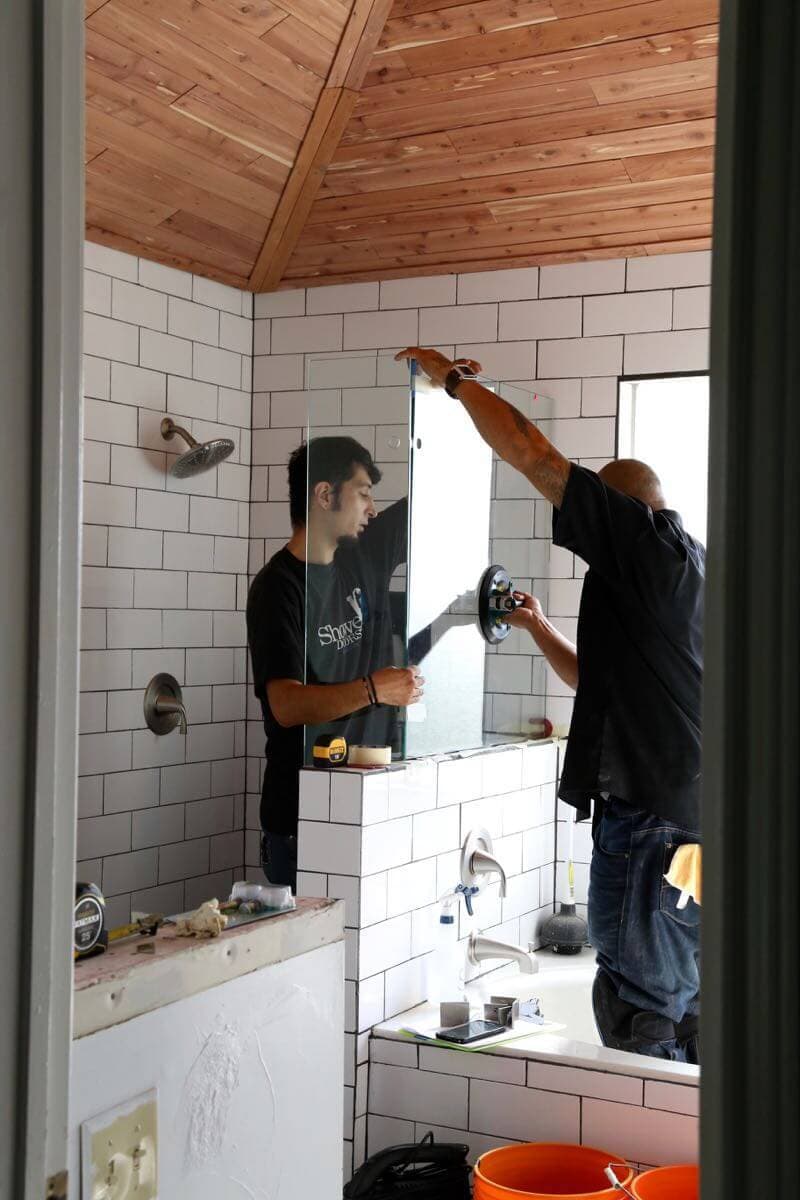 Chris and Sergio came out to install our new glass for us, and I was once again truly blown away by the dedication and knowledge of the people who work with Shower Doors of Austin! They were quick, efficient, and the glass looks amazing despite our less-than-perfect tiling job (I'm so proud of it, but it was our first time ever so there are definitely some imperfections!).
Everyone we talked with was really awesome about explaining what they were doing and why – they have a lot of extra steps they take to make sure you get the absolute best (and prettiest) product possible, and I was so grateful for all of the extra effort they put into doing the job right.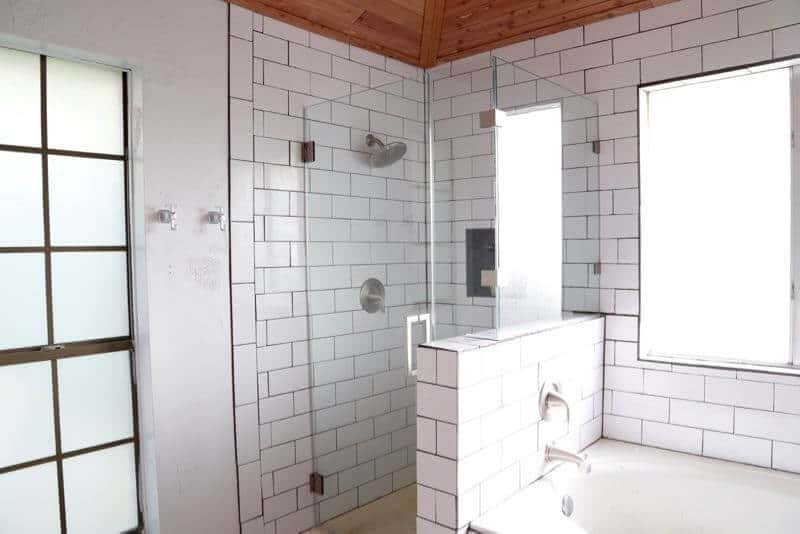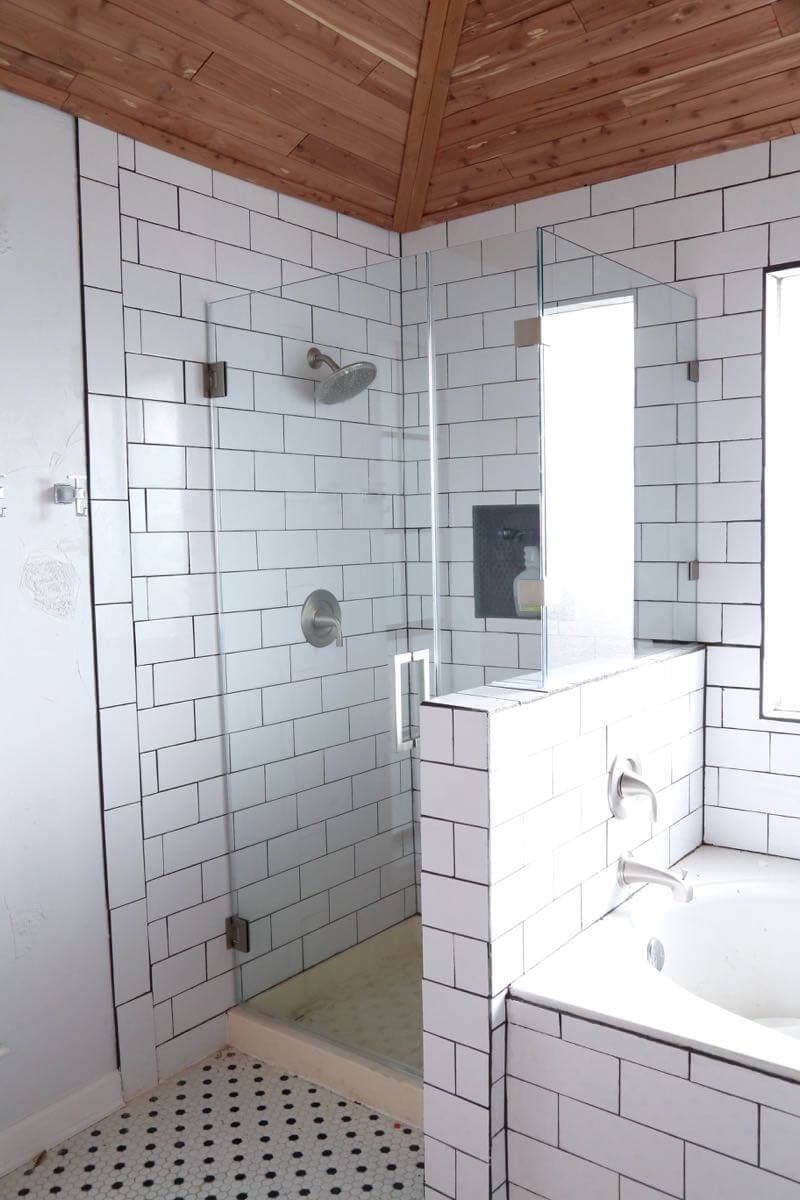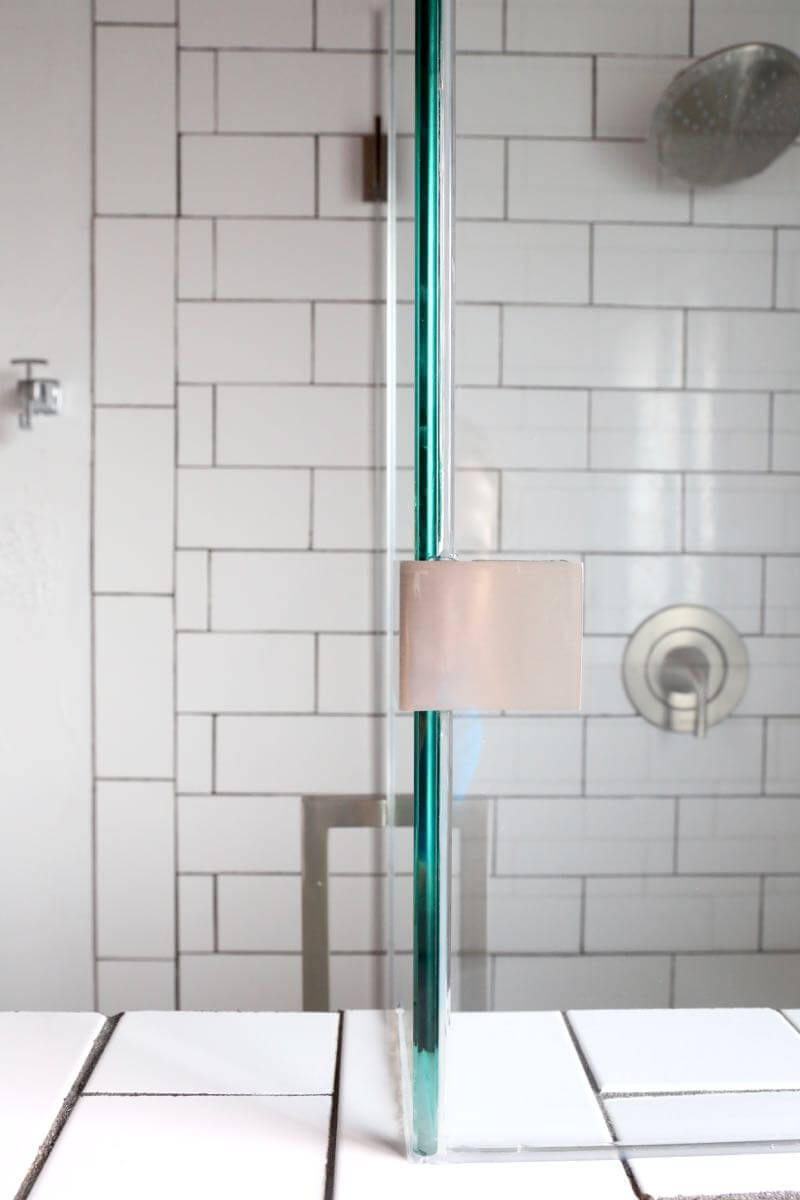 I am seriously so in love with how this turned out. I never would have dreamed we would have been able to have such a high-quality frameless glass shower in our bathroom, and it looks so much better than I ever imagined. I got to take a shower in it for the first time this weekend (we had to let everything sit and dry for 3 days before we could touch it – torture!) and it was heavenly. It's so nice not to have to leave my bedroom to take a shower! It's the little things, y'all.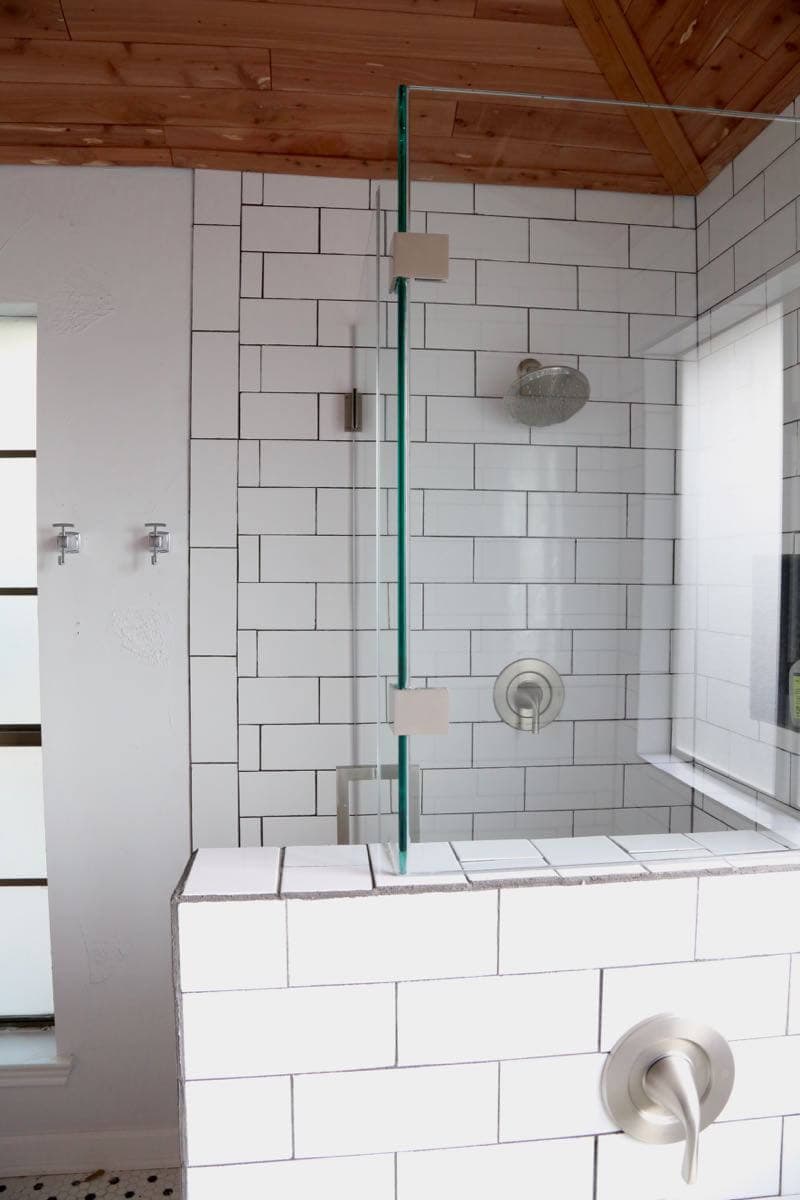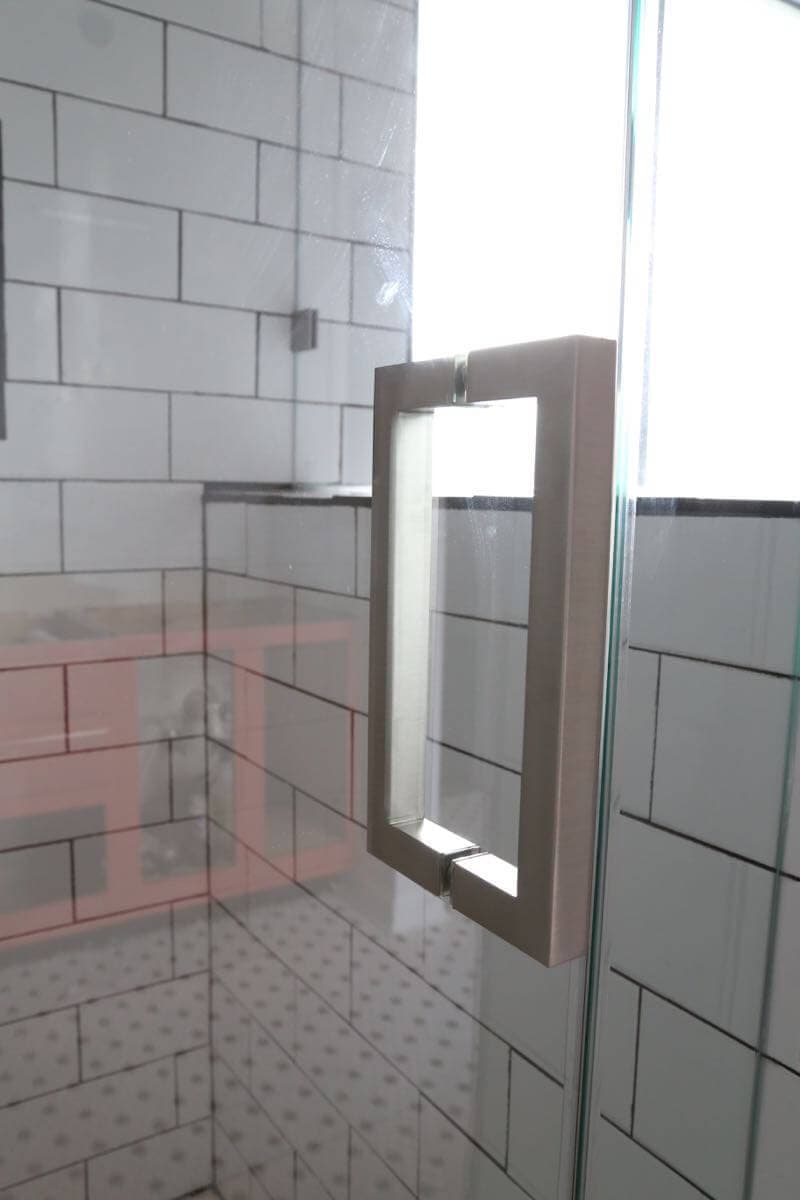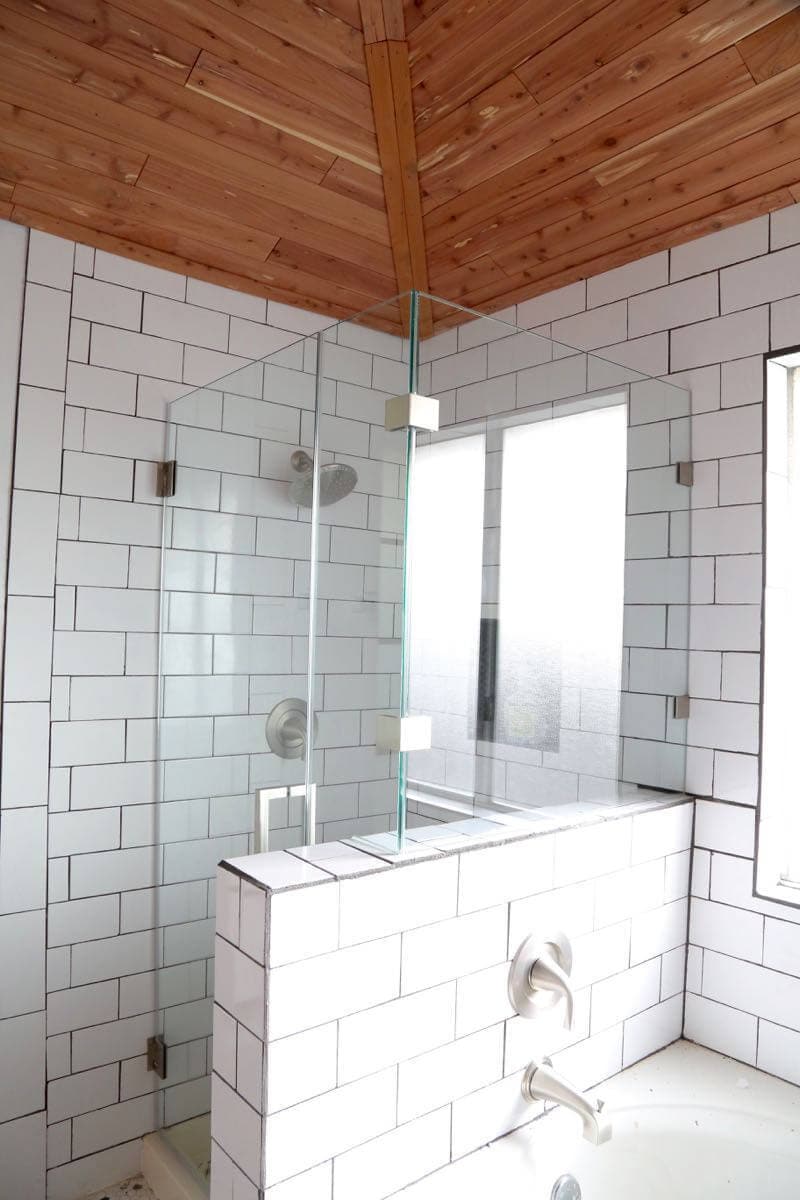 And with that, you've seen the last little update before I reveal the whole shebang in a couple of days! I still have some more project-specific posts to share (like the vanity area and the DIY lighting we did for the room) so you'll keep hearing about the room for a little while longer. I'm beside myself with excitement over getting to share the finished product with you – and I want to send one more giant "thank you" to Shower Doors of Austin for being a sponsor of this renovation. We quite literally wouldn't have finished this room without them, and I'm so grateful they decided to swoop in and save the day at the 11th hour! Be sure to give them some love, and if you're in the Austin area and considering a bathroom renovation I can't recommend them enough! Be sure to ask for Chris & Sergio to do your install, though – rumor has it they're the best!
Have you ever replaced shower glass in your home? Did you have any idea there were so many options for customization?!