Y'all! Tile! It's done!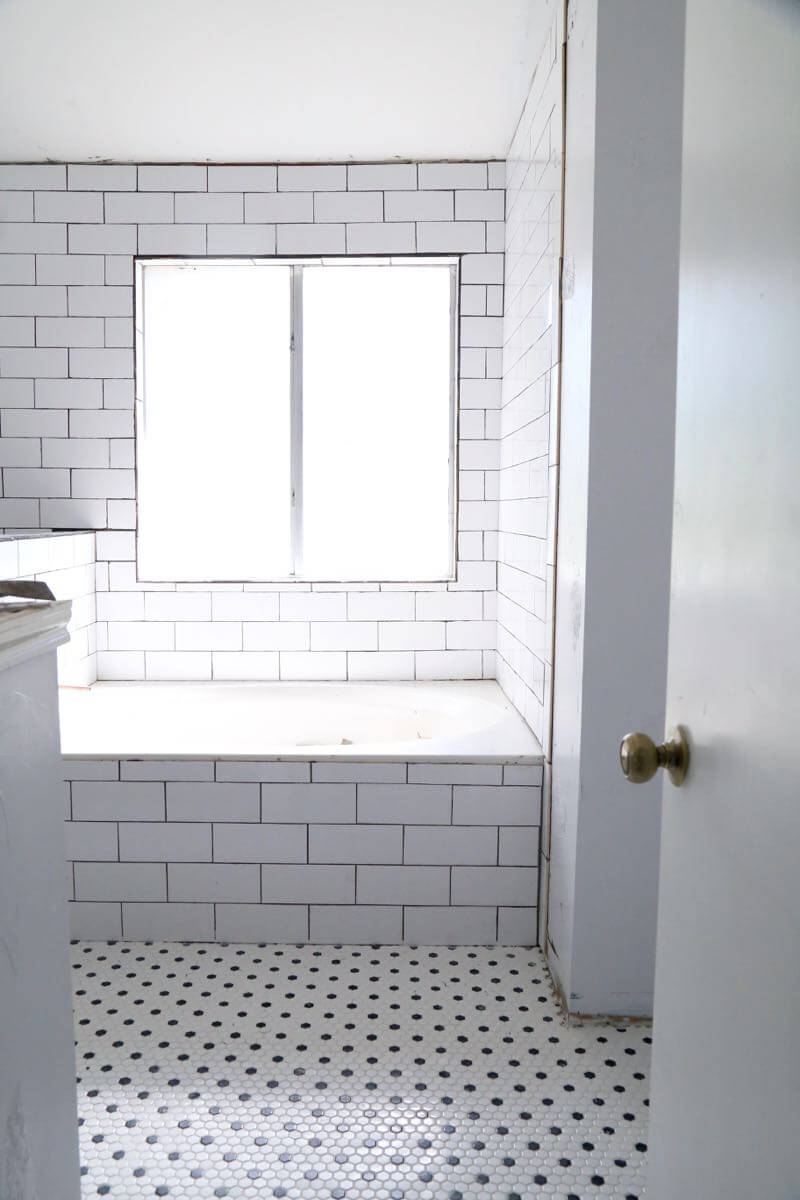 I'm so exhausted that I kind of want to just drop a ton of photos here and go take a nap. But I love y'all so I won't do that.
If you have no idea what I'm talking about, let me catch you up. Corey and I are currently participating in the One Room Challenge (a design challenge where bloggers tackle a room renovation in 6 weeks) and we gutted our master bathroom and have been rebuilding it basically from the studs up.
This is week three (halfway done already? WHAT?) and we've finished tiling the room. We hadn't ever done a tiling project prior to this, and for some reason we decided that our first tiling job should be about 200 square feet of corners, cuts, and ridiculousness.
What were we thinking?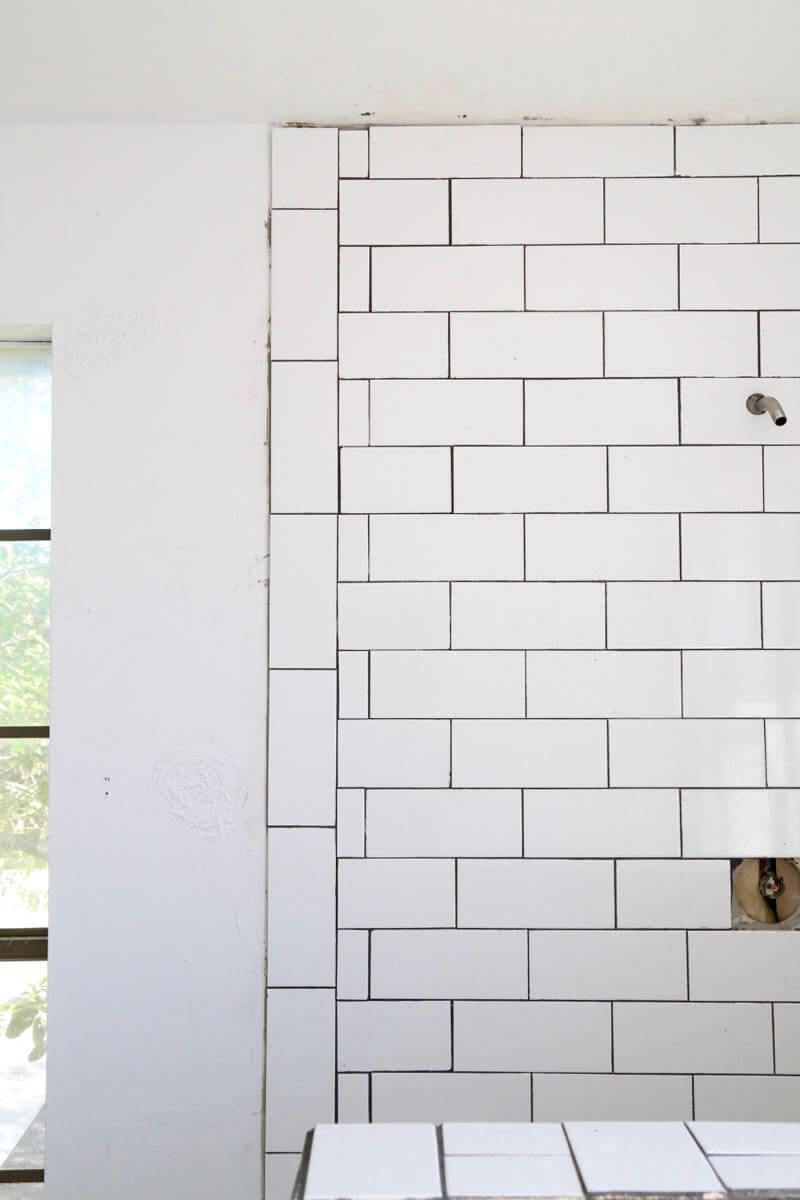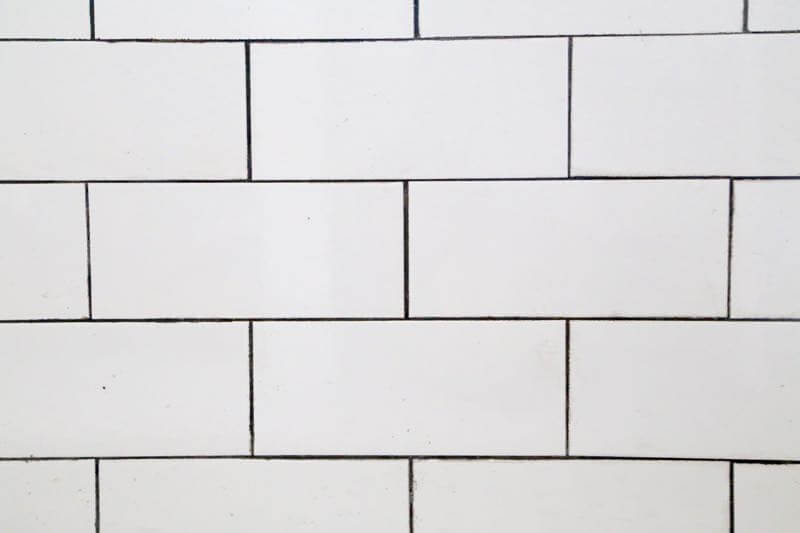 I totally acknowledge that we're crazy, but we survived and the tile is installed and grouted. We still have some clean up to do, particularly on the corners and around the edges, and we still need to go back and caulk. The shower niche needs some major cleaning up, but everything else is donezo.
You might remember that Floor & Decor is one of our (amazing) sponsors for this challenge, and they were kind enough to provide the tile for this makeover. I chatted about our visit to the store and our process for choosing the tile last week, and it feels so good to have it all done. I cannot believe we completed all of this work in one week, while working full time jobs and parenting a toddler.
Have I mentioned that I'm exhausted yet?
I have a full tiling tutorial planned in a few weeks (we did this job mostly in the evenings so pictures were practically impossible. I'm going to share our process and tons of tips for tiling once we tackle the backsplash for the vanity area) but today I do have a few reflections on our first tiling experience and a few in-progress photos!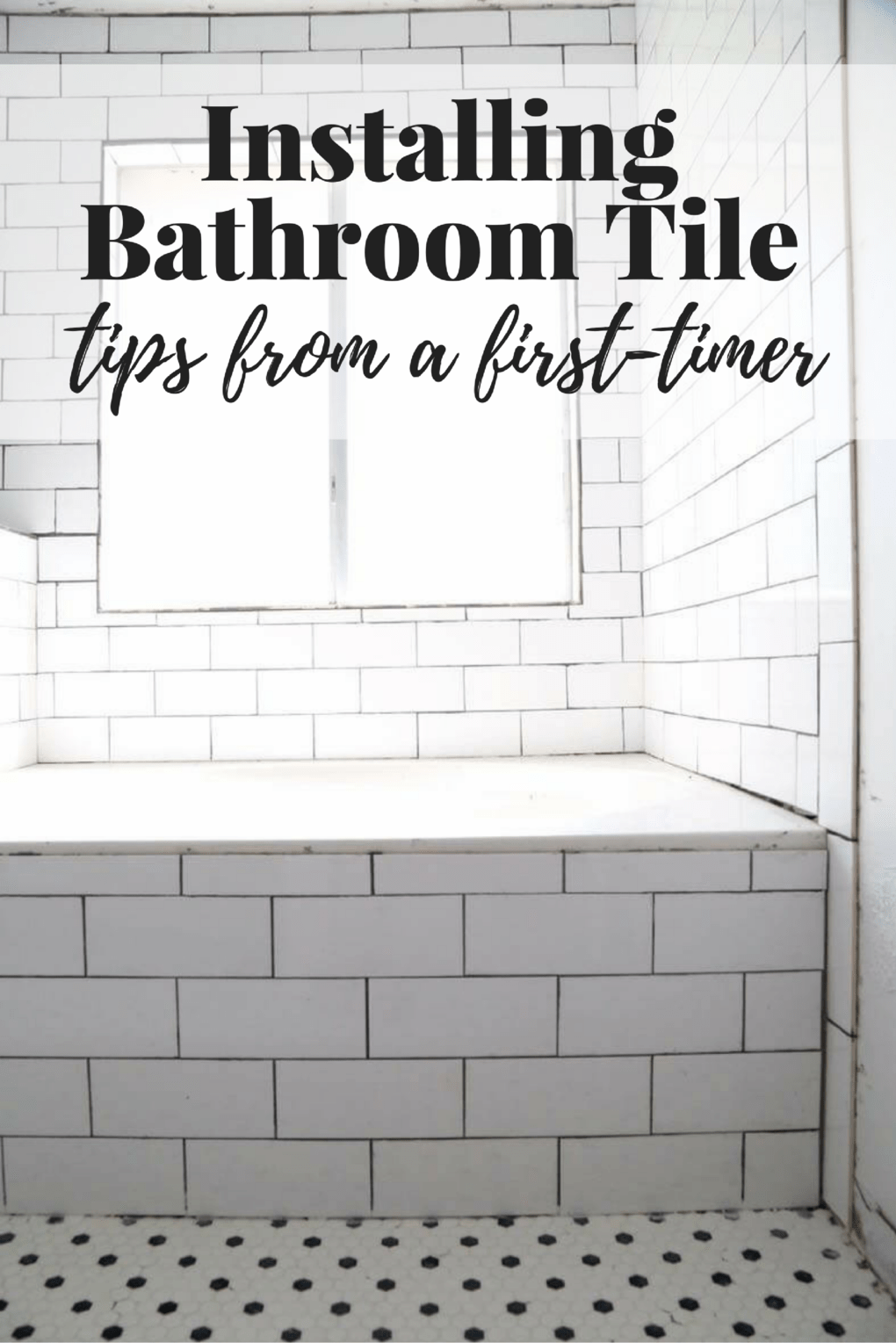 Like I said, I'll have a full, photo-filled walkthrough of exactly how to do this in a couple of weeks, but the basic steps to installing tile are very straightforward:
Install cement backer board if you're working in a bathroom or wet area (I chatted about that here).
Spread thinset on the area you plan to tile – don't work on too much at a time, or it'll start to dry before you can tile.
Install tile – use spacers to help you keep your grout lines even.
Clean up any extra thinset that came through between the tiles (this is vital!)
Allow to dry for the recommended amount of time – for us, this was 24 hours.
Clean up the tile if necessary, be sure that there isn't any thinset poking through the ground lines.
Grout! The cleanup of grout is the most tedious (and most important) part. You should clean up the extra grout about 5-10 minutes after adding it, then go back about an hour later for a final cleaning.
That's really all there is to it! I'll have way more details for you later, but here are a few things we learned and tips to help you not make the same mistakes we did…
One thing we learned pretty quickly is that tiling is a messy, messy job and that it takes a lot longer than I expected. We also learned about the importance of prep work and cleaning as you go. I'm not admitting to anything but there's a possibility that I had to spend approximately 5 hours scraping each individual subway tile because I didn't properly clean after I grouted.
That's just an example. It didn't actually happen.
(Yes, it did.)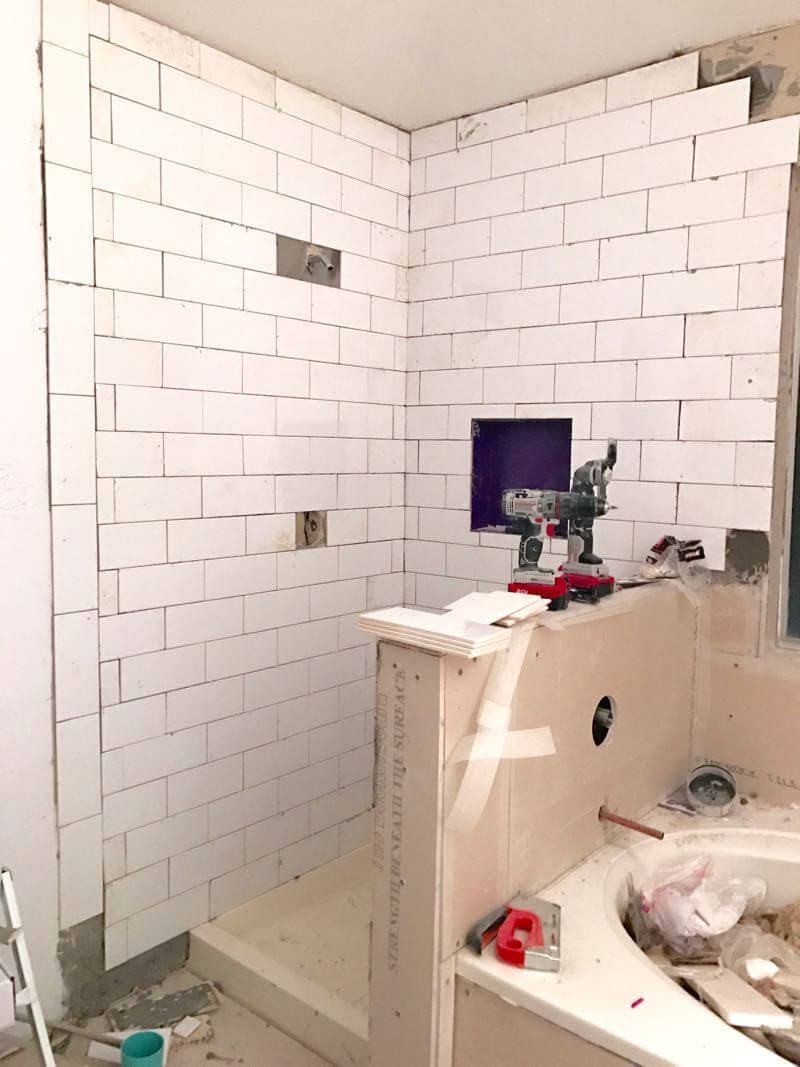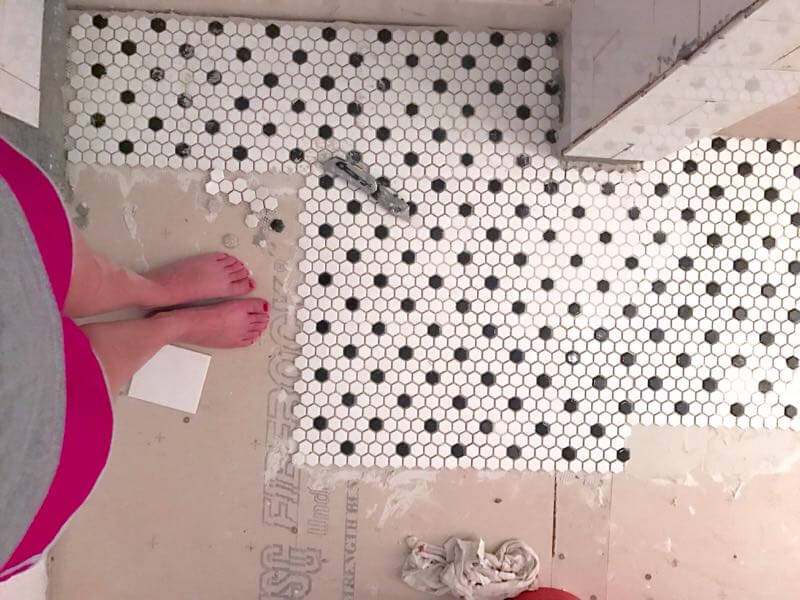 We worked on this project in the margins of our regular life, which meant every night we started work at around 7:30 after Jackson went down and didn't stop until at least 10:30. A few nights I was up past midnight working. It was insane and entirely too much work and have I mentioned that I'm so glad it's done?!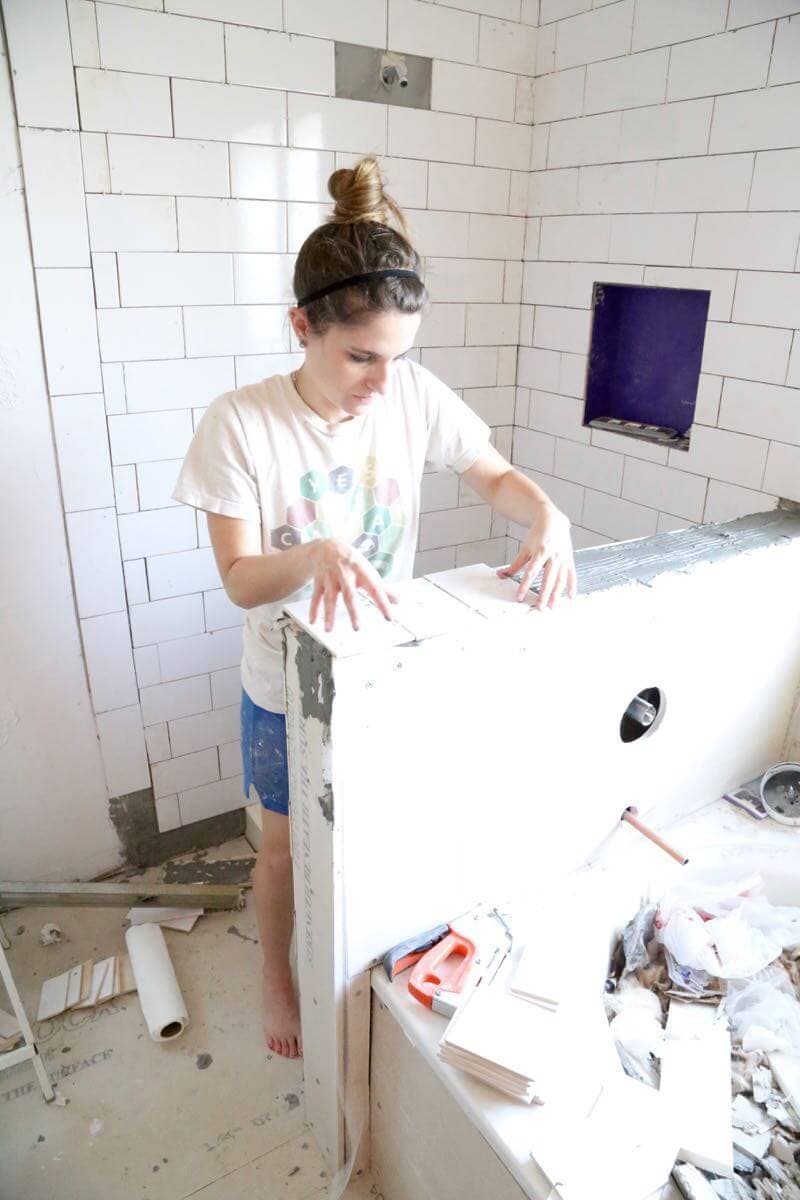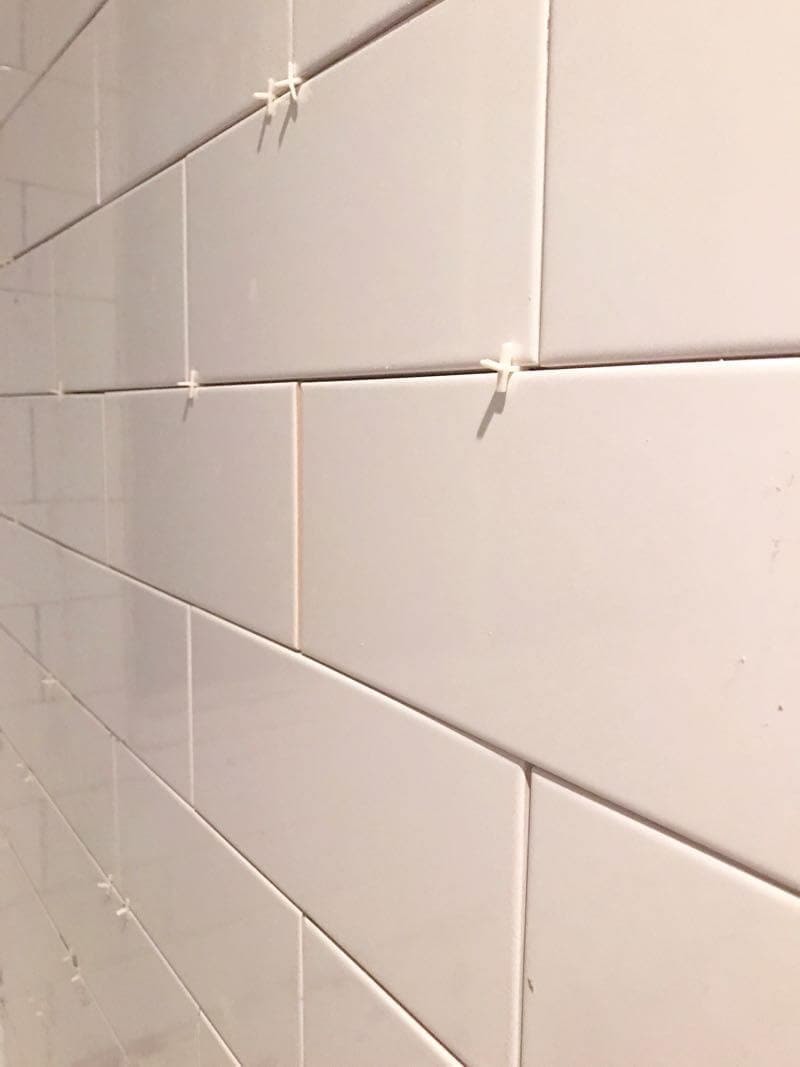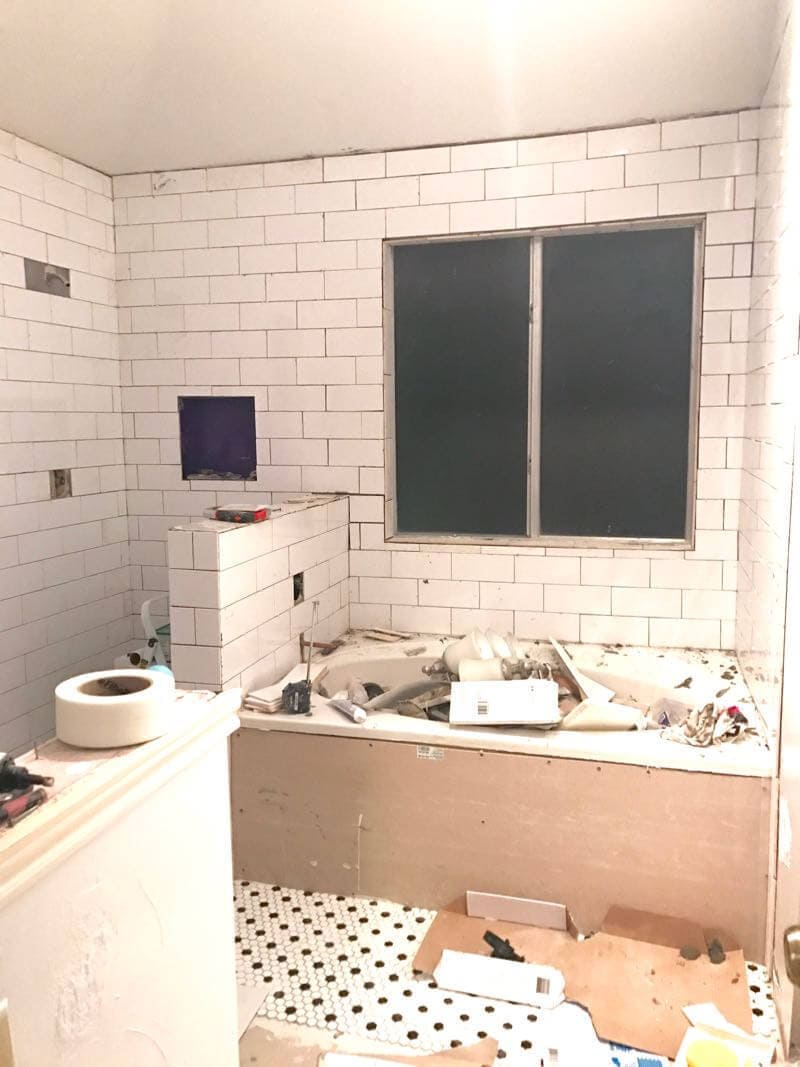 It is so rewarding to have this part of the project done, and I am head over heels in love with this tile. The whole room looks so different now.
It's all coming together, my friends!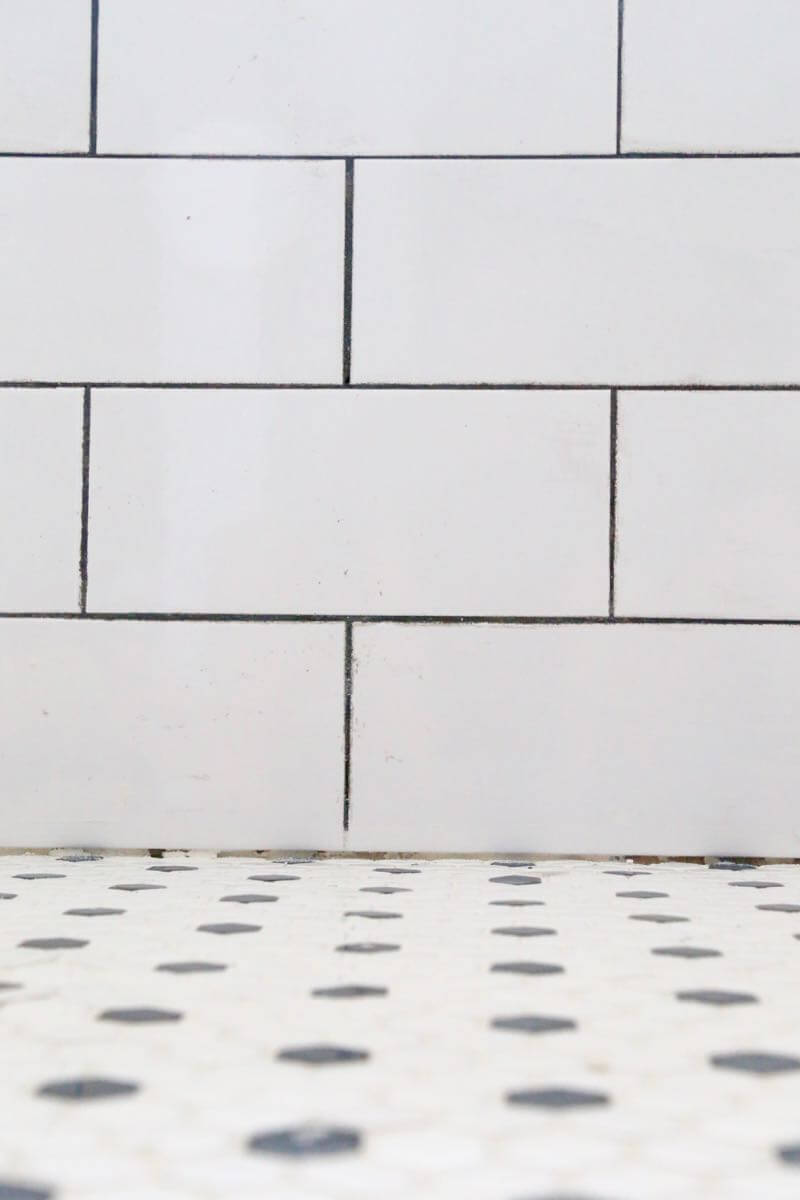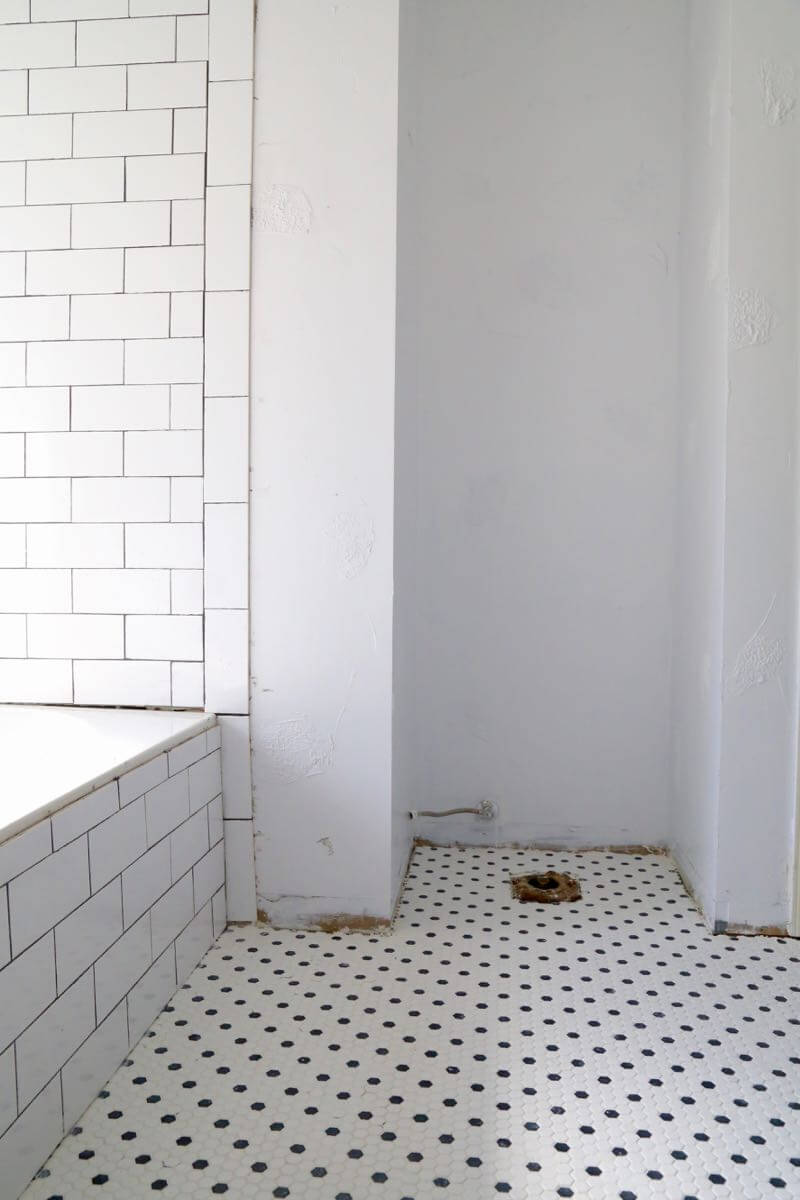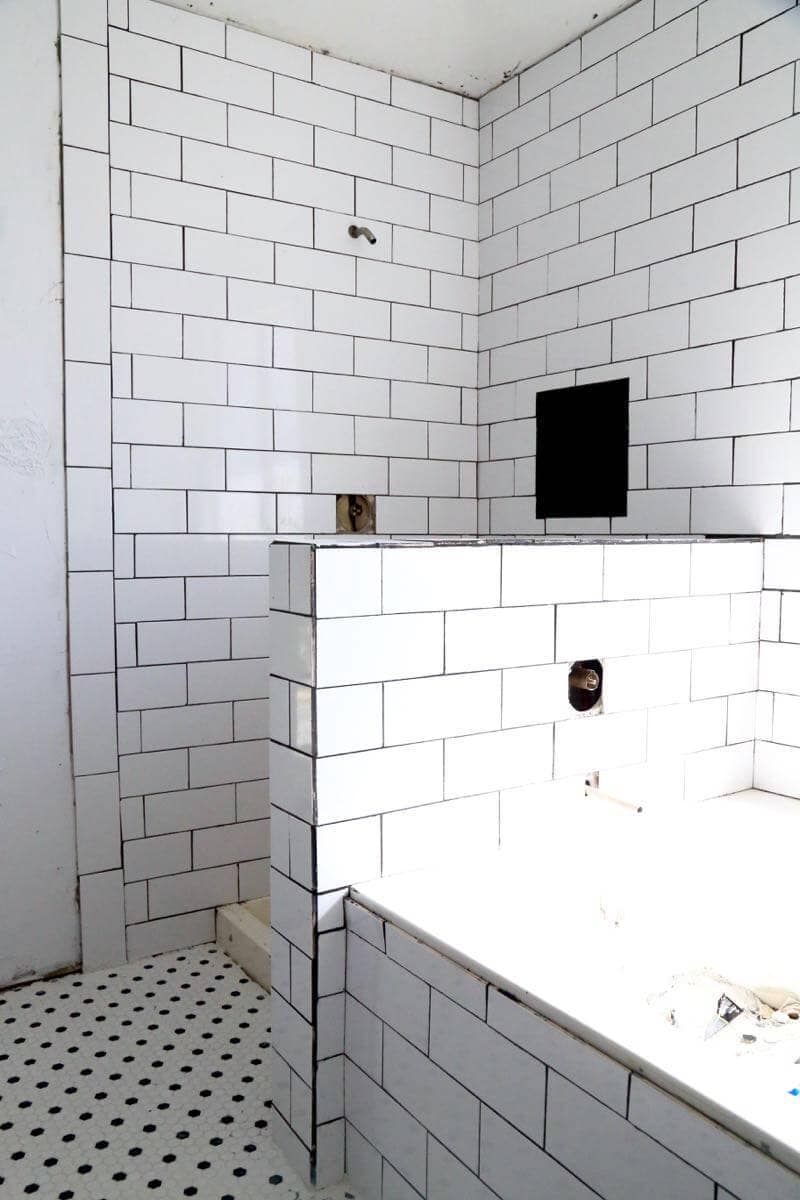 Do you ever have that problem where you spend so much time working on and scrutinizing a project and then once it's done all you can notice are the flaws and things you still need to finish?
Yeah, that's where I am with this project. I have spent hours upon hours staring at it, getting frustrated by it, and dropping crazy amounts of blood, sweat, and tears into this tile and now that it's all over I have a hard time looking past the minor issues or things that still need to be finished up.
I can't be the only one.
I'm definitely antsy to get back in there and grout and do some more cleaning up – I feel like that last 5% makes a giant difference in a project like this.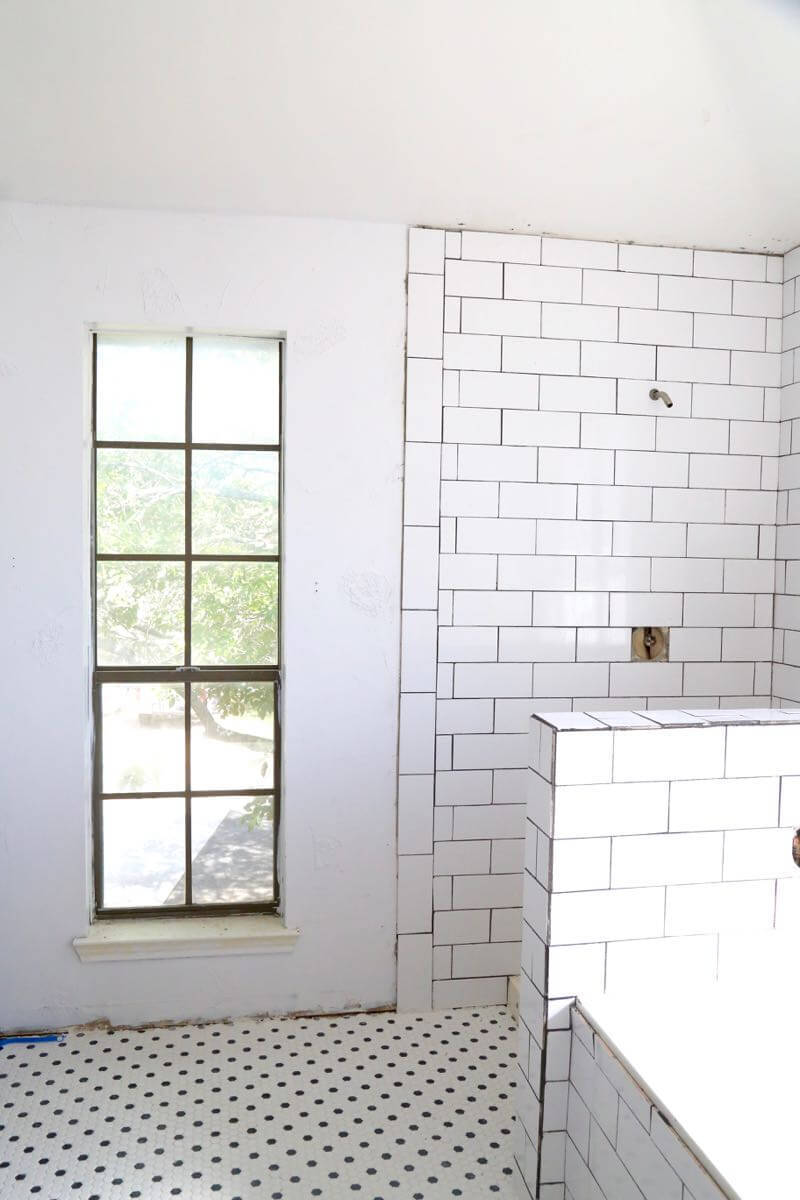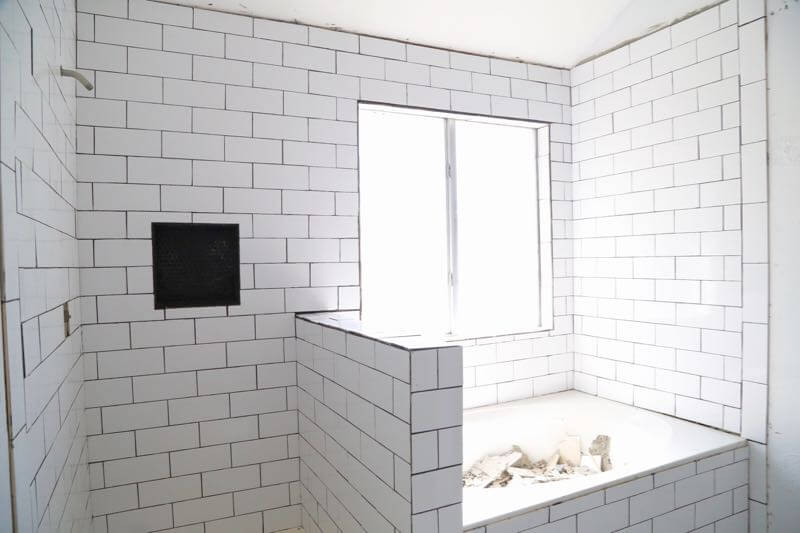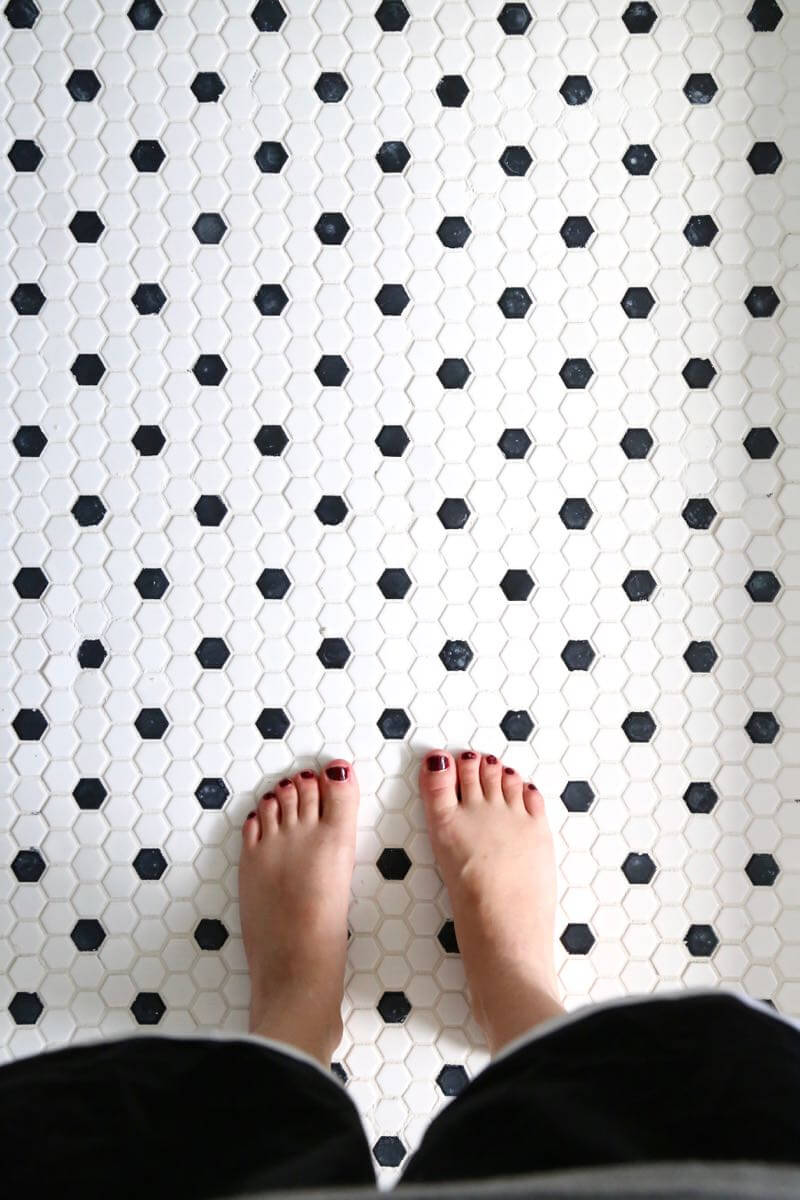 Next up on the agenda is a ceiling treatment that's going to blow your mind (we haven't started on it yet, but I'm crossing my fingers it'll be done and ready to share next week!), installing baseboards and painting the trim, giving the vanity area a major overhaul, installing a DIY light fixture (that we also haven't started on yet but have all planned out in our head), and adding in the fun, pretty finishing touches.
Basically, there's still a lot to do. And we have three weeks.
Send help.
Need to catch up on our bathroom renovation? 
– Week One: Intro & design plans
– Week Two: Demo, prep work, and painting
Have you ever installed tile before?