Rustoleum Rock Solid Review (Our Garage Makeover)
It's finally time to share the big reveal of our garage makeover! We used Rustoleum Rock Solid epoxy floor coating, and I'm in love with the finished result. Keep reading to see our Rock Solid review!
Y'all! I am SO excited to finally share this project with you. I am about to blow your dang mind. Promise.
Corey and I have talked a lot lately about our garage-turned-media-room and how unhappy we were with how it turned out. I wrote a whole post about it last week – go read that so you have the backstory before you continue. I'll wait here.
Done? Okay. So, as a quick refresher, this is what our media room looked like before the amazing transformation: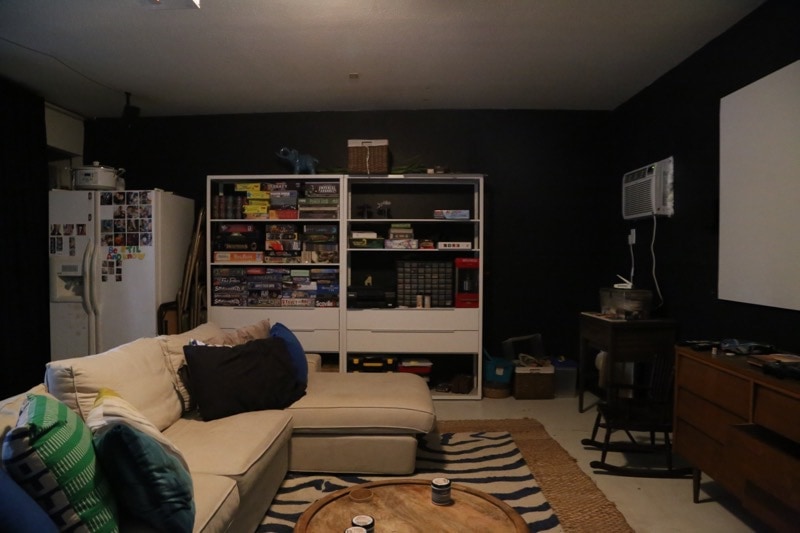 Yuck, right?
Well here's what it's looking like now: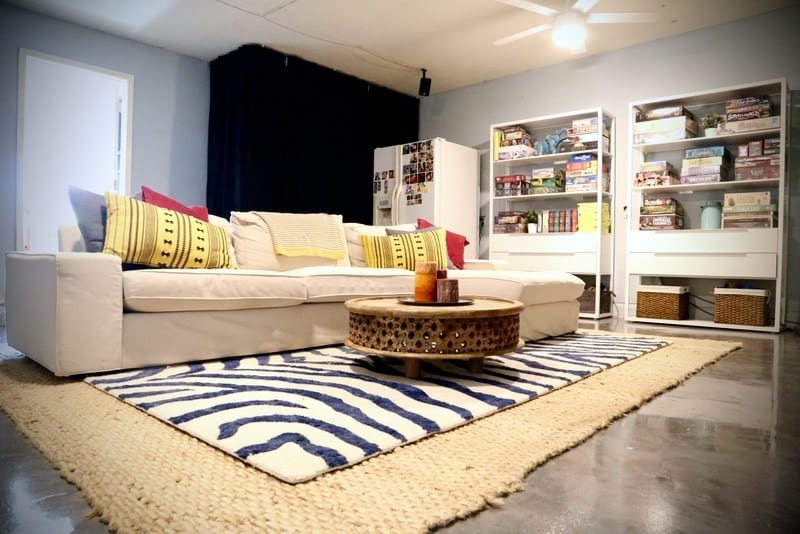 (This post is sponsored by Rust-Oleum and contains affiliate links. But, as usual, all opinions and excitement about the project are all me, y'all.)
BAM. Mic drop.
Are you drooling yet? Because I am. And honestly, I wish I could invite every single one of you over to my house so you could feel this floor and not just see it. It's so smooth and shiny and wonderful – for the first week or so that we had it, Jackson insisted on taking his shoes off every time we went in there just because he was so dang excited about how it felt.
(I may have done the same thing.)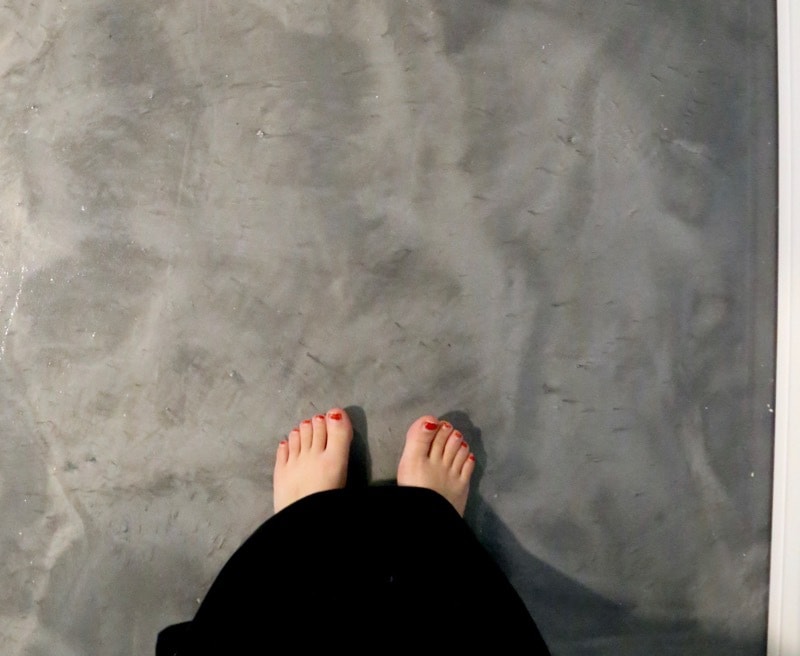 Rust-Oleum Rock Solid Review 
So, let's chat details. This project was a serious labor of love and looking back I sincerely regret that we ever made the decision to paint the concrete in this room a few years back – this project would have been much easier if we would have just left them alone.
But, I digress.
Corey and I met the wonderful people at Rust-Oleum when we went to Haven a few months back. We basically stalked them all weekend because we adore their products and use them exclusively for both spray paint and primer. We've been mega-fans of Rust-Oleum for a long, long time so it was so exciting to meet some of the brilliant minds behind the brand.
After Haven was over, we kept in contact with them and when they reached out to see if we'd be interested in trying out their Rock Solid garage floor coating we replied with a big fat yes so quickly your head would spin. We've been hearing about how awesome this product is for a while (and Corey even took a demo class to check it out at Haven) and we were so excited to get to use it in a more unconventional space, like our garage-turned-media room.
And, y'all. We love it.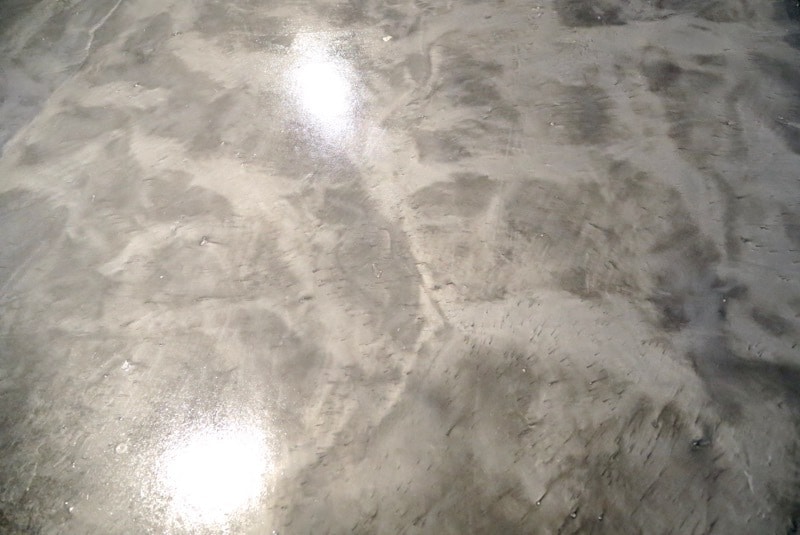 So, I'm going to walk you through how we did it – I was expecting this to be super difficult, but I swear that even the most novice DIY-ers could take this on!
How to Make Your Garage Floor Awesome with Rock Solid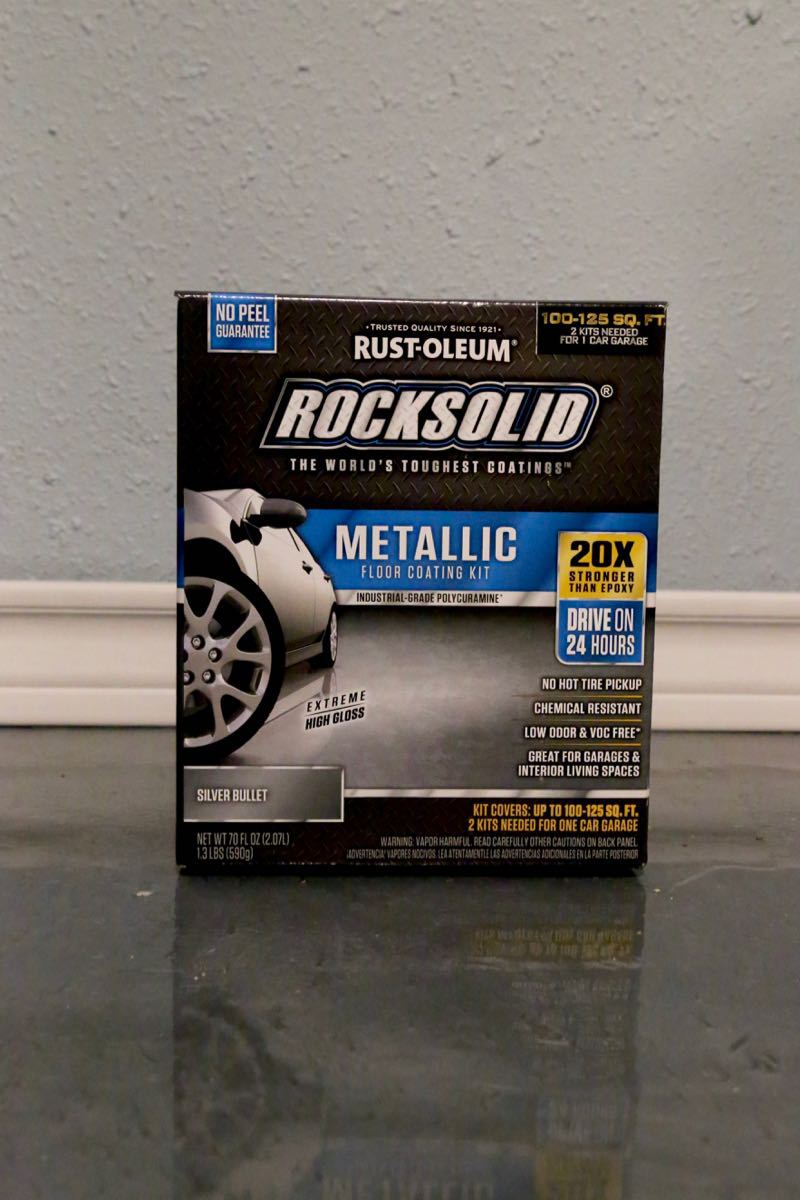 Step 1: Prepare Your Flooring
The first step to achieving a sexy garage floor like this (come on, you know it's sexy), is to remove all of the furniture. This might mean that your house will be complete chaos for a while.
It's awful, but you'll survive. Promise.
Next on the to-do list is getting rid of the old floor coating. This was the hardest, most ridiculous part of the entire process. What we should have done is just rent a diamond grinder from Home Depot, knocked it out, and called it a day. What we did instead is let several different people talk us out of that and into trying several different (supposedly "easier") ways, such as using a chemical stripper and just sanding the floor down.
Do as I say, not as I do on this one: if you are trying to get rid of paint on a concrete floor, rent a diamond grinder. Do not let anyone talk you out of it. There's no other way to do it. Because this?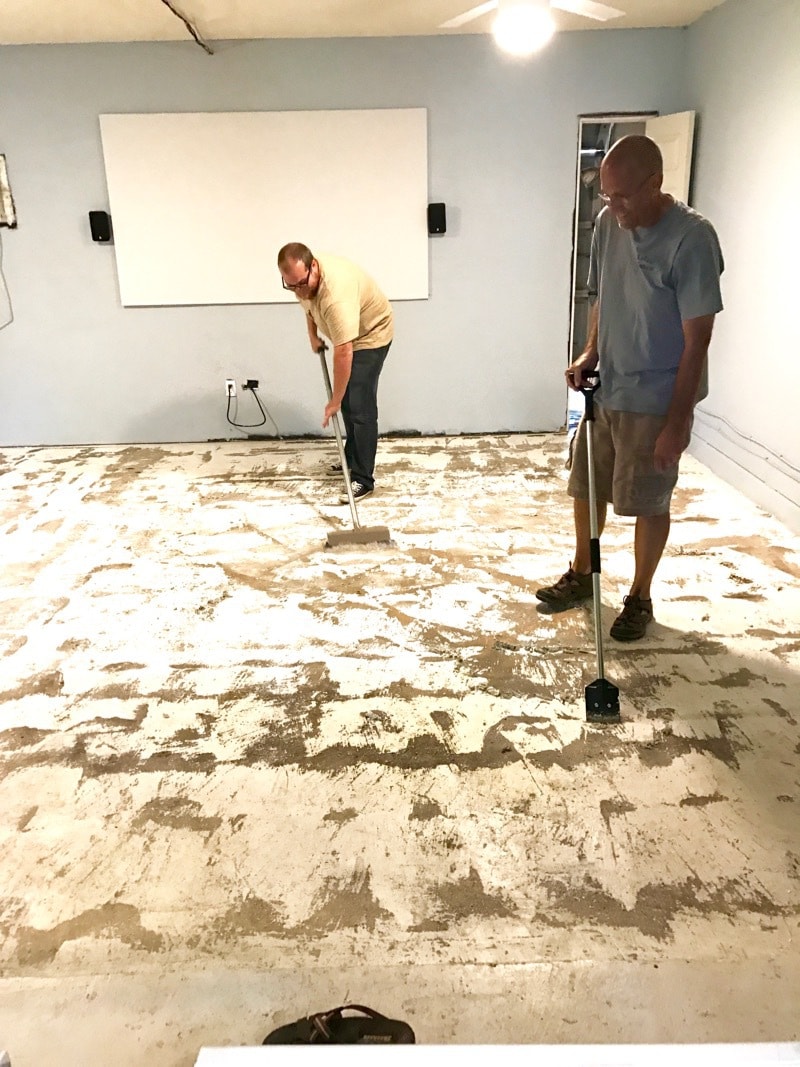 This is not fun for anyone.
After lots of effort, way more time than we anticipated, and a curse word here or there, we finally managed to get the floor ready to go.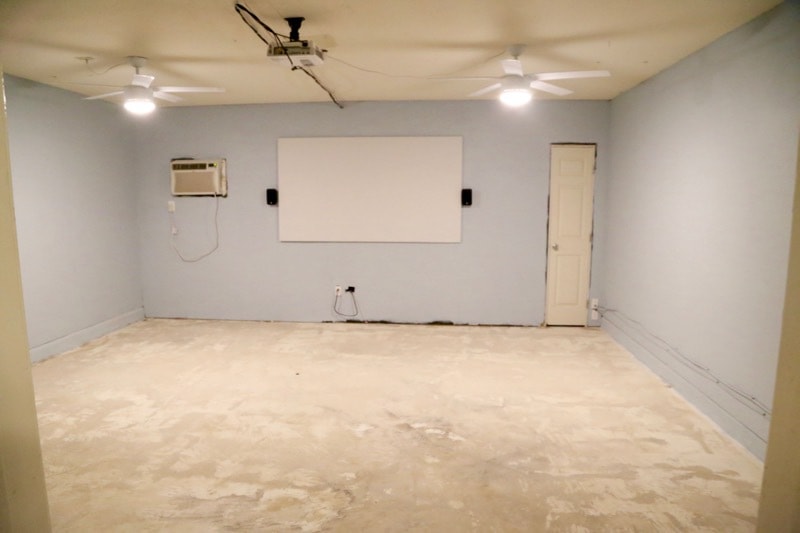 You may notice it's not entirely clean – long story, but after attempting about 4 different methods for removing the paint, we figured anything that was still remaining wasn't going anywhere. The Rock Solid floor coating can go over unsealed, painted flooring (there's a test you have to do to make sure it'll work), so we decided to leave the remnants that we couldn't get. There are a couple of spaces where there are some imperfections thanks to the leftover paint, but it's not very noticeable at all once the room is totally done.
Bottom line: diamond grinder. Do it.
***UPDATE: Rust-Oleum has now released a product that would have saved me aaaaaaall of this work. If you have a flooring that has already been painted or sealed, check out Rust-Oleum's Garage & Concrete Primer. It's a paint that's meant to go right over previously painted surfaces, and is just as durable and beautiful as their RockSolid line! 
Step 2: Apply Acid Etching Prior to Rock Solid
After cleaning off the paint as well as we could, we used the acid etching that comes with the kit to get the floor completely clean – you just pour it on, scrub it in, and rinse it off. It takes a good 24 hours or so to allow the floor to dry afterward (if you don't wait long enough, you'll get bubbles in your flooring), and the waiting is definitely the hardest part!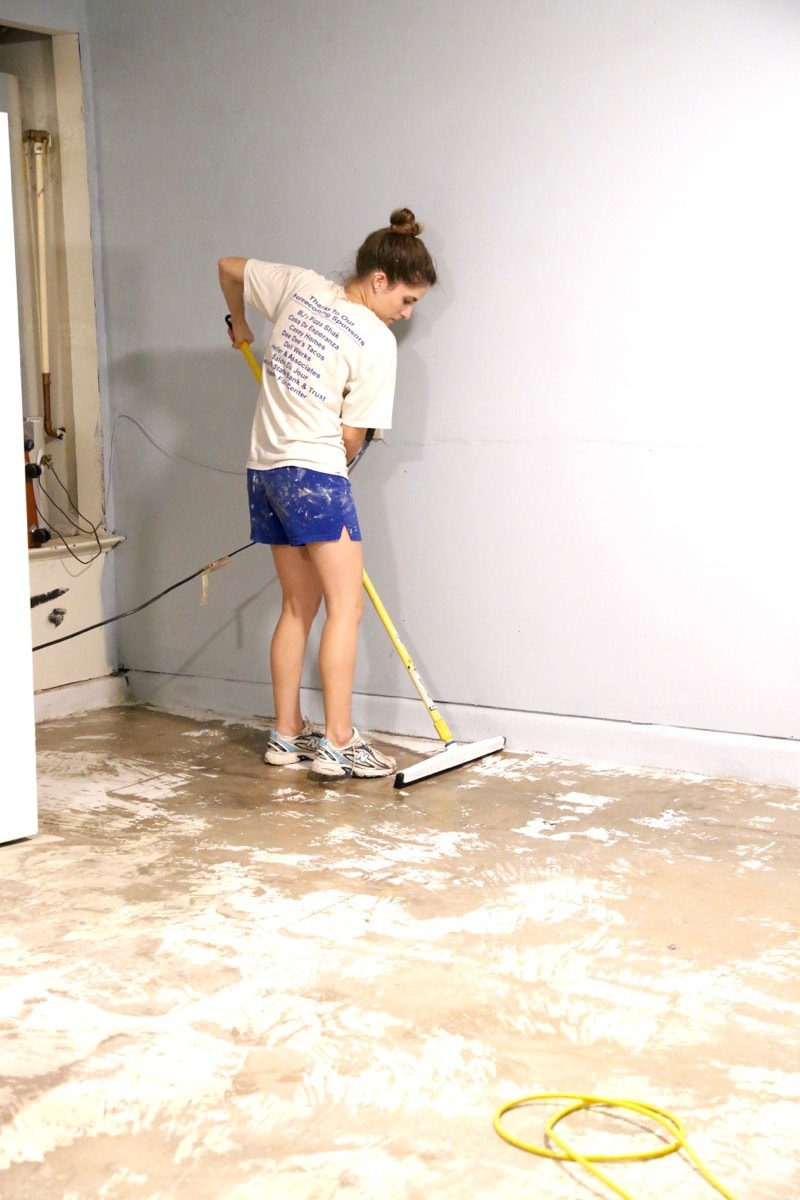 Step 3: Apply Rock Solid Epoxy Flooring
So, once the floor was ready to go, it was time to start painting on the Rock Solid coating. We were so excited to finally get started! This part was much easier and much more fun than the first part – all you have to do is pour the epoxy on the floor, use the paint roller to spread it around, and then give it some swirls.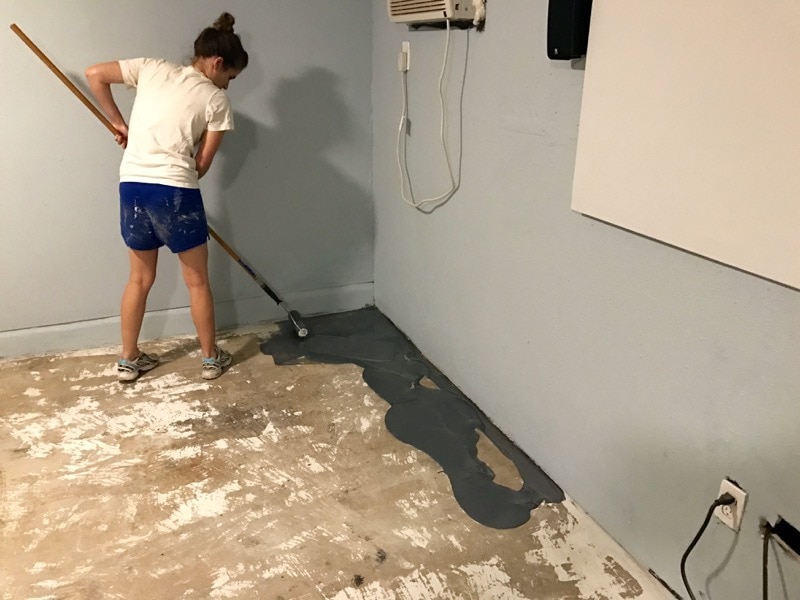 Unlike with painting walls, you really want to make sure to have a nice, thick layer here. Don't be shy with it – you only need one coat, so coverage matters! The swirling is definitely the most satisfying part – I like the more natural, organic look so I went a little wild with the paint roller. There was no real technique, I just swirled it all around until I felt like it looked right.
Oh, and if you're not painting an actual garage (and don't have large, easy exits) I'd recommend spending some time thinking about your painting path! I had to pause towards the end and put some thought into exactly how I needed to paint so that I would end up at the door and not paint myself into a corner.
When we finished, I seriously wanted to do a little happy dance. I couldn't even believe how good it looked.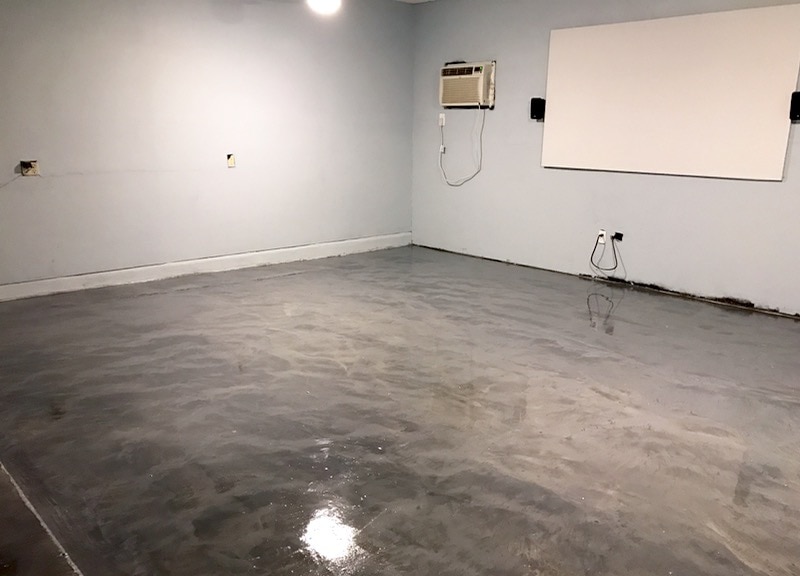 The next evening, we went back in with a top coat – this isn't absolutely necessary, but the flooring itself is pretty slick, so we wanted to use this top coat that has some grit to it to help prevent any slippage while we're walking around in there. For a garage it might not be as important, but since we use this room as a hangout room and spend a lot of time in there relaxing, it's important that no one slips and falls. We were particularly worried about our dogs – Hadley, our Doberman, generally refused to come into the room when the floor was painted because it was too slick for her. Now? She's in there all the time with no issues! Hallelujah!
We used the same strategy with the top coat – mix it up, pour it on, spread it out.
Another day of drying and…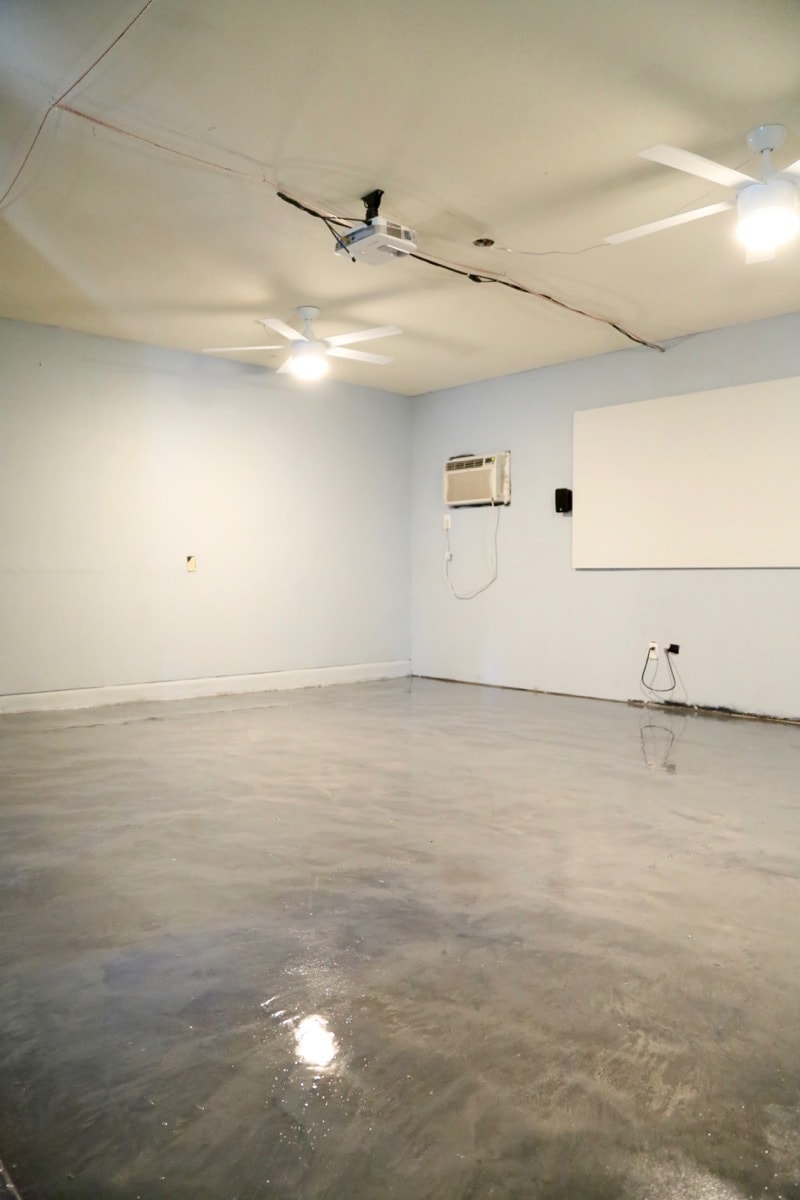 Done!
There are no words for how excited we were to finally bring all of the furniture back in. We did some sprucing up to a few other things in the room while we were at it – as you can tell, we painted the walls (thank GOODNESS!), and we added in two ceiling fans to help brighten the room up. That alone made a ginormous difference in how the room feels. The extra light is a game-changer!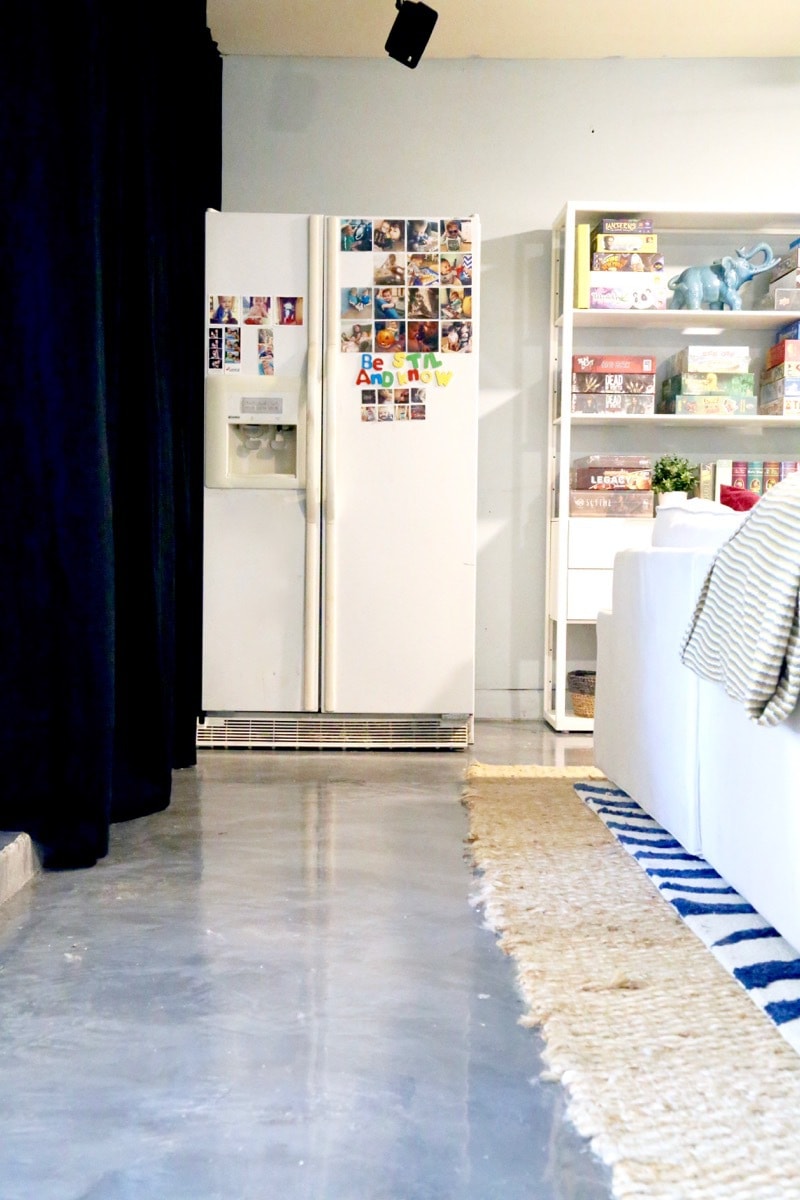 We also grabbed some new throw pillows and accessories – the color combinations in the room before were all sorts of terrible, and this is a much better look.
I mean…come on. This is gorgeous.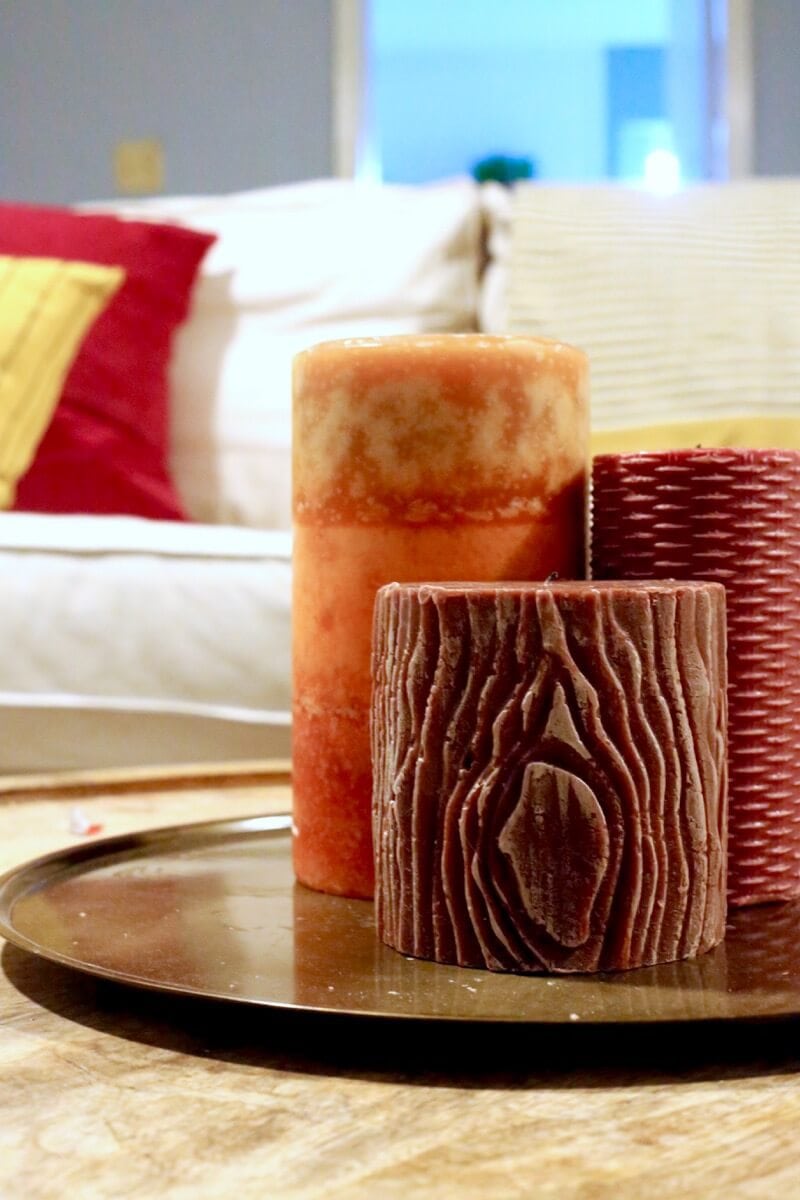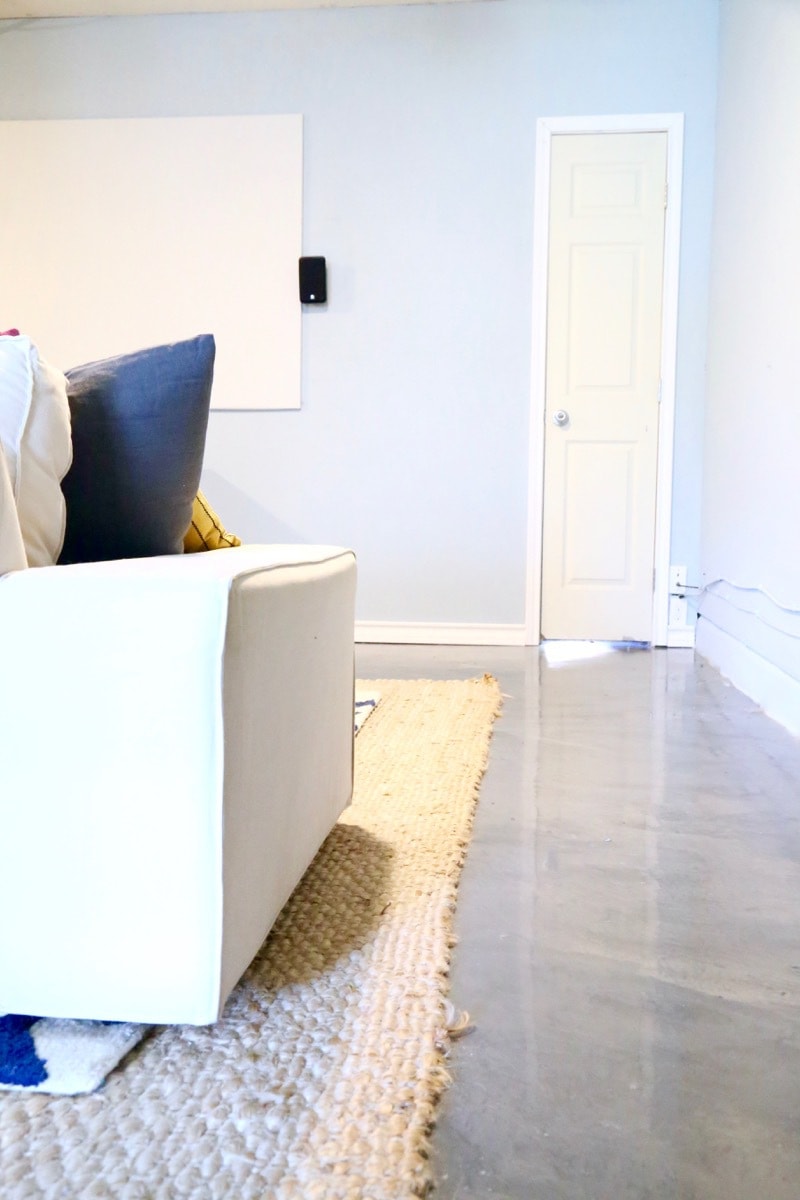 We also finally got around to trimming out the door and air conditioning unit in the room – we still need to add baseboards all the way around, but we'll get there.
If you wanna see all of the posts on how we went from a plain ol' garage to this beauty, check out the below posts: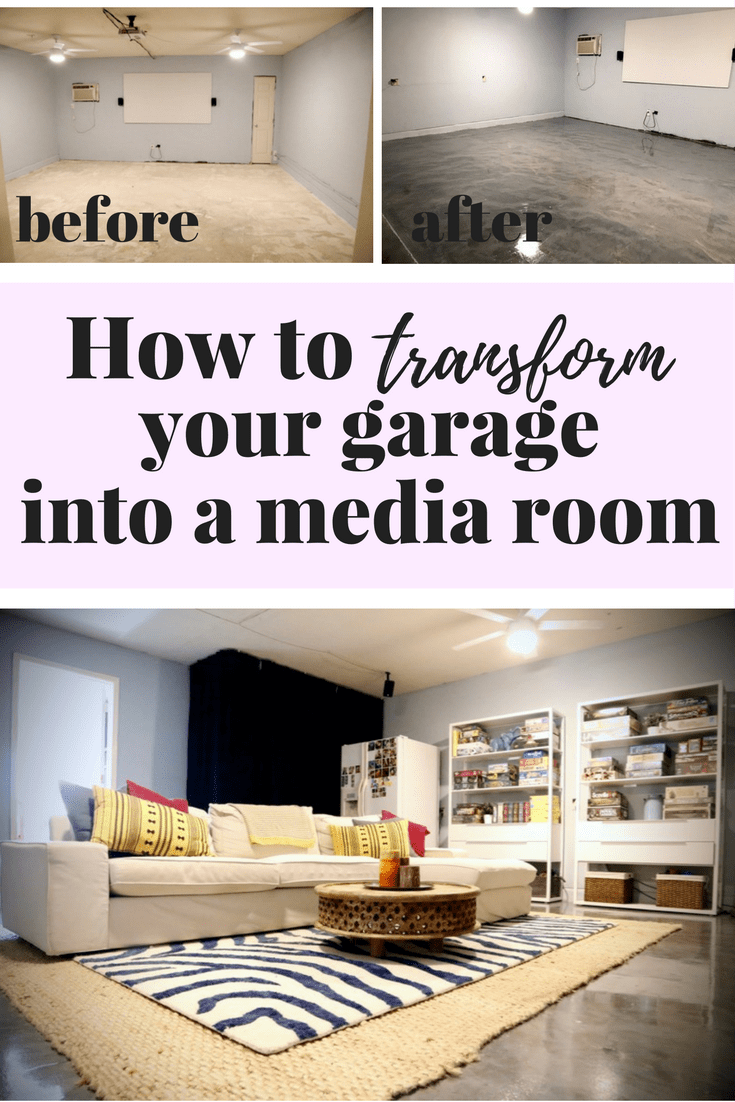 UPDATE: Click here to see why we had to turn this room back into a regular garage and how it looked once we finished. 
I am so excited to finally have this space be an area where we can actually relax and enjoy ourselves a bit, rather than spending the entire time we're in there thinking about how much I hate it. I have some plans to add some fun art to the room, we still need to cover up the cords on the ceiling, and we need to swap out the old outlet covers – all minor details that will make a big difference in the end! I'm also considering swapping out the zebra print rug for a faux cowhide – what do you think?
Have you ever painted concrete flooring before? Would you ever try something like Rock Solid in your garage? We cannot recommend it enough!