How to Organize Bath Toys
Sooooo, can we talk about bath toys and how they're the bane of my existence?
If you have a child, then you know what I'm talking about. Those brightly colored, soaking-wet, all-over-your-bathroom toys are totally necessary because they keep your kiddos happy, busy, and totally entertained during bathtime (it's a whole half hour where I get to read a book in the bathroom while Jackson plays!), but they're constantly sitting in the bottom of your tub, they drip water everywhere, and they make the biggest mess ever when they inevitably end up all over the bathroom floor.
I mean, we don't spend a ton of time in Jackson's bathroom, but I hated walking in every day to this view.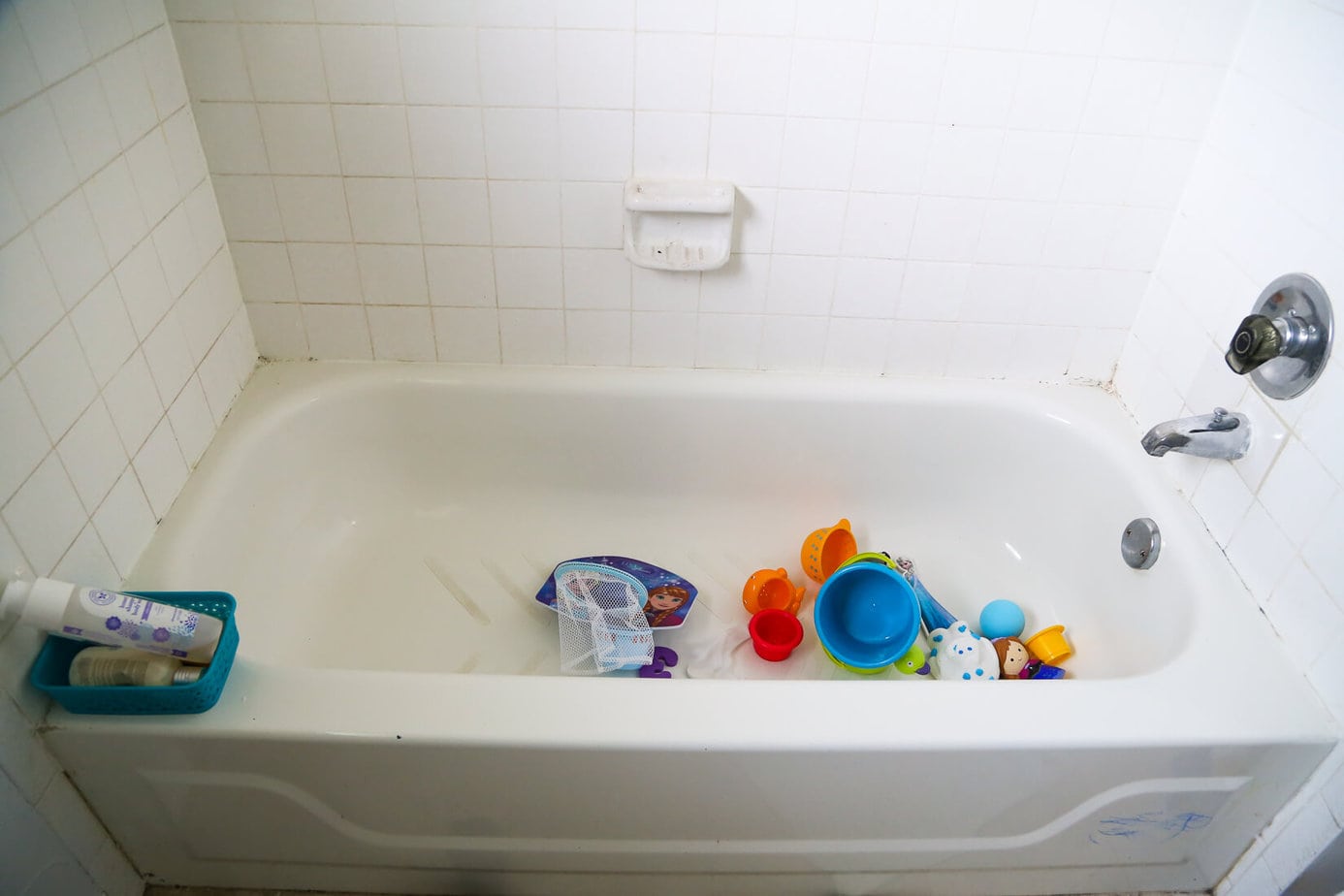 So, when we were giving his bathroom a little refresh, I decided to do something about it. I don't like most of the typical bathtub toy organizers – a lot of them suction to the bath walls and they always fall off (or get pulled off), and make a bigger mess than you started with.
Plus, they're ugly, so there's that.
I wanted to do something that was going to be attractive, affordable, and easy for Jackson to maintain on his own without accidentally destroying it. But what?
Well, if you've been reading here for any length of time, then you know that I have a major love affair with baskets when it comes to keeping my home clean and organized. That's because I'm a faker – I don't actually have it together enough to have everything in my house totally organized, but if I create a semi-organized system and toss everything into the designated basket at the end of the day, my house looks totally clean and no one is the wiser!
So, it should be no surprise that when I was trying to figure out how to contain the obnoxious mess of Jackson's bath toys, I landed on using baskets in the bathtub.
I'm nothing if not predictable.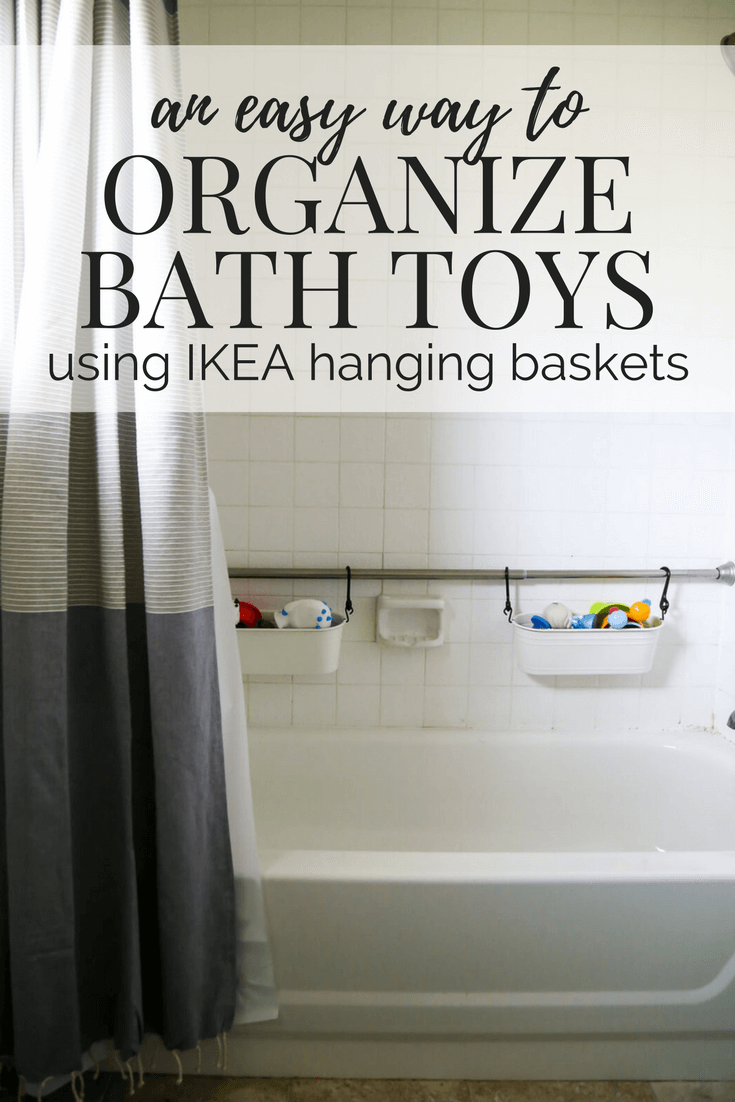 This post contains affiliate links. Click here to read my full disclosure policy. 
This was such an easy way to corral all of his toys in the bathtub, and he really loves having a dedicated place for them. Plus, it looks pretty dang cute if you ask me.
Here's how to do it:
How to Organize Bath Toys
M A T E R I A L S :
– 2 IKEA FINTORP hanging baskets
– 4 FINTORP Hooks
– A pair of pliers
– Power drill
– Metal file
– 1 shower curtain rod
D I R E C T I O N S :
Your first step is to take the little black oval for hanging off of your basket and break off the hook part (if you aren't familiar with these baskets, they come with a round metal piece that fits over them, along with a hook on either side for hanging – you'll be removing the hooks and discarding the round part). This wasn't my original plan, but when I tried to open up the hook without removing it, it just popped right off. So, do yourself a favor, take charge of the situation, and just take it off yourself.
Then, grab your drill and a drill bit that's approximately the same size as the hook part of the basket hanger. I can't remember exactly what size we used (to be honest, our tools are currently so unorganized that I literally found the correct drill bit laying on the floor of the workshop, so who knows what size it was), but we just compared the bit to the hook to find a size that was about right.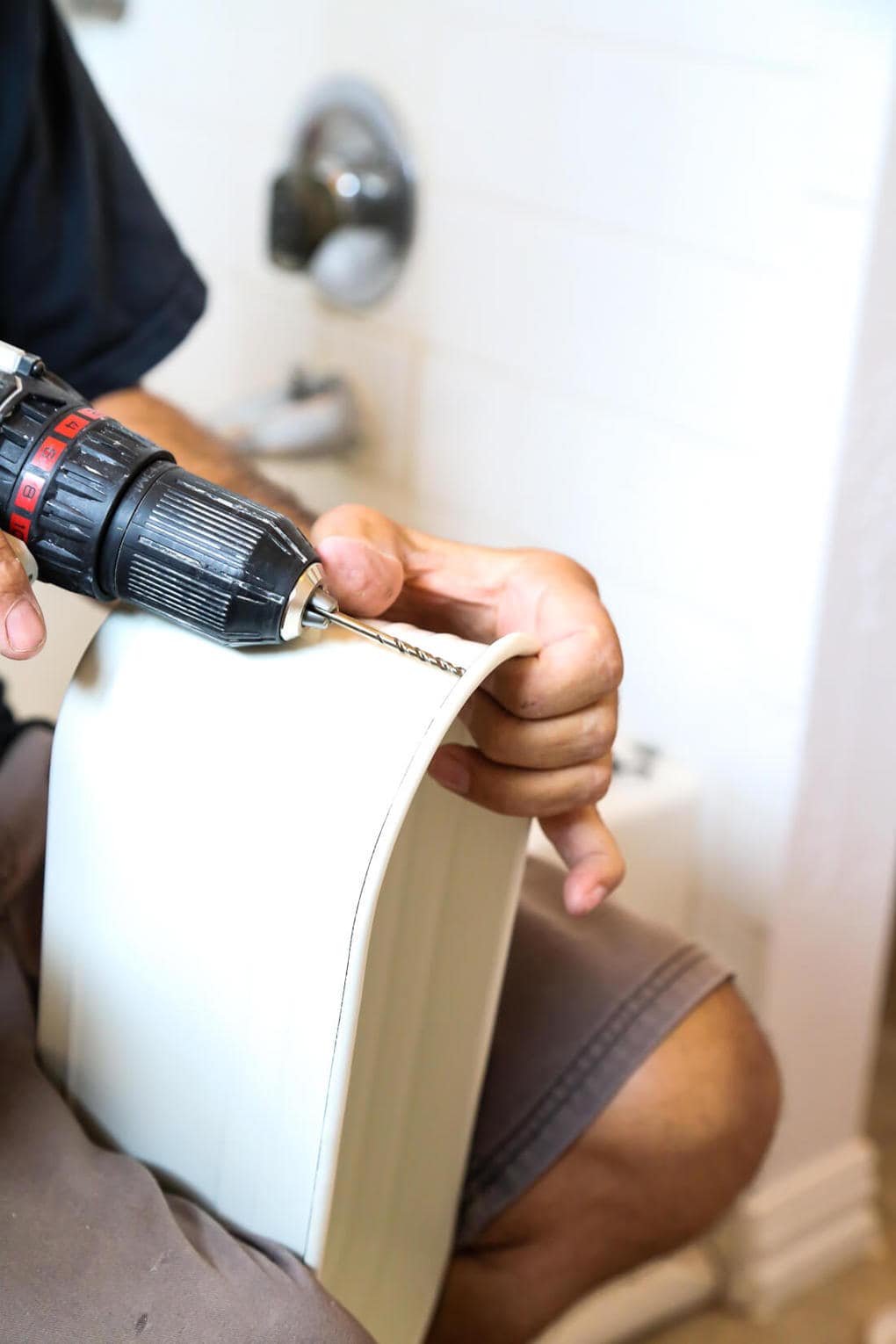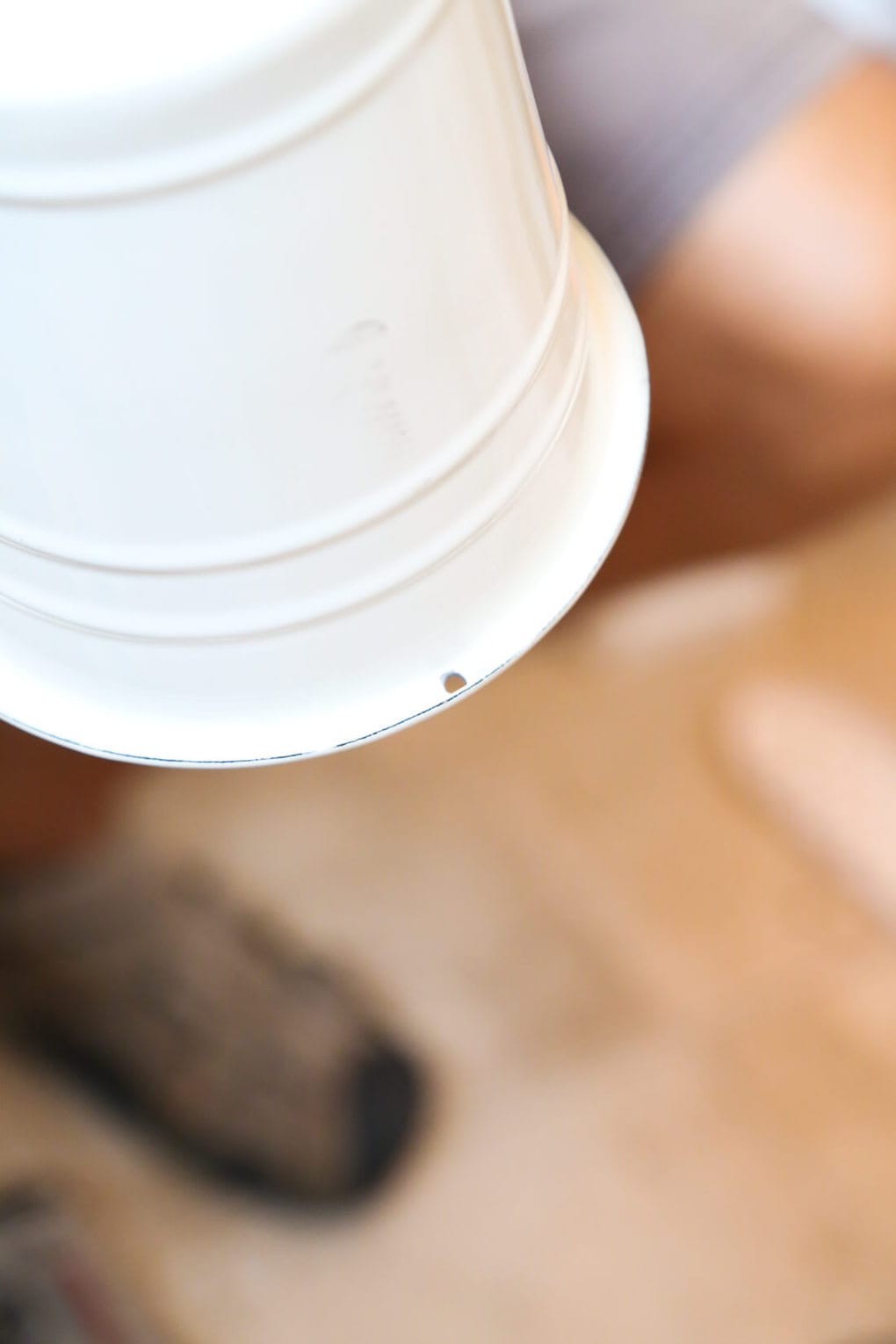 Drill a hole in either side of the basket, right inside the rim. Use your file to smooth out the hole, so little fingers don't get cut by it.
Now grab the small hook that you popped off of the hanging piece of the basket and use your pliers to open up the bottom part just enough to slip your FINTORP hook into it.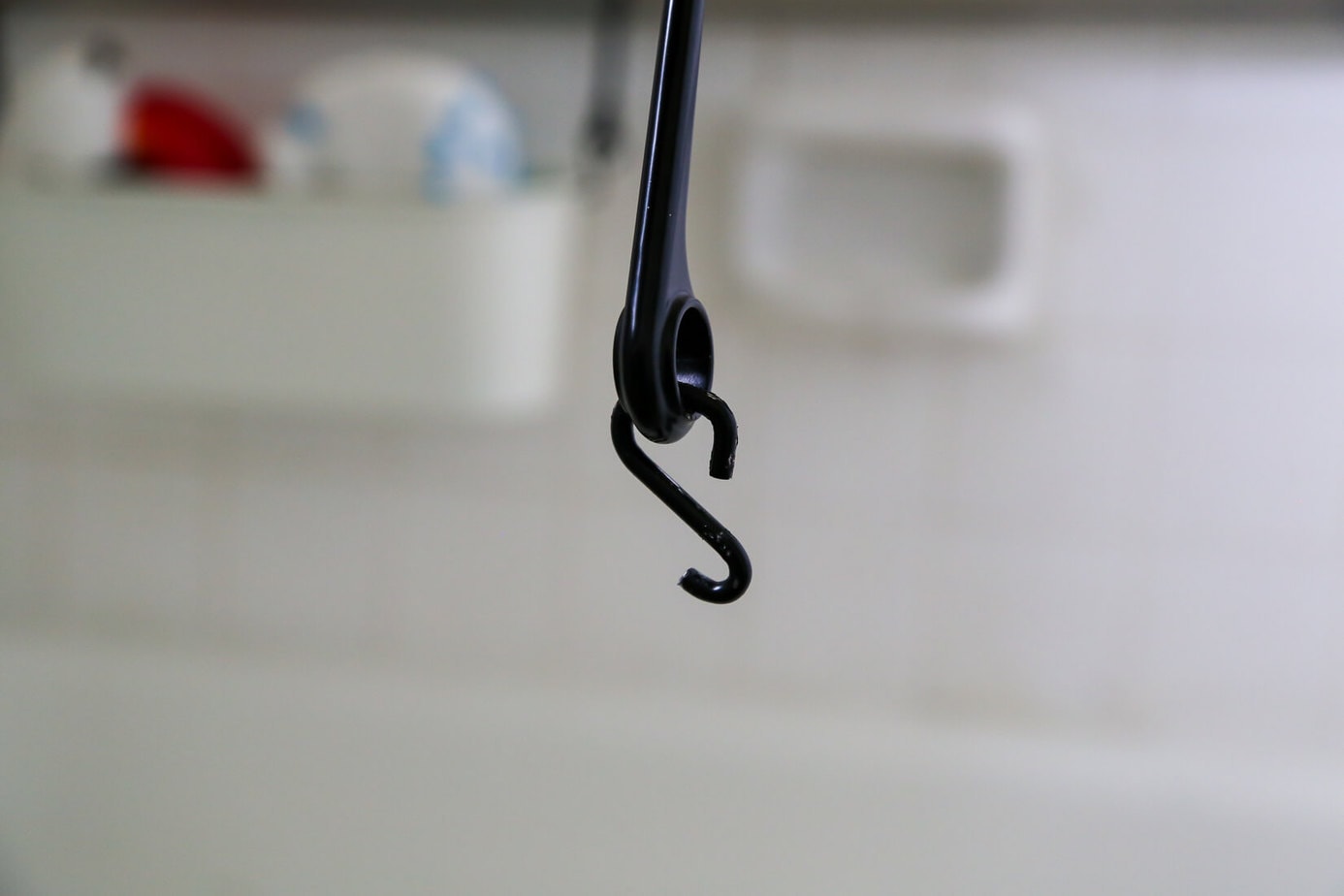 Grab the shower curtain rod and hang it inside the bathtub, up against the wall. Push the small hook into the hole you've created in the basket (this helps it stay still and not slip right off when your child inevitably gets crazy with their toys) and hook the big FINTORP hook over the shower curtain rod.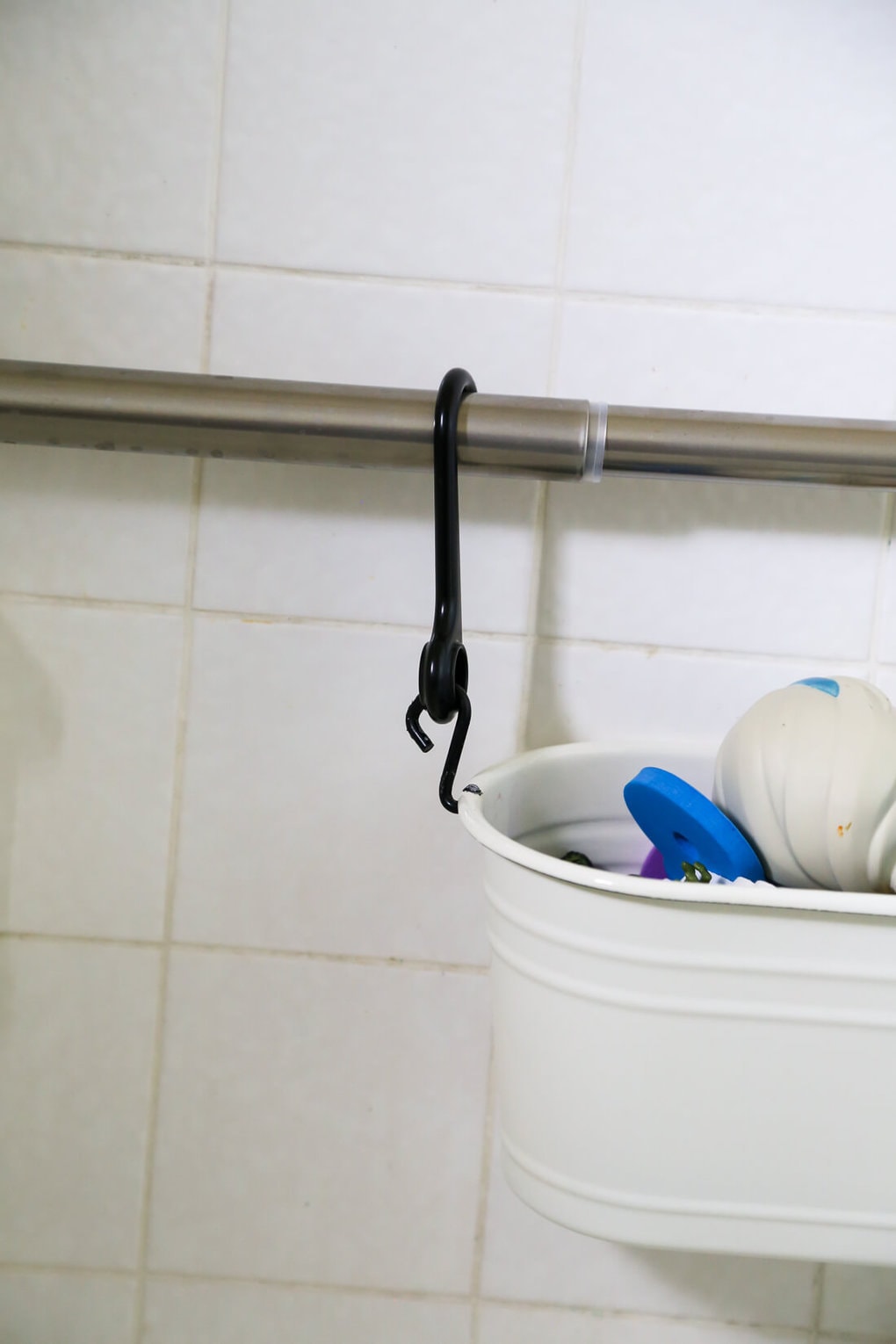 Repeat for as many baskets as you want (we only did two, but if you didn't have a soap dish there you could do three), toss your toys in, and bask in the glory of a toy-free bathtub.
Side note: I forgot this when we first set this little system up, but you'll probably also want to drill a hole or two in the bottom of the baskets so that water can drain out. Bathtubs are wet places (duh?) and you don't want to have these things constantly full of water. We have since added a couple of small holes in each of the baskets and they drain just fine!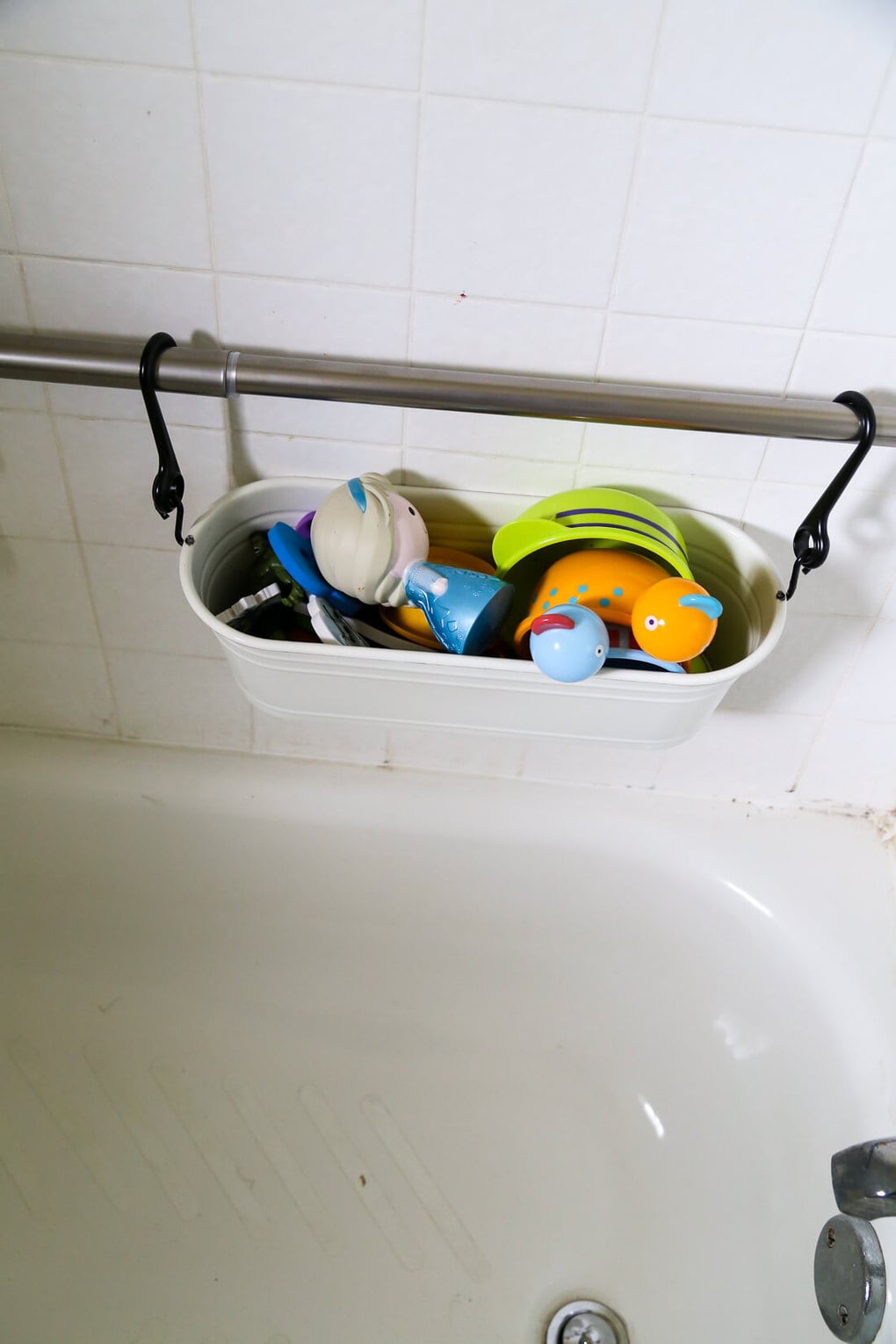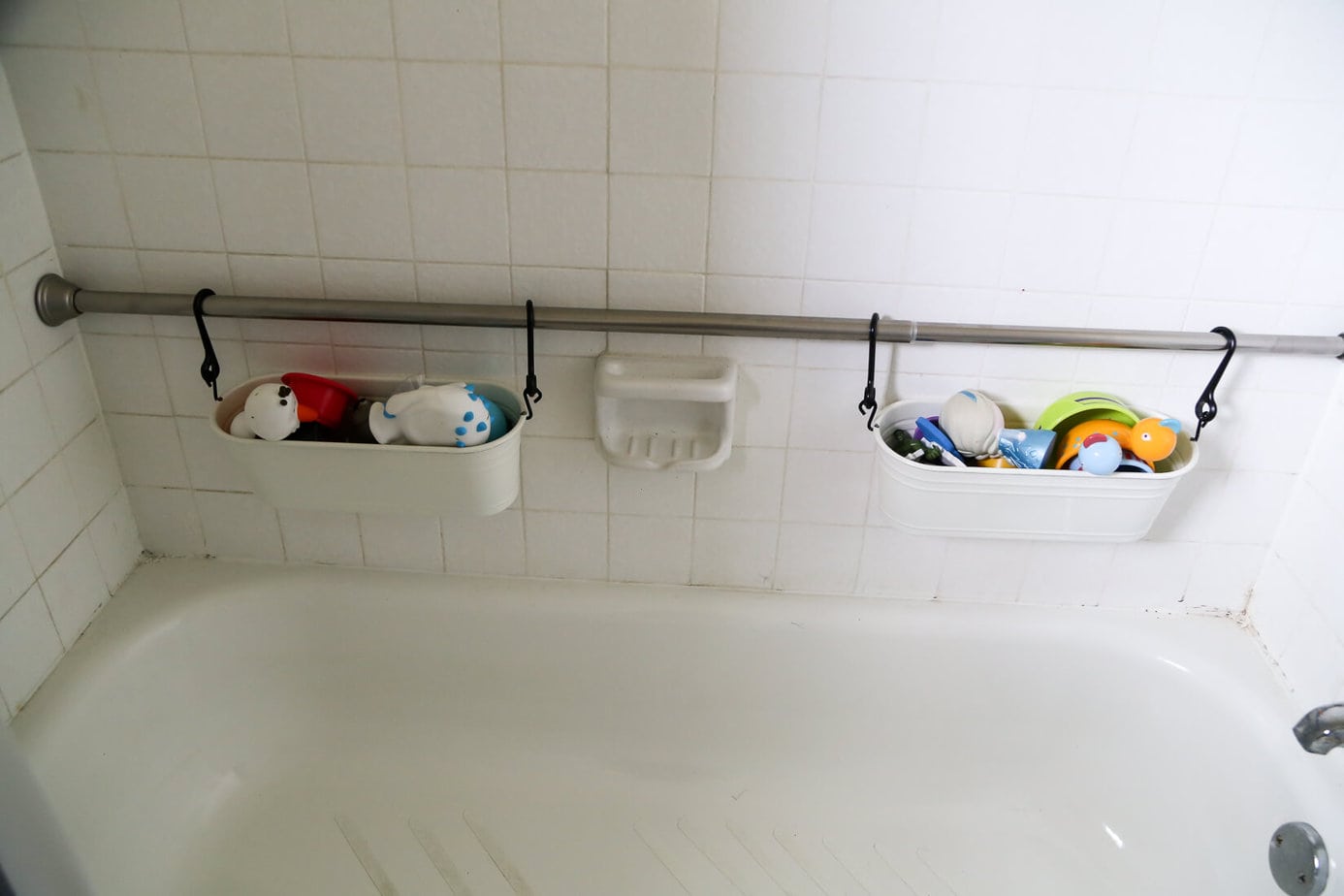 Now, there are definitely easier ways to this. If I was smart, I would have picked up some S-hooks like this and used them in-between the basket hanger and the FINTORP hook – but by the time I realized my original plan to just open up the hanging part while it was still attached to the metal oval wasn't going to work, I was in too deep. I had to push forward.
So, you want a clean look without any additional pieces, this was really, truly simple and created a nice sturdy place for Jackson to toss his toys before he gets out of the bath. But if you're lazy (which, let's be real, aren't we all?), grab some S-hooks first and make it a little easier on yourself.
One side benefit of these baskets that I didn't really anticipate is that they're basically a whole new thing for Jackson to play with while he's taking a bath. His toys hide from each other in there, they turn into giant caves with monsters, and they're basically worked into every elaborate storyline that he makes up with his toys when he's taking a bath.
And we all know that anything that keeps your kids busy and happy for a little bit longer is something you want to add to your home. Especially when it also has the side benefit of keeping your bathroom looking cleaner.
Win-win, right?!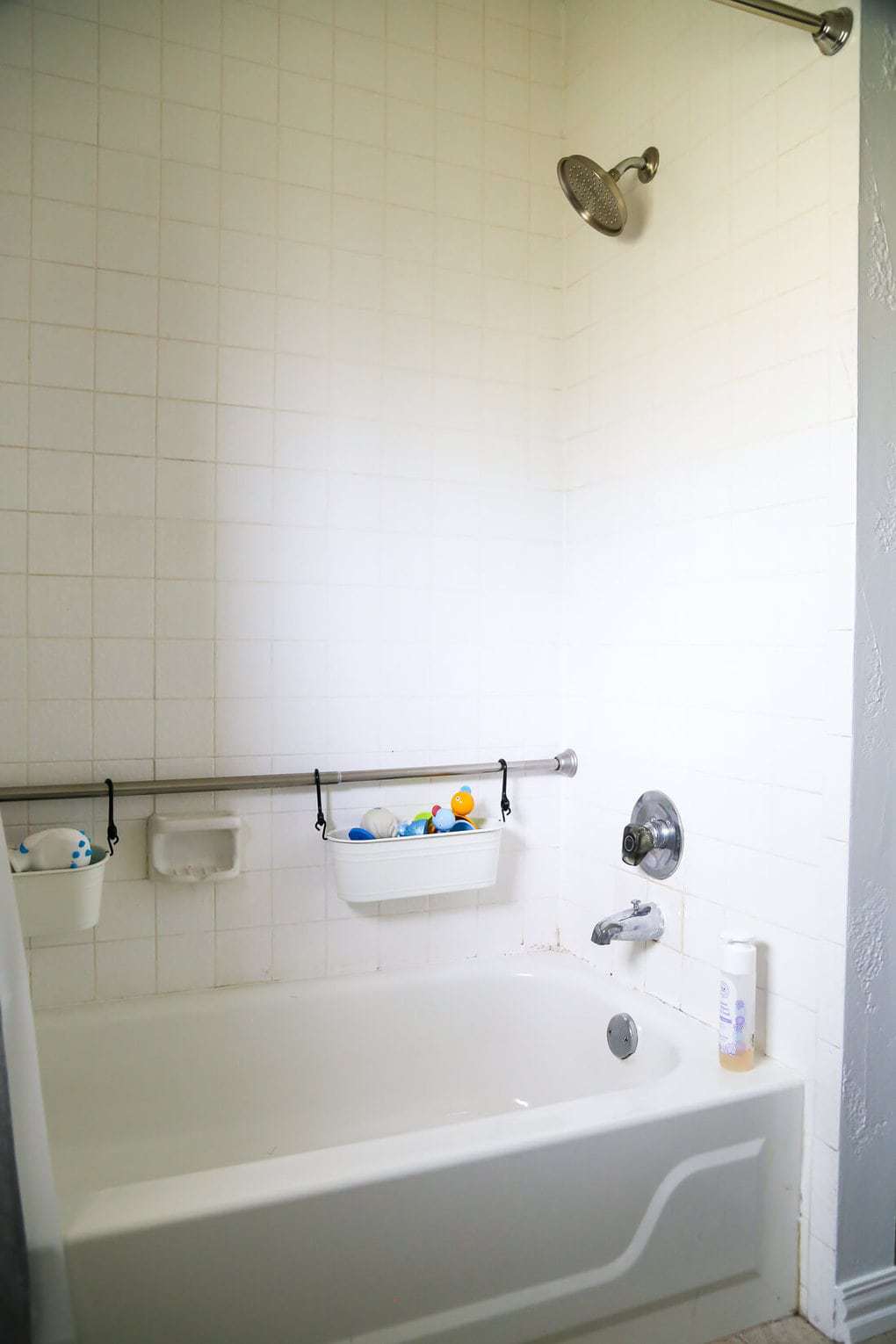 How do you keep the bath toys corralled in your house? I can't believe we went over three years without any sort of actual system!