DIY Painted China Cabinet (A Craigslist Makeover)
Our new painted china cabinet is the perfect addition to our kitchen – we scored it for just $40 on Craigslist and now it's absolutely gorgeous!
Sometimes I get the harebrained idea that some horribly ugly piece of furniture I've found on Craigslist actually has amazing potential and that I can save it and give it a new life with a little bit of paint and love.
Does that happen to you too?
Corey always looks at me a little funny when I find something particularly offensive, but he's learned to just roll with my craziness because I usually have a plan. Case in point: this $40 china cabinet I made him drive almost an hour to pick up.
Are you ready to see the "before"? I warn you – it's bad…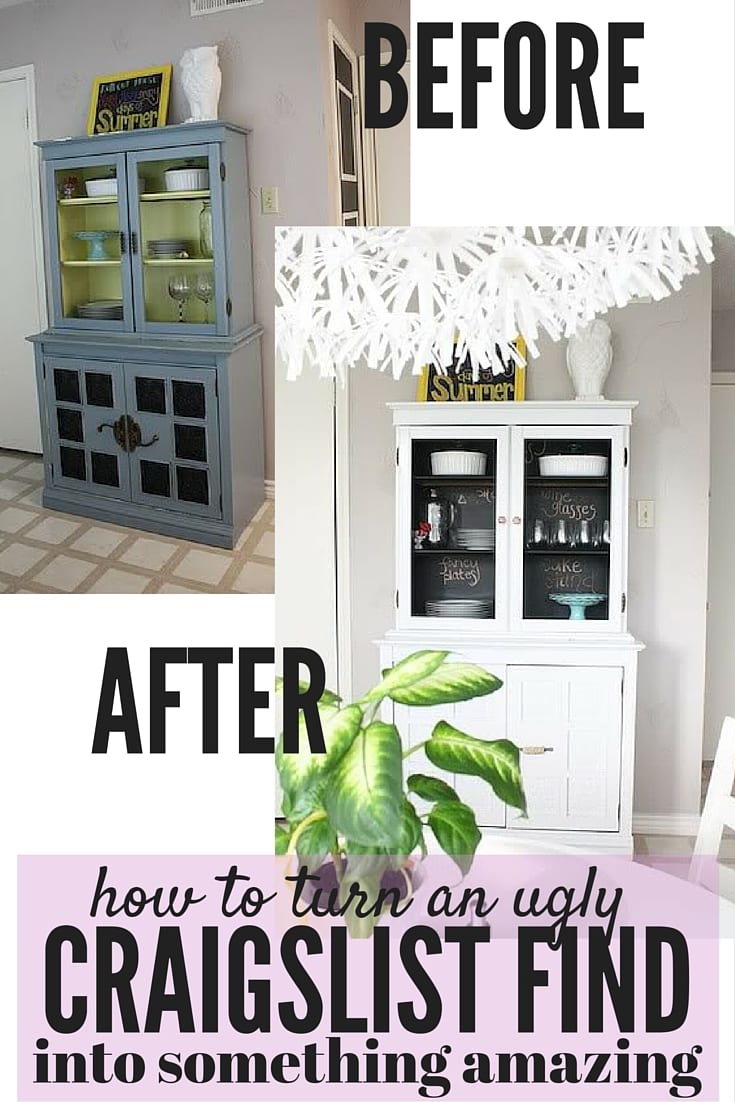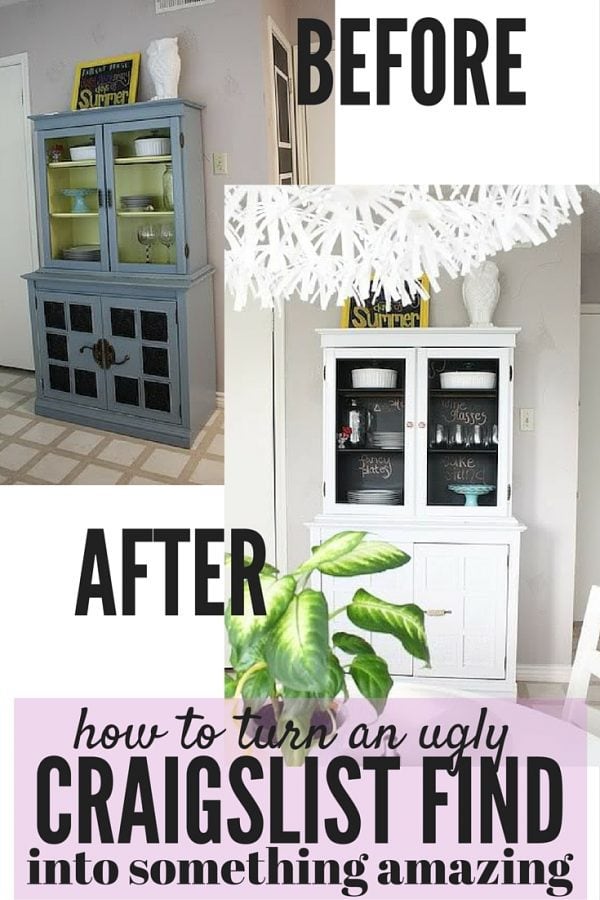 This post contains affiliate links. Click here to read my full disclosure policy.
Ouch. I think he thought I'd really lost my mind with this one.
I knew it had great bones and lots of potential, but Corey agreed to go along with me because it was so cheap that we really didn't have much to lose. Lucky for us, it worked out pretty well.
DIY Painted China Cabinet
I knew I wanted to use a crisp, bright white for most of the cabinet, but I thought it would be fun to add a little bit of drama and fun with a black interior. We used chalkboard paint that we had left over from painting our pantry door – that way, we could have some fun with labeling everything on the inside of the cabinet!
I know painting a wood piece is a pretty straightforward project, but I wanted to go ahead give you a few of my favorite tips and tricks that make it all a whole lot easier.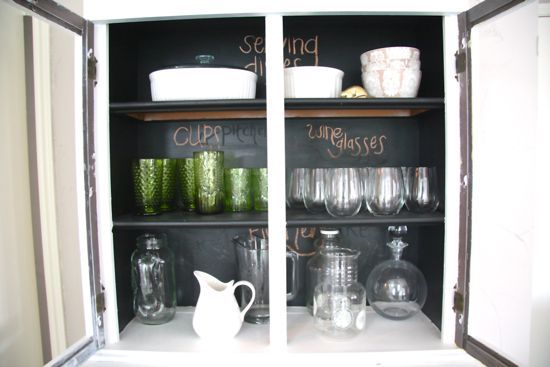 Tips for Painting a China Cabinet
For starters, I usually try to sand the piece at least a little bit, especially if it's already been painted. Corey and I learned in our great sanding experiment a few months ago that it's not 100% necessary to sand every piece (all of our chairs are still looking perfect, even the ones we didn't sand at all!), but with pieces that have been painted it's not uncommon to have some uneven texture or spots where the paint is a bit thicker. This piece had a pretty awful paint job (as you can see from all of the photos), so Corey gave it a quick sanding for me, just enough to smooth it out and get it ready for primer and paint.
My next tip? PRIME, PRIME, PRIME.
I always (always, always) use Zinsser primer on every single thing I paint. It's hands down the best primer I've ever used, and I refuse to use anything else.
Give your piece 1-2 thin and even coats of primer and follow the directions for dry time (every brand is different – I believe Zinsser calls for one hour in-between each coat and 24 hours before paint). Remember that the goal isn't to completely cover the piece, or even to get completely even coverage. The goal is just to give the paint something to latch onto, and to make your job easier when it comes time to paint. I usually try to do at least two coats.
Once your primer is dry, it's time to paint. Spray paint can be a quick alternative to regular latex paint if you're in a hurry, and I used to use it as my go-to for absolutely everything, but I've moved back towards using latex paint for most of my furniture projects – there's more control over the finish and the outcome, and I don't have to worry about cracking or drips! For this project, it took about three coats of paint to cover up all of that (terrible, horrible, no good, very bad) color it used to be, but it was so worth the effort!
UPDATE: I now swear by my paint sprayer for spraying furniture! See more details on how I use it here, and click here to read a post with all of my secrets for painting furniture!
I ended up having just enough chalkboard paint for the top part of the cabinet and the drawer in the bottom part, and I did regular old black paint on the rest of the bottom – you can't tell the difference. Since I had chalkboard paint in the top, I went ahead and scrawled a few labels in it so you can get the idea – I'm sure I'll play around with it more later and it will be an ever-changing piece!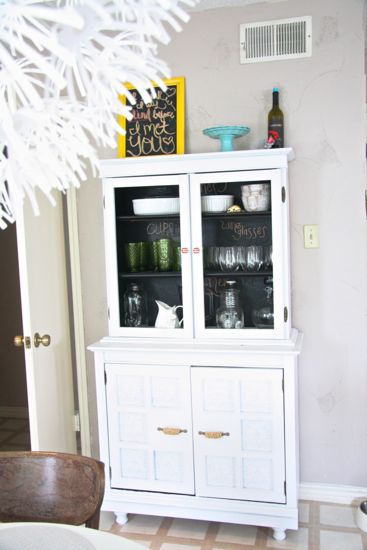 We weren't in love with how this piece just sat on the floor without any legs, so you might have noticed that Corey and I chose to add some feet to it. All we did was use metal brackets to attach some cheap feet we found at the hardware store.
As you can see from some of the close-ups, the bottom doors fit on a bit funny and you can see the black paint along the bottom. The doors are pretty warped (and they got even worse when they were drying outside in our 100-degree heat!), and we haven't quite decided what we're going to do. We may try to buy some new doors, or we may build some of our own. I'm torn because I love the detail on these doors, but I don't love seeing the black paint peeking out at the bottom! We'll see where we land, and you know I'll give you an update when we decide!
You can see the tutorial for how we created the Anthropologie-inspired jute rope cabinet pulls here – the hardware on the bottom is one of my favorite details of the whole piece. These cabinet pulls turned out to be so gorgeous, and I drool a little bit every time I look at them.
This piece adds so much to the room, and it fills the space SO much better than the tiny little wine rack we used to have sitting there! I love how it turned out, and it makes me even more excited for the day when we can finally retexture the walls in here and get that awful color off of the walls!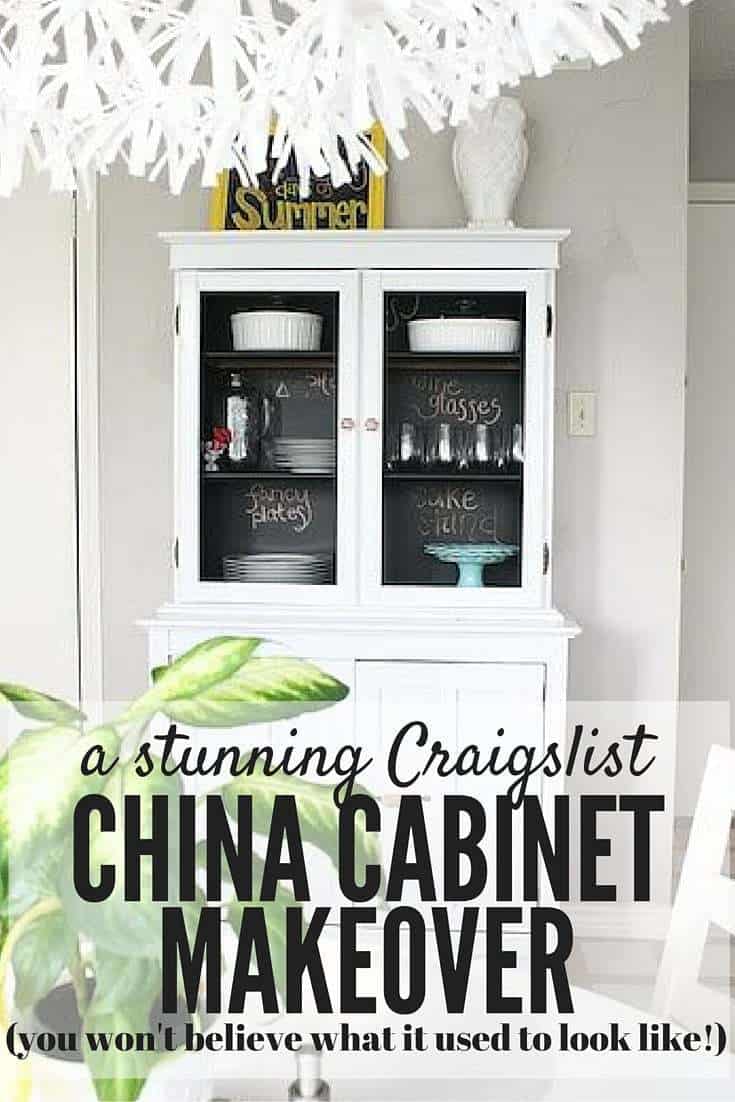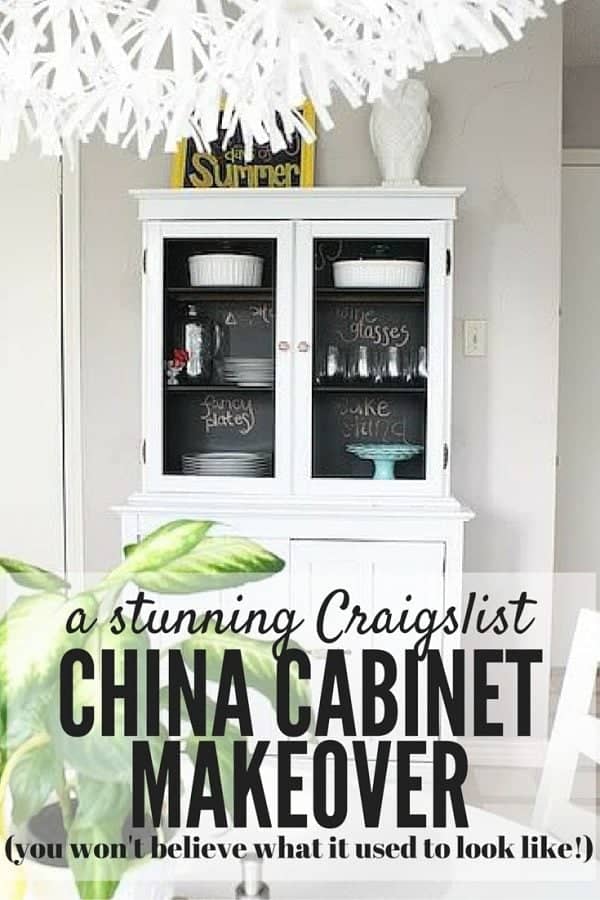 Moral of the story – even if your husband thinks you have lost your ever-loving mind, stick to your guns if you have a vision. It just might turn out perfectly.