This post is sponsored by Cost Plus World Market but all opinions are mine alone. Thanks for supporting the brands that support Love & Renovations! 
As we've settled into this house and begun to find space for all of our (multitudes of) stuff (seriously, how do we have so much stuff?), one of the biggest adjustments has been the much-smaller kitchen. If you'll recall, the kitchen in our old house was large and spacious and had plenty of room for all of our junk, and then some.
The new house? Not so much. It's a perfectly acceptably-sized kitchen, but it's just different than what we're used to. There isn't room for an island, some of the cabinets are awkwardly-sized, and it's just not the same.
Can you tell I'm not good with change?
We're slowly making adjustments in the kitchen and working to make it as functional as possible for our family. As we have gotten more settled in the house and learned more about how we'll use it and how it functions for us, I thought it might be helpful to put together a few quick tips that are helping me keep things organized in our small kitchen. Last week I hit up Cost Plus World Market for a few things to help keep me on track, and I'm kind of amazed at how a few new products and a little time spent working can make such a giant difference in how our kitchen looks and feels.
I'll do a roundup of all of the products we used for this mini-makeover at the bottom of this post – be sure to check them out if you're looking for some ways to whip your kitchen into shape too. You can also check out this link for great small space storage solutions from World Market (which is where I snagged all of the stuff I'm talking about in this post today). Oh, and you'll notice that the cabinets are painted and put back together (yay!). I'm still waiting on the hardware for the doors and the drawers, so I haven't photographed them yet, but I should get that done this week – hopefully, by Friday I'll have a post ready for you with all the details!
5 Tips to Organize a Small Kitchen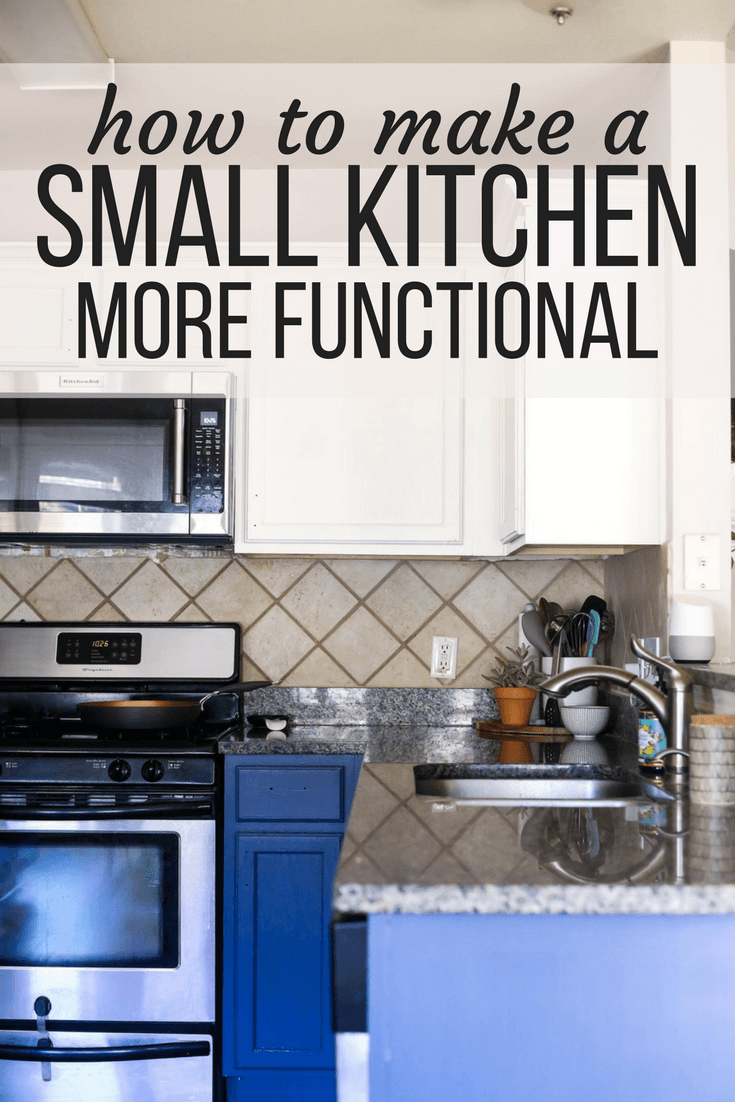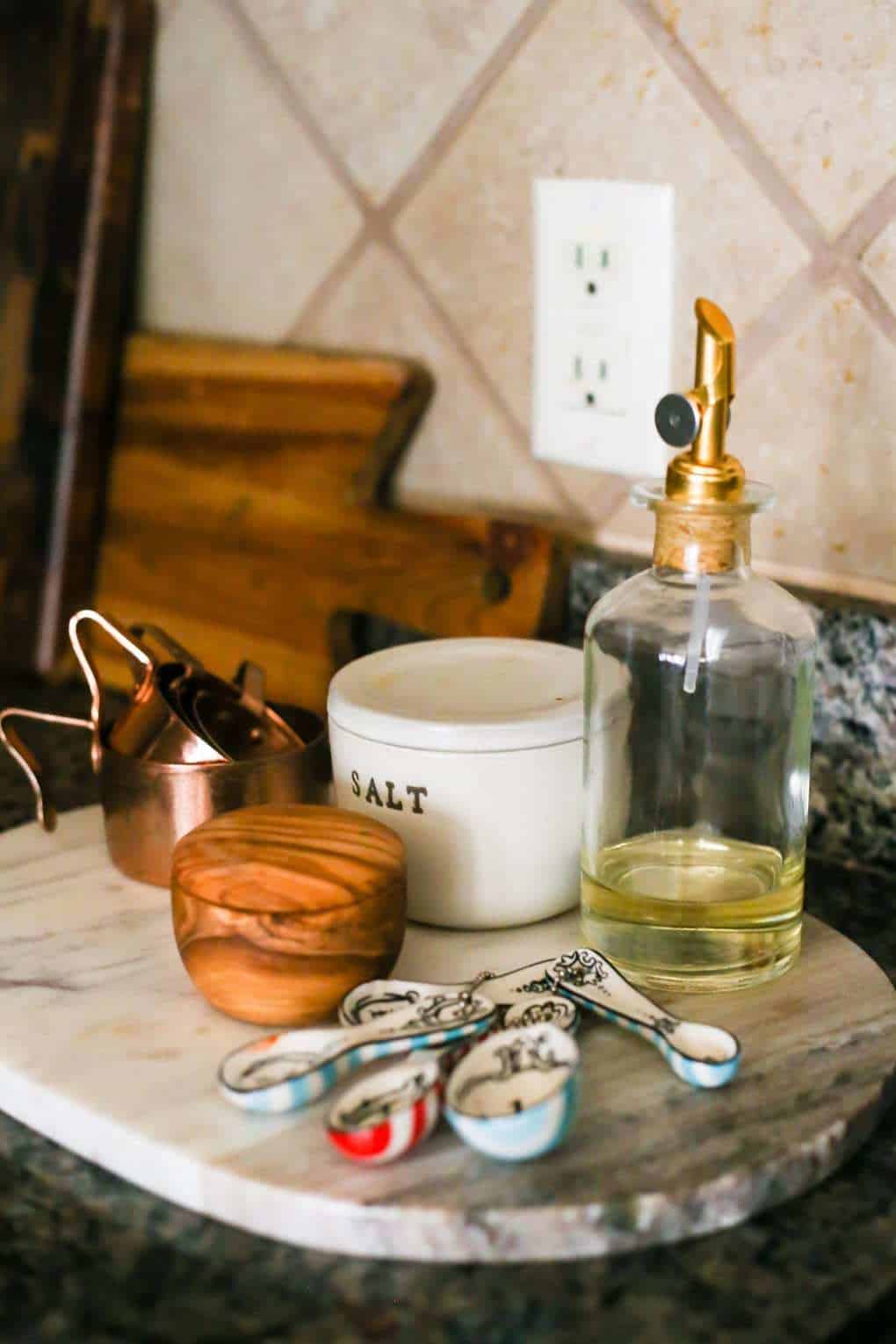 This post contains affiliate links. Click here to read my full disclosure policy. 
Use trays to corral small items. We all have small items that we need to keep on the counter – oil, often-used spices, etc. You know – the things you reach for a few times every single day, the things that would drive you nutty if they were put away in a cabinet. Instead of just letting those things hang out on the counter or on the back of the stove, grab a pretty tray and put them all together on it. Suddenly your random collection of junk looks beautiful and collected, and it's all still right where you need it. This is probably the fastest and easiest way to make your counters look less cluttered and more styled. Plus, it's a sneaky way to store that extra serving tray (or cheese board, in this case) right in plain sight!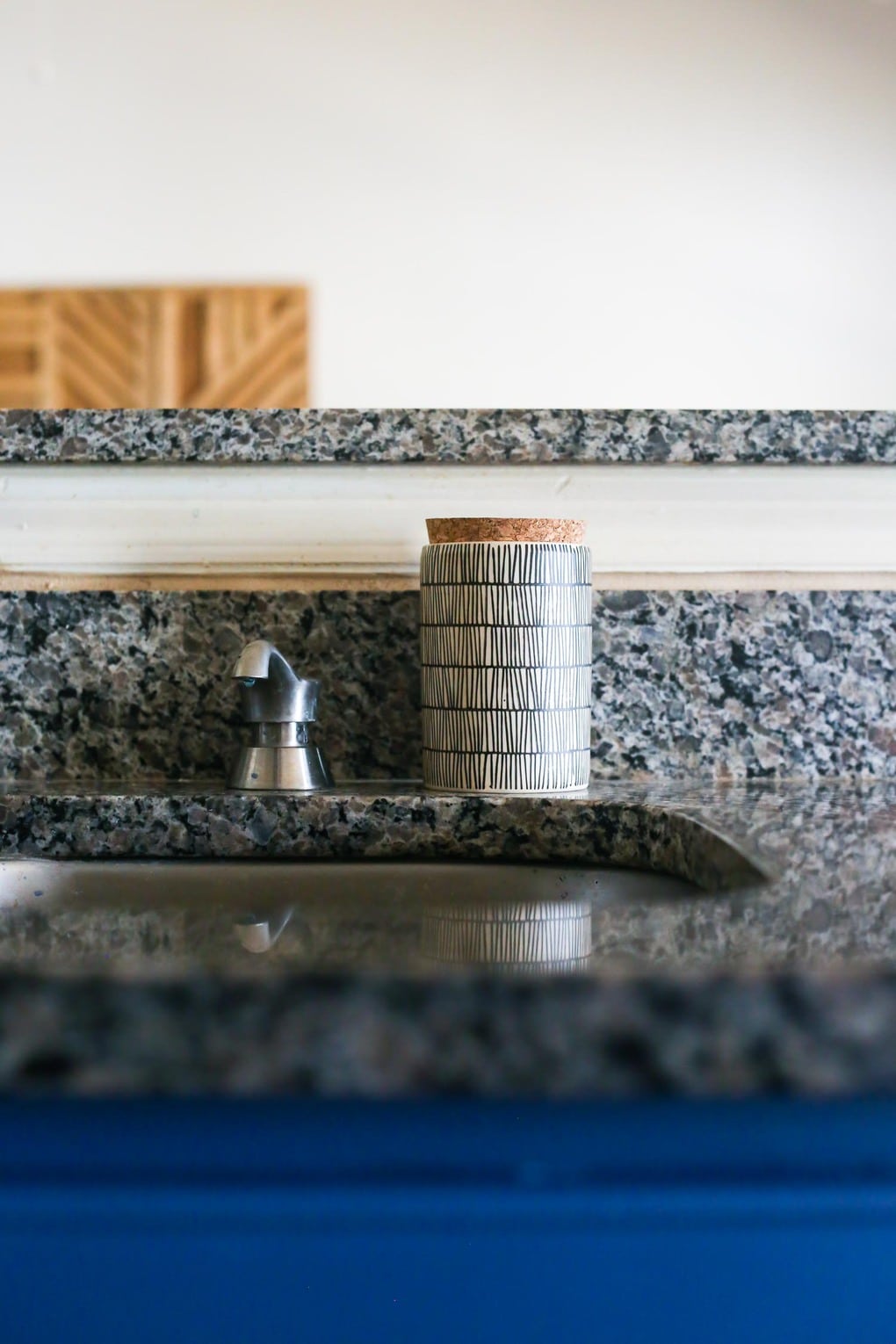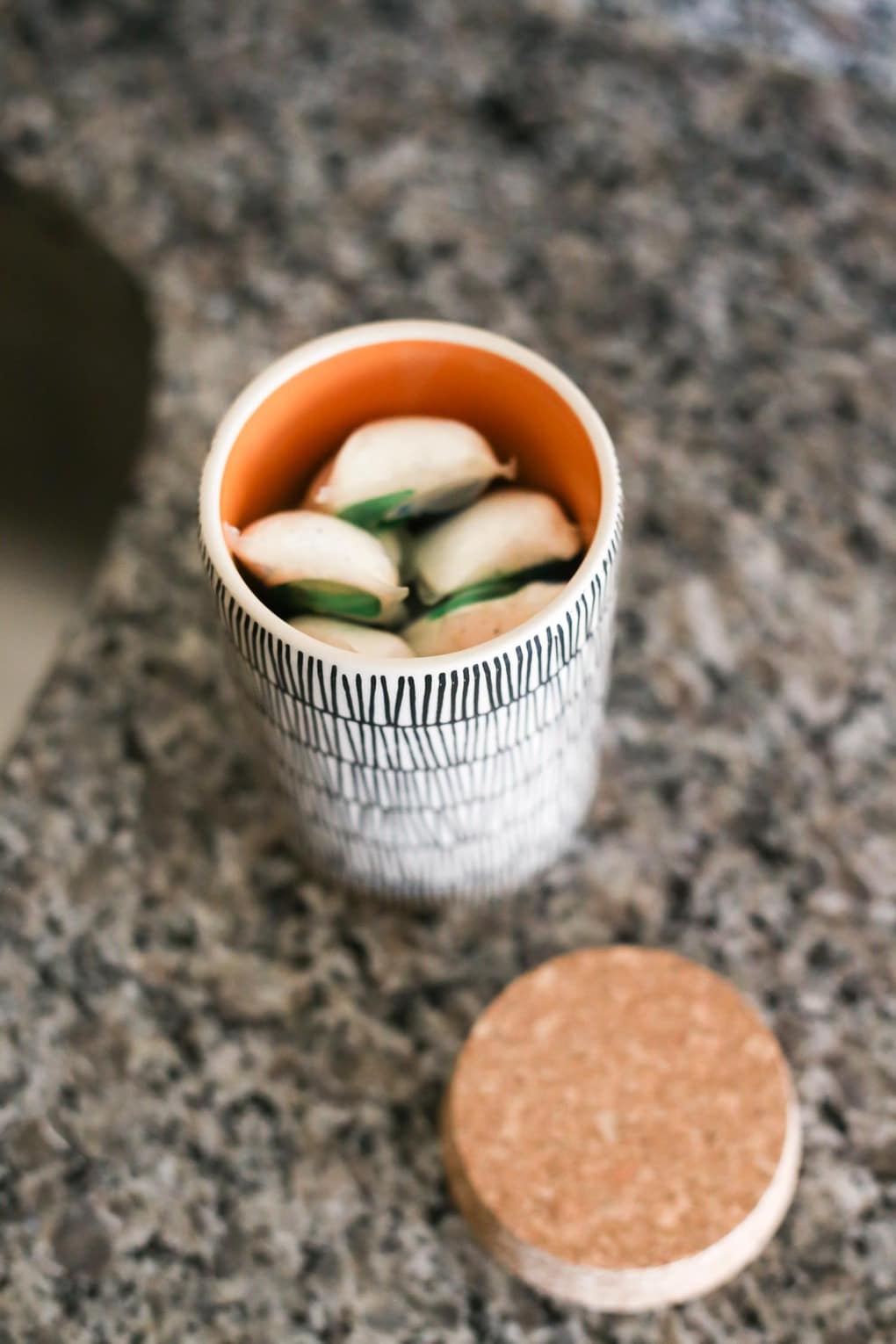 Use pretty containers to keep often-used supplies within reach. Maybe I'm just lazy, but it drives me crazy to have to constantly bend over to reach into the cabinet under the sink to grab things I need. We keep our dishwasher pods under there, and they take up quite a bit of room. So, I grabbed this pretty little container from Cost Plus World Market and filled it up with the pods – now I don't have to dig through the other junk under the cabinets to find them, and it looks nice, too! You can see some great ideas for kitchen storage containers and canisters to use on your counters here!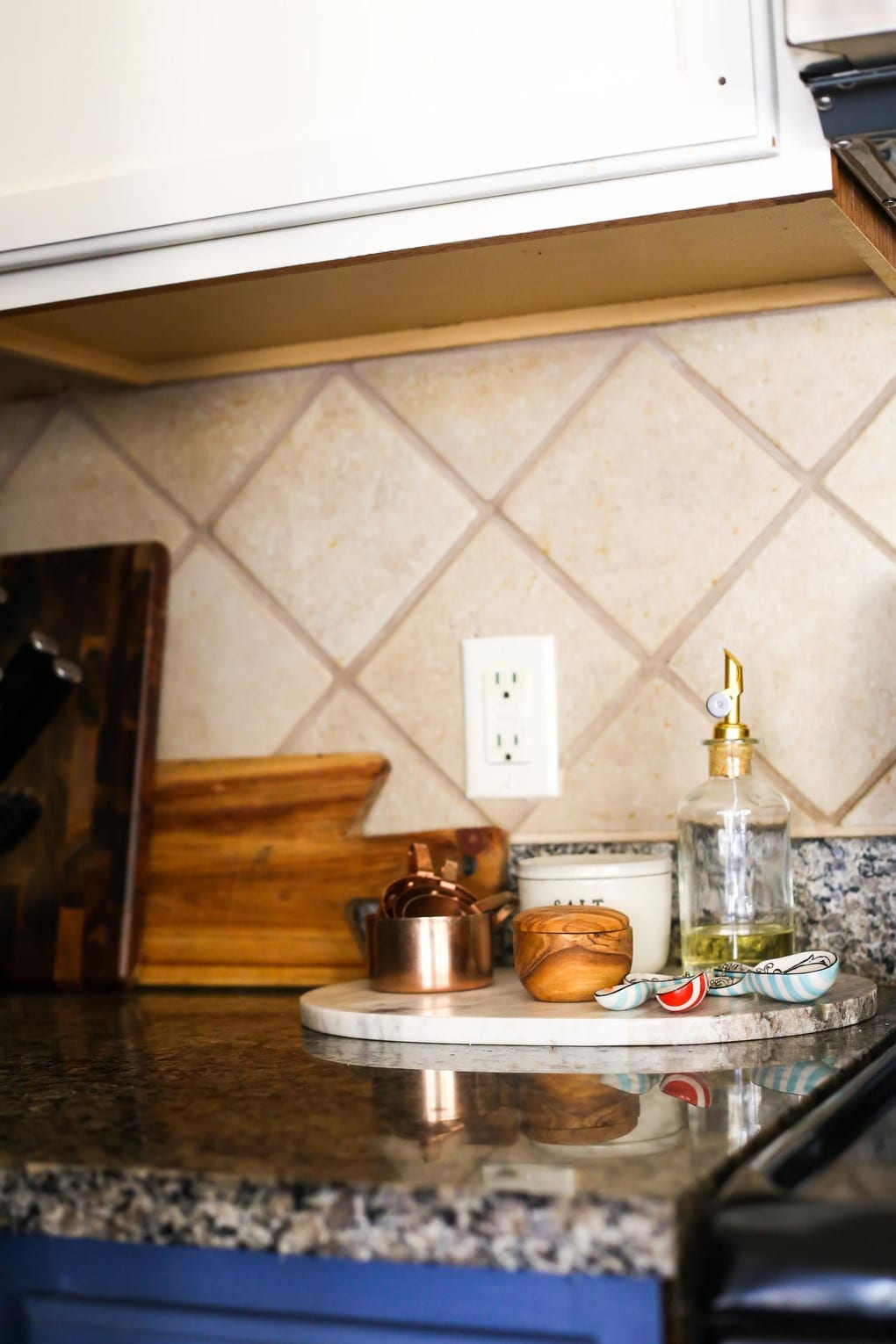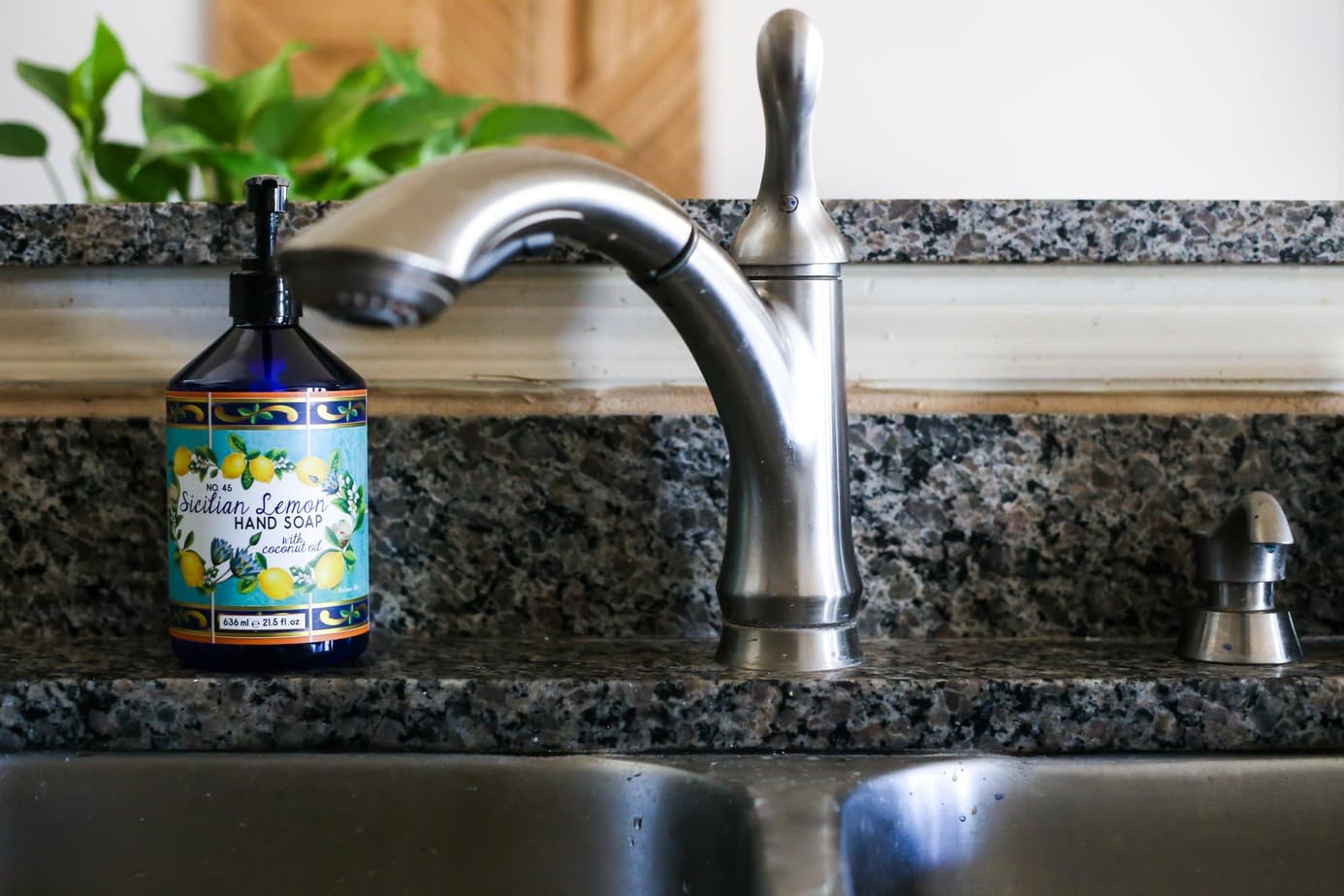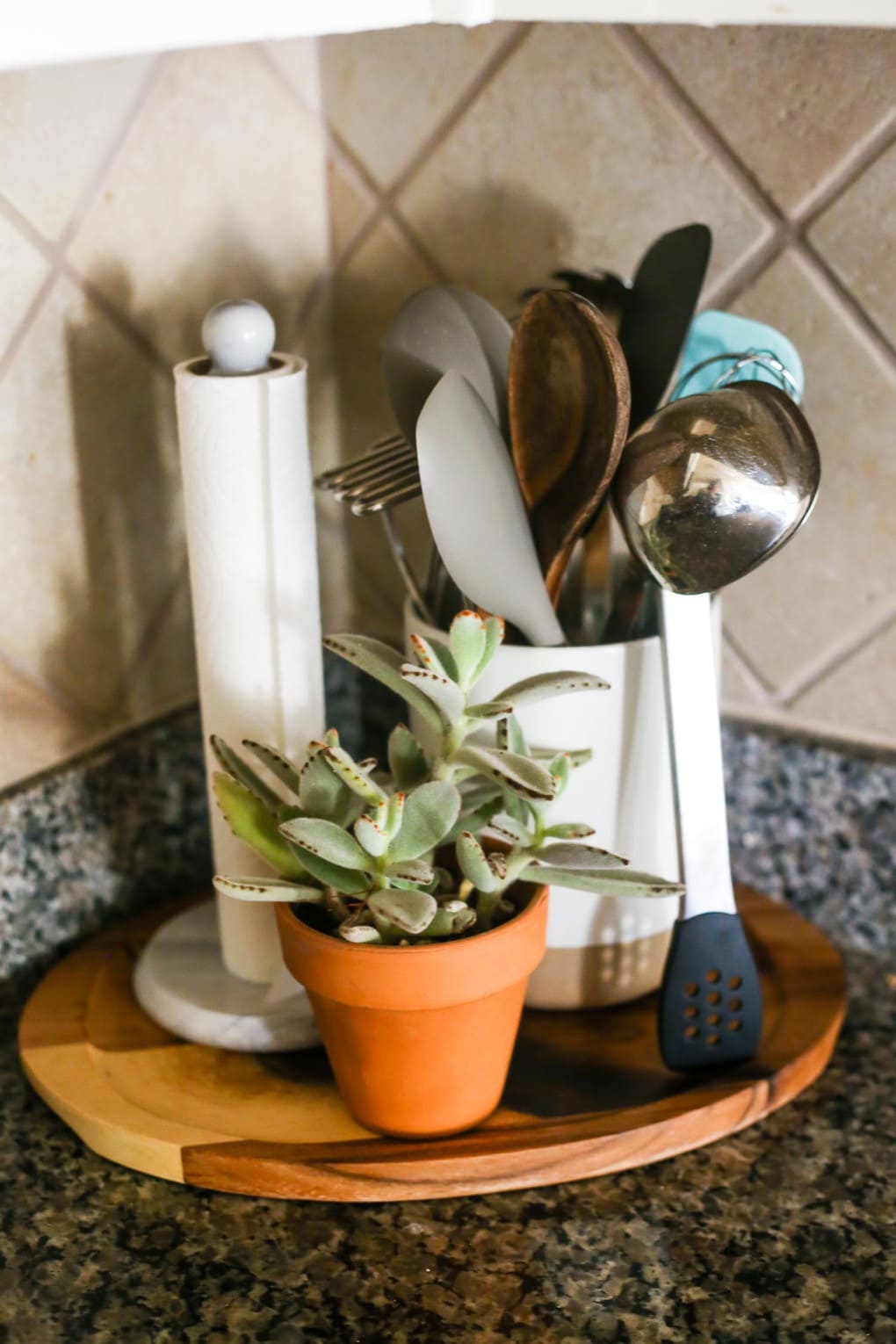 Adjust based on how you use the space. In our old house, we had a habit of keeping the paper towels under the kitchen sink – it worked, they were always there when we needed them, and no one minded the setup. In this house? I'm not sure what's different but suddenly the paper towels were never where they were supposed to be, I couldn't ever find them when I needed them, and they were constantly floating all over the kitchen and getting in the way. As much as I like to keep paper towels out of sight, I had to face the fact that we just weren't going to keep up with that system. So, we picked up this pretty marble paper towel holder and plopped it on a tray. They're still out of the way and don't look terrible, and now I never have to search for them when I need to clean up a spill. This is probably the most effective way to make your kitchen work for you – take note of the things that you're constantly complaining about, the things you can never find, and the things that are always in your way. Then, see if you can come up with beautiful and simple ways to solve those problems.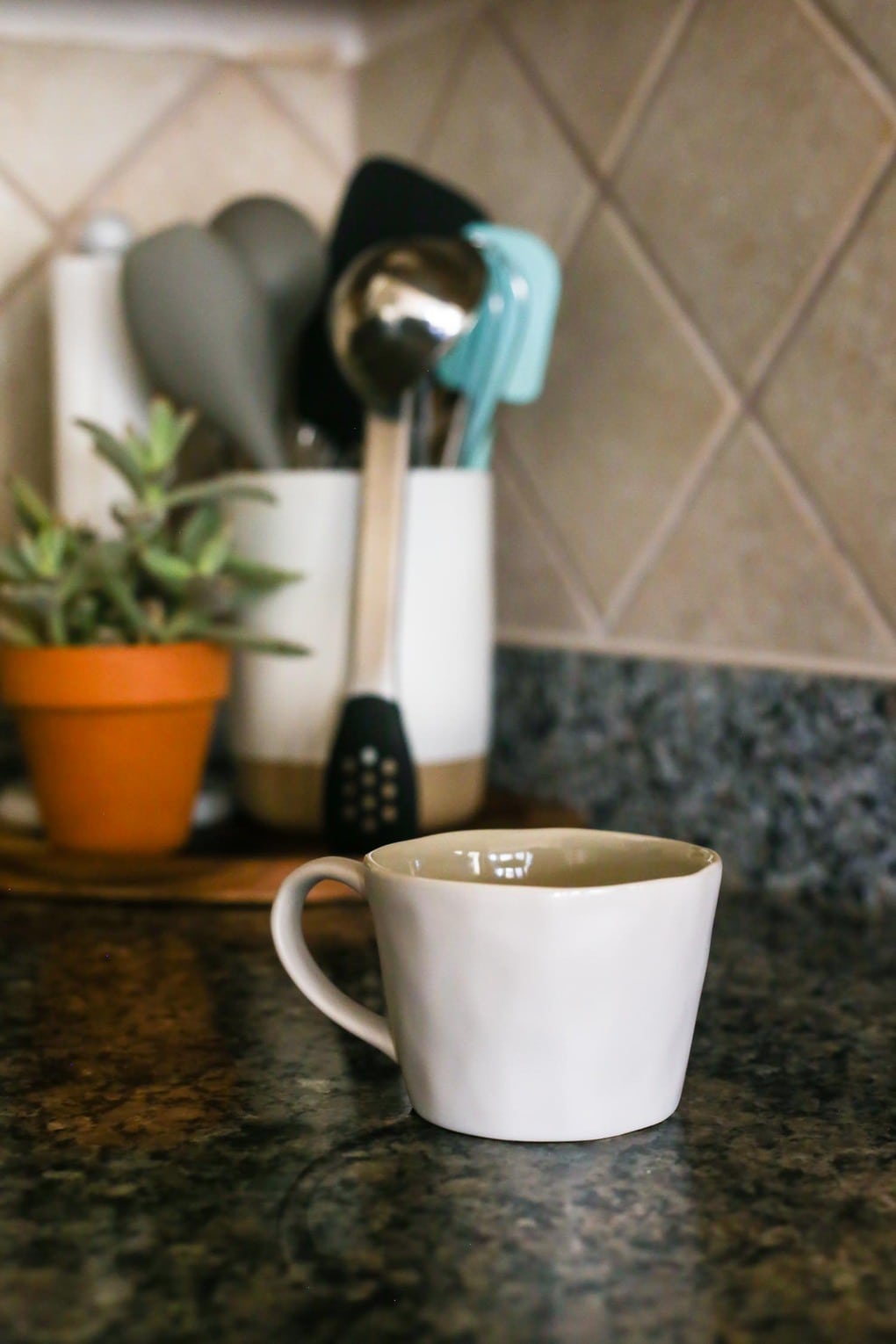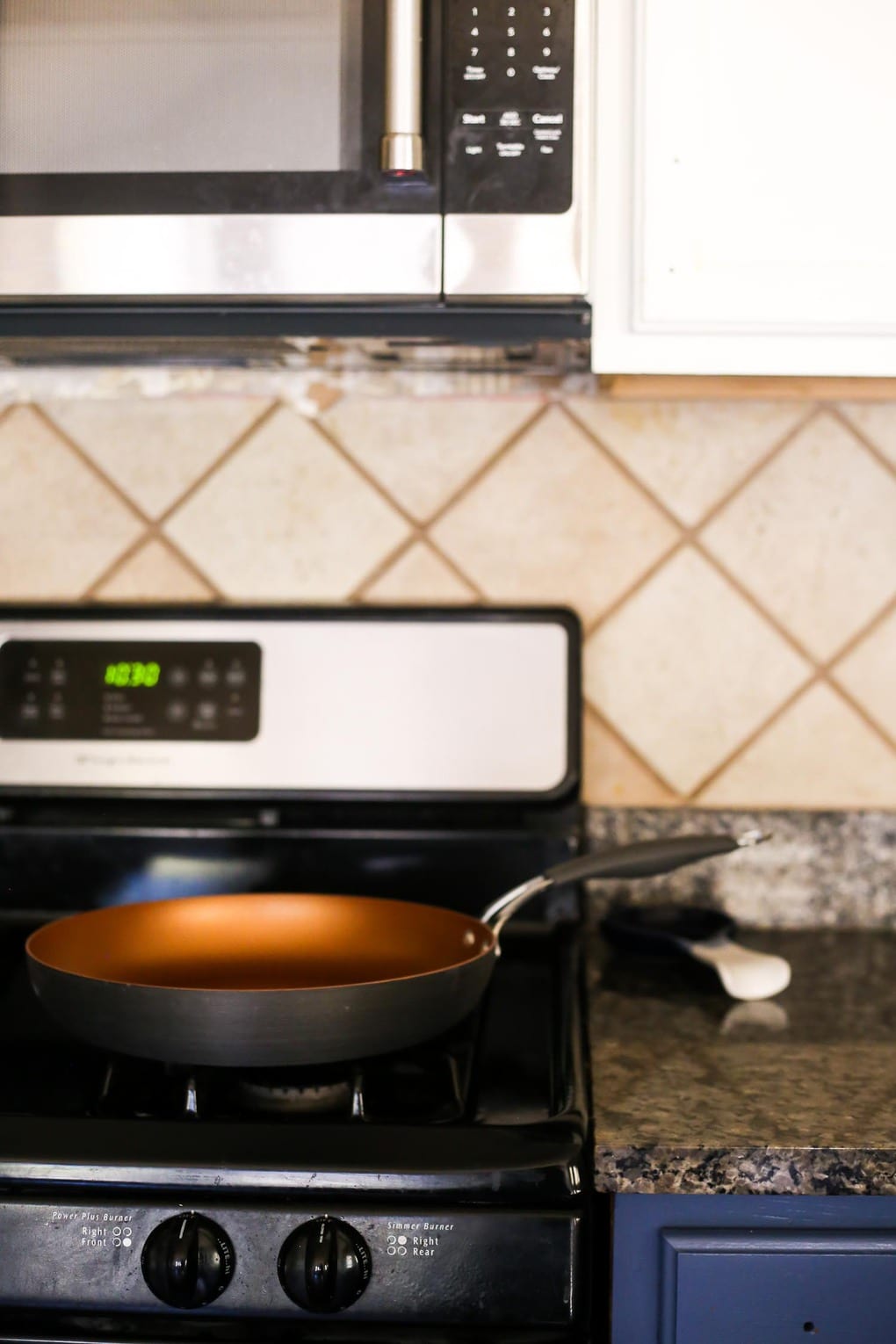 Shoot to have fewer things in your kitchen – but make sure they're pretty. When you have a small kitchen, you're not going to be able to have a giant amount of dishes, tools, or other random supplies. The storage just isn't there. This is bad news for me, since I'm a bit of a serving dish hoarder – I have way more than I could ever actually use, and I just can't bring myself to let go of them. I'm learning that the best way to keep our kitchen organized and looking nice is to try to reduce the non-essentials that we have and work towards only having a small collection beautiful pieces that we love. I had been looking for new mugs for a while, and I found these pretty grey ones from World Market – I was able to get rid of all of my old, random mugs, clear up some space in the cabinet, and have a smaller collection of mugs that make me smile every time I use them. I still need to follow my own advice and clear out some of my serving dishes, but I'm taking baby steps here. This also applies to things like pots and pans – I don't need a zillion different shapes and sizes, I just need a few well-made staples. Sometimes I have to remind myself that I'm not constantly cooking gourmet meals in our kitchen – we're just a regular ol' family who occasionally eats boxed mac & cheese, and we really don't need to get too fancy with our kitchen tools. I've talked about this before, but I'm a firm believer that you'll enjoy your kitchen more if the things in it make you smile (right down to buying the pretty bottle of countertop cleaner that smells divine rather than the stuff that's on sale), and this is the perfect place to apply that principle – purge the things that you don't need or that you're keeping around "just in case" and only stick to the stuff that you love.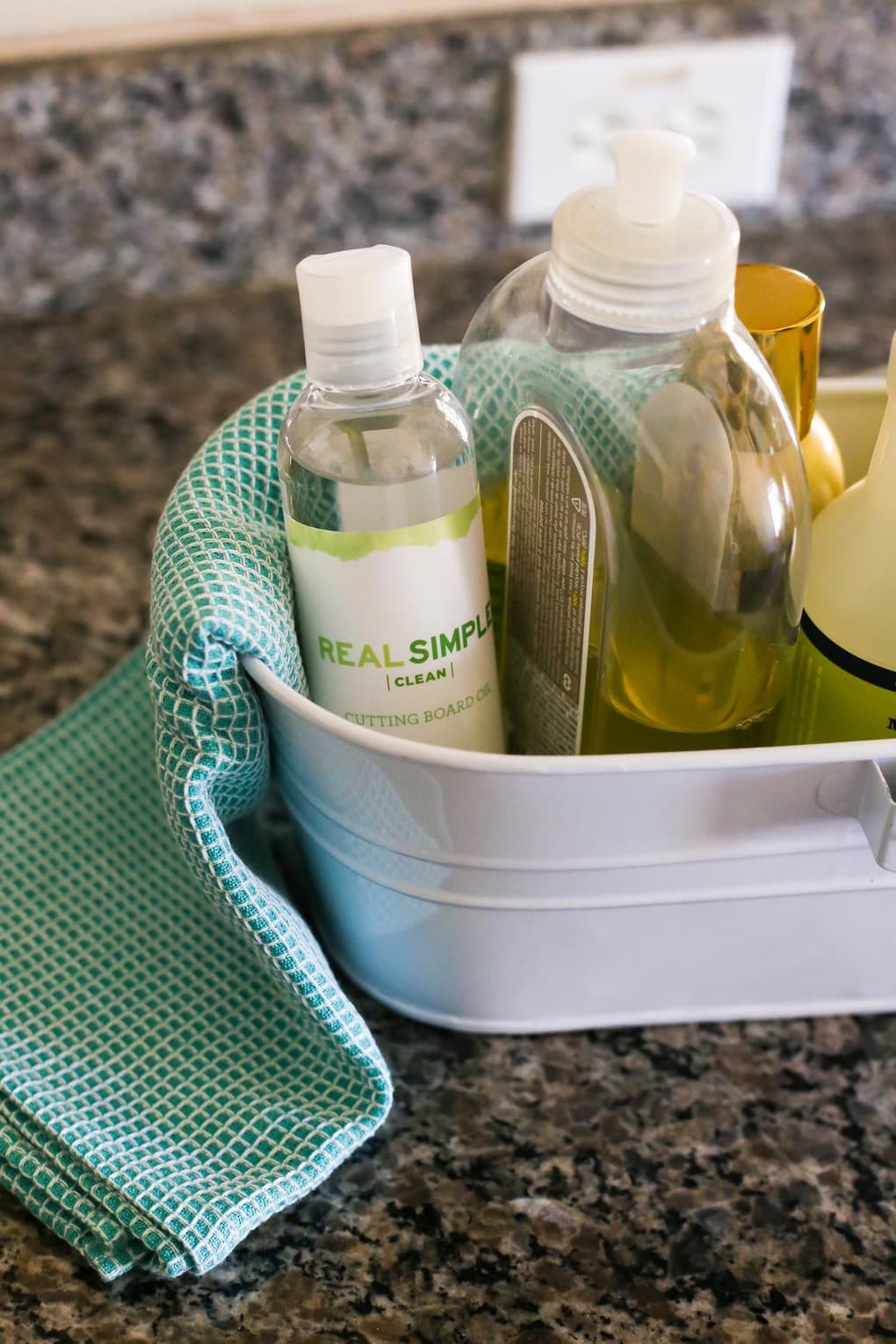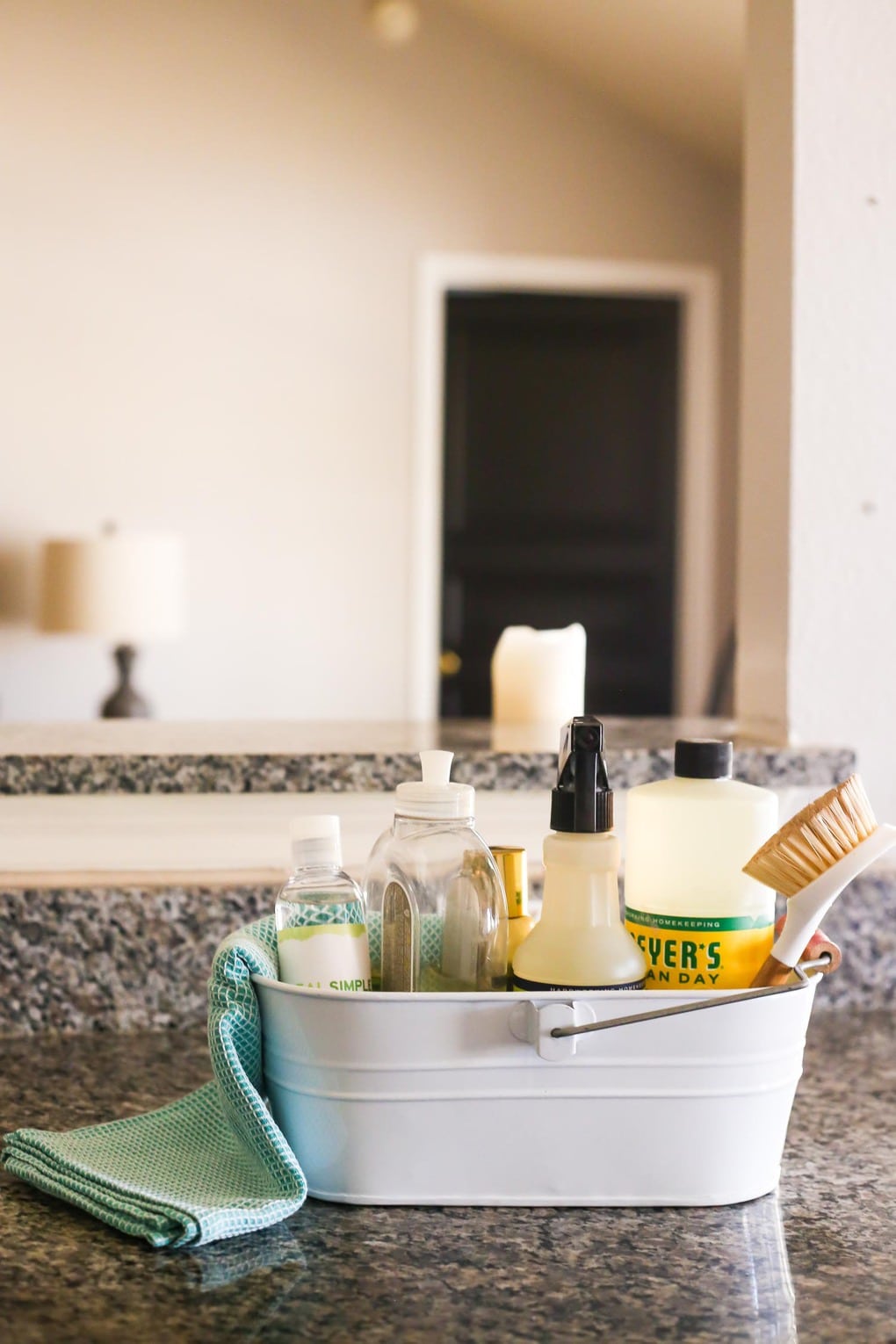 Put together a cleaning caddy to keep yourself organized. I don't know why I've never done this before, but this is a bit of a game changer. If you, like me, are constantly going from room to room trying to track down various cleaning supplies that you know were right here just yesterday, you need a cleaning caddy or two. I'm still working on the finishing touches on all of the cleaning caddies in our house (and I promise I'll blog all of the details when I'm done), but my kitchen one is complete. I found these pretty little metal containers at Cost Plus World Market, and they're the perfect size to corral all of my most-frequently-used cleaning supplies in the kitchen. My favorite part is that they fit perfectly under my sink so that I don't have to drag the entire thing out every time I want to wipe down the counters – if I'm just doing a quick, after-dinner cleanup I can just grab the cleaner I need and tuck it back into place when I'm done. But, when I want to actually clean my kitchen, I don't have to keep going back to the cabinet to pull more cleaners out – I just pull out the entire bucket and get to work. I know it sounds like a tiny little detail (and it is!), but cleaning feels infinitely less burdensome when you can eliminate small steps like going back to the cabinet over and over and streamline the process a bit – and that's the goal of organizing your kitchen, is it not? We want it to be easy to find what you need, easy to function in, and beautiful enough to make you smile when you use it.
We still have a long way to go in this kitchen (as you can clearly see from some of the photos). The backsplash needs to go (and is damaged in some spaces from when we replaced the microwave!), we still need to get the cabinets more organized, and there's a laundry list of other things we want to do (which I'll get into in more depth when we talk about the cabinets). But, these little changes add up to a lot more function, and they're making me way happier in my kitchen.
And really, in the end, that's the whole reason I do this. I work on making my home beautiful because it makes me smile and it makes me enjoy being in it. And, when you're cleaning the kitchen after dinner when all you want to do is curl up on the couch and watch Grey's Anatomy, I promise it helps if the kitchen is one that makes you smile.
If you see anything above that you're interested in, click the arrows below to scroll and see more details on all of the products! We just got a new store near us in the Austin area and I can't even tell you how exciting it is to be able to pop over there so easily. Check this link to see where your nearest store is!