DIY Paneled Interior Door
Thank you HGTV HOME™ by Sherwin-Williams for sponsoring this post. Visit HGTV HOME™ by Sherwin-Williams for the latest in color inspo and get started on your home project today!
One thing I've always wanted to do (in both of the houses we've lived in), is to take the plain, boring hollow core doors throughout the house and replace them with beautiful, paneled doors. Of course, nice doors are not cheap, so it's not a project we've ever gotten around to. But, we're really trying to step out and try new things with this house so we decided to try a DIY paneled door project…and, y'all…it was so worth it.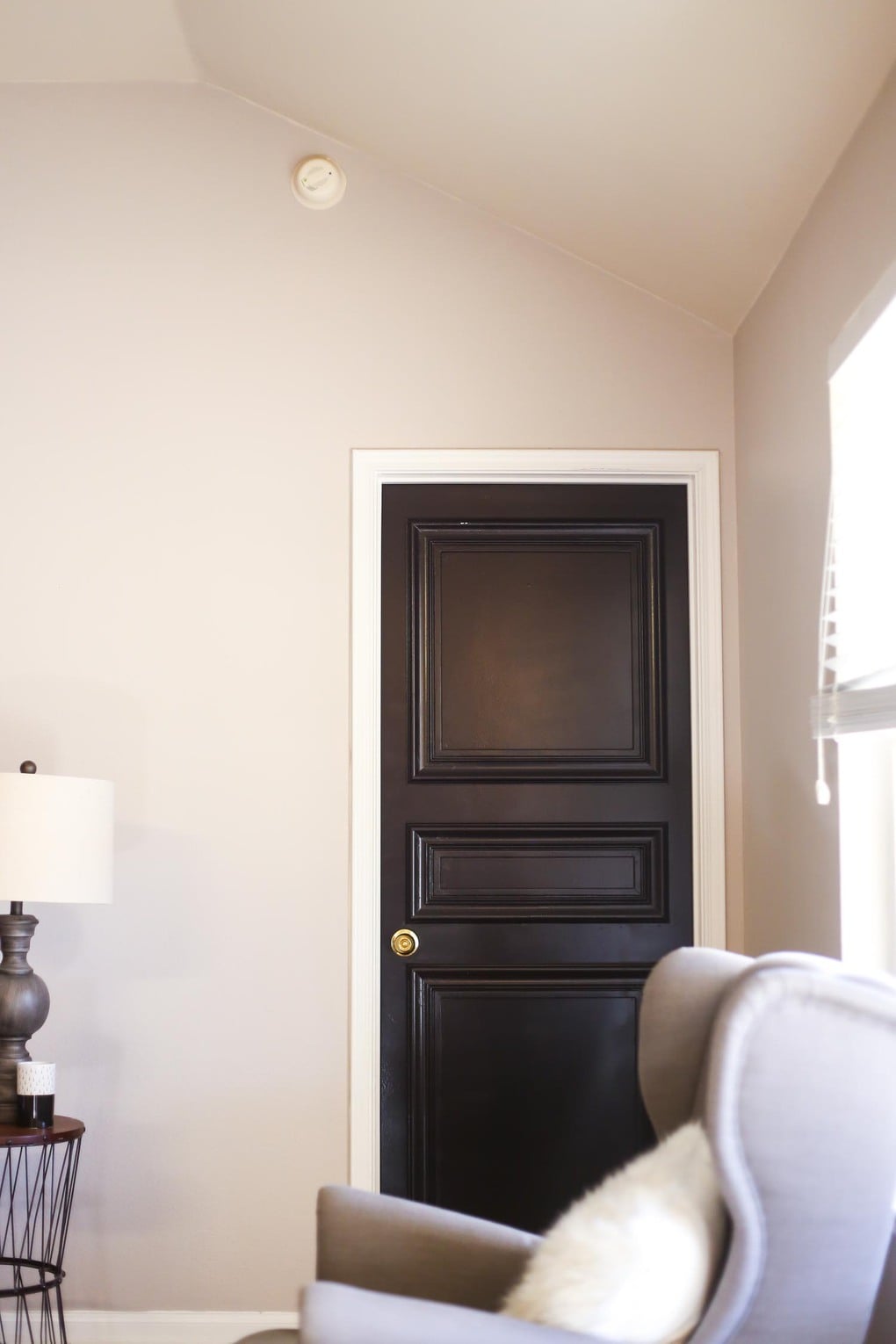 When Corey and I started talking about what we might like to do for the doors, I knew right away I wanted something thick and chunky that would look really high-end. I think doors get ignored so often in homes, but they make such a big difference in how the entire space feels, so it's worth putting a little extra effort into making them beautiful. You can buy new doors for pretty cheap at the hardware store that are a definite upgrade from these flat, panel-less doors. But, it's impossible to find anything with a lot of visual interest without spending a giant chunk of change, and we wanted to find a custom-looking solution without completely breaking the bank.
I'm really thrilled with how this turned out and it was so easy. It ended up being a little more expensive than I had hoped it would be (more details on that later), but it was still cheaper than the doors we would have wanted to buy if we weren't doing it ourselves!
Let's jump right into the details of how we got this project done, shall we?
Easy DIY Paneled Doors
This post contains affiliate links. Click here to read my full disclosure policy. 
Materials:
Plain hollow-core door
3 8-foot wall trim boards
3 8-foot plain 1″ wide trim boards
HGTV HOME™ by Sherwin-Williams INFINITY Interior Paint and Primer
Instructions:
Start by removing your door and thoroughly sanding and cleaning it. You want to make sure it's free of any paint drips, patches of dirt, or fingerprints so that the new paint goes on smoothly.
Next, you'll use a pencil to mark where your panels will go. We decided to go with 3 panels on our door, but you could easily do any style of paneling you like (though it will affect how much wood you need to purchase). We started by marking off how far we wanted the bottom and middle panels to be from the door handle – we didn't want to intersect it at all with our panels, so we drew a line about half an inch above and below it – the line under it became the top of the bottom panel, and the line above it became the bottom of the middle panel.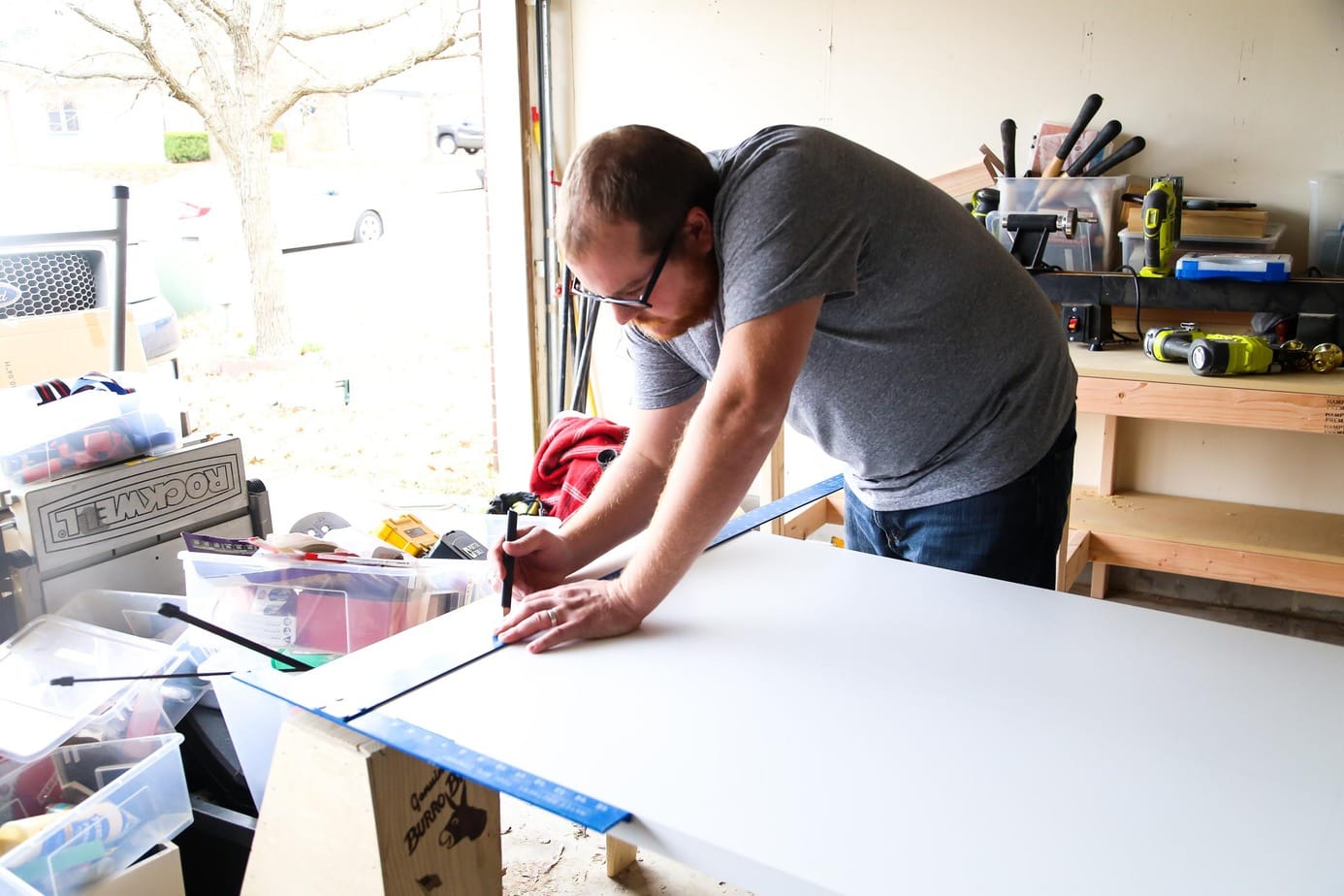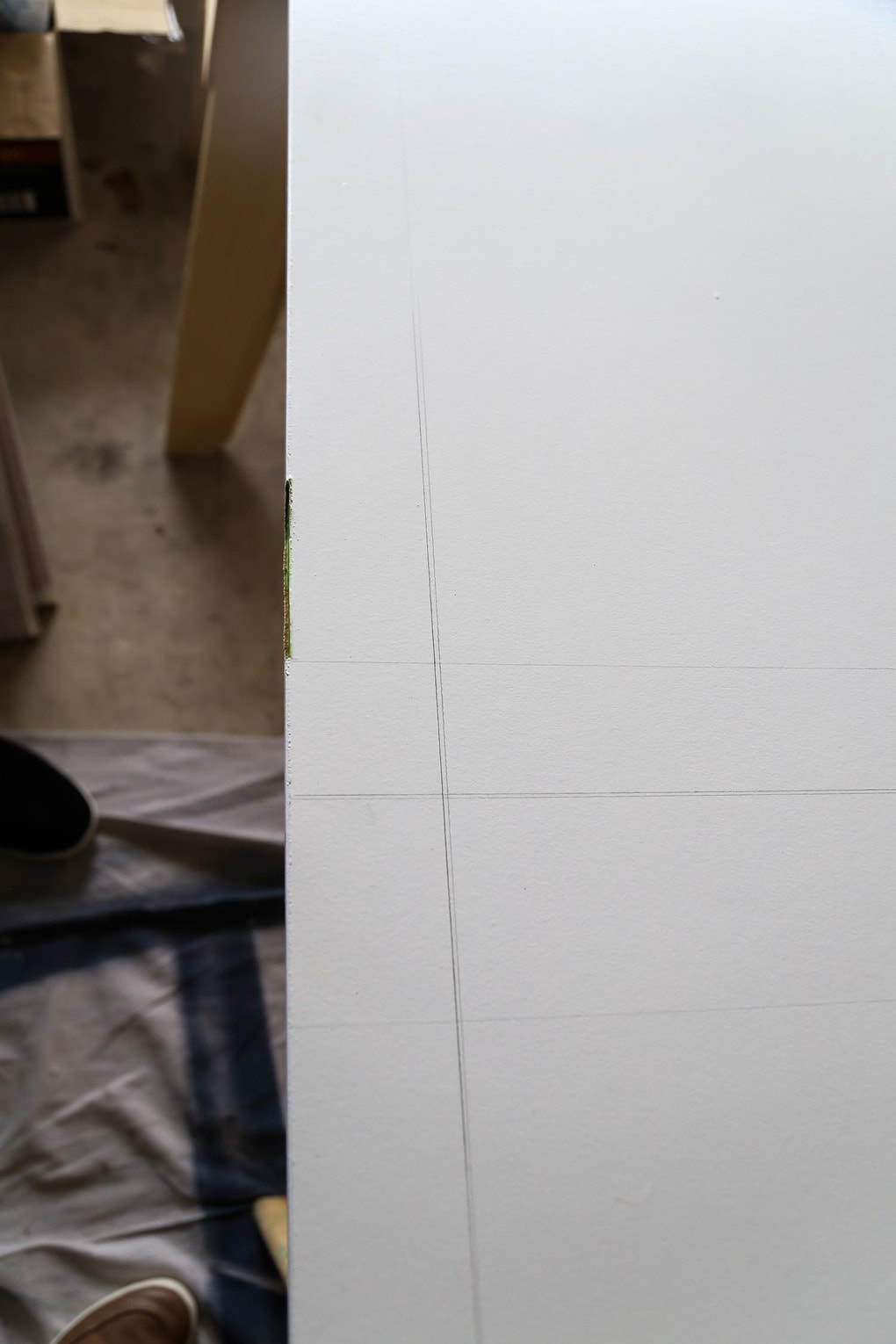 We then drew the rest of the lines – the spacing between our two panels ended up being about 3 1/2″, so we kept that spacing consistent on the top and bottom of the door as well. We went with about 2 1/2″ from the sides.
Once all of our lines were drawn, it was time to start attaching the trim. We used the miter saw to cut mitered corners (don't know how? I wrote a whole post explaining it!), and used wood glue plus a couple of small finish nails to attach each piece of wood.
Take your time cutting and applying the trim pieces here – you want to ensure everything lines up nice and tight so that it looks well done. We did the larger trim pieces on the outside of the panels, then the small plain trim on the inside to beef it up a bit. The extra trim piece definitely isn't necessary, but I think it made a big difference in the finished product!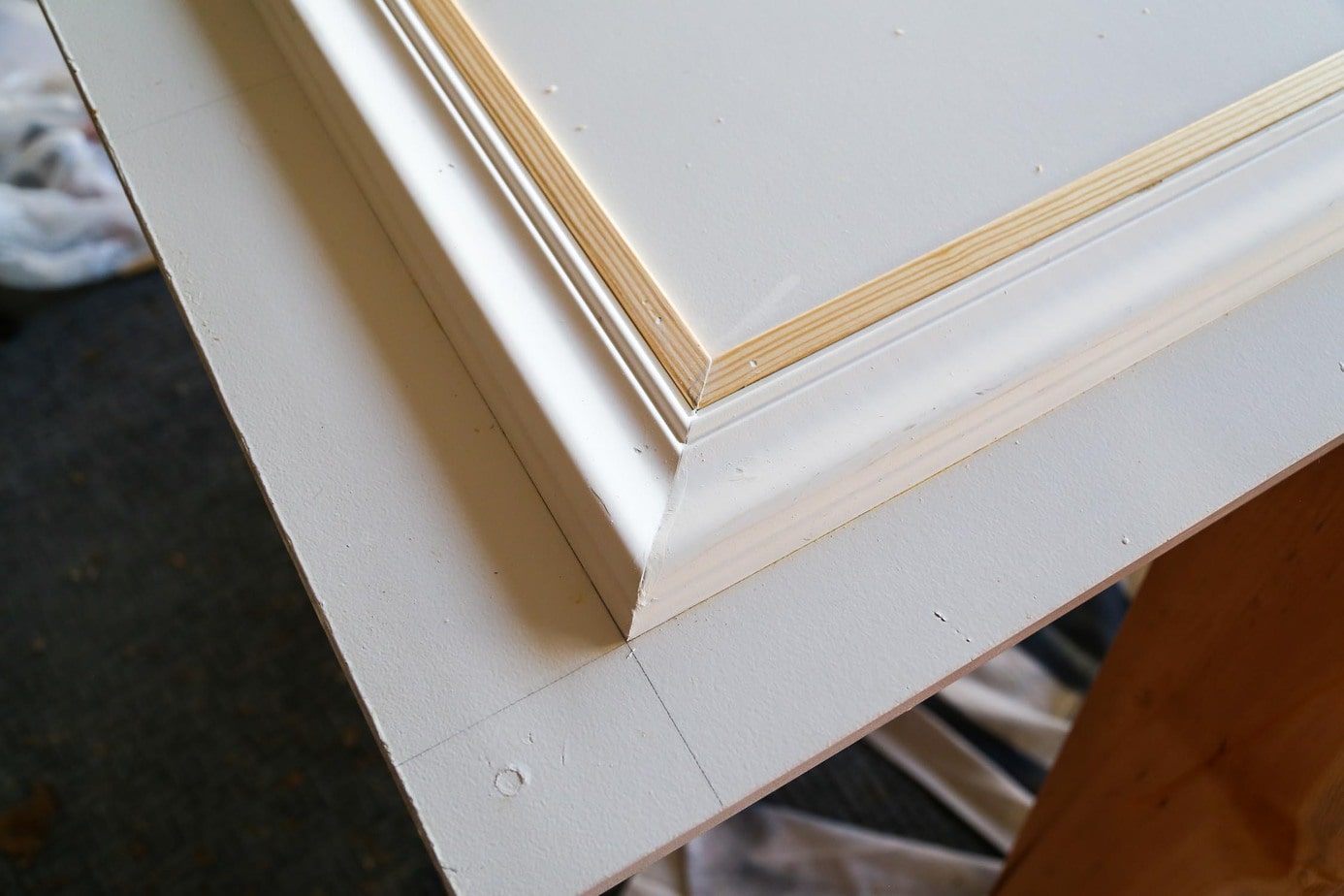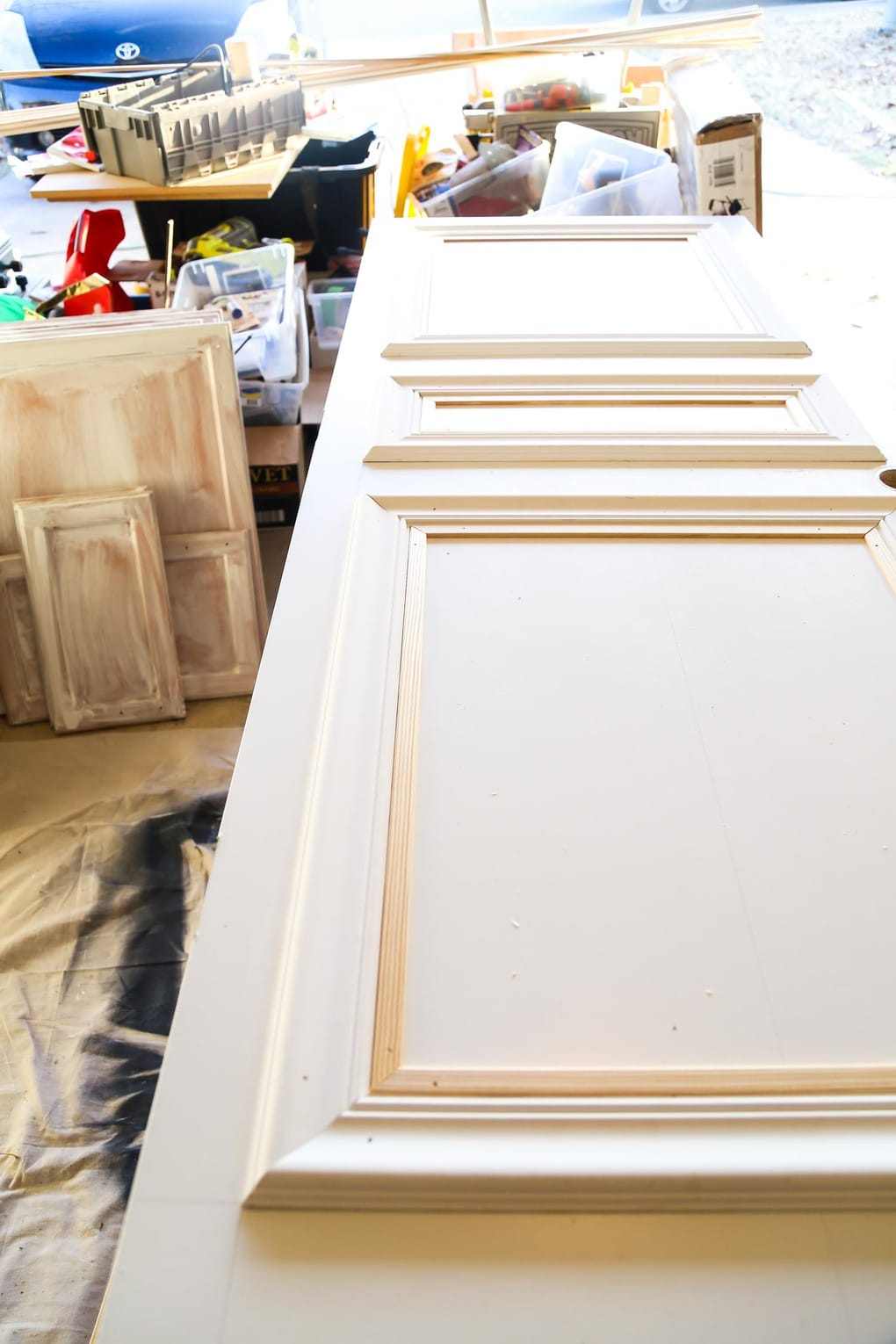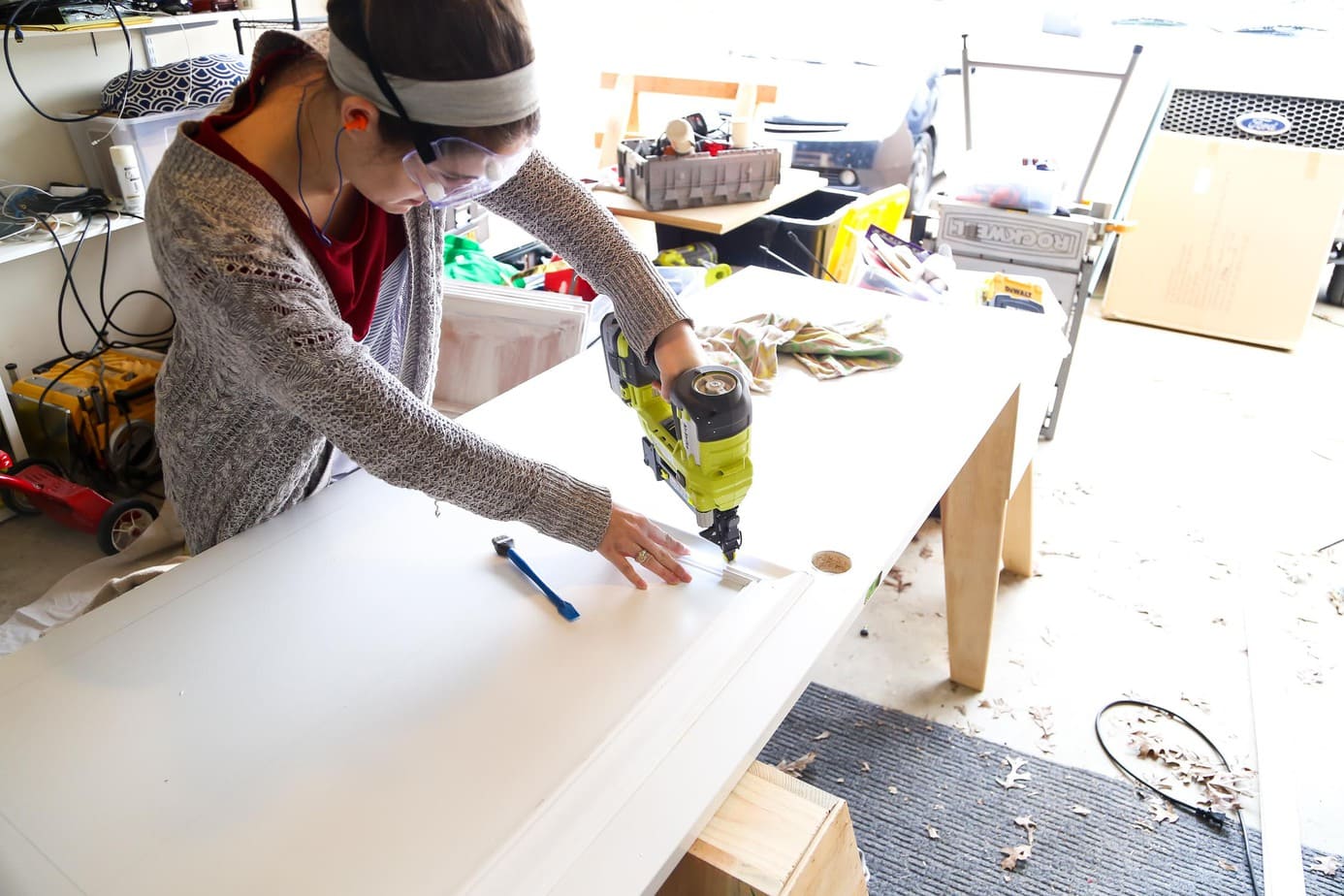 Once all of the trim is installed, you're ready to prep for paint. You can caulk or spackle all of the nail holes and corners where the trim pieces meet. Allow it to dry (it usually only takes 30 minutes to an hour), then sand it down. Once it's sanded smooth, it's time for paint!
We branched out of our normal paint repertoire for this project and tried out the HGTV HOME™ by Sherwin-Williams line of paint at Lowe's. We used the INFINITY Interior Paint and Primer and I was really pleased with the coverage and finish on it. They have four new 2018 Color Collections of the Year, and the colors are really on-trend and beautiful. All you have to do is choose the designer-inspired look you want to achieve from themes like Next Journey, Future Thinker, Thoughtful Living or Individual Mix.
The color we chose for our door is from the Future Thinker Color Collection and it's called Domino (SW6989) – it's a pretty, inky black with some blue (almost purple) undertones. I love how it plays off of the light walls in the living room, and we're trying to work more black accents into our bedroom, so it fits perfectly in there too.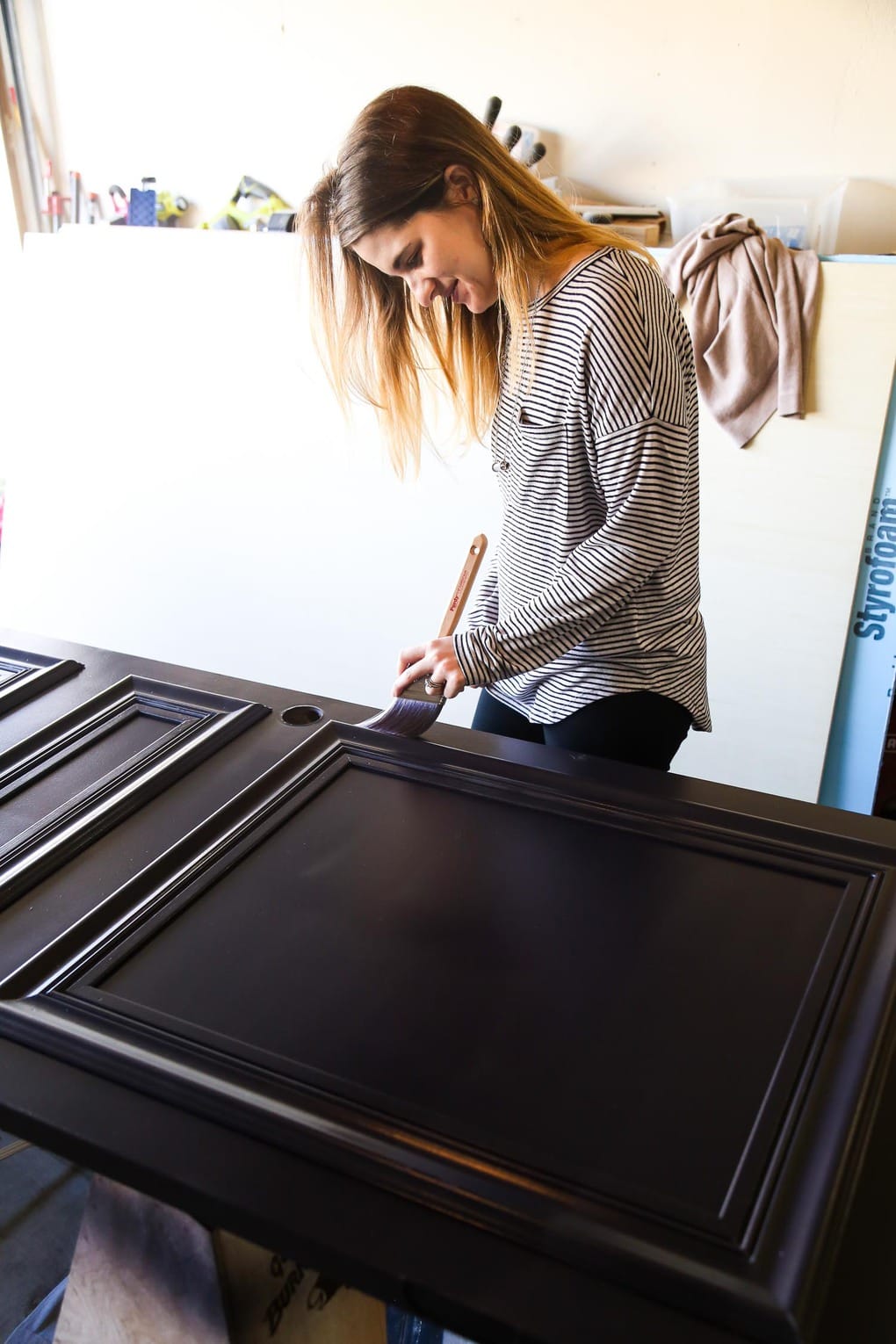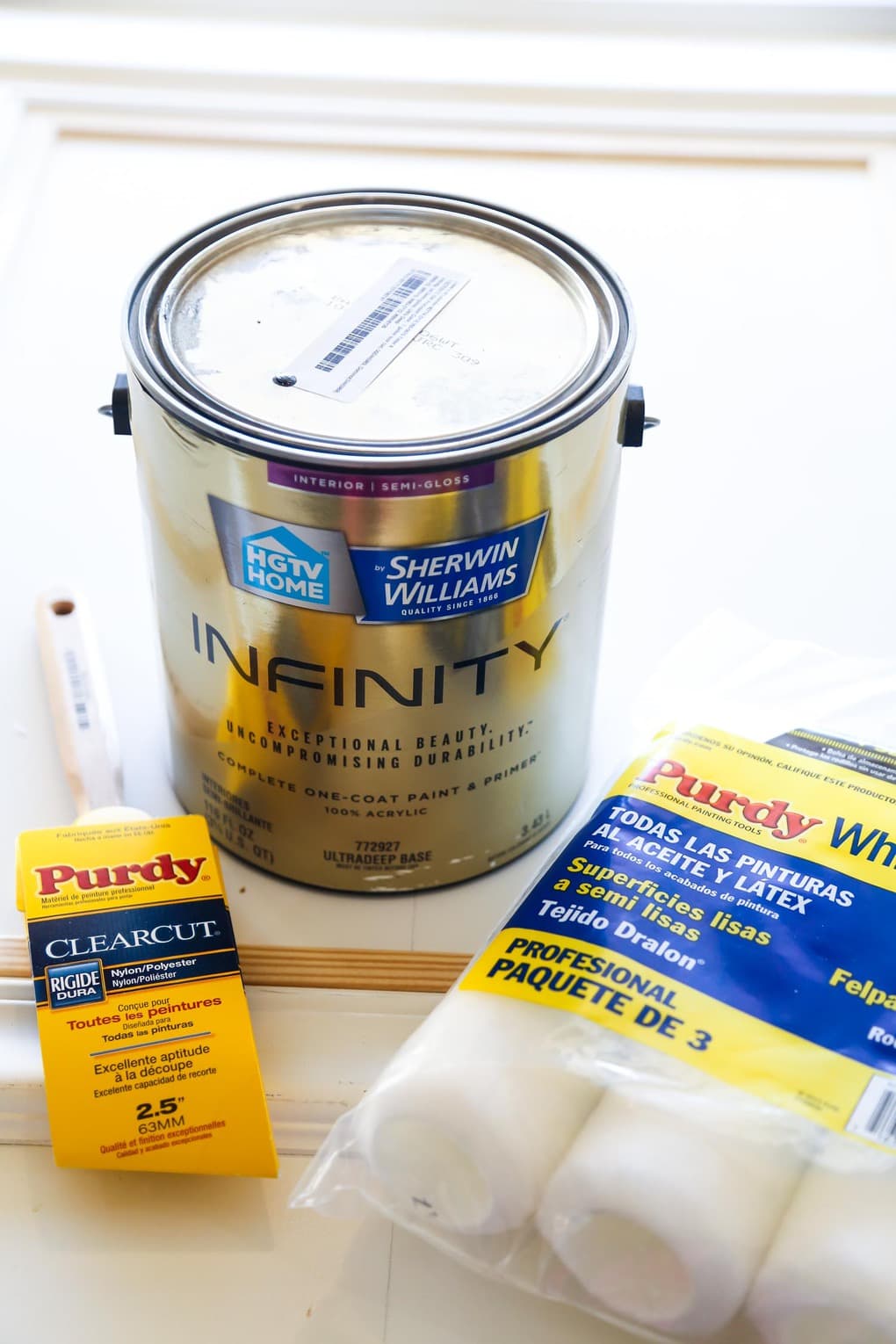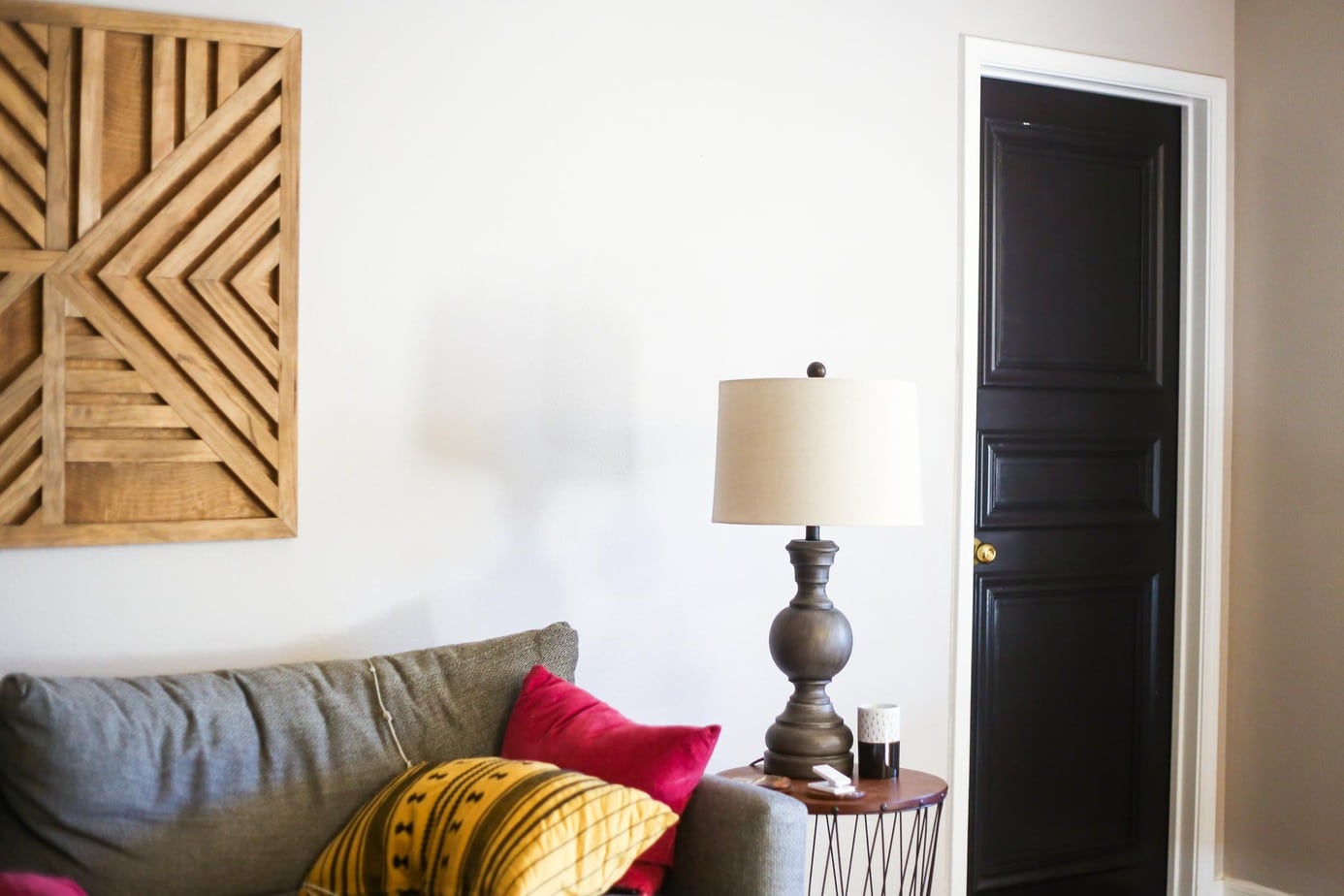 I think my favorite thing about the Color Collections from HGTV HOME™ by Sherwin-Williams is that it really takes all of the guesswork out of planning colors for a room. They recently launched four new Color Collections of the Year and each one is perfectly coordinated – so you can choose which Color Collection you like the best and then plan an entire room (or, heck, your whole house), around the colors. It doesn't get much easier than that. It would be so easy to just grab paint swatches of all of the colors in your favorite Color Collection and stick them in your purse or wallet for when you're shopping – you could use them to inspire your choices for fabric, art, and everything else in the room – it doesn't have to just be about paint!
Case in point: the Future Thinker Color Collection is where our door color comes from, and that collection is actually a pretty good representation of most of the colors in our home. We have lots of blues, a few splashes of pink/reds, a bit of yellow, and some neutrals. This is perfect for the indecisive person who has a hard time figuring out what colors work well together (aka: me).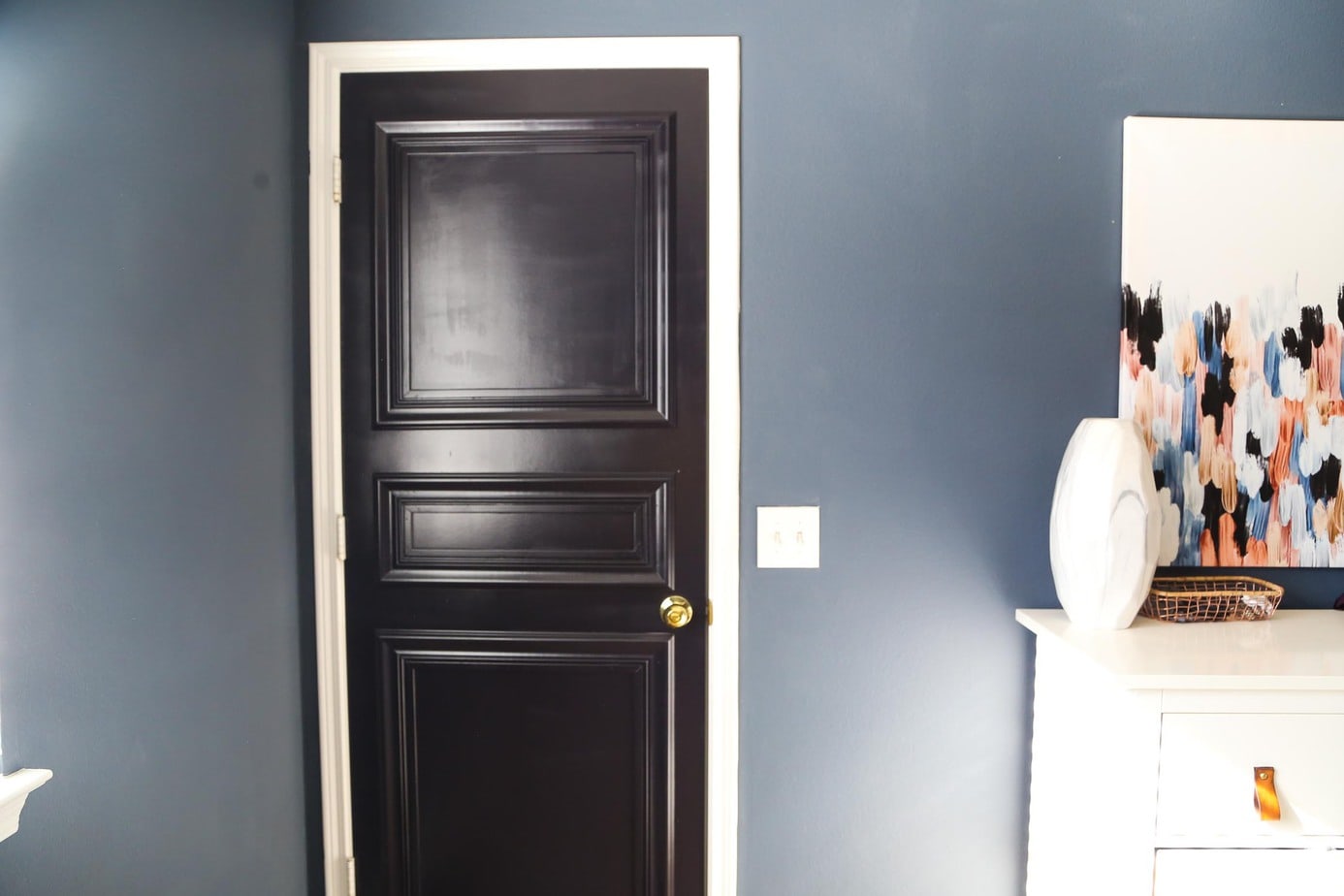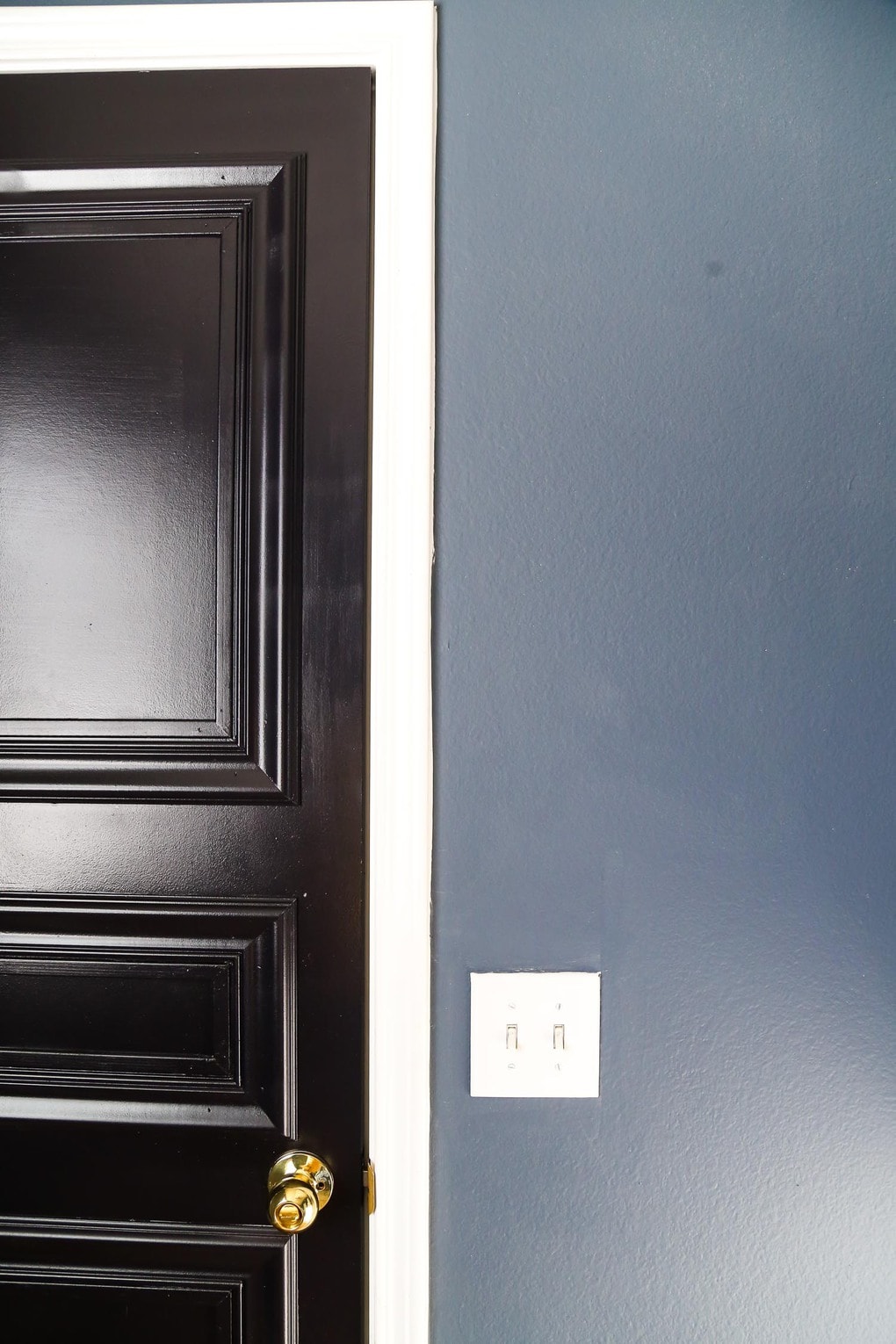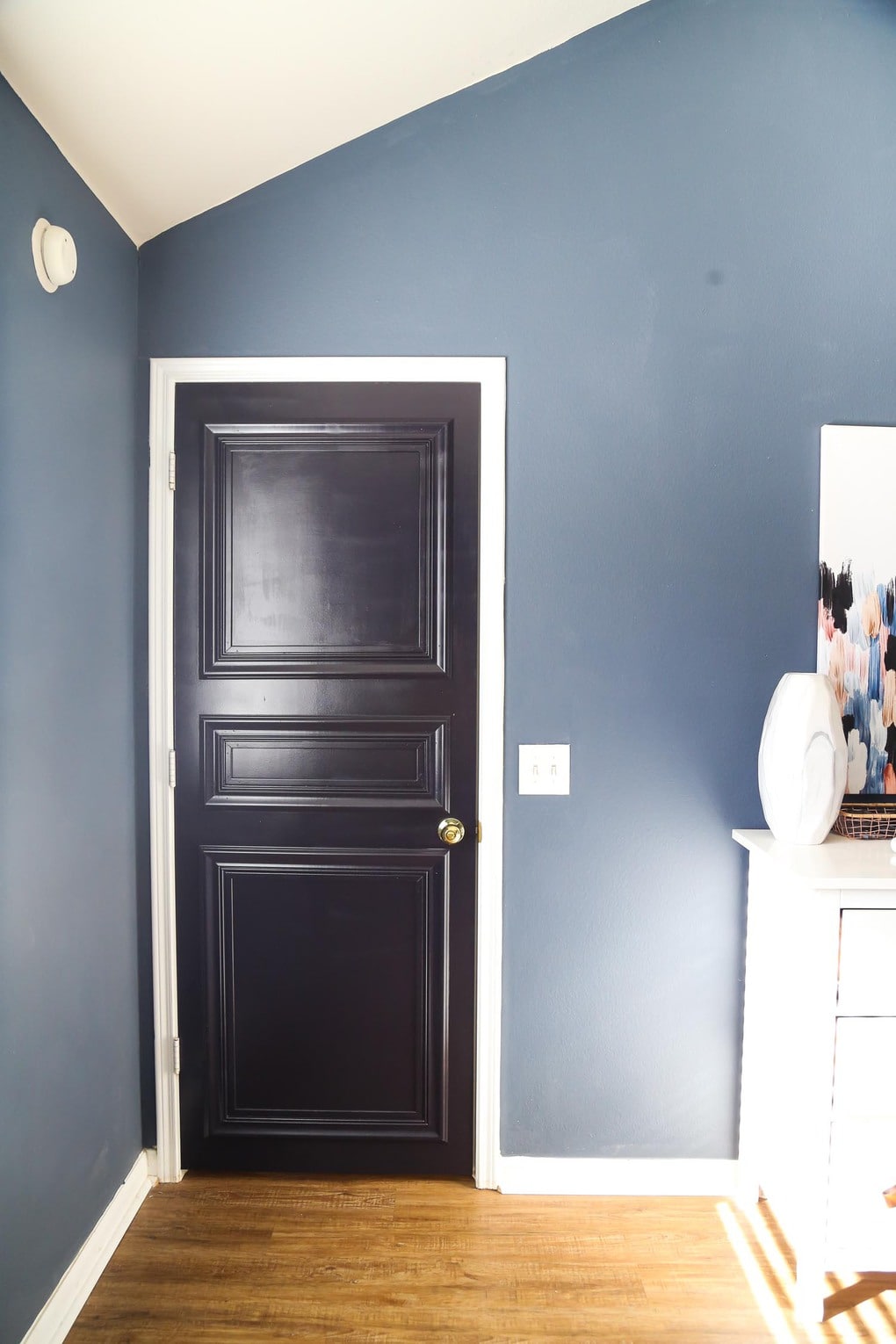 Of course, now it's going to take us a while to get around to doing all of the rest of the doors in the house.
But I think this is a pretty darn good start.
In the end, it cost us about $100 for the trim for this door. It was definitely a bit more expensive than I originally anticipated it would be, but it's still a little less than most of the options we really like from the hardware store. You could easily save some money by picking a less intricate trim, or by using MDF and doing shaker-style panels (something like this, perhaps?).
We're so excited to have this all done and I kind of can't wait to get started on the next door. Maybe we'll do Jackson's room – he'd love a fun painted door. Maybe we'll go with the red from the Future Thinker Color Collection?! I'd definitely encourage you to check out the new 2018 Color Collections of the Year from HGTV HOME™ by Sherwin-Williams to see if there's something that would be a good fit for your home!
I was selected for this opportunity as a member of CLEVER and the content and opinions expressed here are all my own.