Our Garage-Turned-Workshop: The Intro
Moving is chaotic – there's the packing, then there's the unpacking, and then once that is done you still have to settle in and figure out how you're going to live life in your new house. For us, it also means we have to start from scratch on a space to work on our projects – we used to have a workshop and an organized garage where we could work on things, but since moving into this house back in November, all of our tools and junk from both spaces have been tossed into the new garage with zero organization.
And I mean zero organization.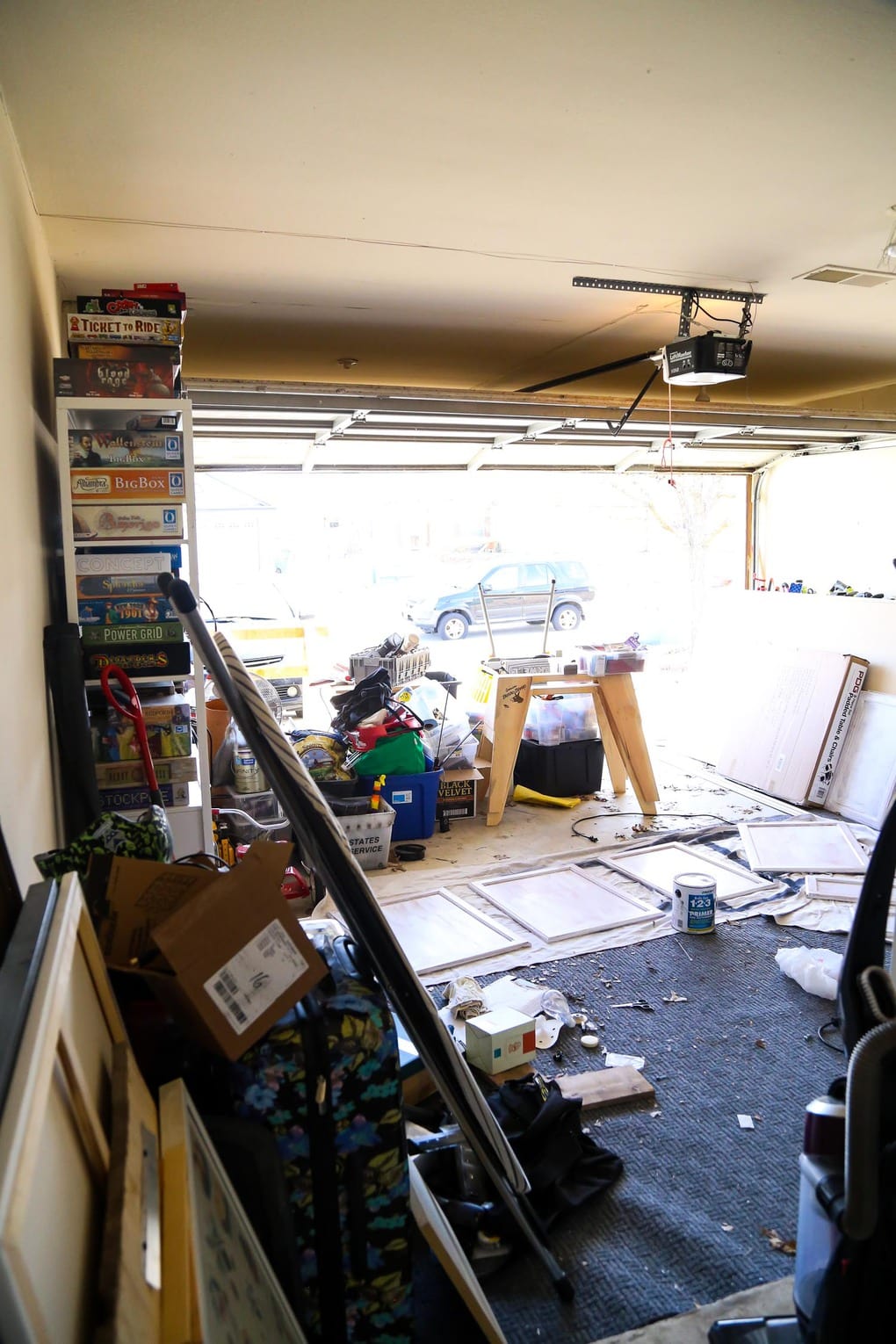 Yikes. And, trust me, this is approximately 15 times better than it was a couple of weeks ago.
It was fine for the first few weeks, but Corey and I have reached a point where we really want to start working on a few different projects and it's just about impossible to get anything done with the garage in the state that it's in right now.
Oh, and did I mention that there's only one outlet in the entire garage. One. Outlet.
It's our mission to get this garage whipped into shape as quickly as we possibly can so that we can actually start thinking about other things. We probably won't get it all done in one go (we have a lot of plans for this space, and right now the goal is to just get it functioning) but within the next few weeks we're absolutely determined to get it to a place where we can find things we need, do a project or two, and not have panic attacks the minute we walk in the door.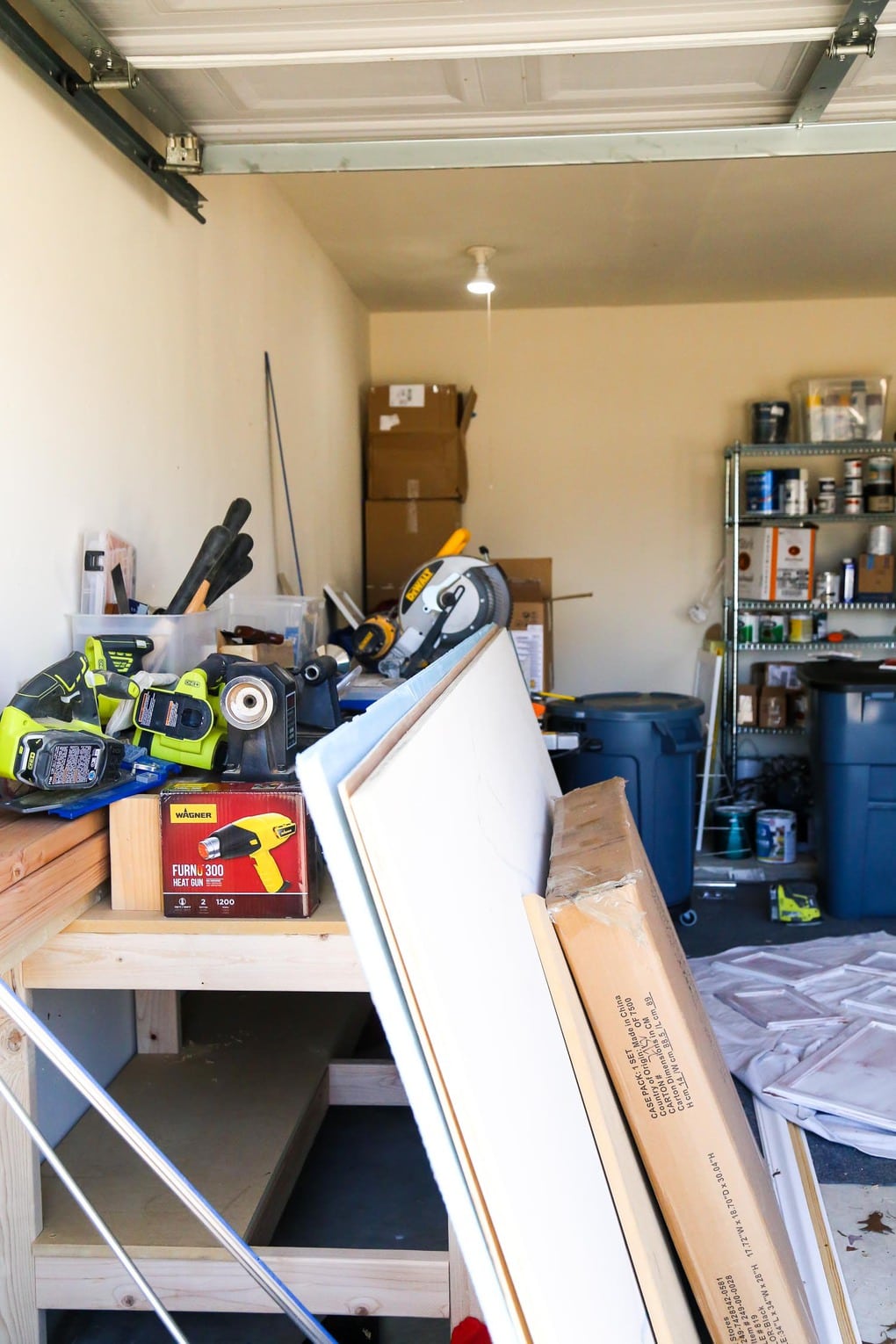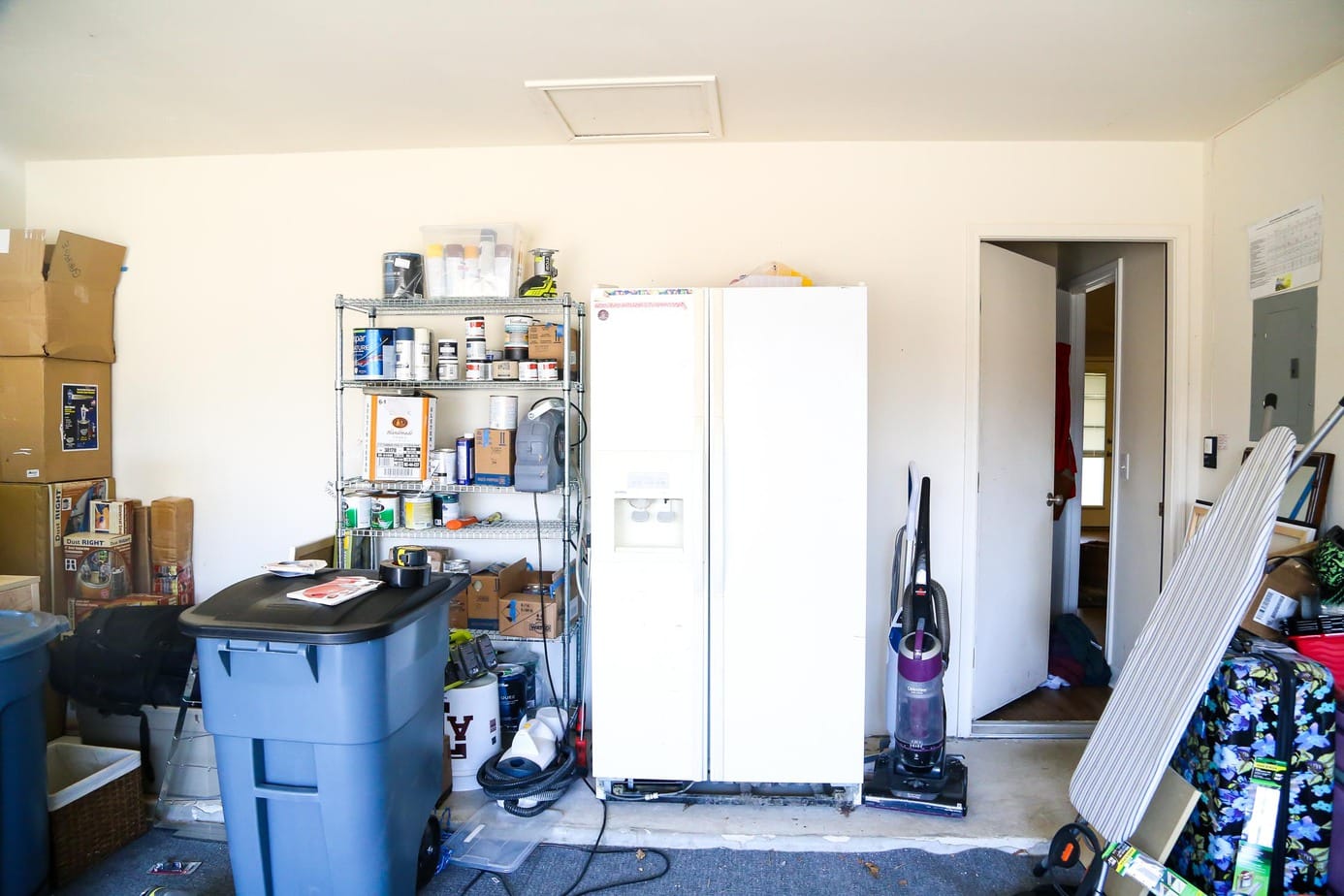 The to-do list in here is long and meandering, and it shifts constantly as we think of new functions we'd like to add to this space. But first up on the list is to get some work benches in here, along with some storage solutions so we can get all of our tools out of the boxes. Corey's been working his butt off on building a couple of long workbenches to go on the wall you see in the photo below (you can see a bit of what he's working on in the photo), and I'm hoping that once we have those in place we'll be able to get things a little bit more organized.
It's going to be a bit of an adjustment for us to have all of our tools (and do all of our work) in this one space versus being able to spread out a bit, but the positive is that it will force us to keep it organized and clean – and that's never a bad thing.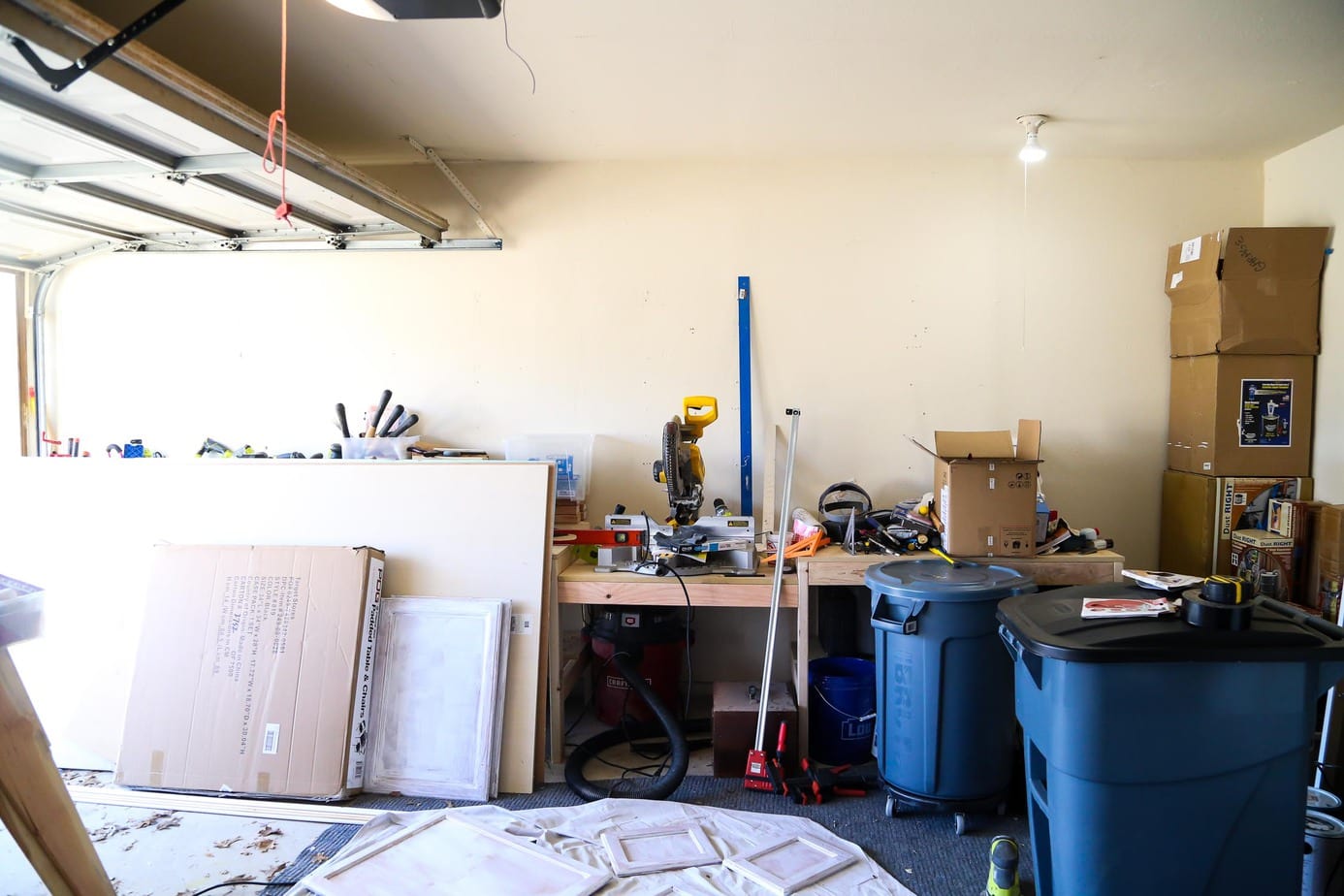 I'm going to do a few updates throughout the next couple of months to show you this space as it starts to come together. I want to get better this year about showing the process and the in-between rather than just jumping straight to the "after", so I'll be keeping you updated as we go.
One of the biggest things we're going to be doing in this space that I'm the most excited about is adding a dust collection system (you can see the beginnings of it in the right-hand corner of that photo above) – it will majorly help to cut down on the mess and dust floating around in here, and will help us keep things a little cleaner. I'm really looking forward to having a system in place to cut down on the mess, and I'm excited to share it with you in a few weeks when we get it all set up.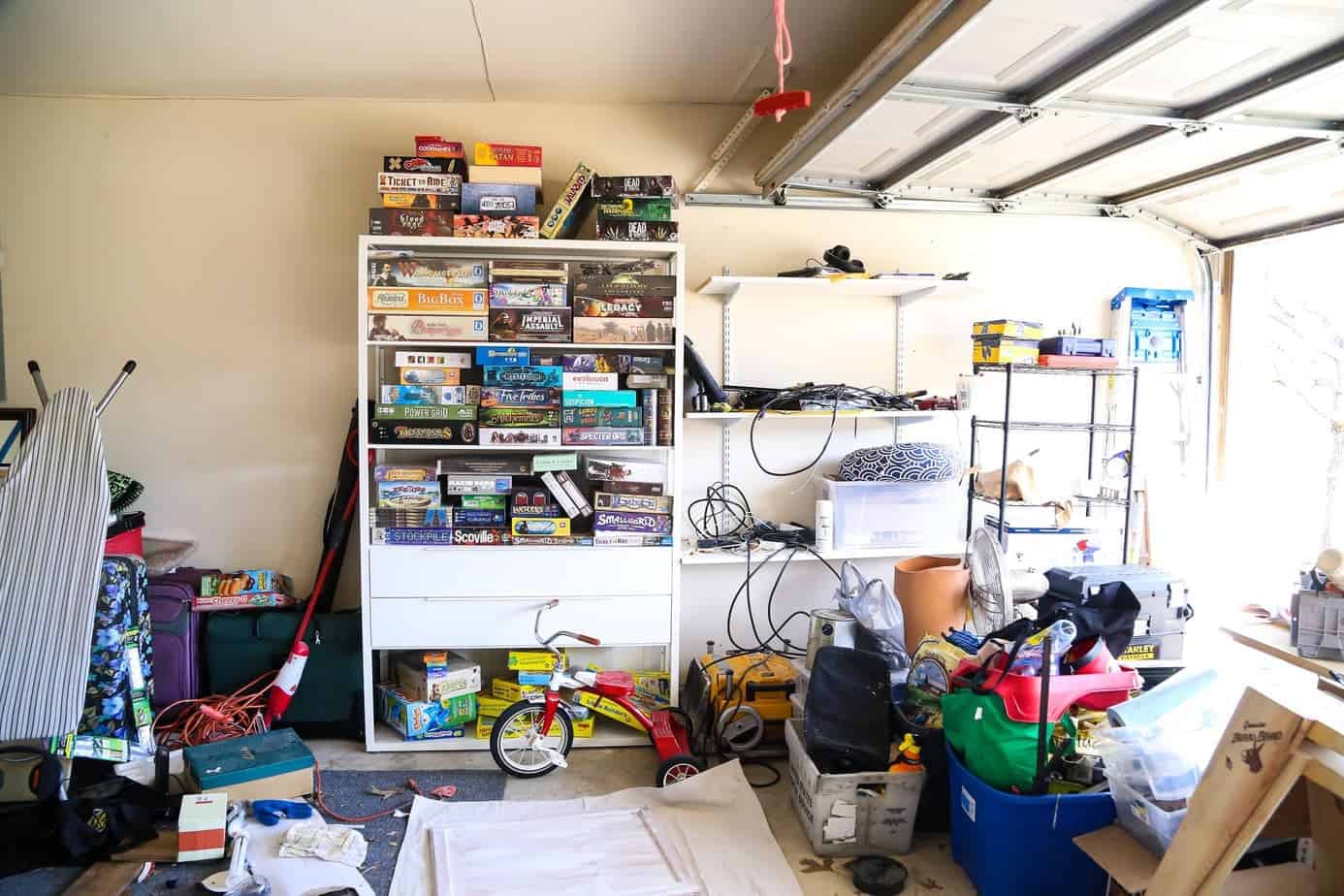 The other major thing we need to figure out in here is where to store our board games. We kept them in the garage in the old house, but since we'll be doing all of our projects in here this time, we don't want to keep them in here – they take up a lot of room, plus a garage is a crazy dirty place (even with the dust collection). We're probably going to try to build something for the living room to keep them in, but we'll have to do a bit of paring down before we can move them because, holy cow, we have a lot of board games.
The side of the garage that you see above will be for moveable work stations and places for our larger tools to go. We'll also probably have some shelving over here to store various tools, materials, and other things. Like I said, the plan is still forming as we go, but we have a vague idea of where we're heading.
We like to play things by ear. Make it up on the fly. Wing it.
Time will tell if this is a good idea or not.
I'll be back in a couple of weeks with another update! We're getting it more and more organized every day, and I'm so excited to have a functional space to work again!