Organizing the Garage Nook
This shop has been compensated by Collective Bias, Inc. and its advertiser. All opinions are mine alone. #OrganizeWithZiplocSpaceBags #CollectiveBias
A few weeks ago, I showed you our freshly organized and cleaned up garage along with the fun DIY blackboard we made for it. As sad as we were to let go of our media room, it's been so nice to have this space for storage and projects – it's way easier to work on things when I can just open the garage door and let Jackson play in the driveway, and I have plenty of space to do whatever I need to do.
Basically, it's a pretty wonderful space.
But, if you'll remember, there was one corner of the space that was looking a little, um, not wonderful.
Turns out, it was so not wonderful that I didn't even manage to take a before photo (oops), but you can see a peek of it in this Facebook Live, if you're curious about how it looks.
Basically, let me sum it up for you: whomp, whomp.
This little nook used to house Corey's desk when this was a media room, and prior to that, it held our extra refrigerator. However, we've upgraded to a larger fridge, which means our current garage refrigerator doesn't fit anymore. Plus, we had a ton of random stuff that needed to live in the garage, so we just tossed it all in the nook and called it a day. We've been meaning to get it organized ever since we first shared the garage, but life just got in the way. You know how it goes.
But! We finally did it! It's organized!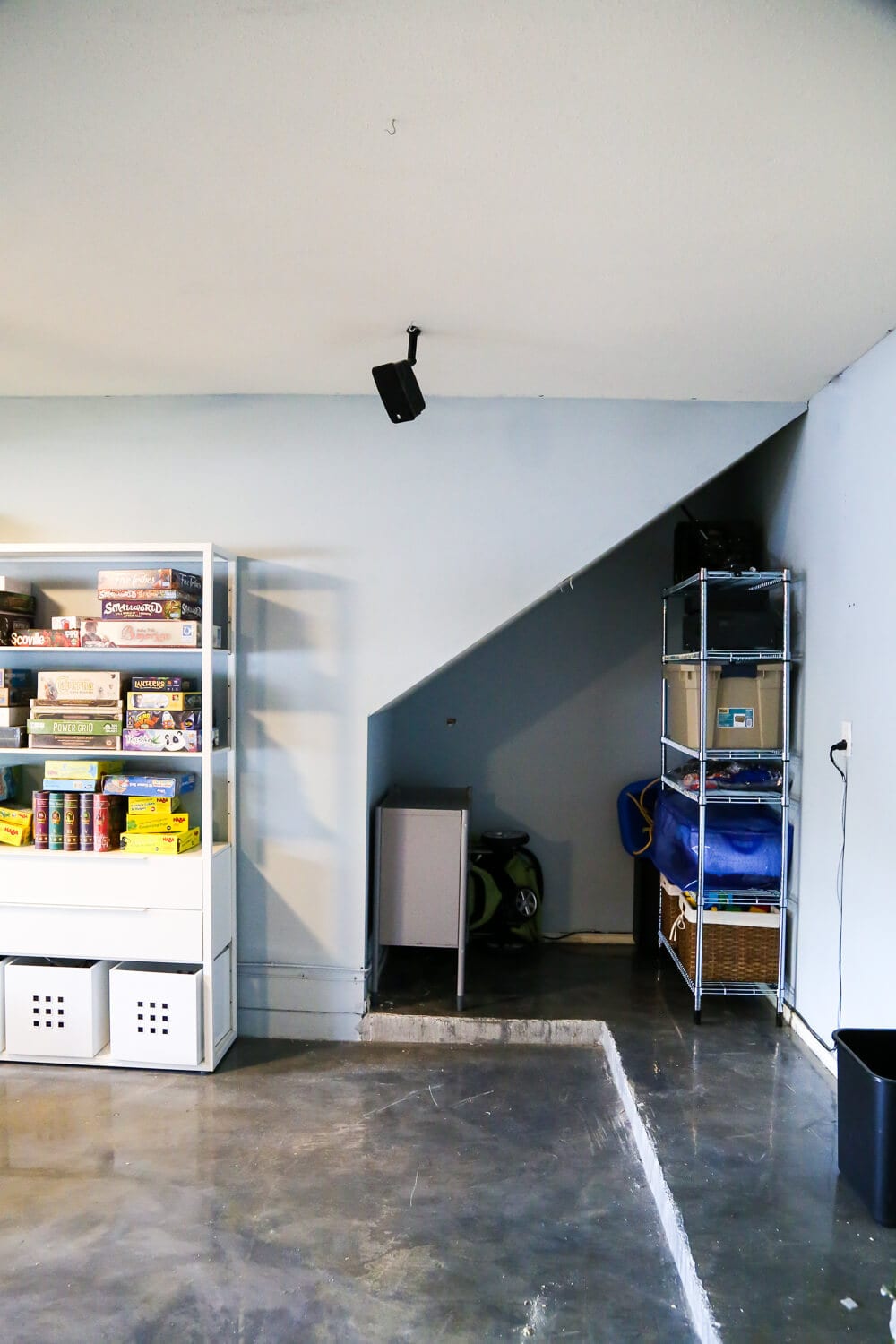 Where's that heart-eyed emoji when you need it? I love a good organization system.
Now, I know this isn't exactly the most revolutionary, gorgeous, or exciting space out there. It's hard to photograph because it doesn't get a lot of light, and it's pretty tough to make electronic, clothing, and baby storage look all that beautiful. But let's be real – every single corner of your home cannot be perfect and magazine worthy all the time. Sometimes you just need a place to stash the old baby swing and your winter sweaters, am I right?!
Anyways, we had originally talked about doing built-in open shelving back here, but it's so deep that it would be hard to build something that was really functional, and we had a zillion other projects happening, which meant it was hard to find the time and the mess was driving me nuts in the meantime. So instead, we took the lazy route, threw a little bit of money at our problem, and called it day. And now? We've got a totally organized nook, I can find all of the things I need, and I feel like I have my garage back!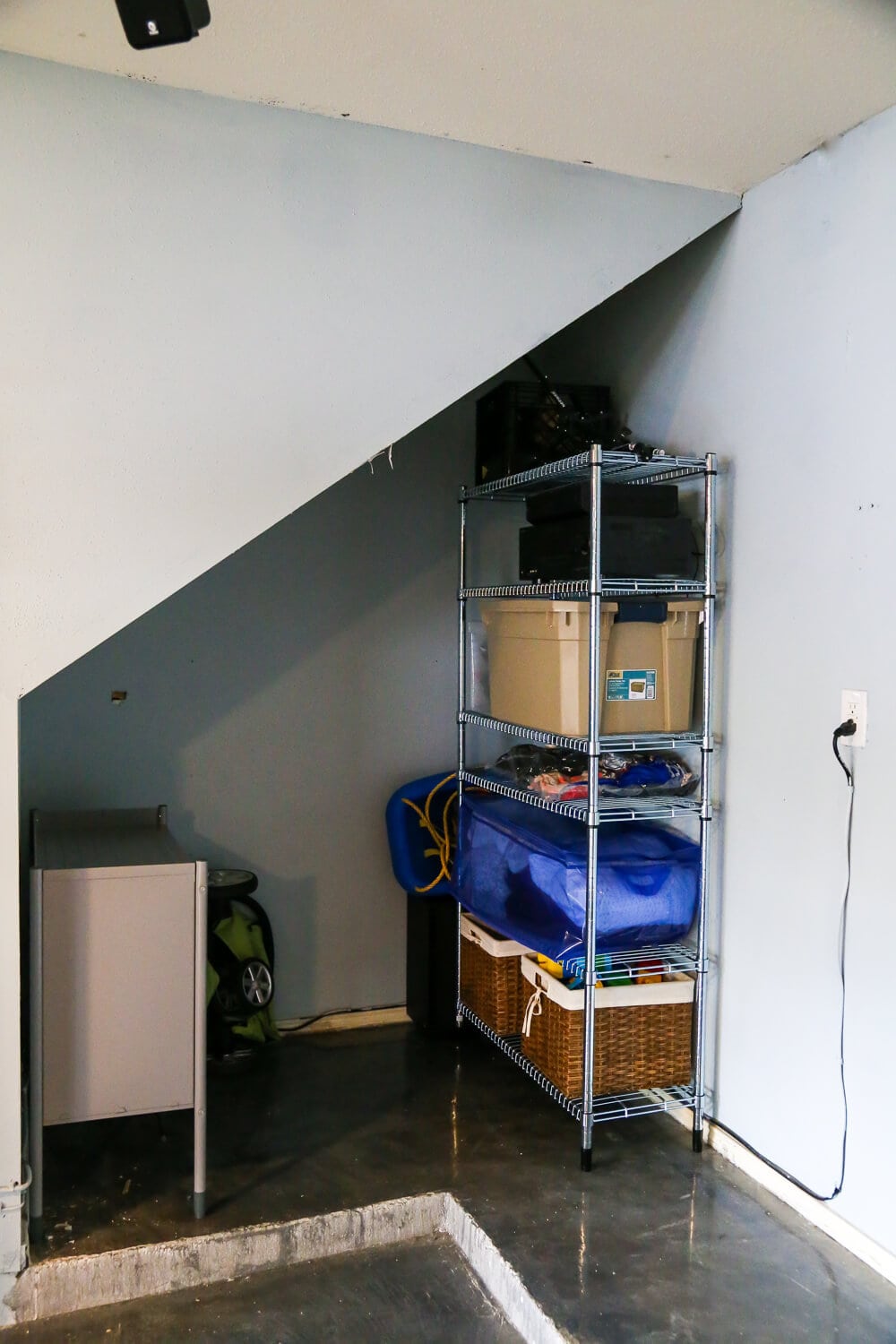 So, let's talk a little about organizing things in the garage. I get tons of comments and questions anytime I share our garage on Instagram about how we keep things looking so nice and organized, and today I'm going to spill my secret. Are you ready?
Are you sure you're ready? This is big.
Baskets, bins, and bags.
That's it. That's my secret. Is your mind blown?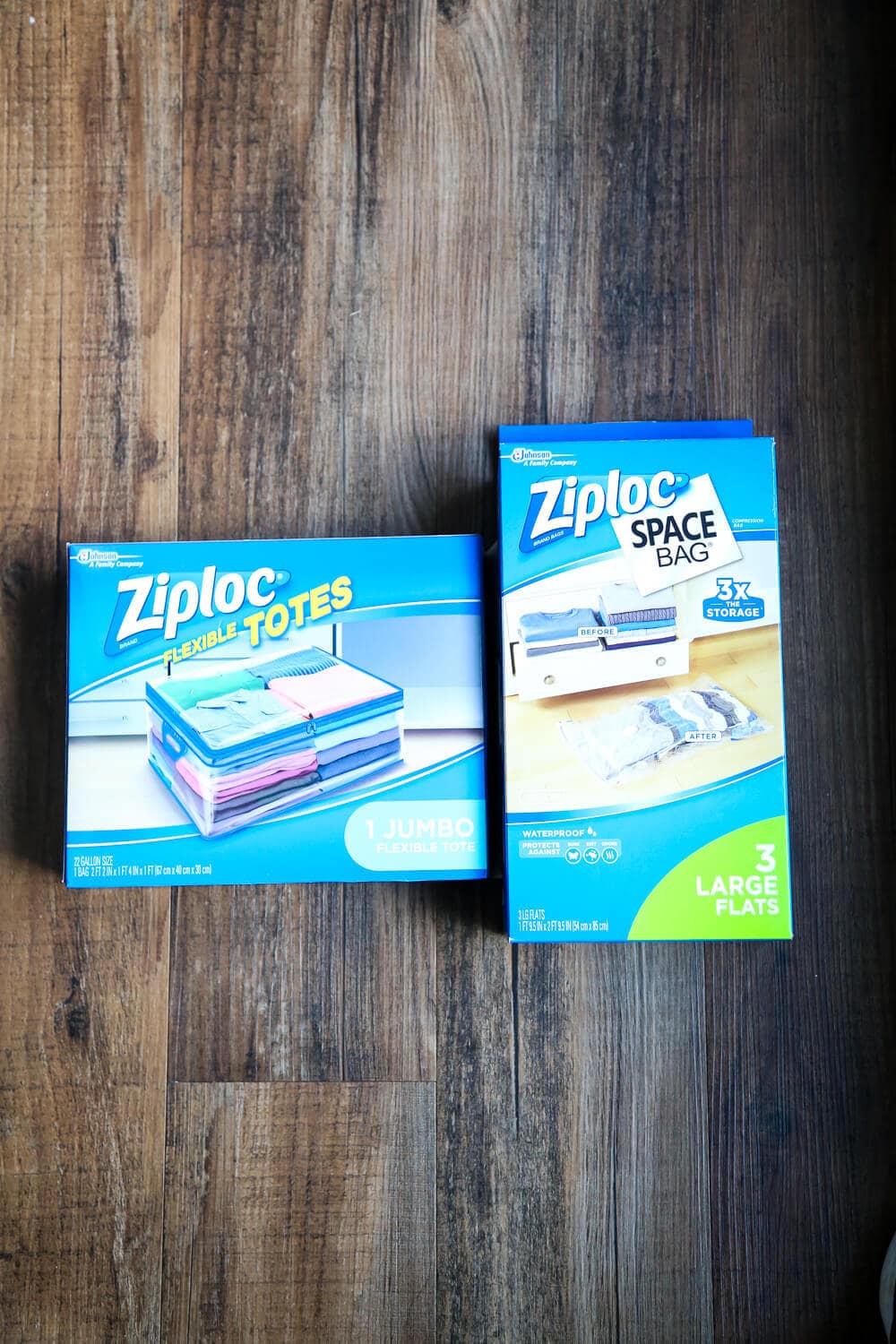 All kidding aside, having some plastic bins, tons of baskets, and a few space-saving bags in my garage works wonders to keeping all of the clutter to a minimum. We love these big plastic tubs for storing things like Christmas decorations and Corey's random collection of computer parts that he swears we may need someday just in case. I love baskets for Jacksons' extra toys, some frequently-accessed cables and cords, and other things that we need to get to regularly. And I love Ziploc® Space Bags® for storing off-season clothes, blankets, extra linens, and basically anything else that can be compressed.
I picked my bags up at Lowe's – they're in the organization section, and they're super easy to find! Mine were on an endcap, like so: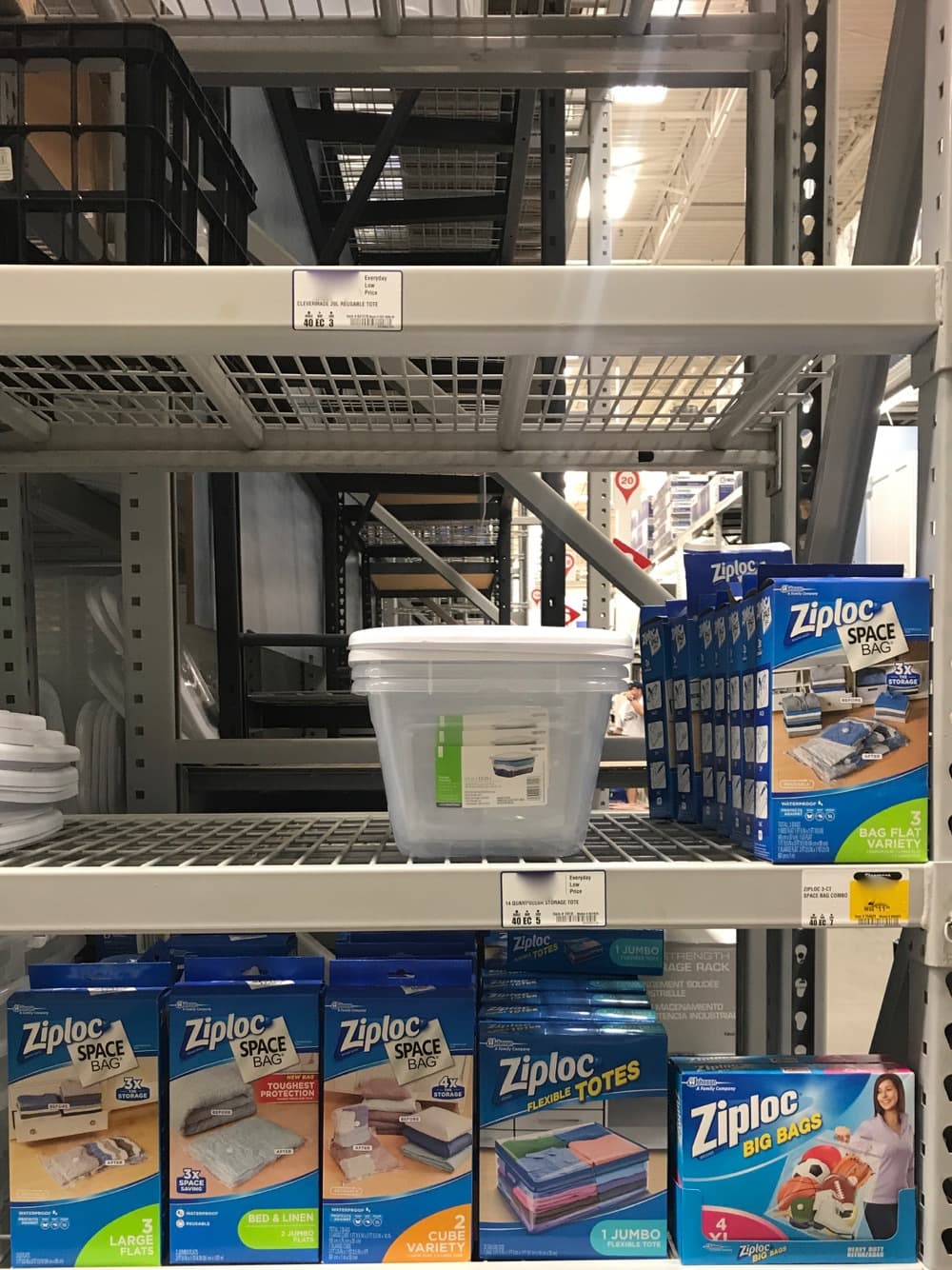 For this project, I grabbed a Ziploc® Flexible Totes Jumbo and a box of 3 Ziploc® Space Bag® Large Flats. The flats are the kind you can vacuum air out of to compress, and the tote is a flexible storage bag.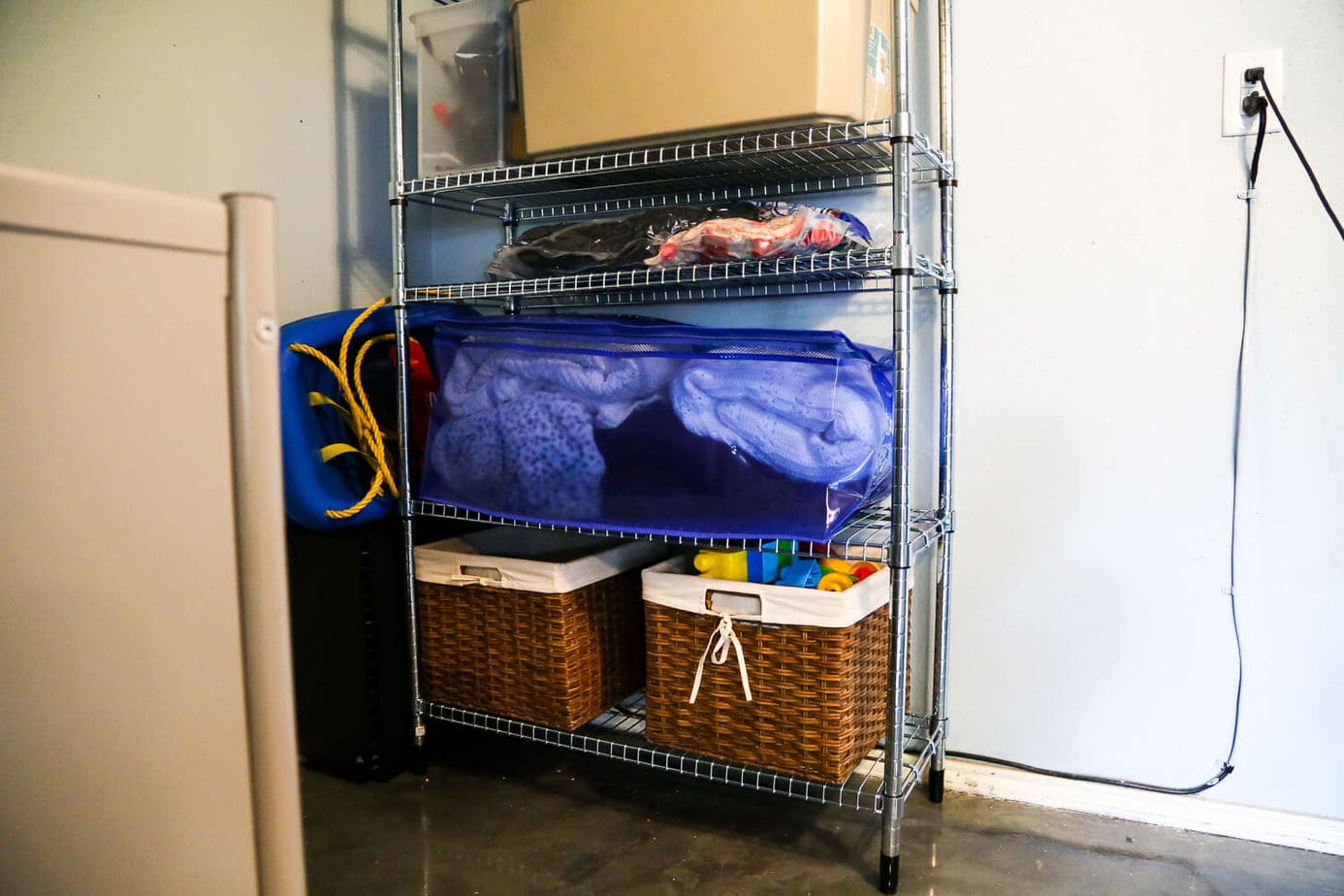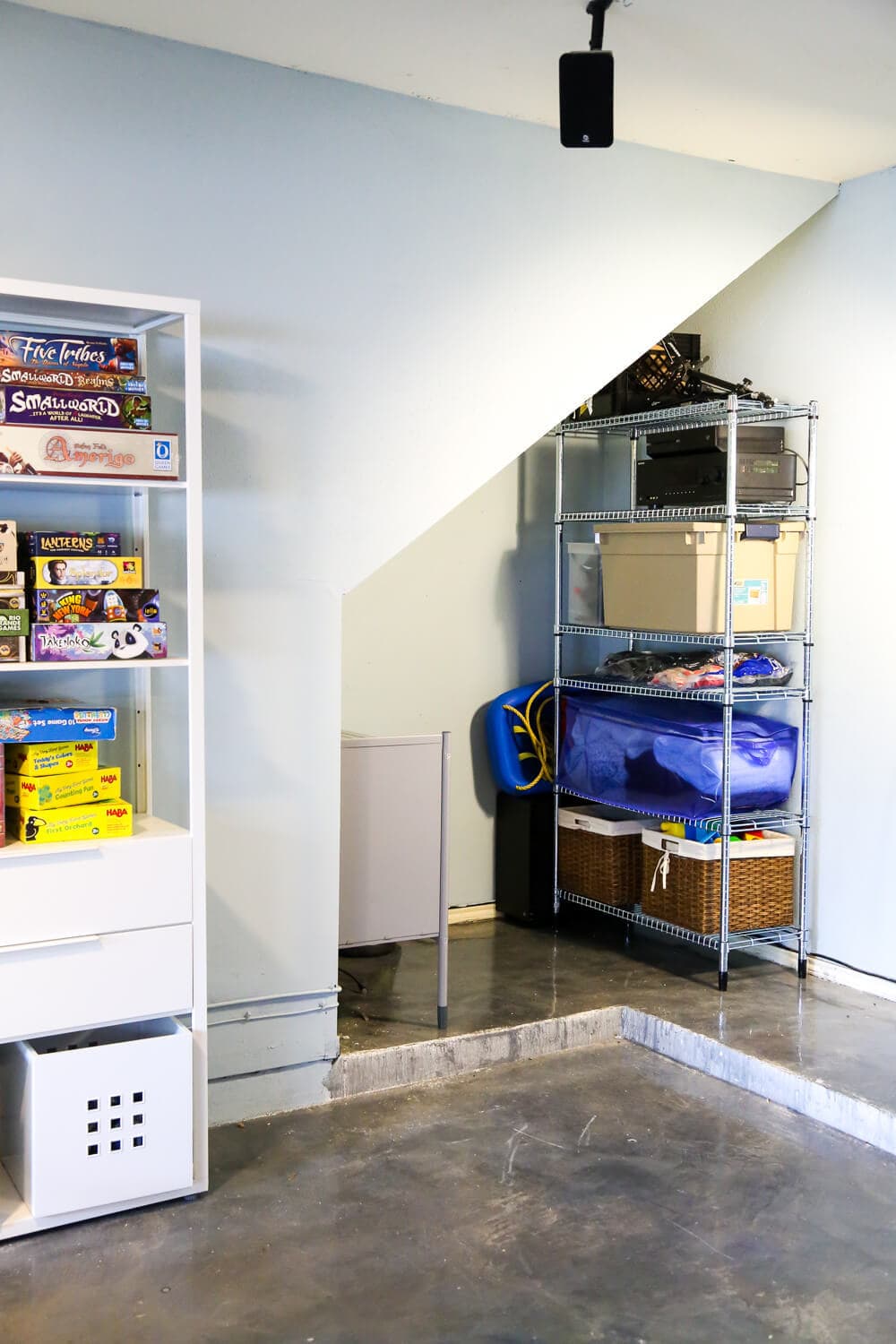 Have you ever used these things before? I've been a fan for years, and Ziploc® Space Bags® have been how I keep my off-season clothing organized and out of my closet ever since I starting trying to pare things down a bit. It's kind of mind-blowing how much these things can hold and how much room you can save by using them. You just fill them up with your stuff (I love to use them in particular for off-season clothing and extra linens), vacuum out the extra air, and bask in the glory of storing twice as much stuff in half the space (as compared to uncompressed storage volume).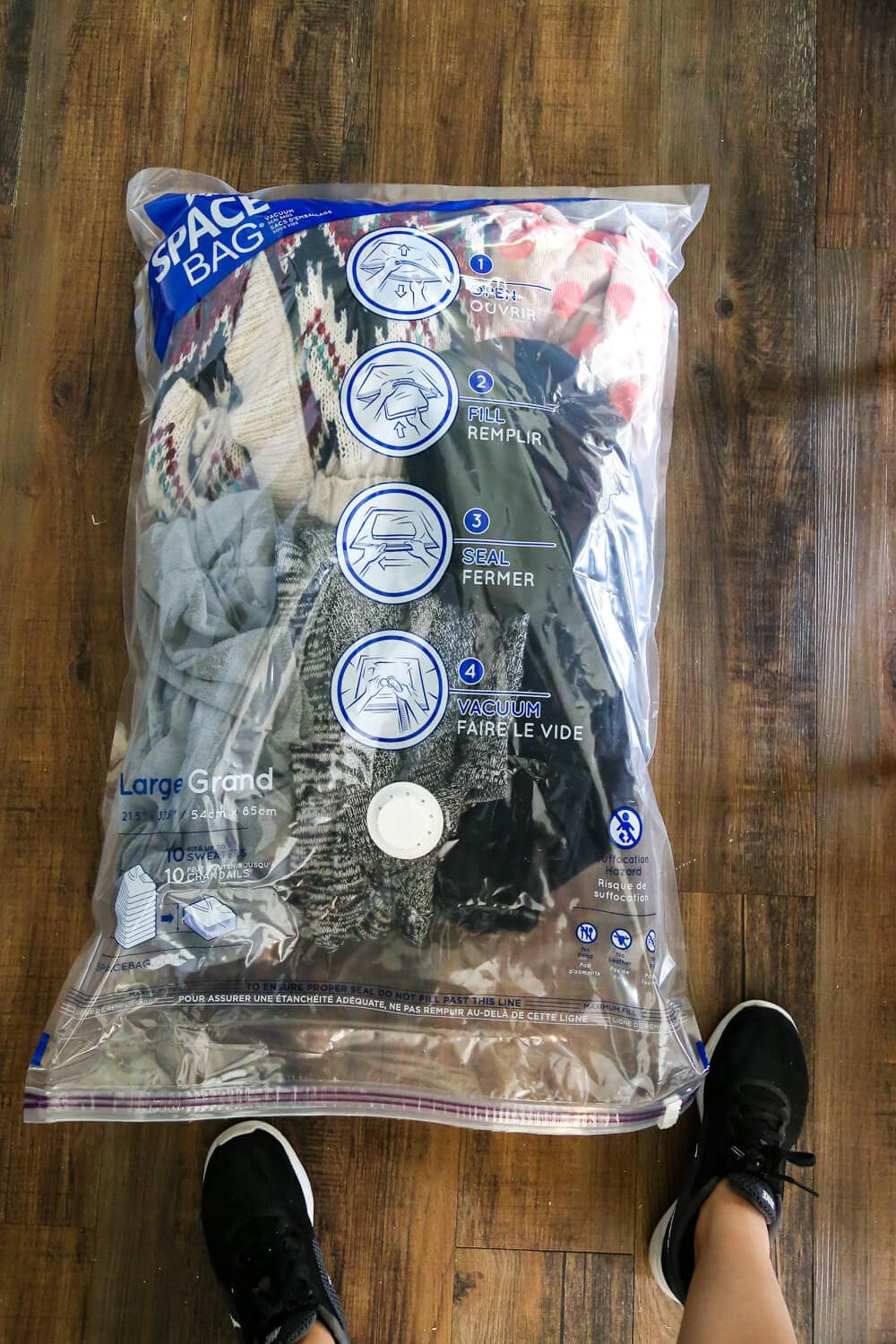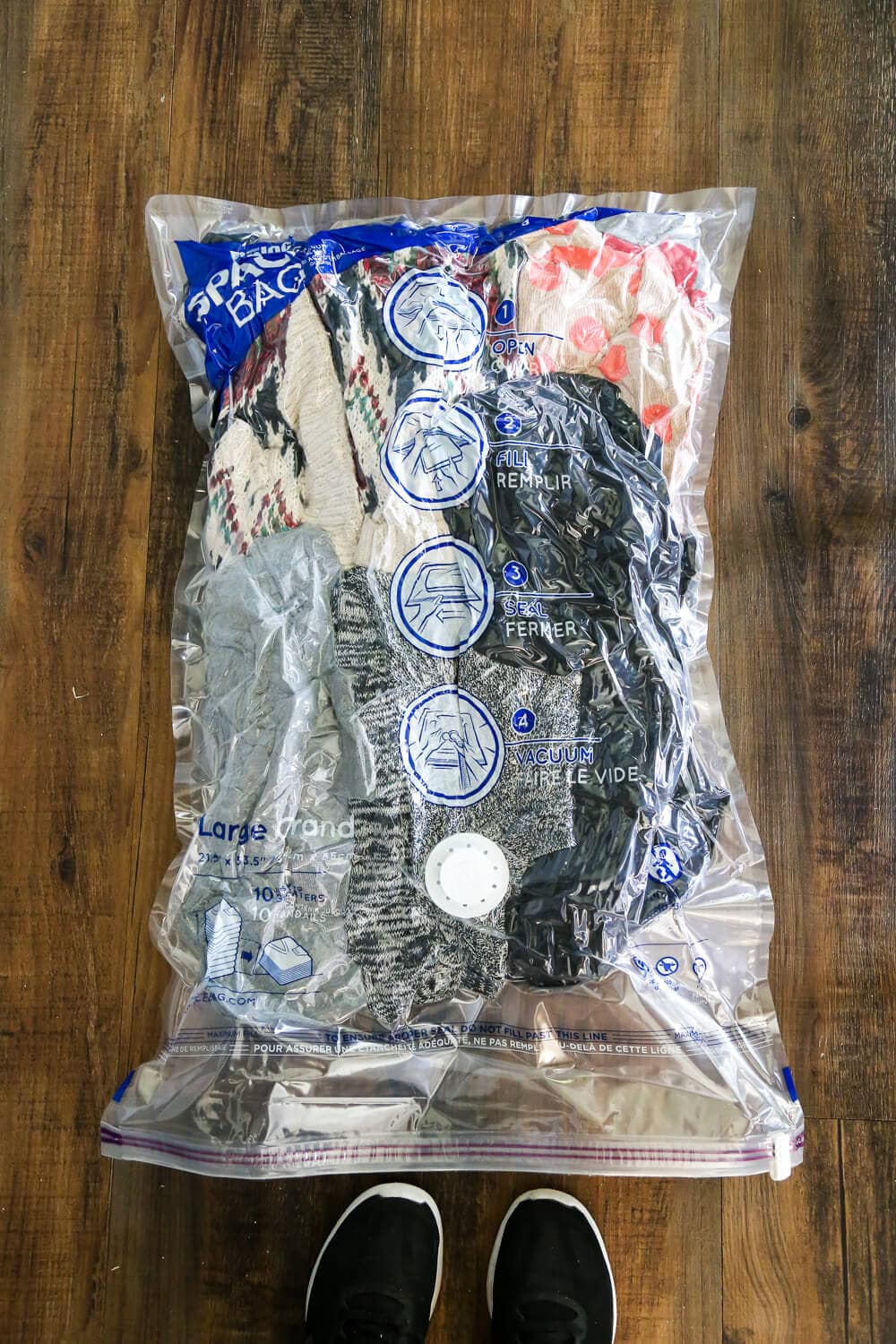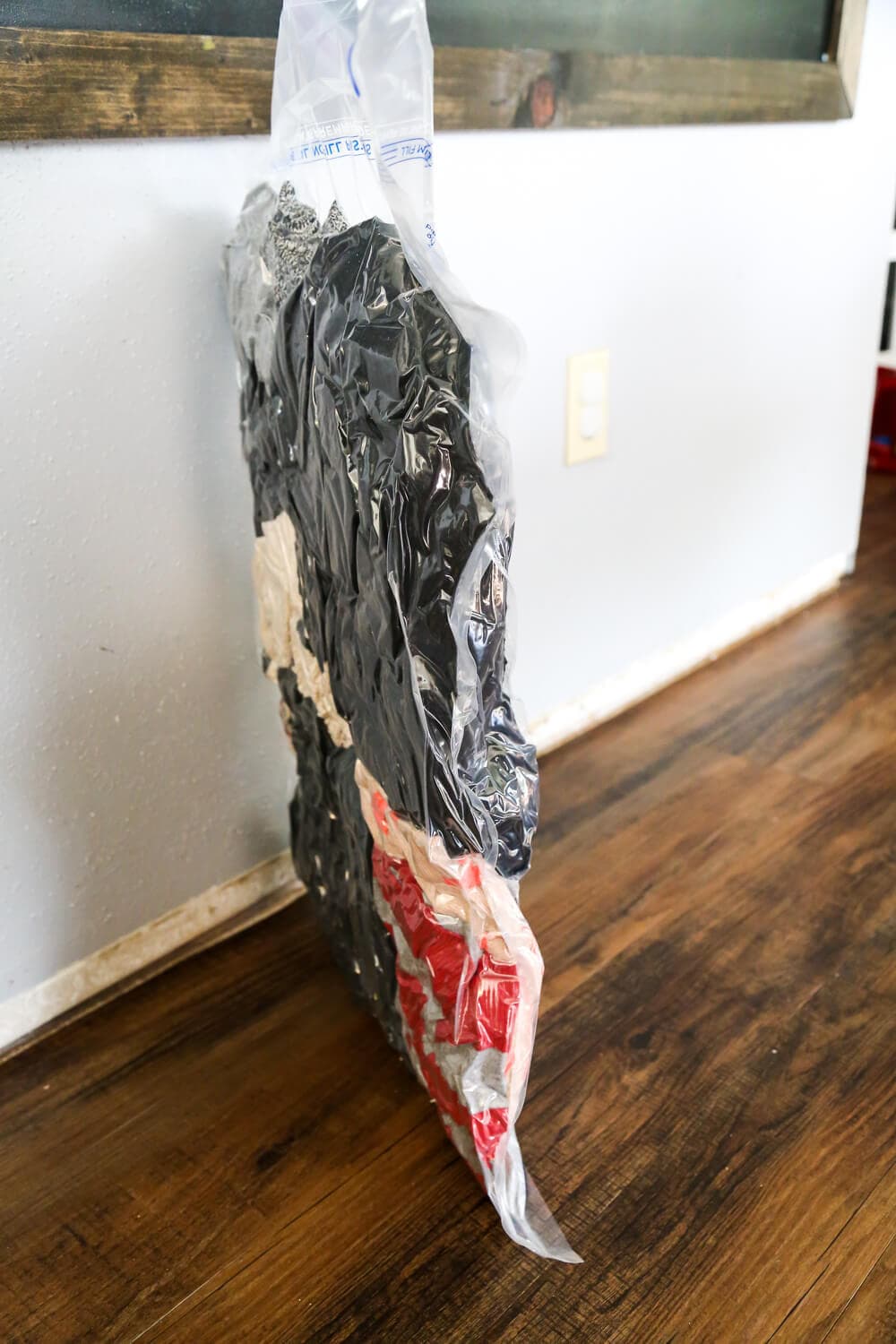 I also used a Ziploc® Flexible Tote Jumbo in this little nook – I ended up deciding to store our throw blankets in here because they're something I access pretty frequently. We tend to switch our throw blankets out every few months, and when we have friends over we often end up pulling out some extra, so it's nice to have them in a tote like this where I can just unzip it and grab what I need. The fact that it's flexible is a huge bonus because it means it only takes up as much space as it needs to. Big plastic tubs are great for things like holiday decor, but when you've got extra sweaters or blankets that you need to access on the regular, it's so much nicer to have a storage bag that doesn't take up as much space as those big ol' bins. It's also really great for protecting against bugs, dirt, moths, and mildew – all common issues when you're storing stuff in a garage in the Texas heat!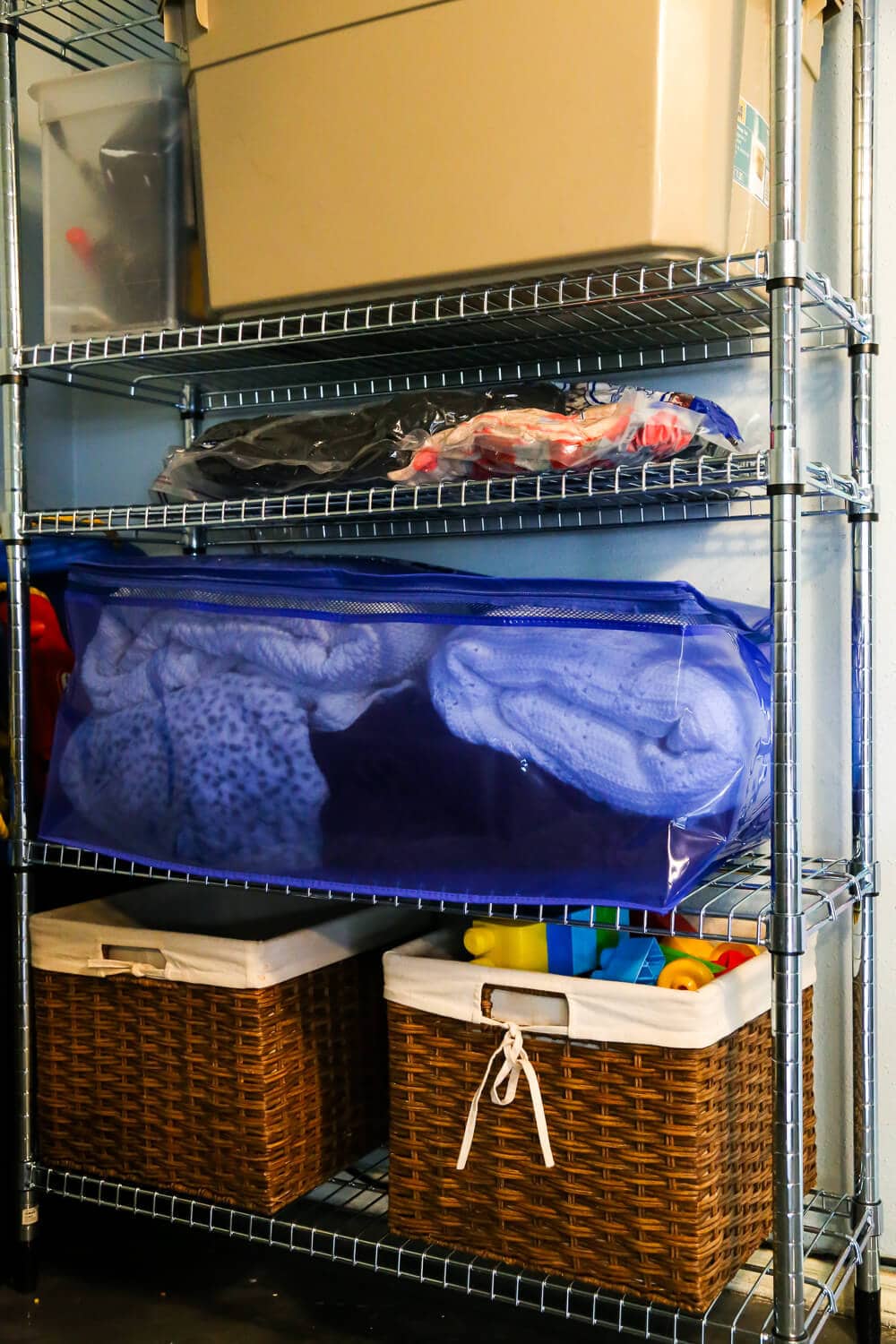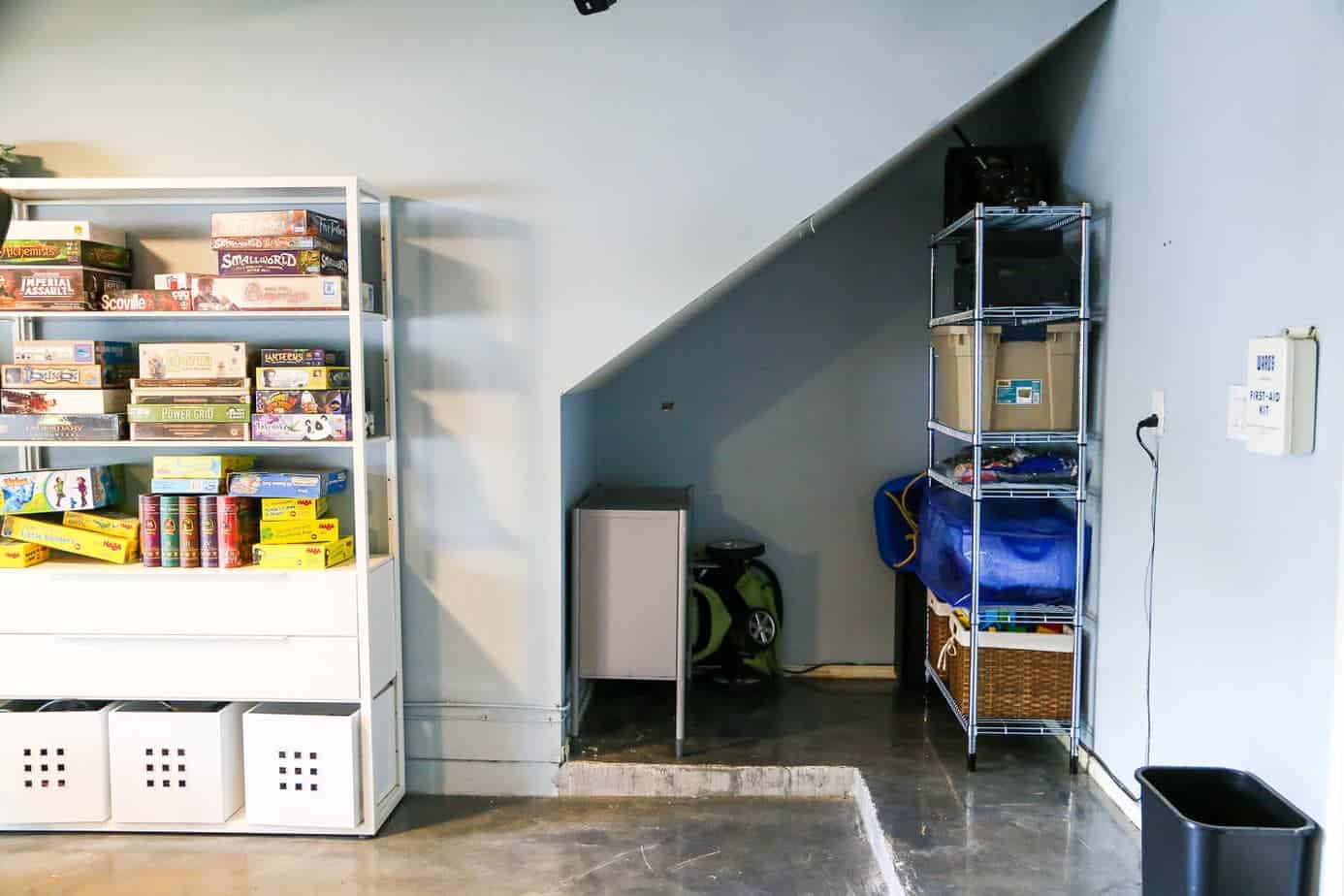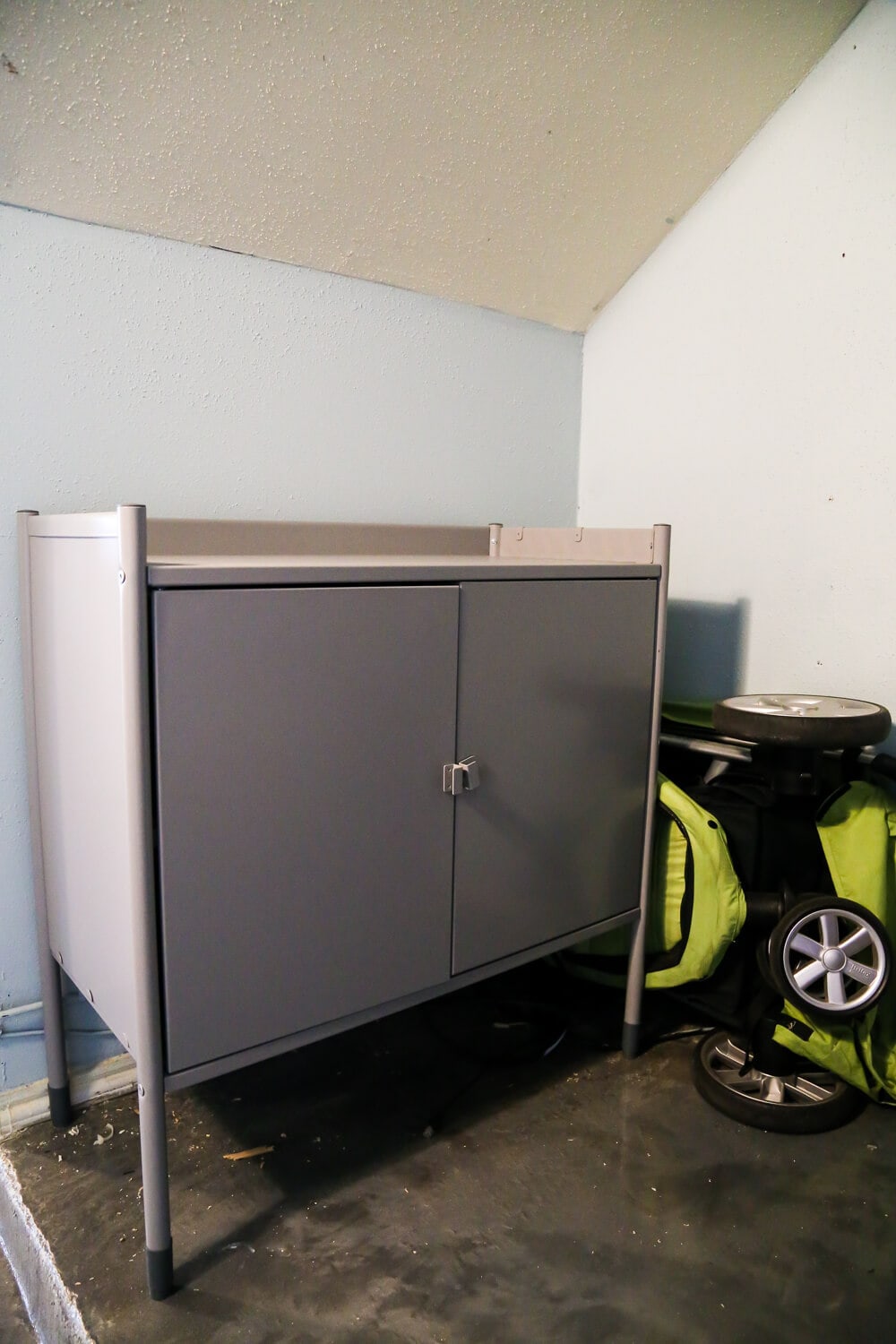 We also got this really cute little closed cabinet to store our camera supplies. We have started to accumulate quite the collection of gear between our tripod, light kits, and GoPro stuff, so I love having it all in one central location in a closed cabinet that helps keep it all safe. Please excuse the sawdust underneath it. Too many projects, not enough time to clean up after myself. #keepingitreal
It feels so great to finally have this nook under control, and I'm really excited to finally call this space done. If you need a refresher on what the rest of the room looks like, allow me to jog your memory.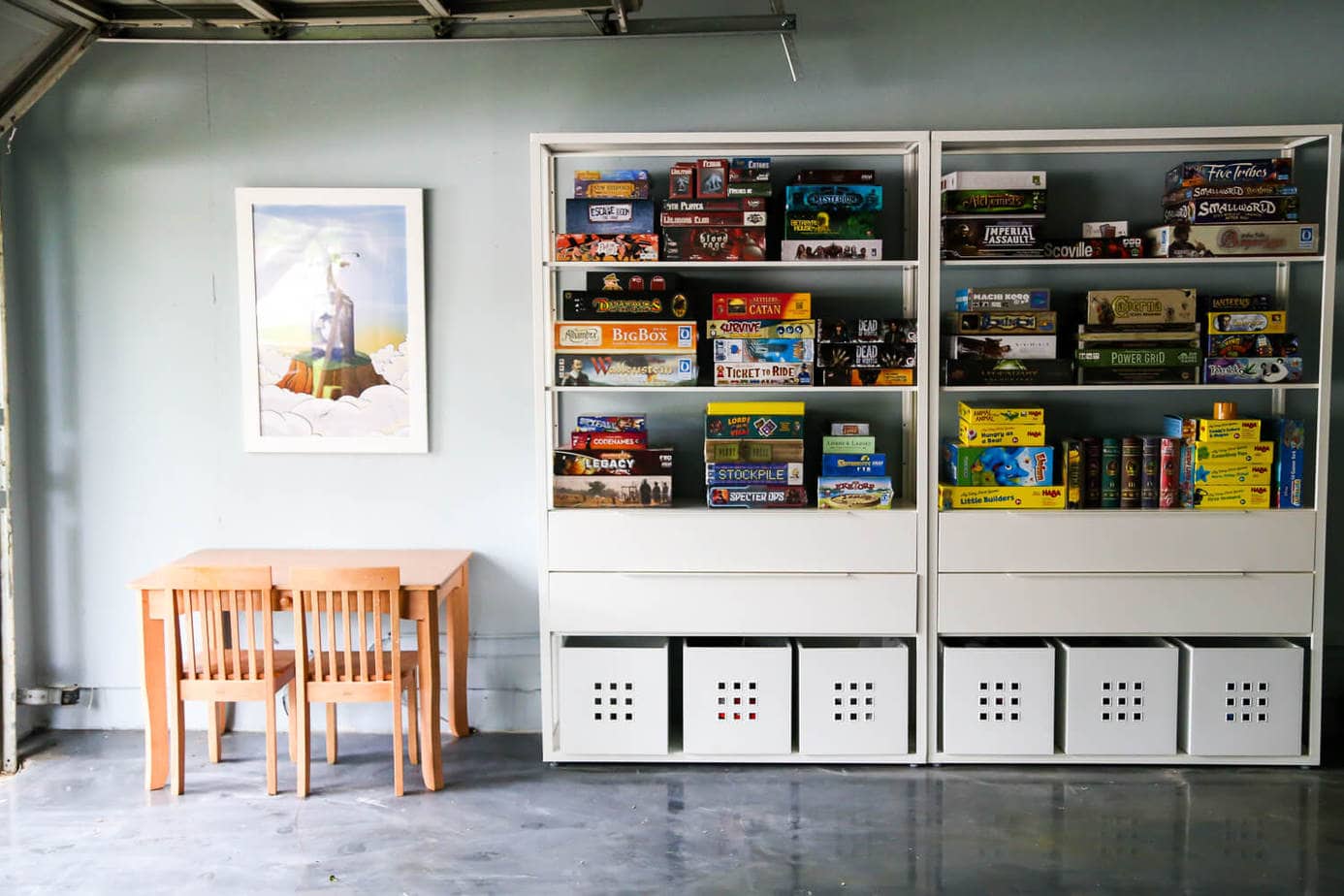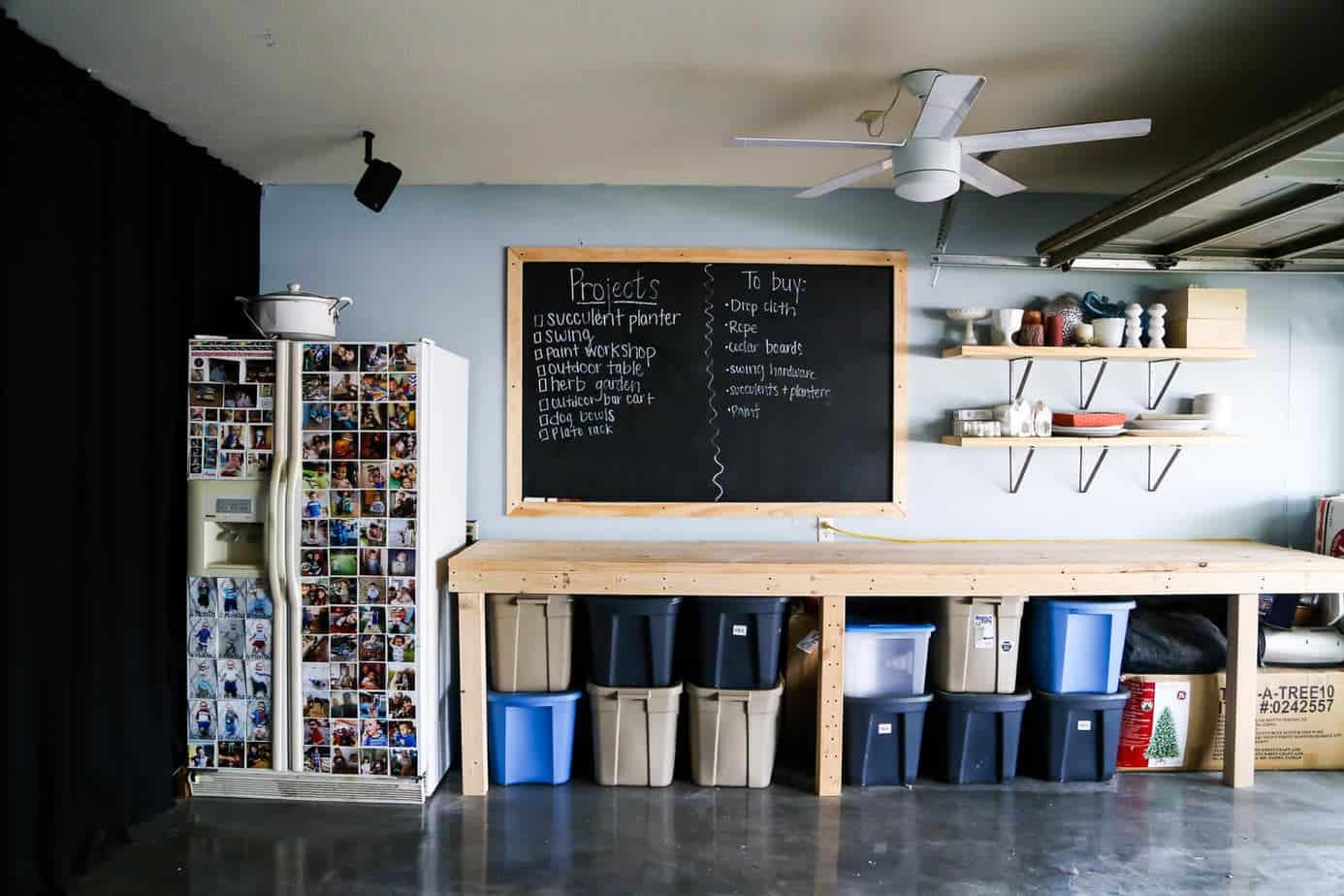 Ahhh, I love this room, y'all.
Have you ever tried Ziploc® Space Bags®? Are you as obsessed with vacuuming the air out of them as I am? It's the little things in life that make me happy.