Last weekend, Corey, Jackson, and I took a quick trip to Granbury, Texas for our first-ever family getaway with just the three of us, and it was perfect. We wanted something quiet, relaxing, and affordable and after a little bit of research, we landed on little ol' Granbury. It's a small town outside of Fort Worth, and it's basically my new favorite place in the entire world.
I wanted to share a few highlights of our trip – we saw so many fun things, got a lot of relaxing in, and discovered our new favorite pit stop in Waco (and no, it's not the Silos!). So, settle in and get ready to see the cutest town I've ever seen (right after Stars Hollow, of course).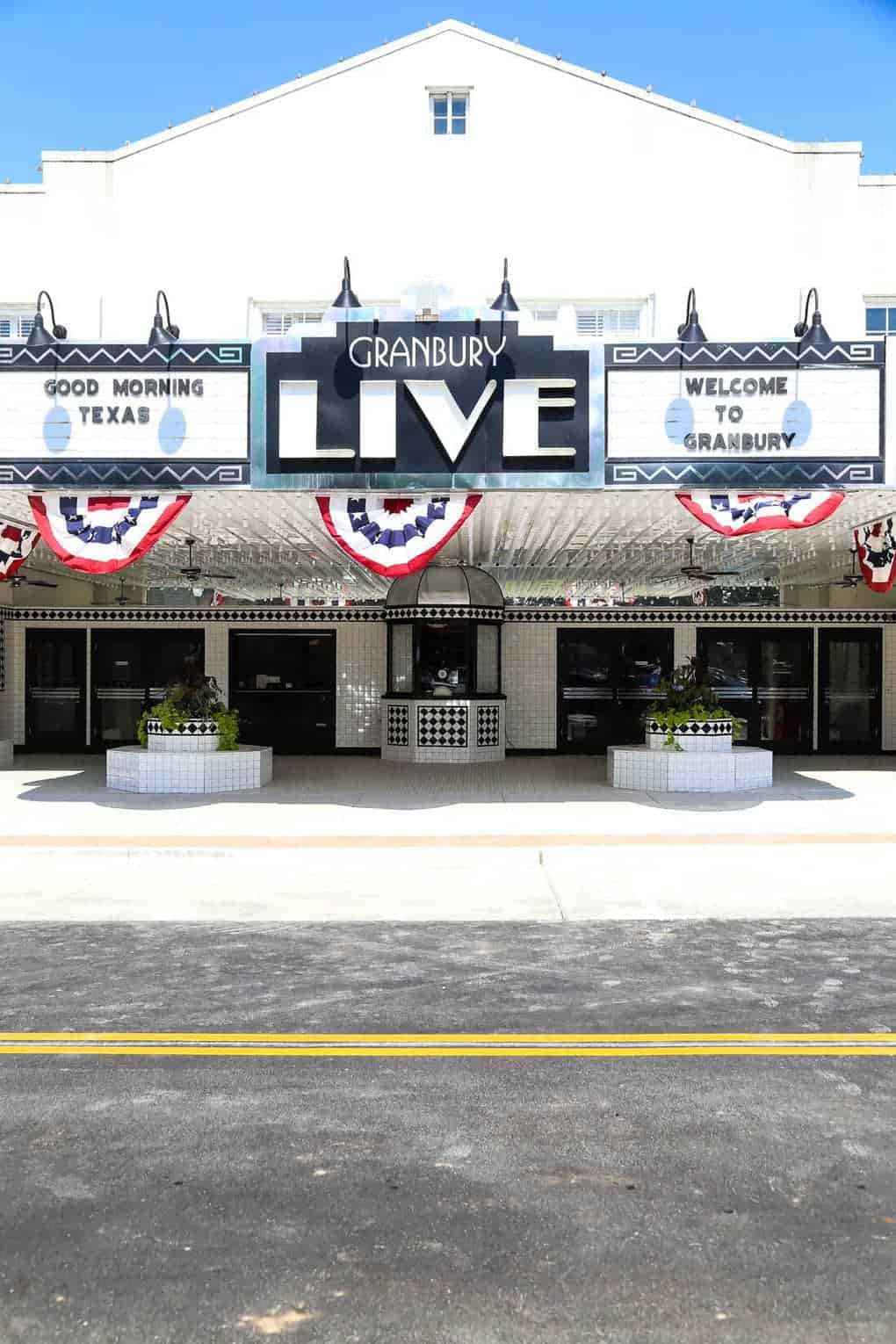 We kicked off the trip on Thursday by taking the long way, which took us right through Waco. We had planned on stopping by at Magnolia Market (I've been dying for a cupcake lately!) but we drove past and the crowd was nuts so we decided to skip it. Instead, we ended up visiting Homestead Heritage – and what a wonderful detour that ended up being! It's a small Christian agrarian and craft-based community that's open to public visitors. They have a cafe (best food I've eaten in Waco!), gorgeous gardens, a few shops, and some of the kindest and most friendly people you've ever met. We hardly saw anyone else while we were there (except in the restaurant, which was hopping), which was a welcome relief from the crowds we're used to when we hit up the Silos in Waco. This had a very similar feel, but it was way more relaxing and way bigger. I felt so inspired and peaceful the whole time we were there. Corey teased me for wanting to visit before we arrived, but I'm pretty sure that by the end of our visit, he was convinced that he wanted to move there.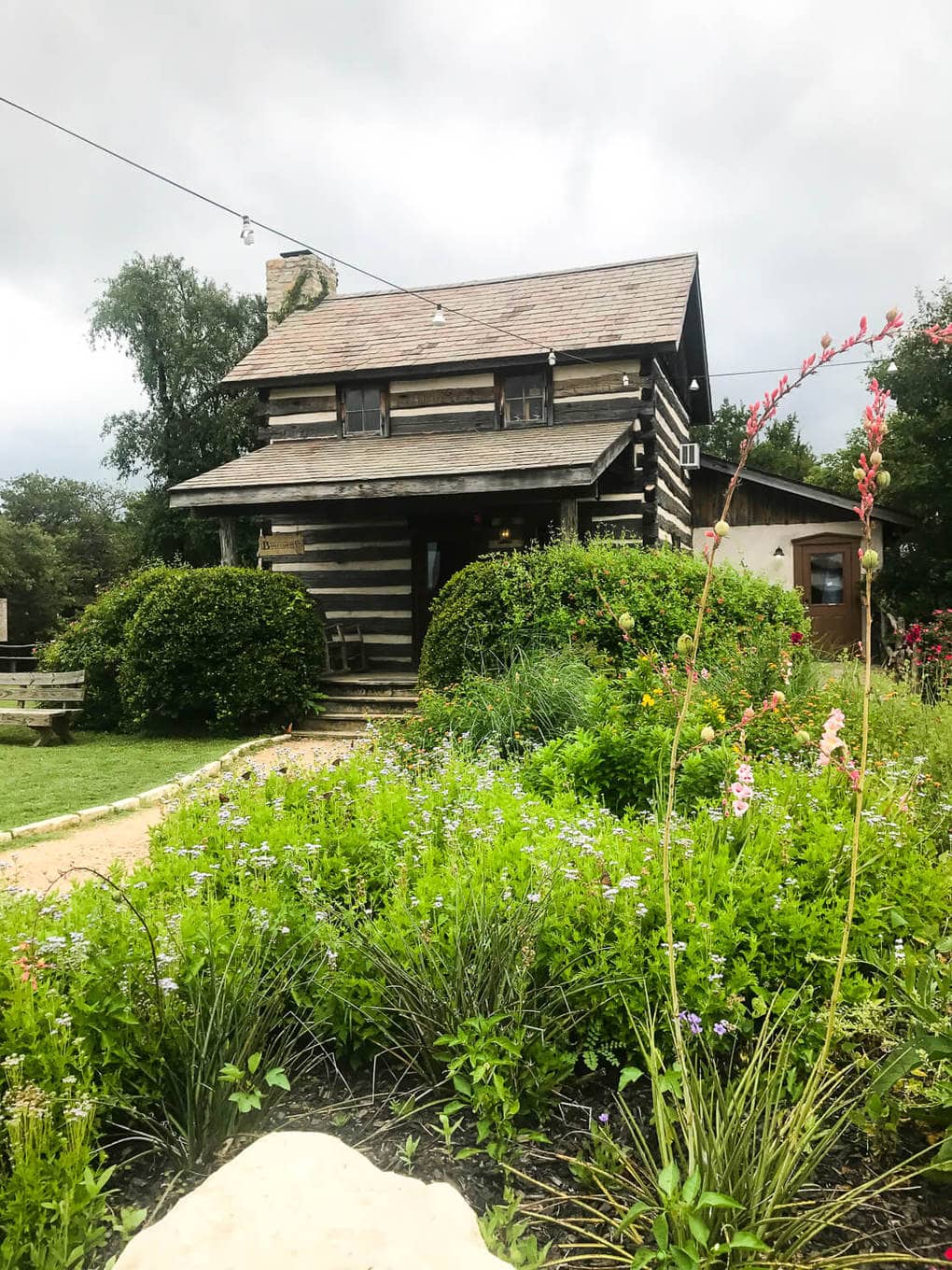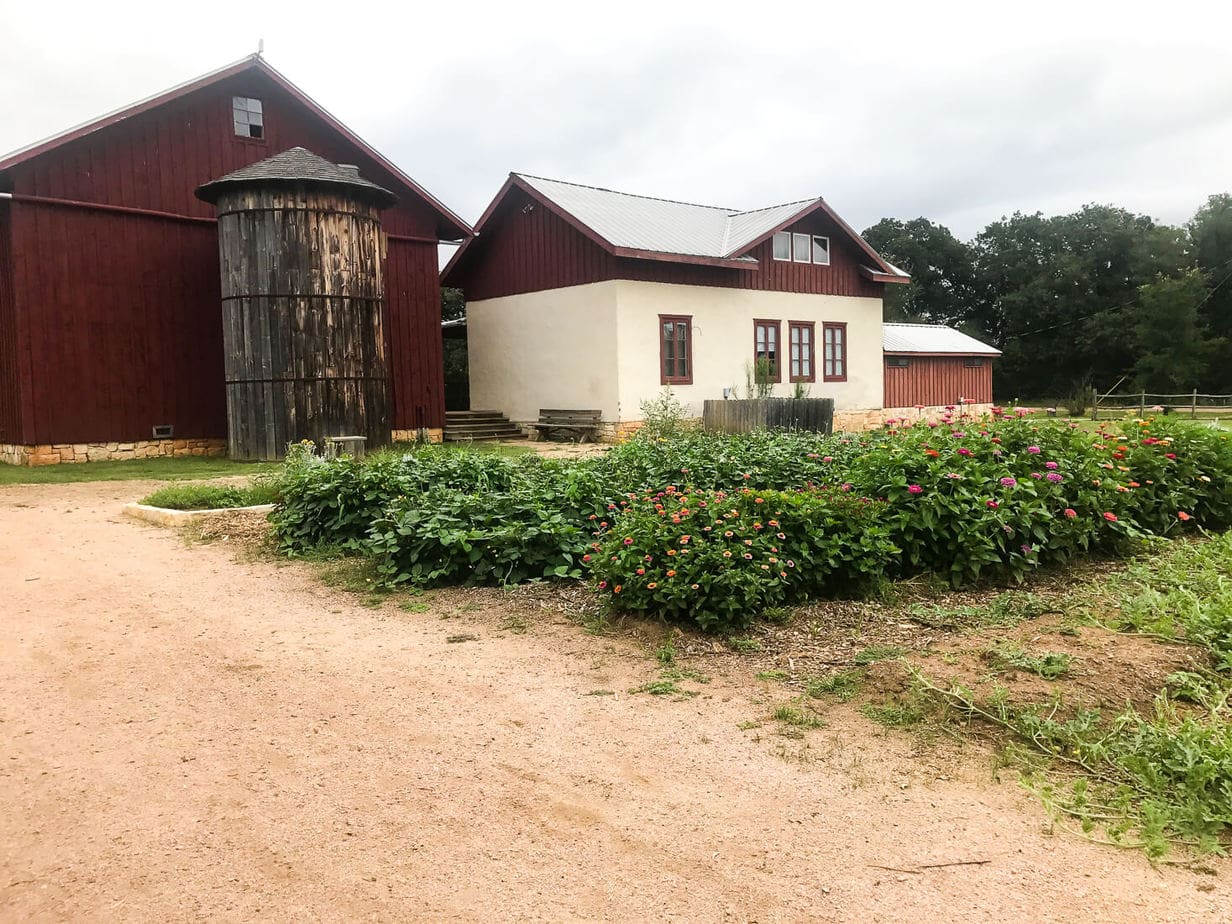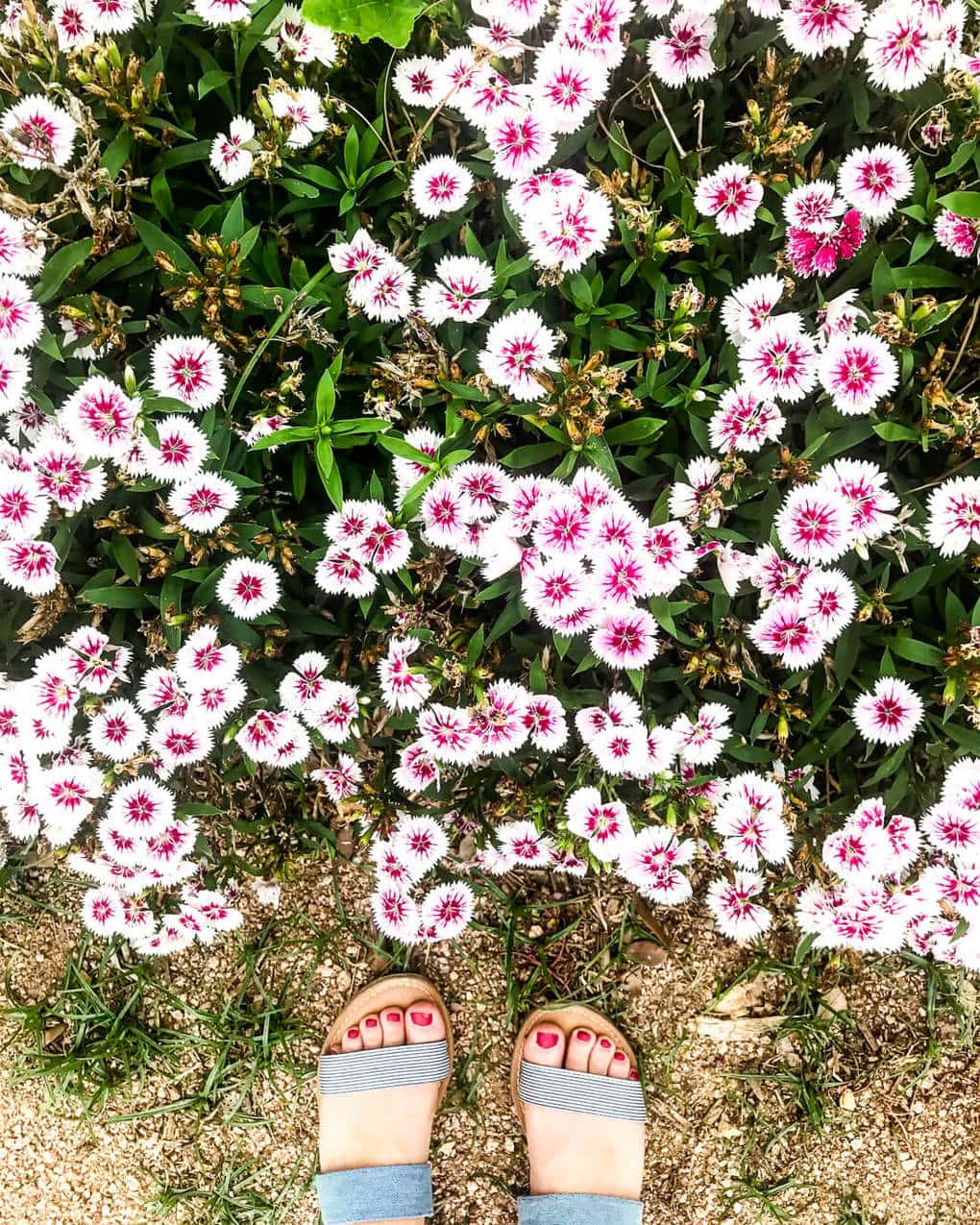 The craftsmanship and skill of all of the people who live in this community is absolutely incredible. Everything sold in their stores is so well-crafted and beautiful – most of it was far out of our budget, but the price is well worth it considering it's all handmade by these incredible artisans.
I think my favorite thing I saw there was this handmade queen-sized quilt – it was $5,000 but I'm assuming it was hand-stitched, they make all of their own thread, and it was the most beautiful quilt I've ever seen (it's the blue one in the bottom row in the photo below). Swoon!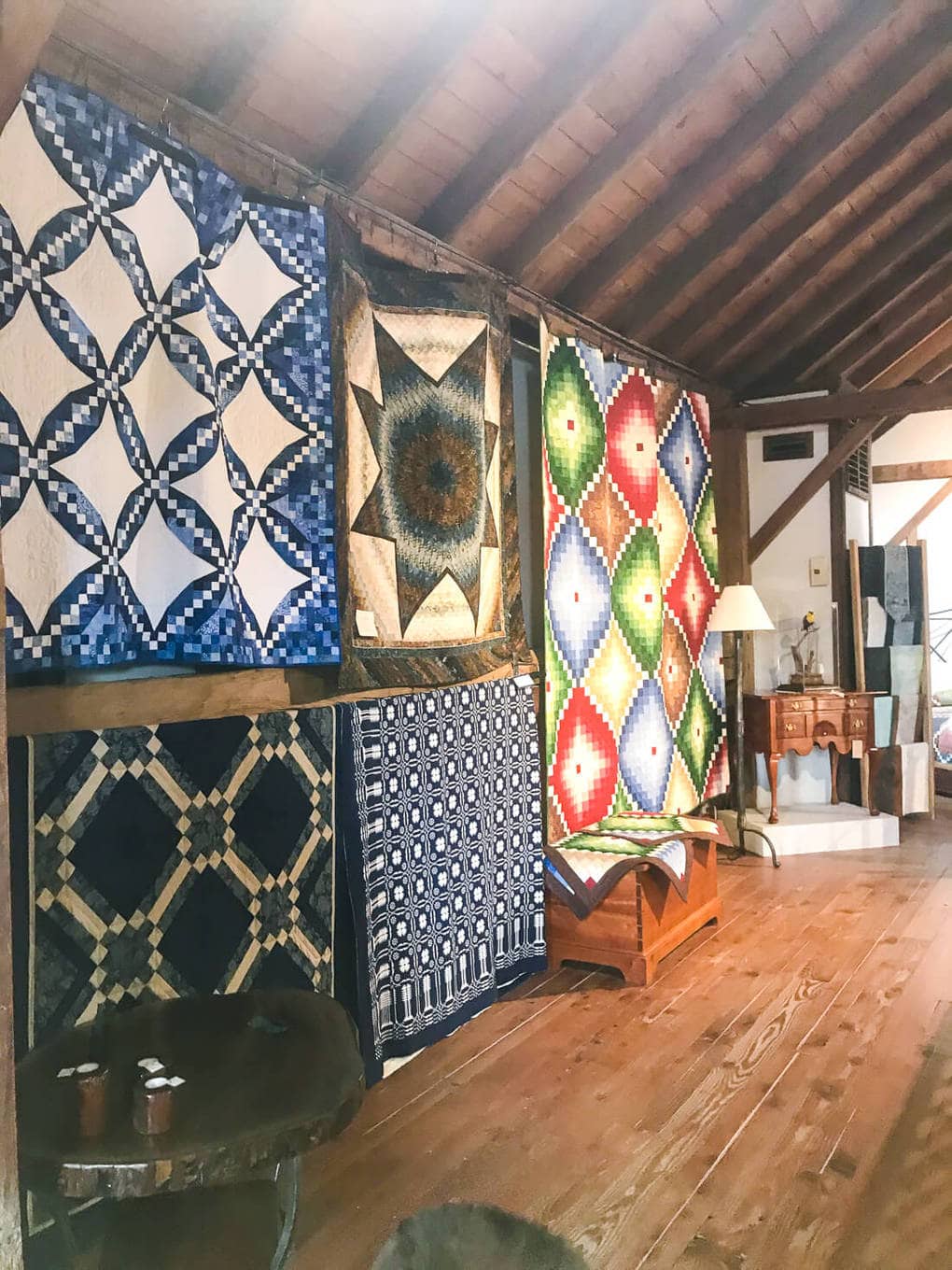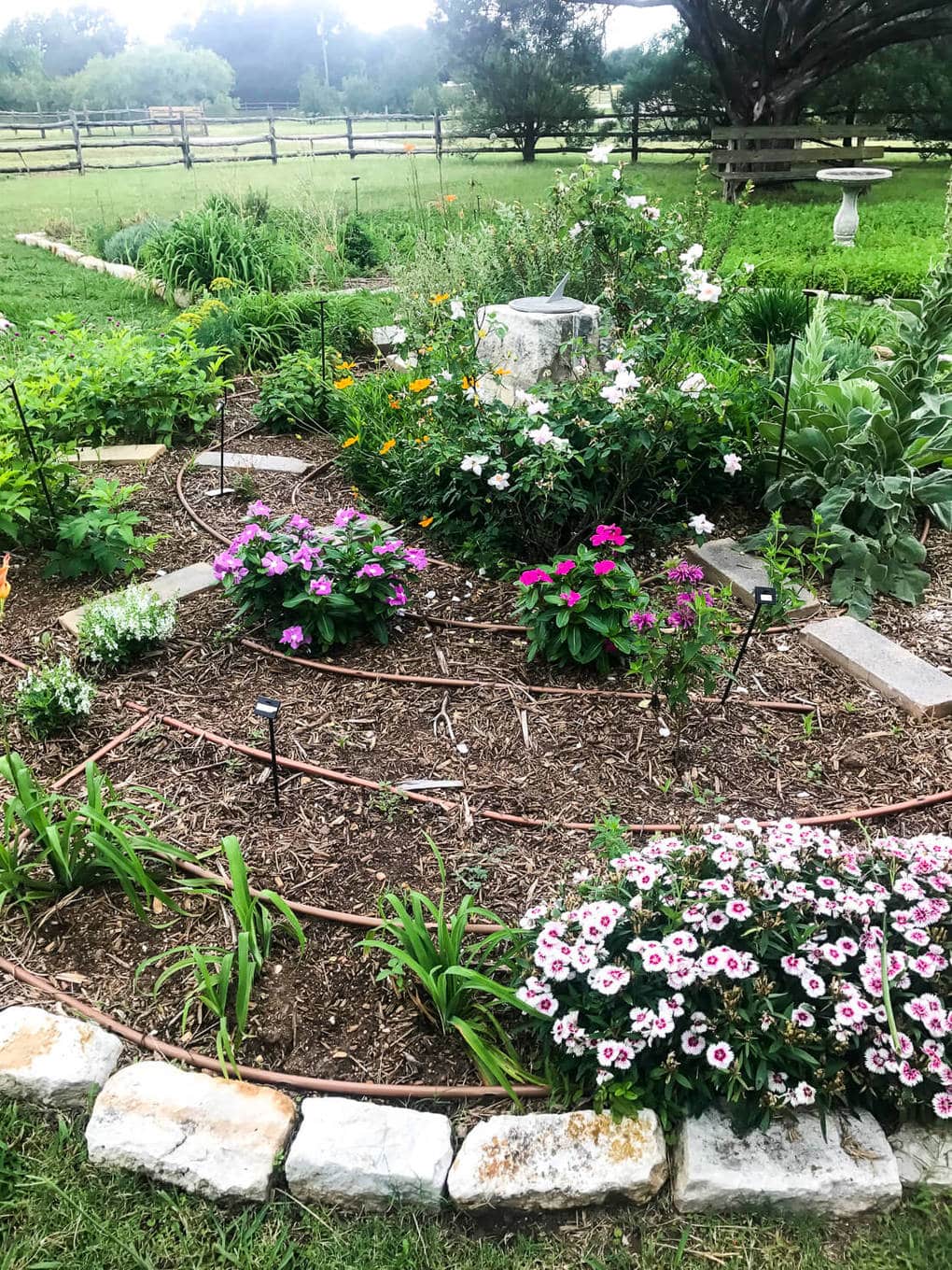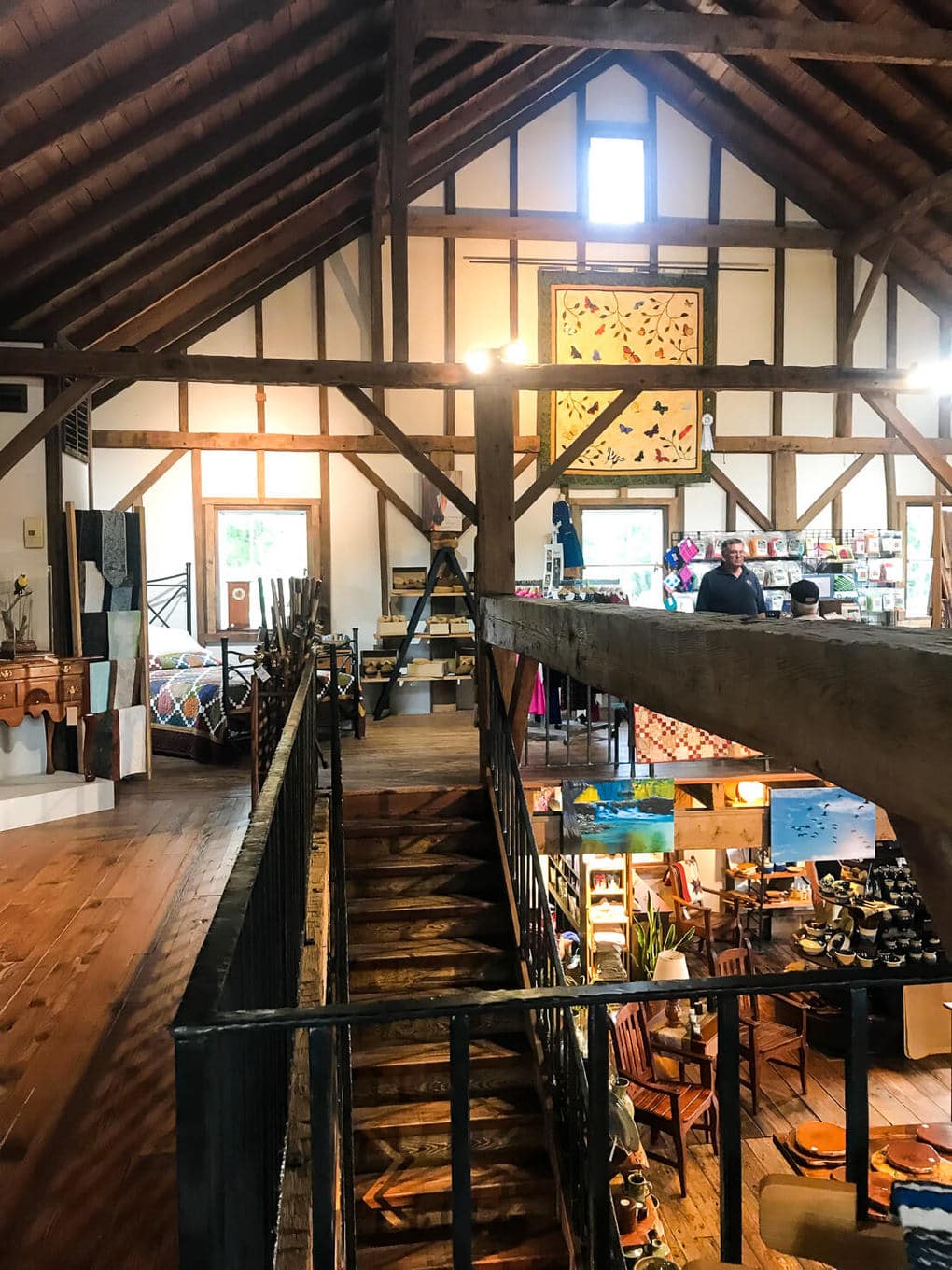 We spent a few hours wandering around and soaking it all in, then we hit up the cafe for lunch (the tomato bisque was so good I cried a little).
Jackson loved hanging out with the chickens, peacocks, and rabbits, and was only a little bit disappointed that he didn't see any cows or an actual "farmer". I kept trying to explain that a farm isn't always exactly like what you see in the movies, but that's a tough concept for a 3-year-old.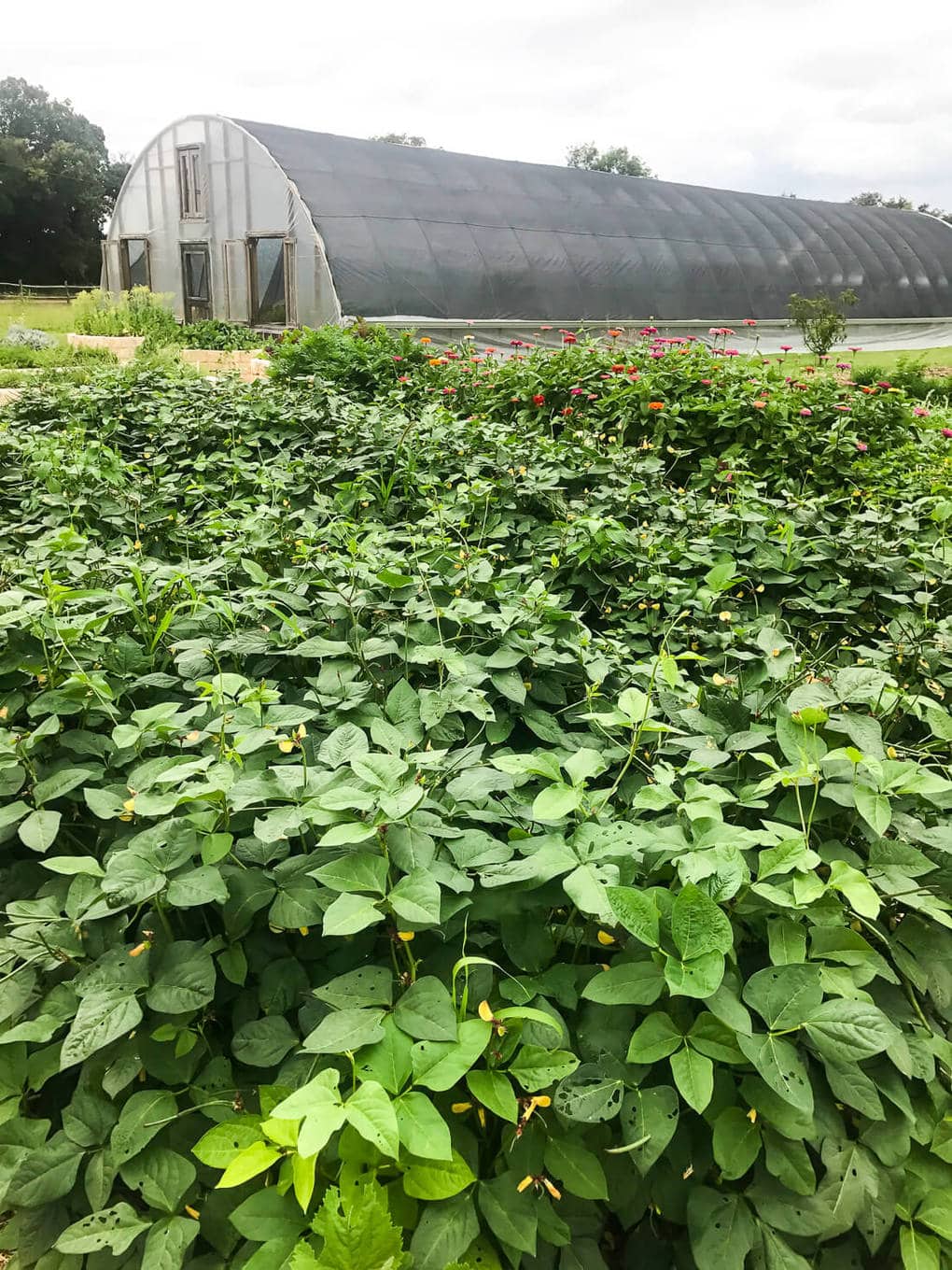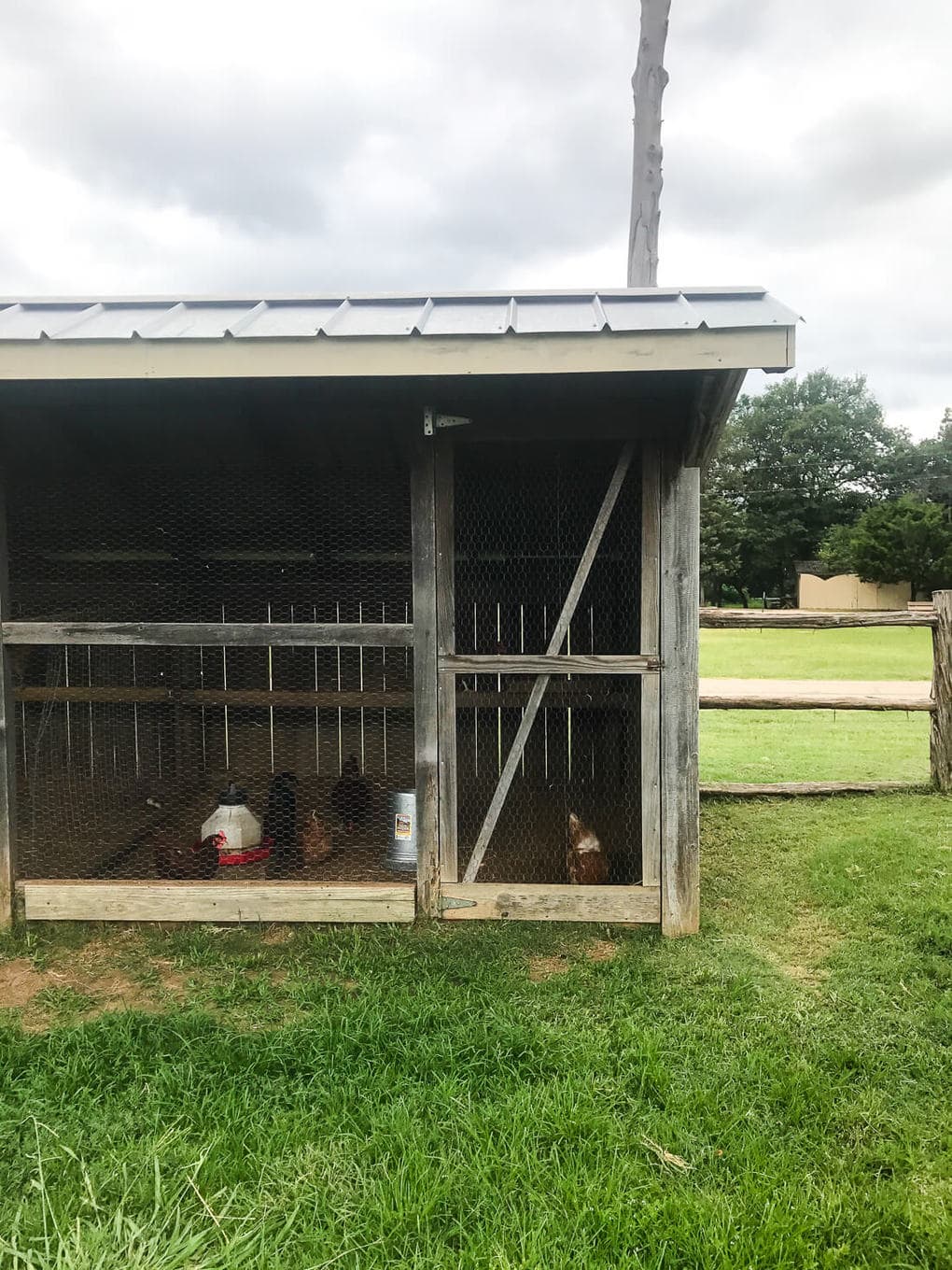 After we finished up at the homestead, we headed to the Mammoth National Monument. I wasn't sure what to expect because these things can be cheesy, but it was so cool. Jackson got bored about halfway through the tour, so we really wished we could have gone through on our own, but we understood why they require a tour guide. I mean, when you've got mammoth bones this beautiful, you want to make sure they're completely safe.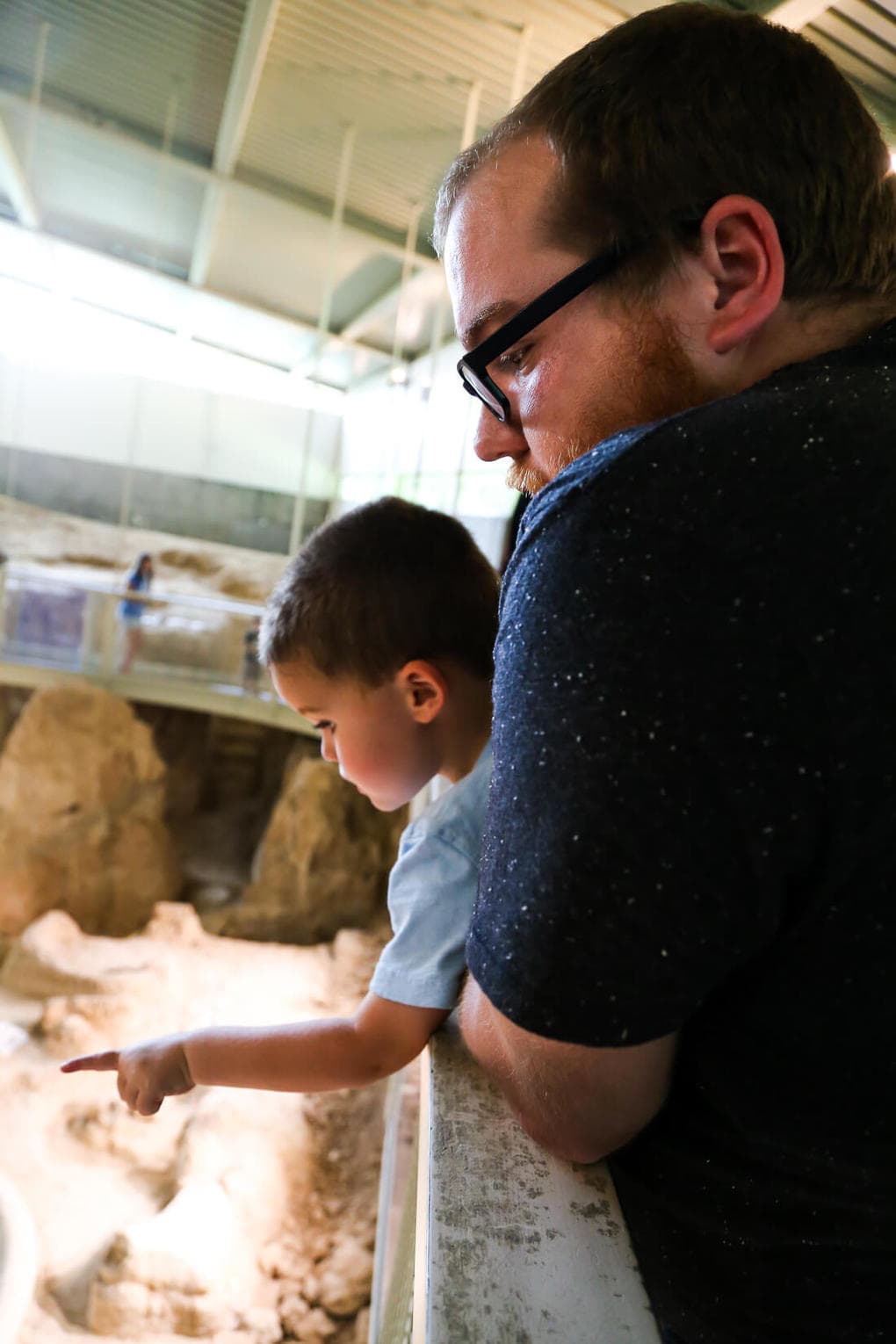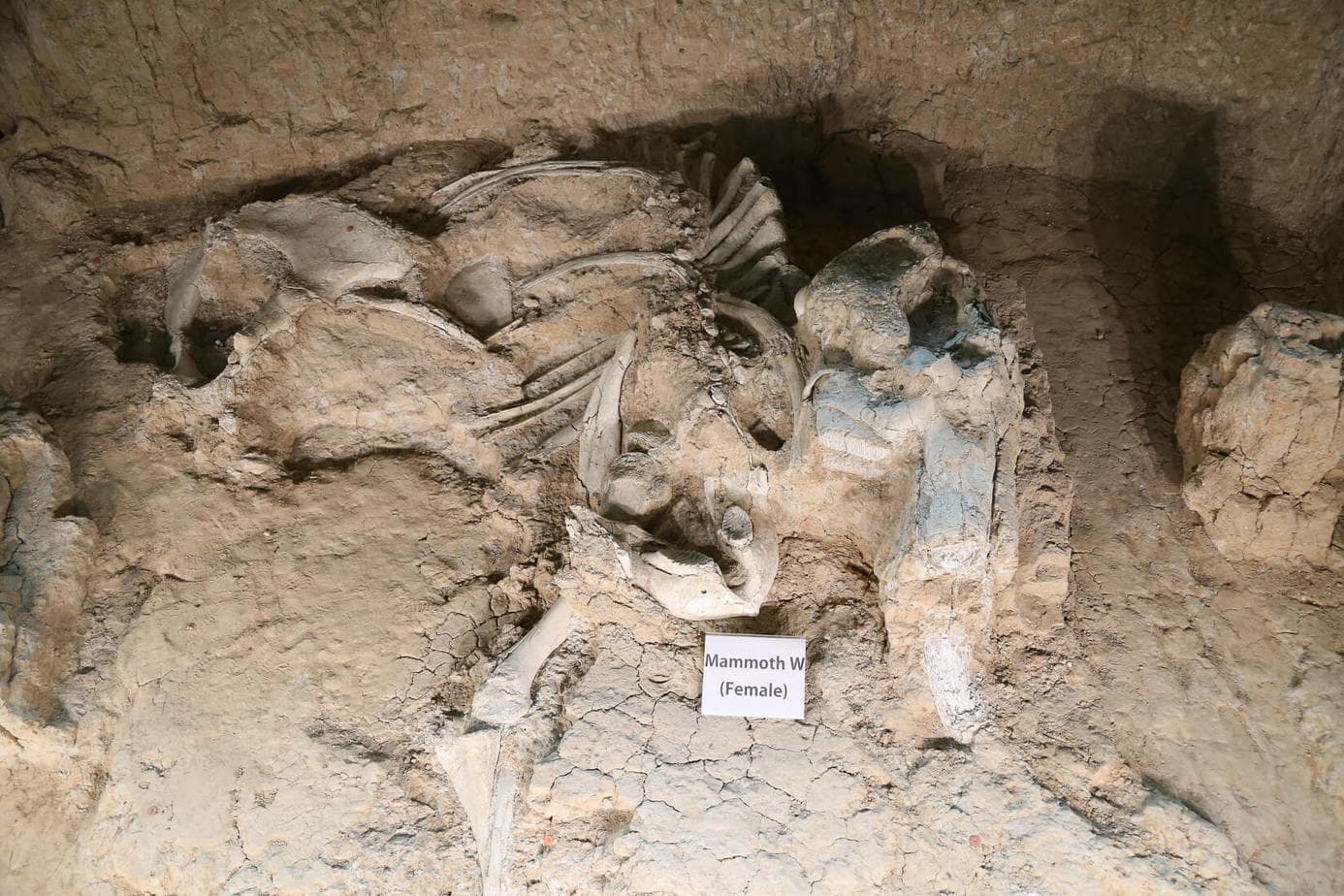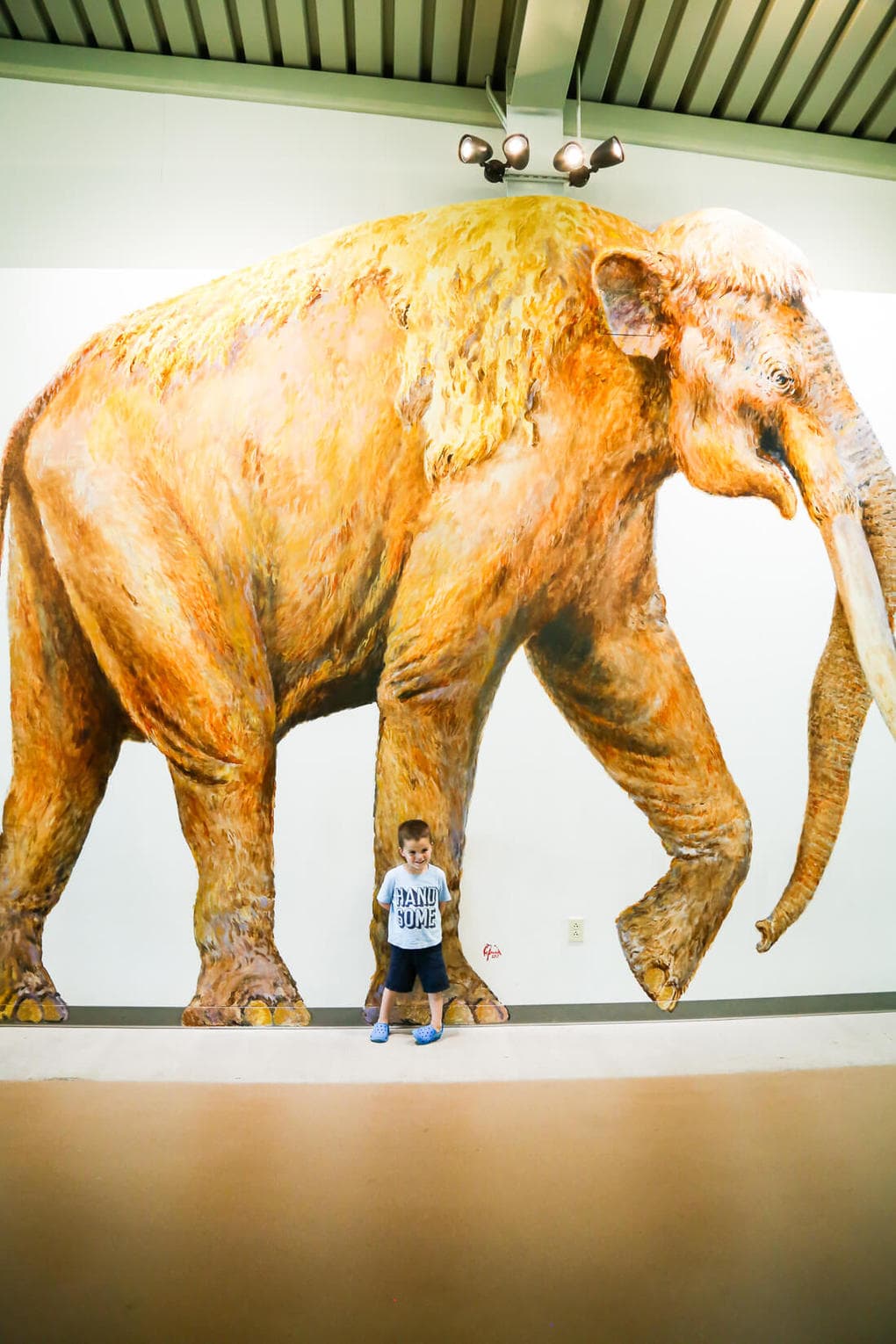 We learned a lot of fascinating things on the tour, like the fact that the building the fossils are housed in has walls that go down 75 feet into the ground to protect them from possible floodwaters. 75 feet!
Once we wrapped things up here, it was time to head to Granbury. We knew the house we chose was supposed to be centrally located and looked cute from the photos, but we completely underestimated how much we would love it. It was so charming, and literally the only time we had to drive anywhere was to go to the dinosaur park that's in a neighboring down. It was about a 2-minute walk to the town square, 5 minutes to walk to the man-made "beach" in town, and everything we wanted was right at our fingertips!
Plus, seriously, how cute is this house?!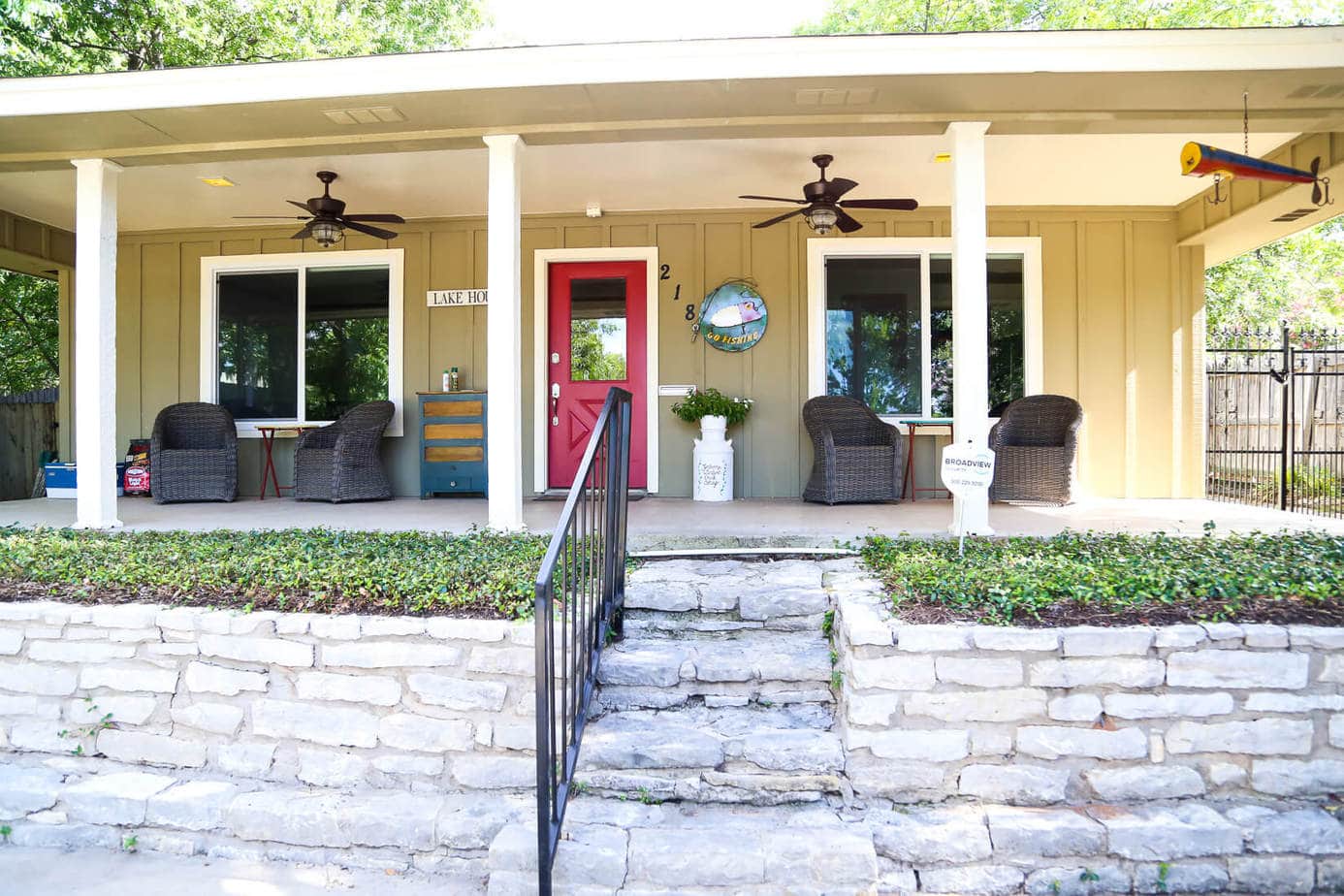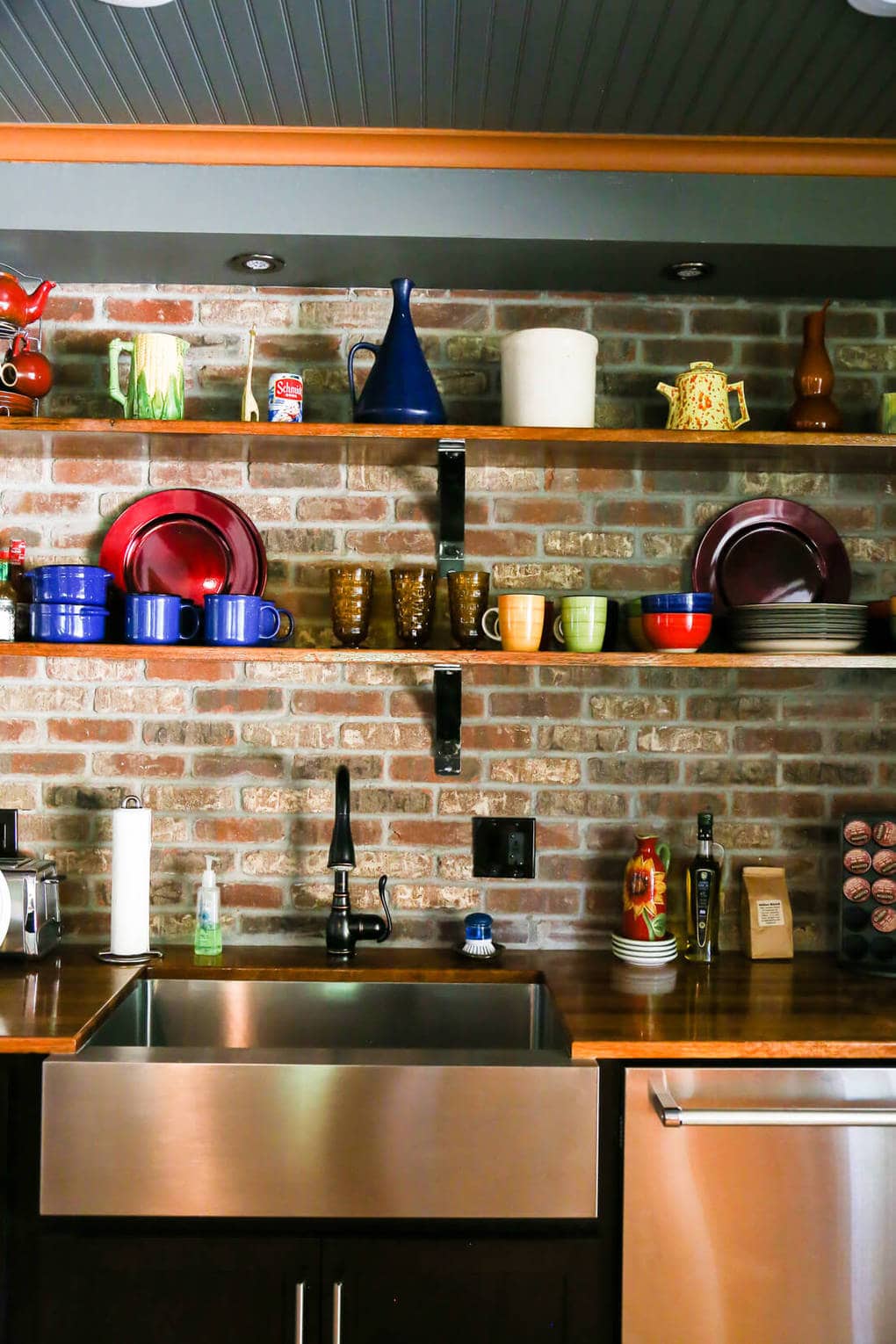 I couldn't get over the kitchen and how beautiful it was (that sink! those shelves! the brick wall!), and the whole house was just so sweet and charming. Both bedrooms had little sitting rooms off of them, which made it feel really luxurious, and Jackson's room had a sofa bed in it, which means this house will continue to work for us when we have another kid down the line (because we fully intend to make this a yearly thing!)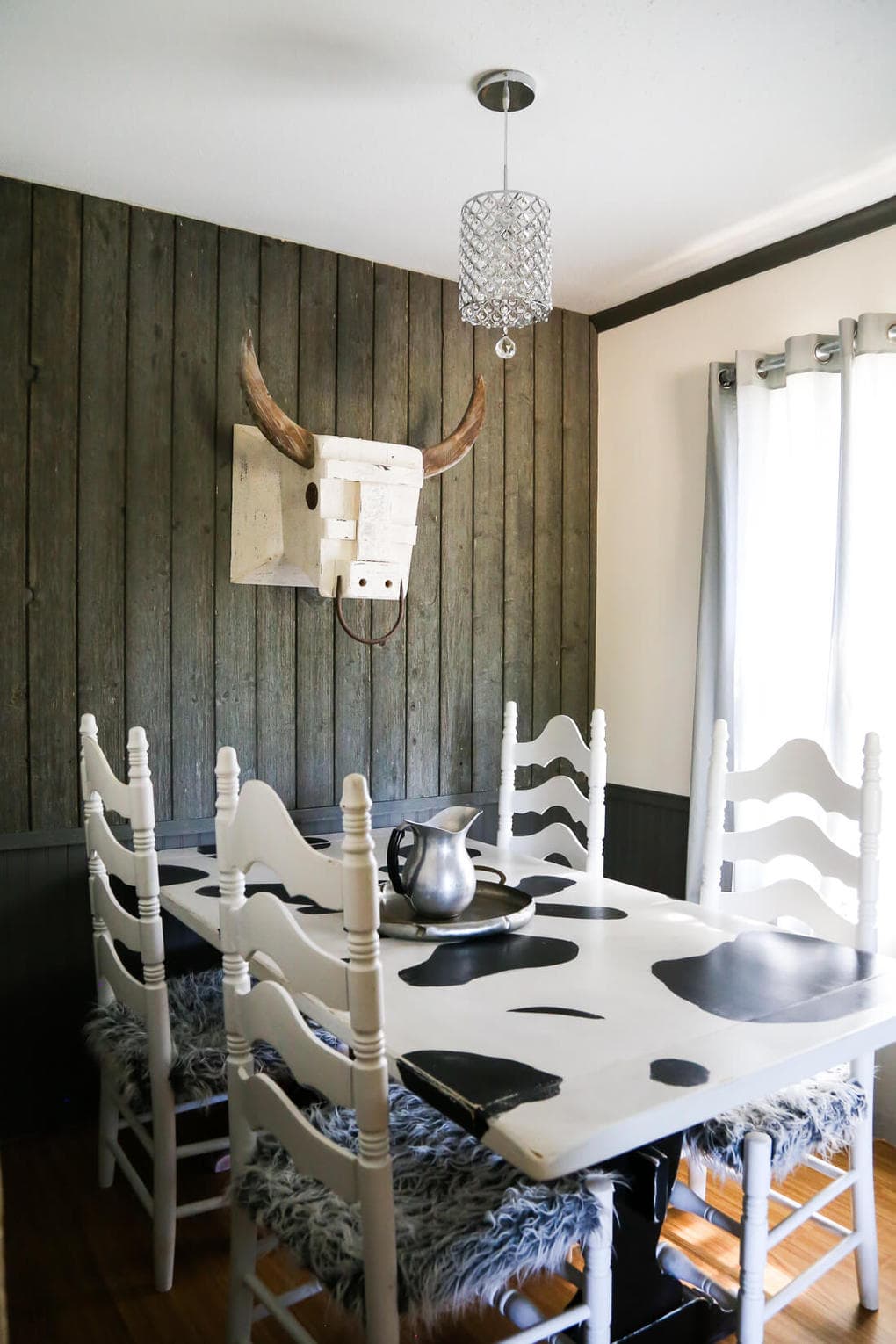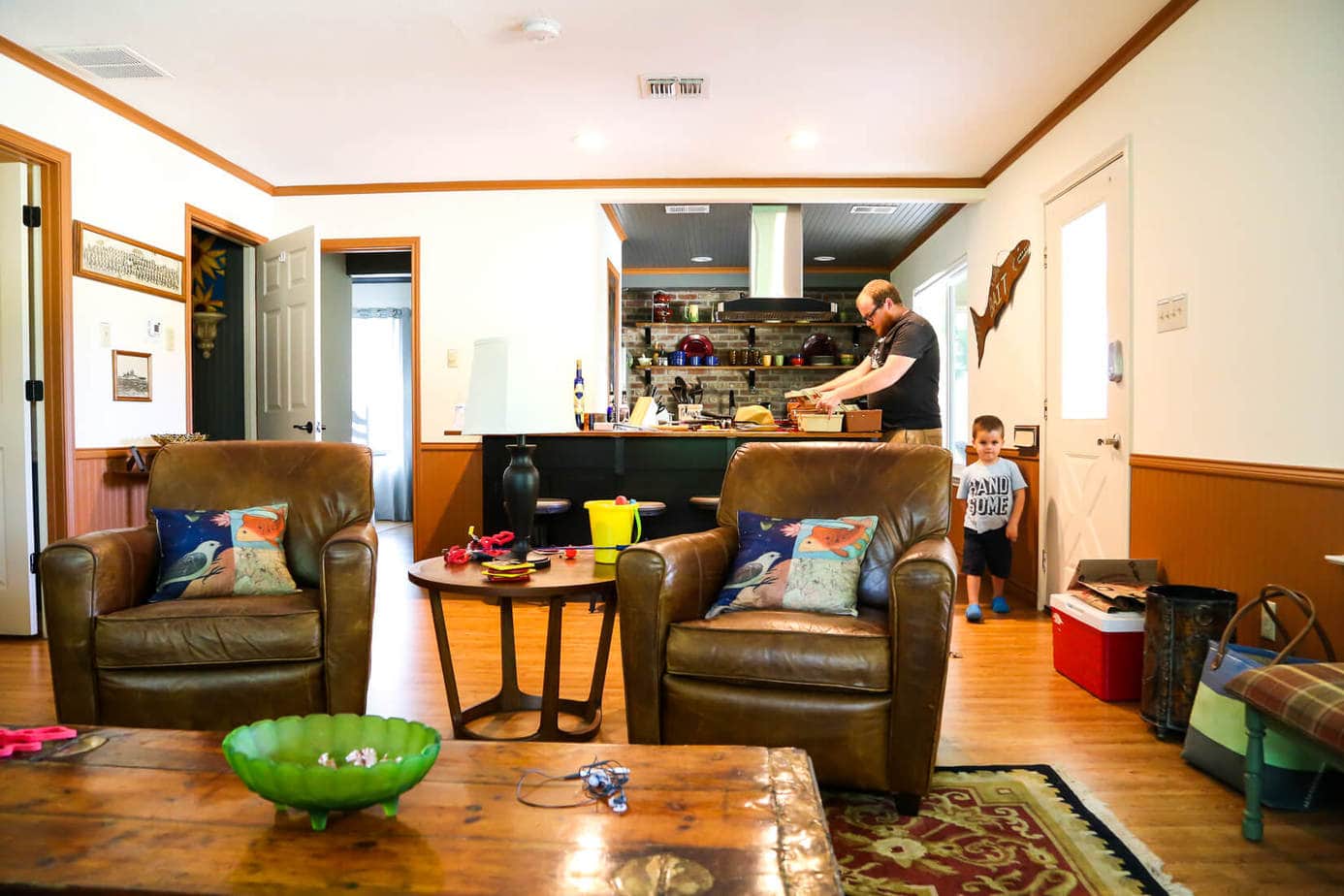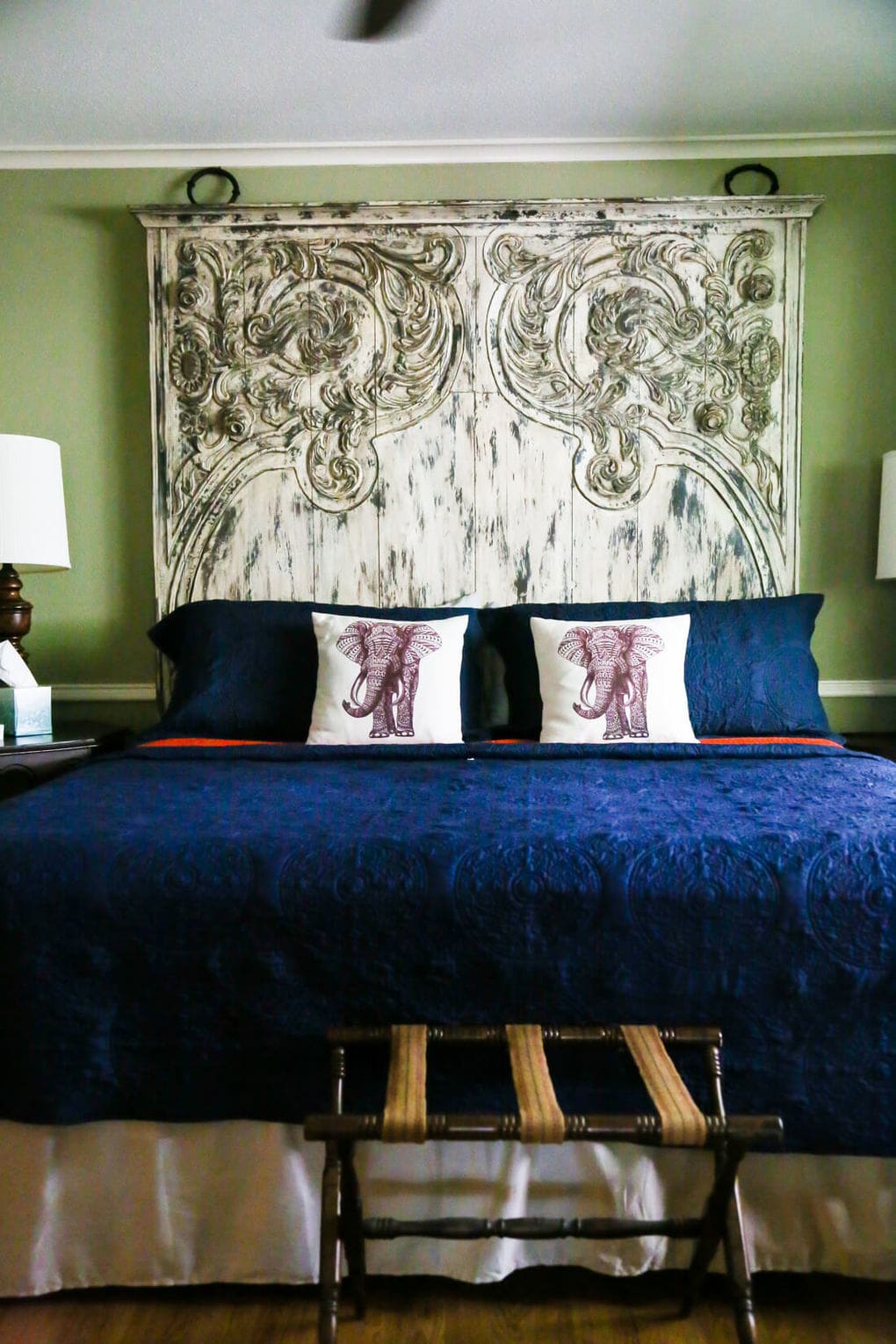 Probably the best feature of this house for us was the fact that the lake is literally just a few steps away from the front porch – and there aren't any neighbors around (the house is smack in the middle of downtown Granbury, so there's a really quiet historical house/museum on one side, and a really secluded home on the other side that you can't see it at all from the property). So, we basically had a little sliver of the lake entirely to ourselves (we never saw another person at the water the whole four days), and the fishing was perfect for Jackson. None of the fish right by the house were large enough to keep, but they were eager, which meant Jackson caught his first-ever fish the day we arrived within about 10 seconds of putting his hook in the water…without any bait.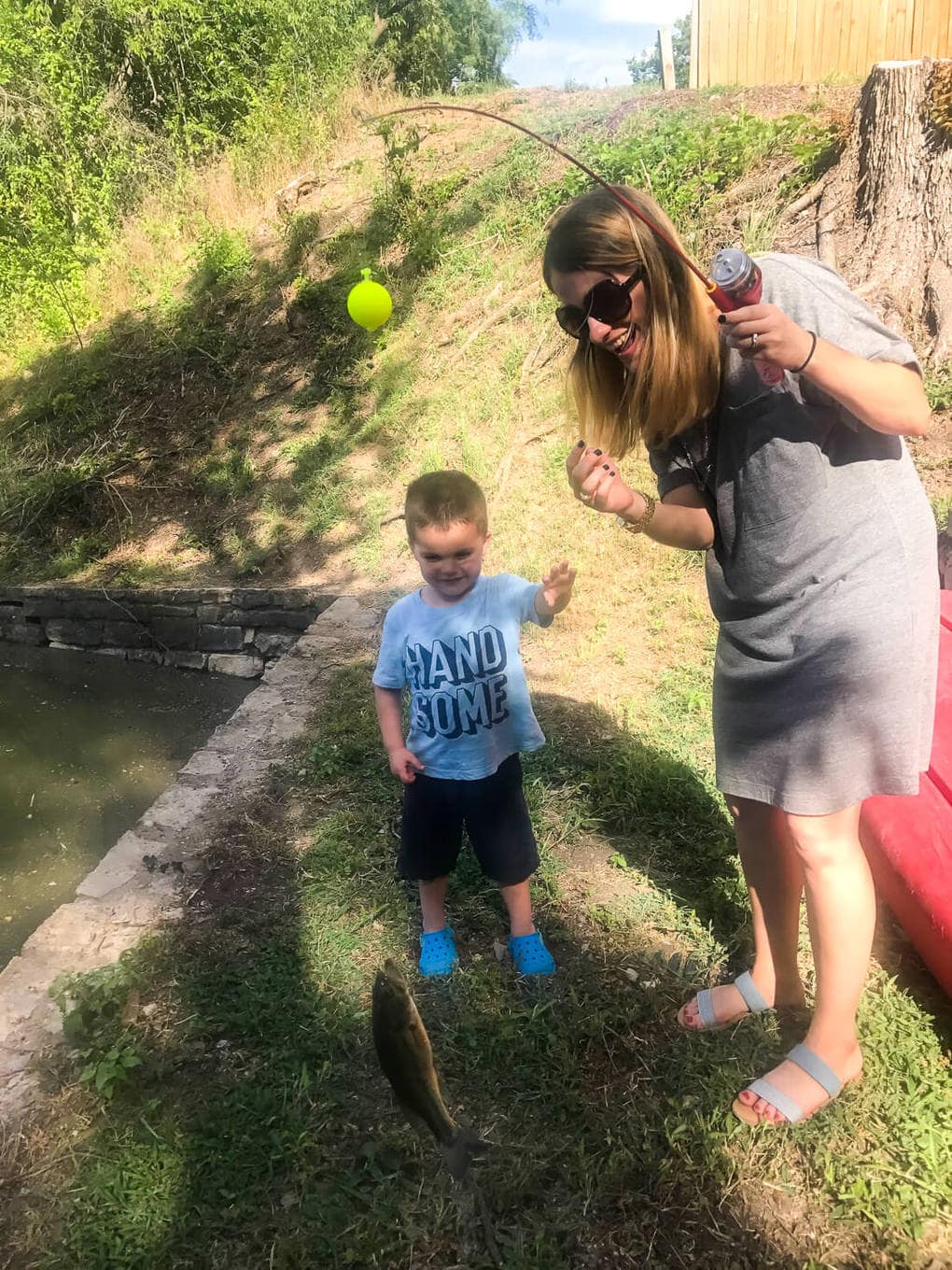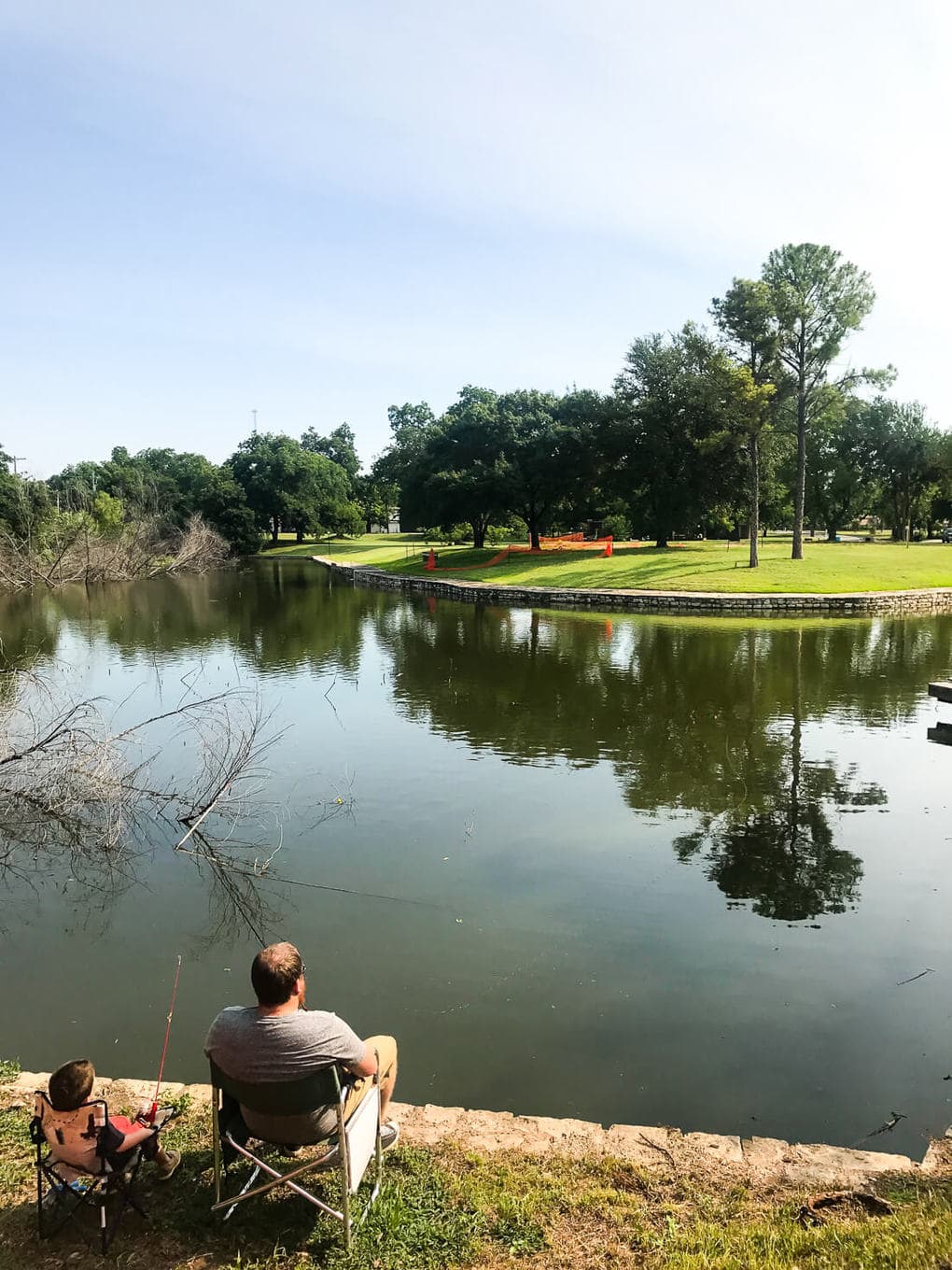 While we were in town, we spent a lot of time wandering the square (photos of that in a minute, because holy cow it's adorable), stuffing our faces with some of the most amazing food ever, and hanging out by the water. The town has a really adorable little man-made beach that sits on a really quiet part of the lake, and it was perfect. The water was shallow, the crowds weren't too big, and Jackson had a complete blast splashing around, playing with the sand, and swimming. And we loved that it was just a short walk from the house, so we didn't have to get the car all dirty.
But really, the highlight of this town are these charming shops, the ridiculous food, and this town square that looks like it was plucked right out of a movie.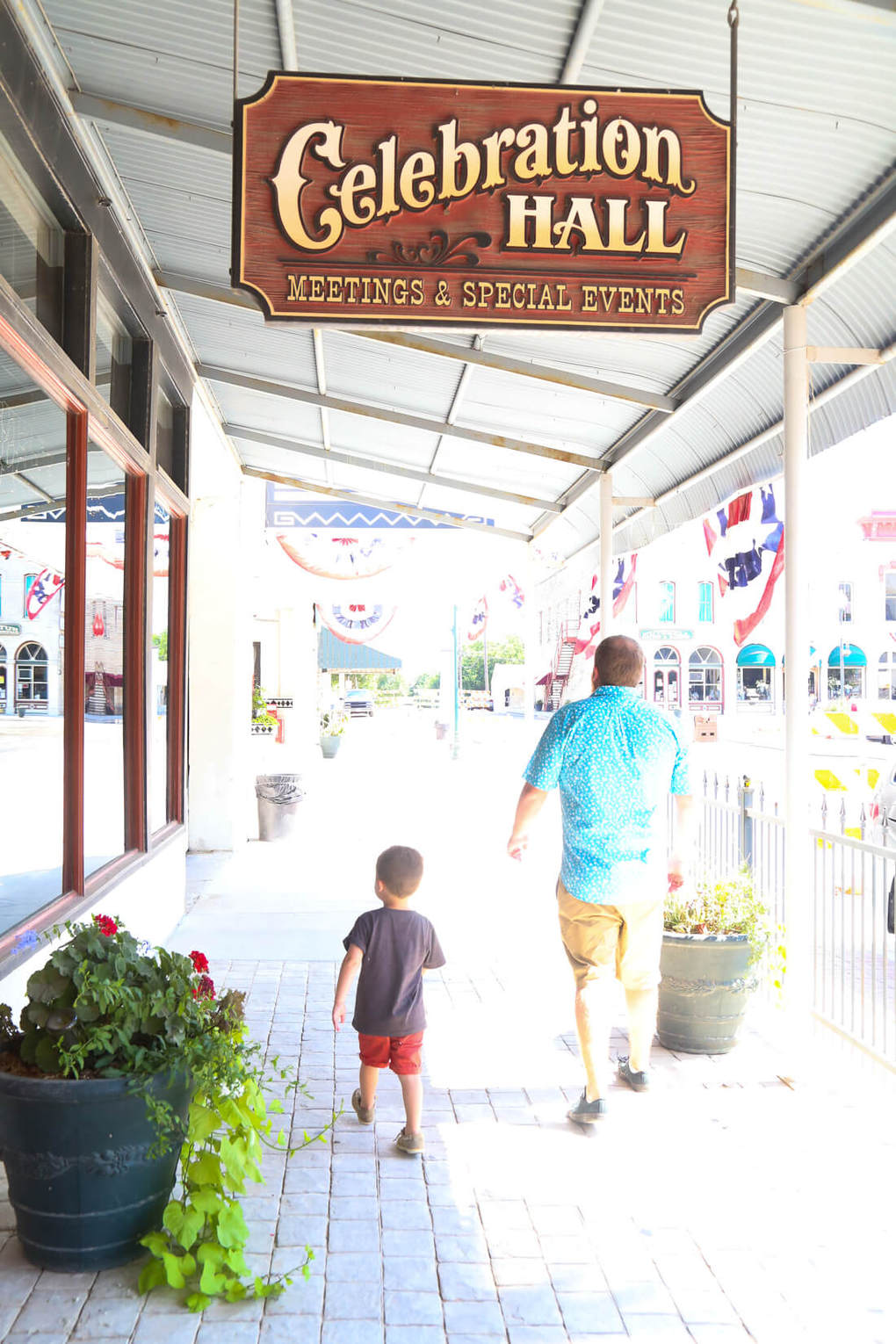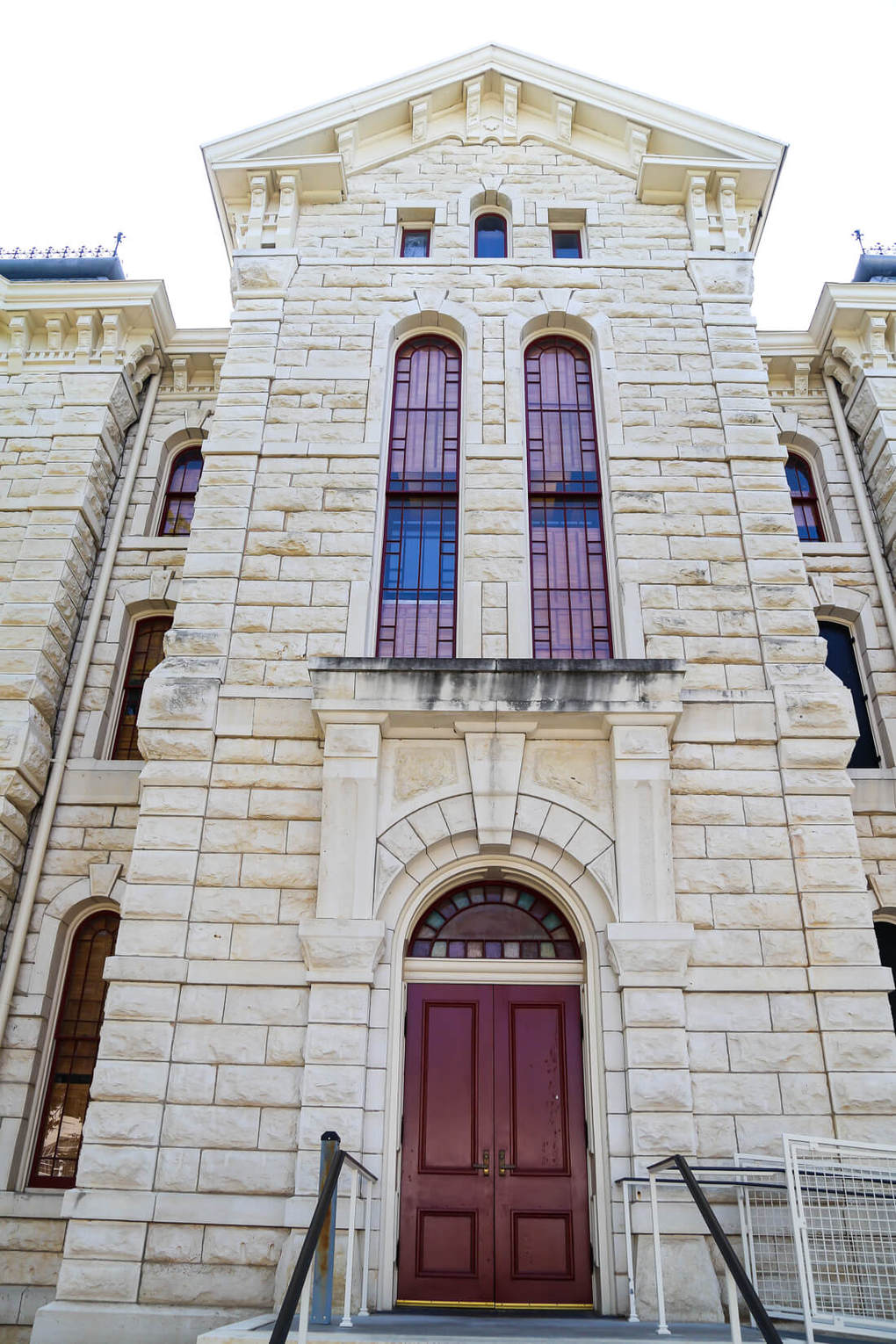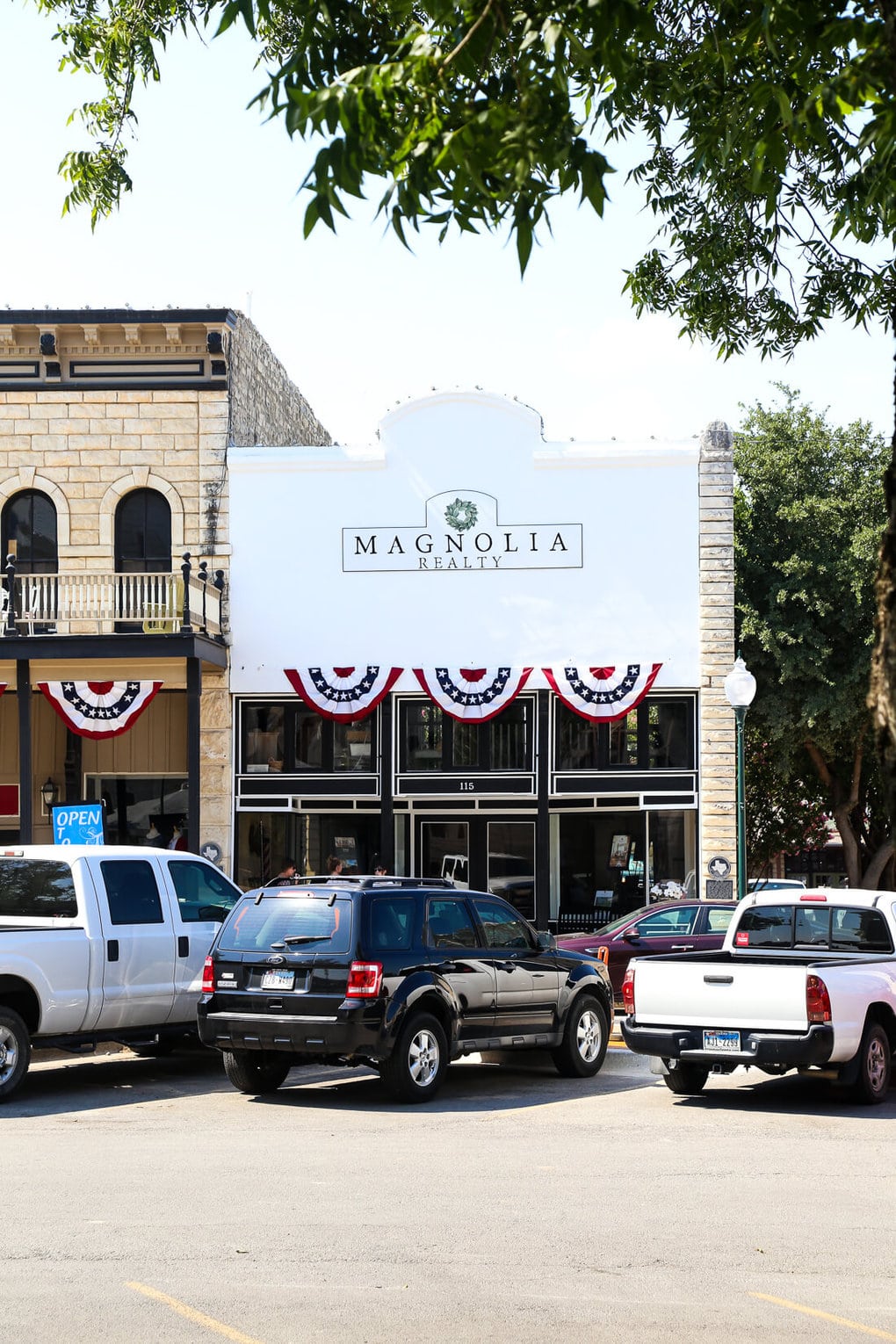 See anything familiar in the photo above? Turns out, Magnolia Realty (yes, that Magnolia Realty) just opened a Granbury branch! Corey and I laughed when we saw the store as we were walking the square – looks like Chip & JoJo are going to take over all of small town Texas! I did some research when we got home and it looks like it just opened last month. Corey and I are already talking about someday buying a rental house-slash-vacation home in Granbury someday (far, far away) so maybe we'll end up using them eventually?!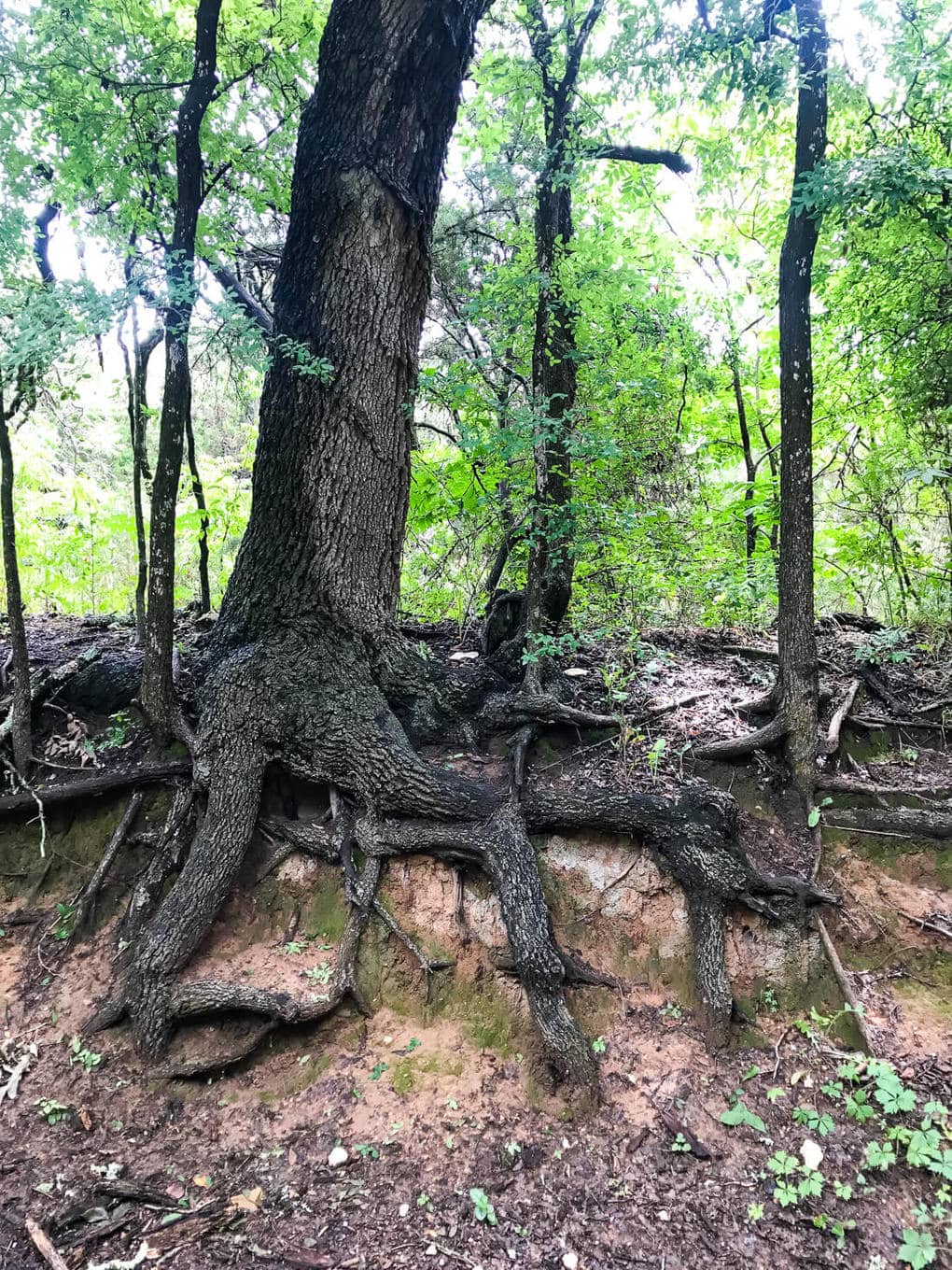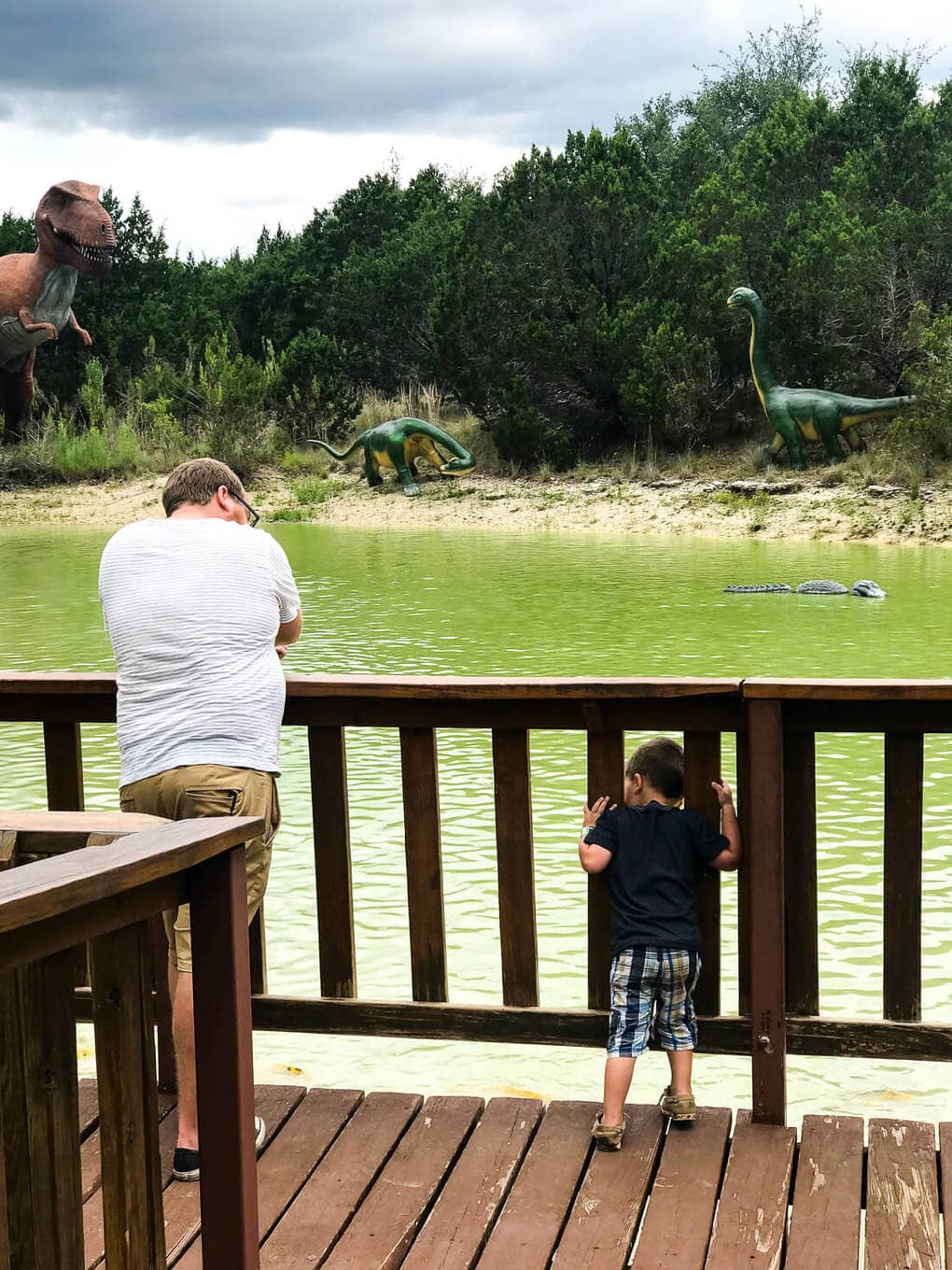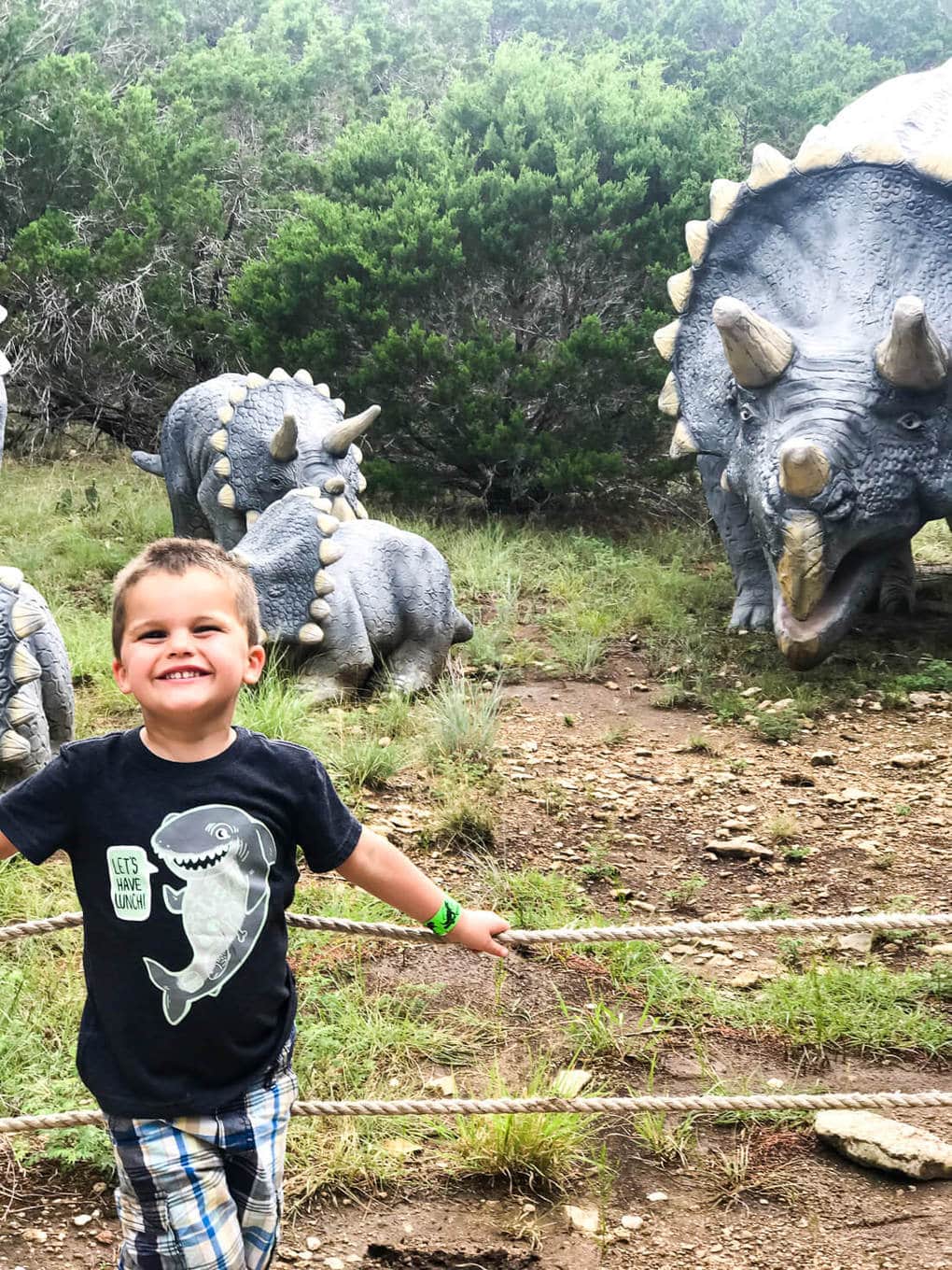 On our last day in town, we headed to the nearby Glen Rose to check out the Dinosaur Valley State Park and Dinosaur World. We weren't quite sure what to expect, but I have to say that the park was so much better than I ever imagined. There are fossilized dinosaur tracks in the river bed at this state park, and you can hike down to see them. We didn't realize they were actually underwater, so we weren't fully prepared, but we've decided that next time we're going to bring swimsuits and make a day of it! Dinosaur World was perfectly cheesy, completely adorable, and right up Jackson's alley. Corey and I were pretty impressed with it – the walk around the park really is beautiful – and I definitely think we'll be back.
Basically, this little vacation was exactly what our family needed. A step away from work, life, and obligations, and a few days to just hang out and enjoy ourselves. Sometimes I get so caught up in the day-to-day that I forget that this time with Jackson as a preschooler is so fleeting and one day soon it won't be cool to hang out with mom and dad at the dinosaur park all day. I want to have as many of these sweet little experiences as we can while he's still so young, and I think we're all already counting down the days until we can go back.
If you're in Texas, I highly recommend checking out Granbury for your next family getaway! I'd be happy to share info on the house we stayed in for anyone who is interested, and I can give tons of recommendations for food.
Like, for example, if you're anywhere within driving distance of Granbury you have to take a trip up just to eat at Babe's Chicken Dinner House. They literally don't even have menus because they only serve about 4 things, but goodness do they do it well. I will have dreams about that chicken until I get to eat it again. I'm drooling as I type this just thinking about it.
Mmmm. Sorry, what were we talking about?
Anyways, Granbury. It's awesome. Our vacation was fun – thanks for indulging me in sharing a few photos! I'd love to hear about your favorite weekend getaway destinations – do you have a place you dream of someday owning a home?!