Moving into a new house has brought all sorts of fun new styling challenges for us. How do we squeeze in enough seating in a small house? How do we combat the fact that we get very little natural light throughout the day? Where do we store our Christmas decorations? How in the world do you decorate a mantel with a television hanging above it?
We're still learning how to answer most of these questions, but you know I love a good challenge and I'm all about sharing what I'm learning as I go. And, since today happens to be the day that my Back to Basics blogging buddies and I are supposed to be posting about decorating mantels, I figured it was the perfect time to try to answer that last question.
Because, if I'm being honest, it's taken me some time to properly mourn the loss of my mantel as a place to go crazy decorating. I love a good mantel decorating session, and it's been a popular blog topic over the years. But, alas, above the fireplace was really the only logical place to hang the television in this house, so I had to make like Elsa and let it go.
Sorry. Can't help it with the Frozen jokes. I have a preschooler. Forgive me.
If you don't remember what the Back to Basics series is, let me remind you – every month a few of my blogging buddies and I all come together to share some tips and tricks from a basic aspect of home decor or homemaking. We've talked about things like holiday treats and getting organized for the school year and floral arranging and more. And today? We're chatting about mantels.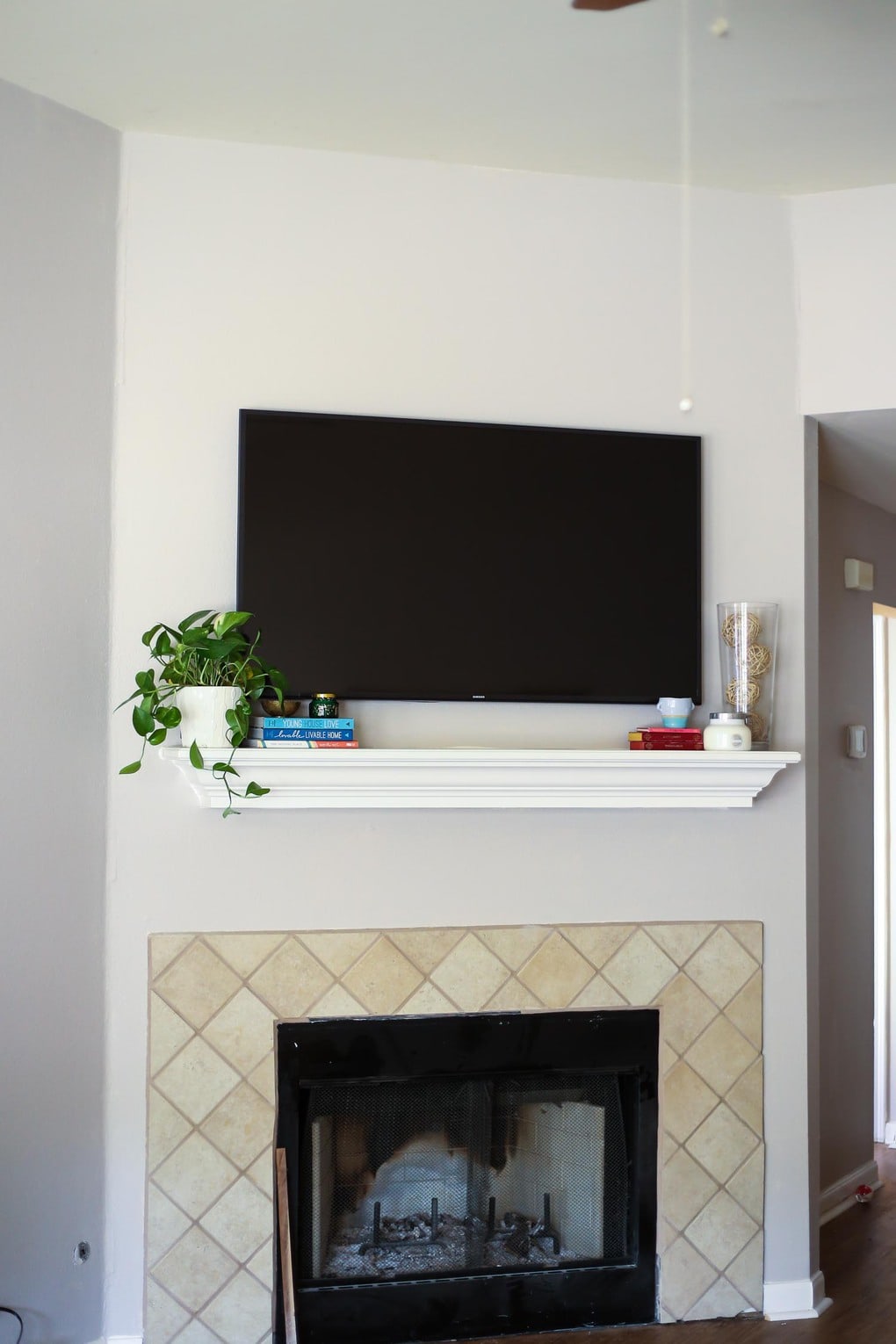 Like I said at the beginning of this post, I'm still learning how to decorate a mantel around a television. It's a much more challenging task than you might originally think, and it's hard to strike the right balance of full-but-not-too-full and pretty-without-being-distracting. Especially when the entire fireplace is very blah, and it's not much to look at to start with.
The struggle is real, y'all.
But, over the last couple of months that we've lived here, I've done a lot of playing around with decorating  our mantel – I've moved things around, I've swapped things out, and I've lived with a bunch of different configurations and I've finally landed on a few simple guidelines that are going to be a good start for me as I keep pushing myself and learning more. So, here's what I've got so far – I'm going to share a few of the basic "rules" I've picked up on, along with some photos of a few different mantel designs sprinkled in.
How to Decorate a Mantel with a Television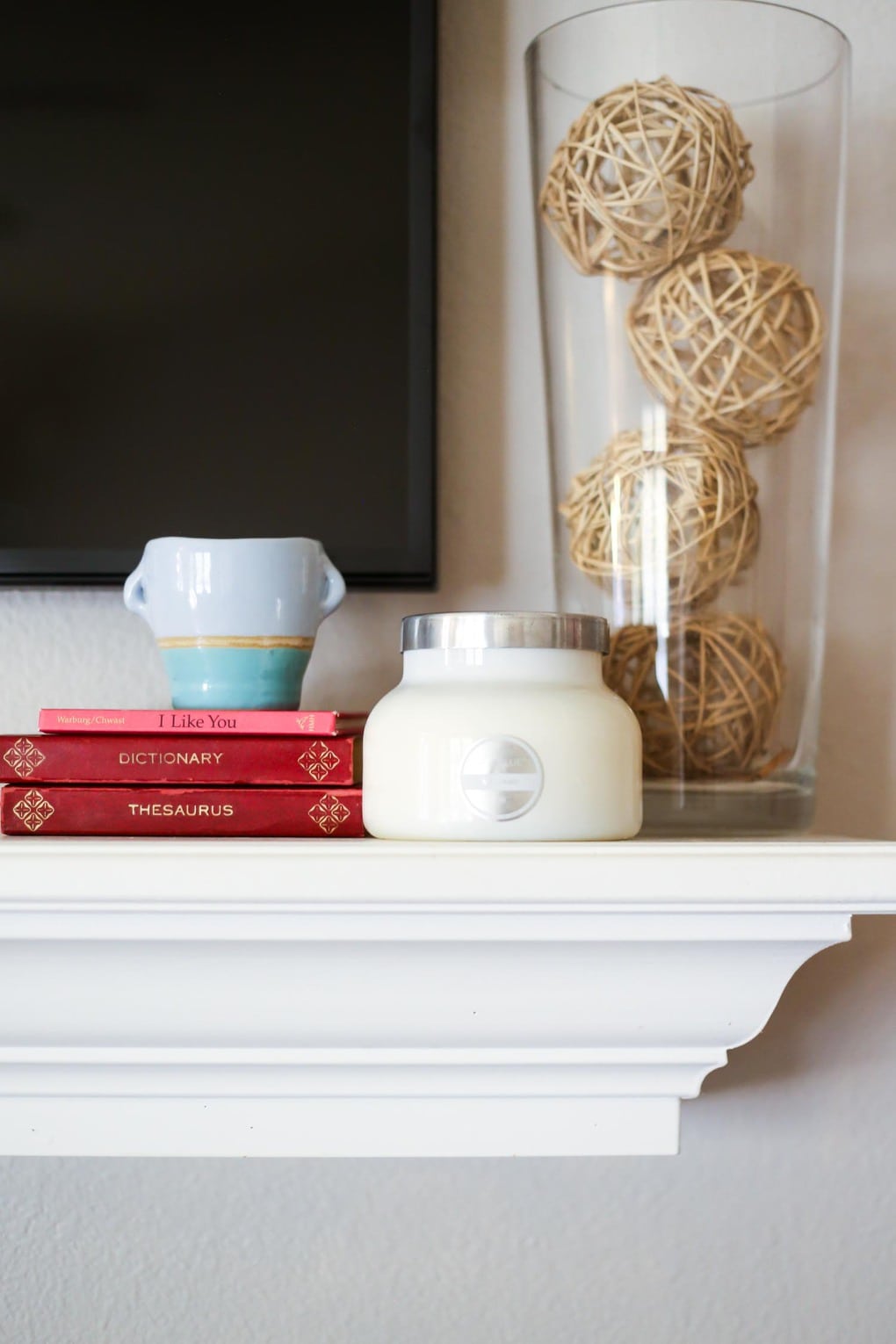 Focus on the ends of the mantel. This is an obvious one, but it's key to making your mantel look good – since the television takes up the bulk of the space above the mantel, you'll want any knick-knacks you place to be arranged towards either end of the mantel. The last thing you want to do is cover up any part of the television (I don't want to miss a single square inch of Jon Snow, if you know what I mean) and if you put too much under the television it can get to be distracting. I've found that placing no more than 3 items on either side of the television seems to be my sweet spot.
Play with height. The television is obviously going to be the tallest part of your little vignette (and make no mistake – the television is a part of the vignette, even if you don't want it to be), which means that if you aren't careful to place some taller items near it, everything you put on the mantel will just look tiny and weird. Of course, you also don't want to place anything too tall next to the television, because then it might feel like your decorations are competing for attention and you'll have a hard time focusing on what the housewives are up to because you'll be so distracted by that tall vase that might need to be scooted over an inch or two. I like to place one tall-ish item on either side of the television, then pair them with a medium and a small item. It might seem a bit formulaic (and it is!), but I don't feel comfortable enough getting crazy with design rules so I'm sticking to what I know works for now.
Alternatively, keep it all low and simple. Another option would be to keep all of your mantel decor nice and low and go all the way across the mantel. If you're doing this, I'd recommend doing a grouping of similar items – like our pumpkin-filled mantel from last fall. This helps the mantel look a little more full without being so full that you can't see the television anymore.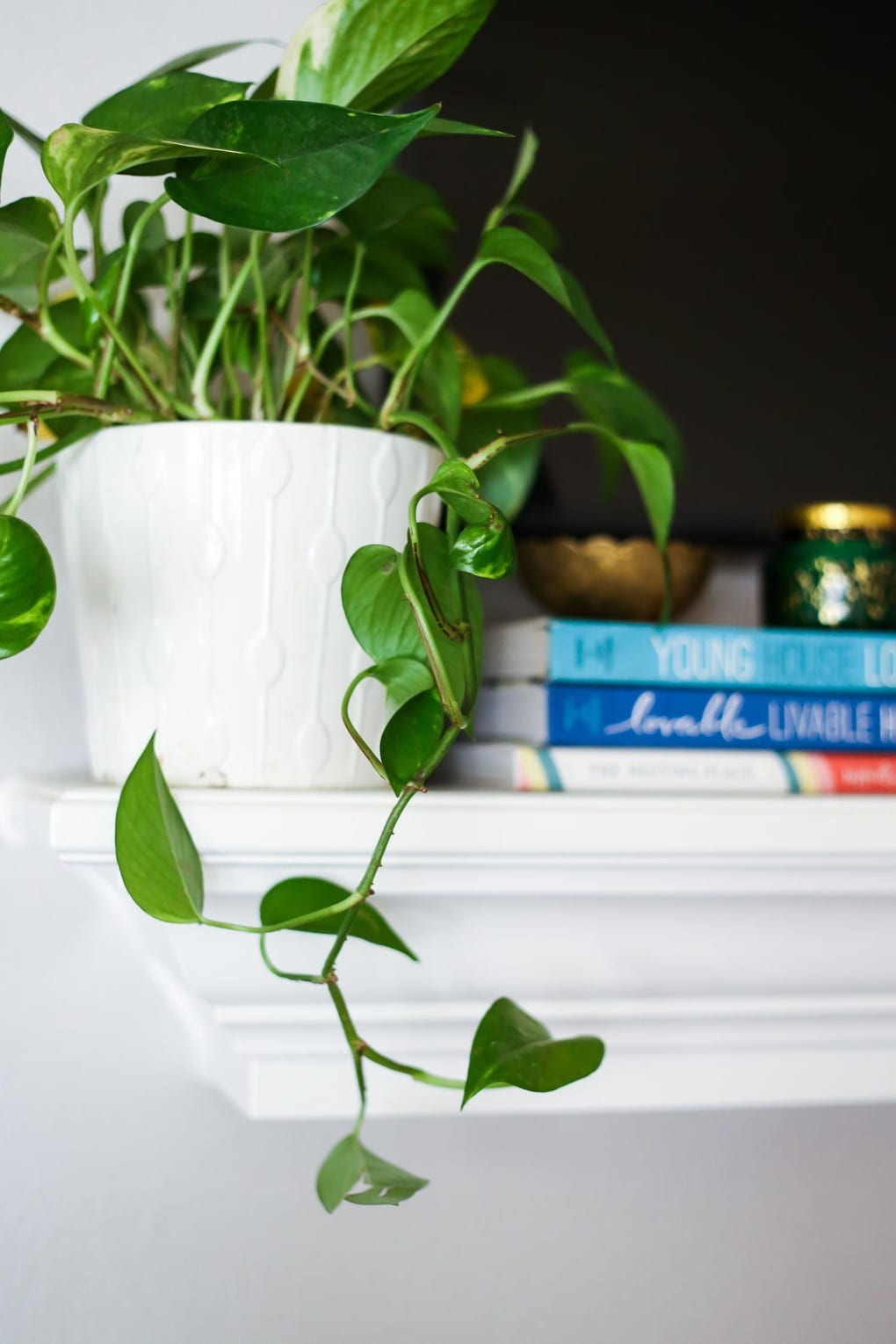 Plants are your friends. I think the mantel is a great space for a plant or two – especially one that will cascade down below the mantel! I love keeping this pretty plant up on our mantel because it adds a lot of visual interest and texture without taking up any prime television real estate. Since you can't always decorate vertically when the television is in the way, you can take advantage of the space below the mantel for something a little unexpected.
Stick to container candles. I had some pretty candlesticks up by the mantel during the holiday season, but the open flame next to the television made me way too nervous, so we never actually lit them. Instead, I typically will put one or two container candles up on the mantel because they sit a little lower (which keeps the flame further from the tv), and the flame feels a bit more controlled. I'd still be careful lighting any candles next to your television, but a small container candle can be a great way to make things feel a little bit cozier when you're curling up for a movie (and since you'll be staring at the tv anyways, you'll be able to notice right away if the flame gets too close).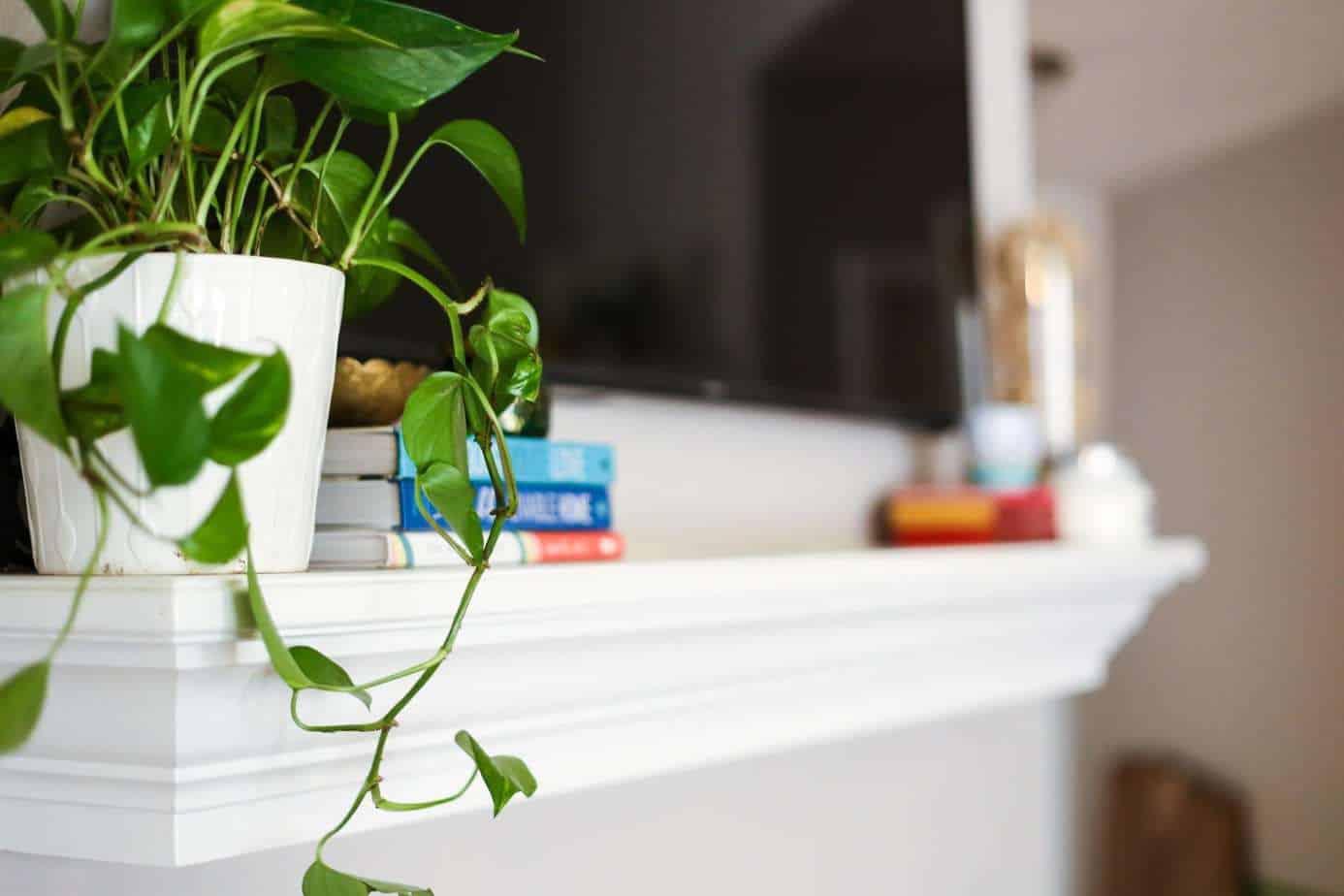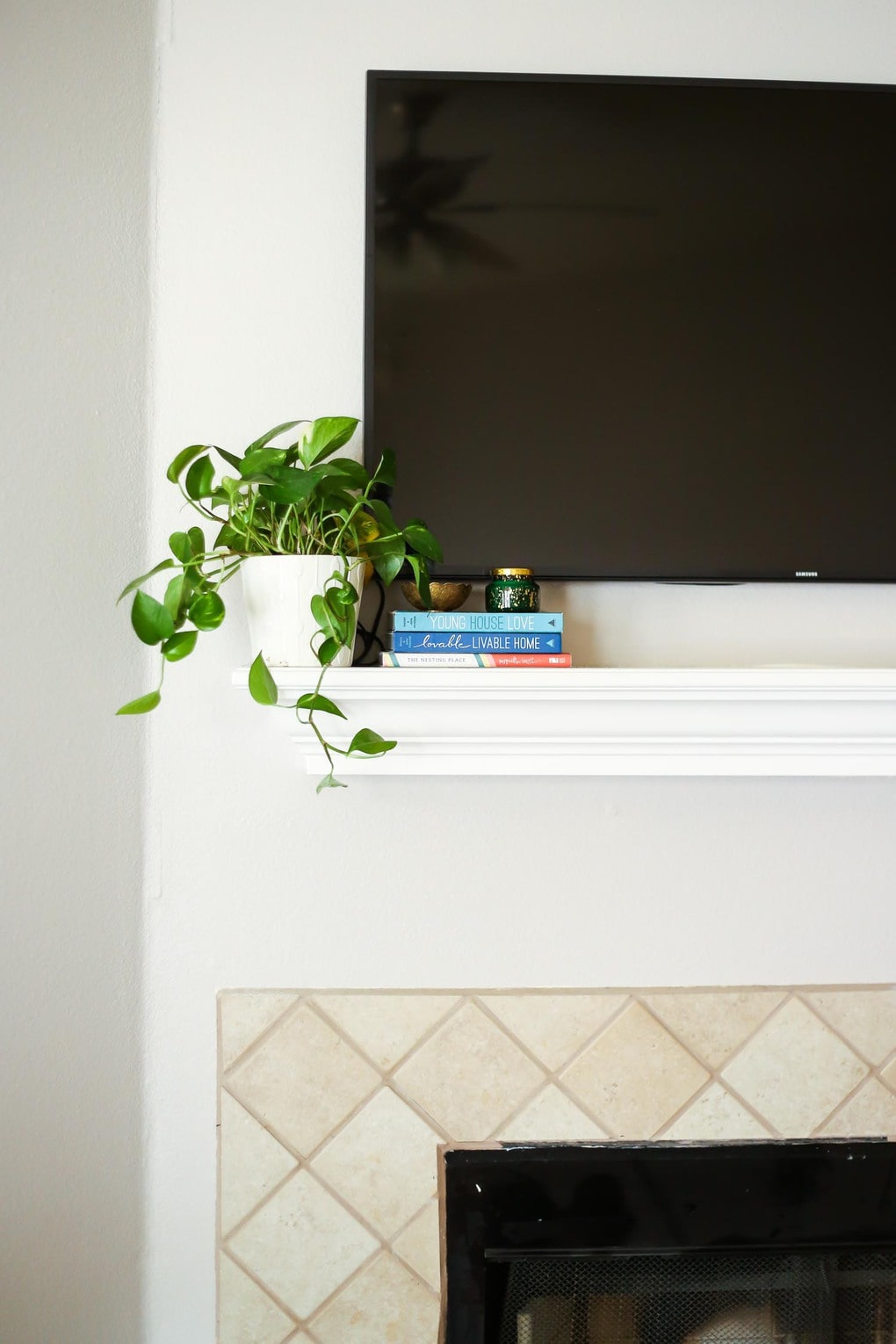 Keep the colors neutral. I love a bright yellow vase or some super colorful flowers as much as the next person, but I don't want to have a ton of bright, distracting colors right next to the television when I'm trying to watch it. For me, it just starts to feel really visually cluttered when I have too much color up on the mantel. Instead, I stick to mostly neutral colors or a limited color palette with just 1-2 muted shades in it.
Remember, it's just a mantel! In the end, let's be real – it's just a mantel. We're not performing brain surgery here, and the world won't come to an end if your mantel looks a little funny (goodness knows I'm not totally happy with mine, and I'll be tweaking it regularly as I learn what I'm doing). As with just about everything else when it comes to decorating your home, remember that this is supposed to be fun and make you happy. It's not supposed to be stressful or difficult – and sometimes the best way to find out what you do like is to live with something you don't for a while. If you're on the fence about something you have on your mantel, try keeping it up there for a few days and see if you can put your finger on what you don't like about it – then you can adjust and try again. And if you hate it all? It only takes a few minutes to pull it all down and give it another go.
Of course, if having a television above your mantel really makes you crazy, there are always lots of options for how to cover it up. You could inset the television and hang some doors in front of it, you could hang art in front of it, or you could get one of those fancy televisions that look like art when they're turned off (I'm dying for one, but holy $$). But, for those of us who don't want to totally alter our homes to hide the tv (what if I build an inset and the next family doesn't want to put the television there?), we've gotta figure out a way to work with what we've got!
What are your favorite ways to decorate your mantel? Be sure to check out all of the posts from the other bloggers, especially if you want some ideas for mantels that don't have a tv hung above them!