Our Mini Hallway Makeover
I want you to picture a space in your home – a spot that you walk through more than almost any other space in your home on a daily basis, but it's probably completely ignored in terms of decor, color, or, um, anything fun.
Are you picturing your hallway? Because I am.
I've been wanting to do something fun to our hallway for a while (I even wrote a post with lots of hallway inspiration!) – hallways are such a blank space that you can really put a fun touch on, but this one presents a unique challenge in that it's full of doors. It makes it almost impossible to really do a cool wall treatment or anything like that, because it would be so broken up by the sea of doors that the tiny little space would just feel overwhelmed.
In the end, we decided to keep it pretty simple – but that doesn't mean it's not fun or full of color.
Because what good is a hallway if you can't have a little fun with it?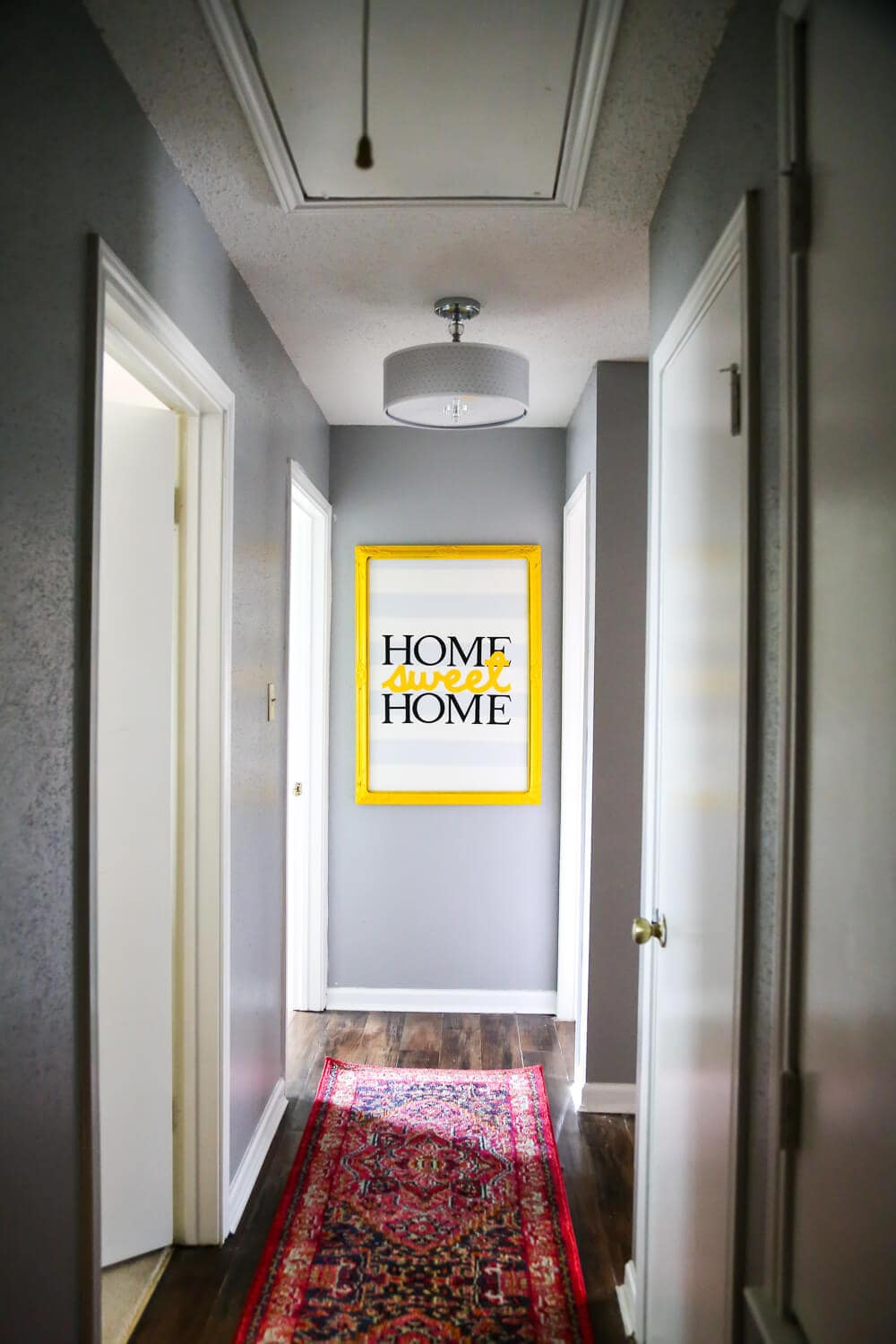 I've been desperately wanting to get a rug up here ever since we replaced the flooring this past summer – we had some serious issues with the subfloor that led to a few imperfections in the install. It's something we could have spent a lot of time and money to fix, but it's well established around here that we aren't pros and we're on a budget – that means sometimes things aren't perfect. And that's okay. The floor looks great, it functions just fine, it's just got a couple of wonky spots.
But you know what fixes wonky spots really well?
A rug.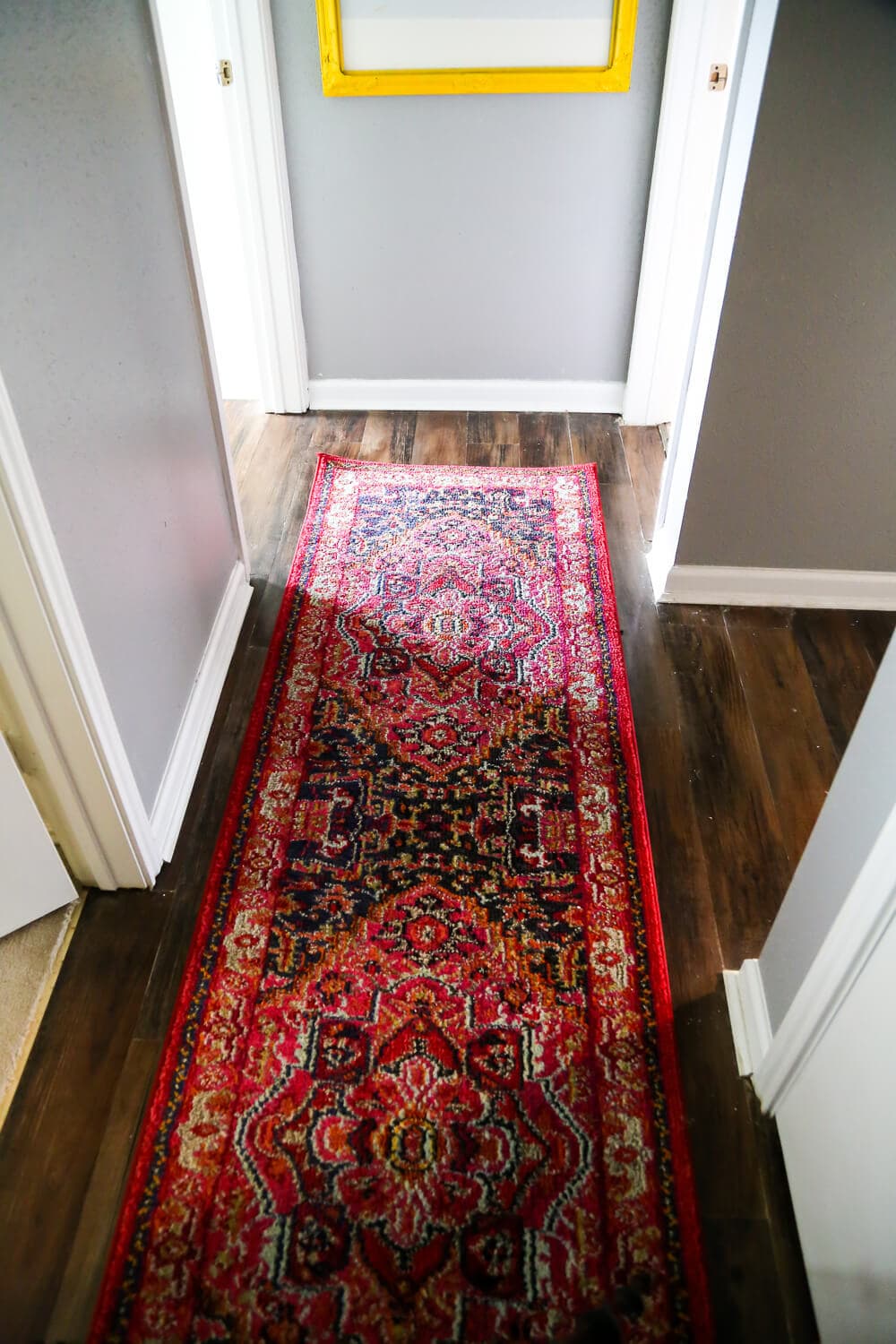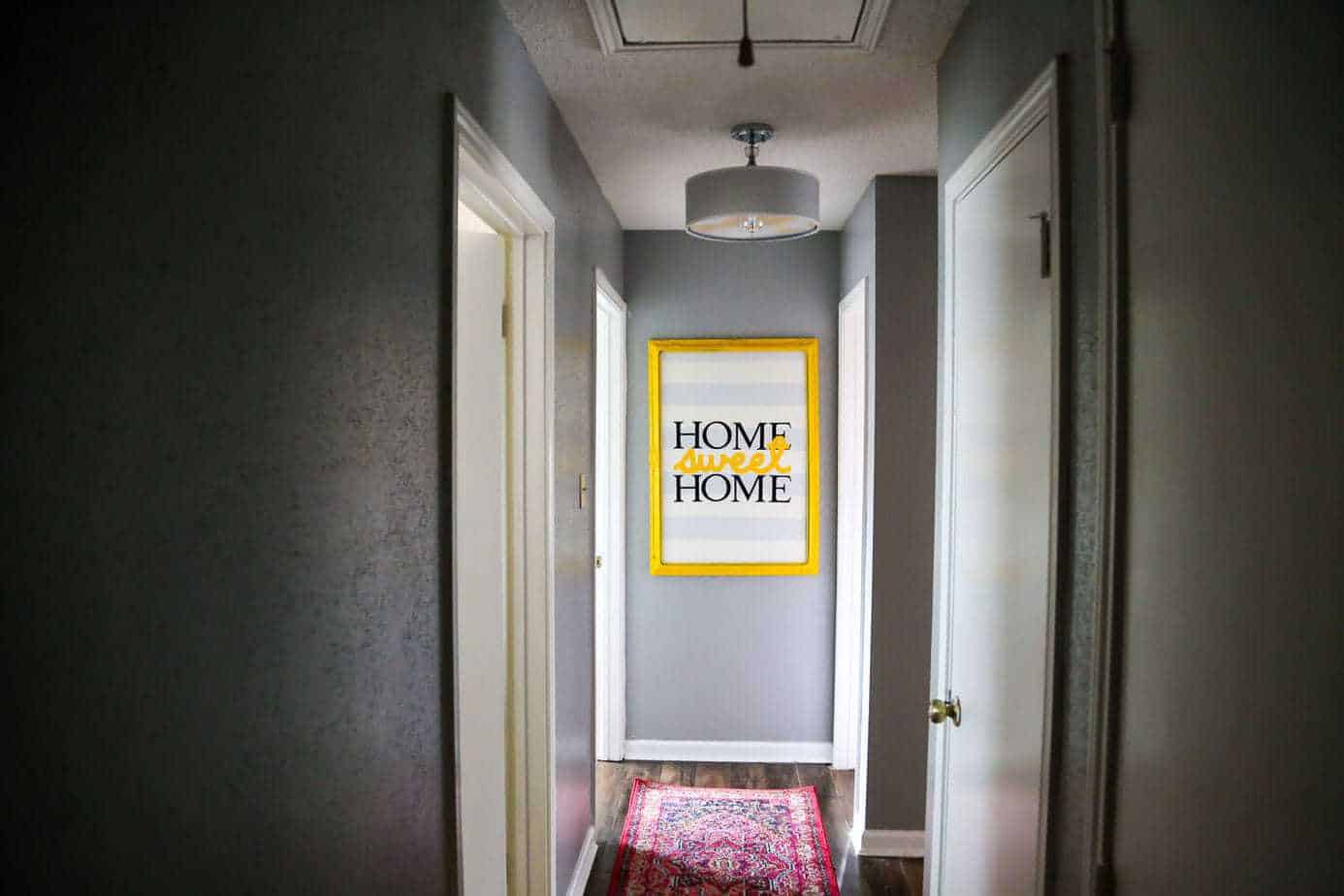 Bam. Done. Problem solved. Again, it's not a perfect solution, but I'm all about the affordable, imperfect solutions around here. I like my home to have a little character, and if that means there's a rug covering up a bumpy floor then so be it. We might fix it someday – we might not.
Let's be real – I'd rather be watching Netflix.
Anyways.
Aside from the rug, it was high time we got some pretty lighting up in here, and that's just what we did. We reached out to Lamps Plus and they generously agreed to send us a few lights for this space, and I love how they turned out. The lights before were completely nondescript and added absolutely nothing to this space, but these lights make a statement (they're these beauties, if you want some for yourself!).
Can you hear them? They're saying, "We're elegant, we're here to have fun, and this hallway is no longer boring thanks to us."
They're chatty.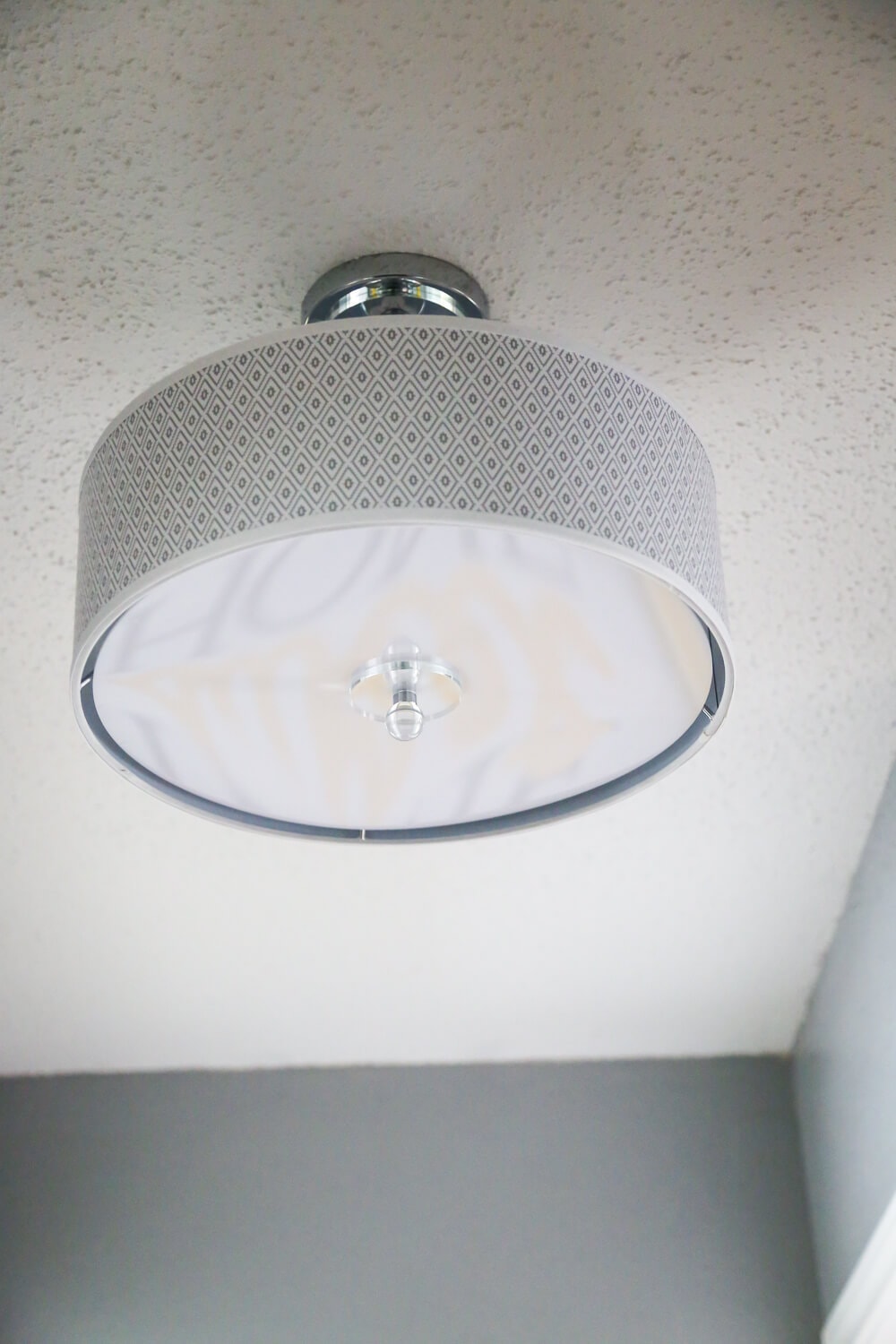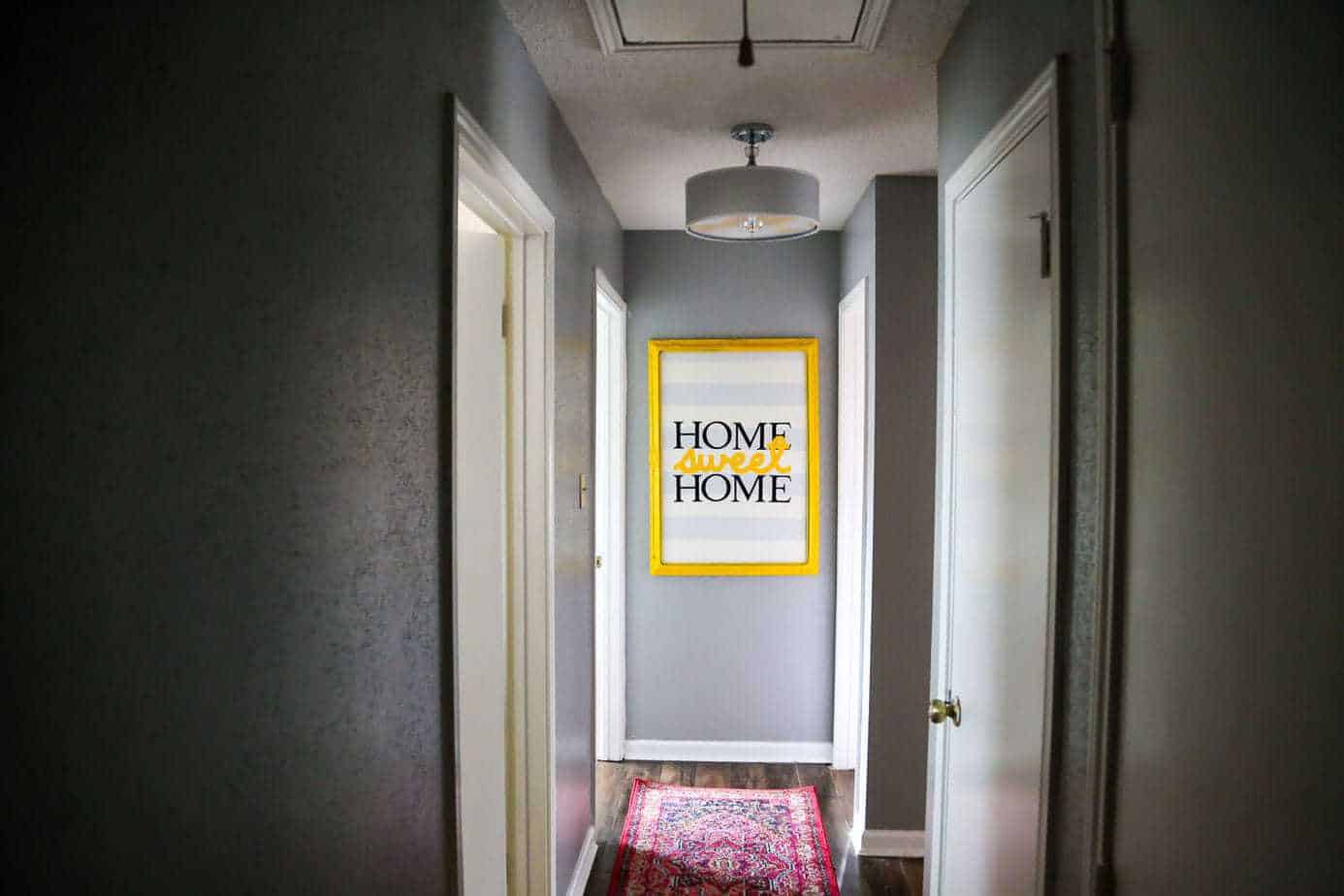 I'm obsessed with the pretty pattern on the shades, and the texture on them – they feel so high quality, and they make the hallway look so much better. I love how the pattern complements the rug and the art in the hallway – it really all seems to flow together nicely, and it makes walking through the hall so much more enjoyable.
It sounds dumb, but don't we all want to enjoy every inch of our homes, even if we're just walking through?
I know I do.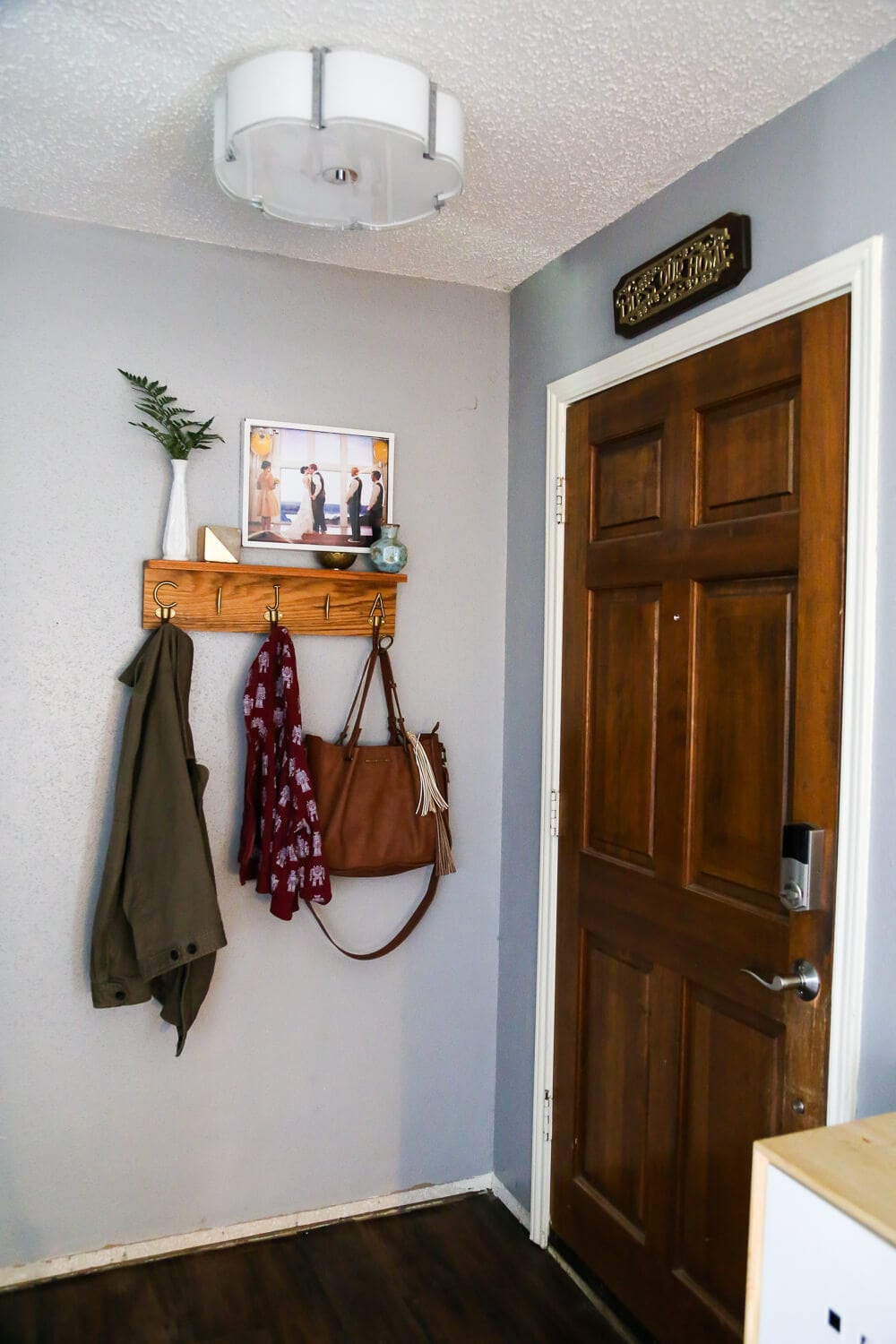 While we were at it, we also upgraded the lighting in our entryway (we got this one) – it flows right into the hallway since our front door opens up to the staircase, so we wanted something that coordinated with the upstairs lights without being an exact match. We've still got a few changes to make in our entryway (I'm playing around with the idea of painting the inside of our door – what do you think?), but this little update goes a long way to making the area feel more finished.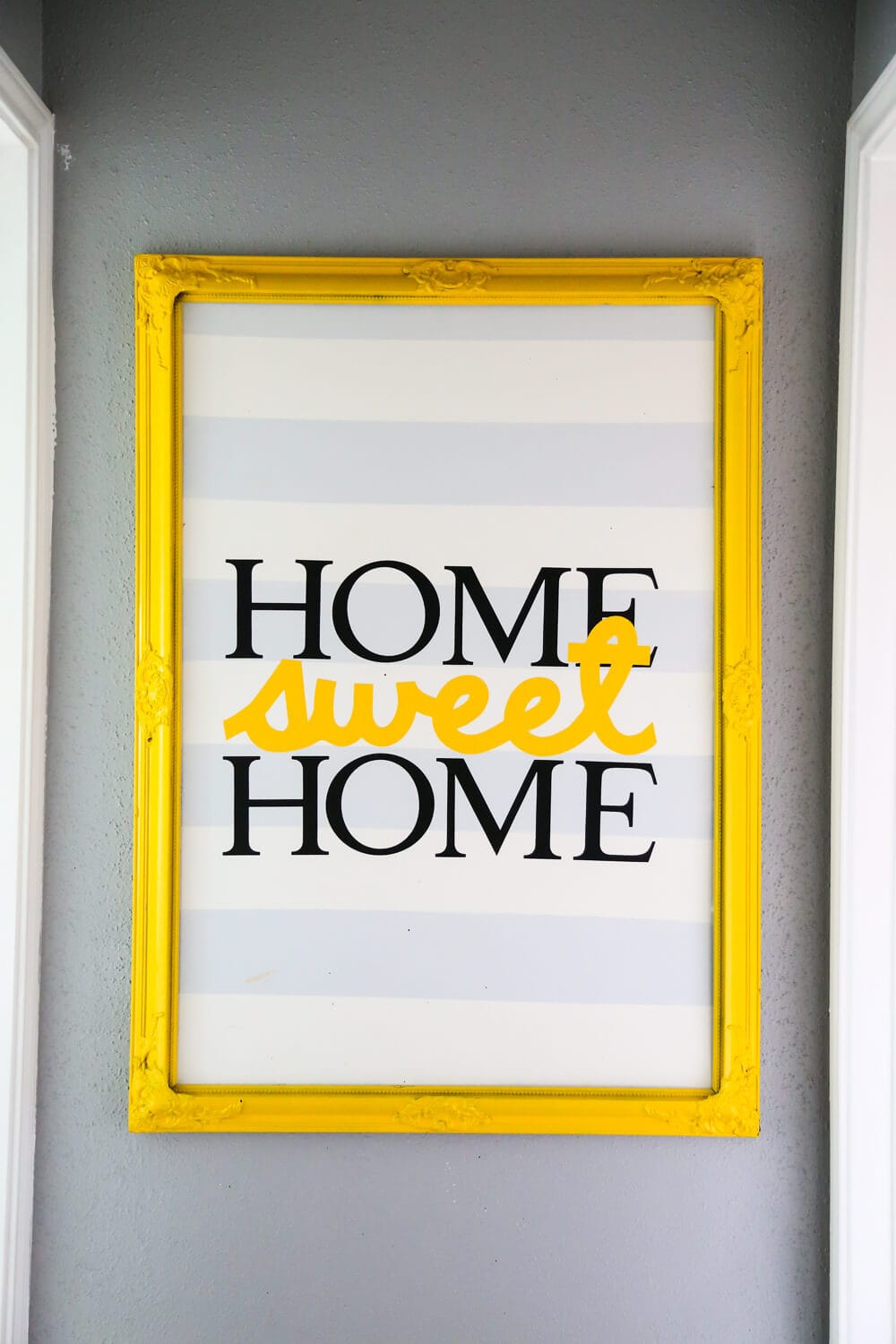 And now? When I picture the most-often-used-but-totally-boring space in my home, it's no longer the hallway.
It's the laundry room.
(I have a feeling this will be a never-ending cycle.)