Painting Laminate Countertops: 1 Year Later
Ever wondered about painting laminate countertops? Is it possible? Should I try it? How will painted kitchen cabinets and countertops hold up over time? I've got all of the answers for you today with our experience painting laminate countertops and cabinets! 
I can't believe it's been a whole year since Corey and I painted the cabinets and laminate countertops in our kitchen. It made a world of difference in how the entire room looks, and I think it's ridiculous that we waited so long to do it!
A few months back I shared an update on how our vinyl flooring is doing after two years and it quickly rocketed to being one of the most viewed posts of all time on the blog. Holy cow! Since you guys clearly love updates on how things are working out in our home, I figured I would start sharing how we're feeling about some of the decisions we made in the past…starting with the kitchen!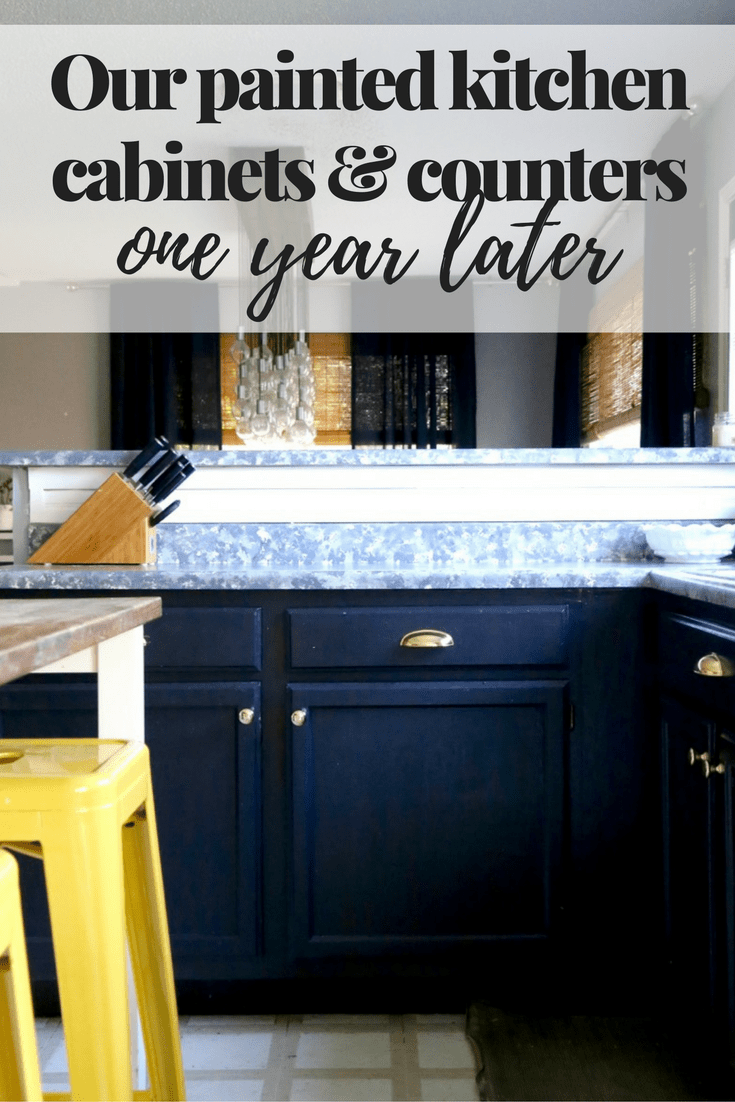 This post contains affiliate links for your convenience. Click here to read my full disclosure policy.
We decided to paint our kitchen cabinets kind of on a whim last September – we dove in and tackled it in just a couple of days, we didn't do a ton of planning or research, and we just sort of…did it. We roll like that sometimes. So, let's chat about how they're holding up one year later in a house with two (clumsy, occasionally messy) adults, one (clumsy, always messy) toddler, and two dogs.
Painted Kitchen Cabinets
As much as I adore white cabinets, we decided to go with black for this makeover because we didn't want to deal with the inevitable stains and mess from white cabinets. I'm so glad we went this route, and I feel like the black fits in our home much better. Our kitchen has an insane amount of natural light, and the black cabinets do a nice job of helping to stabilize the brightness of the room. I think that if we had gone with white cabinets all over, the room wouldn't have felt very grounded.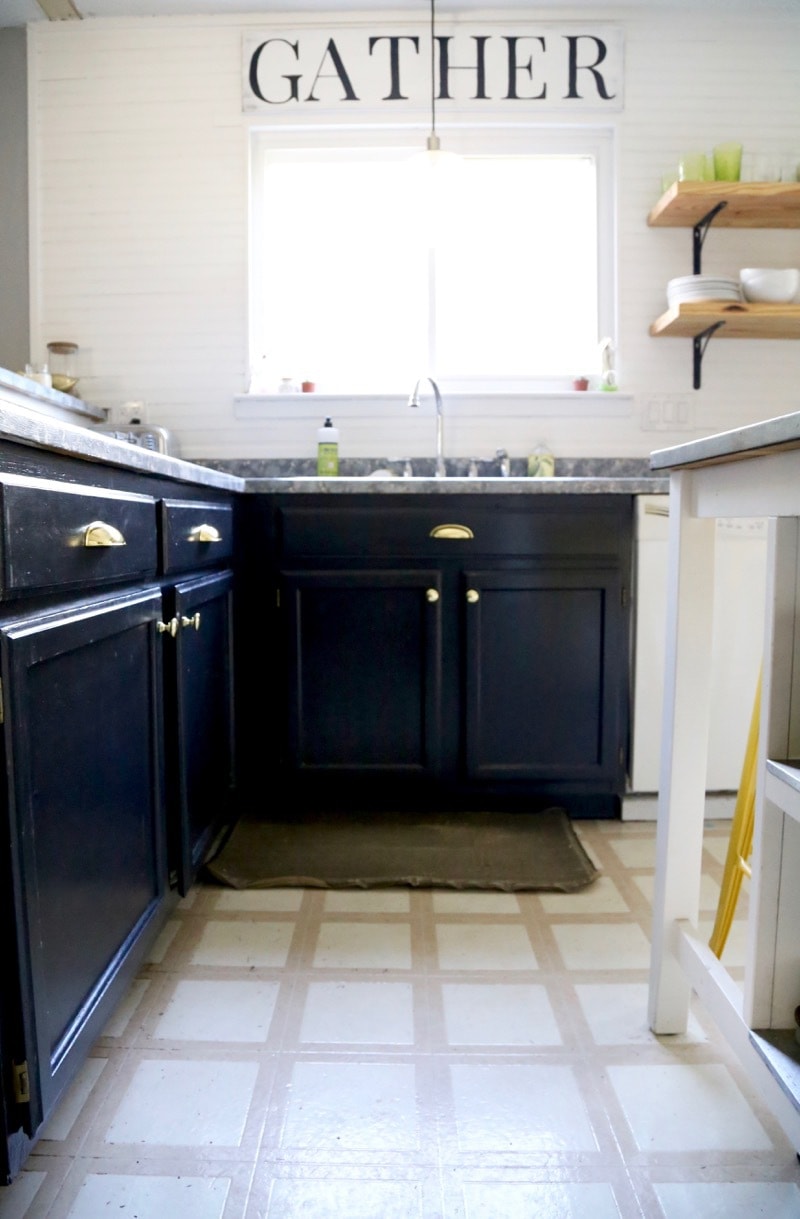 A year later, the cabinets are holding up absolutely beautifully. I recently noticed one small chip on a cabinet next to the garage, and I'm pretty sure it happened when we were bringing moving the extra refrigerator into that room. We've still got some leftover paint, though, so that will be a 5-minute fix. Other than that? They look amazing. I clean them every few weeks with some Mrs. Meyer's spray, and that has kept them looking shiny and pretty much freshly-painted. I'm so glad we painted them – it looks a million times better than it did before, and it was such an affordable fix for a total eyesore in our kitchen.
Painting Laminate Countertops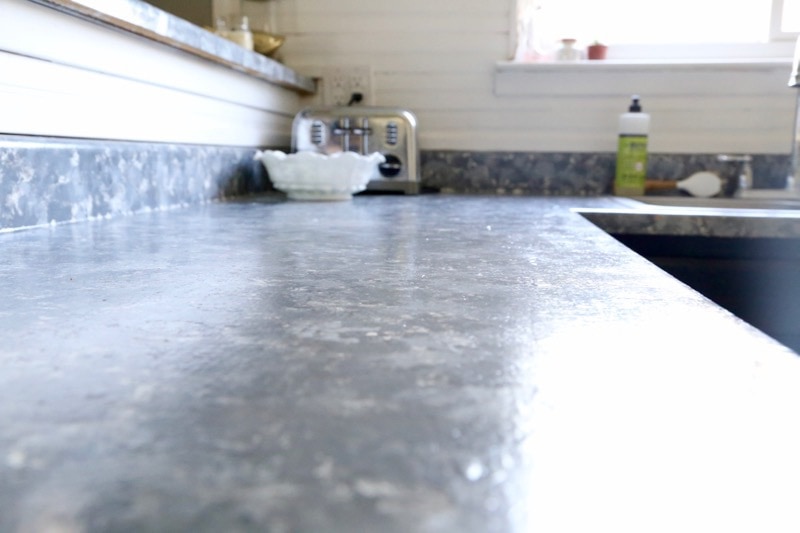 Okay, now let's chat the part I know you're dying to hear about – the counters. If you'll remember, we painted our (horribly ugly) laminate countertops at the same time we painted the cabinets. They were a faux wood grain before and it was just about the worst laminate pattern I've ever seen in my life. I knew there was absolutely no way I could possibly make them look worse with paint, so I decided to give it a shot.
The project itself was incredibly easy. It was a little annoying to have to keep things off of the counters for a few days while everything dried, but that was honestly the worst part of the whole thing.
How do we feel about them now?
We have mixed feelings.
The pros are that it looks undeniably better than it did before. While it might not look like actual granite, it looks significantly better than the faux wood grain from before, and it flows with the rest of our house so much more seamlessly. It doesn't really look painted unless you get up close to it – from far away I think it really just looks like a faux granite laminate – we've had a few people who have a hard time believing us when we tell them that we painted it! I'm so pleased with the difference it made in the room, and the painted cabinets wouldn't have looked half as good if I had left the countertops as they were.
And now, the cons. These countertops are not intended to be a long-term solution. There are several small areas where the paint has chipped – it's not noticeable unless you're really looking for it, but if you work on the counters every day it's impossible to miss. The paint also doesn't hold up very well behind the sink at all – because it's such a wet area (and because we didn't take the faucet off to paint behind it), there are some areas where the paint has started to peel a bit and it's looking not so hot. Again, it's not something that guests are noticing or that you'd really even see if you weren't paying attention, but these are the things that I definitely notice.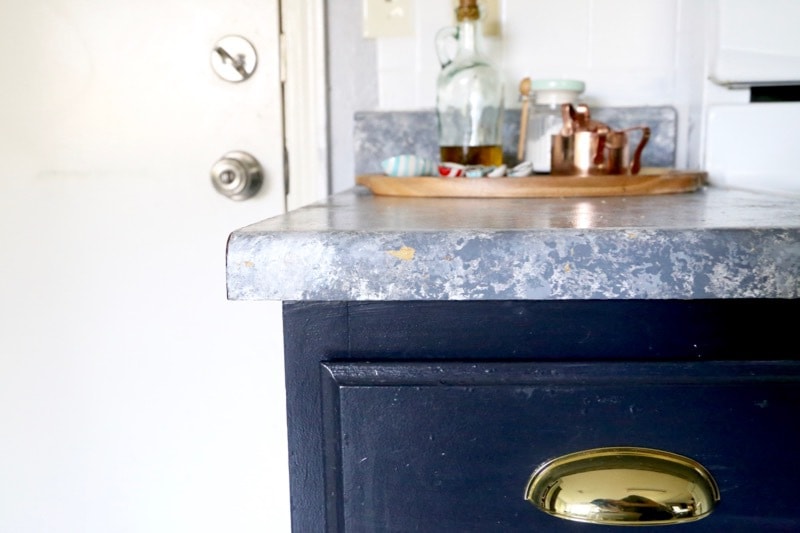 So, here are a few frequently asked questions about the counters, along with my thoughts after a year of living with them.
Will we keep these forever?
No way! This was never intended to be a long-term project, it's just a stop gap measure until we decide what we actually want to do in here. We aren't sure if we want to go another DIY route (concrete? butcher block?) or save up and replace them with something a little nicer. No matter what we do, paint won't be the forever solution in here…but we'll definitely hold onto it as long as we can, because they're working for us for now!
How do you clean painted countertops?
I clean these exactly the same way I cleaned our countertops before. I just use plain old countertop spray (This is my go-to, but lately I've become infatuated with this one too – you can get it really affordably through Grove Collaborative, my newest obsession. SO worth it.) and a paper towel. I haven't had a single issue with keeping them clean, and the spray doesn't seem to affect the paint or sealer in any way.
What do they feel like? 
They feel just like any of our other painted pieces of furniture. When you touch them, it's pretty clear that they're painted – they're pretty smooth thanks to several layers of sealer (see the original post for details on how we painted + sealed them) and they don't really feel like laminate anymore to me.
How careful do you have to be with painted laminate countertops?
This one is hard to answer because I feel like it really depends on how you use your kitchen. We have a butcher block kitchen island, and basically all meal prep happens there. We've always used that space as the primary area to chop, mix, and put meals together (even before we painted the counters), so our counters don't see a ton of heavy-duty action on a regular basis. We do, however, use our countertops on the regular and we aren't necessarily careful about what we do on them. We always make sure to use a cutting board if we're going to chop on them, and I try not to throw things around too much on them. Basically, I'm just aware of the fact that they're painted and try not to do anything that could obviously damage them. I do keep my stand mixer on the counter and it gets drug all over the countertops when we're baking cookies – and we've never had an issue with it!
So, overall I'd say we're slightly more careful than we were before, but the main action area of our kitchen is the island, anyways, so our counters don't have to be super heavy duty. Based on our experience, though, I genuinely think these would hold up just fine to being the main prep area as well, as long as you take basic precautions like using a cutting board and not leaving anything super wet on them for an extended period of time.
Would we try painting laminate countertops again? 
Absolutely. 
The benefits of painting the counters far outweigh any negatives there have been so far. We weren't in a position to replace the counters when we tackled this project, so the options really were to paint them or leave them alone…and leaving them alone wasn't an option in my mind!
Honestly, I've been pretty impressed with the fact that these counters have held up this well for a year now – I've only touched up once (after Thanksgiving last year, which I shared about in the original post), and the other chips haven't gotten bad enough yet for me to feel like I need to touch them up.
So, bottom line is that we absolutely, 100% recommend painting your cabinets. No questions asked. It's easy, it's affordable, and it makes a world of difference. No reason not to do it!
The countertops? I'd recommend it only if you have really, really ugly counters and only if you're prepared to deal with a few chips here and there. Go into it with realistic expectations (this isn't a long-term solution, it won't look perfect), and you'll be super pleased!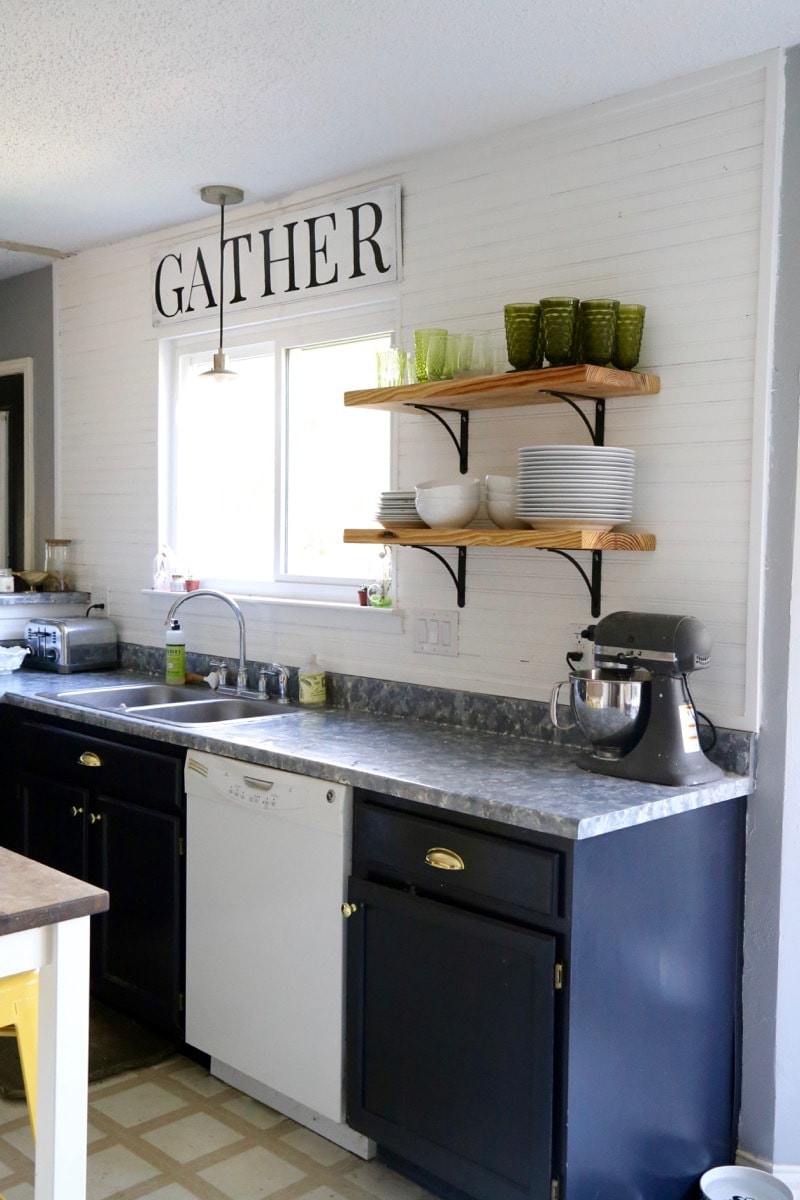 Would you ever consider painting your cabinets or counters?