Starlight Village Homes (Part 2)
Y'all. Last week I learned that you love mid-century modern design just as much as me (maybe even more!) and I'm so excited to come back today to share the rest of these gorgeous homes. No clue what I'm talking about? Head on back to this post from last week to catch up, but the gist is that I have some dear friends who have been pouring their hearts into a mid-century style development called Starlight Village here in the suburbs of Austin, and I got the chance to go tour the homes and share some photos with you.
Today, I'm back with even more photos of the homes, along with a quick interview with my friend, Theresa, who is one of the brilliant minds behind this development. It was so fun to hear her share her passion and her heart when it comes to this development and I think you're going to fall even more in love with these homes after you read what she has to say.
If you have any further questions for Theresa, just drop them in the comments below and I'll make sure we get an answer for you! This is such a unique and creative project and I'm so excited to be able to share it with you.
Plus, we all love a good excuse to drool over some beautiful houses, don't we?! This post will showcase a few different houses, so I'll try to put a note each time the photos switch to a new house so you can get your bearings!
This first house you'll see is not a model home – this home belongs to a very sweet family who was kind enough to let us invade their house and snap some photos. This house will probably take up the majority of the photos because I could. not. stop. taking photos. So gorgeous.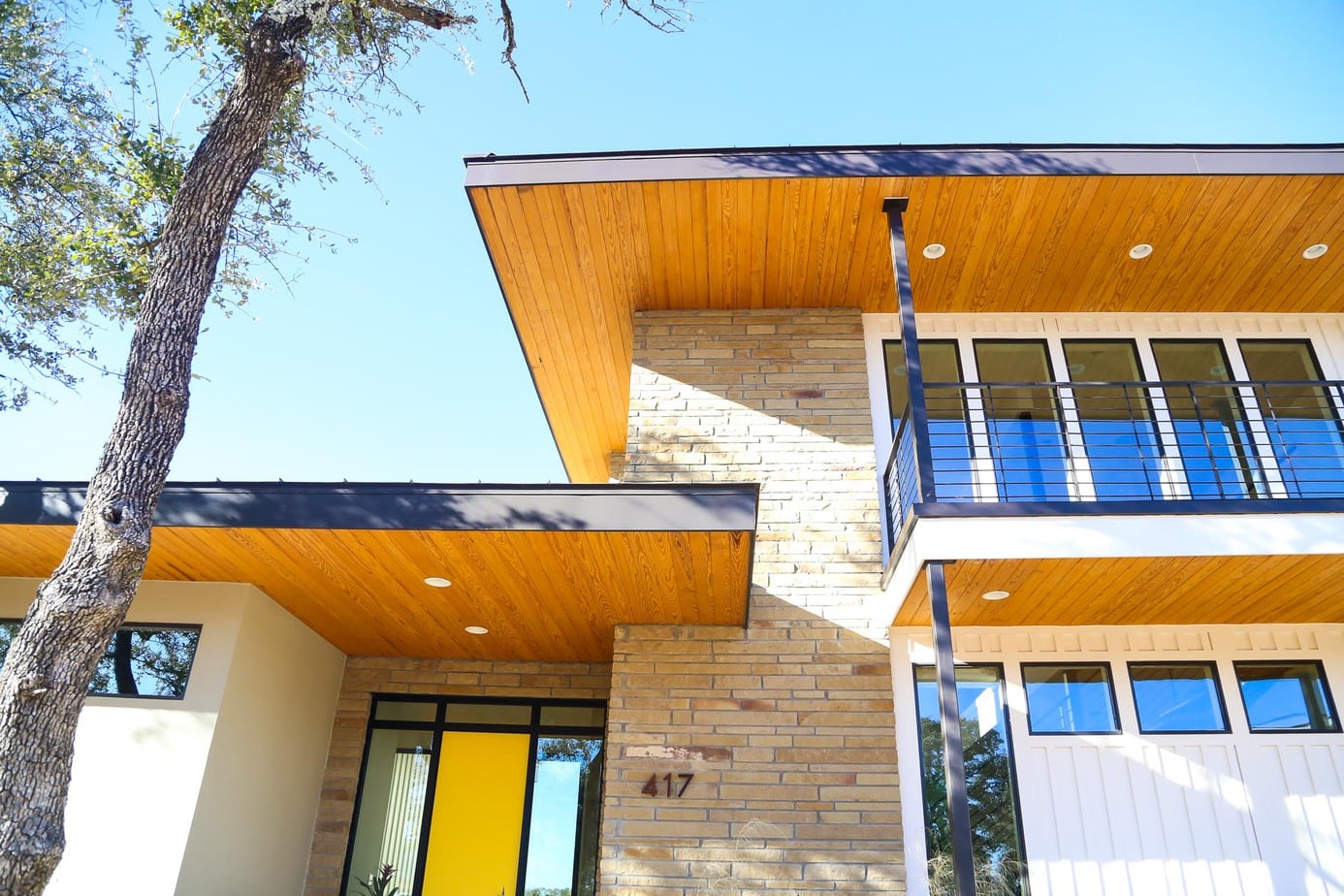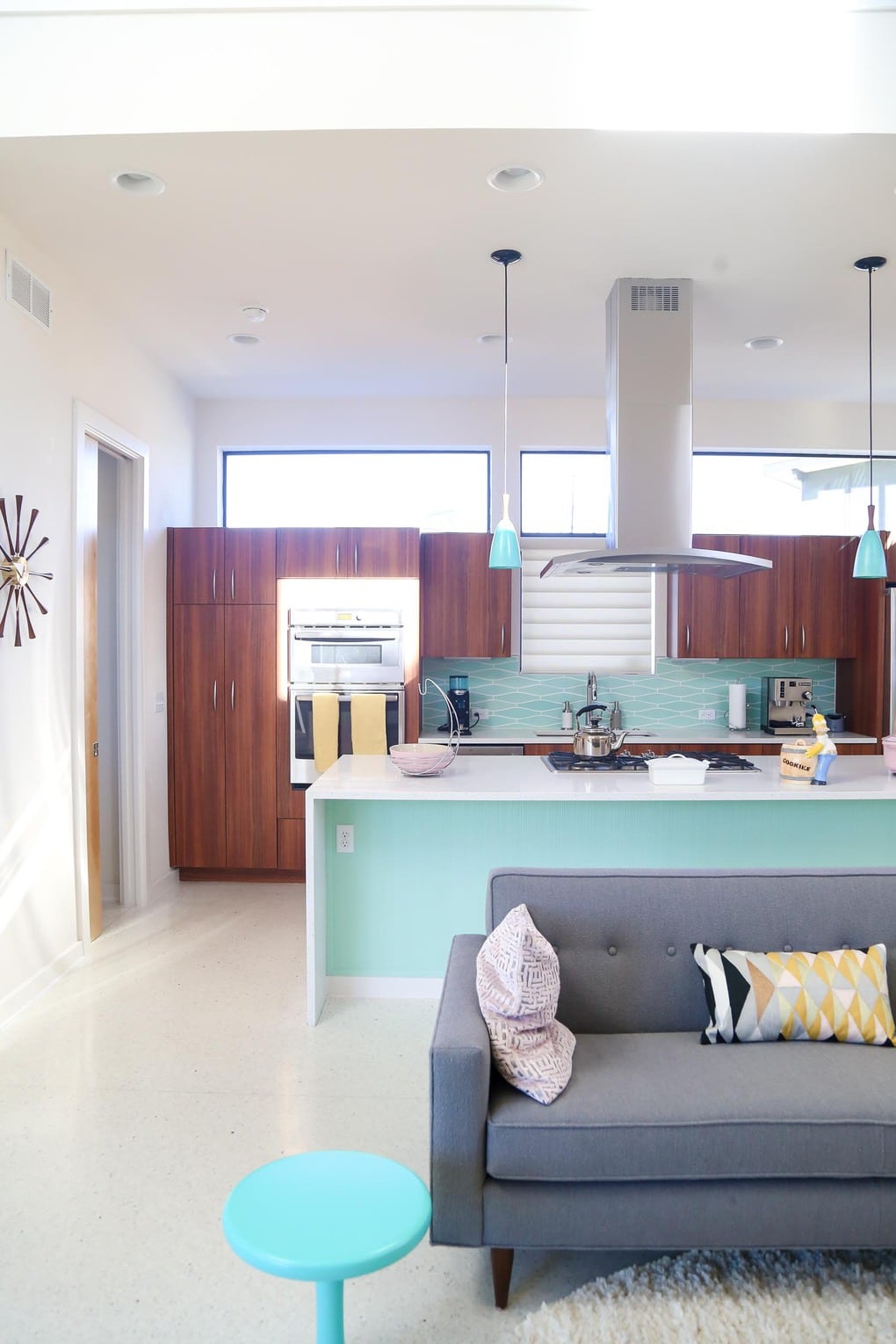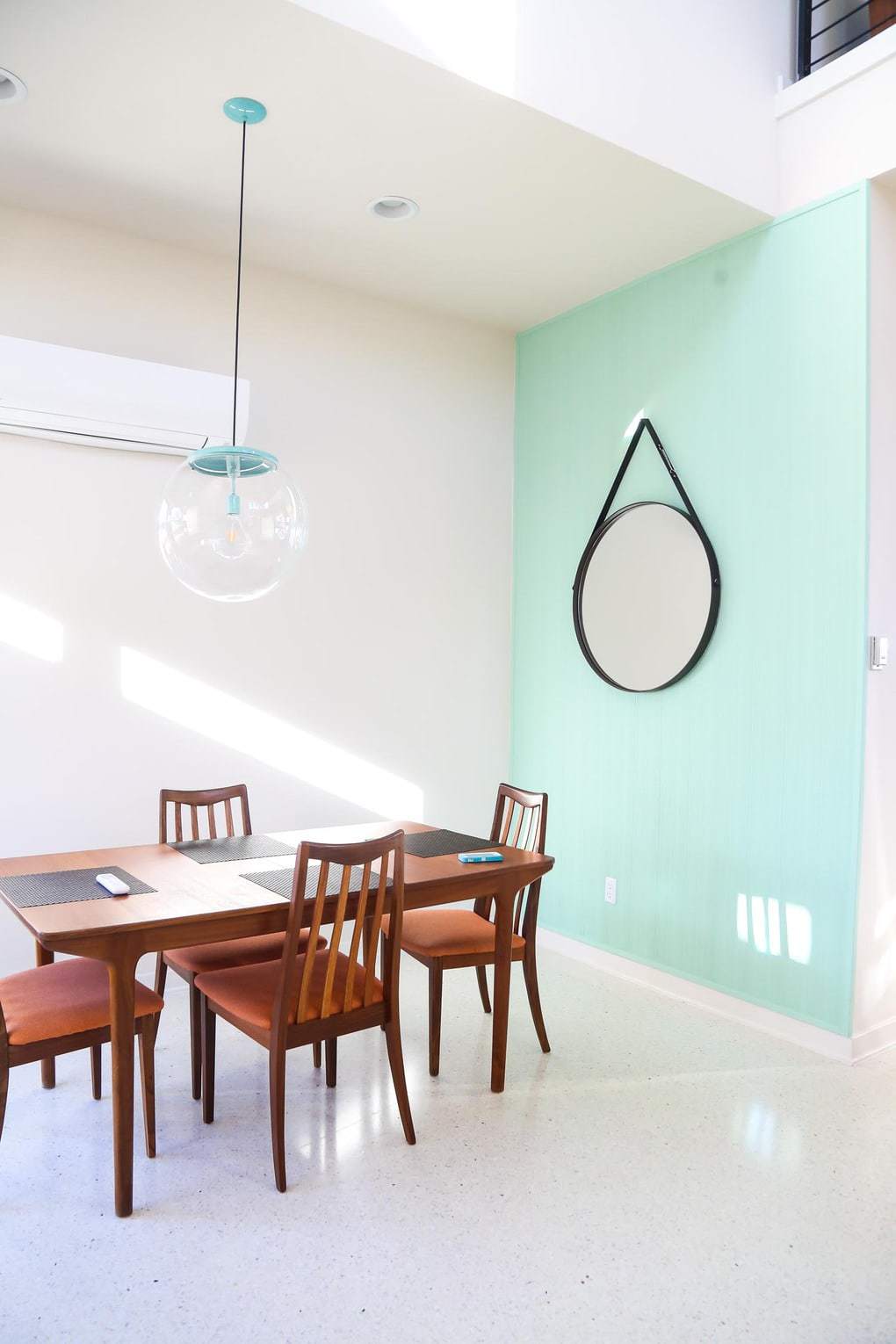 How did this development come to be?
Theresa shared that her and her husband, Mike, have always had a dream to tackle something like this. Earlier in their marriage, they had a home in downtown Austin that they flipped and remodeled with a mid-century modern vibe and they learned a lot about the style through that process. They've both always loved mid-century architecture and design, and while they were flipping that home they learned a lot of creative ways to make their home as authentic as possible while still sticking to modern standards.
When Mike retired from the Air Force a few years back, he decided that he wanted to create a family business – he has a lot of knowledge about building homes, and his dad has a lot of knowledge about real estate, land, and property. Add in Theresa's eye for design and passion for creativity and they were kind of a dream team. Their original plan was to create a typical suburban development that you might see anywhere else here in central Texas – farmhouse style, maybe some Craftsman details – nothing that stood out. But once they chose their property and began to think about the location and the vibe of the area (the development is right in the center of the small town of Leander and is near the Metro rail that heads downtown – it's a growing suburban area that is full of young families who love to spend time in Austin), they realized they could appeal to a really niche group of people who want to bring the fun and funky vibes of downtown Austin out to little ol' Leander. They took their passion for mid-century modern design and turned it into a full-blown mini-neighborhood and it turns out they were absolutely right – they hit a niche market of people who are incredibly passionate about MCM design and so excited to be a part of this community. They've had people move from halfway across the country specifically to live in Starlight Village, and their homeowners are thrilled to be able to live in these authentic and beautiful homes.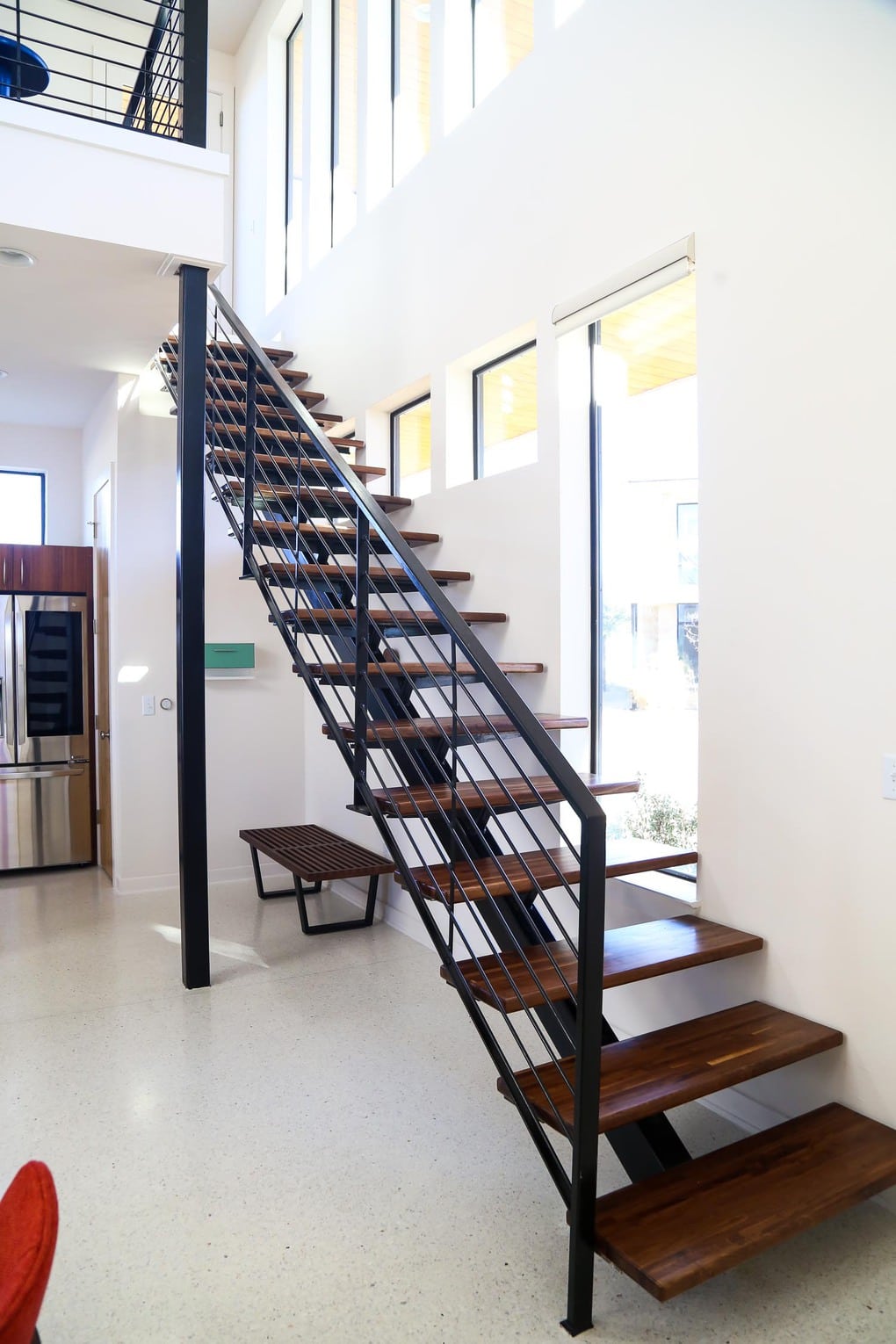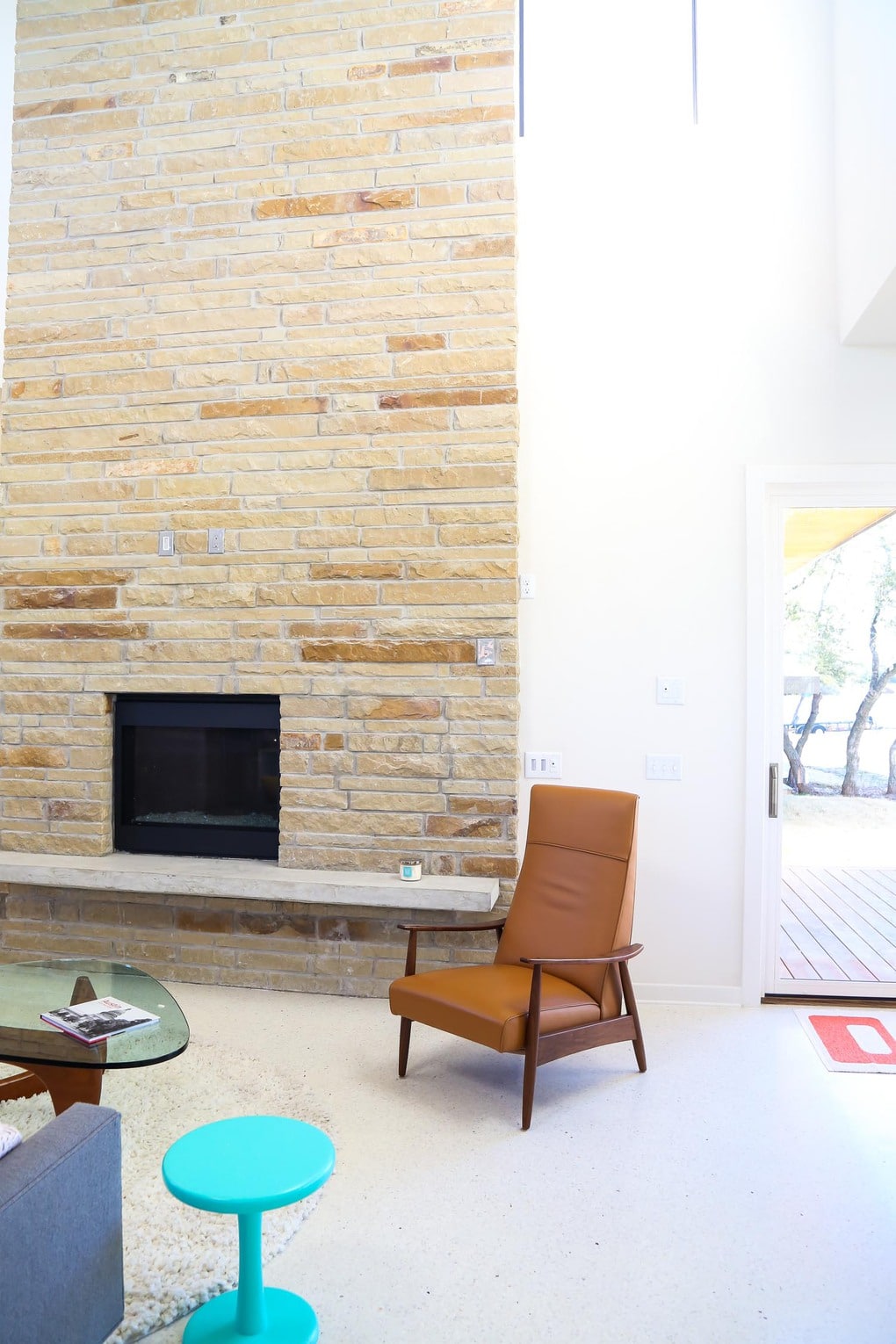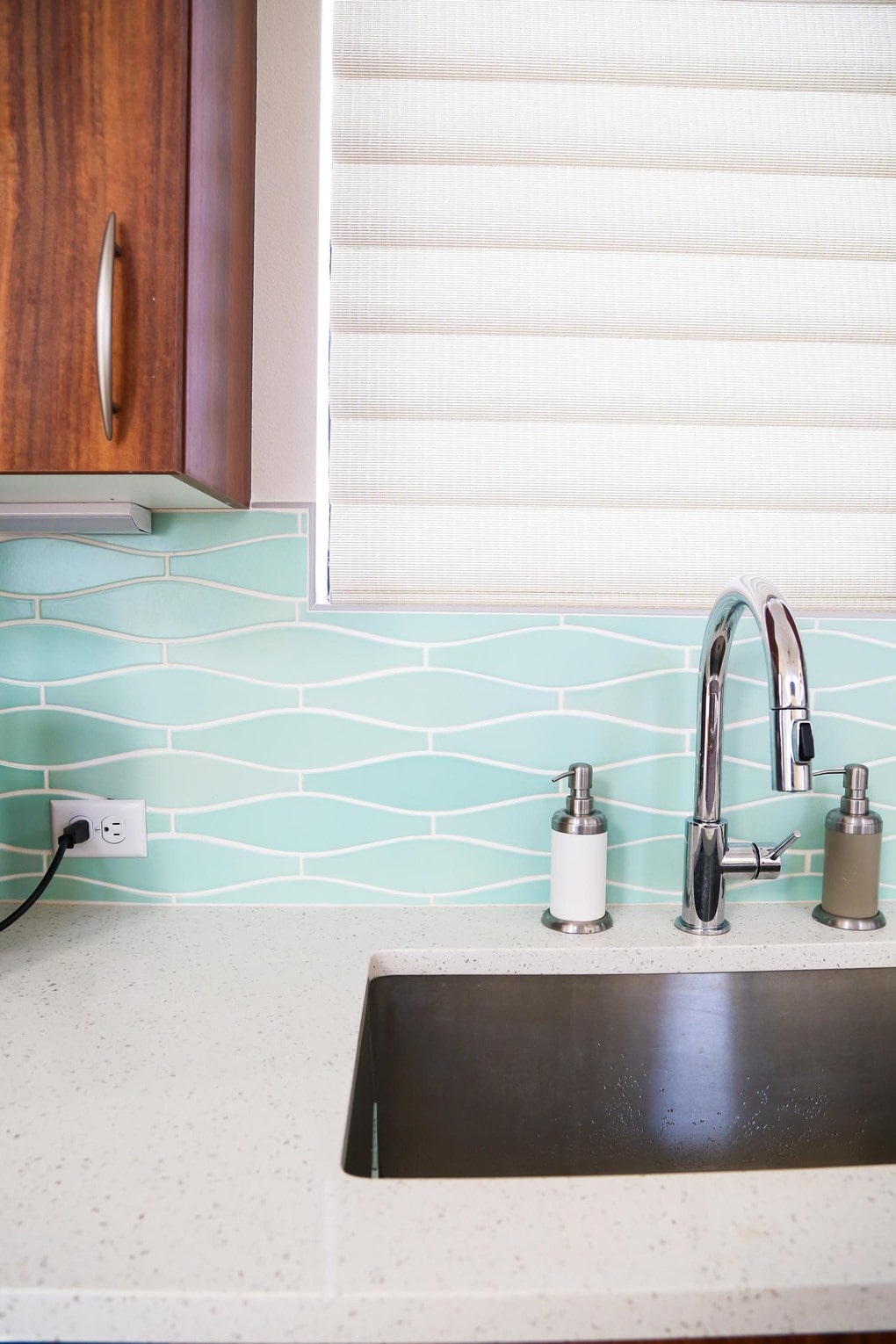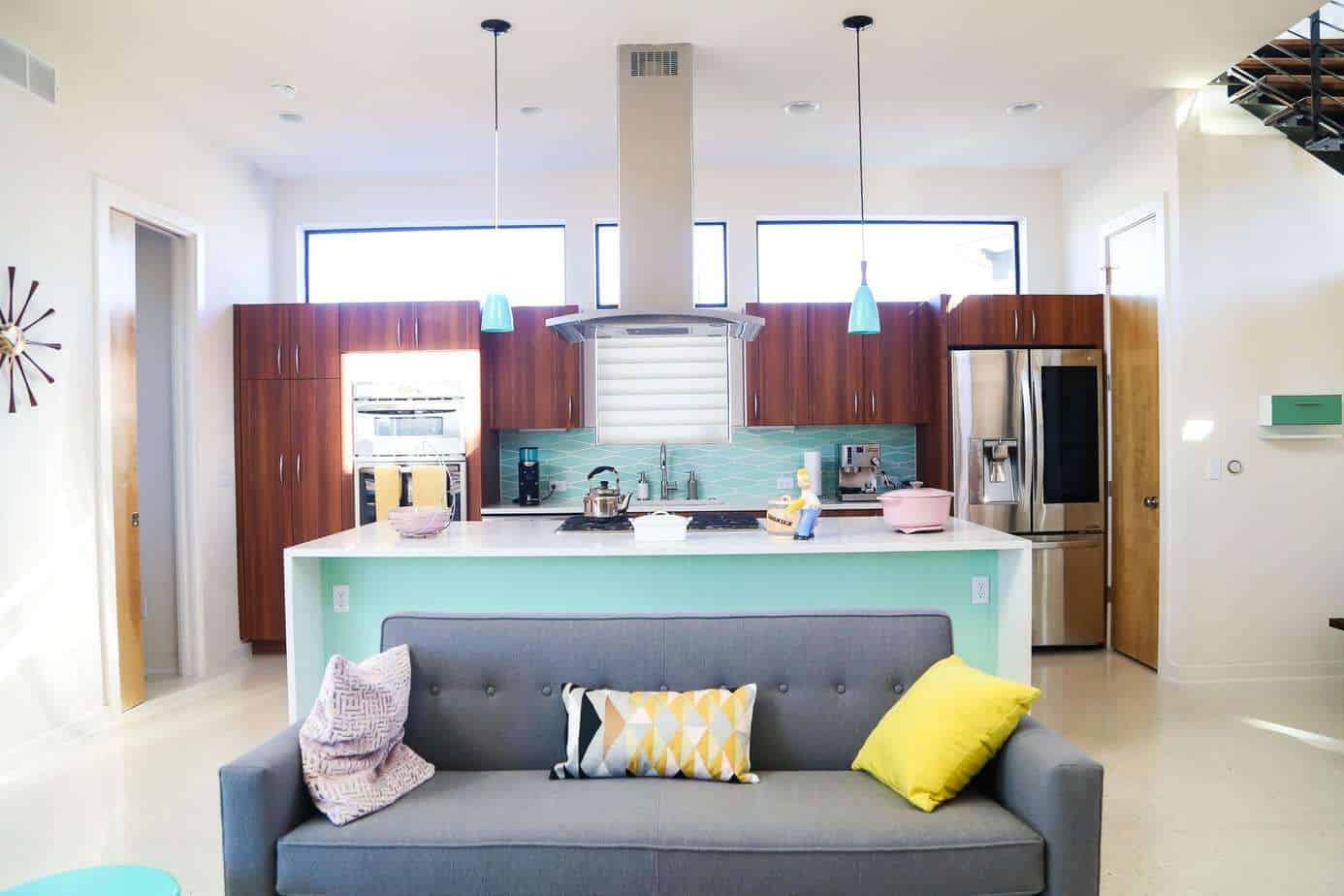 Tell me more about the design…
One of the things I loved hearing about was how Theresa and Mike drew upon their personal experiences and passions when they were designing these homes. For example, the neighborhood pool is modeled after a library that Mike remembers driving by in West Texas – it had an accordion roof and it was a detail that always stuck with him. They had a hard time conveying to the builder exactly what they wanted it to look like, so Mike headed out to his workshop and built several scale models of what he was envisioning, including one showing the engineering inside of the roofline so the builder could understand exactly how to make it happen.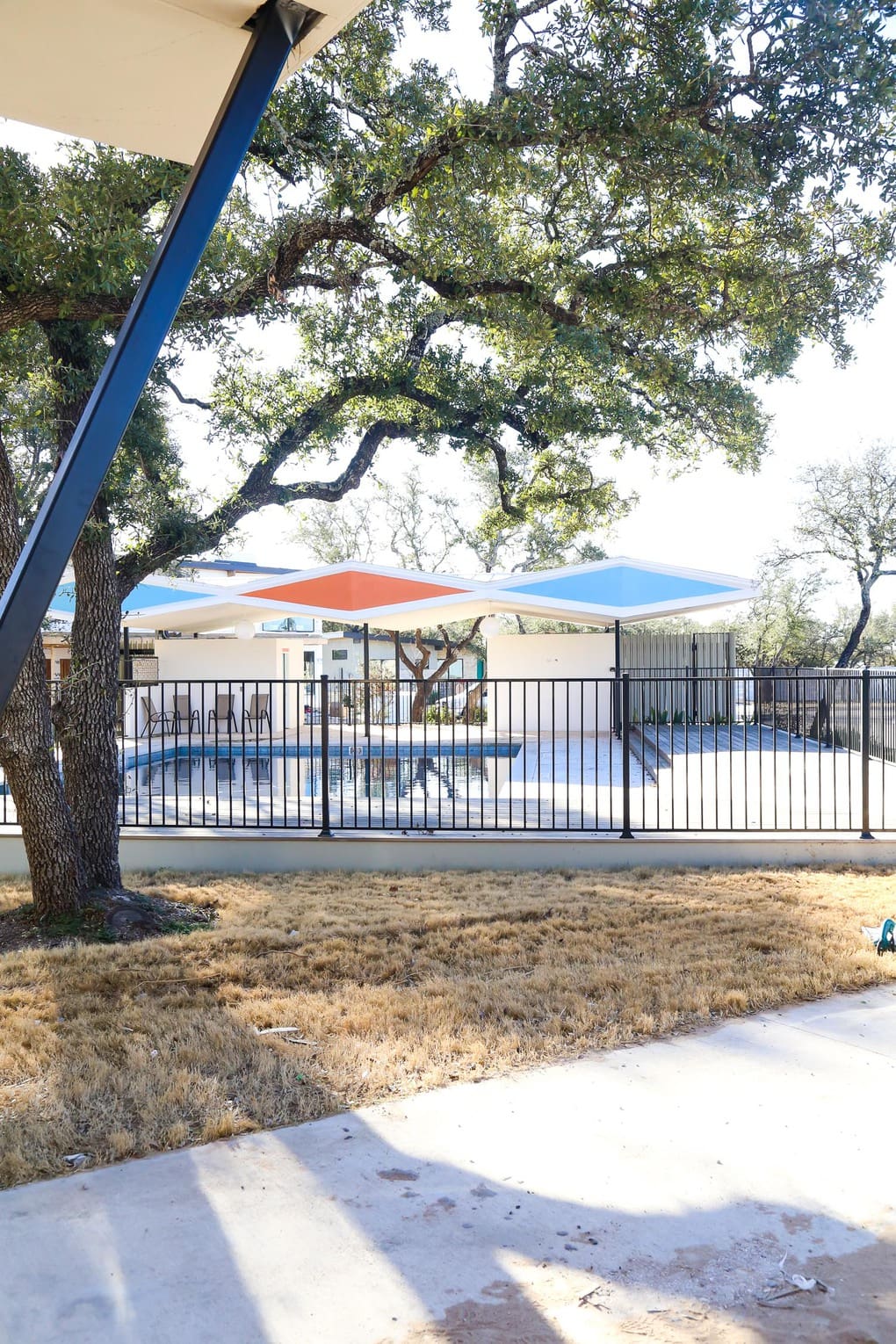 Many of the details in the houses and throughout the neighborhood are based on details that Mike remembers from homes he lived in or saw as a child – he was an Air Force brat and spent a lot of time moving as a child, so he drew upon a lot of those experiences to help make these homes feel more authentic.
Also, did I mention they went to extraordinary lengths to obtain some of the materials for these homes?! Theresa said that if they had learned anything from their past experience flipping homes, they knew that if you try hard enough you can always find source materials that are affordable and authentic. But sometimes you have to try really hard. On top of their passion for making sure their development was thoughtful and authentic, they also knew that their buyers were going to be people who take mid-century modern design very seriously – they'd have a lot of knowledge about the era and would be able to spot a cheap imitation from a mile away. Because of that, they decided to put extra attention towards the designs and the materials to make them as authentic as possible while still being practical for modern life.
For example? The paneling used throughout the homes was retooled from vintage machines from Jeff Nichols of Eichler Siding (located in California). They worked with him to do custom Eichler-style paneling and Weld-Tex paneling, both of which were very popular in the 50's and 60's. Theresa said, "It's just paneling – everyone puts up paneling – but we wanted to use the right paneling." And really, that's a perfect summary of their approach to this whole project – they took a project that most developers rush through and don't think too much about (a small neighborhood of condos) and turned it into an extremely well-thought-out and well-designed neighborhood that stands far above everything else in the area.
I mean, how much do you want to bet that there's no other real estate development team in central Texas who would drive all the way to California just to pick up the exact right tile for one of their homes? Or who would work with a local specialty electric shop (Hip Haven in downtown Austin), to design custom light fixtures for each home? Oh, and did I mention they've even allowed homeowners to sit down directly with their lighting vendor to design the exact light they want for their home? Totally custom and made from scratch?
I bet you don't know any other builders who would let you do that.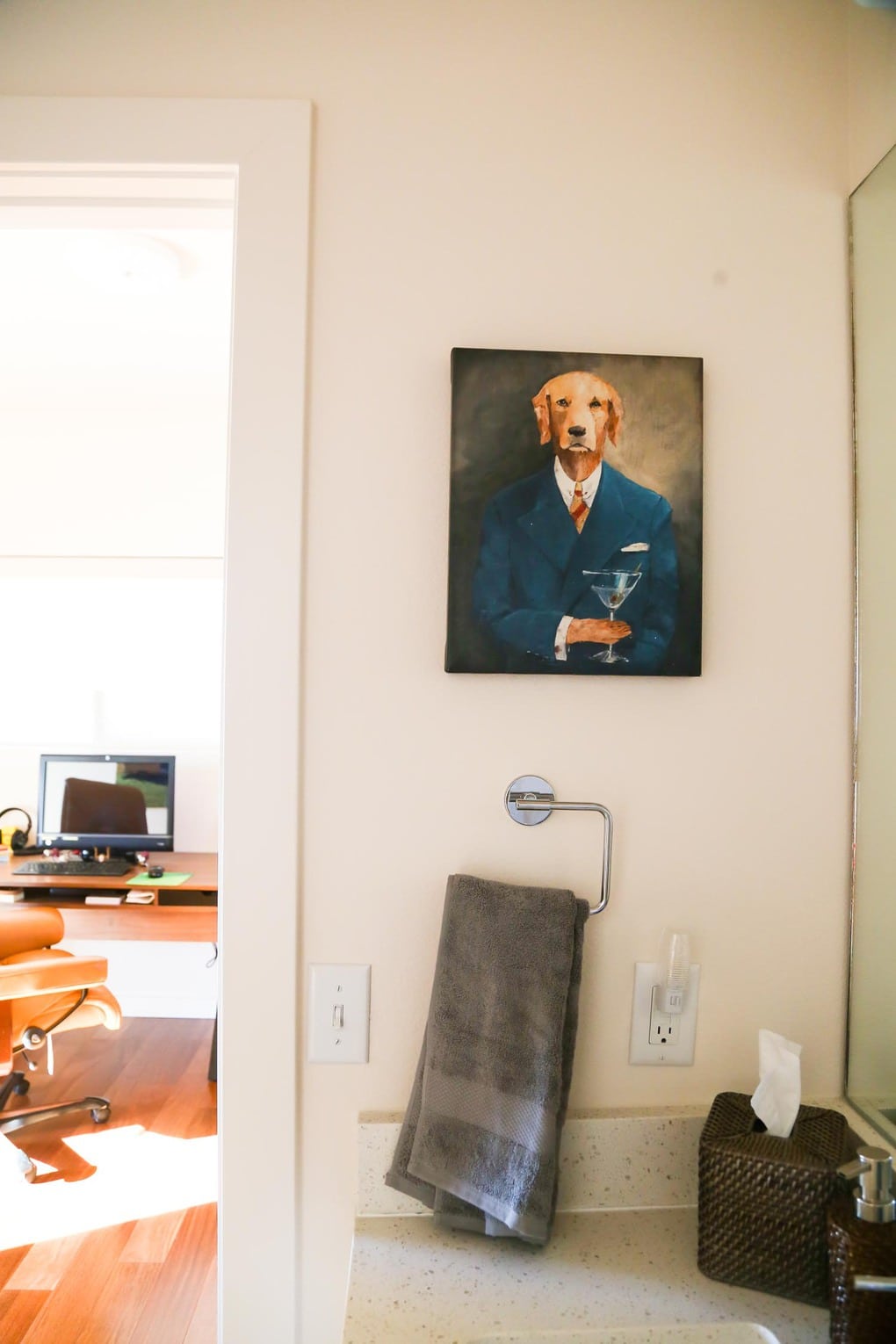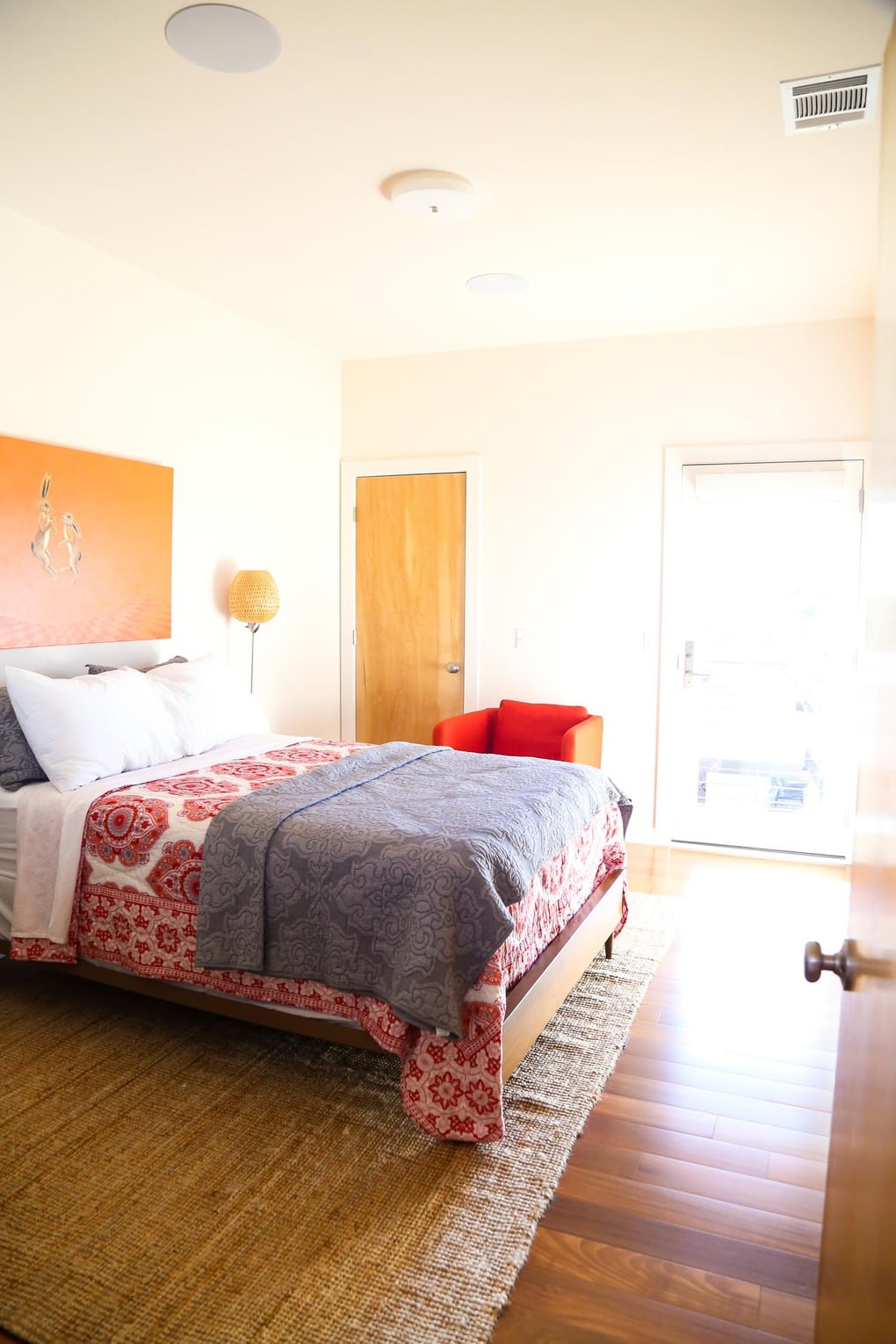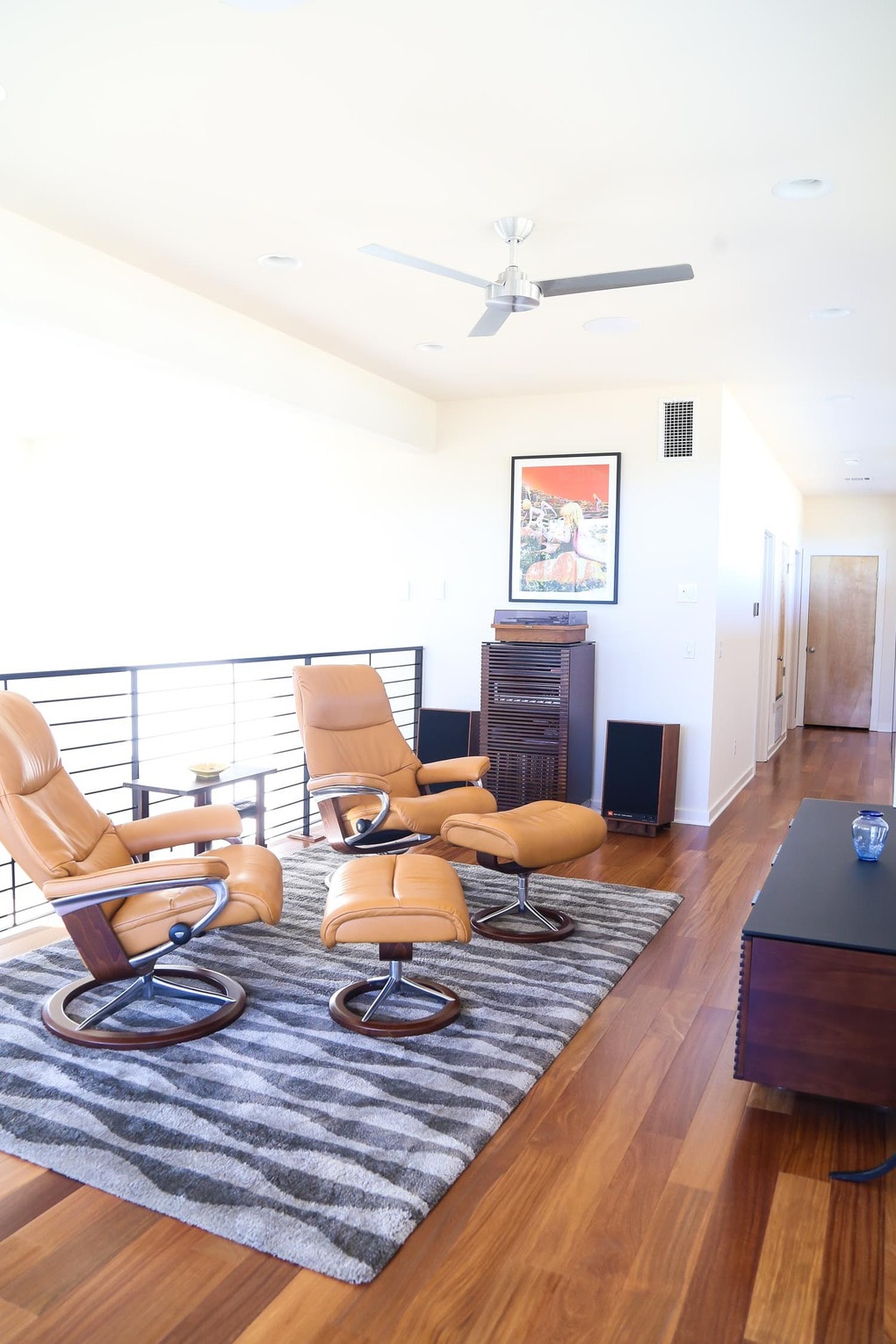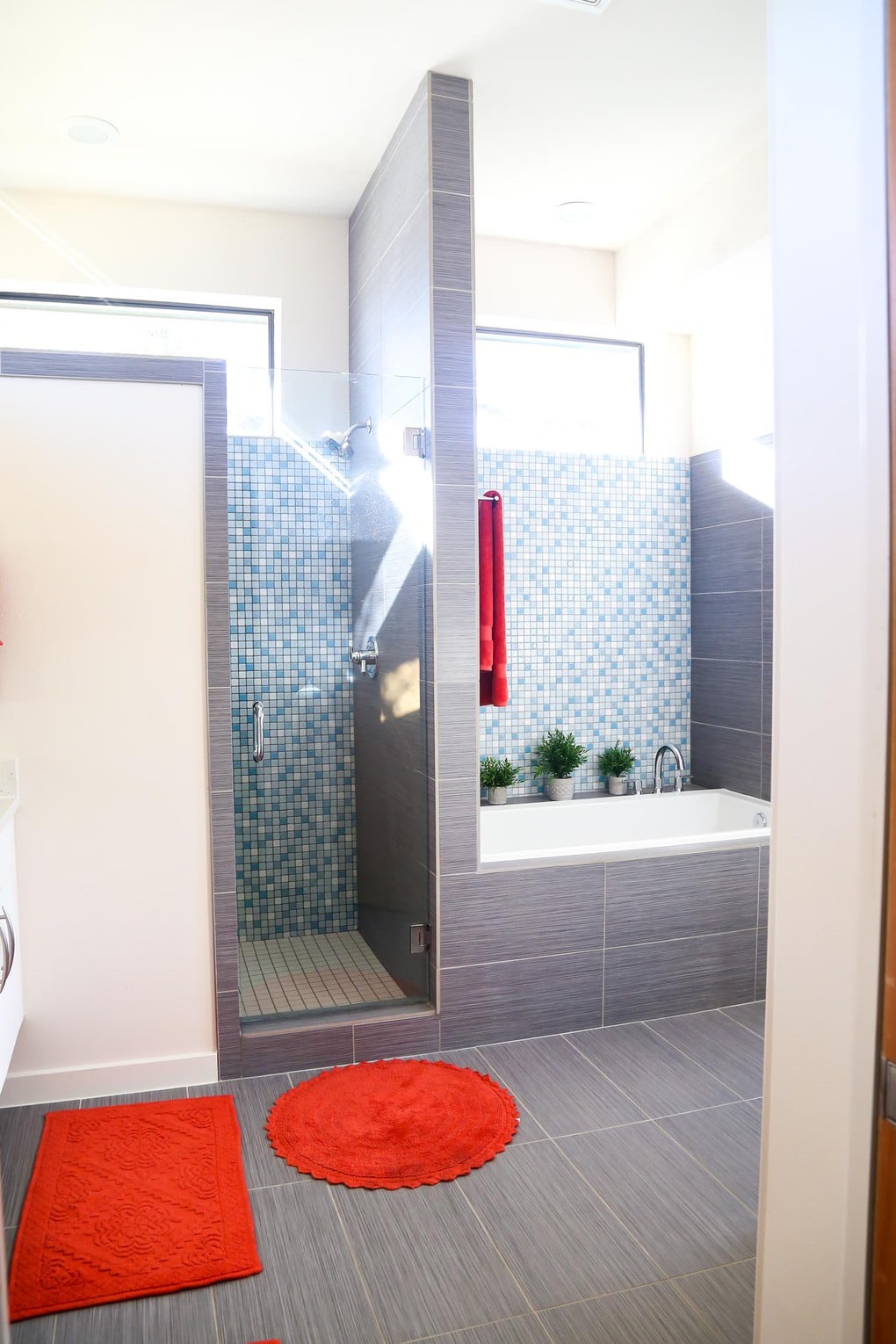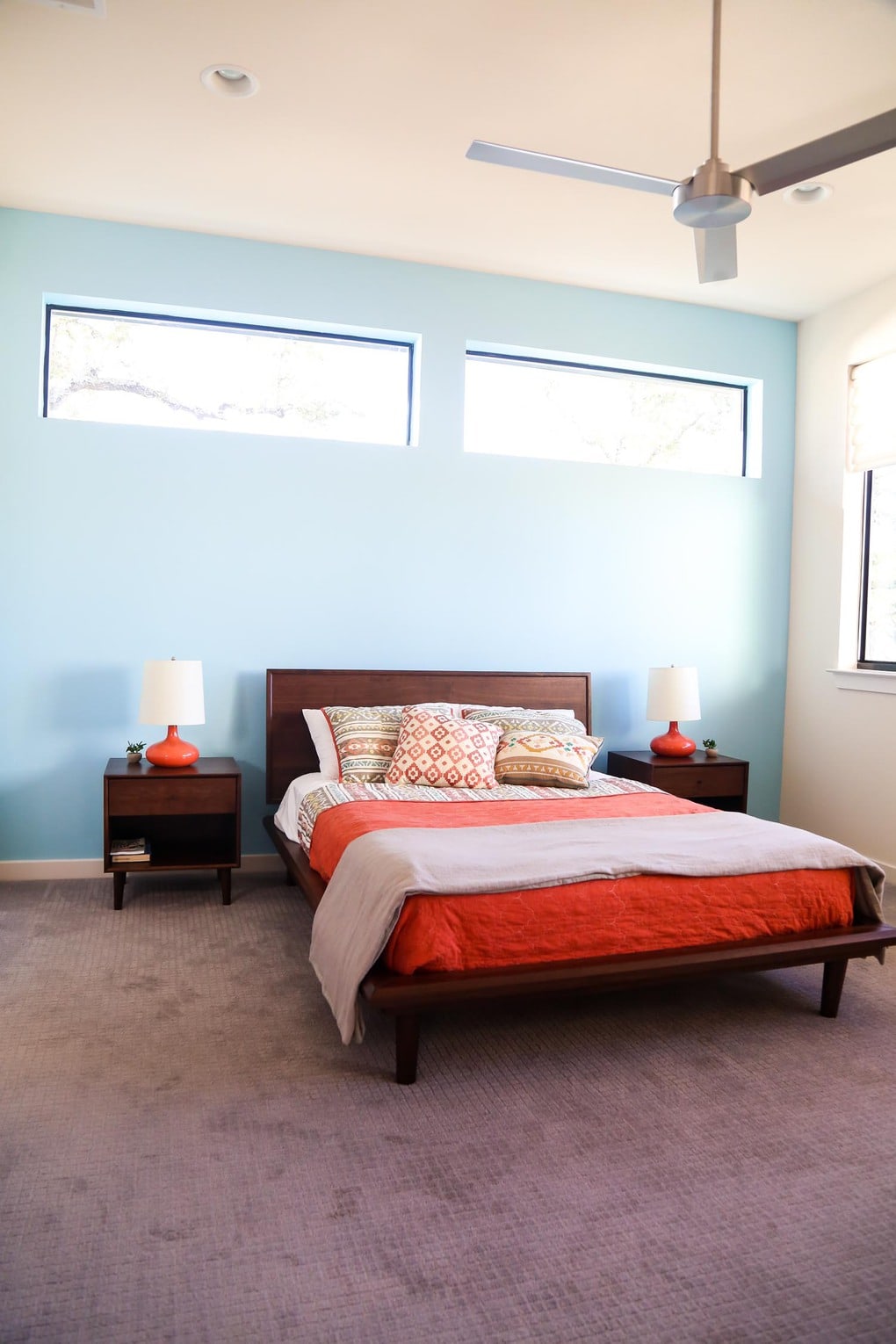 How do you balance vintage authenticity with modern living?
One of the most interesting things to talk to Theresa about was how they worked to strike a balance between authentic mid-century design and the standards of living in 2018. She shared that the biggest challenge they faced was designing the floor plans – if you look at the floor plans from the 50's and 60's, the layouts were very closed off, they usually only had one bathroom for the family, and rooms were generally very small. As much as some people love mid-century design, I think we can all agree that you wouldn't find a lot of interested buyers in today's market with that kind of a floor plan!
Instead, what the team did was take floor plans that were authentic to the times (they have a whole book of them that they referenced often!) and drew inspiration from them to create floor plans that were modern with a mid-century modern twist. The homes all have an open-concept feel for the main living areas, ensuite bathrooms, and spacious living areas, but the architecture, materials, and design are all clearly inspired by mid-century designs.
Another challenge they faced was finding ways to use mid-century architecture and design in a way that meets modern codes. Many of their ideas had a bit of pushback from the city and builders, and they struggled at first to find a team that would share their vision. They went through several different bricklayers before they found someone who was willing to do a vertical bond (or stack bond) pattern and actually do it right. Despite the challenge, Theresa says that working with the stone and brick was her favorite aspect of the designs – she shared that it was a fun challenge to try and figure out how to take these styles and methods that are completely out of date and not used by most modern builders and try to make them work in an authentic (but functional and safe) way.
This next set of photos is from another sweet homeowner who allowed us to invade her privacy!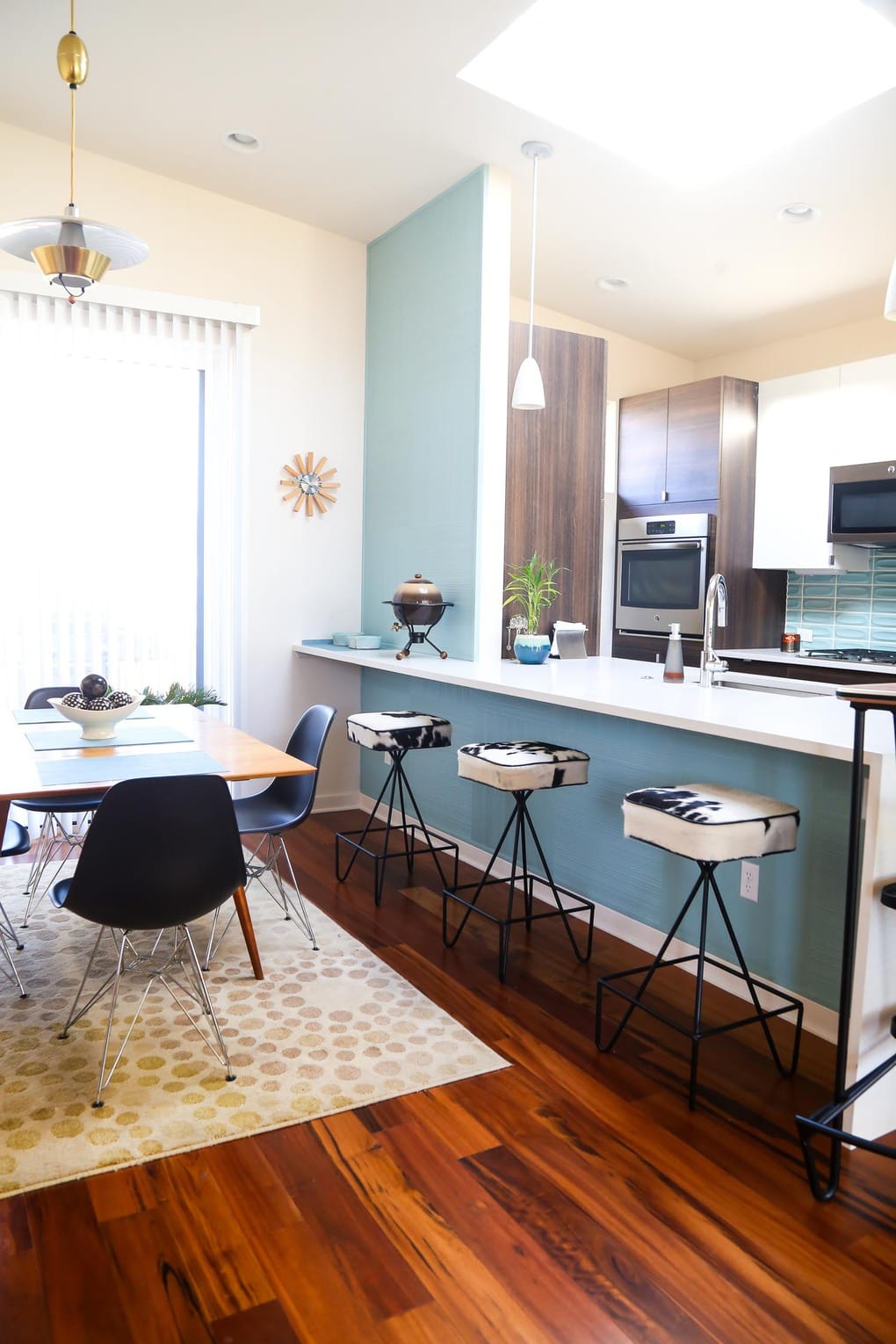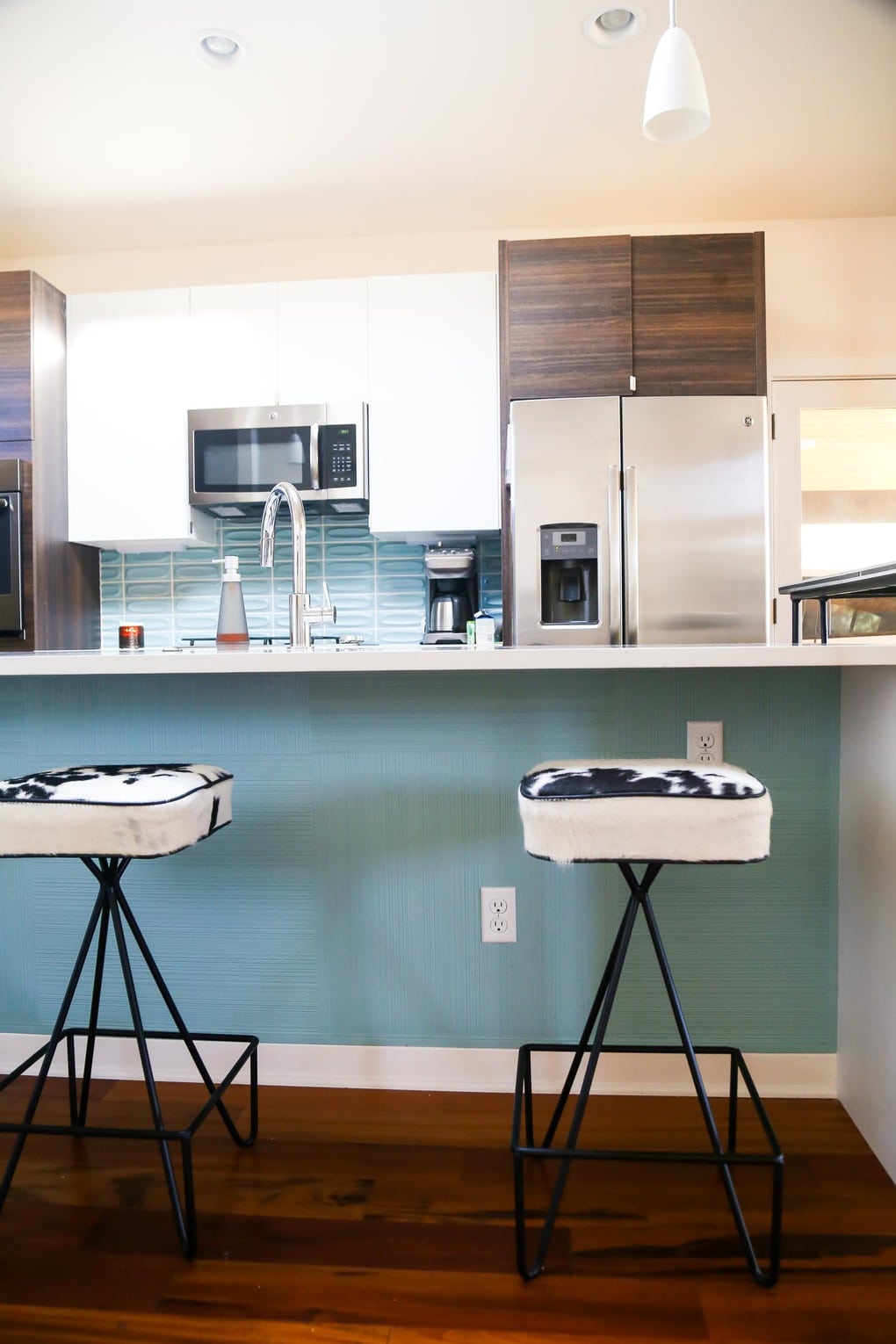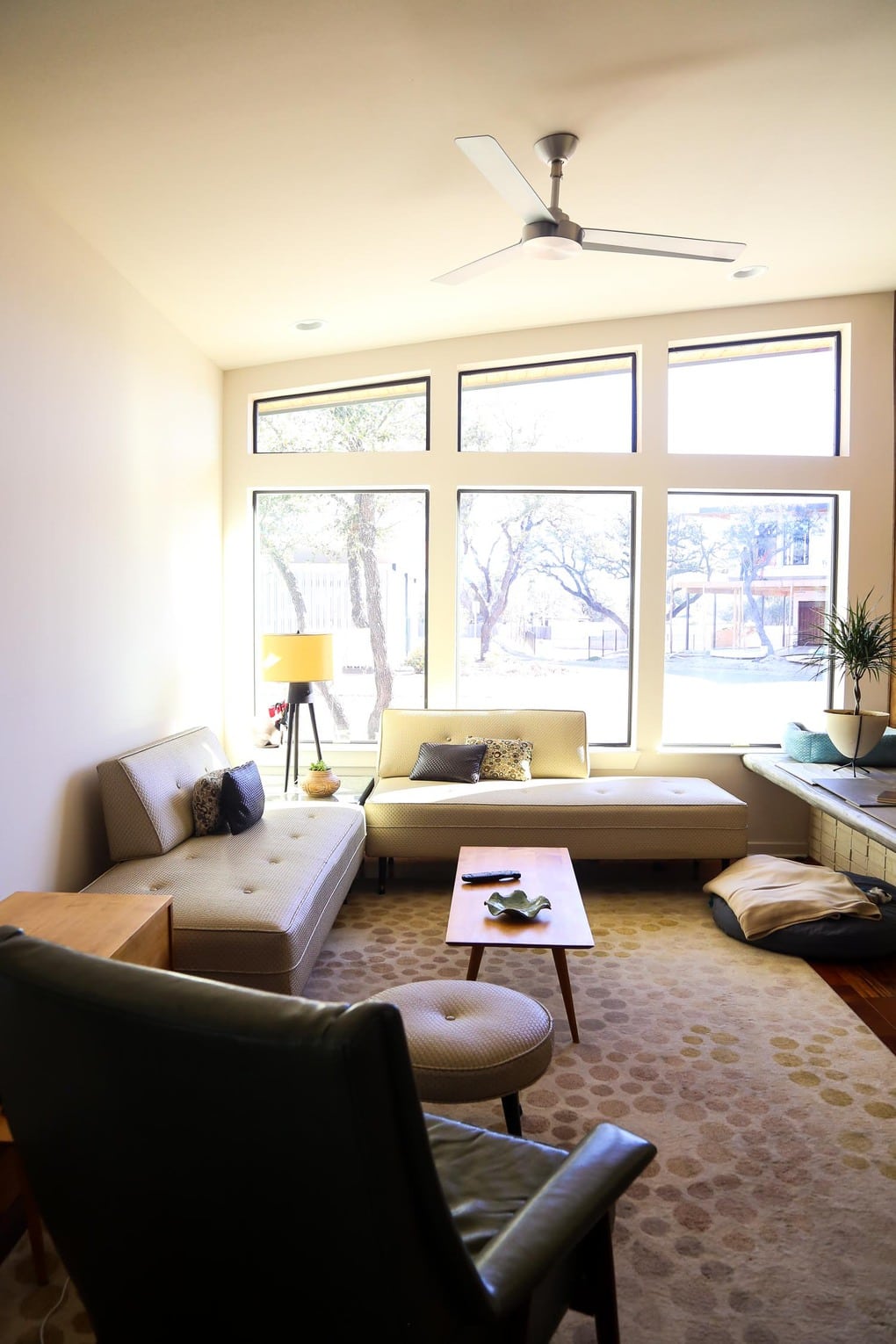 Uh, can we talk about that furniture?
Are you drooling over the furniture in these homes yet? Because I most certainly am. Theresa managed all of the staging of the homes, and it (once again) presented a unique challenge – most builders work with companies like Rooms to Go or other major furniture stores to stage their model homes. But, Theresa knew that putting mass-produced and modern furniture into these carefully designed homes would completely detract from the authentic feel and would never fly for their mid-century modern enthusiast buyers. Instead, they found a couple of different furniture brands who were willing to partner with them to showcase their furniture – it was more affordable and more authentic. They worked with Copenhagen for the home I showed you last week – they focus on mid-century inspired designs with a lot of crossover into modern vibes, so they were a perfect fit for buyers who want a mid-century vibe without going too authentic. For their other model home, they partnered with Modern Redux, who deals specifically with authentic vintage pieces and is more targeted to buyers who are more serious about a having a completely authentic vibe in their home. Both brands provided beautiful furniture that blends right into the homes and looks like it's always been there.
In this development, the staging was particularly important because for many of us it's kind of daunting to imagine how to style a home like this. You want to remain true to the architecture and designs, but it can be overwhelming to even know where to start. Theresa has put many of their new homeowners in contact with companies who can help them design their home in an authentic way that works for their family, and they've put effort into making sure that their model homes are a great inspiration point for families who aren't sure where to begin!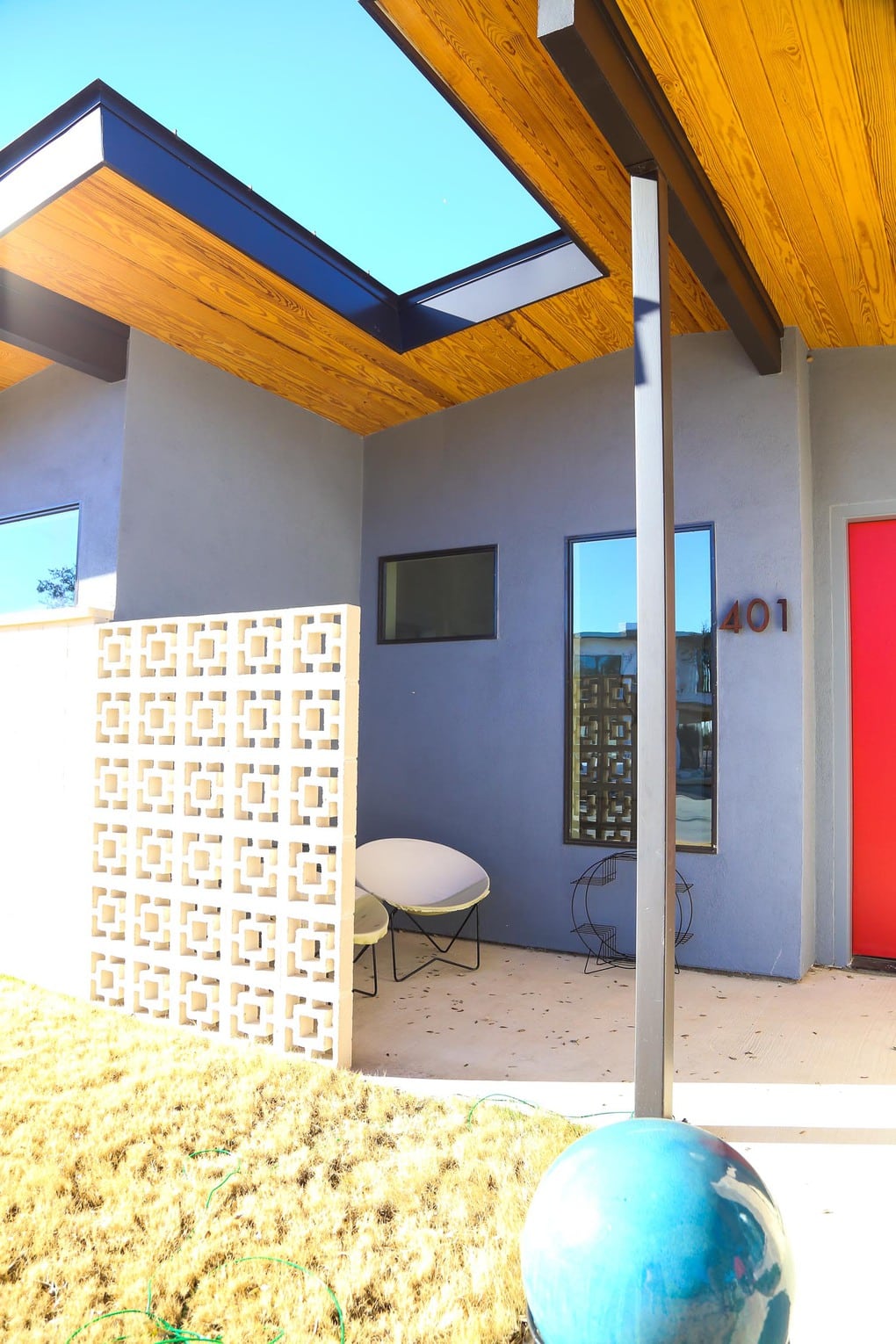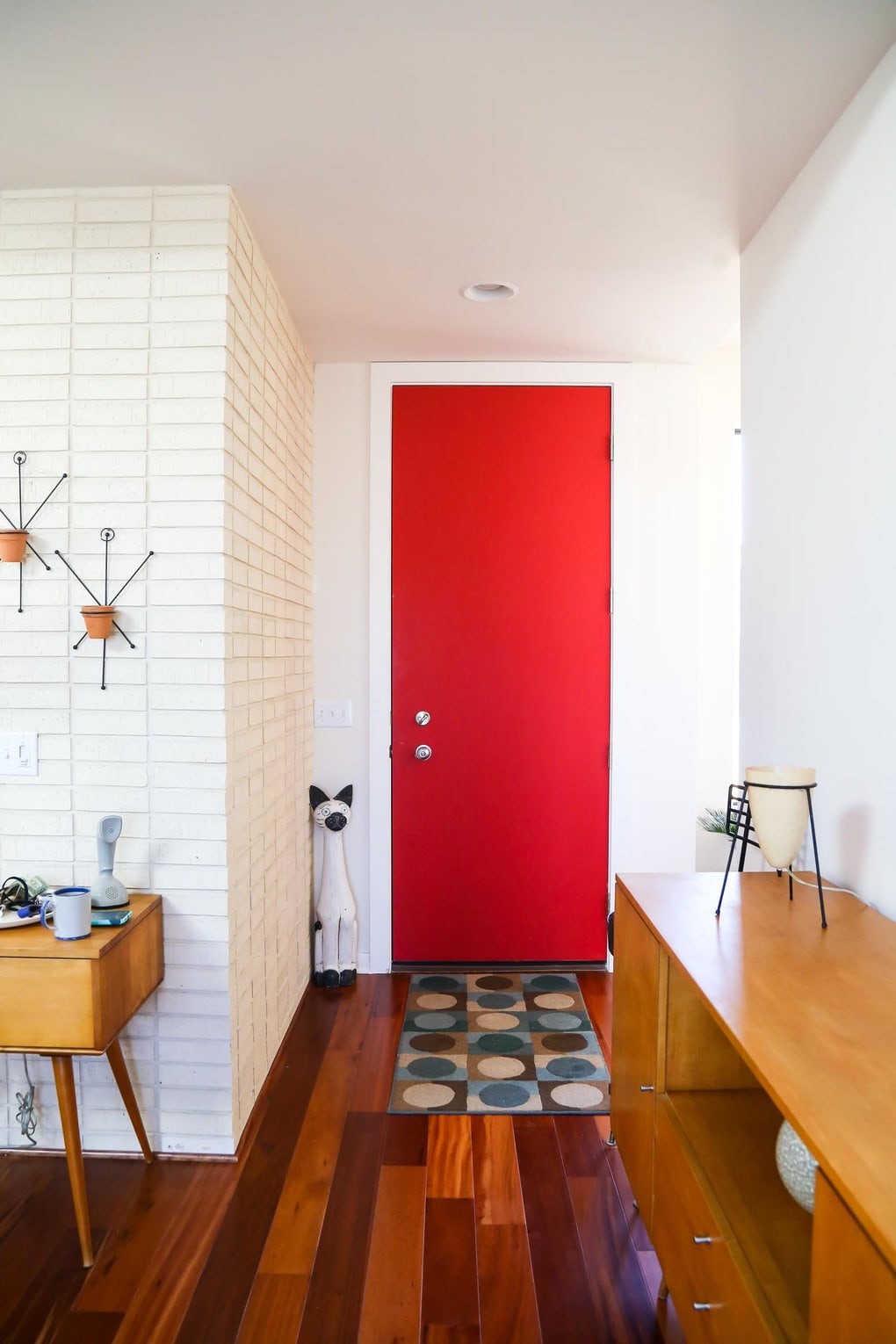 What else do I need to know?
I don't know if you've gathered this yet, but let me make it clear in case you haven't: the team behind Starlight Village is passionate, dedicated, and so enthusiastic about making these homes as beautiful and authentic as possible. I haven't ever worked with a builder for new construction, but I know a lot of people who have and their experience sounds nothing like the personal and customized experience the homeowners are getting over at Starlight Village. Even though I know Mike and Theresa and how creative and passionate they are, I was still blown away to hear them talk about how much of themselves they poured into this project.
One of my very favorite things that Theresa shared about Starlight Village was that they wanted to be sure that the little neighborhood was a true community – as she said, "it's supposed to have a heartbeat to it." The 50's and 60's were a time where neighbors knew each other and spent time together, and neighborhoods were truly a community. More than anything, they wanted to capture that feel. Everything about the development, from the fact that it's built on a single-loop road that's private to the community to the fact that they have carports instead of garages, was designed with this goal in mind – creating a space where homeowners have a chance to interact regularly, feel safe, and are encouraged to get to know each other. And, to me, that's probably the most refreshing thing about this whole development – who wouldn't want to live in a neighborhood like that?!
And finally, these last few photos are from a couple of other houses that were being wrapped up in the development.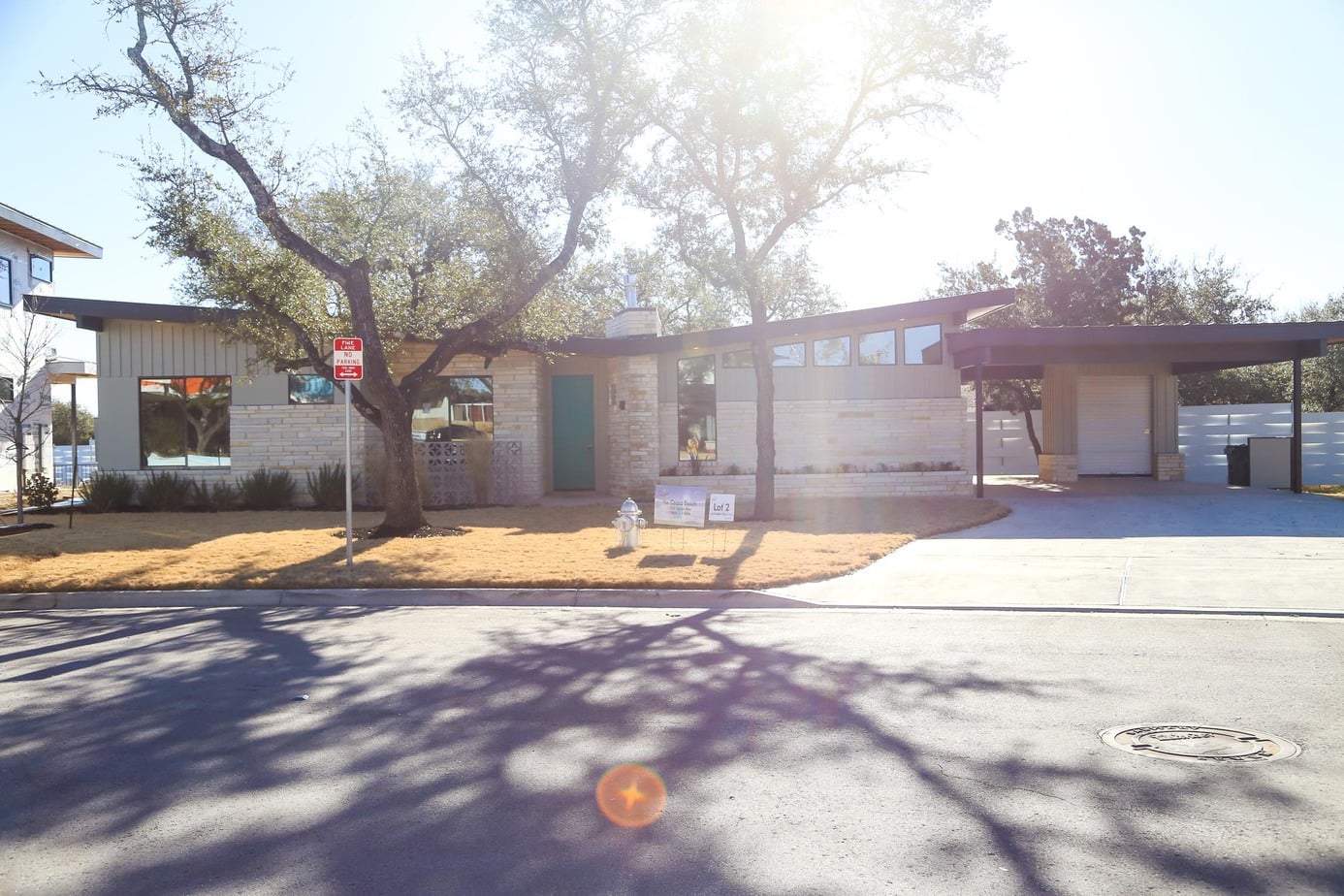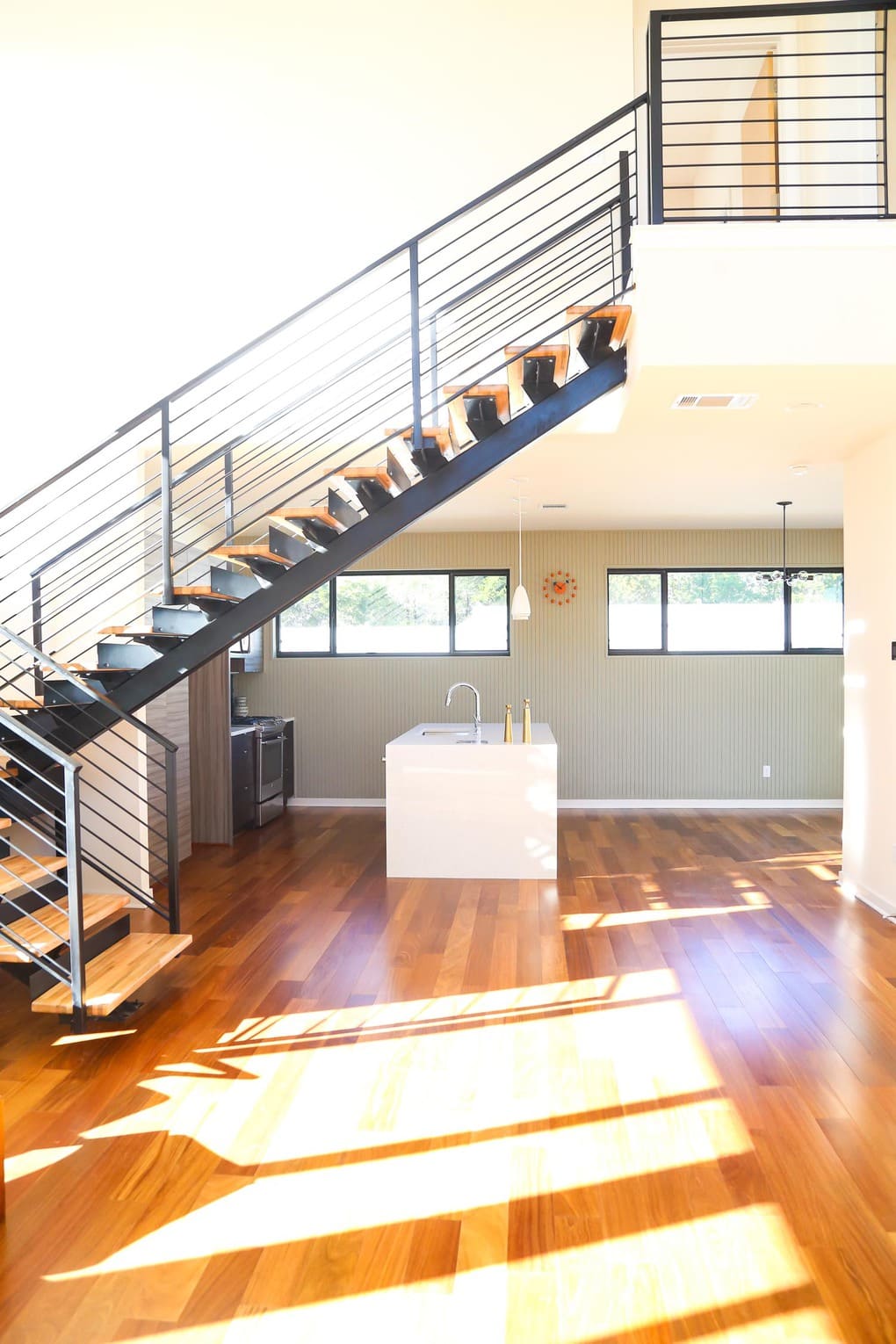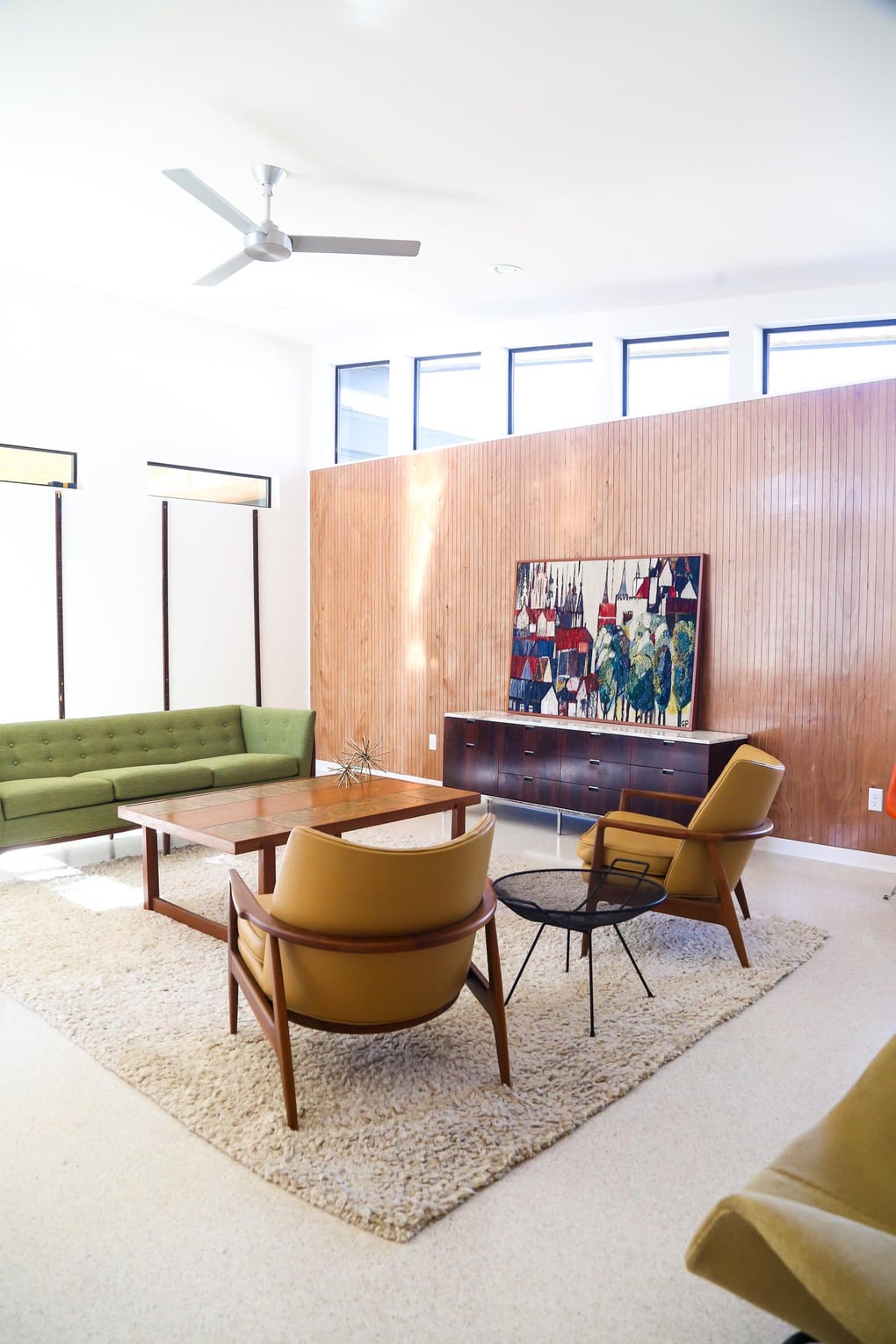 If you want more information on Starlight Village, you can check out their website or their Facebook page. Also, just a note – this post (and the previous one) is in no way sponsored…I just think that what Mike and Theresa are doing is pretty amazing and I think it needs to be shared!
Are you ready to pack up and move to Leander yet? I'm not gonna lie – I'm a little bummed we just bought a house because I am dreaming about these gorgeous homes!