This post is sponsored by Wagner, and all paint for this project was provided by Behr. Click here to see my full disclosure policy. Thanks for supporting the brands that support Love & Renovations!
One thing I've wanted to do in our house just about since the day we moved in is to paint the exterior. The whole house is painted this awful peachy-tan, and the trim is a grayish-blue, and none of it was painted very well (as in, splatters of paint where they shouldn't be – all over the place).
Of course, painting the exterior of a two-story house is not a project for the faint of heart. Just the thought of it stresses me out, especially since I've never painted any sort of exterior building before.
Or, I should say, I hadn't ever done it before. Because now? I have.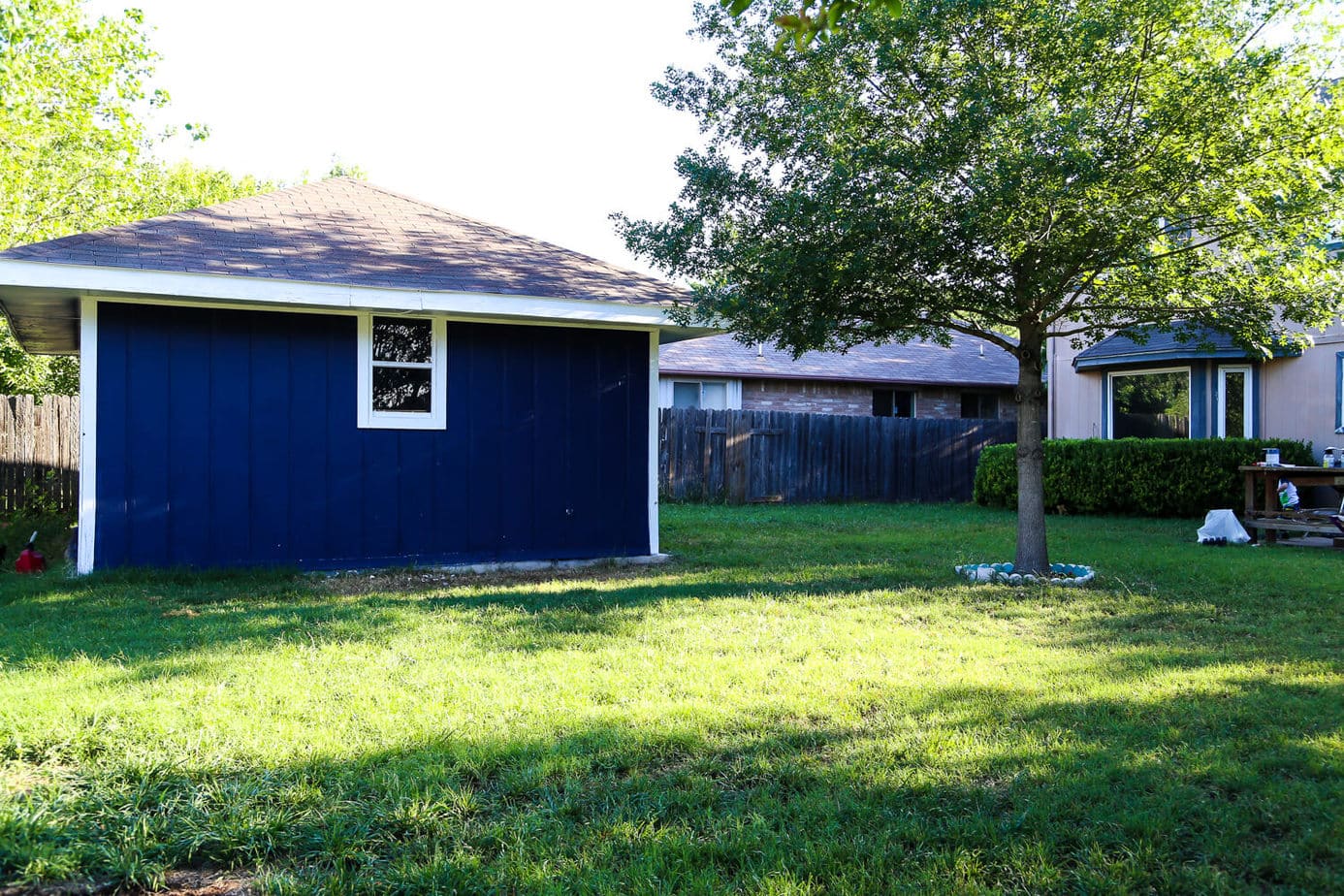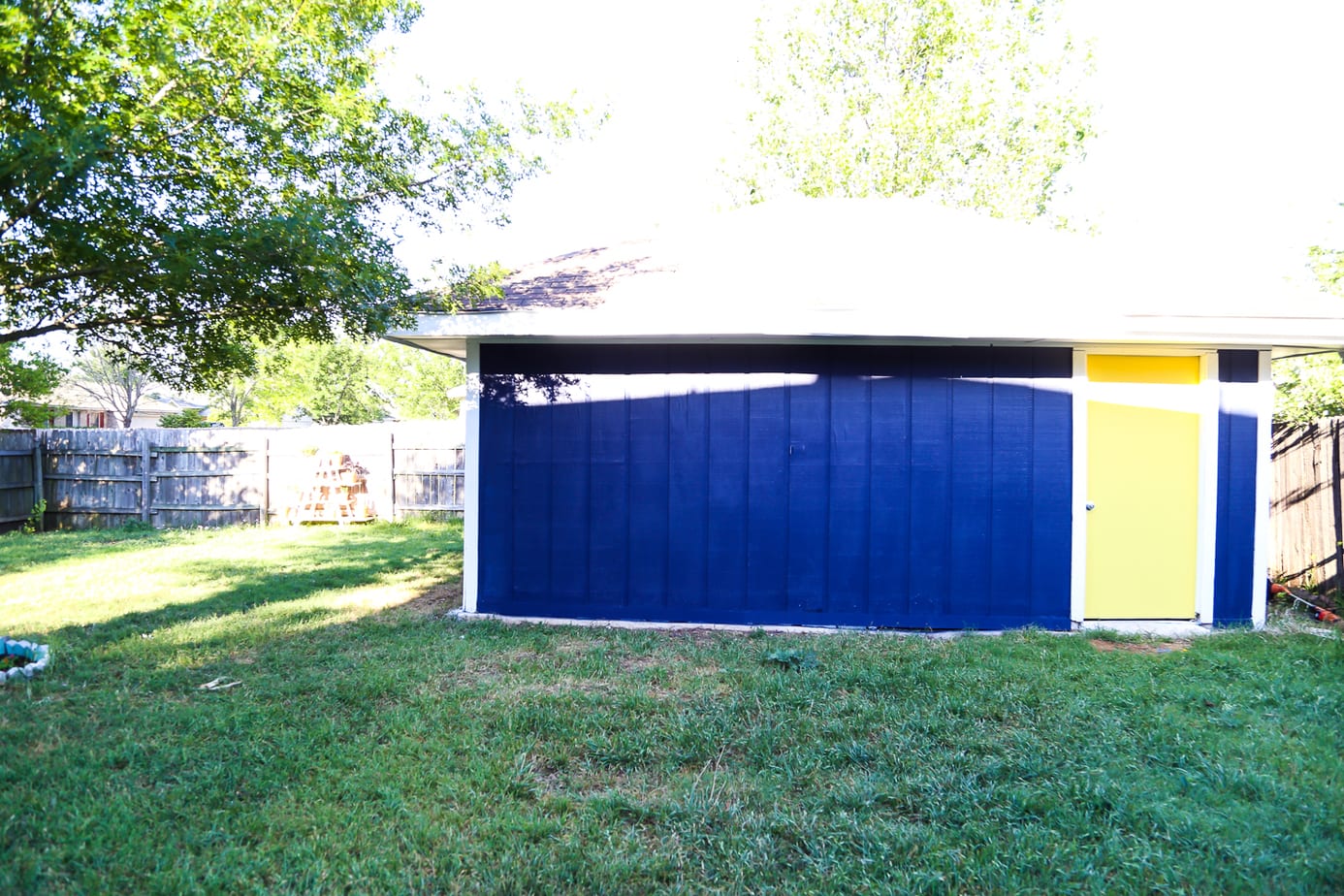 Y'ALL. Can you even handle how good it looks?!
This is the workshop in our backyard, and if you're not familiar with it, this is what it looked like a few weeks ago: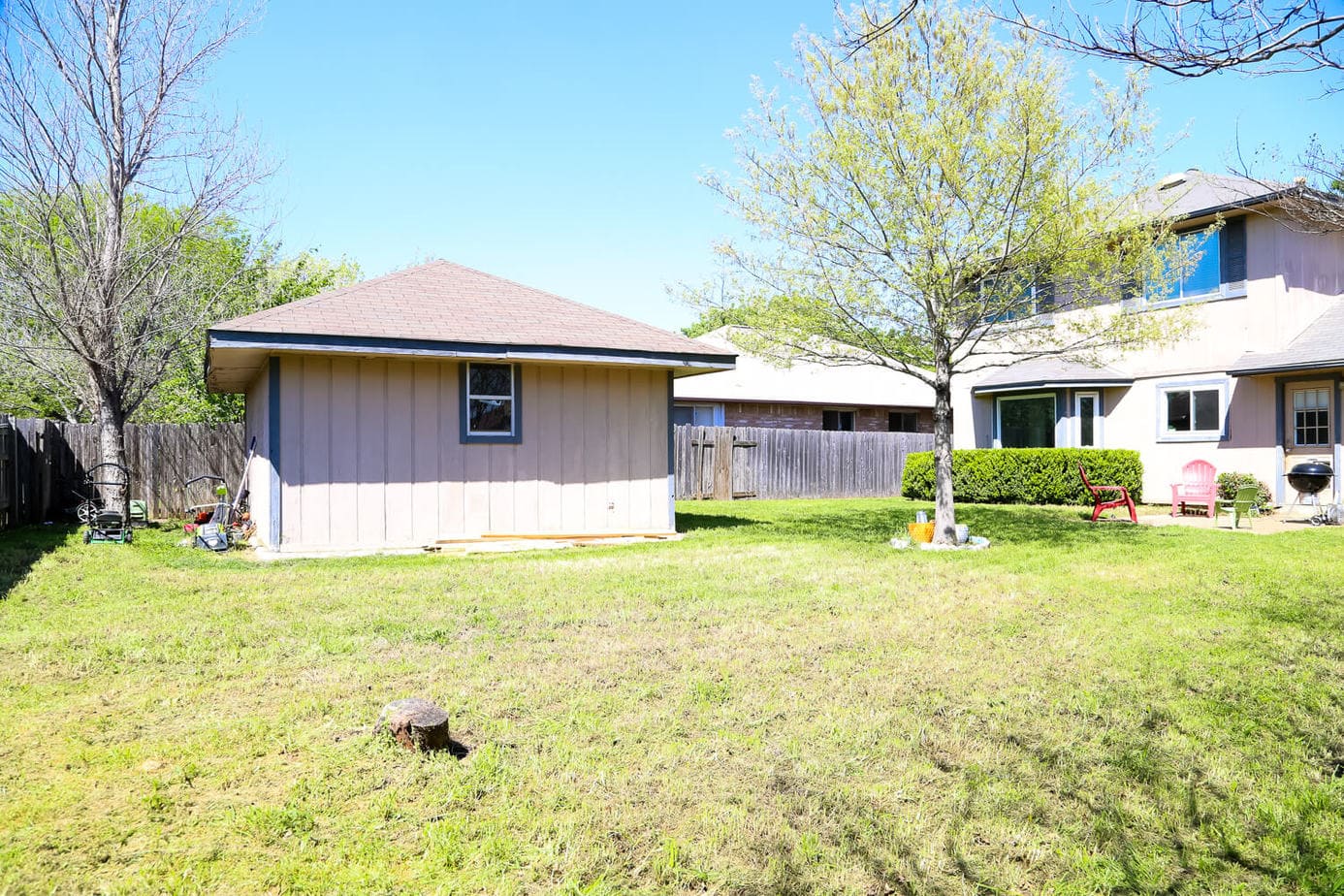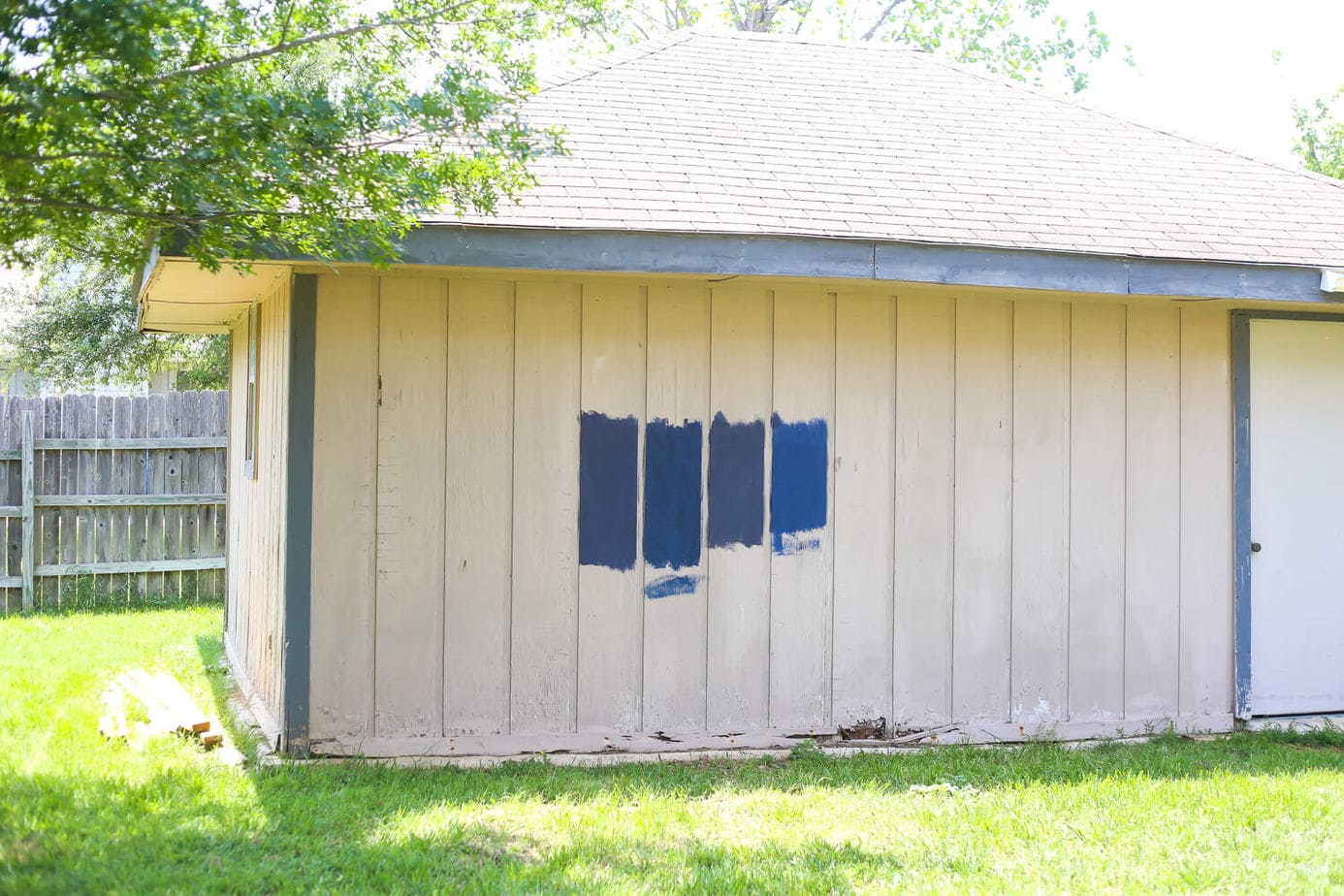 The same ugly color as the rest of our house, with some rotting boards along the bottom for good measure. Cute, right?!
I mentioned that we were planning on painting the workshop when I talked about our plans for the backyard this summer, and now that we actually have it done I can barely even believe how big of a difference it made in the entire feel of the yard. I was super intimidated to get started on this project because it seems like such a huge ordeal.
But guess what? It was easy.
YES. I just said easy. It was easy to paint this building. I did most of it while Jackson was napping over the course of two days. As in, the vast majority of this entire project was completed in approximately 4 hours. That's it.
I'm not kidding.
I've chatted about our love for our paint sprayer before, but Wagner was kind enough to send us a brand new one for this project that's meant for more heavy-duty projects. And, um, I'm in love. This project would have taken at least twice as long (if not more) without this thing (and would have been way more annoying).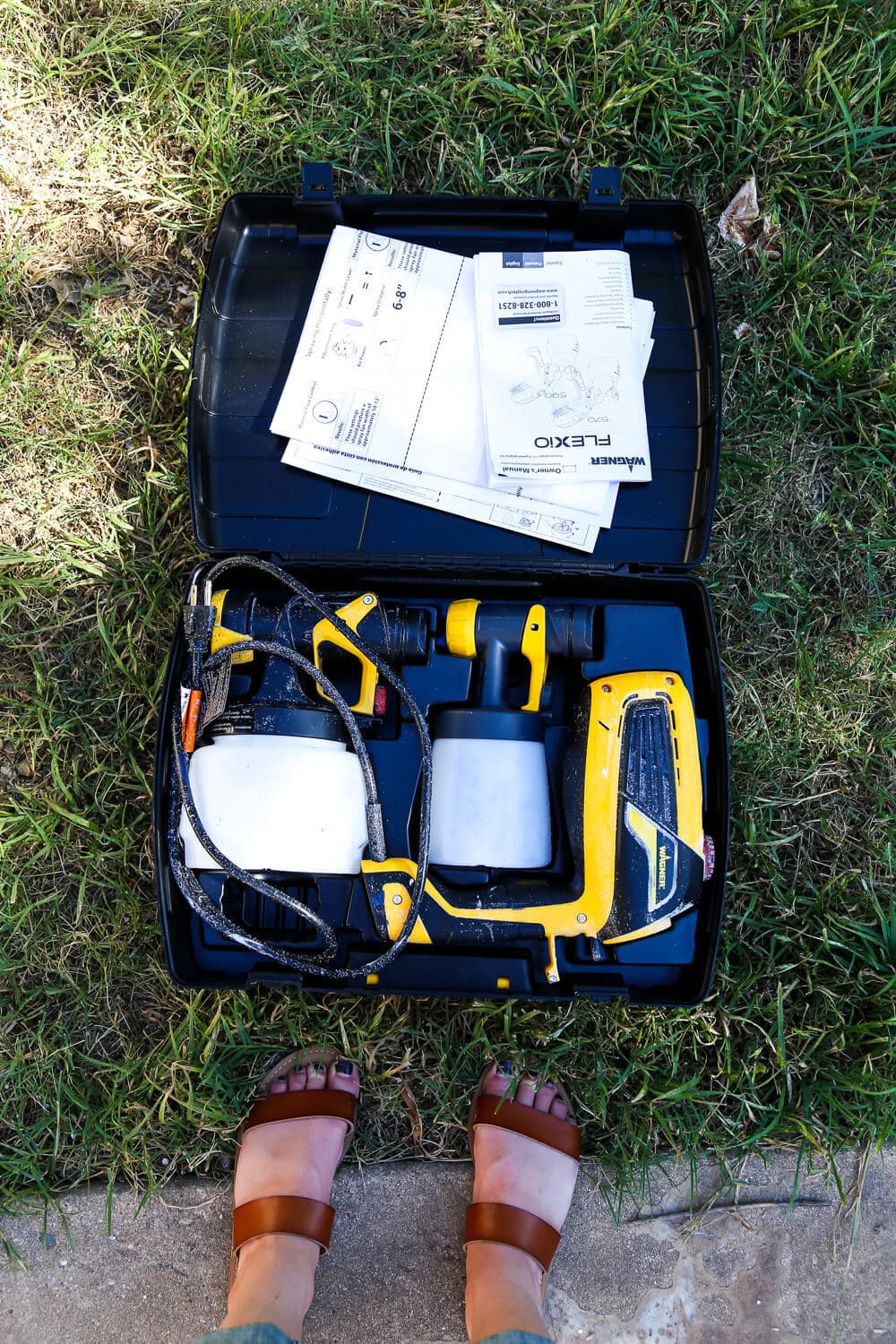 The sprayer we used is the FLEXiO 590 and it comes with two different sprayer heads – one for more detailed work, and one for the large projects. I used the bigger one for most of this, but the little one was great for some of the trim work and touch-ups at the end. My favorite part about this sprayer? For most materials, you don't even have to thin it out. I was able to pour the paint into the container and get right to painting without adding any water, stirring it up, or anything else. It may seem small if you haven't used a paint sprayer much, but the thinning out part is so obnoxious when you're doing a lot of painting – it was so nice to be able to just pour the paint and go.
I started off with the trim – I figured it would be easiest to spray it without worrying about overspray, and then cut in the paint on the walls before bringing out the sprayer. The trim was super easy to paint, but the overhang on the roof was incredibly annoying – holding a paint sprayer above your head, looking up into the overspray, and trying to actually see what you're doing is not fun. Oh, and it happened to be one of the windiest days we've had in weeks when I was working on it. It was a recipe for disaster. Let's just say when I was done painting my face looked ridiculous.
Lesson learned: don't paint on a windy day…especially if you're painting directly above your head.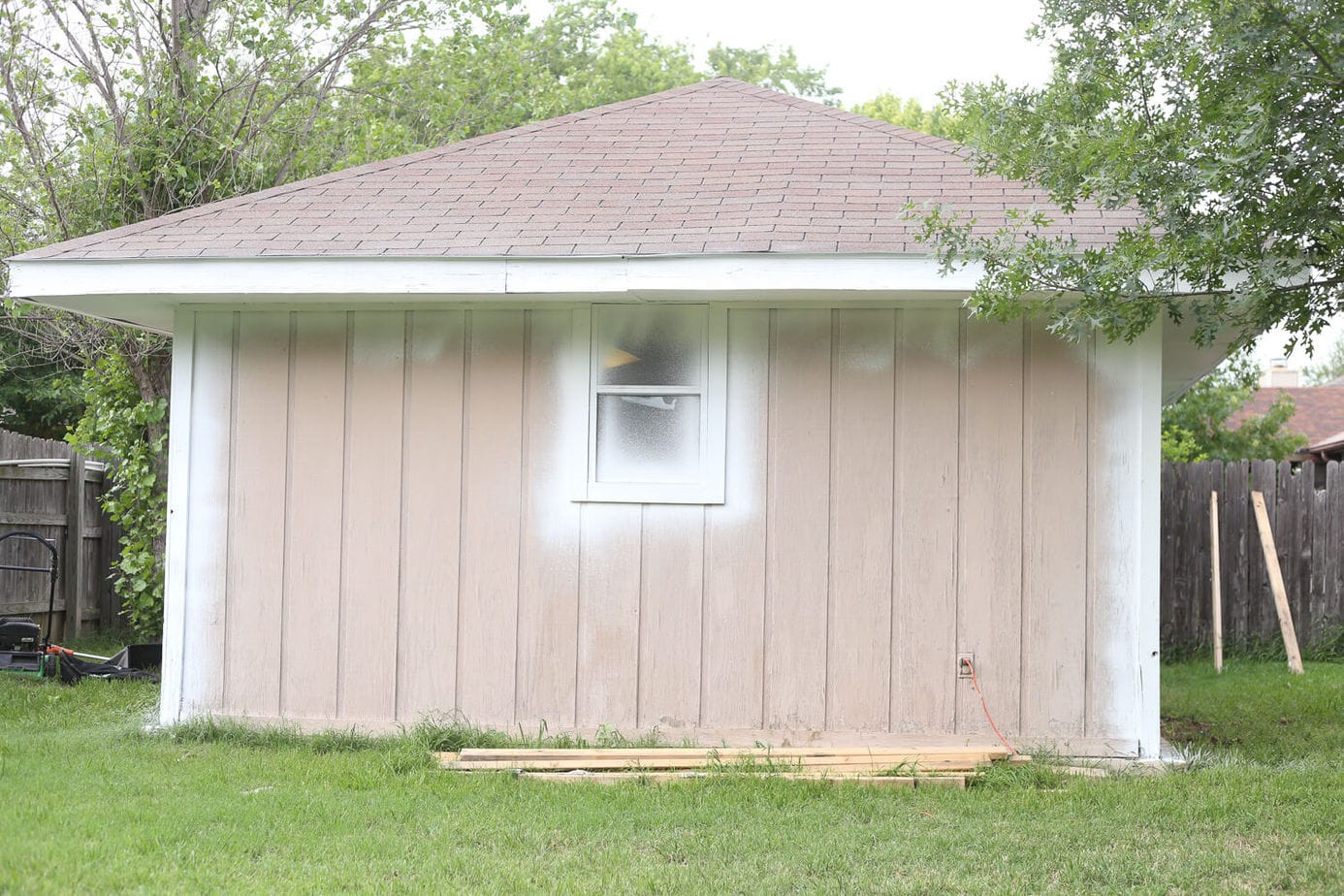 Even though I was covered in paint, I was completely and utterly giddy at how much better it was already looking. The white made the whole thing look cleaner, brighter, and less like it belonged on the set of a horror movie.
A couple of days later, I got back out there to finish it off. I used a brush and a roller to paint about a foot in on all sides of the trim, to help avoid any overspray. There was a small amount at the top on some parts (because I'm short and not awesome at painting above my head), but as long as I stayed no more than about 8 inches away from the wall, the overspray was kept to a minimum.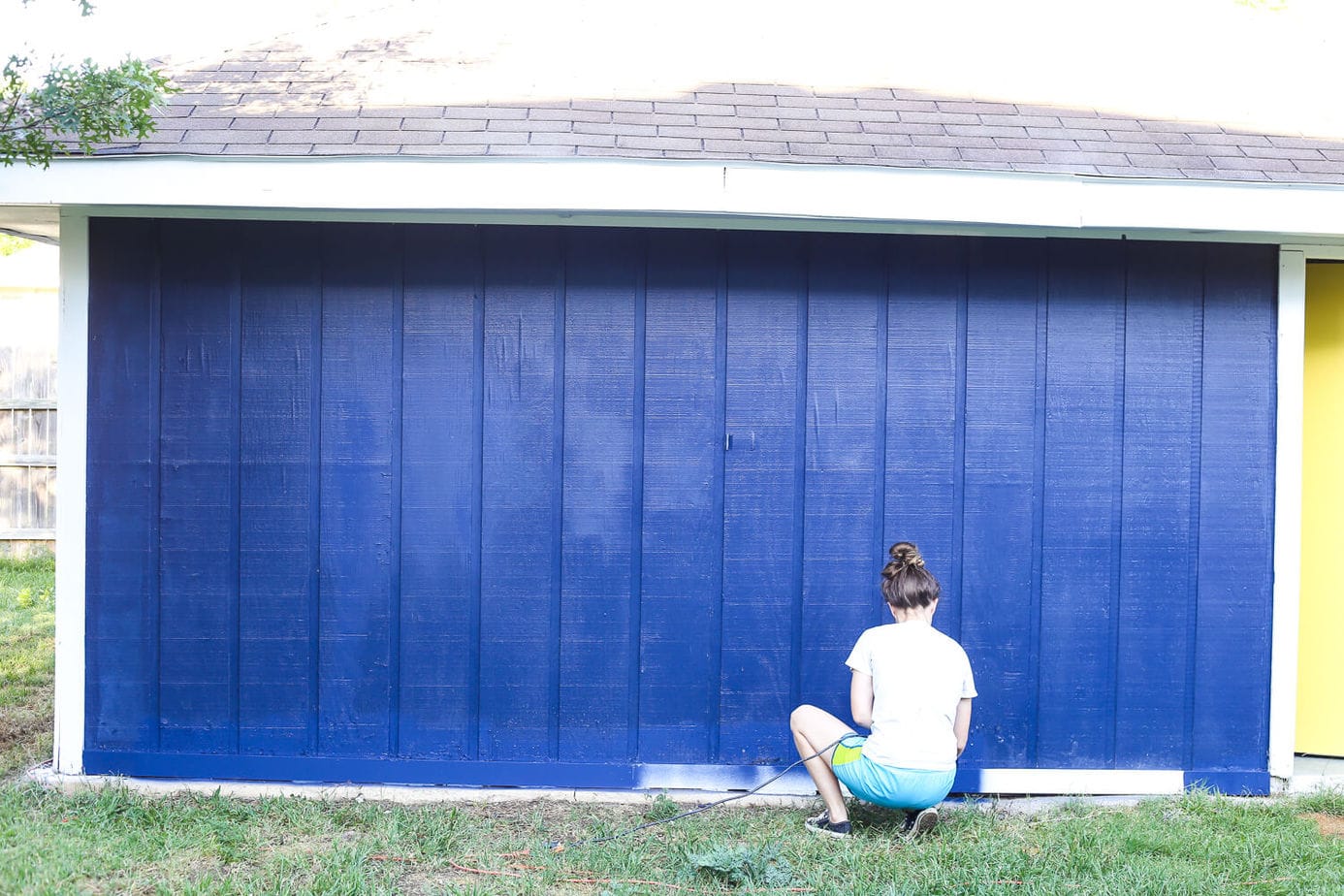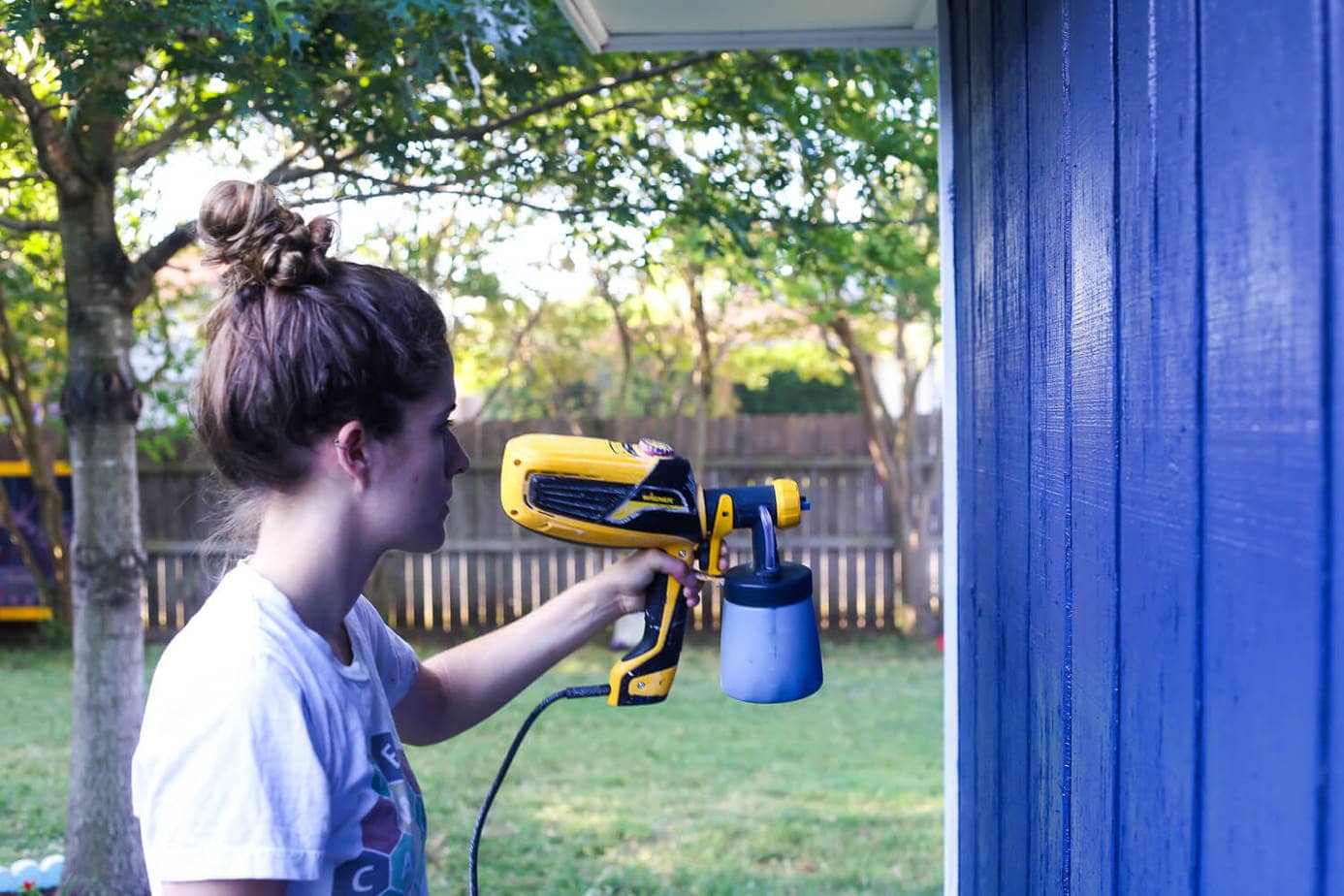 Oh, and can we talk about the paint? Is it making your soul happy? Because it makes my soul happy. This is the color combo we're hoping to eventually do on the entire house, and it was really fun to get to try it out on something that doesn't require quite as much commitment. We used Behr Marquee Exterior paint because, if you'll remember, we refuse to use basically anything else on our walls anymore because it's the best paint in the world.
The trim? ONE COAT. One. That's it. To cover dark gray. With white.
You heard me say just one coat, right?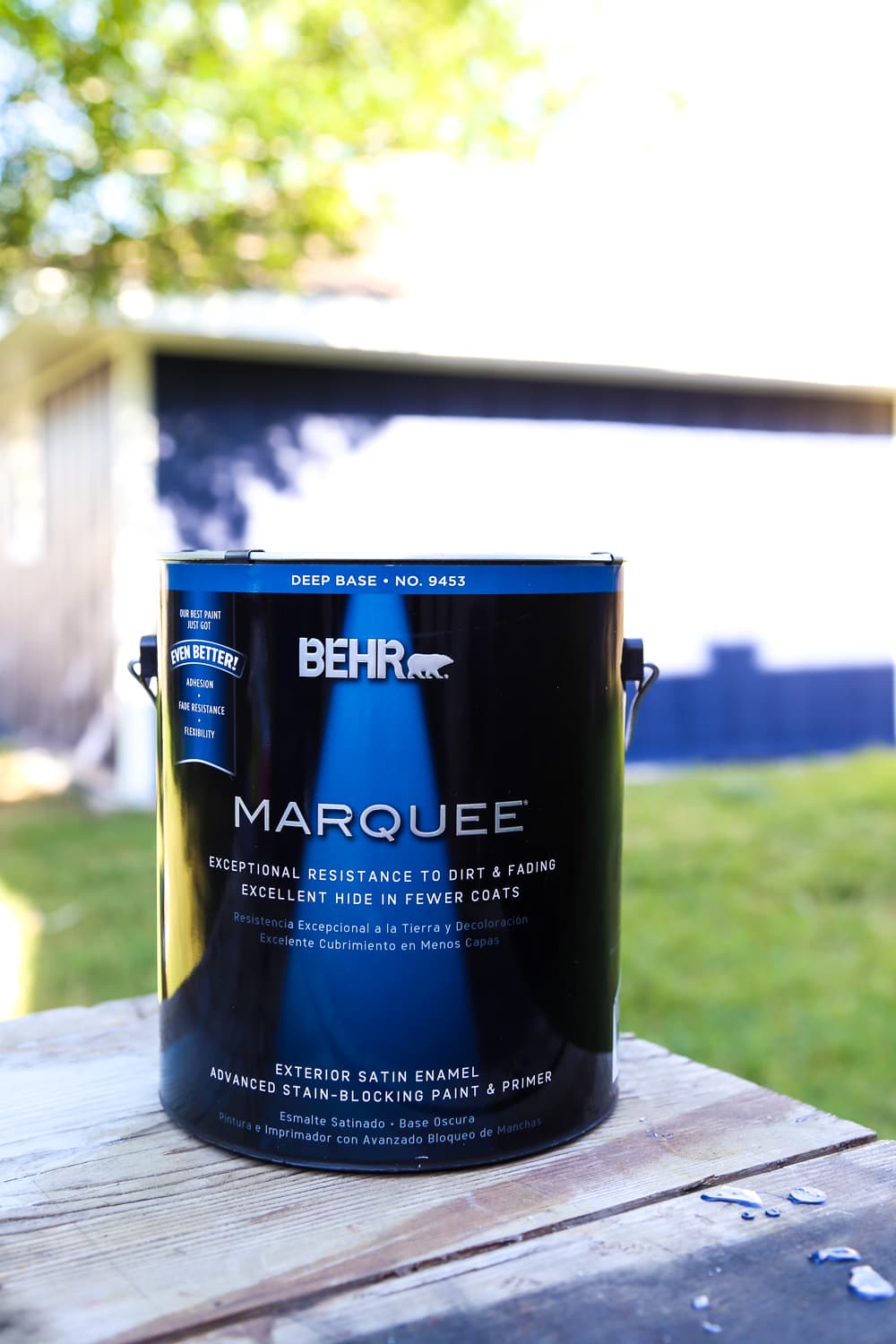 It only required one coat for the walls too, with a few touch ups thanks to some old boards that are in less-than-ideal condition. It blows my mind that this paint can cover so well, and the quality of it is just absolutely incredible. Between this paint and the fabulous paint sprayer, this job was seriously a breeze.
I never thought I'd be saying that about painting our workshop. But here we are.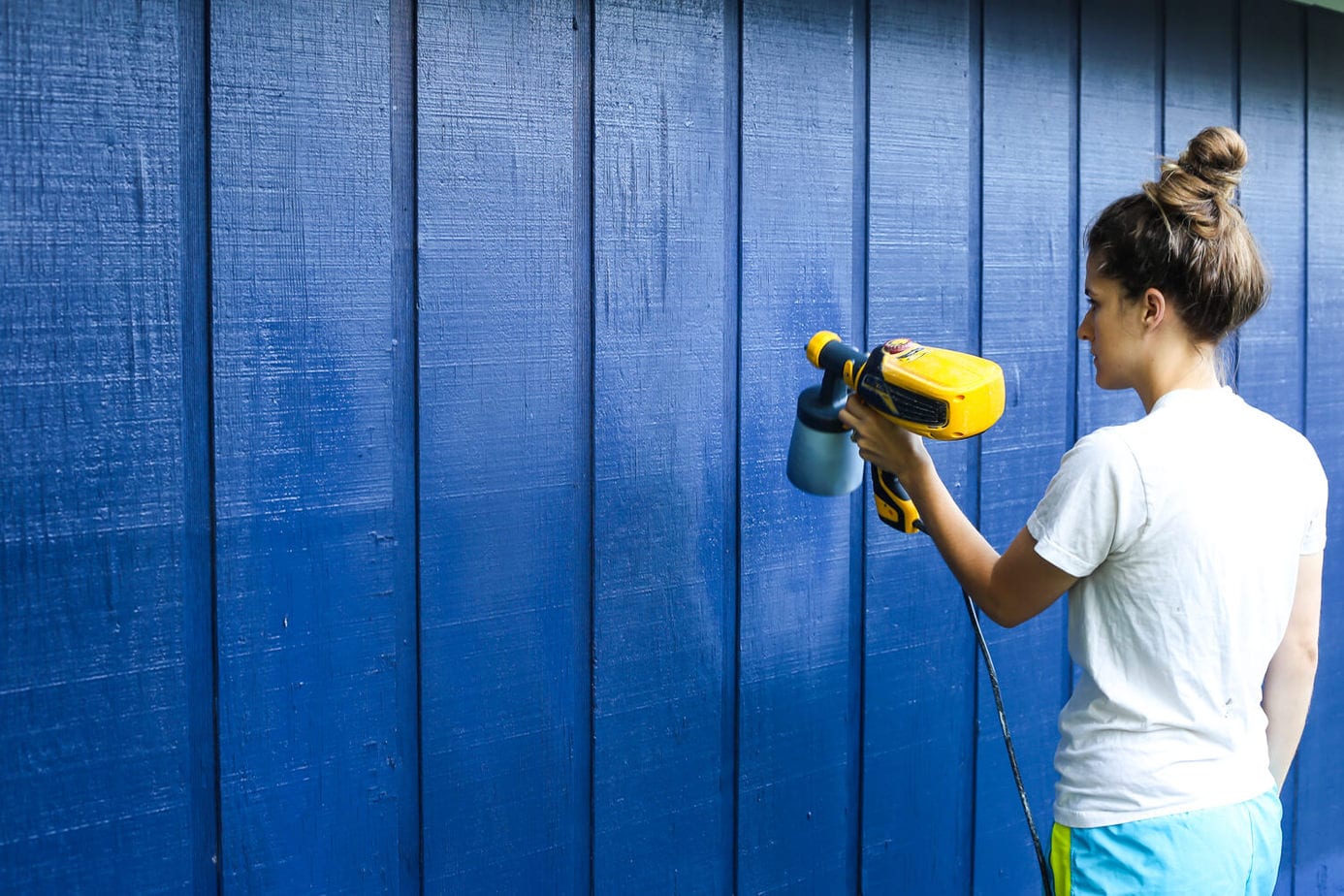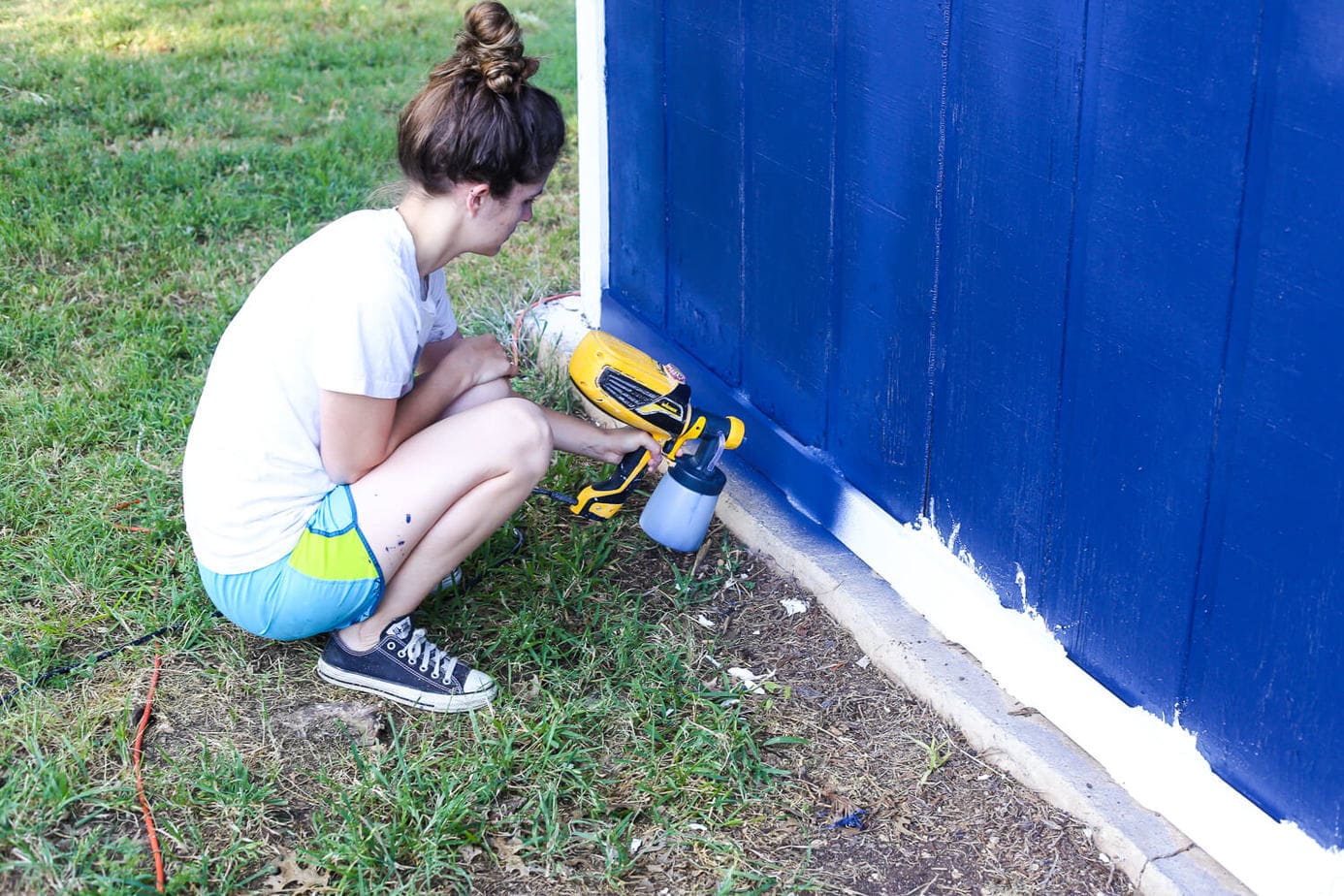 Side note: Notice that I have paint on my leg in that last photo. I'm using a sprayer. I didn't even touch the paint. How did this happen? I swear my skin is a magnet for paint.
Anyways. The color that we used on the trim is Ultra Pure White, and for the walls we used Night Flight. Oh, and the door? It's Hawaiian Pineapple.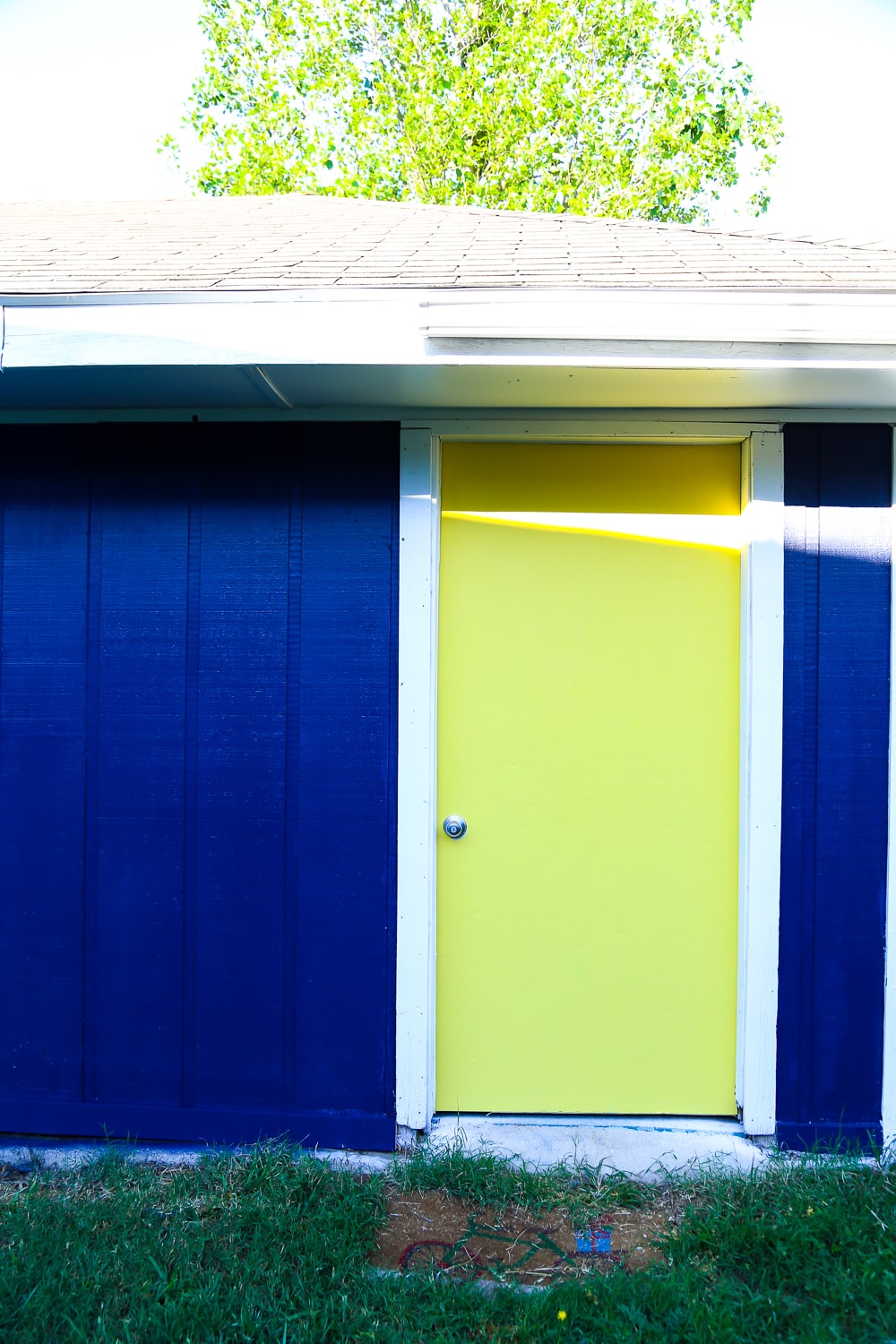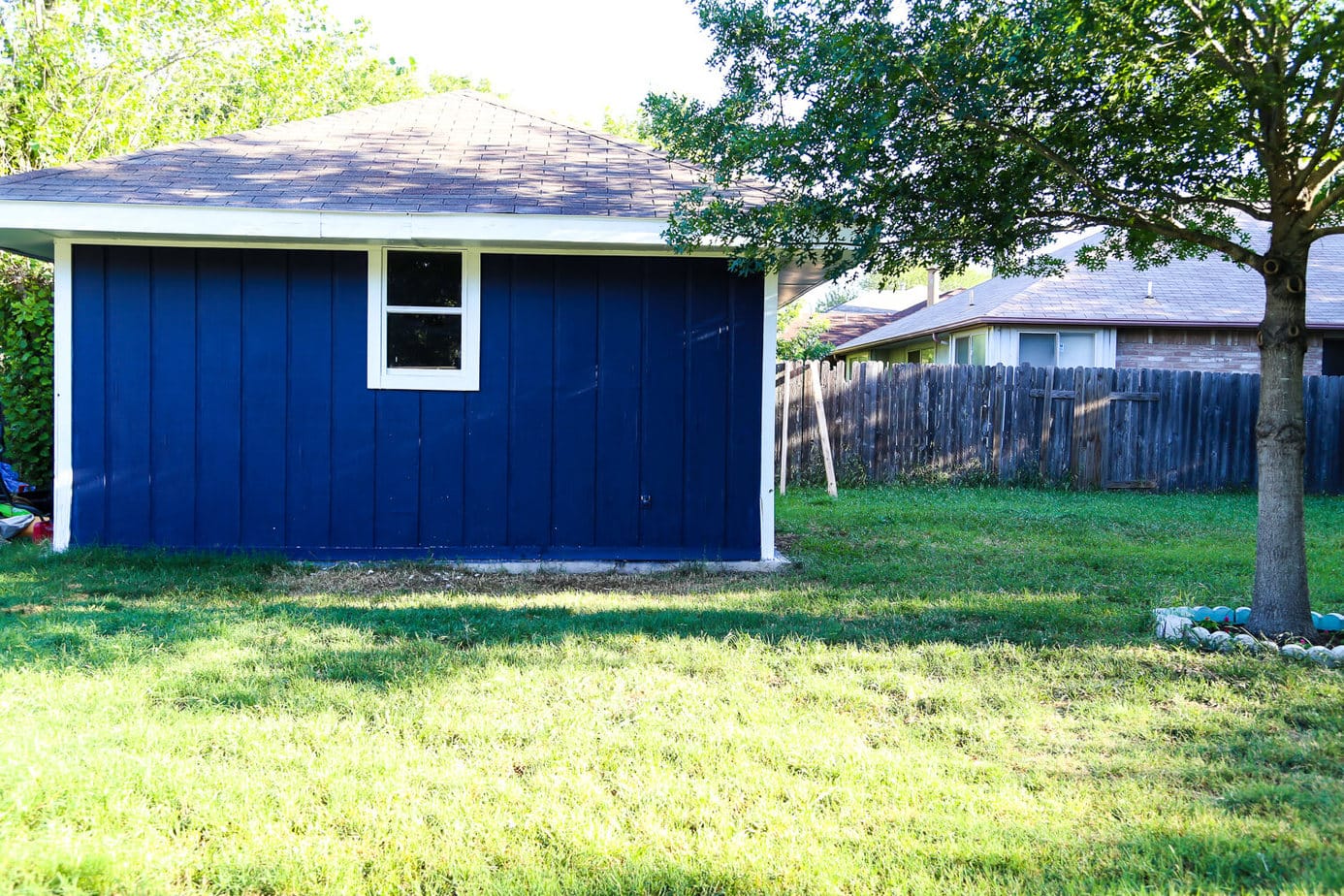 Who doesn't love a happy yellow door?!
One of my favorite things about having this project done is that the workshop is visible from so many different parts of our home. The entire back half of our house is full of windows (there is far more window space than there is wall space on the half of the house that looks into the backyard) and that means that when I'm in my kitchen or dining room, I get to look out on a much nicer view now. I didn't realize how much that ugly old workshop was affecting how I felt about our backyard in general, but I feel like it's so much cleaner and more updated just having this one thing done.
It's like magic. I love it.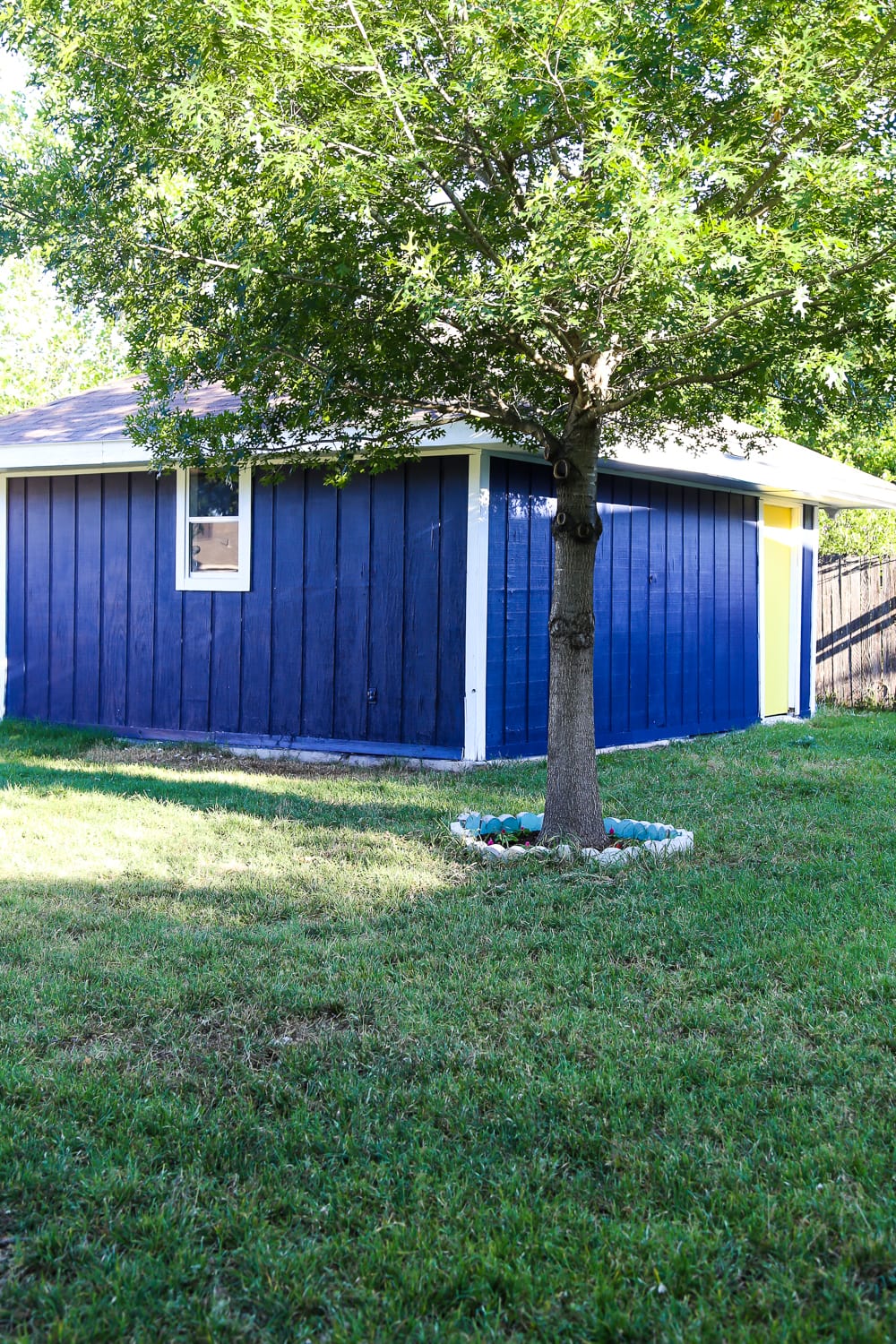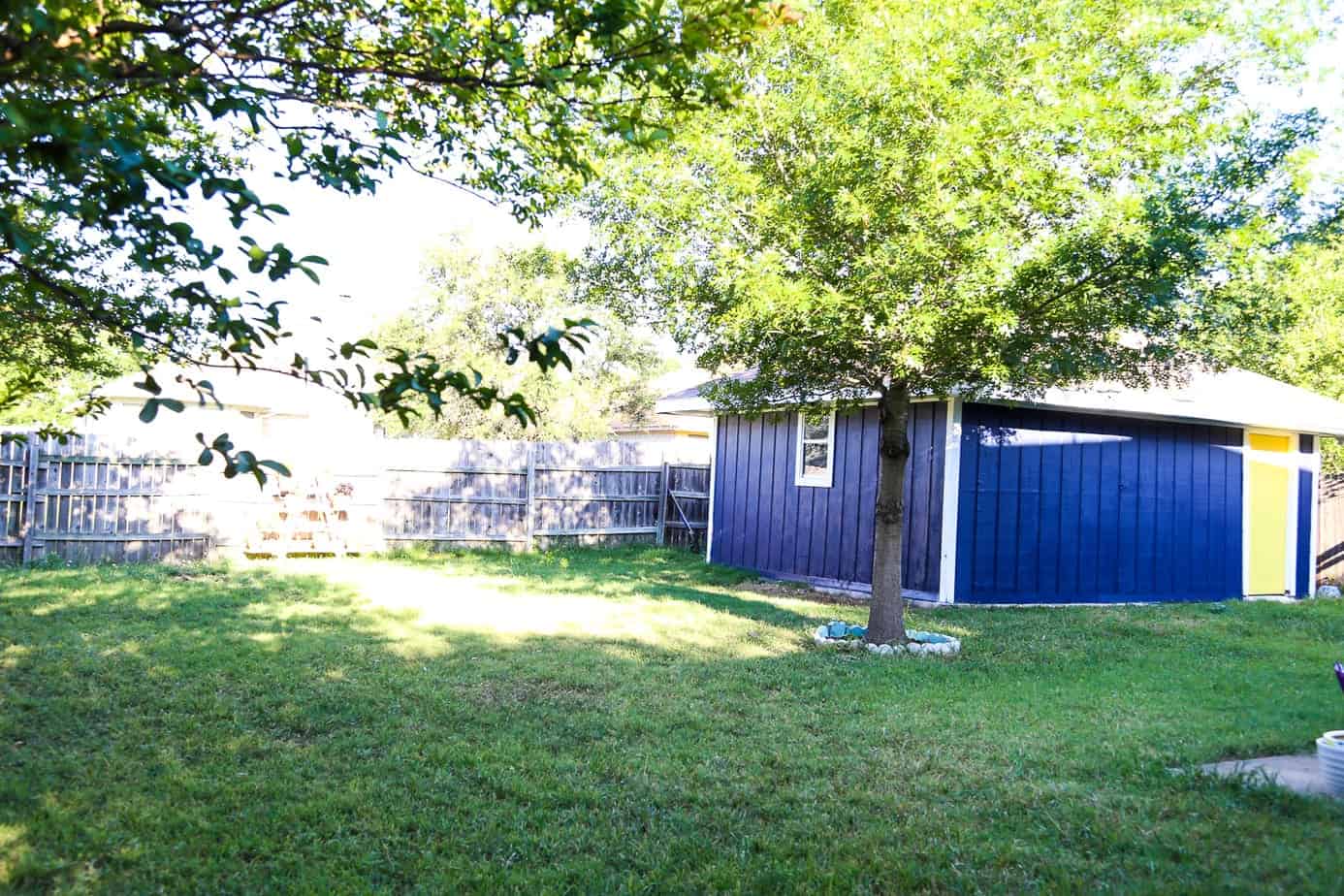 Of course, we still have quite a ways to go before we can call the backyard done, or even close to done. As you can see from the photos, our backyard is in desperate need of a good mowing (our lawnmower broke!), there's some junk hanging out in various spots, and one section of the fence is still being held up by some 2X4s. We're classy like that.
Our next project (other than a general clean-up) is to tackle is the patio area, along with a play house for Jackson (we're working on them both at the same time, because we're crazy). After that, it'll be mostly little things to finish it up. I'm so excited to finally be doing something out here – it's going to be so nice when we actually want to be in our backyard!
Be sure to check out Wagner's website for more info on their paint sprayers – I promise you, if you don't have one yet and you do any painting ever, you're gonna want to get one. It will change your life.
Have you ever painted an exterior building before?