Our New Favorite Video Monitor
We finally added a video monitor to Grant's room, and I'm so excited to share a review of our Panasonic HomeHawk FLOOR today.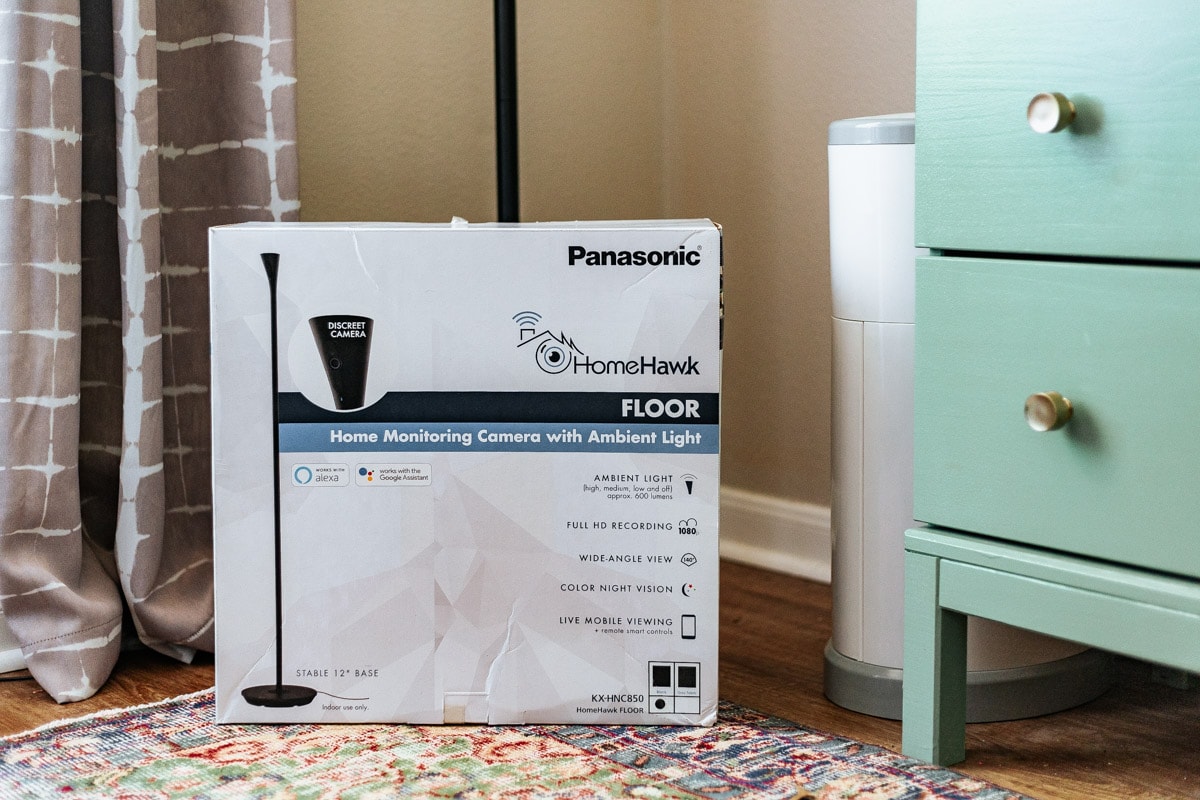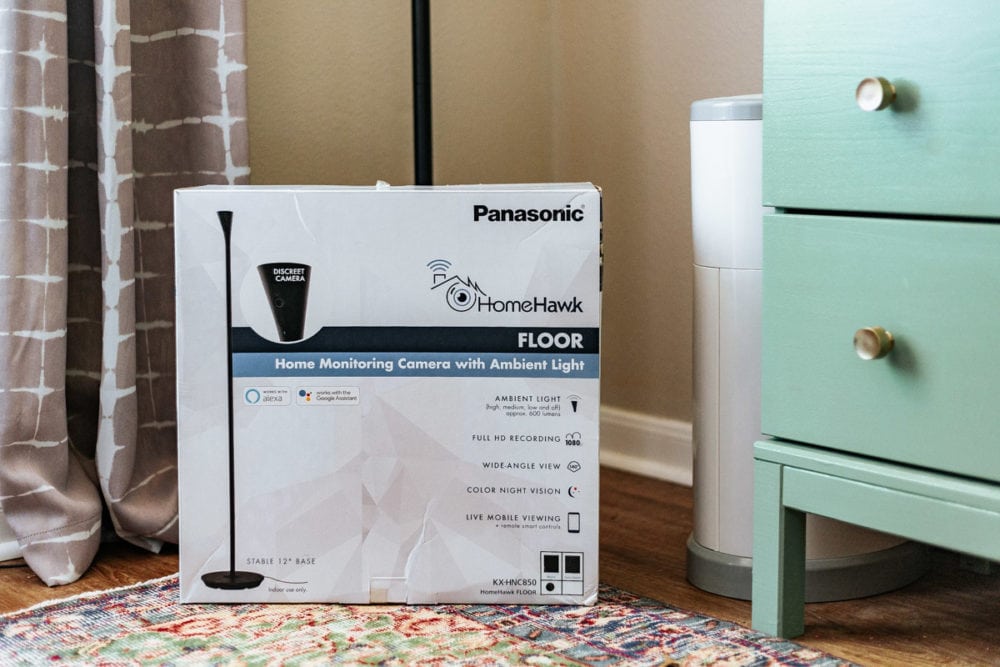 This is a sponsored conversation written by me on behalf of Panasonic. The opinions and text are all mine.
One of my favorite spaces in both of the houses we've lived in to design and decorate were the nurseries – they're always a ton of fun to put together and we spend so much time in them that I really appreciate having a beautiful and cozy room. Of course, the downside is that they can also be a big challenge since there are so many less-than-attractive things that need to go in the room.
Diaper pails, changing pads, and baby monitors aren't exactly the height of style, you know what I mean?
Of course, with Grant's room, one of our biggest struggles from the beginning was that we really didn't have a good place for a video monitor. There's only one spot in the room to set anything (the dresser), and we weren't able to get a great view of anything from it. We considered wall-mounting a monitor (so you could actually see into the crib), but we didn't want to deal with the hanging cords and the eyesore on the wall. So, after weeks of debating what to do when I was pregnant, we finally just bought an audio monitor and said we'd figure it out later.
And then, 11 months down the road it's almost his first birthday and we still didn't have a video monitor. Whoops.
It's honestly not the end of the world, but there have certainly been times we've missed the ability to peek in on him. There have been multiple times in his life that I've brought up wanting to figure out the monitor situation, but it was just never very high on our priority list so we never got it done.
Until, that is, Panasonic reached out to us about their new HomeHawk FLOOR and we discovered the simplest way to get the perfect view of his entire room with something that blends right in and looks like it belongs in the room!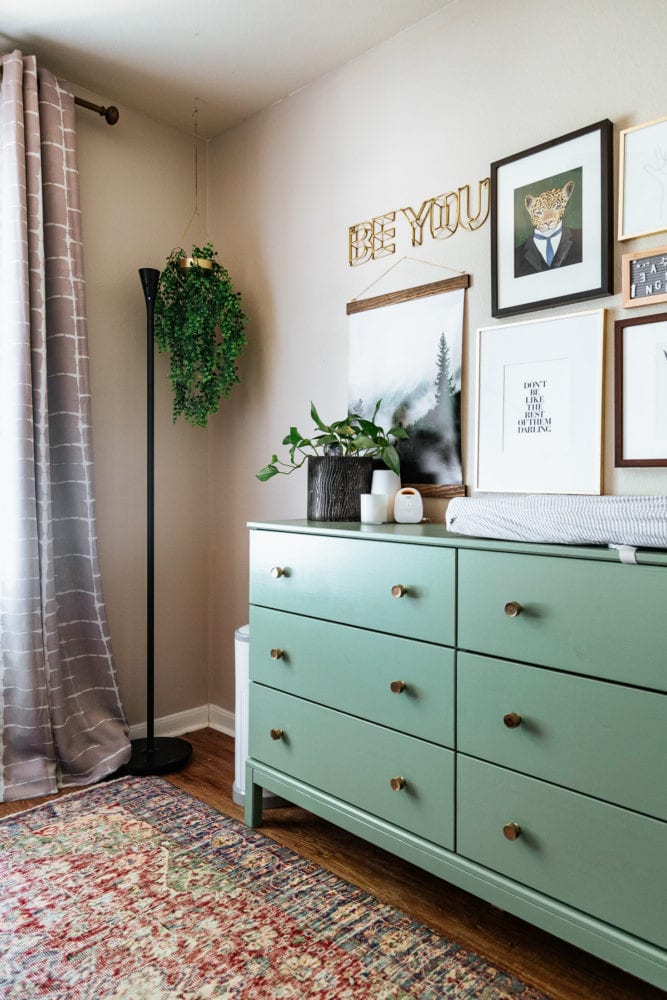 The Panasonic HomeHawk FLOOR is a really unique home monitoring camera that does double duty as both a lamp and a video camera. It's perfect for a small space like ours where we really need to be able to squeeze as much function as possible out of every single thing we bring into the room! The wide-angle lens allows us to see the entire space at once, and it has three height options (it can even be a tabletop lamp!), so you can customize it to perfectly suit the needs of the room you're working with.
This truly was the perfect solution to all of our problems – we're able to use the tallest setting so that we can get the height we needed to see the whole room, but instead of having to worry about hiding cords and mounting a camera, I was able to just put the lamp together and set it in the corner! Since it's designed to blend right in with your regular decor, it was also really nice to not have one more obvious baby contraption in the room. You deal with enough baby paraphernalia around the house when you have kids, so anything that simplifies my home is a winner in my book. I don't have to worry about keeping a parent unit charged (I can just check it from my phone using the HomeHawk app), and it'll easily transition to just being a regular home monitoring camera for us once he outgrows it.
You can also add an SD card to it to record (depending on the settings you have it on, it will start recording as soon as it senses movement – even just in a specific area!), and you can check on it anytime from anywhere using the HomeHawk app.
I also really appreciate the dimmable lamp feature. You can have it turn on automatically at scheduled times (perfect if you're leaving town for a few days!), or even when it senses movement in the room. It's also compatible with Google Home and Alexa! It would have been so nice to have this feature back when we were still waking up all the time in the middle of the night – you could just turn on the lamp to a low setting before you even enter the room so you aren't fumbling around in the dark to change a diaper while you're still half asleep.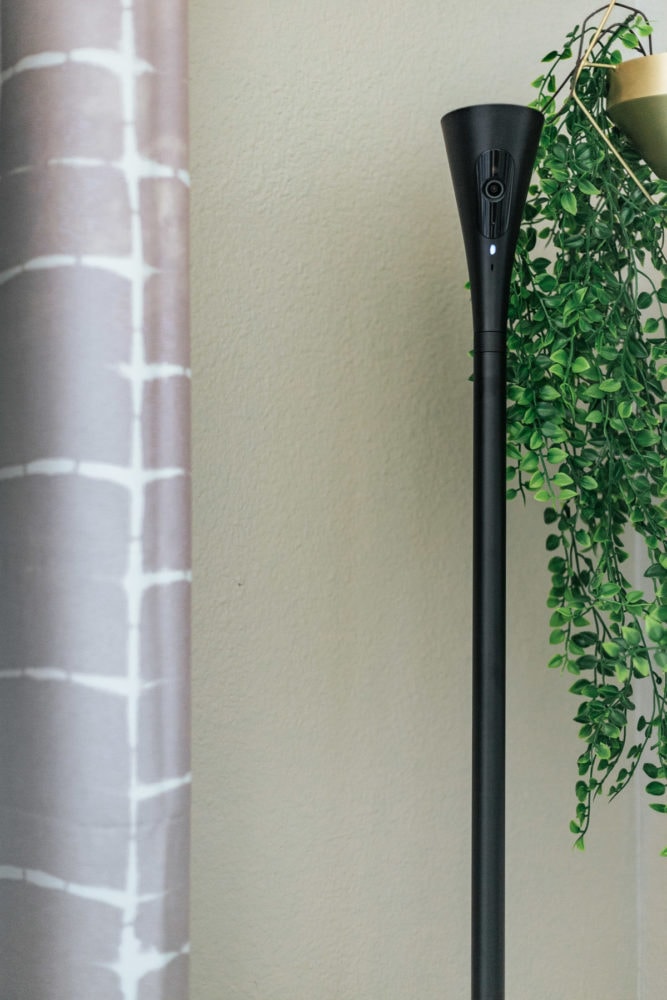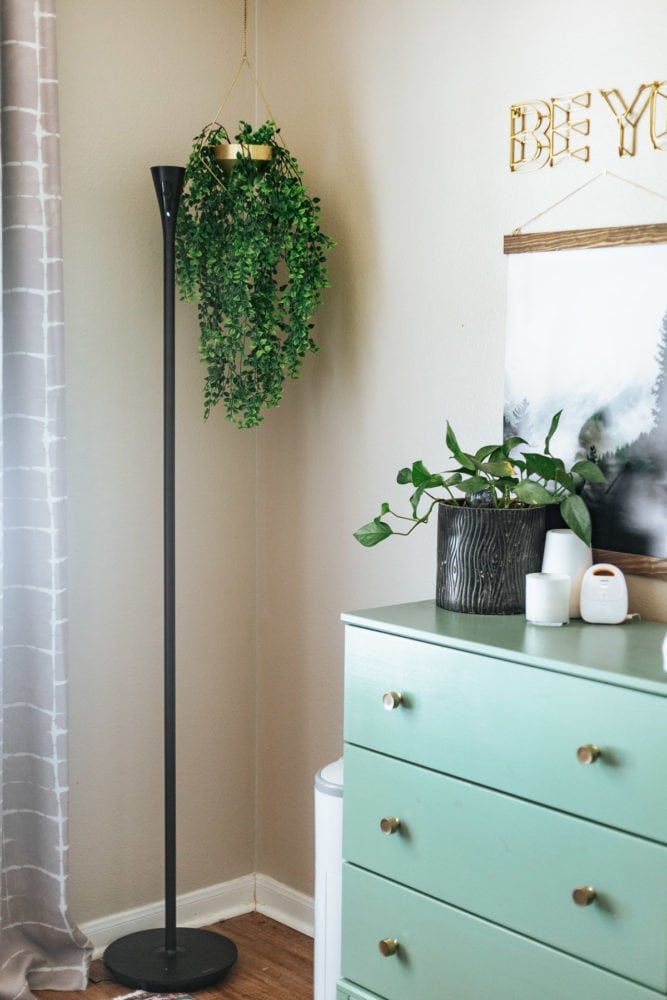 This little powerhouse has been so great to have over the last few weeks, and I'm so glad we discovered it! It can be so tough to find home security options that aren't giant eyesores in your space, so it's really exciting to find something that blends in so seamlessly. Not only is it nice have the lamp feature (who doesn't need more lamps in their home?), it helps the camera not be quite as conspicuous! It comes in both black satin or gray fabric, so you can choose the option that fits your space best, and let's be honest – I"m here for any video monitoring system that also puts some effort into looking great in your home.
You can use the coupon code 10PANASONIC to get 10% off your HomeHawk floor, or just click any of the links in this post to have the discount automatically applied to your Amazon account (fancy, huh?!). This discount applies to both the HomeHawk FLOOR and the HomeHawk SHELF, which is their smaller, super sleek option for just a home monitoring camera. The offer is good until August 25, 2019, so be sure to check it out soon!