Recently, I casually mentioned on Instagram that we plan to move to a new home in the next 4-ish months. There was a lot of surprise, tons of questions, and a bit of confusion – didn't you just move?!
I know many of you are new around here, so I figured it'd be worth it to take a minute here on the blog to catch you up on why we're moving so soon, what our plans are, and what we still want to accomplish in this house before we move. Think of this post as your roadmap for the next few months of content, and your quick-start guide to our back story and what's happening with us right now!
Why are we moving?
Let's start with the big question that's on a lot of your minds – why in the world are we moving already? Well, you might remember that we downsized to this house at the end of 2017 as a way to pay off all of our debt and give our finances a bit of a re-set. It's was a life-changing decision that we didn't make lightly, and I cannot even begin to express to you how glad I am that we did it. However, our plan was never for this house to be a long-term living situation for us. In fact, we've said from the start that we'd live here for 3-5 years, max, before moving on.
You can catch up on the whole story below:
So, anyways, our 3-5 year timeline got pushed up just a little bit because of a few things:
We had a baby. We knew we'd be trying for a second child shortly after moving in, but we didn't realize just how much another human in this small house would impact things. Our baby is quickly becoming a toddler, and the house feels a little more cramped every single day.
Our dog hates this house. I know that sounds like a dumb reason to move, but when you've got a 70-lb Doberman who is visibly miserable in your home, it's hard to ignore. She gets nervous in tight spaces, doesn't do well with room transitions and small walkways, and this house has just been torture for our poor girl. She refuses to enter the front half of the house, which means her entire world has been reduced to our living room, bedroom, and backyard. Not only is it hard on her, it's hard on our poor furniture that she now lives on! She needs more space, and we need our happy dog back.
Our son has been begging for more room. Corey and I can handle the small space just fine, but once Jackson started saying that he'd like to move to a bigger house, we started talking much more seriously about moving up our timeline. He misses having space to spread out and play without everyone tripping over his toys, he wants to be able to have friends over more often (we generally go to other friends' houses instead right now), and he wants to be able to have his 6th birthday party at home (and I'm not hosting 15+ kids and their parents in this tiny house).
With all of those factors in play, plus the fact that Corey and I feel ready for a change (both financially and emotionally), we've decided that once we hit the two-year mark in this house, we'll be officially on the market to move. We're specifically waiting for two years because, although we don't anticipate making a ton of money on this house, we'd still rather avoid paying any capital gains taxes on the little we do make.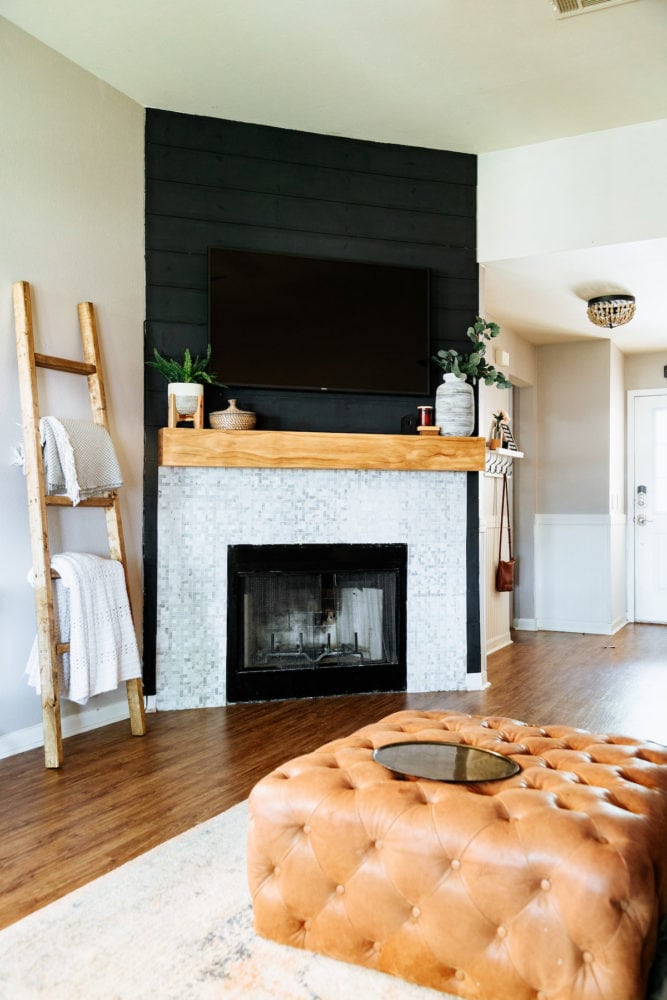 So, how do you know you're ready?
I offered up the chance to ask some questions about our plans over on Instagram, and one question I got was how we knew that the time was right, financially speaking. I thought it was a great question, especially since we originally moved into this house for financial reasons, so I wanted to be sure to address it.
To some extent, I think that this one will depend on every individual couple and family. Everyone has different comfort levels with finances, savings, and taking risks – and buying a house is always a risk. For us, though, here a few signs that we knew it was a good time to start thinking about moving:
Between what we've already done and the last few projects we want to finish. we've renovated this house enough that we know any further renovations won't really show a return on investment. It's vital to know your market and know it well if you're planning on moving anytime soon, and we know that this house has reached the limit. We'll already have almost zero competition in the market – most of the homes around us are much larger than ours – and the homes that are about our size aren't updated at all. We also already have some concerns about seeing a return on the investment for some of our renovations, so we don't want to stay here and just keep over-improving the house.
We've got money set aside for a downpayment. We've been diligently saving as much as we can for quite some time now, and we know we have enough to move forward with a house purchase. How? We spoke with our mortgage lender! It's always a good idea to stay in regular communication with your realtor and mortgage lender if you'll be moving in the next year or so, and once we thought we were in a position where we could make it happen, Corey had a quick chat with our lender and we were pre-approved. So, we're walking into this fully confident that our financial situation is under control and ready for this change.
We've ran the numbers on our budget. Moving to a new, larger, house will require a bigger mortgage – and a higher monthly payment. We're intimately familiar with our monthly budget and what we can and can't afford, so we've had conversations about how much we are comfortable with seeing that number increase, and at what point we start to feel nervous about the numbers. Based on that, we have a budget that we're sticking to for our house hunt, and (thanks to aaaaall of the market research – aka home listing stalking – we've done over the last few months) we know it's totally doable.
It just feels right. Corey and I have spent a lot of time talking and praying over this decision, and we feel fully confident that this is the direction in which we're being led. After the wild adventure we had with moving to this house (be sure to read it if you aren't familiar with the story), we've learned the importance of trusting those gut feelings and little nudges.
What projects are you going to do before you move?
So, what exactly do we have left? Well, we sat down and made a list the other day and, surprisingly, there's more left to do than I thought there would be. Most of the projects are pretty small, but there are a few big things left. Like…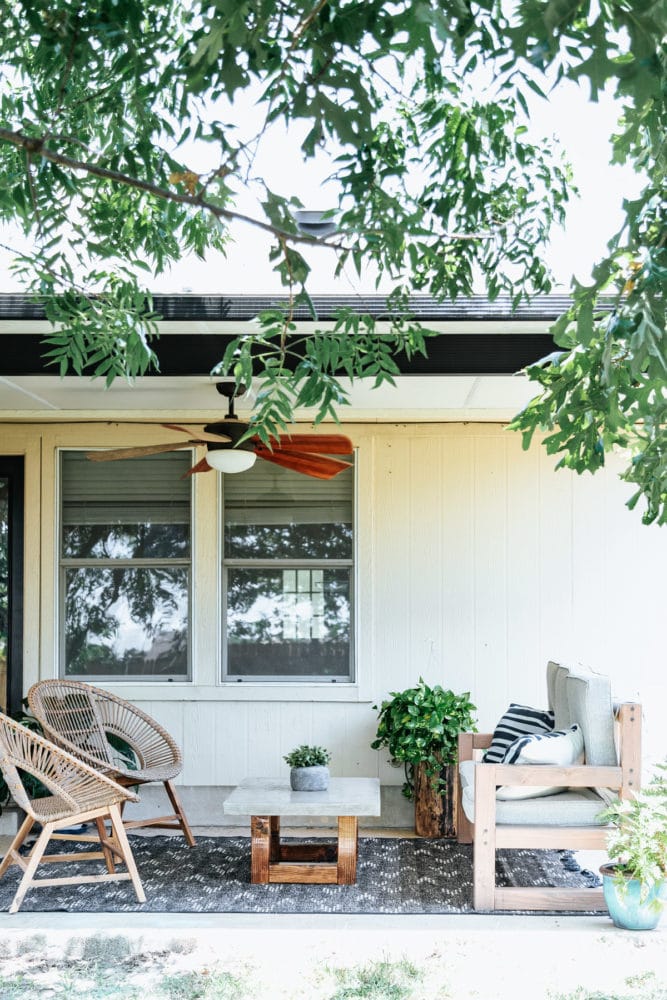 Paint the exterior of the house. I've been talking about this since the spring, but it kept getting pushed back for a whole variety of reasons. I'm done putting it off, and if you've been following over on Instagram you'll know that we've officially started! I'm hoping to have this done and ready to reveal in the next couple of weeks, so keep your eyes peeled!
Paint our bathroom floor. I've been teasing this forever and the time is finally here! I'm working with my friends at Rust-Oleum on their brand new interior floor paint and I am so excited. Along with this project, we'll wrap up a few other loose ends in our master bathroom and call that room complete.
A mini master bedroom refresh. We debated for a loooong time about whether or not we want to do this, but in the end we decided it's worth it – we're going to be repainting our master bedroom. We both adore the dark blue color, but we had a hunch that it might not be super buyer-friendly, and our realtor confirmed that it would be worth our time to repaint it something a little more neutral. When we paint it, we also plan to swap out a few small things (like the overhead fan, possibly our bedding, and maybe the dresser) to make the room as appealing as possible.
Repaint the kitchen cabinets. Ugh. It hurts my soul to even type that. But, they need a few touch-ups (and we made a mistake on the finish for the uppers, so they've started to yellow), so we decided to check with our realtor about those, too. Once again, she said that if we really want to appeal to as many buyers as possible and get the most possible money (yes and yes!), it's probably a good idea to get rid of the blue cabinetry. She emphasized that it's totally optional (blue cabinets probably won't stop our house from selling), but since we have a few other bold choices throughout the house that we aren't changing, we figure it's probably for the best.
A quick laundry room makeover. And finally, the last big (or rather, small) project we want to tackle in this house is giving our laundry room a super quick, super cheap makeover. I promised we'd do this in the fall since so many of you were interested in seeing some laundry room ideas, so I'll actually be tackling this room later this month! It's going to be a really fun challenge, so get excited for this one!
Of course, there are also a whole host of smaller projects that need to be crossed of the list before we're ready to list our house. Here's our to-do list:
Finish trimming all of the windows in our house (like we did in the nursery)
Re-paint the metal fireplace surround
Finish updating the switch plates and outlets so they all match
Replace the hallway light
Touch up paint around the house
Re-paint living room and bedroom baseboards
Fix some broken baseboards in the dining room
Fix our broken side gate
Re-paint our side fences (the previous owners painted them red!)
Fix broken closet knobs in the boys' rooms
Touch up paint on our dining room bench
Other than that, we'll obviously need to do a deep cleaning, patch holes from any art we remove, stage the house, and declutter a bit – all of the standard "getting ready to move" things.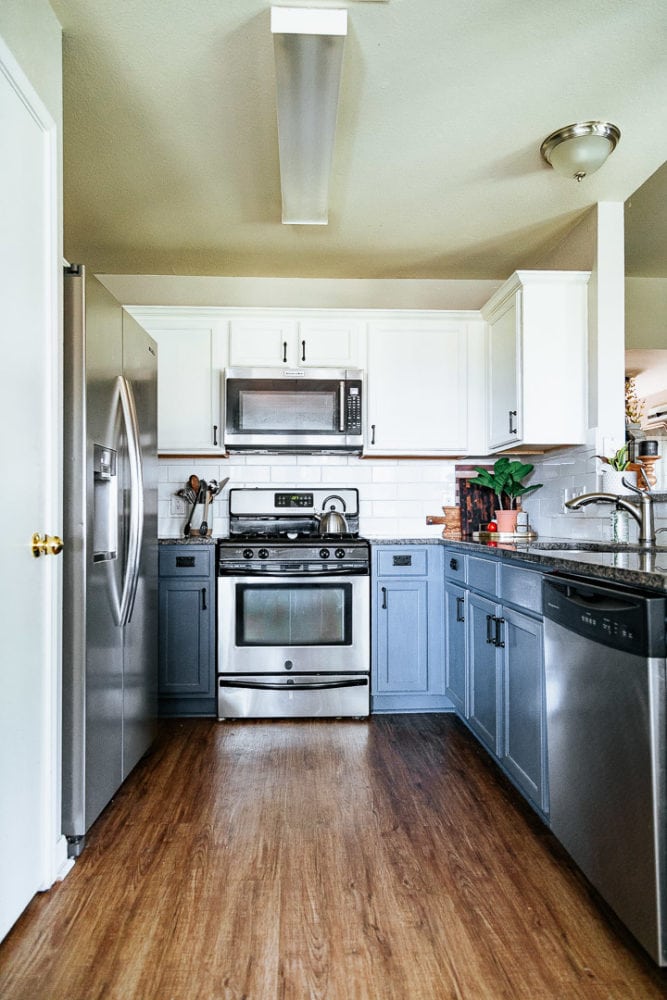 So, when are you moving and what are you looking for?
Anyone who has moved before knows that it's just about impossible to have a definitive timeline – things shift and change with the market, and things could always go much slower (or much quicker) than you expect.
That being said, we'd love to be in our new house by Thanksgiving. We've got a detailed timeline already laid out with our realtor, and our goal is to have the house ready for photography (which means all the projects need to be done!) by the end of September. That gives us just under two months to get aaaaaall of these projects done!
It's an, um, ambitious list, but I think we can manage it!
A lot of you also wanted to know what we're looking for in a new house – will it be our forever home? What are the must-haves?
First of all, the term "forever home" doesn't really ever feel right to me. We want our next house to be one that we live in for a good, long time. I want to choose a house that I can see our kids in until they graduate from high school. But, I also know that things change and sometimes what you think might be a forever home ends up being a "just for now" home. So, the answer is yes – we want to stay in this next house for as loooooooong as we possibly can. But, I'm not ready to call anything our forever home quite yet.
As far as what we're looking for, we like to make two separate lists when we're house hunting: our "must haves" and our "wants". The must haves are things that are non-negotiable for us, and we don't even want to spend time looking a house that doesn't have those features. The wants are a little more intangible – we wouldn't buy a house without at least most of the things on the list, but we can be flexible if a one or two are missing and the rest of the house is great.
So what's on the lists?
Must-Haves
3 bedrooms, 2 bathrooms
2000+ square feet
A secondary living space (preferably out of the way of the main living areas – like an upstairs loft or a game room with a door)
In a neighborhood with amenities, like a pool and a playground
Wants
A fourth bedroom, or an office
Tall ceilings (at least in the main living areas)
A fireplace
A 3-car garage
A formal dining room (not just an eat-in kitchen)
Renovation potential! Impossible to explain this one exactly, but we have big visions for our next home and want to buy something that we can really see a lot of potential in.
I'll be sharing plenty of updates here and on Instagram as we power through the to do list and begin the house-hunting process. I've got a detailed timeline laid out for myself to get everything done, so hopefully we'll stay on track.
And, of course, you know we'll keep you updated as we go – thanks for all of your encouragement and excitement as we prep for this big change!