Ooh boy, do I have a fun series for you this month. As you know, Corey and I are currently preparing our house to be able to put it on the market. It's been quite a whirlwind of projects and preparation and decluttering and I have a feeling September is going to be a big month for us when it comes to crossing things off the list.
You already know that this month I'm going to be working on decluttering my entire house by going through the KonMari process again (want to join me? Click here for the details on the fun challenge we're doing!) but that's not the only challenge I'm taking on.
Oh no. I'm also taking on the $100 Room Challenge.
Have you ever heard of it? It's hosted by Erin over at Lemons, Lavender, and Laundry and the idea is to take one room in your house and give it a makeover over the course of a month using no more than $100. 
It's a tight budget. The challenge participants are pretty strict about sticking to it. And it's just what I need to get my butt in gear and cross an entire room off of my to do list!
I've mentioned that I want to give the powder room a little refresh before we list the house, and this month is going to be the month we knock that off the list. It's tiny and awkward, it's hard to photograph, and the ceiling is several inches shorter than the rest of the house (whyyyyy???)….
Welcome to my powder room. (Oh, and get your pinning fingers ready because it's cute, y'all)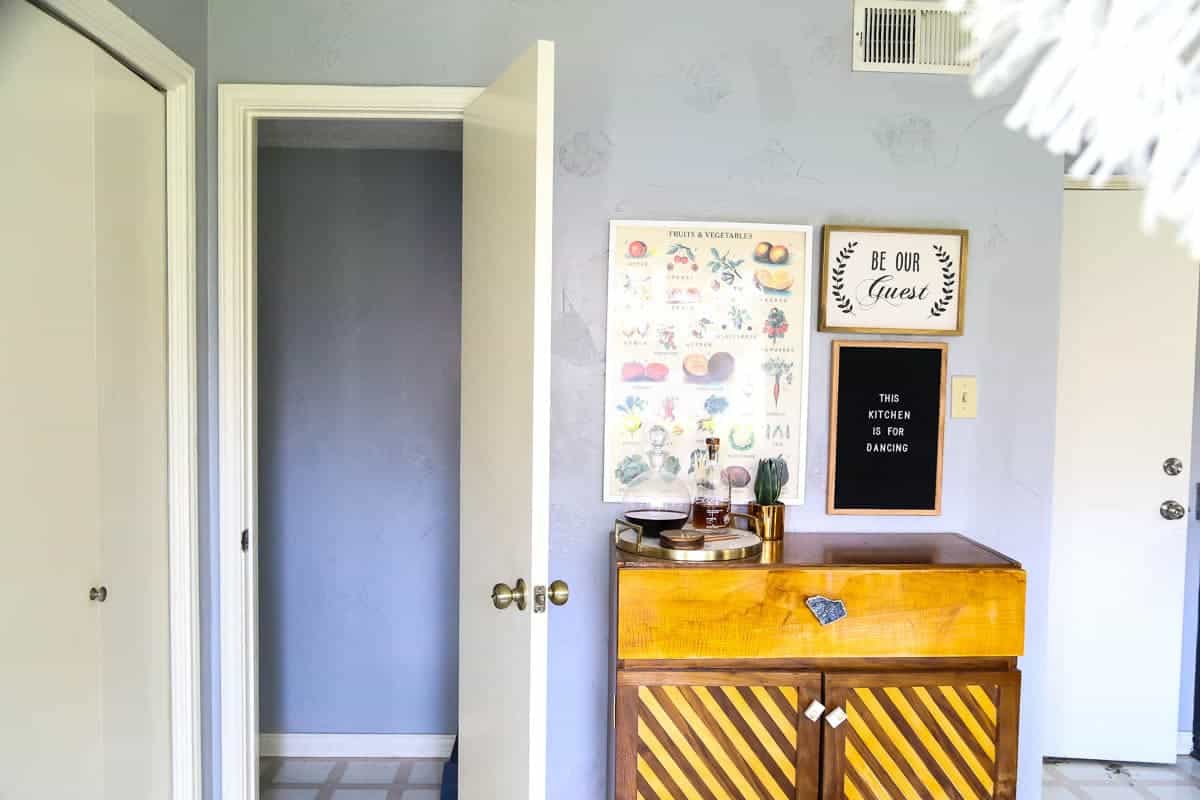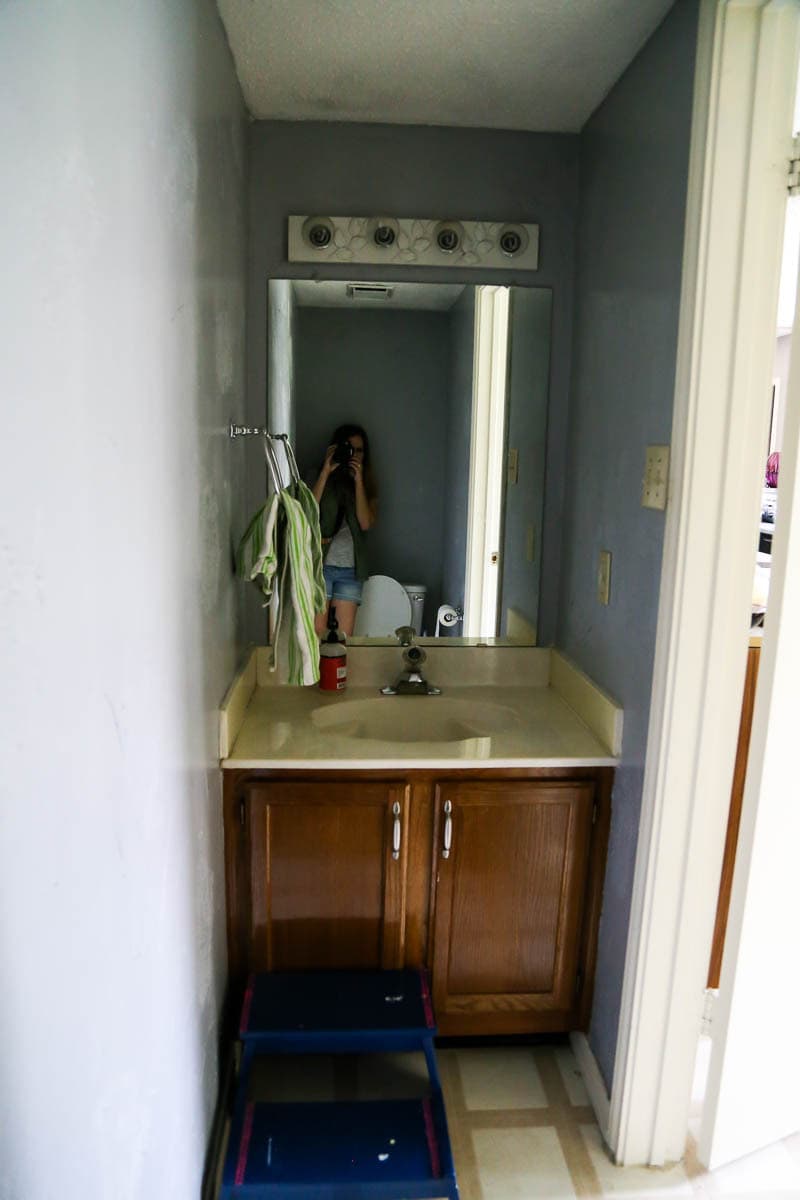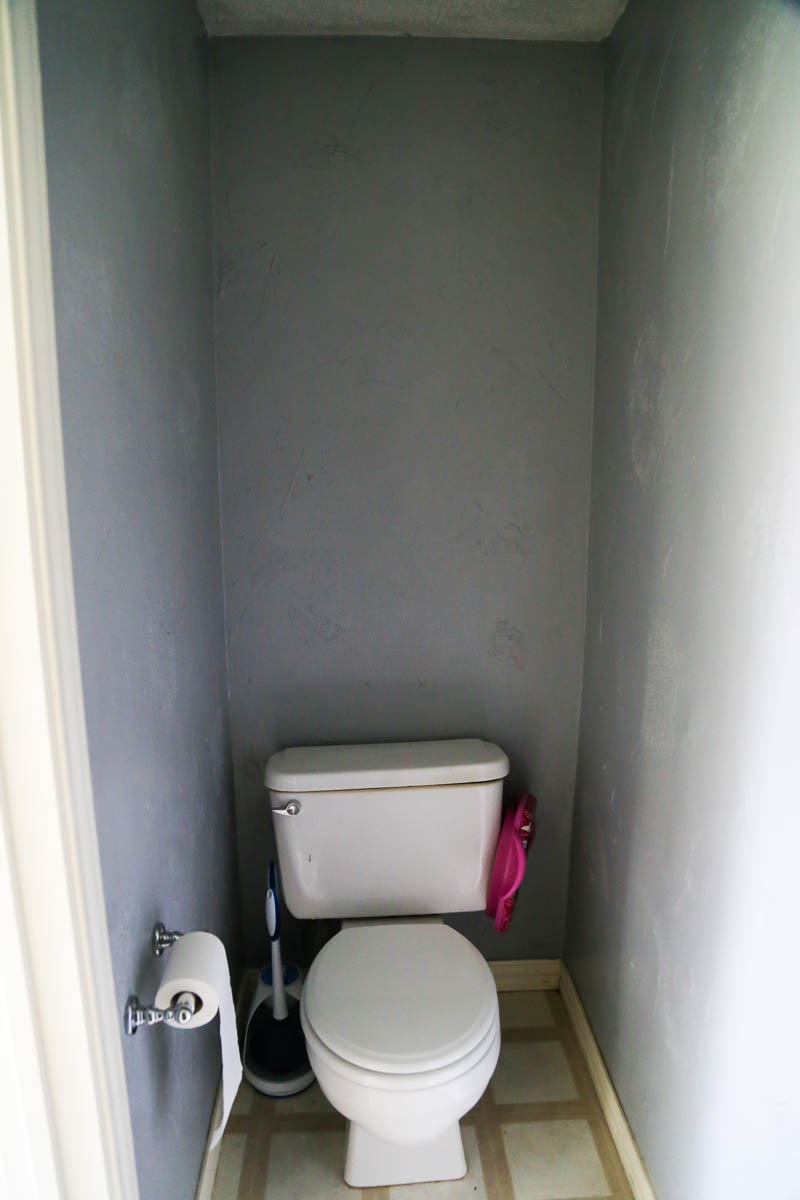 Most of you have probably never seen this space before. I think it's only shown up on the blog once or twice in full-house tours I did shortly after we bought the house, but up until recently, we hadn't really done anything to it other than painting the walls the same color as the kitchen.
Plus, did I mention it's tiny? I've seen small powder rooms before but this one is almost laughable. Also, it has a pint-sized toilet to go along with it – for some strange reason, the toilet in this bathroom is smaller than standard. Is it to compensate for the fact that the ceiling is lower? Did they think a smaller toilet would make the bathroom feel bigger? Again – whyyyyy?
Oh, and also – it's off-center. That's right. This room is a whopping 32 inches wide and they still couldn't manage to center the toilet.
Sorry. I get a little cranky when I talk about this room.
But no more! It's time to give this room a little love and make it look at least semi-presentable. I mean, it's the only downstairs bathroom in the house, it's the one basically all of our guests use, and it'll be the first bathroom people see when they come see our house. We should make sure we put our best bathroom foot forward, no?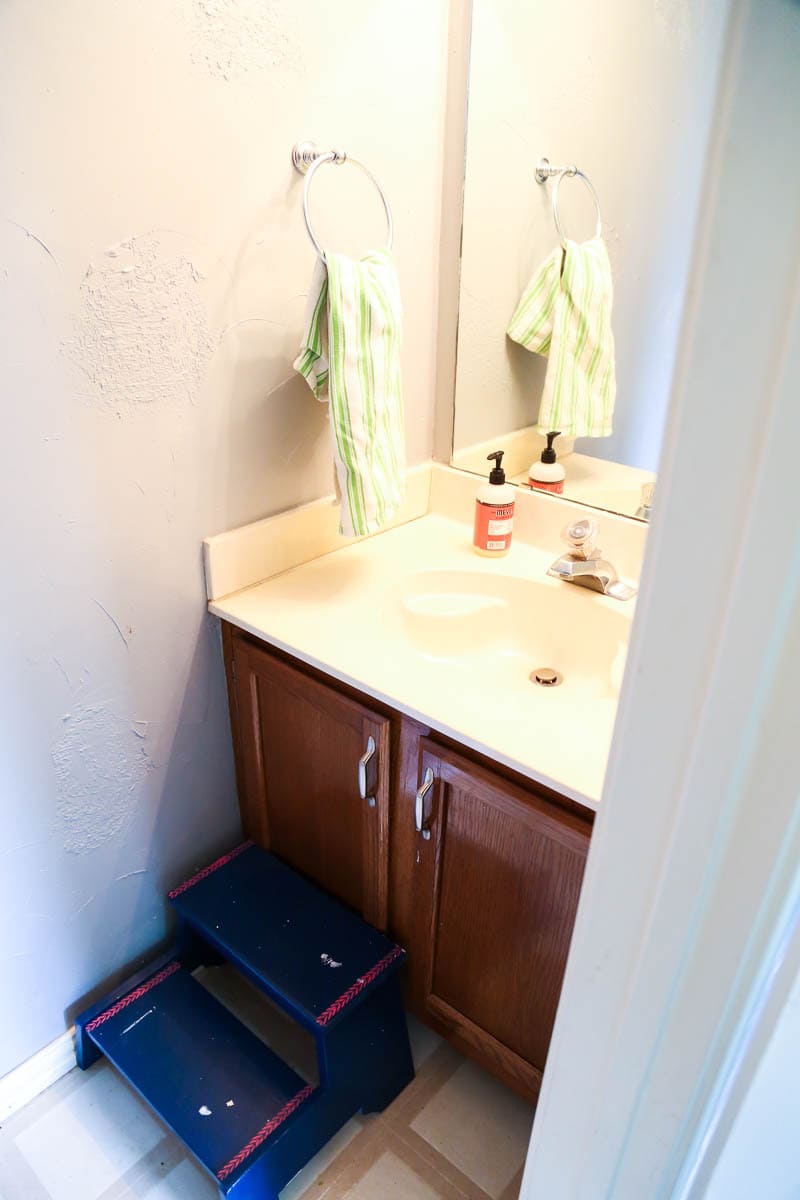 So, let's chat about the plan for this room. We've only got four weeks and we only have $100 to spend, so it's not going to be anything groundbreaking – but hopefully, we can make a nice impact in that time!
I'll give the disclaimer that we have already made a few changes since I snapped these photos that are not included in the $100 budget. When we did the flooring in the kitchen, I went ahead and brought it into this bathroom, and I also added baseboards back in. So in all honesty, I'm already cheating here a little bit. But I had already taken these photos and these are the real before of this bathroom. So, just know that the flooring and baseboards are not calculated into the $100 budget when you see the room again.
Powder Room Refresh To Do List
Paint the cabinet and replace the sink and faucet.
Replace the mirror – I have an extra IKEA mirror laying around that I plan to use
Add a tile backsplash (we'll use peel & stick tiles leftover from Jackson's bathroom)
Add some shelving behind the toilet for extra storage
New lighting
Possibly cedar plank the ceiling
Accessorize
I have to repaint the walls because the new baseboards don't go up as high as the old ones. This may just be what pushes me over budget!
I'll be honest – I'm kind of flying by the seat of my pants with this renovation because I'm not sure how things will play out with the tight budget. For example, I think we have enough cedar planks left over from our master bathroom to go ahead and do the ceiling in here, which would be a nice touch. But if I get started and realize we don't have enough, I won't be buying more. And I'd like to paint the room but I need to see if we have any paint left over from other projects that will work – and if not, I'll have to see if there's room in the budget to buy paint (spoiler – there won't be). I may have to go over budget anyways, though, because the two-toned look around the baseboards is not cute.
So basically, I have a very loose plan for this room but for the most part, we're just going to wing it and see what happens. I'm anticipating that the vast majority of the budget is going to quickly be swallowed by the vanity area – thankfully we already have a leftover countertop scrap from Jackson's bathroom, but we'll need a new sink and faucet, and a new vanity light – those three things alone will take most of the budget away. Thankfully I'm a paint hoarder, so I'm hoping that I can scrounge as much as possible from the things I already have, and the rest will come together as we go. Either that, or I'll crash and burn. It'll be fun to watch either way!
Wish me luck! I'll be back every Wednesday in September with updates on how we're doing, and at the end of the month, we'll have the big reveal. Get excited! If you want to see the other participants, be sure to click around at the link-up below! There are a ton of really talented bloggers participating this month!
Do you think you could make over a room for just $100?