Our IKEA Sofa – 6 Years Later
We love our IKEA Karlstad sofa and get tons of questions about it – it's time for an official IKEA sofa review to tell you what we think about it after living with it for 6 whole years! 
Y'all, this IKEA sofa review has been about 6 years in the making. Almost every time I share photos of our living room, I get questions about where we got our sofa, and when I say it's from IKEA everyone wants to know how we like it, how it's held up, and if we'd buy one again. So, here we go – today I'm sharing all of the details on our IKEA sofa and how we feel about it six years down the line.
One of the reasons I wanted to share our IKEA sofa review is that we always seem to get a really positive response when we pop back in and share our thoughts on things that we've done to our house in the past. I know I always love to know how people feel about things in their home in the long term and not only right after they get them, so I try to come back on the regular and give you guys updates on the decisions we've made for our home.
Want to see other updates from our home? Check out these posts.
Okay – on to the IKEA sofa review. Get excited, y'all.
NOTE: When we moved into our new home, we replaced this sofa with the Crate & Barrel Lounge sofa. Check out that post for all of the details on our new couch and how it compares.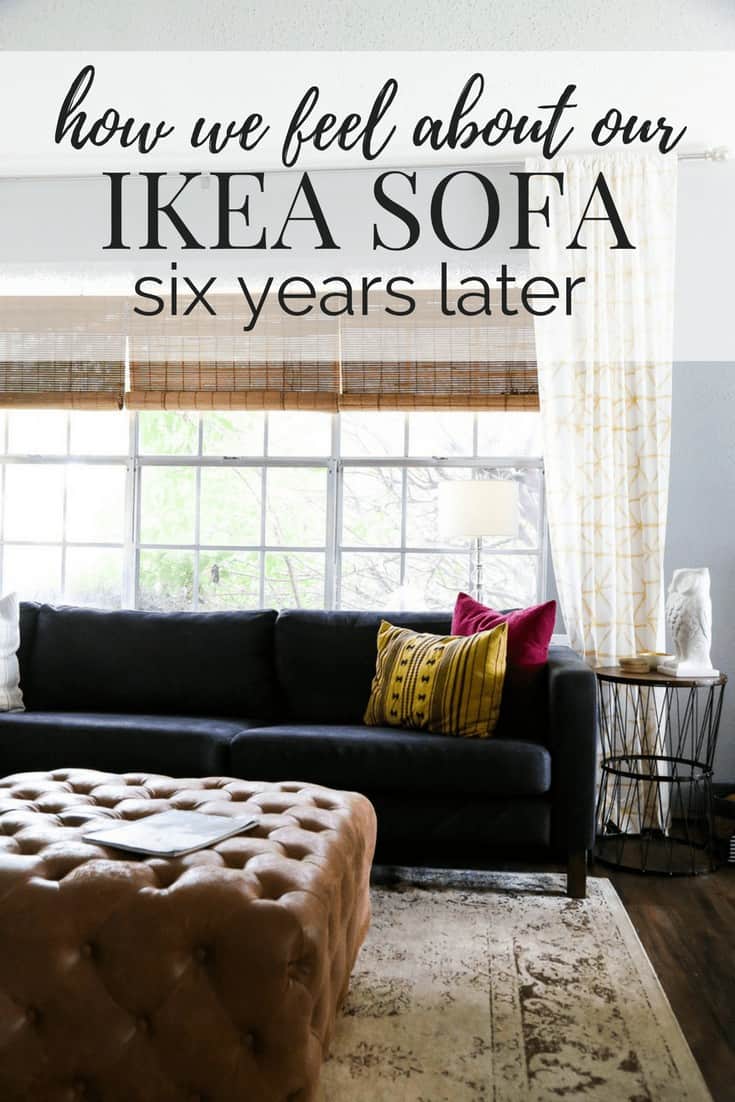 A Detailed + Honest IKEA Karlstad Sofa Review
When we decided to go with an IKEA sofa for our home, the decision was made mostly because it was cheap and we were broke. We were moving from a tiny duplex to a much bigger house, and our old sofa just didn't work well in our large living room – we wanted a sectional, and they don't come cheap, so IKEA it was.
We didn't really realize at the time that the sofa was also going to be perfect for us for about a million other reasons. After having this guy in our house for the last six years, I can tell you with confidence that buying an IKEA sofa was the best decision we could have possibly made for this time in our lives, and we'd do it again in a heartbeat!
But, I know you want more info than that, so here's my detailed IKEA sofa review:
The sofa in our living room is the KARLSTAD sofa. It's no longer available at IKEA, but we've also had the KIVIK in our home (it was in the garage when we converted it to a media room) and we loved it as well. I don't know if this sofa will move with us to our new house, but that's less because we want to get rid of it and more because I'm not sure our new living room will be large enough for a sectional (we haven't chosen a house yet, but most of the ones that we've seen in our search so far just aren't big enough for a sofa this giant). However, even if we do have to replace this sofa when we move, I can't see us buying anything but an IKEA sofa for the foreseeable future.
Why?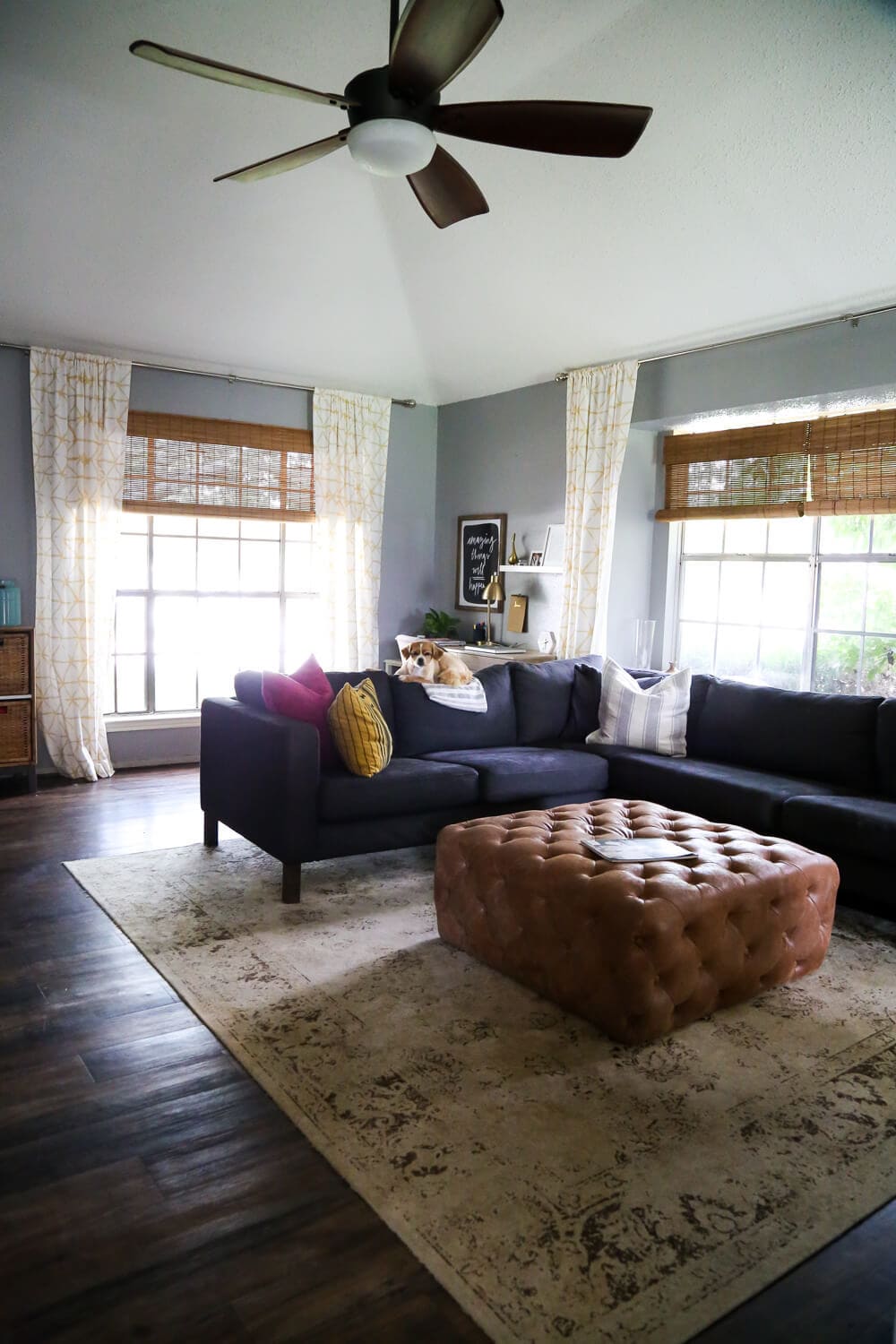 Well, IKEA sofas are absolutely perfect for this phase in our lives. We have a young child. We have wild dogs that chase said young child and each other around the house at all times of a day. We regularly have other young children at our house. Basically, our home is a magnet for messes and spills, and that means it's vital that we have furniture we don't have to stress about. Most IKEA sofas have removable cushion covers that can be washed in the washing machine.
Allow me to repeat that: I can take the covers off of my sofa and toss them in my washing machine. 
I can also put them in the dryer. It's amazing and means I never ever ever have to worry about my couch getting messed up. We eat dinner on the couch at least once a week or so, we regularly wrestle and play on it, and at any given time of day, I can pretty much guarantee one or more dogs will be sprawled out across it. Generally, I end up washing all of the couch covers about once per season (unless there's a spill or something that forces me to do it more often), and it makes the couch look basically like new. Our old sofa was a microfiber one (which is also supposed to be really easy to keep clean), and I found that after a year or so it was impossible to keep it looking clean, no matter how hard I tried. I haven't had a single problem getting any spills off of this sofa, and after 6 years there isn't a single stain anywhere on the sofa.
I feel like that's a pretty big deal. But maybe we're just messy people.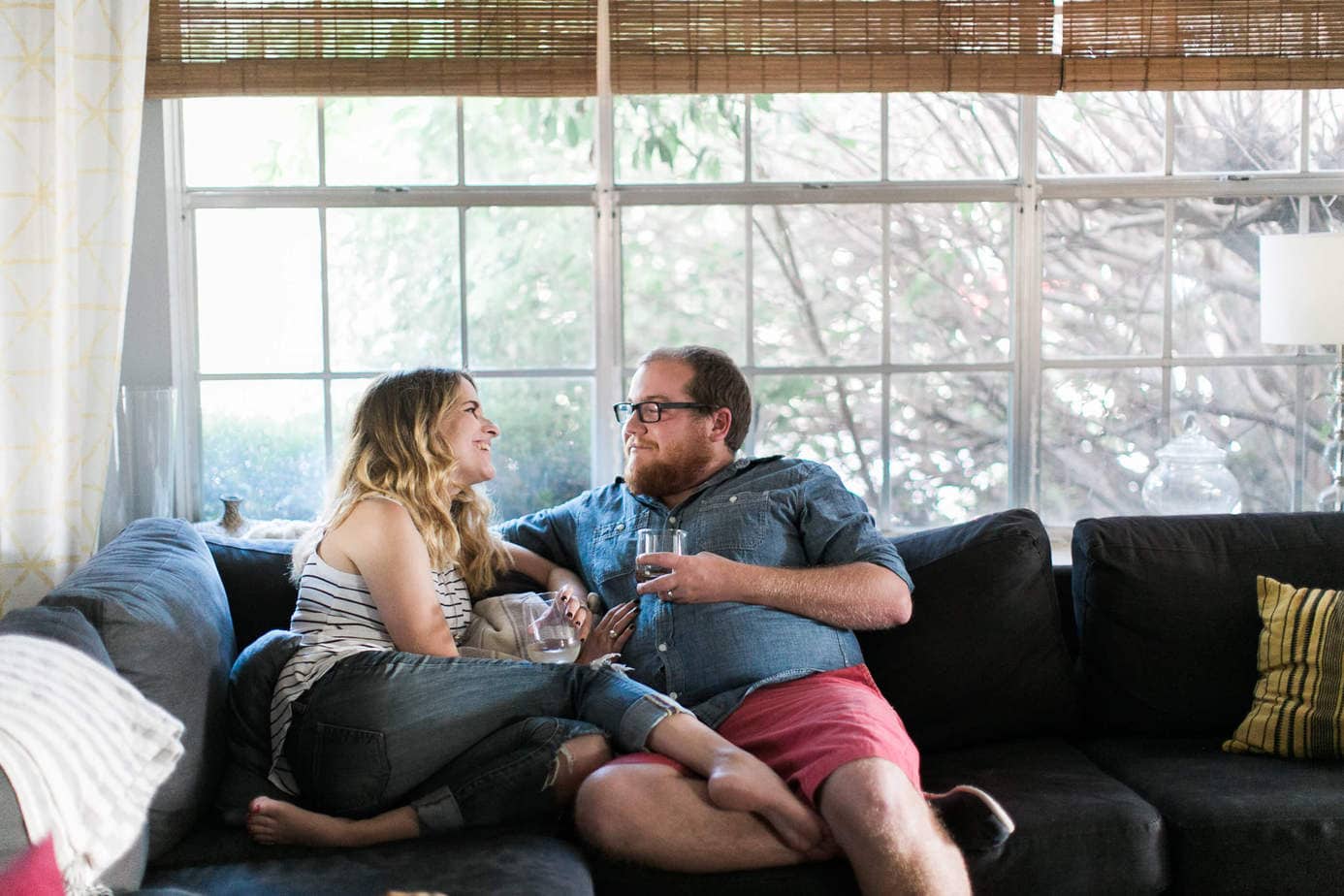 Photo by Jessica Scott
But, the fact that it's easy to clean isn't the only reason I love our sofa. It's also very comfortable and has only gotten more and more cozy over the years.  This isn't unique to IKEA sofas, but I am a little obsessed with the "L" shape of our sectional – the corner seat is one that regularly gets fought over in our house (and not just by the humans – both dogs seem to love that spot too!) and I love that both Corey and I can comfortably lay down to watch movies and still easily see the screen.
Another favorite thing about IKEA sofas is that they're really smartly designed to be modern and beautiful, but also not take up too much real estate in the room. So many sectionals are absolutely massive and take up a ton of visual space, but our IKEA sofa is really low profile but still manages to comfortably seat at least 7 people.
(Unless you live with a Doberman who insists on taking up at least two of the spots at all times.)
Oh, and did I mention that if you get bored with your sofa, you can get basically a brand new couch for next to nothing? One of my favorite things about IKEA sofas is how easy it is to grab a new set of cushion covers and completely change the look of your sofa for just a couple hundred bucks. We never did this with either of our sofas (although there was a cover for the KARLSTAD that I really wanted before they discontinued it), but it's so cool to know that if you get tired of the color you chose it's really easy to just grab a new one and swap it out.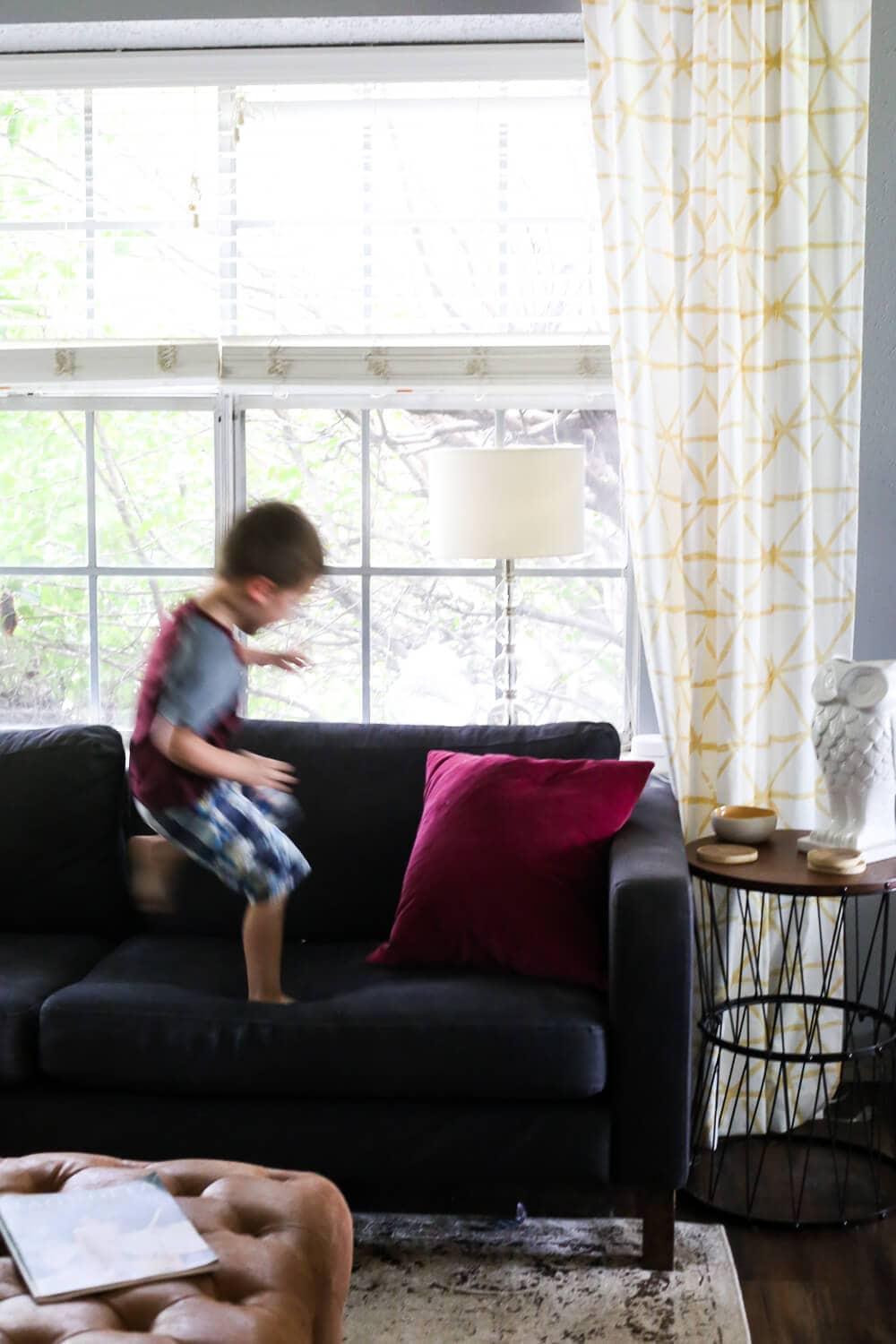 Of course, nothing is perfect.
There are a few small downsides we've found to having an IKEA sofa. Things like…
It's not very deep, which makes snuggling hard. Our old sofa was extremely deep – Corey and I could easily lay down next to one another and be perfectly comfortable. We're definitely not able to do that on our IKEA sofa, which is a bit of a bummer when we want to cuddle for movie night.
We haven't noticed this on our KARLSTAD, but we found that with our KIVIK sofa some of the cushions seemed to lose their shape over time. I'm not sure if it's because we dried the covers or what, but after a year or so we noticed that there was a gap between the back cushions, rather than them fitting together all the way across the couch. It wasn't a big deal, and we just covered it up with some throw pillows, but it's something to note.
There is a spot on one of our cushion covers that is starting to wear thin – I'm pretty sure it's from our dog, Hadley, constantly laying in that spot and scratching herself, etc. I'm sure that it's the sort of thing that would happen with just about any sofa, though, which means I'm just glad it happened to an affordable sofa and not a one that cost us a few thousand dollars!
Annnnd I'm out of downsides. I really don't have many negative things to say at all about this sofa because we just love it that much. I think that until Jackson and any potential future kiddos are older and out of the "spill all of the things on all of the things" phase, we'll have an IKEA sofa of some sort in our home. You just can't beat the price, the quality for the price, and the durability of these things!
So, that's our official IKEA sofa review – we love it, we think you should get one, and we'd buy another one without a second thought! Have you ever had an IKEA sofa? I'd love to hear your IKEA sofa review if you've tried one before!
Here are a few more posts you might enjoy!