This post is sponsored by Wagner and contains affiliate links, but all opinions are my own. Click here to read my full disclosure policy.
Friends, over the last few months I've slowly been learning more about power tools and building. I've been sharing what I'm learning as I go, and I've even completed a few small projects on my own (see my DIY geometric wood art here, and my vertical plant stand here).
But I felt like I was ready for something more. Something bigger.
Furniture.
It's big and scary, but I knew if I was ever going to get any better at building, I was going to have to dive in and do it. I decided to start with something simple for someone who isn't too terribly picky.
I mean, he's picky about what he eats. And what he wears. And which seat he sits in for dinner. And which cup he uses.
Okay, he's really picky. But he doesn't know much about furniture so he won't fault me for a slightly wonky piece of furniture.
That's right, I built a DIY kids picnic table for Jackson.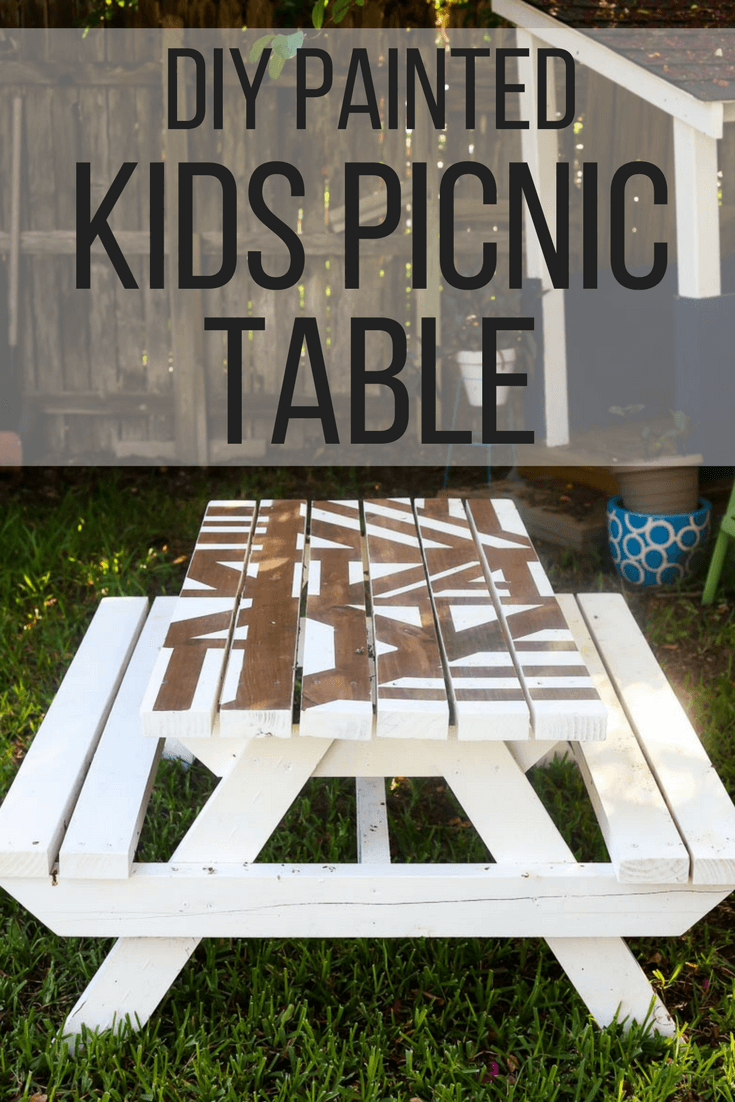 You may have seen this table on my Instagram stories a while back – it's been built for a few weeks, but Hurricane Harvey and a few other projects we were working on put me behind schedule on getting it photographed and finishing up the video for this post. So, you've had to wait a while, but it's HERE!
Y'all, I built this table with my own two hands. Corey wasn't even home. I did it completely, 100% by myself and I couldn't be more proud. It makes me feel really motivated to do some more building. Maybe a dining room table for the new house? Or some nightstands?
Hold on, I'm getting ahead of myself. Let's chat about the table first.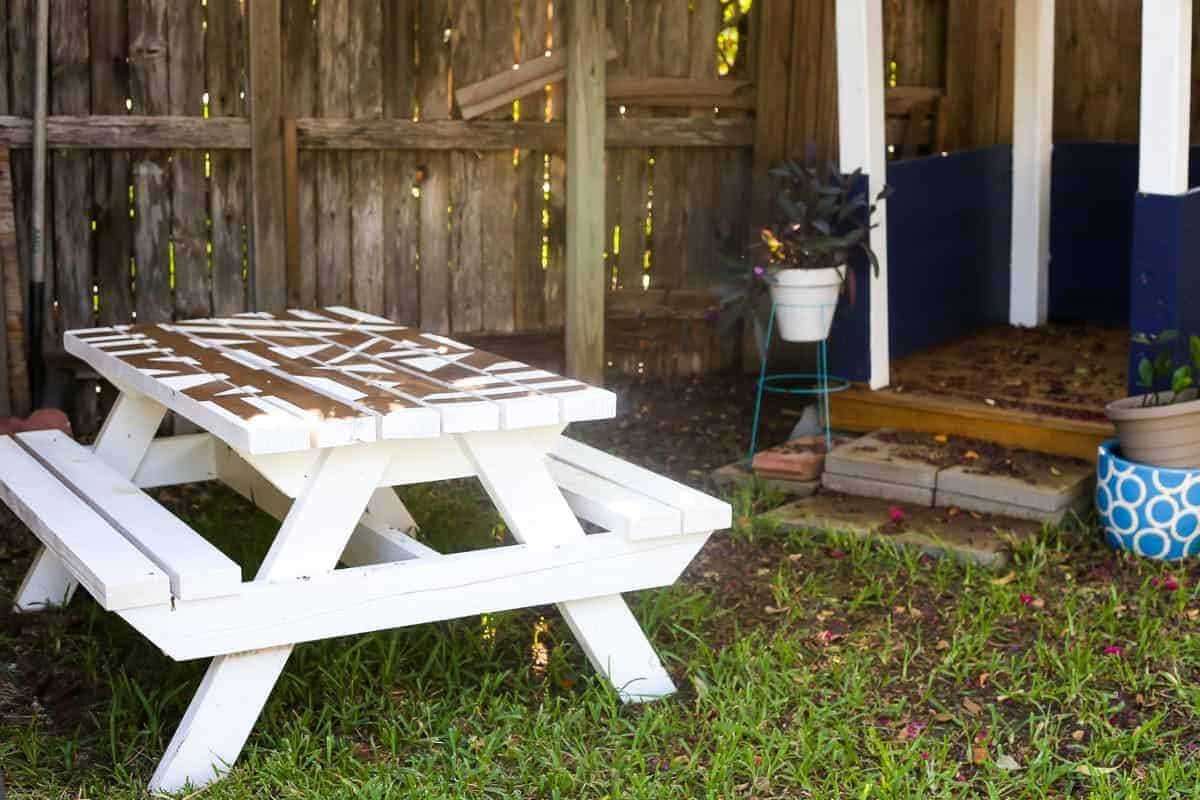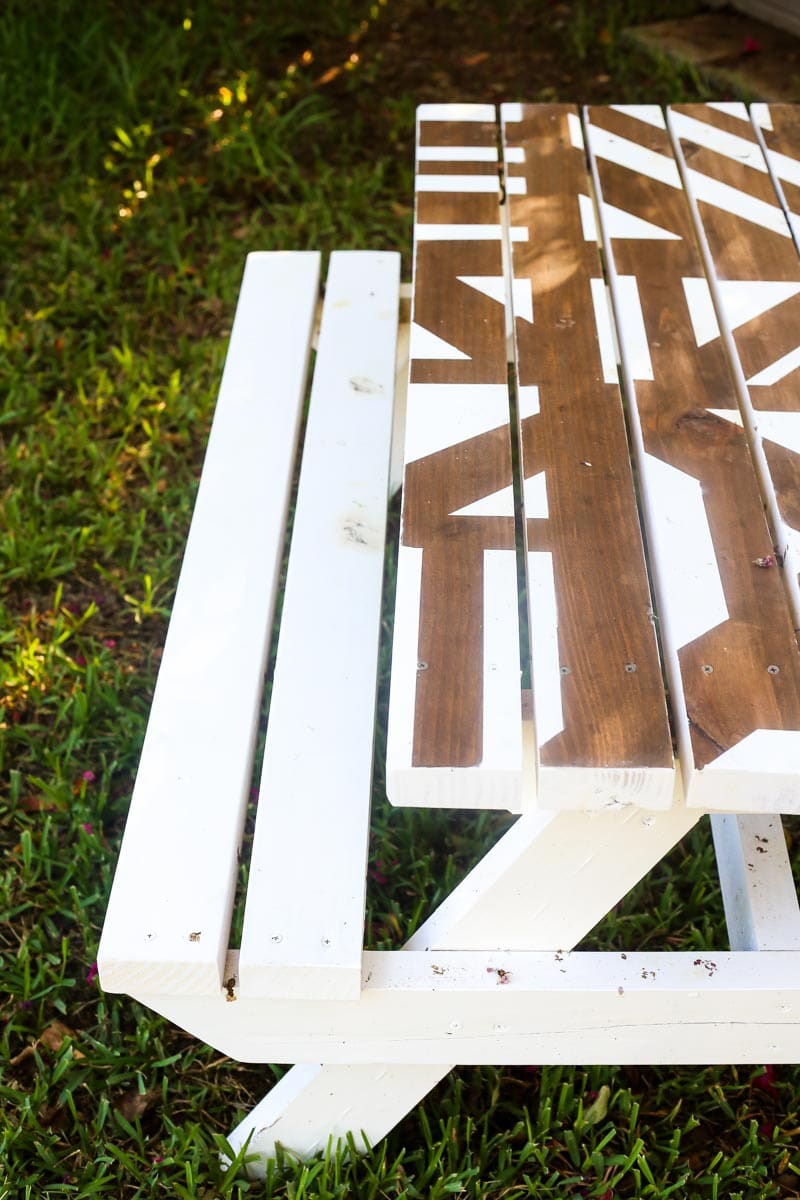 How to Build (and Paint) a DIY Kids Picnic Table
I followed the plans for the DIY kids picnic table from Ana White . It was very straightforward and easy to understand – and this is coming from someone who has never read a furniture plan ever before this. I say this all the time, but if I can do it, you can do it.
I won't get into all of the details of how to build it, because the plan covers it pretty thoroughly. But, I did take photos while I was working so I'll give you the overview.
I started by attaching the top pieces to support boards underneath. The plan calls for 2×6 boards, but I didn't have those so I went with 2x4s instead.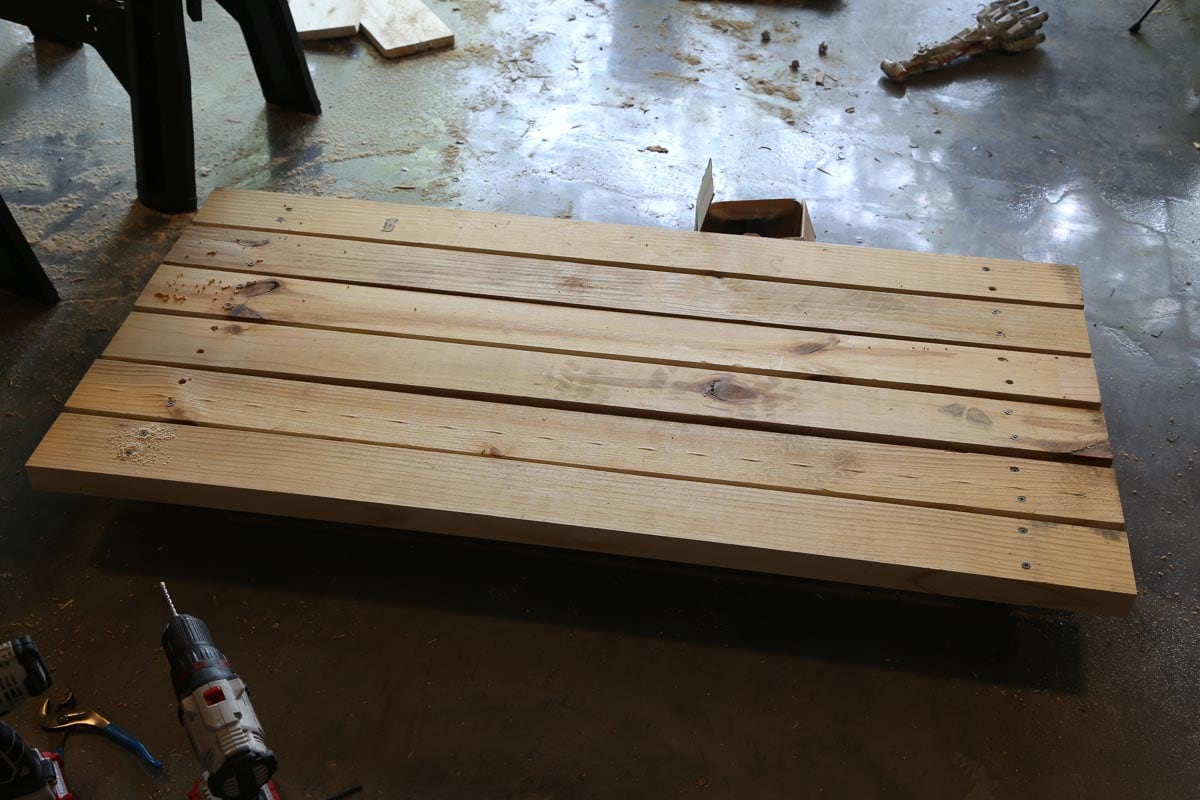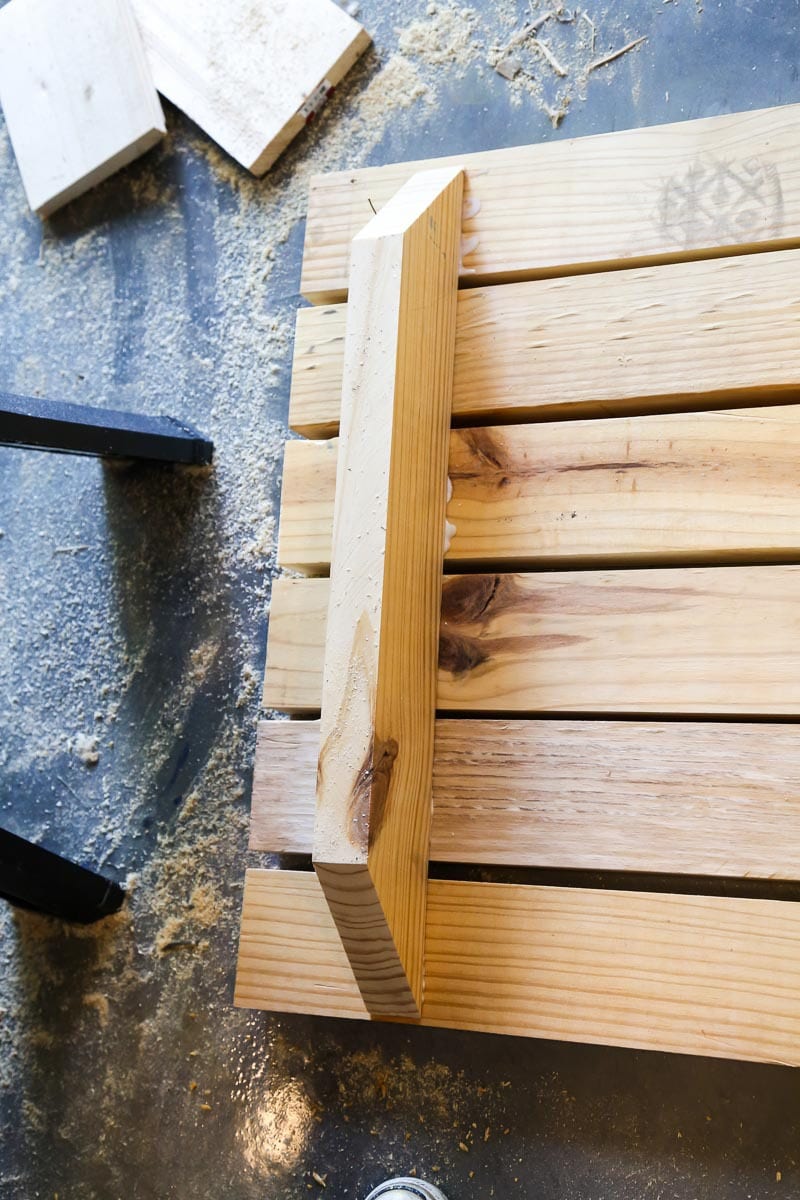 Then, I cut the legs down and attached them…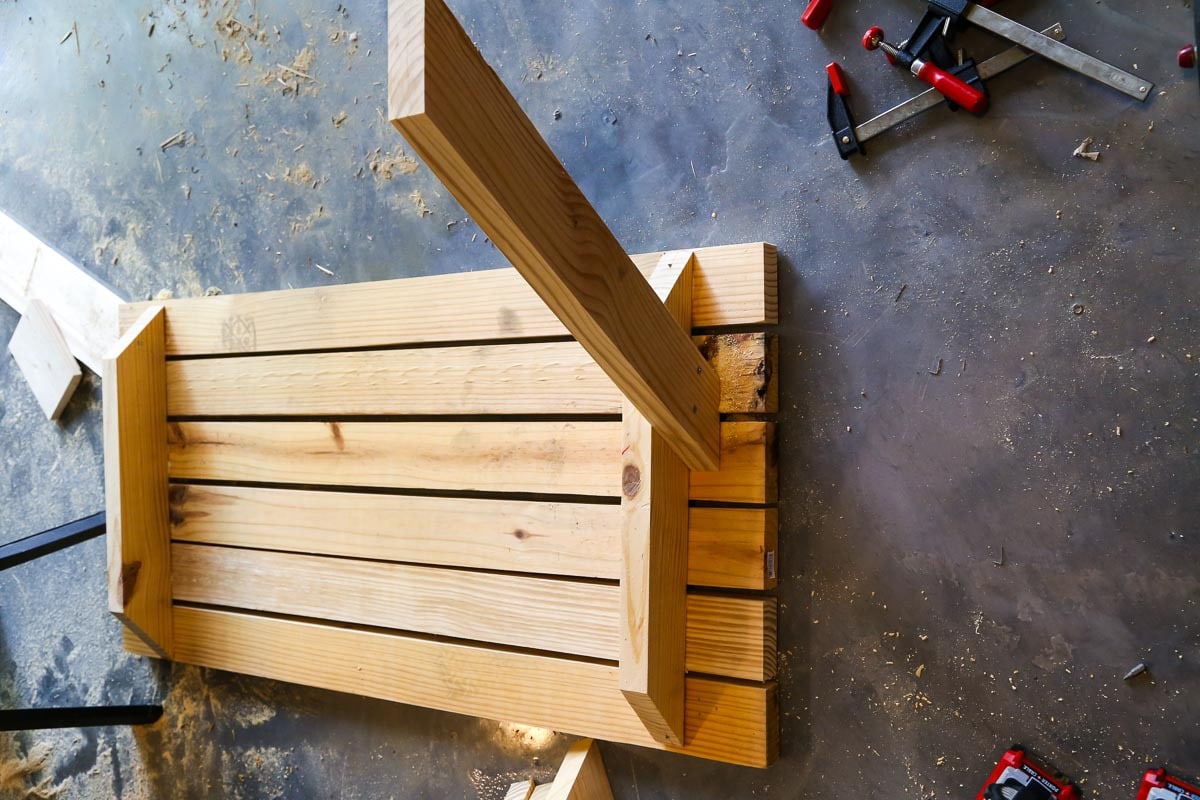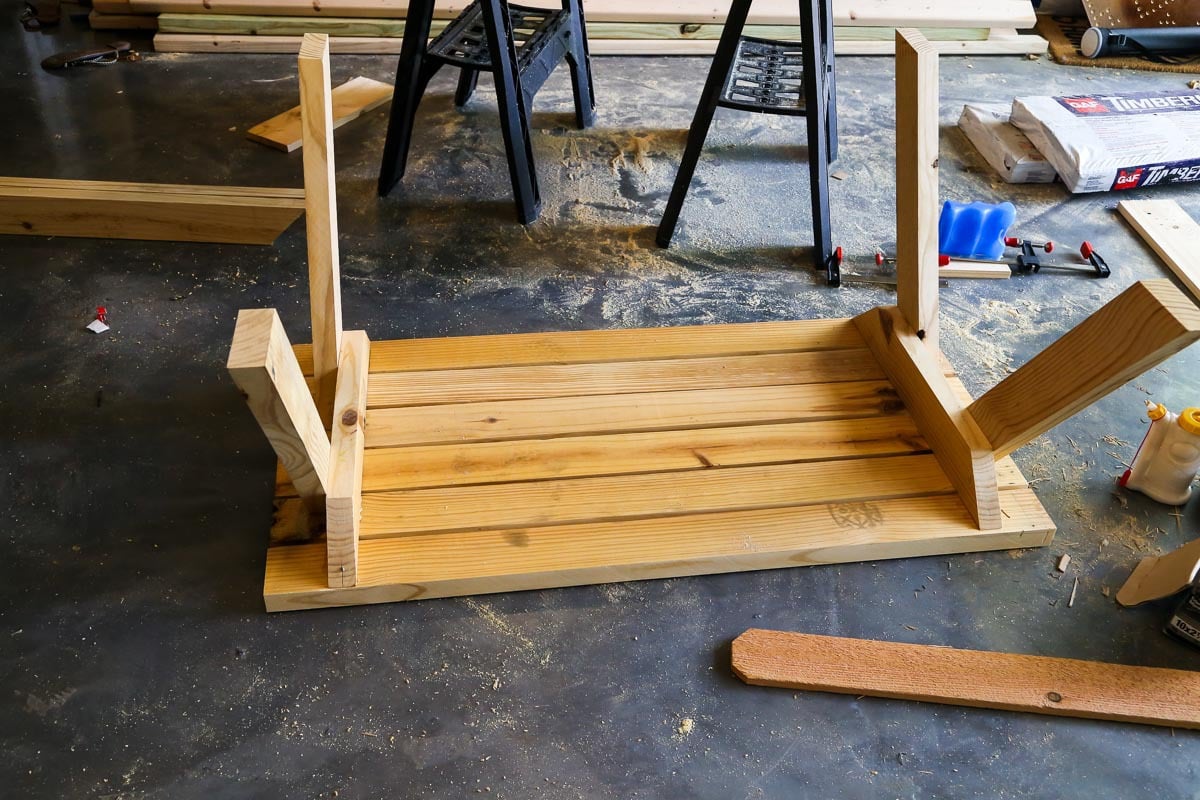 I added the supports. At this point, I realized that my measurements didn't exactly line up with the plan, specifically the middle support board. I'm still not quite sure where I went wrong, but I just cut the board to fit my actual table and called it a day. Sometimes you've just gotta roll with your mistakes, right?!
(Especially when you don't know what you're doing and aren't exactly sure what the mistake actually was.)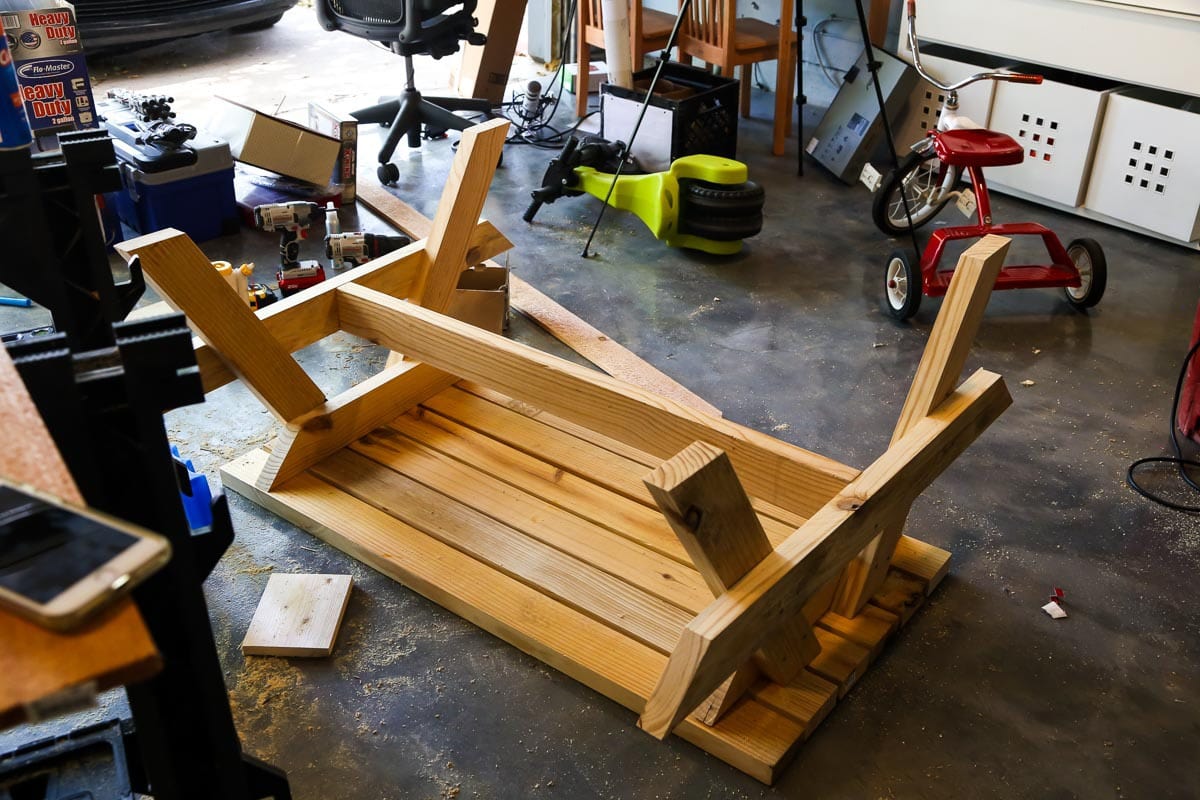 After that, I flipped the table over and added the boards for the seats!
And seriously, that's all there is to build this. It took me just a few hours, and it's not perfect (those top boards were kind of tricky for me and the top isn't 100% level), but Jackson doesn't know the difference and he loves it.
Of course, I loved the table as it was and I was so proud of myself for building it but I also wasn't about to just leave it alone. I mean, a picnic table is fun and all but isn't it way more fun with a cool paint treatment?
I partnered with my friends at Wagner for this part of the project and, y'all, I'm so glad I did. They sent me their new Studio Plus sprayer and I am officially obsessed with it. I've chatted about a few of their different sprayers before (you can see how we used their sprayers on our DIY bar cart and when I painted the workshop), but this one is hands down my favorite. Why? Let me count the ways:
The sprayer itself is nice and big and sits on the ground while you work. It means you don't have to carry it around and end up with an achy back because you're old and paint is heavy.
Because it's meant to sit on the ground, the air hose is extra long – it's 15 feet! I loved how easy it was to get around the table and get in all the cracks and crevices without moving the sprayer much, and it was so much more convenient.
In most cases, you don't have to dilute the paint at all. That's right – you can just pour it in and go.
It has two different power settings for the paint – that means if you're using a thicker material you can crank it up a bit higher, but if you're doing something thinner (like stain or a sealant), you can reduce the pressure and have it spray less. It's easier to adjust this way since it's so straightforward, and I found that both settings gave a good amount of pressure.
Something I love about Wagner's sprayers, in general, is how user-friendly their manuals are. I am a bit of a slow learner when it comes to tools like this and I tend to go from 0 to "I want to throw something across the room" in about 2 seconds when I run into issues. But with my Wagner sprayers, I've never run across an issue that wasn't clearly explained in the manual, and I've been able to identify my mistake and fix it in minutes every time.
Are you convinced yet? This thing is awesome. A paint sprayer is the perfect tool for a project where you want to create a pattern like I was doing for this project, because the sprayer won't mess with your tape and possibly shift it like a brush or roller might, and it's a lot easier to ensure super even coverage with no brush lines or drips.
So, how did I create this super cool look? It's way simpler than it looks. I even made a video to show it off, so you can get a visual for how it works. I'll share some details below if you can't watch, but it's definitely the best way to see how the sprayer works!
If you prefer, you can watch the video on YouTube right here!

Okay, so for the details. First, I stained the entire table top: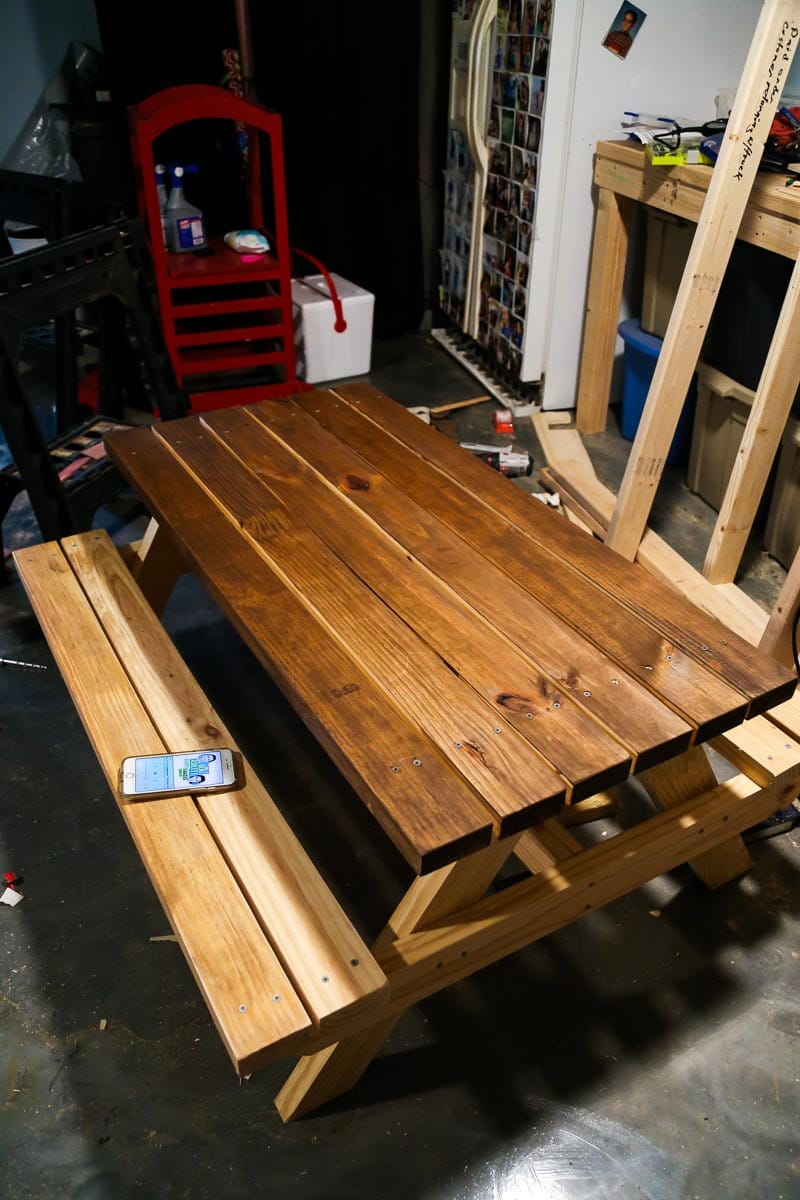 Then, I grabbed my trusty painter's tape and marked off a design. I just played around with a graphic, geometric-y pattern until I landed on something I liked. It helps to step back and take photos of it as you go, because for some reason it's much easier to notice when something look "off" in a photo than it is in real life.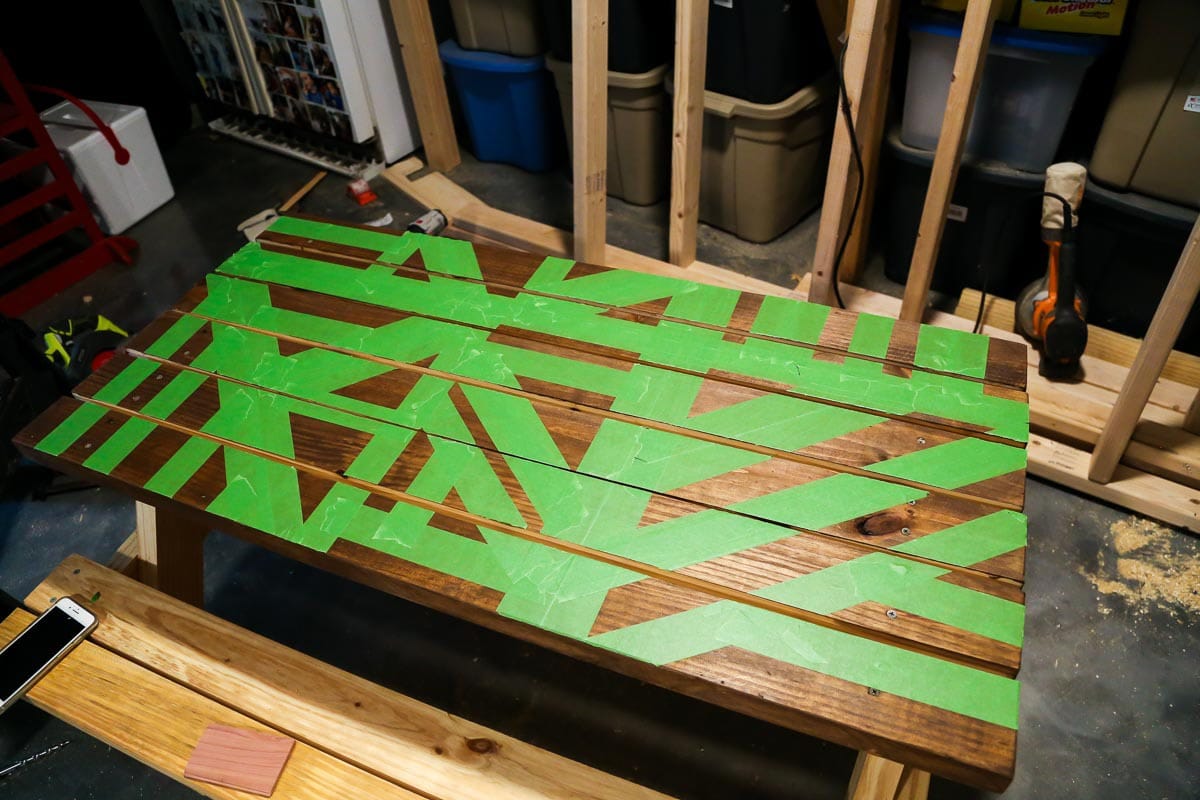 Once I had a pattern I liked, I just grabbed my sprayer and got to work. It was really easy to get into all of the gaps and grooves with the sprayer – it would have taken me forever with a brush. Then, once you're done painting, wait no more than 5-10 minutes before pulling off the tape. Why? If you wait too long and the paint dries, you could pull up some of the paint when you pull off the tape. If you remove the tape while the paint is still wet, you're a lot more likely to get perfect lines. I had a few spots where I hadn't pressed the tape down enough and a little paint seeped through, but I just sanded those tiny areas down after the paint dried and re-applied a bit of stain. No big deal!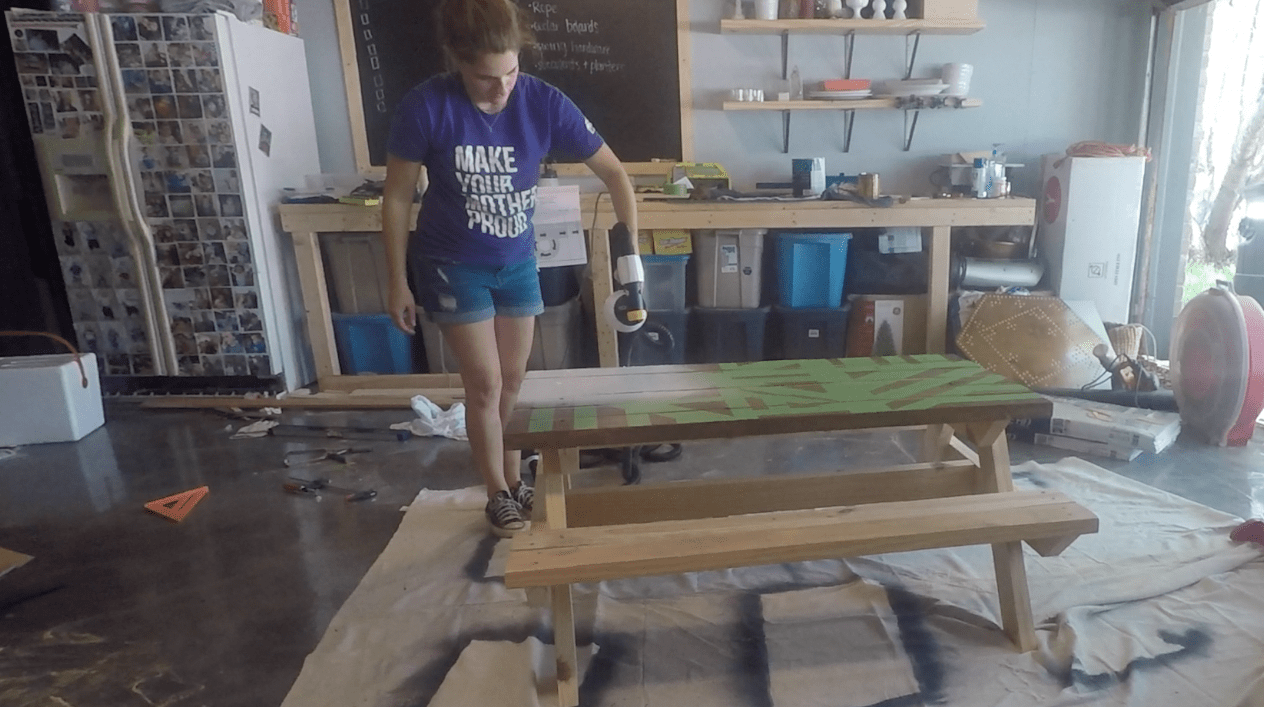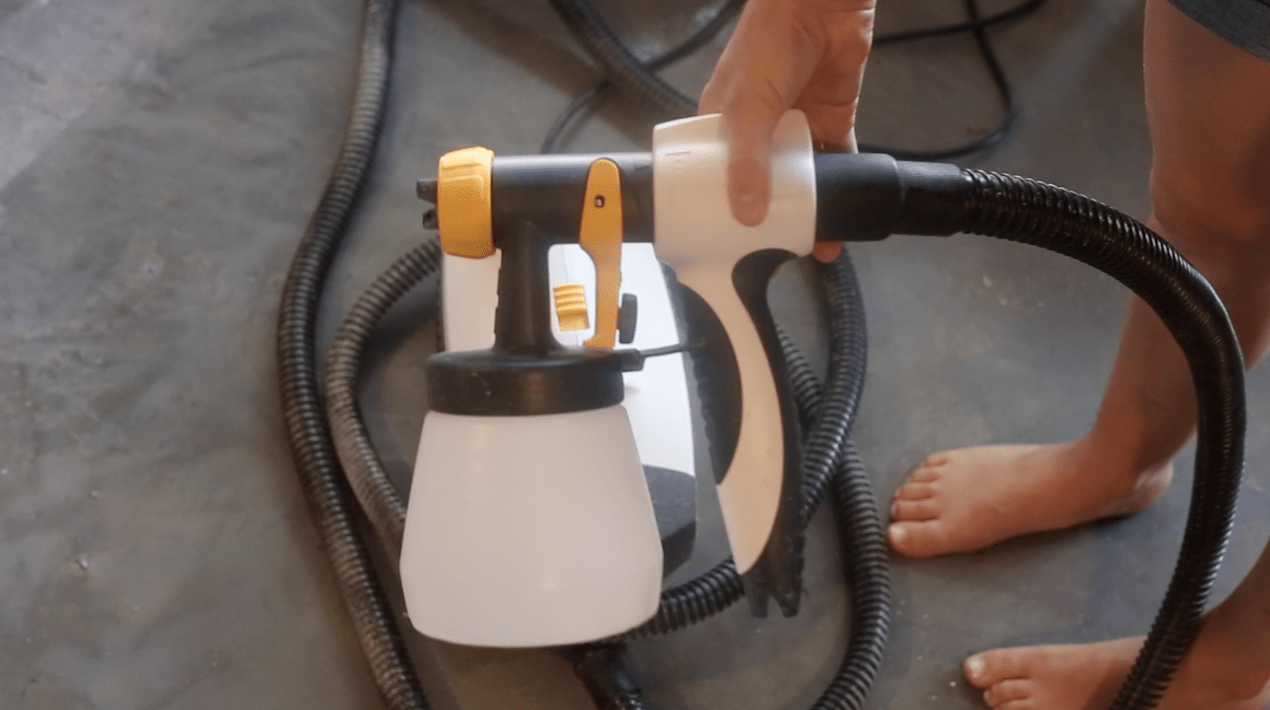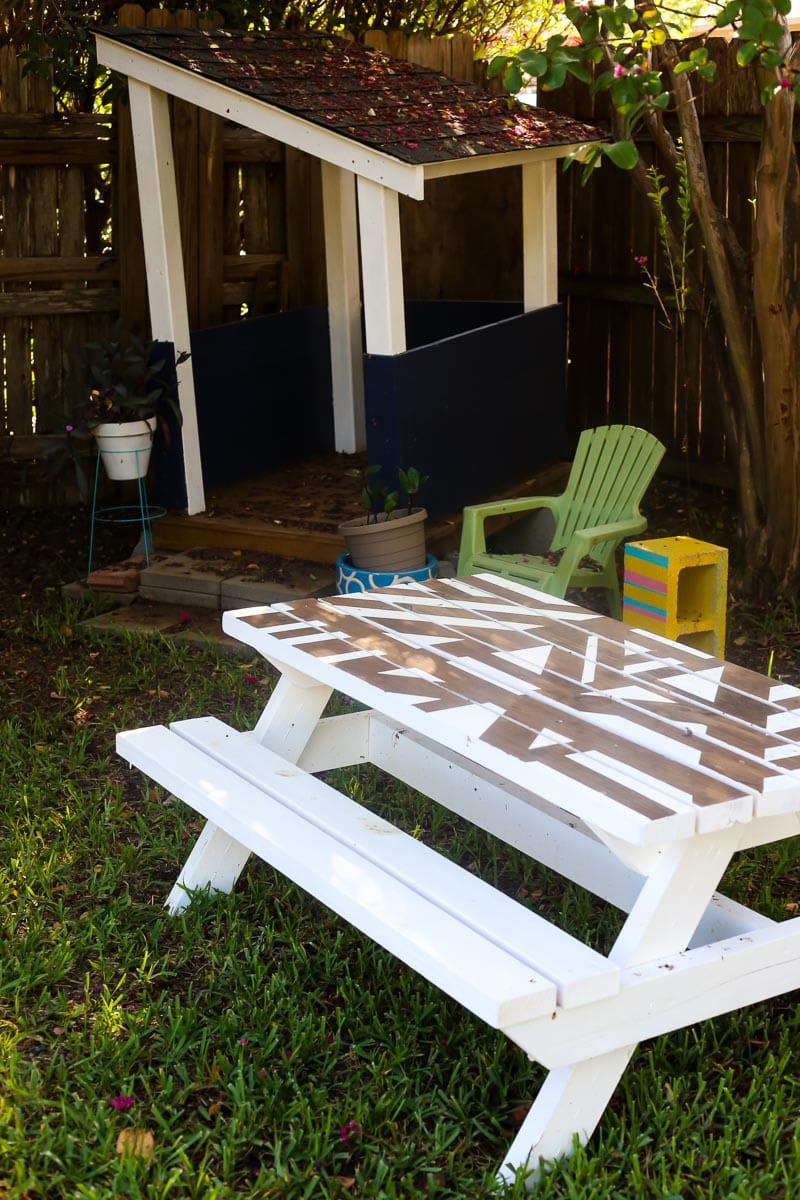 Don't forget to seal it! I brought this dude outside before I sealed it (because I needed some space in the garage for a different project) and then we got hit with Hurricane Harvey. I forgot to bring it in over the 2 full days of rain we got, and once I remembered to check on it there were a few spots where the paint had yellowed due to the rain and the Crepe Myrtle blooms dropping on it. I just used a brush to touch those spots up and then sprayed a finish on to protect it from the elements in the future.
Jackson is a huge fan of this table. He loves hanging out at it, and now that the weather is finally cooling off a bit here in Texas we can actually spend time outside.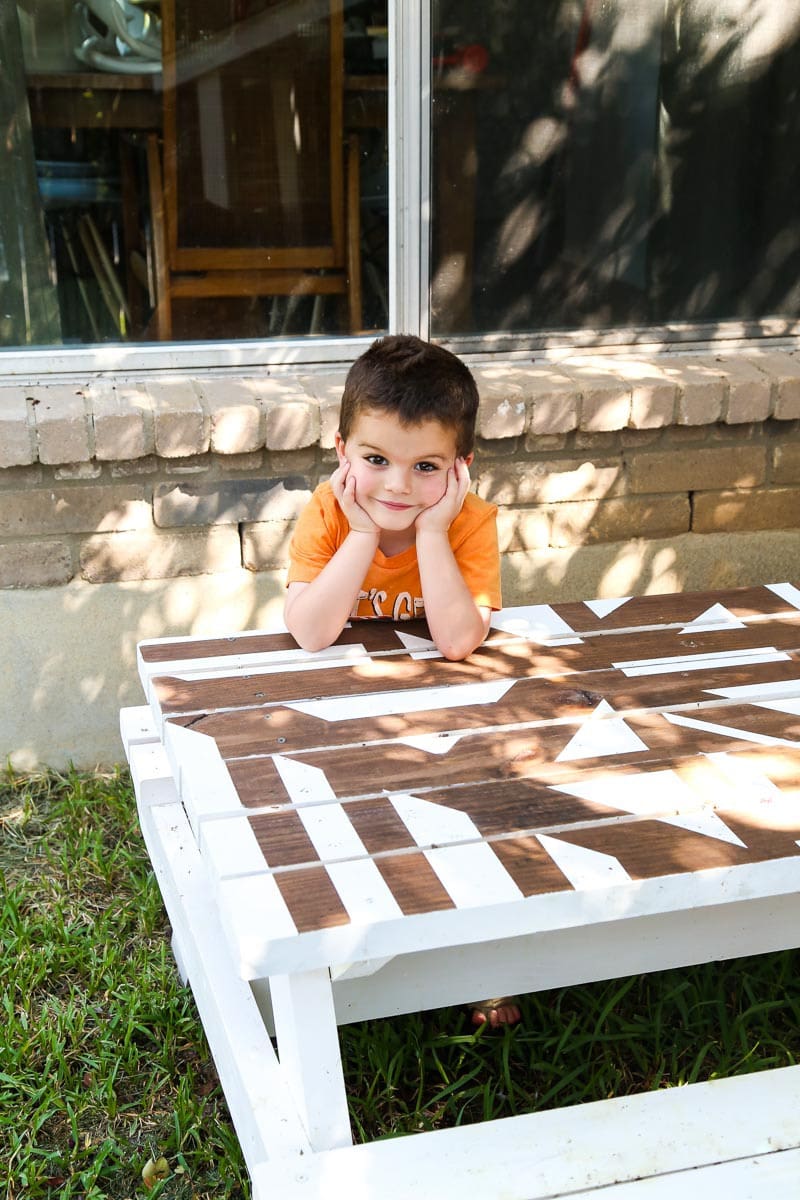 I can't even tell you how proud it makes me to know that I built this DIY kids picnic table completely on my own. It's so satistfying to know I'm capable of doing it on my own, and it makes me really excited to get started building something else for our house.
Have you ever built any furniture? What do you think I should build next?