Tips for Documenting a Pregnancy (Plus, a Halfway Update!)
Looking for some tips on how to document a pregnancy with a really cute (but easy to make) maternity photo book? This post has you covered! Plus, some great tips and tricks for getting yourself in front of the camera during your pregnancy to help capture those memories.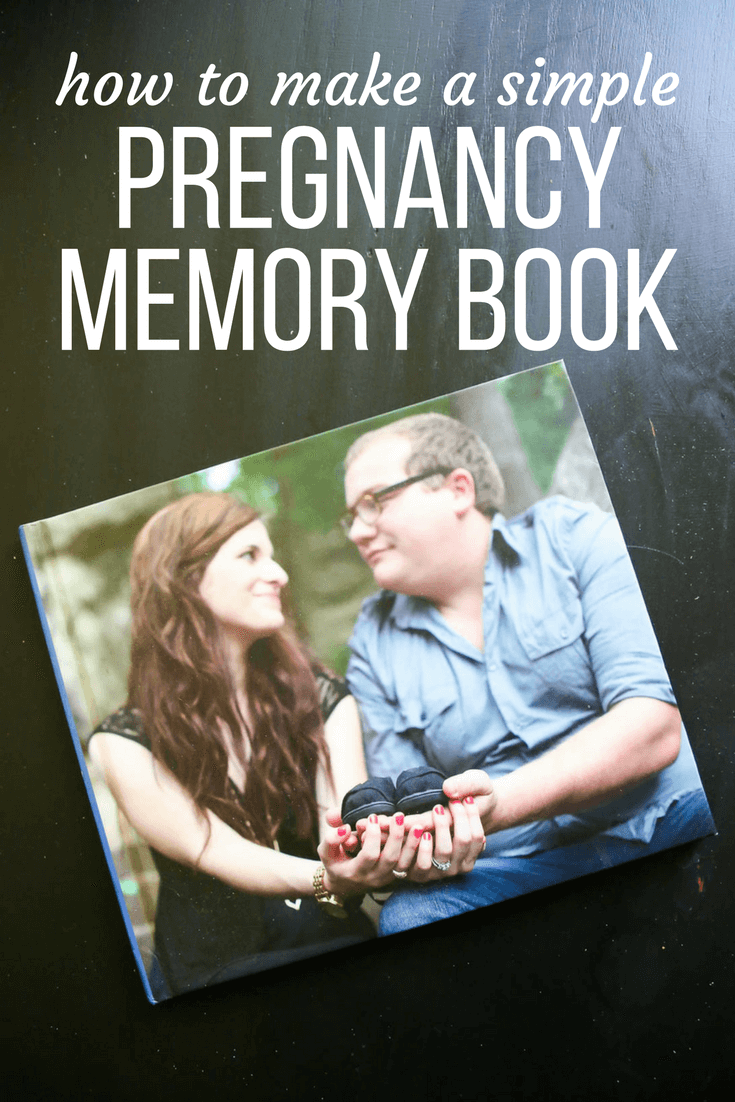 I'm a big photo album person. Back when Corey and I were dating, I created a scrapbook for him each year on his birthday. Over the years, that evolved to creating yearly family photo albums, along with other smaller albums for various special occasions – like big vacations, Jackson's first year, and (of course) my pregnancies.
I think that having a pregnancy journal or memory album is a great way to capture all of those little fleeting moments that you don't want to forget about being pregnant, and I'm so glad we put in the effort to do this with Jackson.
With this pregnancy, I'm using the same method I did last time around. We still love to pull out Jackson's book on a pretty regular basis and flip through it, so I figured the same basic formula would be perfect for this baby as well. Here's how I do it: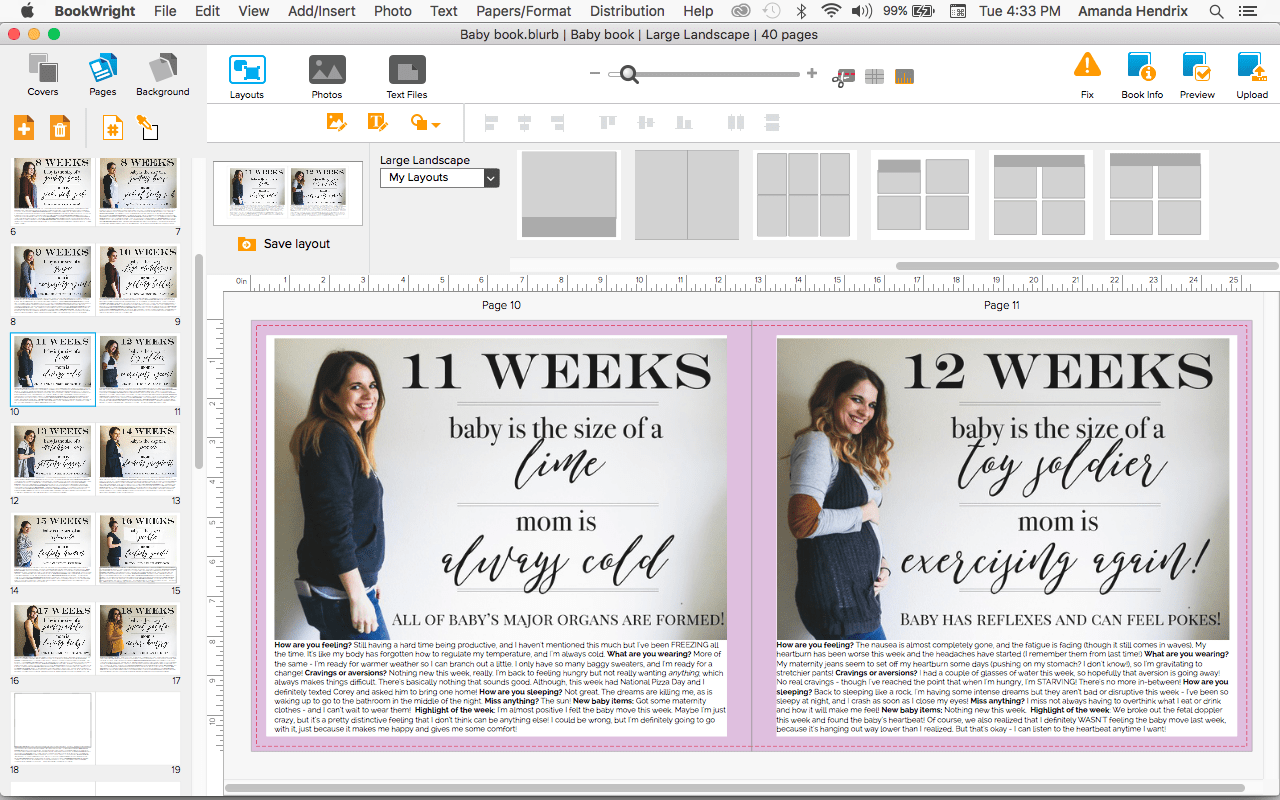 How to Make a DIY Pregnancy Photo Book
Each week, I snap a quick photo of myself – I try to do it on the day that I change to a new week, but sometimes it happens a day or two later. I use my regular camera with a tripod (and a 10-second self-timer), but if you don't have a fancy camera you can just use your phone – did you know that it has a self-timer too?! The key is just to snap some sort of photo to document your growing belly each week. I know it sounds like a lot, but I promise it takes less than 5 minutes.
Once I have my photo, I head into Photoshop and add my text overlay. I use the same template each week, so it's just a matter of swapping out what the text says. If you don't have access to Photoshop, Canva is a great (free!) alternative! It's super simple to use and you can get really creative with it. Once you have your basic layout created, you can just use the same file each week so it won't take more than a few minutes to pop in a new photo and update the information.
I like to use Blurb to create my photo books (I've used them for years and I know I can trust the quality!), so I have their BookWright program installed on my computer. It saves my book for me, so I can slowly add to it one page at a time (rather than trying to put it all together when I also have a screaming newborn on my hands). I just add my weekly photo to a page, then add a text blurb underneath it with a little questionnaire. You can find all sorts of fun questions to answer each week with a little searching online, but I'll share what I use at the end of this post!
I also like to add a photo each week with my shirt lifted so you can see my actual bump progress – I make these photos smaller and squeeze them all into a 2-page spread so you can really see the progression from week-to-week. I just take this photo at the same time as the other one and insert it into the next little box on my template each week.
All in all, I'd say it takes me no more than 20 minutes or so each week to update the baby book – and it can be spread out over a few sessions if I don't have a half hour all at once (which, I know, can be hard to come by!).
When you're all finished, you'll get a product that looks a little something like this: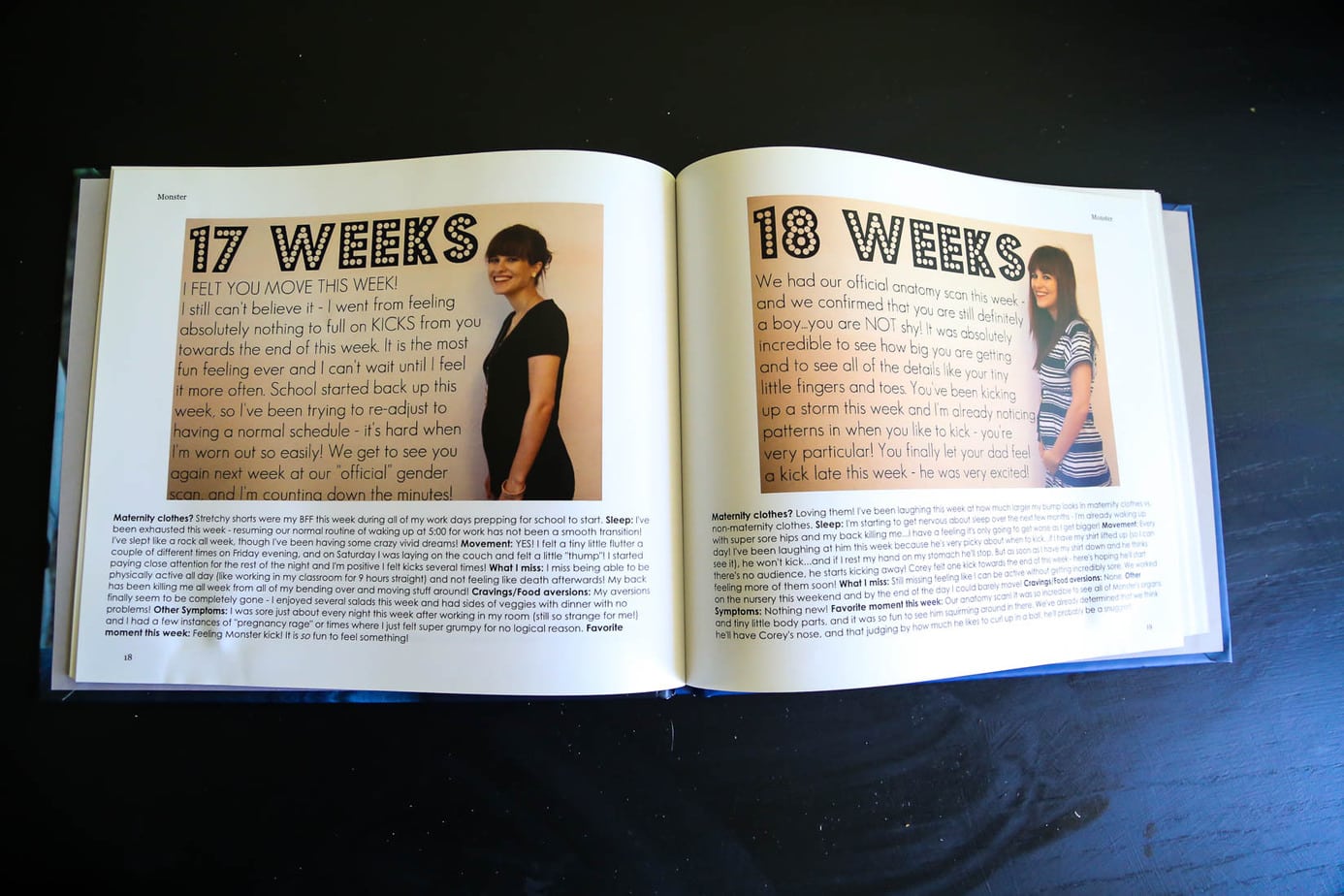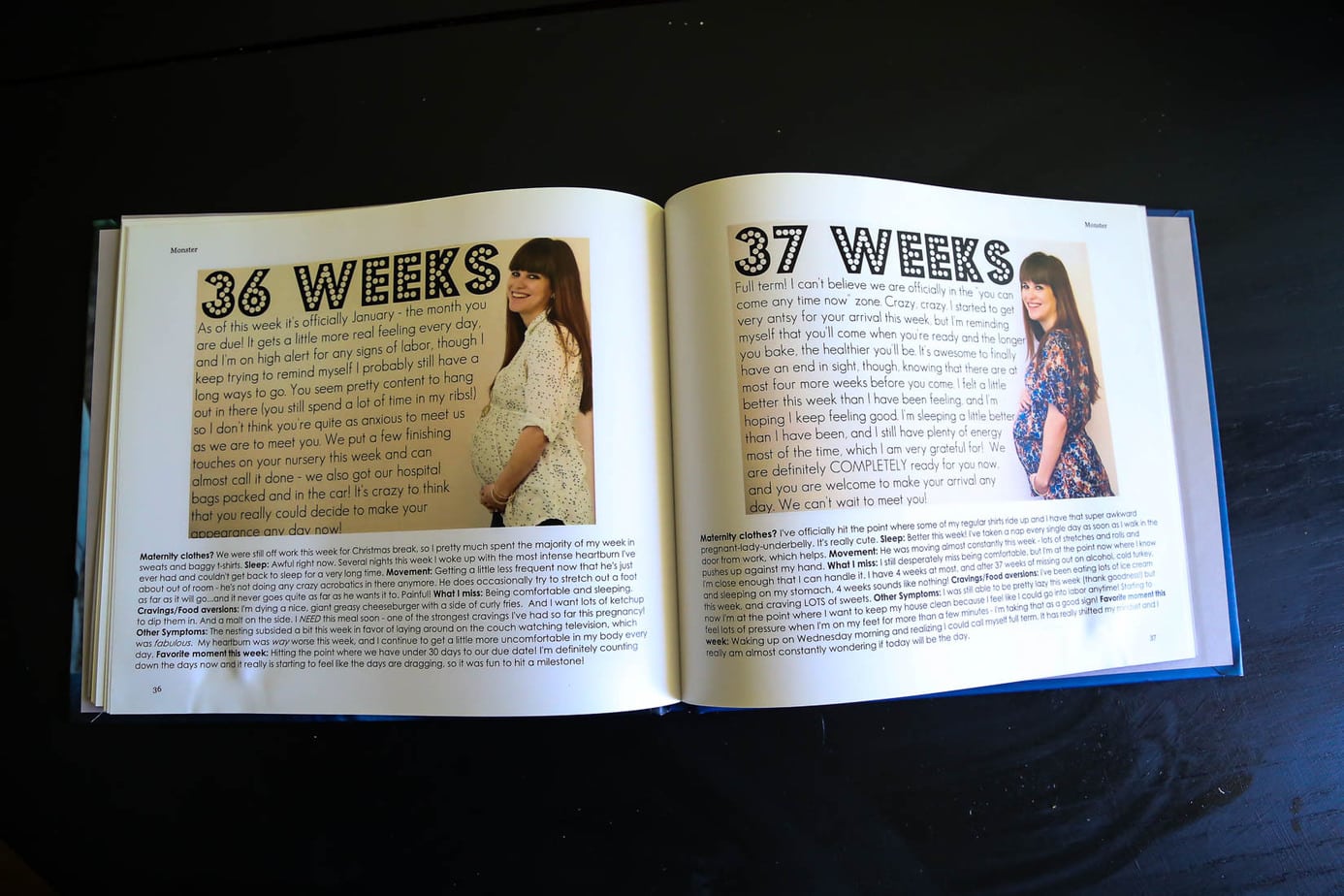 It's a really fun keepsake, and Jackson has loved looking back at it with me now that I'm pregnant again – I try to spend a lot of time talking with him about what things were like when I was pregnant with him, so he can feel more involved in the process and doesn't feel like he's getting lost in the shuffle of the new baby.
In addition to this book, I'm also trying to be better this time around about snapping more day-to-day photos of myself and my bump. Looking back at photos from when I was pregnant with Jackson, I really don't have all that many photos of myself in our daily life – I just have my weekly photos. So, this time I'm trying to be more conscious of that and am stepping in front of the camera when I can.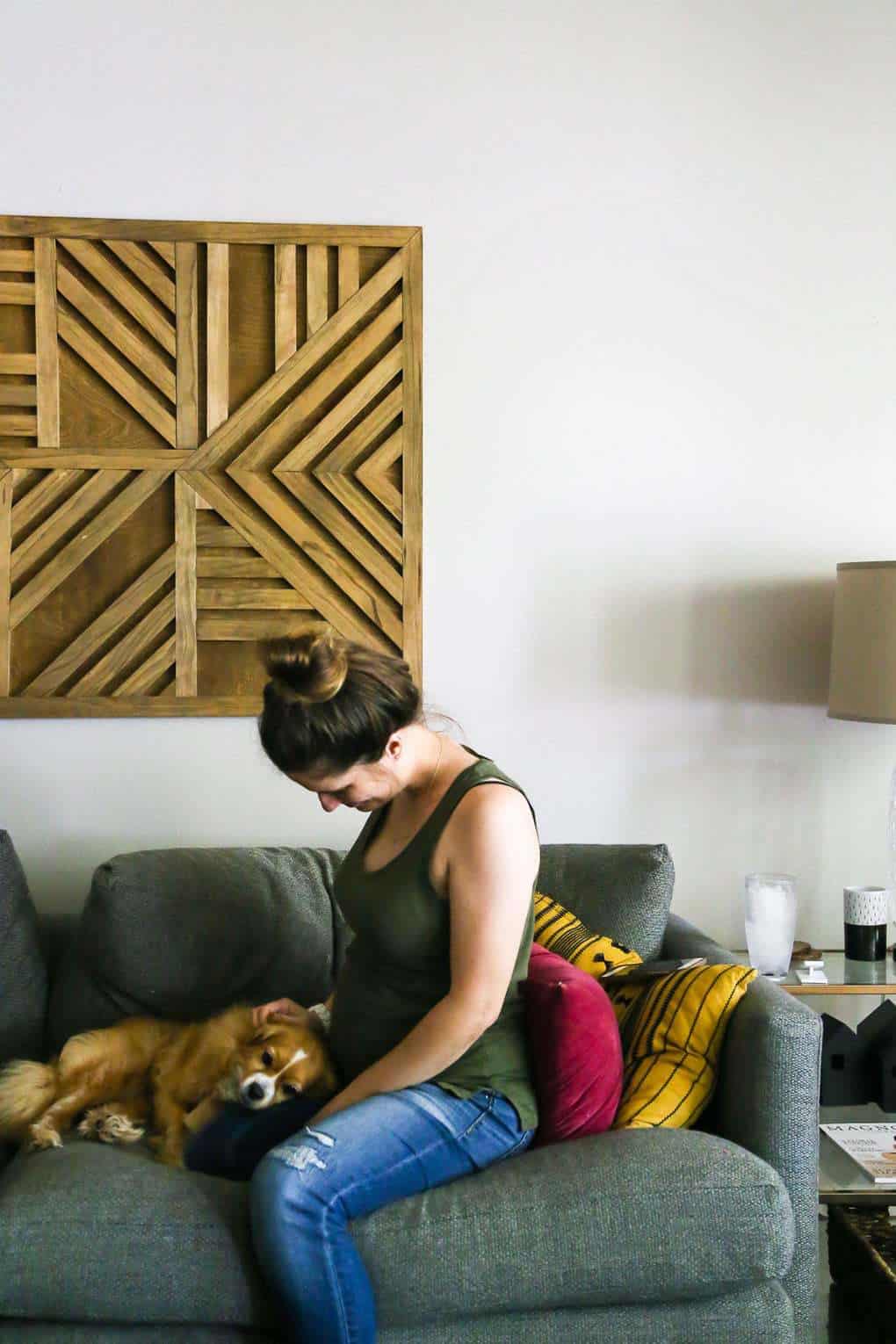 Tips for Taking Your Own Maternity Photos
It can be difficult to get myself in front of the camera since I'm usually the one taking photos, but here are a few tricks I've learned along the way:
A selfie-mode photo can be a great bump photo if you take it at the right angle – I love to try and capture my stomach and Jackson in the same shot!
Your phone probably has a self-timer on it, which means it's really easy to get a good photo of yourself! I used my camera + tripod and a self-timer to take this photo, but it could have easily been done with my iPhone instead by propping it up somewhere in the room!
Don't be shy about asking people to take your photo! I find that often I just need to remember to grab someone to snap a family when we're doing something fun, or even ask Corey to get one with me in it. I have to remind myself that while I always notice photo opportunities and am constantly looking for an excuse to bust out my camera, not everyone thinks like me! But, that doesn't mean they wouldn't be more than willing to take one for us.
And, for those of you who don't necessarily care about documenting a pregnancy but just want to hear more about how mine is going, I figured the halfway point is the perfect time to share a little update.
20 Week Pregnancy Update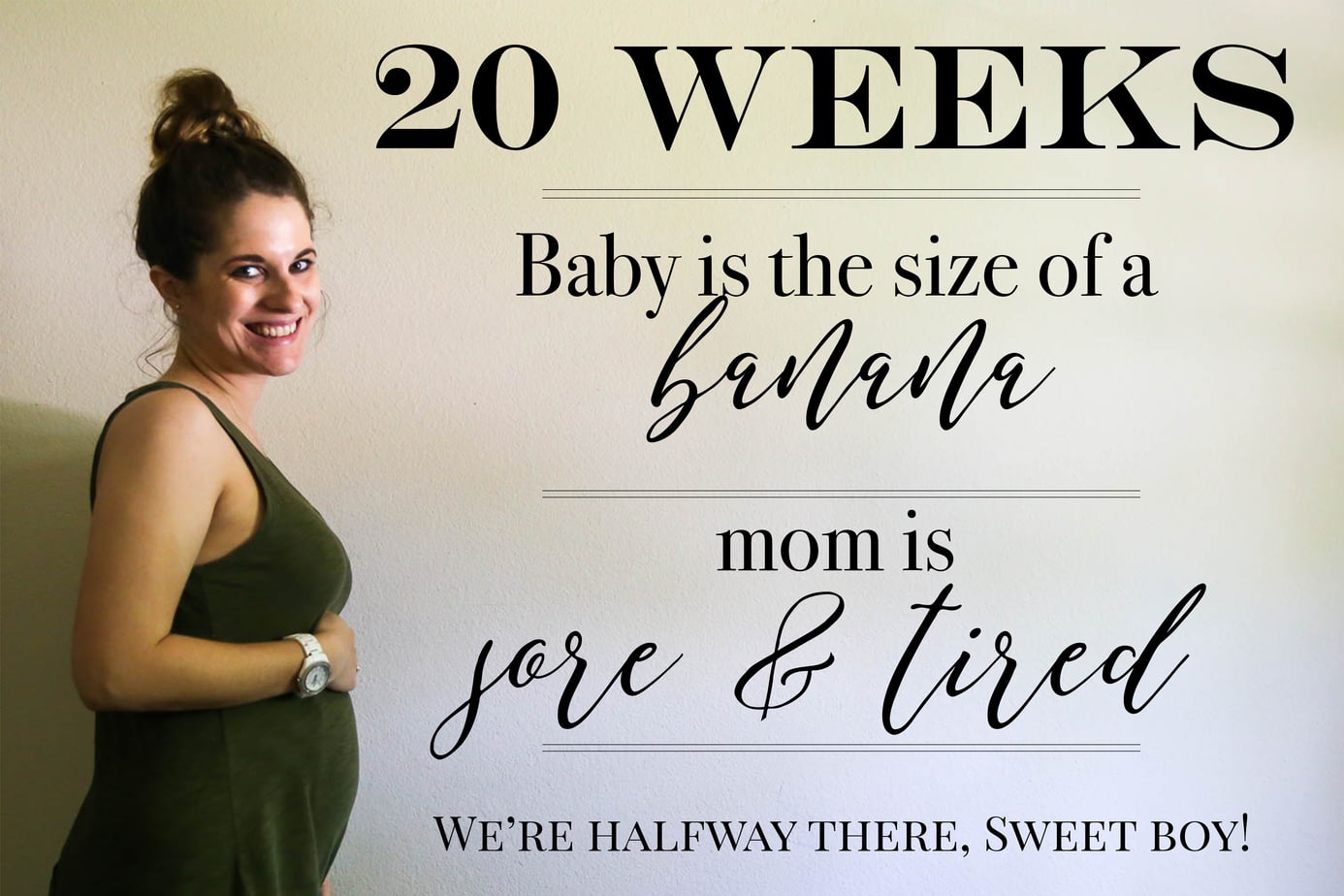 How are you feeling? Overall, I'm great! We're renovating the dining room and, I'll admit, it was ROUGH on my body – but I pushed through! I'm short of breath often and sometimes have a hard time getting comfortable, but nothing major.
What are you wearing? More of the same – maternity pants with a baggy top most days. but I'm REALLY ready for consistently warm weather because my body is craving shorts – I feel restricted really easily and I'm dying for the looser, freer clothes of summer!
Cravings or aversions? Still wanting tacos constantly. I'm also thinking about mini powdered donuts all the time again – maybe I'll grab some from the grocery store this week…
How are you sleeping? No major issues! Waking up to pee nightly, and crazy dreams – but I'm comfortable!
Miss anything? I've really been wanting a cold turkey sandwich, and on days where the weather is really warm, I can't stop thinking about a nice cold glass of sangria!
New baby items: All of our money is going towards the dining room right now – so no!
Highlight of the week: 20 weeks is a huge deal! It feels so good to be halfway done, and I'm just generally feeling pretty wonderful. I didn't have this "high point" in my pregnancy with Jackson (I felt pretty crappy for a lot of the pregnancy), so it's nice to actually feel GOOD for a change.
Any other pregnancy-related posts you'd love to see? Leave a comment and let me know – I'll try to answer any questions you have!
Looking for other pregnancy/baby updates?