Power Tools for Beginners: How to Use a Jigsaw
Are you wanting to start using power tools but feeling a bit intimidated by them? I'm walking you through a few different power tools, and today we're talking about how to use a jigsaw.
Welcome back to our Power Tools for Beginners series!
No clue what I'm talking about? I started this series as a way to get my butt in gear when it comes to actually using power tools around the house. I'm vaguely familiar with how to use most tools, but up until recently I had never actually used my tools to create anything on my own – I always let my husband do it.
But, I'm on a mission to learn how to use all of the power tools we own, and actually get comfortable building things without someone holding my hand throughout the project. And so, this series was born because I don't like to do anything alone and I wanted to take y'all along for the ride. Today? It's all about how to use a jigsaw.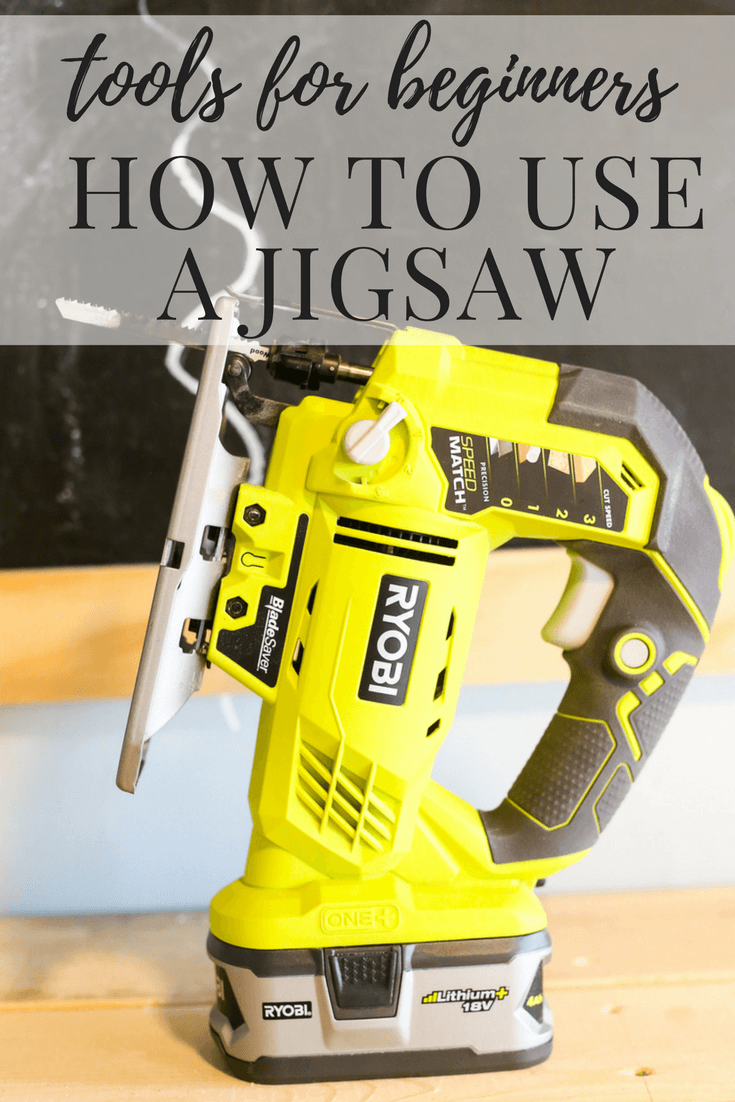 What is a jigsaw and why would I want to use it?
A jigsaw is a tool that's used to cut thin materials into shapes. It's typically used for more intricate projects than for straight cuts (mostly because, who has a steady enough hand to cut a straight line with this thing?) and it's great for cutting letters, curves, or other shapes out of wood or other thin materials.
What materials can I use a jigsaw on?
With the correct blade, jigsaws can be used on thin metal, laminate, plastic, wood, and even ceramic tile. It's great for cutting plywood, and can generally be used on hardwoods up to 3/4″ thick and softwoods up to 1-1/2″ thick.
You'll reach for a jigsaw anytime you need to make a curved cut or a more intricate cut, and I find it to be one of the most handy tools to have around!
How to Use a Jigsaw
Super obvious disclaimer: I'm not an expert, I'm just a girl who has a husband who taught her how to use a jigsaw. Power tools are dangerous if you don't know what you're doing. Be careful, my friends.
This tool is really straightforward. There's a blade on the end (don't touch it!), a trigger to make it go, and some controls on the side that let you speed up or slow down the movement of the blade, depending on the material you're cutting (for example, you want the blade to move slower if you're cutting sheet metal because it's so delicate, but faster if you're cutting something harder like wood).
To use the tool, simply press the trigger lock (the safety that prevents the blade from starting), and then pull the trigger. You'll want to start with your blade up against the edge of the material you're cutting. Guide the tool in the direction you want it to go as it cuts.
Sound overly simple? I promise, it's that easy! Below, here are a few more tips.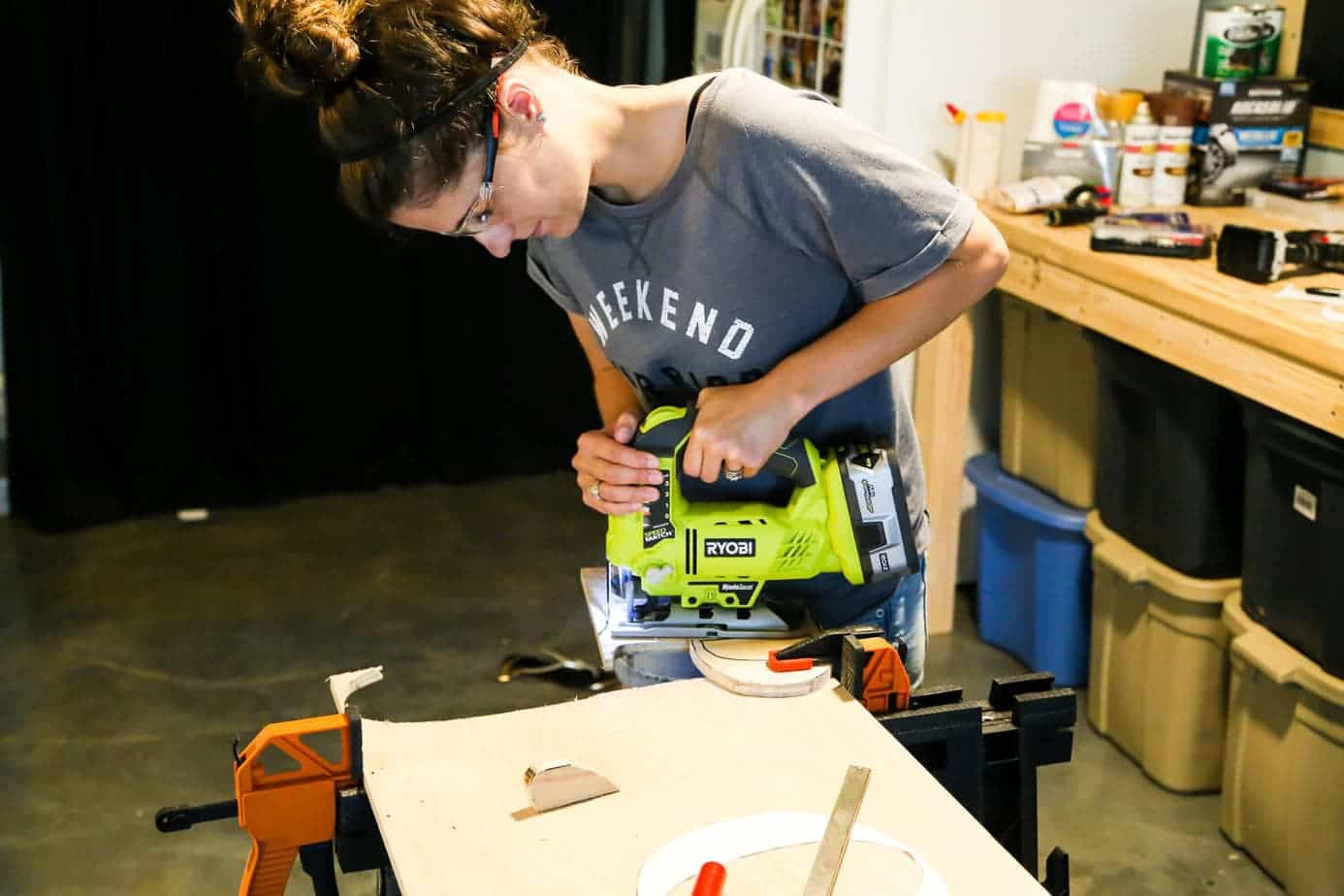 Tips for Using a Jigsaw
Always keep the saw shoe (the metal piece that extends a few inches around the blade) flat on your workpiece at all times.
You want to move slowly and steadily with the tool in order to avoid jagged edges, and to help make sure you follow the lines you're supposed to follow.
If you're cutting a tight curve, use relief cuts to help you. This might look like starting on the outside of your wood and cutting towards the cut line, removing excess wood as you work.
Unless you're just an artistic prodigy with an incredibly steady hand, you're going to want to have some sort of guide to follow – for my project, I traced the letters onto the wood with a Sharpie to help me stay on track.
You don't want to force the blade in an unnatural direction (it might break), but you also shouldn't be afraid to tell the tool what to do. Don't be timid!
If you're cutting a thicker board, you may end up with a more bevel cut than a straight one if your blade isn't sharp enough. Be aware of how the cut looks as you're making it!
Generally speaking, slower speeds are used for more intricate cuts, hard wood, and smoother edges. Go slower when accuracy is important! Use faster speeds for more rough cuts where you plan to do more sanding.
Be sure to use clamps to hold your DIY project down on your workbench as you cut. It's important to avoid kickback, get a more accurate cut, and just generally keep you safe.
Which jigsaw should I buy?
There are obviously a lot of personal preferences and opinions when it comes to any power tool brand. I tend to lean towards battery-operated power tools as opposed to tools with a cord. It's much easier to move around my workshop with a battery-operated tool, and I don't have to worry about tripping over cords! This is my go-to jigsaw. It has lasted me for years, and has seen me through many projects.
Which blade should I use?
You'll need to swap out the blade on your jigsaw depending on what type of material you're cutting. It's very important to always use the right blade for your material for the best possible results!
Most blades will say directly on them (or on their packaging) what they're used for. Blades with more teeth per inch (or TPI) will create smoother cuts, while lower TPI blades will create rougher cuts. Generally, when you're cutting wood, you'll be good with a TPI of 10-12.
Cutting a center hole
One thing a jigsaw is really useful for is cutting a center hole in a piece of wood. For example, if you're putting paneling on a wall and need to cut a hole for an outlet!
To do this, just use a drill to create a starter hole where you want to make your cut, then slide the jigsaw blade through the hole and continue on to make your cut.
Safety tips
Like all power tools, jigsaws can be dangerous if they aren't used properly. Make sure you…
Keep all body parts away from the. blade at all times.
Avoid loose clothing, and tie long hair back. Also, remove long jewelry that might get in the way.
Wear safety glasses while operating the tool.
Put on a dust mask when you're cutting.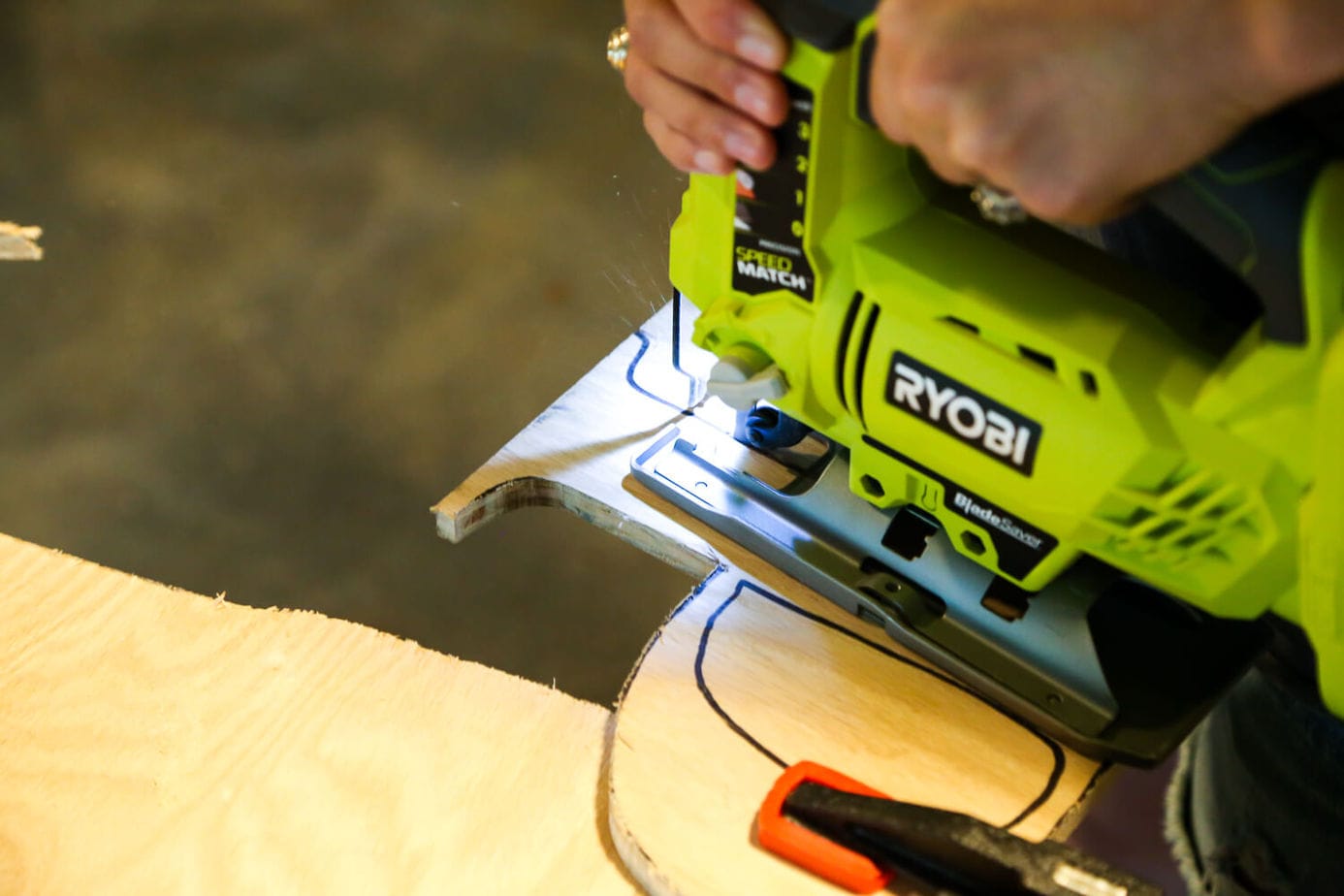 And really, that's all there is to it!
Using a jigsaw is simple, and so satisfying! As with any tool, it might take some practice to get comfortable with it, but soon you'll feel like a regular woodworker.