Here are some of my best tips for how to prep your outdoor areas to to from spring to winter with ease!
Confession: we've never been great at outdoor maintenance.
We often spend so much time working on the inside of our house that when it comes time to think about the outside we're just exhausted. Couple that with the fact that we've never lived in a home where we were really excited about the exterior of the house, and it's a recipe for a really poorly-kept yard.
However, Corey and I are going to be looking to sell our home and move into our (hopefully) forever home within the next year or so, and we'd like to spend our last year in this house giving it as much love as possible. We want to be able to enjoy our outdoor areas, and we also want to prep them to be nice and beautiful for when we put our home on the market!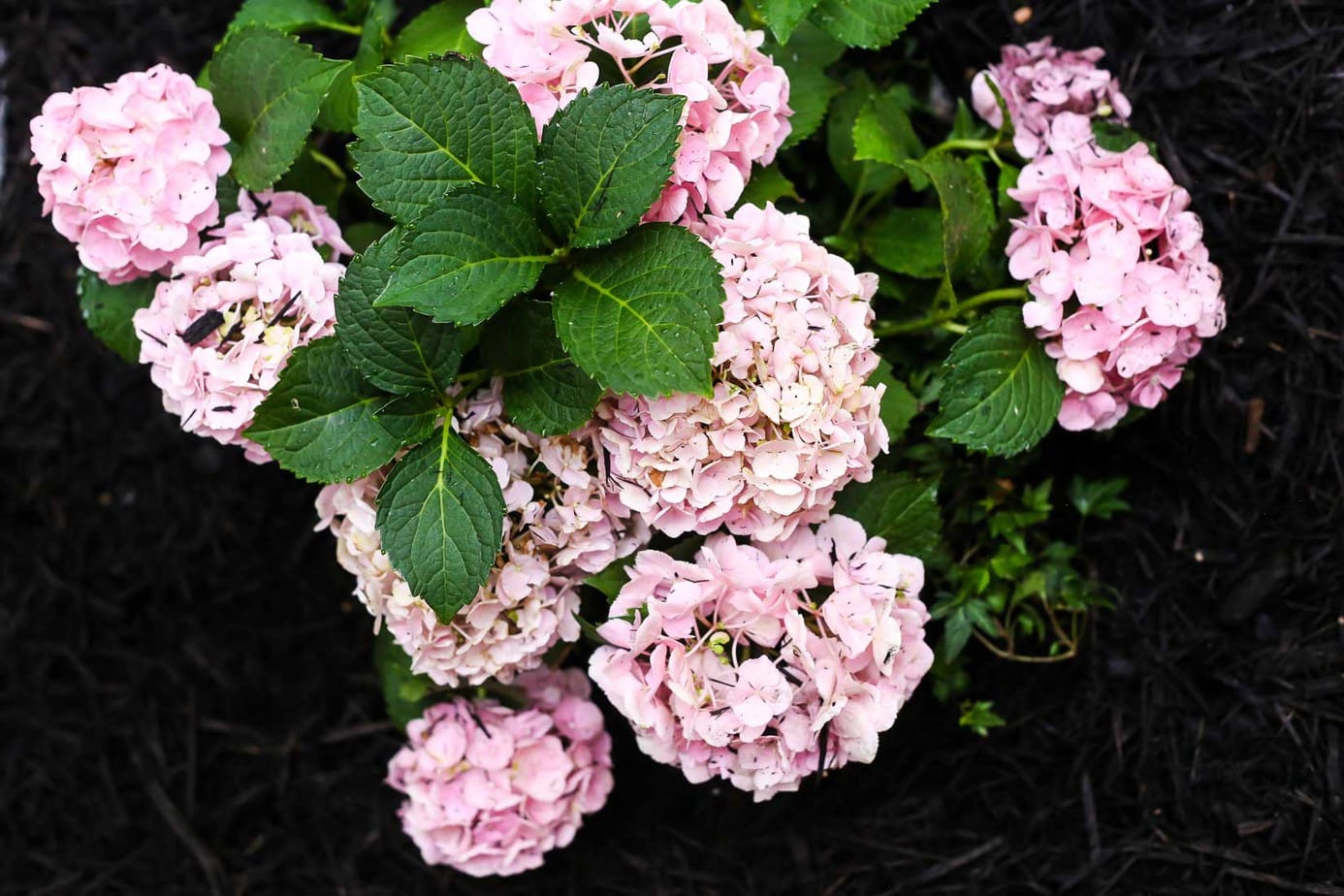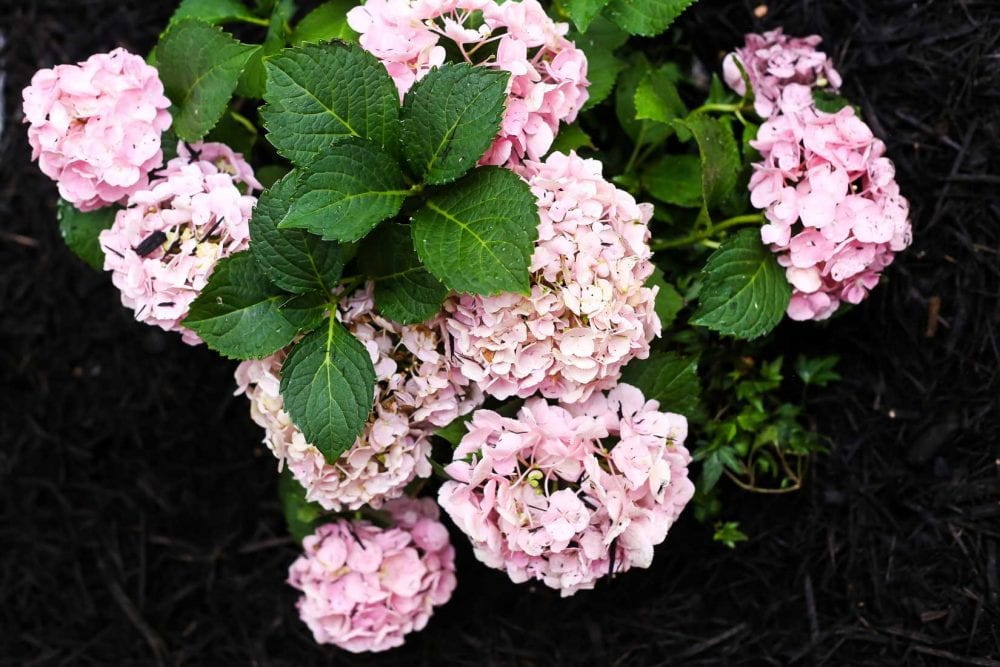 This post is sponsored by Greenworks, but all opinions and ideas are all mine! Thanks for supporting the brands that support Love & Renovations.
So today, I wanted to share a few things I'm going to be doing over the next few weeks to prepare our home for the spring season. I've been ignoring our outdoor areas even more than usual lately (thanks to the cold weather and the new baby in my house), so I'm ready to start heading outside and freshening things up.
I'll note, this list is going to be most helpful to those of us who are, ahem, not adept at yard care. I know many of you are garden rockstars and have beautiful exteriors already – you don't need my help. This list is for anyone who cringes a little when they look at their yard and wishes they could be better about maintaining it.
Raising my hand here.
Let's make a game plan to fix it, shall we?
Oh, and be sure to read all the way to the bottom for info about a giveaway to help you get started on your yard!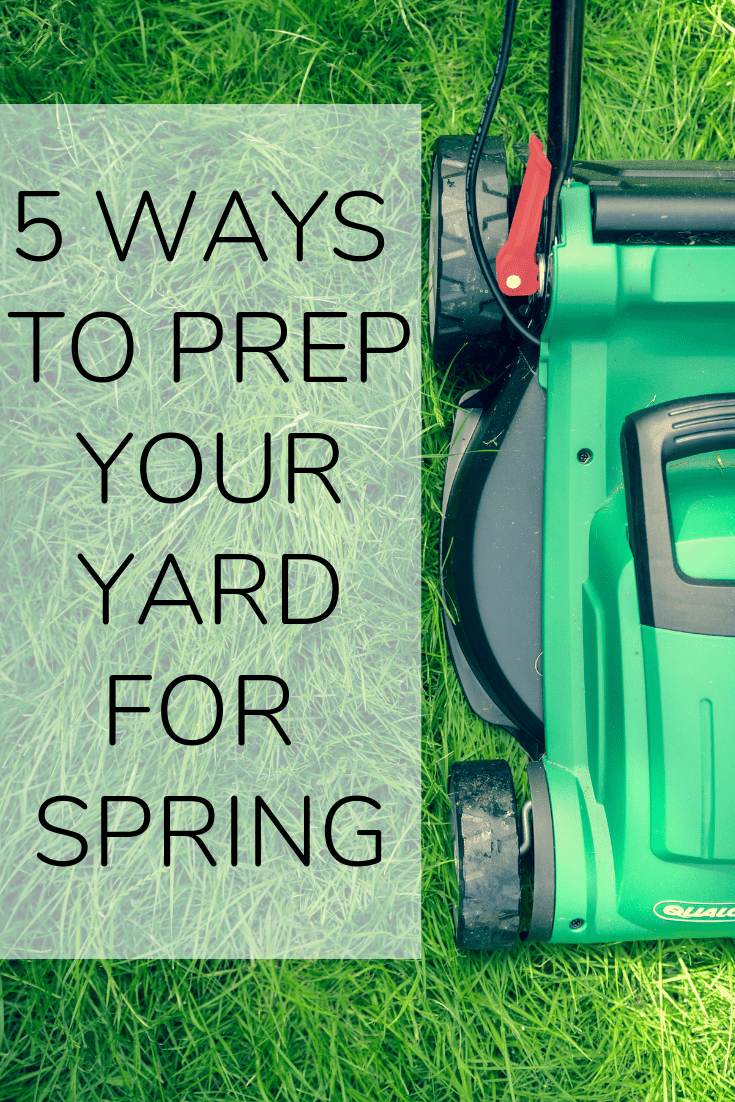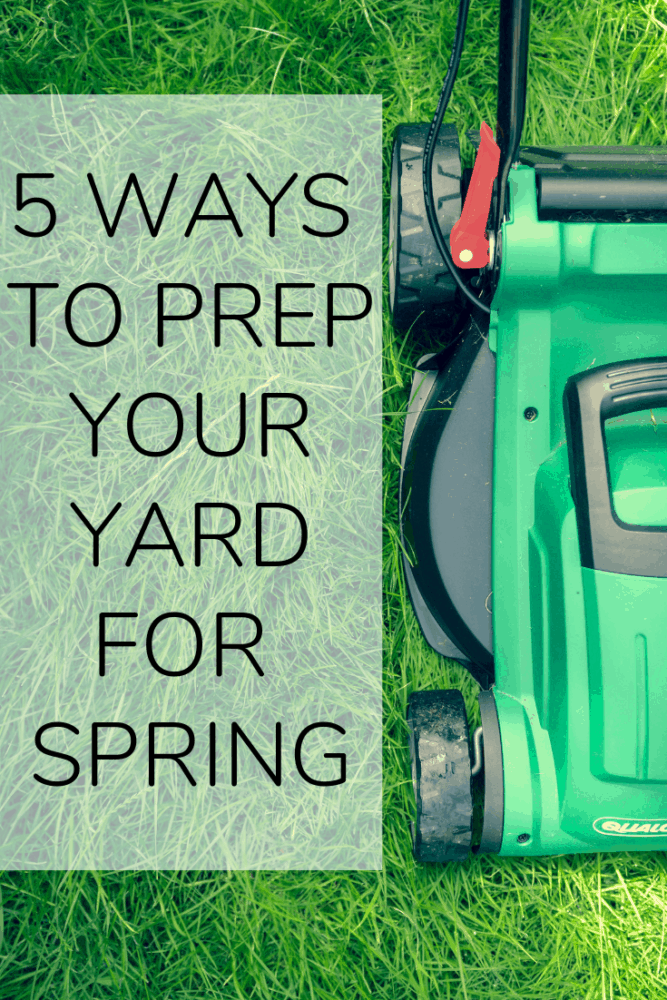 5 Ways to Prepare Your Yard for Spring
1. Take care of the leftover leaves
First up on the list is the item we struggle with the most.
Our backyard has two large trees that cover most of the yard, and our front hard has a few more. Between all of the trees, an absurd amount of leaves end up in our yard each fall. I do my best to keep up with it, and I did a pretty good job the first year we lived here, but this year it just so happened that our yard was covered in leaves just a month or two after I had a baby.
Sorry, but ain't nobody got time to rake leaves when you have an 8-week-old in the house.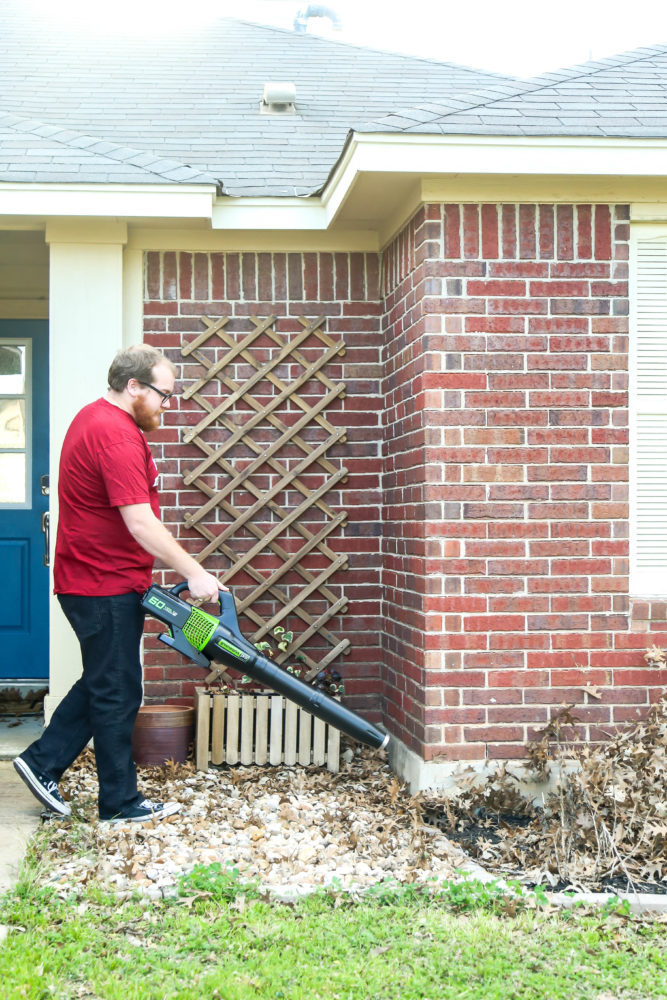 I managed to get a little bit of raking done early in the season, but then I gave up and the yard fell into disarray. It's worse than usual this year, but every year we do end up with a fair amount of leaves left over after the fall season – and judging by my neighbors yards as we drive by, I know we aren't the only ones!
I've always just raked up the leaves before, but since it was a bigger-than-normal job this year, I decided to up my game and try out a leaf blower.
Friends, I am a changed woman.
The thing about raking is it's exhausting, it hurts your back (why did my body fall apart as soon as I turned 30?!), and it takes for.ev.er.
Leaf blowing is NONE of those things. It's fast. It's fun. I don't feel like an 80-year-old woman when I finish.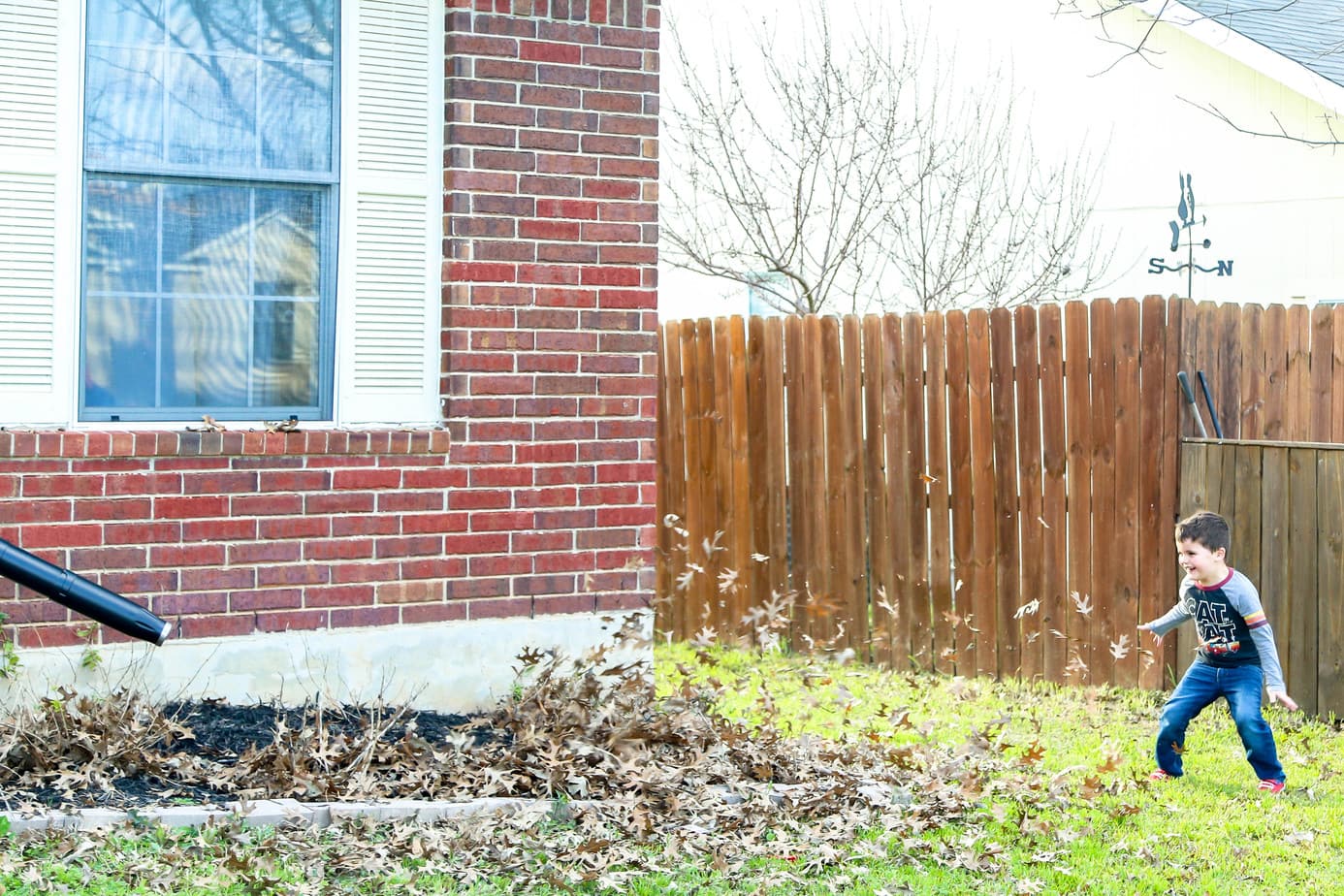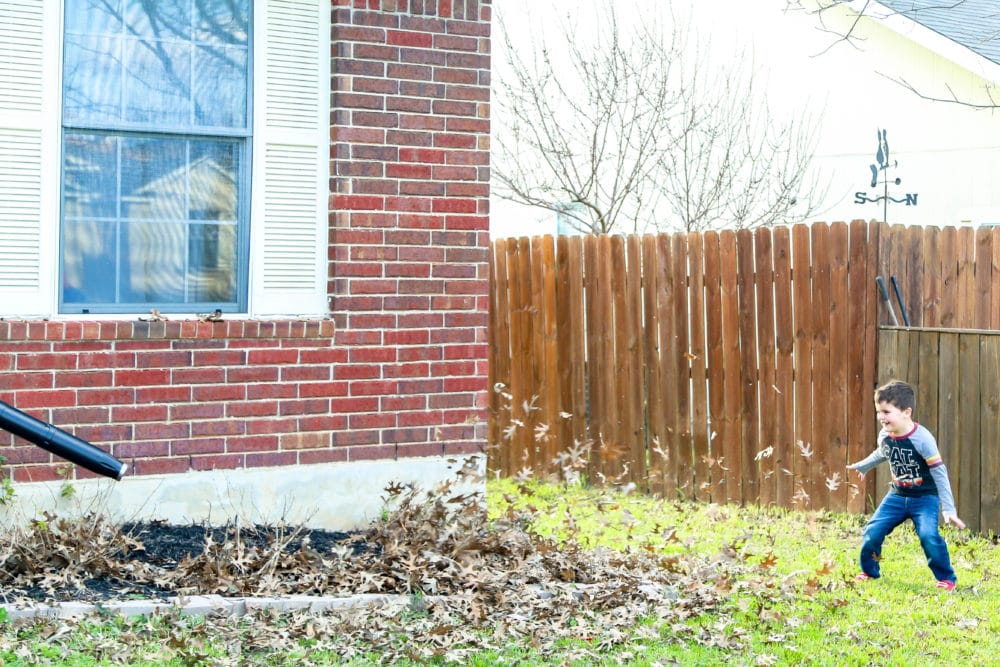 I'm sold.
We used this Greenworks Pro 60-Volt blower and I really loved it. We've had leaf blowers in the past but we never actually used them because they were too bulky, not effective enough, or just a giant pain to pull out and set up. This one was quick and easy to learn how to use, and it cut my leaf-removal time in half. Maybe even more. Plus, it's battery-powered and the battery is the biggest one I've ever seen – I love a tool battery that I know isn't going to die on my halfway through the project. g
Moral of the story? Ditch your dang rake and get a leaf blower.
2. Make a plan for fresh growth
One thing I want to be better about is being intentional with planting a few new things every year. We created a pretty flower bed at the front of our home last year, but everything (obviously) died off in the winter and we aren't sure yet what will come back.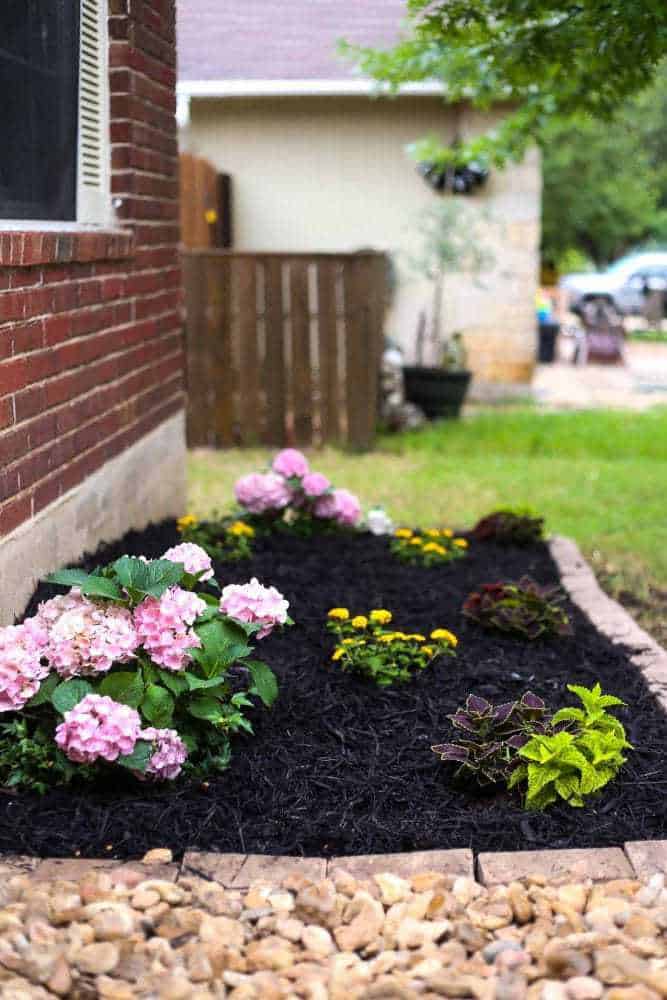 I can tell you for sure those pretty pink hydrangeas won't be making a re-appearance because I think they died approximately 5 minutes after I took this photo. The rest of the stuff has potential.
I'm currently researching plants that would be good for this area and trying to make a game plan so I'm ready to go come March. I've also got a couple of small beds under the trees in our front yard, along with several planters that need to be re-filled.
I find that if I want until the weather actually warms up to start thinking about what to plant, I get overwhelmed and push it off. But, if I spend a little time before spring even hits thinking about it, I'm much more likely to follow through!
3. Make a wish list and choose 2-3 things to tackle
If I really thought about everything I wanted to do to improve my exterior, the list would be approximately 100 items long and would take me somewhere in the neighborhood of ten years to complete.
Clearly, that's not a realistic approach to making progress in your home, so I've tried to start thinking about my exterior in the same way I do the inside of my home. I make a (short) list of the top things I want to complete, then I'm choosing just a couple to complete each year.
Last year, we added a garden to the backyard, freshened up the garage doors, and added a flower bed to the front. It wasn't much, but it definitely made a big difference!
This year, my list tentatively includes:
Painting the exterior of our house
Adding some freestanding planters to the front and back
Fixing our fence in the backyard
If I limit my to-dos to something that's reasonable to actually get done in one year, I actually start making progress. If I just keep a running tally in my head of ALL THE THINGS….not so much.
4. Trim those trees!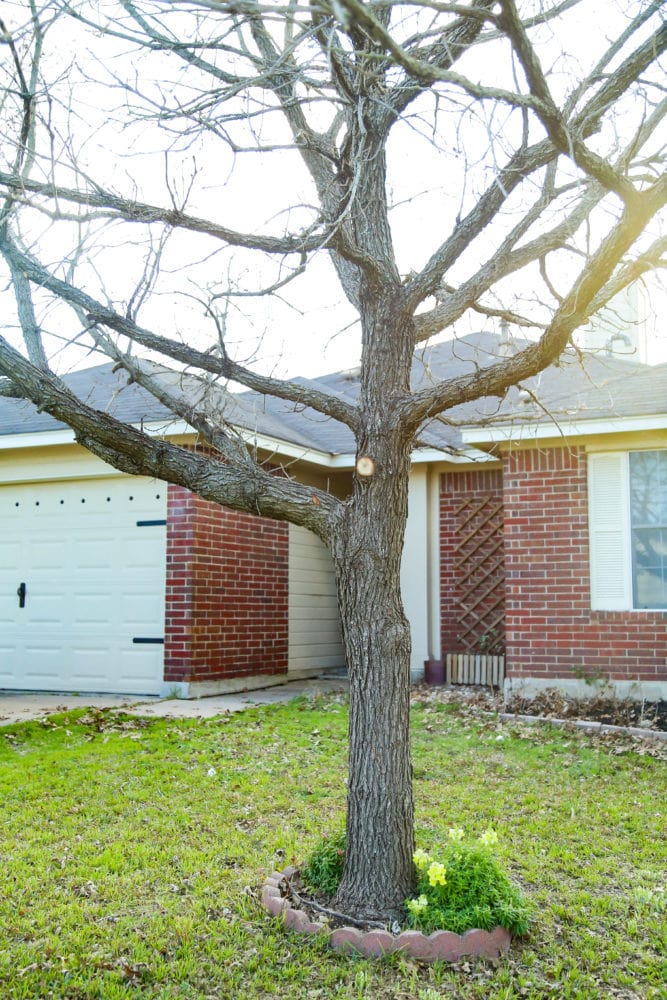 Another relatively small to-do that makes a big difference is trimming excess growth off of your trees.
Gardeners can correct me if I'm wrong, but I believe that it's a good practice to prune your trees in the winter when they're dormant. You want to wait until the worst of the cold has passed (aka: right now!), and it'll ensure healthy growth come spring weather.
The trees at our house were pretty overgrown when we moved in – we did a bit of trimming last year, but this year we want to do a little more to help things look a bit neater.
5. Pull the weeds and tackle your first mowing of the season
Finally, the last step we're taking to get our yard ready for spring is pulling the (absurd amount) of weeds that have sprung up over the last few months and giving our yard a good mowing to prepare it for the spring season.
I don't do a good job of tackling weeds as they pop up (hello, I'm awful at lawn care), so once I've got my yard back to a good baseline, I'd like to grab some weed killer and try to stay on top of things this year. Because if I have to tell Jackson that the spiky plant with a "pretty yellow flower" in the yard isn't actually a pretty flower one more time, I might just throw in the towel for good.
Are you ready for a giveaway?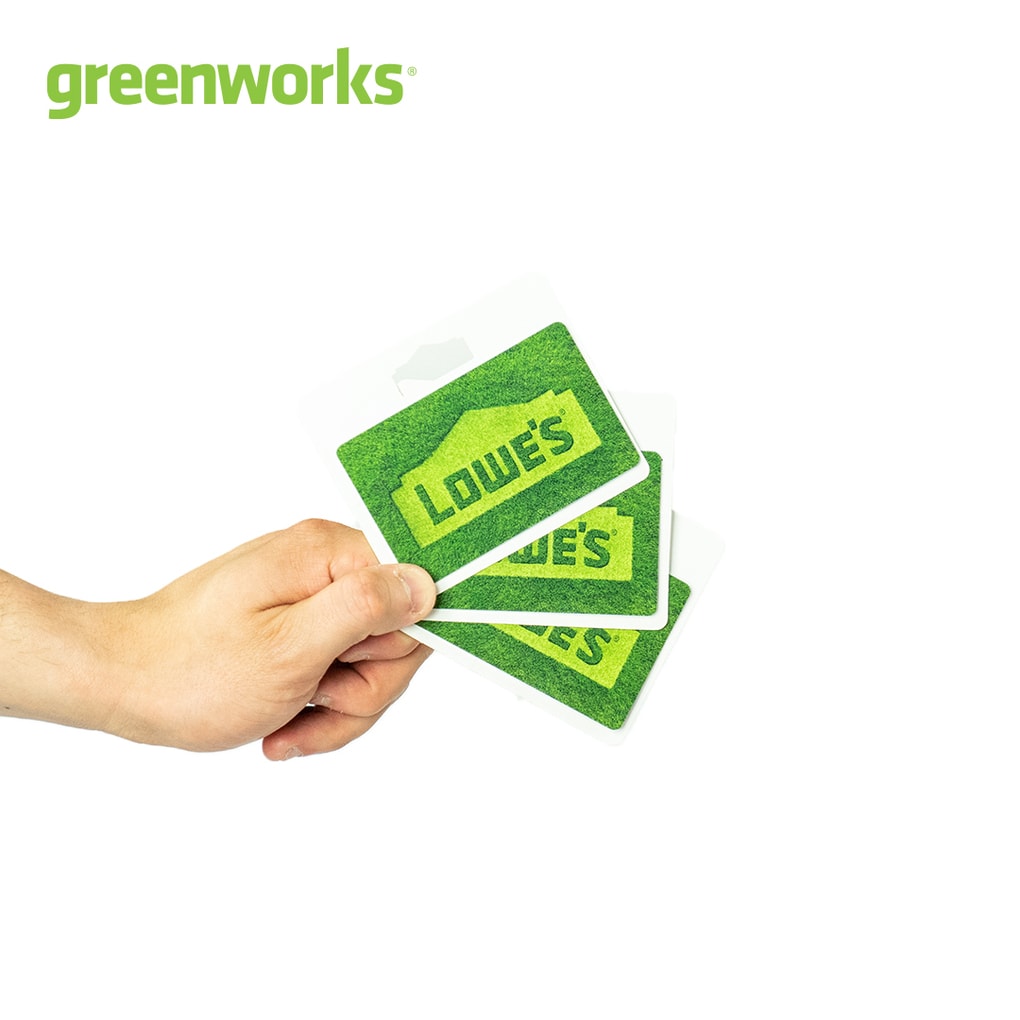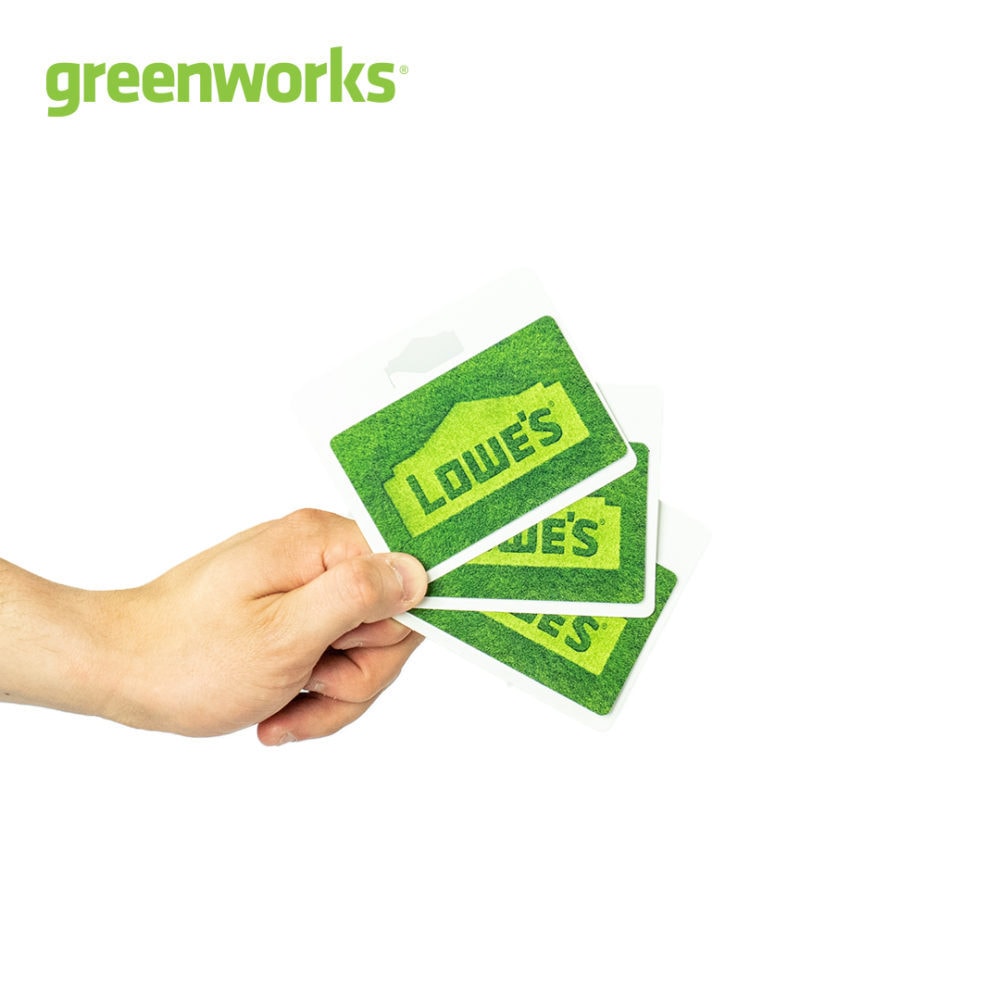 Greenworks is doing a fun giveaway on their Instagram account – three people will will $300 gift cards to purchase Greenworks products so you can whip your yard into shape this spring too (get the leaf blower!).
You can find the giveaway over on Greenworks' Instagram account – you have a few chances to win, and the winner will be picked on March 1 at 2PM EST, so hurry hurry hurry!