Need a fun and cozy gift idea for a friend who could use a little relaxation? I've got you covered today! This post is sponsored by Tranquility.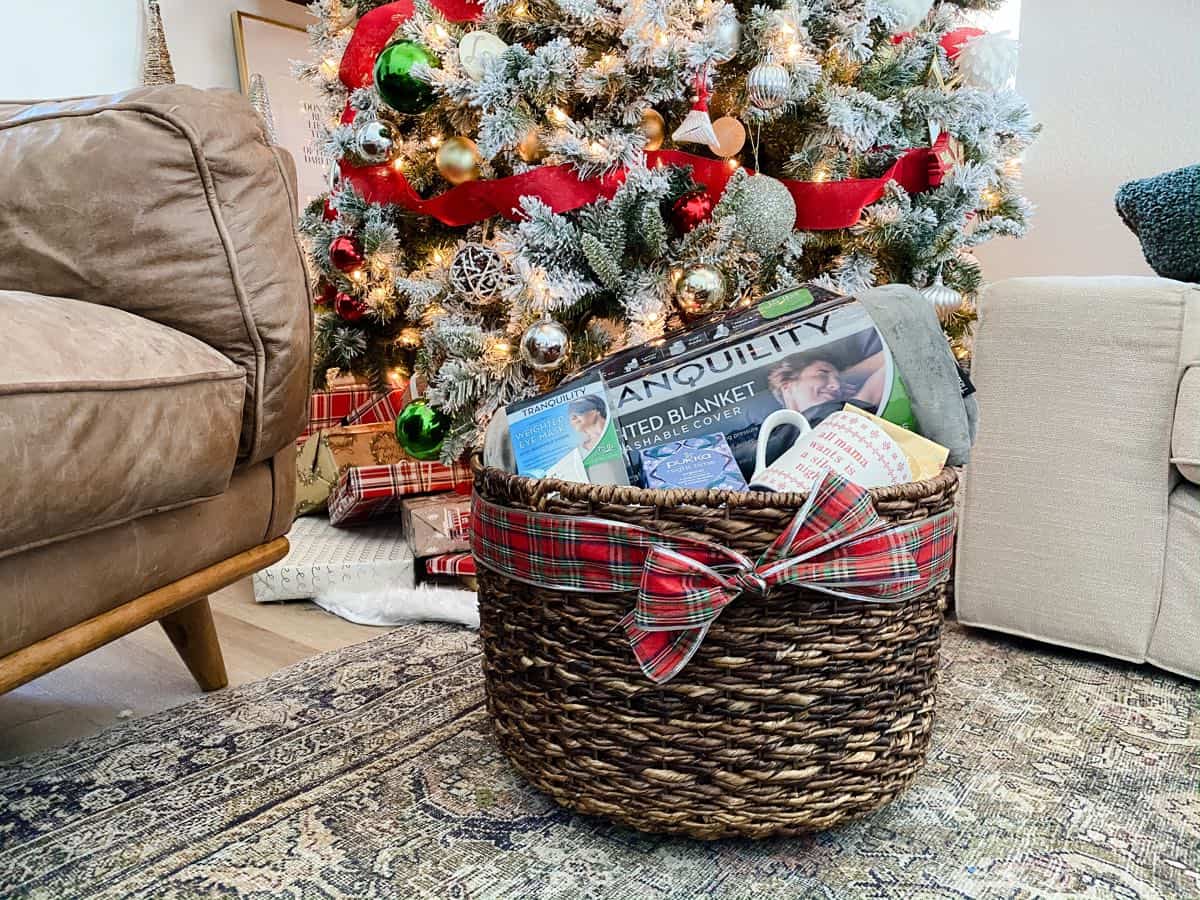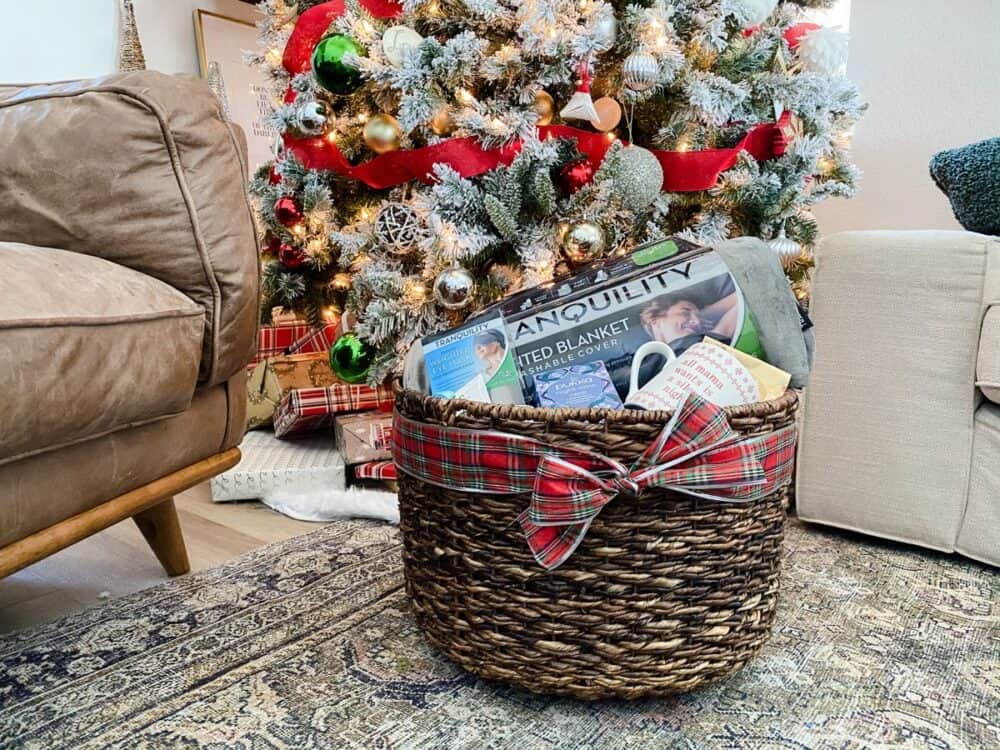 I love gift-giving. I love everything about it. I love the search for the perfect gift for that friend you love so much, I love the feeling when you find exactly the right gift for them, and I love the swell of joy when you see the excited look on their face when they open it.
It's all just so magical and fun.
So, that's probably why when my good friends at Tranquility asked me to write a gift-guide-themed post this holiday season, I was so excited to put together a fun sleep-related gift basket for a friend.
We've all got that friend (or maybe we are that friend) who is feeling a little, um, sleep-deprived lately, right? Maybe they have a new baby, maybe they've got a lot of work stress, or maybe they have an older kid who suddenly decided they're terrified to sleep alone.
Or maybe 2020 is just zapping their ability to close their eyes and shut out the world.
Regardless of why they're lacking on sleep, I think it's safe to say we all know someone right now who could use a little extra help in the sleep and relaxation department.
And that's what makes this the perfect gift for this year. The gift of sleep, coziness, and a well-rested night.
Is there anything better?!
And, if you're going to gift the gift of a good night's sleep, you cannot forget to include a Tranquility weighted blanket.
If you haven't ever slept with a weighted blanket, you are missing out, my friend. Corey and I both started sleeping with one about a year ago and we quickly became hooked – we can't sleep without them anymore!
What's so special about weighted blankets? Well, I got into all the nerdy science behind it in this post right here, but the bottom line is that a little bit of added weight sends a message to our entire bodies to caaaaaalm down, relax, and let go of some of the added stress. It's an actual scientific fact that your body can relax better when you're using a weighted blanket, and most people find that they also help them fall asleep faster, sleep longer, and sleep more deeply.
I mean, they're basically a little bit like magic.
Oh, and my favorite thing about the Tranquility brand specifically is that, unlike a lot of other weighted blanket brands, they're both affordable and high-quality. Tranquility offers blankets in a variety of weights, starting at just $25 and they're available in-store and online at both Walmart and Target! It honestly doesn't get any more accessible than that!
I also love the washable covers, because nobody wants a weighted blanket that can never be washed!
I've been giving these blankets to just about everyone I know for the last year because I'm a believer that everyone could benefit from a weighted blanket – even Jackson has one!
So, of course, it was the first thing I put into my "sleep sweet" basket that I made for my friend!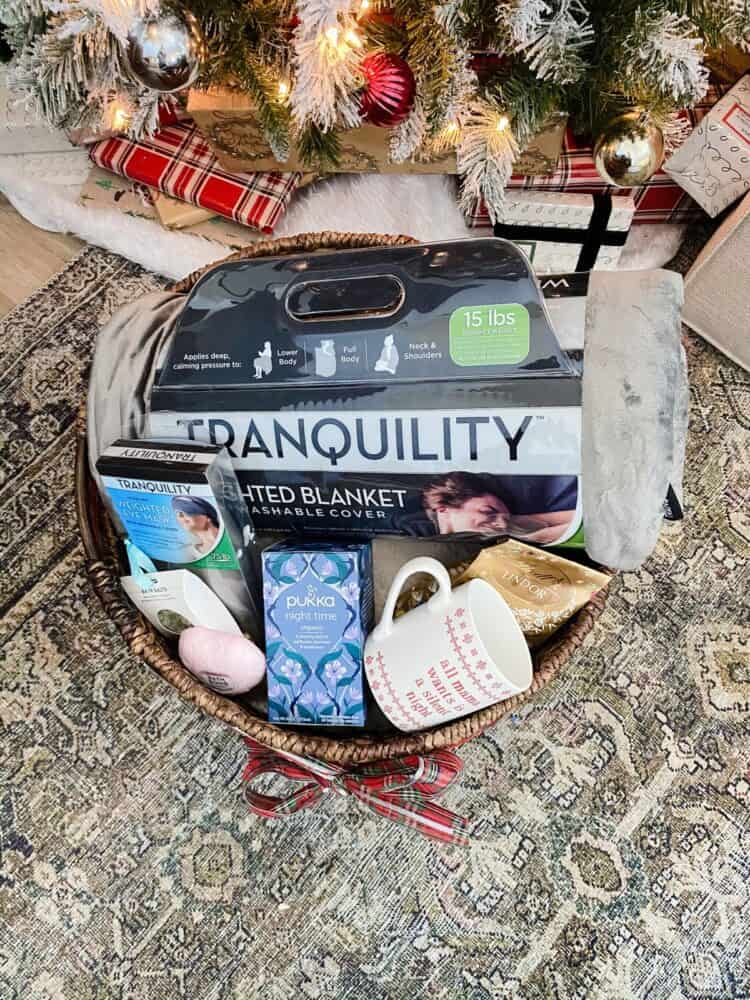 Another fun little addition to the basket was the new Tranquility Cooling Weighted Eye Mask – it weighs about .75 pounds and it applies an incredibly soothing pressure all around your eyes and forehead. It has a temperature-balancing fabric on it so you don't get too hot, and it helps relieve stress, calm you down a bit, and prep you for an incredible night's sleep. And, just like most of Tranquility's blankets, it has a removable and washable cover so you don't have to worry about it getting gross over time!
I dropped this little basket off on my friend's doorstep as an early Christmas gift, and she couldn't stop raving about how relaxing it was to curl up under her new Tranquility weighted blanket and eye mask.
It was so fun to shop for this gift, and I honestly think this sort of gift basket would be absolutely perfect for almost anyone in your life. Who doesn't need a little more relaxation after the year we've had?!
If you're putting together a little gift basket like this for a friend (or, um, yourself) here are a few ideas of what you could add to give them the perfect cozy night:
Cozy Gift Basket Ideas
Start with a Tranquility Temperature-Balancing Weighted Blanket and a Cooling Weighted Eye Mask. Then, once you've got the basics you can add in…
A cute mug
Some sleepy-time tea
Fuzzy socks
Bath salts or a bath bomb
Some chocolate
A $5 gift card to Amazon so they can rent a good movie
A new pair of PJs
A good book
A candle

Pick a few things, toss it into a cute gift bag or basket, and stick it under the tree (or drop it on their doorstep) – done! You've got the coziest, most relaxing gift possible.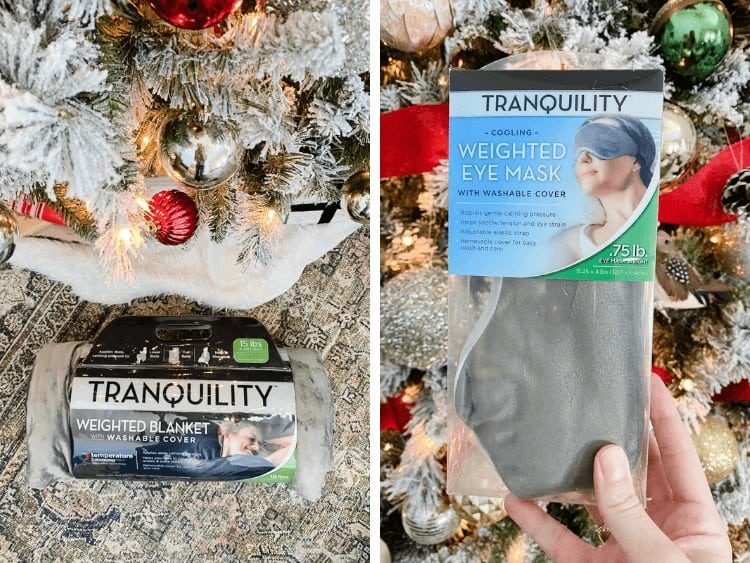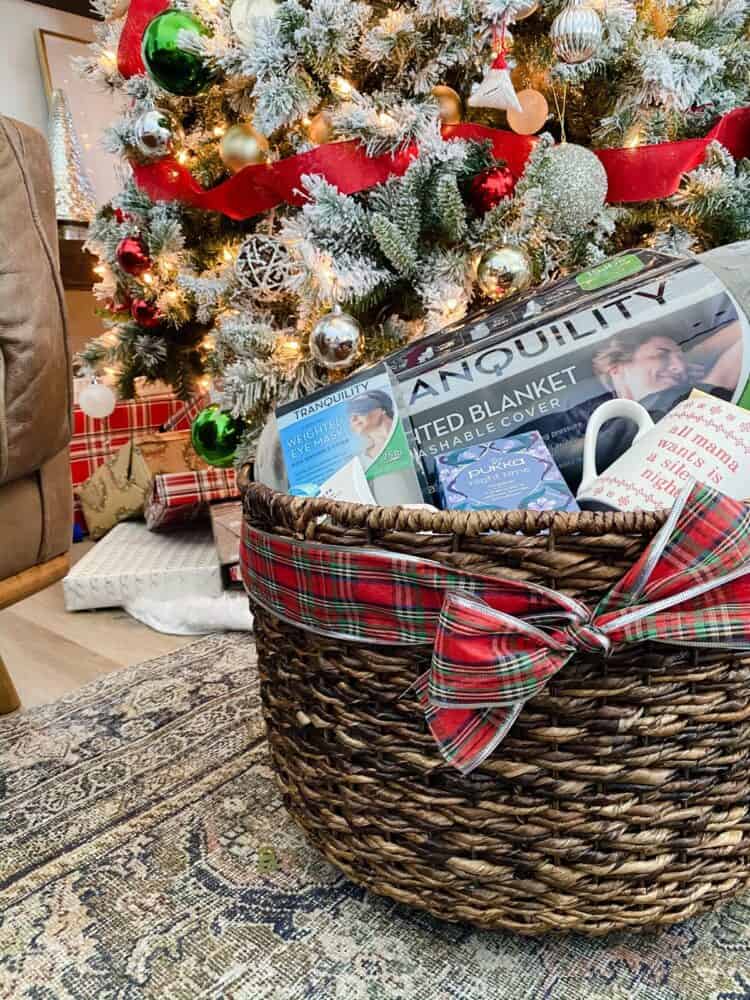 You can find Tranquility Weighted Blankets at Target or at Walmart – they start at just $25, and would make a perfect gift for anyone on your list!