Corey and I have been dying to try out some weighted blankets for months, and we finally got the chance when Tranquility reached out and asked if we'd review theirs. Here's all of the details on our new weighted blankets.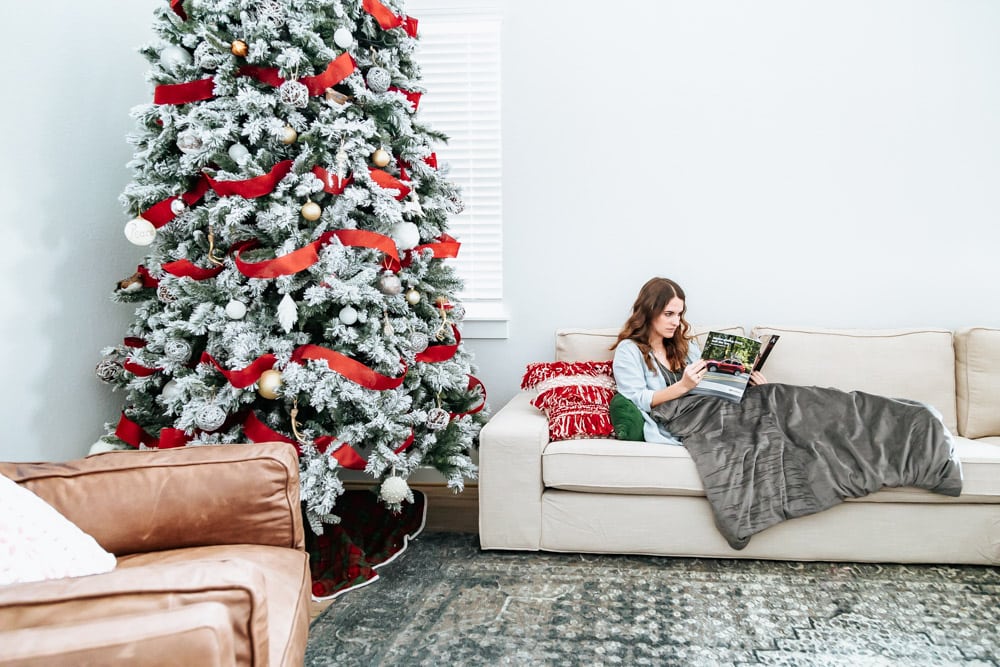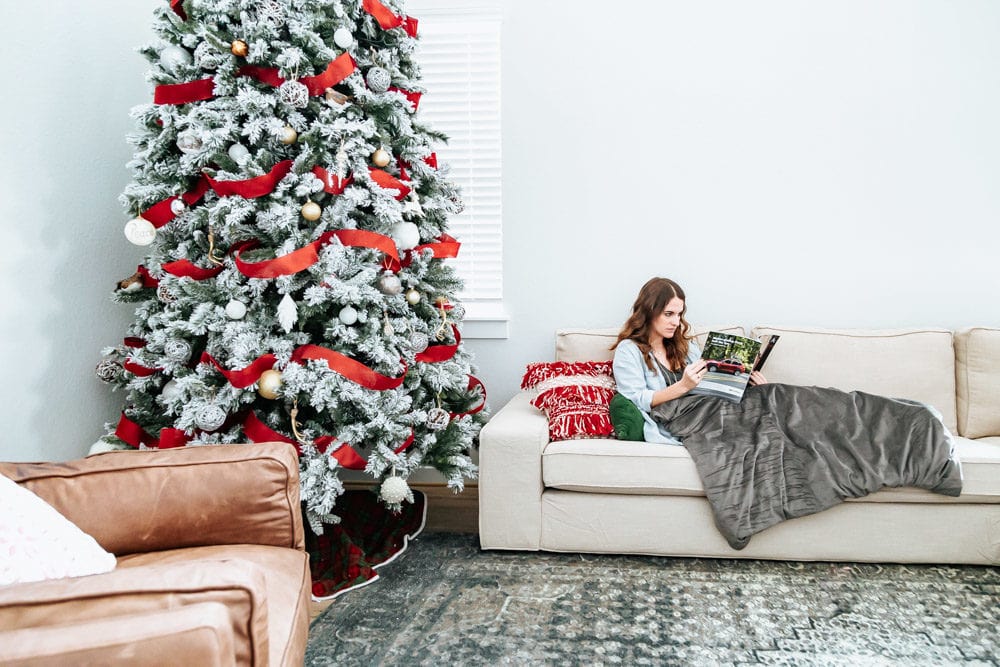 This post is sponsored by Tranquility, but all opinions are mine!
Have you ever tried a weighted blanket?
They've been on my radar for many years. Back when I taught special education, I had several students who used them all the time, but they weren't really something that many people were using outside of the special education classroom.
The weighted blankets I was used to seeing weren't super comfortable. They had weighted strips in them that made the blankets feel kind of clunky and stiff, and they were generally homemade by a parent or family friend. The specialty weighted blankets you could actually purchase were super pricey and most families I worked with couldn't afford them.
Fast forward a few years, and suddenly everyone I knew was talking about weighted blankets! It totally makes sense that everyone loves them for the same reason kiddos with sensory issues do – they calm your system, help you relax, and basically make you sleep like a baby.
They're really kind of magical.
So, when Tranquility reached out to see if Corey and I would be interested in trying out a couple of their weighted blankets, I jumped at the chance and I'm back with a full report today.
How does a weighted blanket worK?
Before we talk about the review, the sensory-processing-loving nerd in me can't resist taking just a minute to talk about the why.
Have you ever heard of the proprioceptive system? It's the system of our body located in our muscles and joints, and it's sometimes referred to as the "sixth sense" because it gives our bodies information about where we are in space.
If you've ever seen a kid who loves to literally bounce off the walls, sometimes seems like a bull in a china shop, and everything they do seems to involve big, rough and tumble play, that's likely a kid who needs some extra proprioceptive input.
We get proprioceptive input through what occupational therapists often call "heavy work". Things like lifting, pulling, and pushing heavy objects. We also get proprioceptive input through putting weight on our bodies – like through a weighted blanket!
So, when you place a weighted blanket on your body, it provides you with extra proprioceptive input, which almost immediately provides a calming effect that literally relaxes every muscle in your body. It's great for anxiety, stress, or anyone who has trouble sleeping!
How do I know what weight to get?
One of the things about weighted blankets that can feel a little overwhelming is all of the weight options. I've talked to people who tried them and hated them (or felt like they didn't do anything), and often if you don't love your weighted blanket, it's because it's either too light or too heavy!
Generally, you should choose a weighted blanket that's about 10-15% of your total body weight. When we ordered ours, I got 10% and after a few weeks of sleeping with it I think I would have enjoyed something a little heavier. Corey's is a little under 10%, and he thinks it's perfect. It'll vary a bit depending on each person and what their sensory system seems to enjoy, but starting with a 10% blanket is probably your safest bet!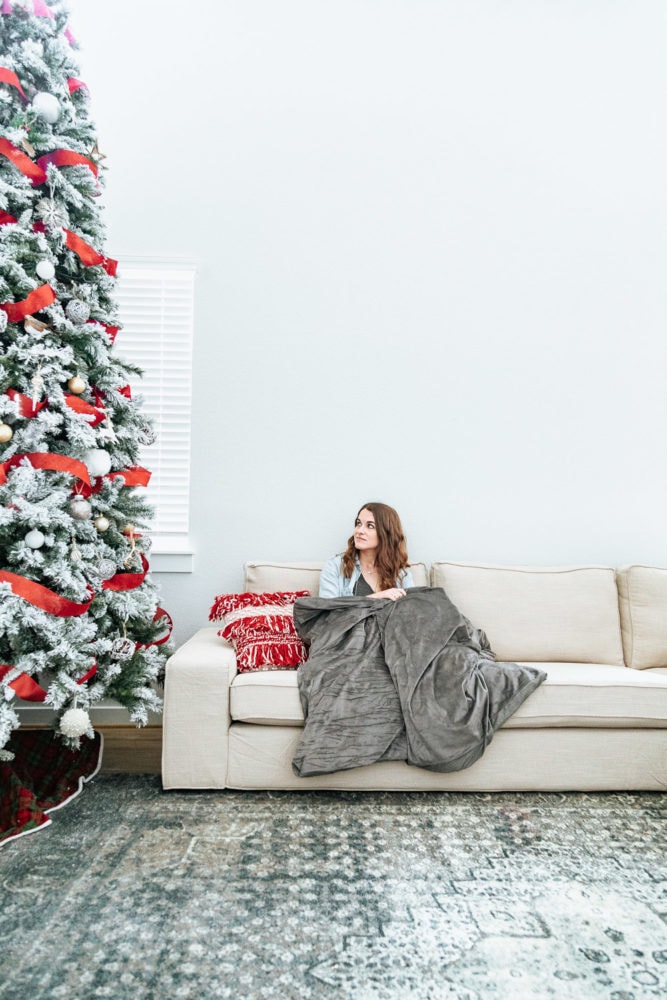 Tranquility weighted blanket review
One of the things I love the most about Tranquility weighted blankets is how affordable they are. Weighted blankets are generally a bit of an investment, and it can be hard to commit to spending that much money if you aren't even sure you'll like it. In fact, that's exactly why Corey and I waited so long to get them!
But, Tranquility blankets are available at Target and Wal-Mart and are incredibly affordable, without sacrificing quality at all. They come with a removable cover that's washable, and the inner layer is quilted to help all of the weight be distributed as evenly as possible.
One thing I will note is that the blanket does come with ties on the inside to help hold it to the cover without sliding around, however it might not come tied! Corey had a couple of frustrating nights when we first got the blanket because it kept sliding around in the cover, but then we realized that there are ties in each corner and along the sides to help hold in in place, and he hasn't had a problem since!
The cover of the blankets also has a temperature-balancing technology that cools by wicking moisture as the temperature rises – which has been wonderful in our hot climate! I worried that we'd be too warm with the blankets (especially Corey, who tends to sleep hot), but we've both been using them on top of our regular blankets and haven't been uncomfortable at all.
As far as sleeping, Corey and I both agree that we sleep much better with our weighted blankets. I've never had much trouble sleeping, but Corey has always spent much of the night tossing and turning. Since he started using the weighted blanket a few weeks ago, he's consistently said that there's a notable improvement to the quality of his sleep – he falls asleep faster, stays asleep longer, and doesn't move around nearly as much.
As for me, I found that even though I don't notice a huge difference in my sleep, I truly just love how it feels. When I climb into bed and pull the blanket over me, I find my body relaxing almost immediately, and the blanket really contributes to winding down faster and getting ready for bed. If it falls off during the night for any reason, I always notice and miss it – so, even though I wasn't sure it would make a huge difference for me I really have to say that I've come to love it and want to sleep with it every night!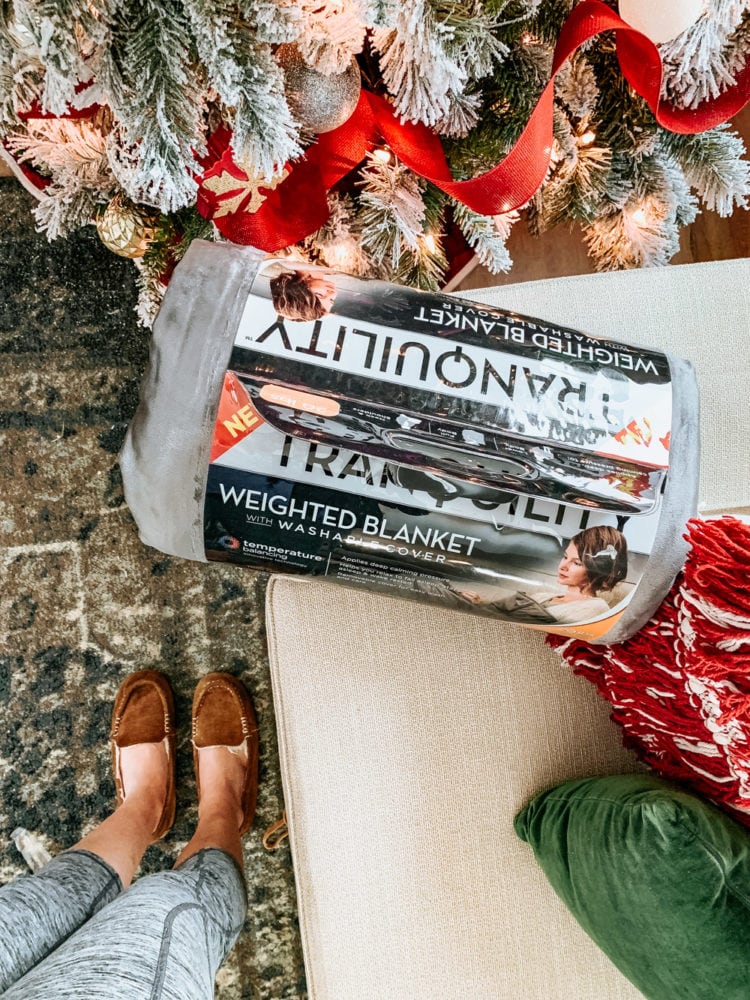 Tranquility weighted blankets come in sizes ranging from 6 pounds (perfect for kids!) up to 20 pounds and are available at some of your favorite stores like Target and Wal-Mart. They've got slightly different options at each store, so be sure to check the details on both to be sure you can get exactly what you want! This is the blanket that Corey and I have, and we cannot say enough good things about it.
We might just get one for everyone on our Christmas list this year!
I really am so excited to be able to tell you about these blankets today, because it's always so exciting for me when my old life as an autism specialist can intersect with this gig as a DIY and home decor blogger. It's not often that the two paths cross, so this is definitely a subject I get a little nerdy about!
If you've been on the fence about trying out a weighted blanket, allow me to highly recommend that you dive in and grab a Tranquility blanket (you can learn more about them right here!). It was such a relief to me to find a fantastic weighted blanket that was so affordable (and easy to track down online or in store!), and it really makes trying out the whole weighted blanket craze so much more accessible!