There's something bittersweet about this fall season for me. It's always my favorite season (cooler weather! Christmas is coming! Gorgeous colors!) and I really am trying to make the most of it so far, but I'm neck-deep in packing, planning, preparations for moving into a new house and it's all a little overwhelming. To top it all off, I'm having to come to terms with the fact that this is the last fall season we'll see in this house and it's all just a little bit sad.
I didn't do a ton of fall decorating at the beginning of this season since we were staging the house and trying to declutter, but now that the house has sold and we aren't doing showings anymore I decided to let myself have a little fun. You saw my cute little DIY scrap wood pumpkins last week, and in a couple of weeks, I'll share another fun fall project that I did. But today, we're going to talk about my dining room. I wanted to fully embrace what might be the last time I get to fully set and decorate this table, so I thought it would be fun to do a simple fall tablescape post with what I came up with.
Soak it up, my friends, because soon this table will have to go live with another family.
Sob.
We'll get through it, though. Promise.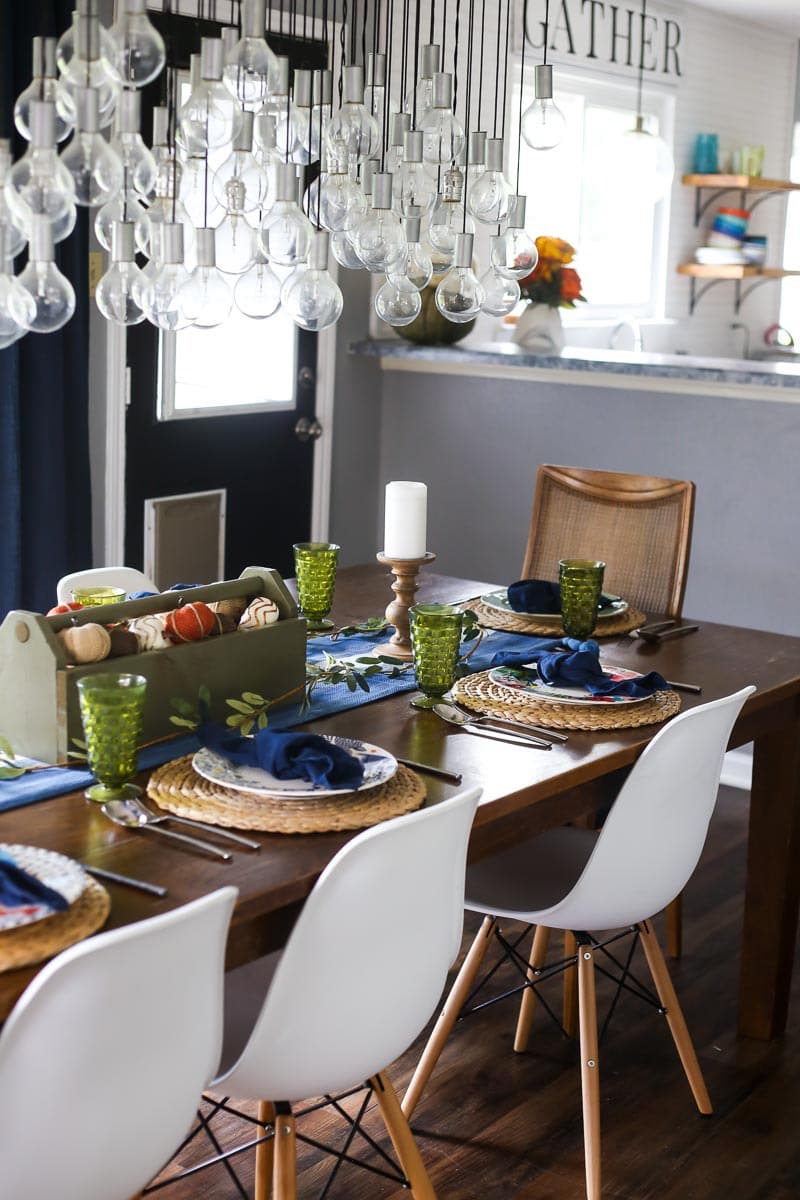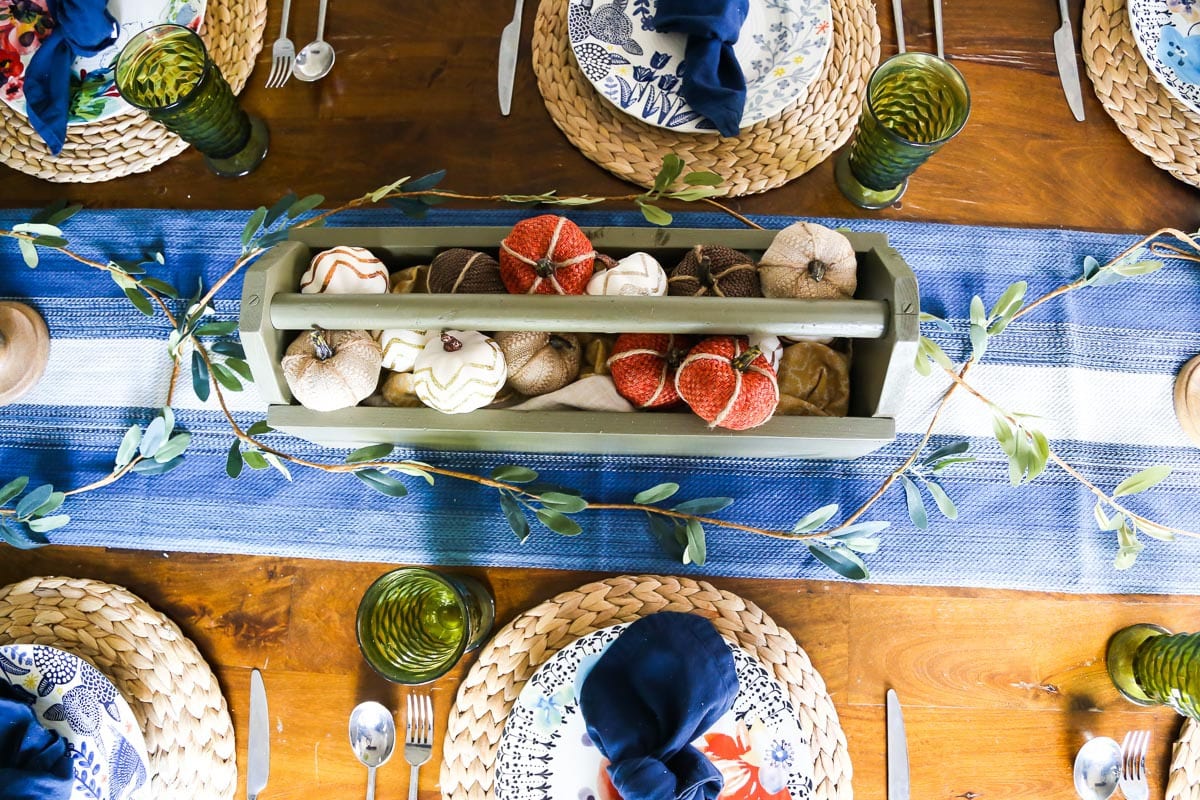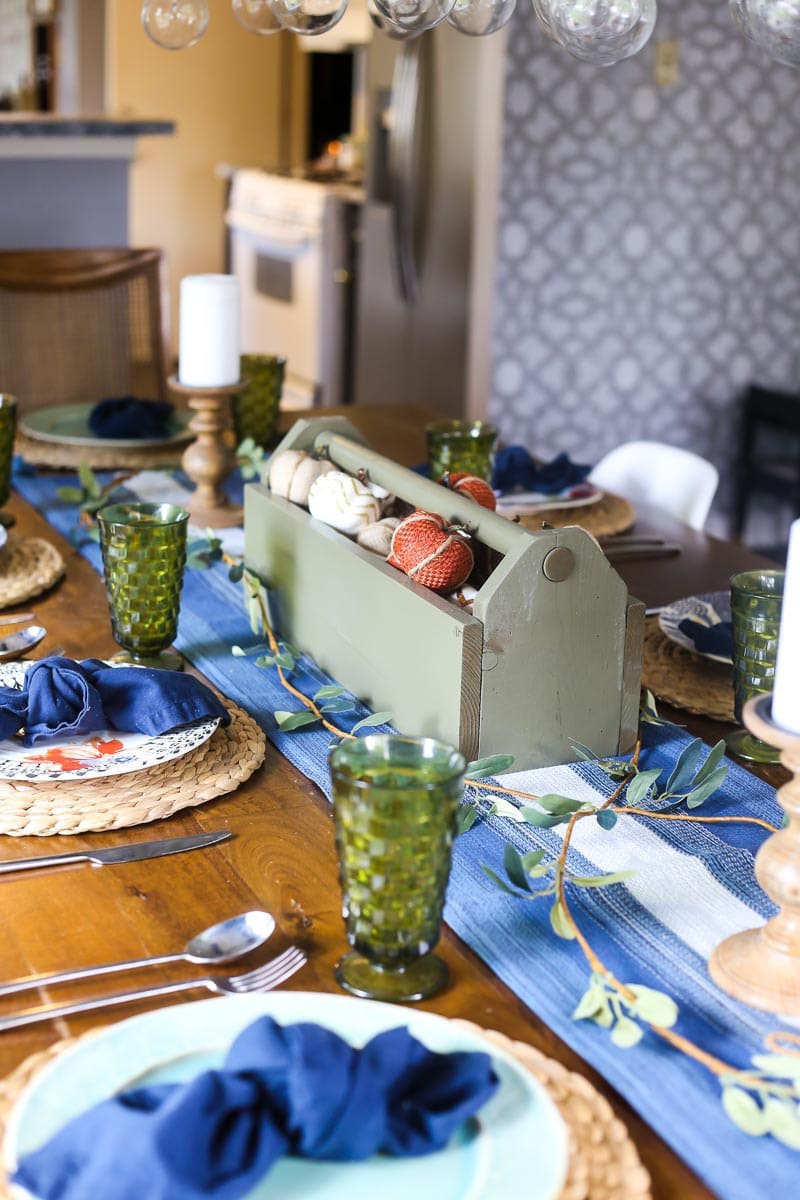 This post contains affiliate links. Click here to read my full disclosure policy. 
I styled this whole table around this adorable little toolbox we had. It was actually something Corey built way back in middle school or something, and it has just been sitting in the workshop collecting dust. I decided to make it useful, so I cleaned it up and gave it a couple of coats of Rustoleum's Oregano spray paint. I'm not typically a big green fan, but I'm all over this pretty olive green this year and I've been gravitating to it in just about every area of my life. I filled it with some cute faux mini pumpkins, along with a little garland I snagged from the Dollar Spot at Target.
Add a few candles, some pretty patterned plates, and my favorite vintage green glasses and you've got a really simple fall tablescape that makes me oh so happy. I've really been loving these more non-traditional colors for fall this year, and I love how well they blend right into my normal decor. I always enjoy decorating for fall, but oranges and reds aren't really in my decorating wheelhouse, so this is much more up my alley.
(Psst: If you love this tablescape, be sure to pin it to remember it later!)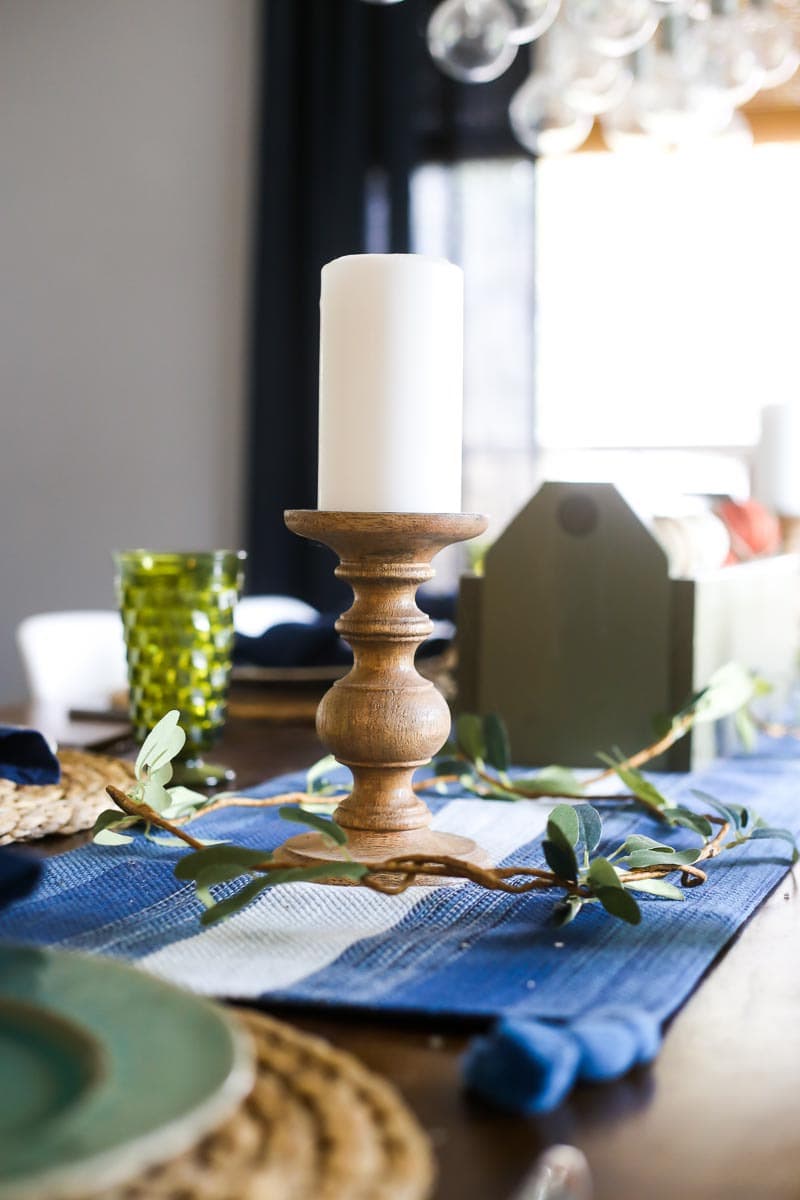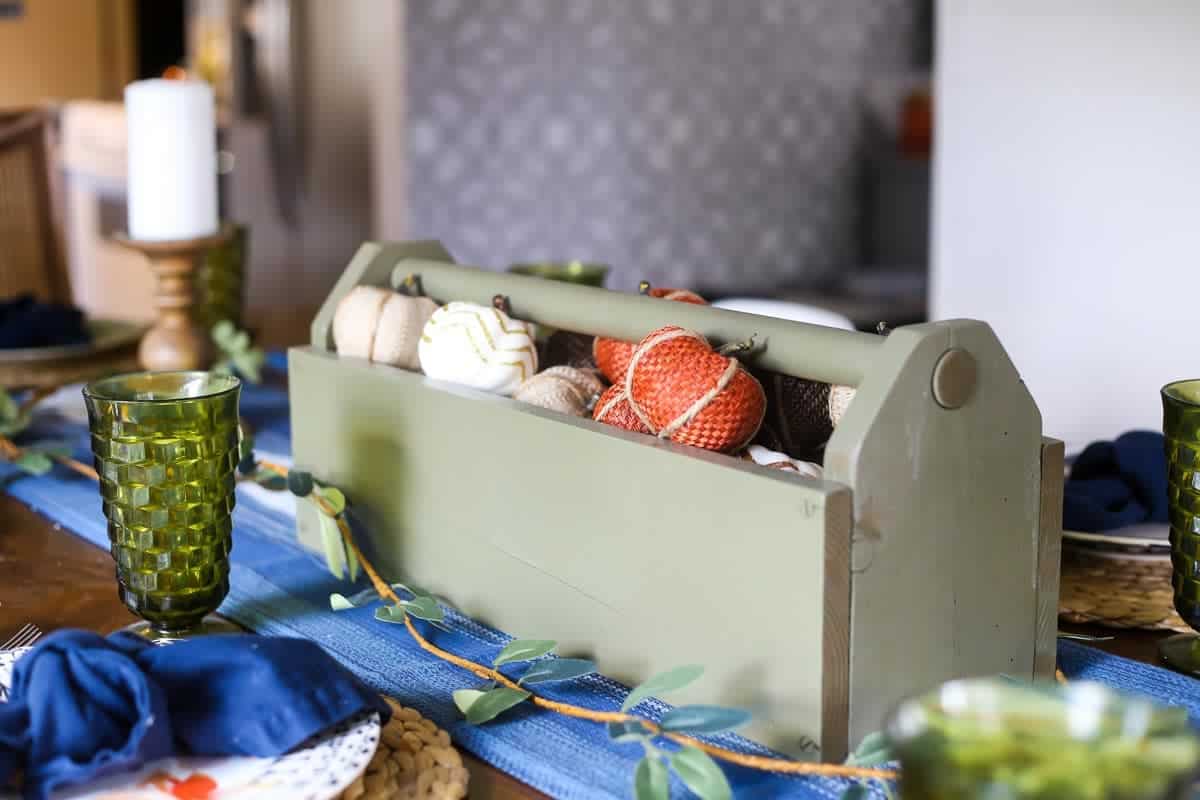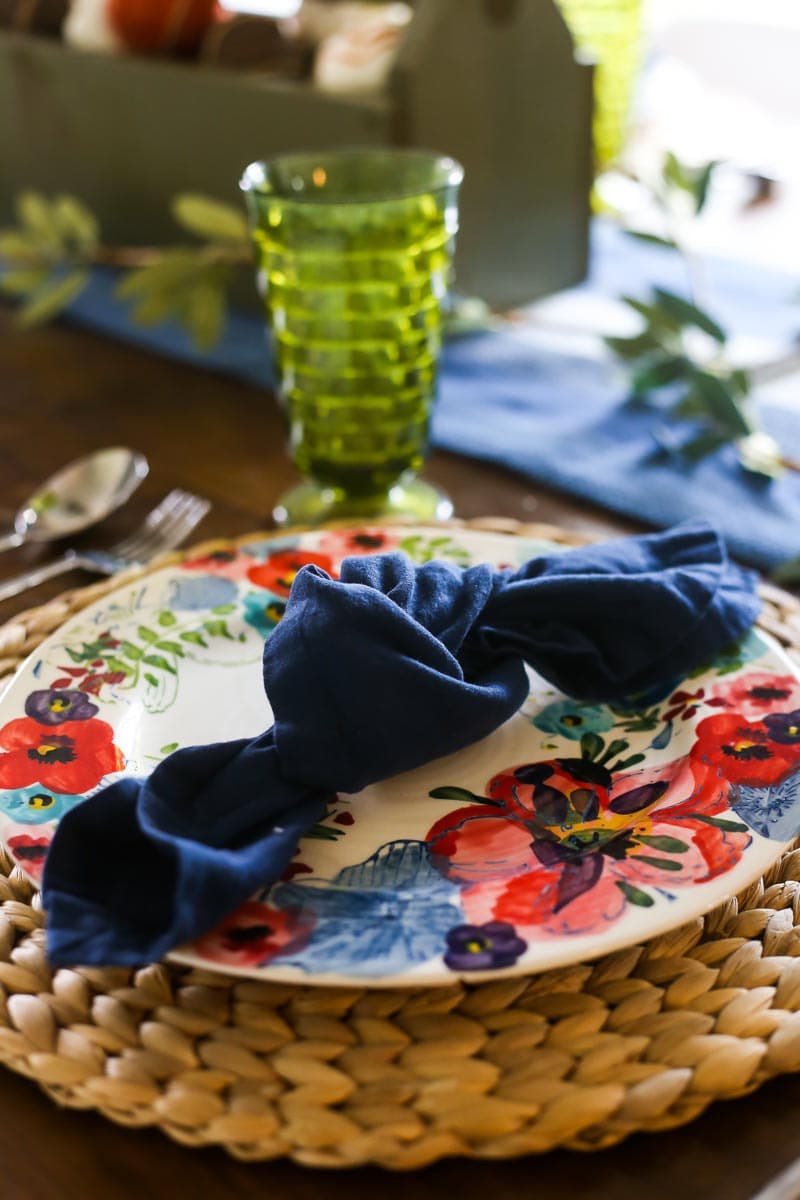 I don't know about you, but I always have a hard time with cloth napkins. I love the look of them, but they always seem to be wrinkled (and I refuse to iron my dang napkins), and I can't seem to make them lay nicely when I'm setting a table. I decided to just roll with the casual look this time around and tied a simple knot in the middle of the napkins. It camouflages the fact that they're wrinkled and adds some fun texture to the place setting. It's a really easy way to have the napkins look nice without being too fussy or difficult, and I think this is going to be my new go-to for cloth napkins.
Oh, and every time I share photos of our dining table all set, I get a ton of questions about these pretty green glasses and where they're from. I inherited these from my grandmother, but a sweet follower over on Instagram helped me track them down – you can buy them here. They're really affordable and I might just grab another set or two for myself – we have 8 but we regularly entertain about 10-12 people, so I'd love to have enough for everyone to have the same glasses.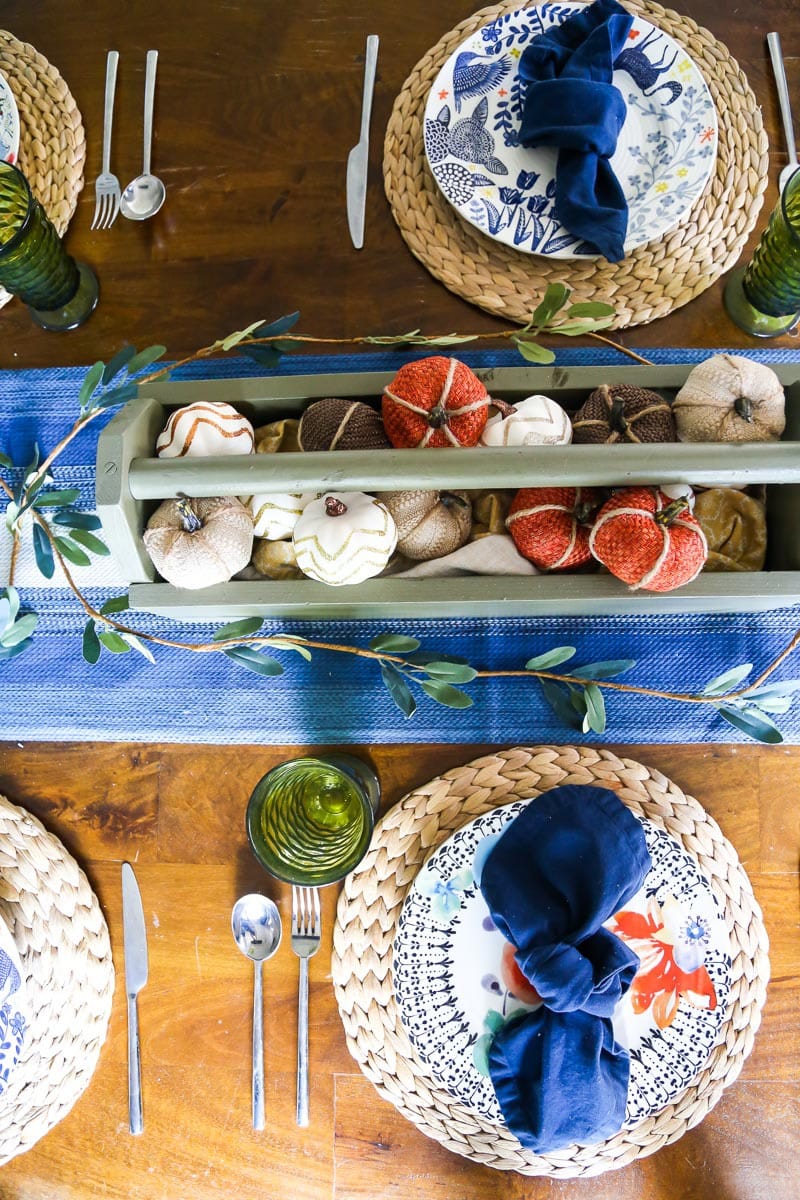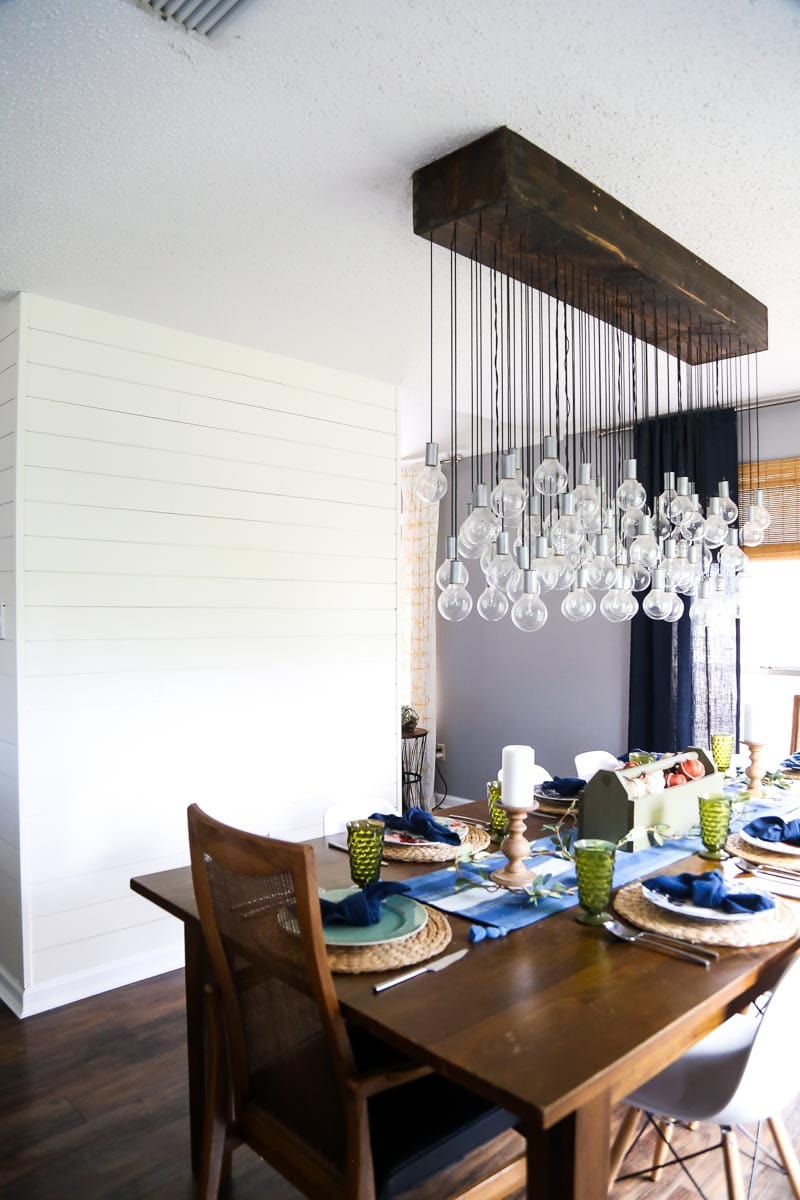 Would it be totally pathetic if I bust out the Christmas decor and set this big ol' table one last time for the holidays before we move?
Because I'm totally considering it.
See something you can't live without? Here are the sources (or similar alternatives) for just about everything in the dining room. Just click the arrows to scroll and see more.