Did you know that you can buy chalk SPRAY PAINT?! Today I'm sharing a few fun chalk games to keep the kids busy this summer using Testor's spray chalk – they're simple, easy to clean up, and can provide hours of entertainment!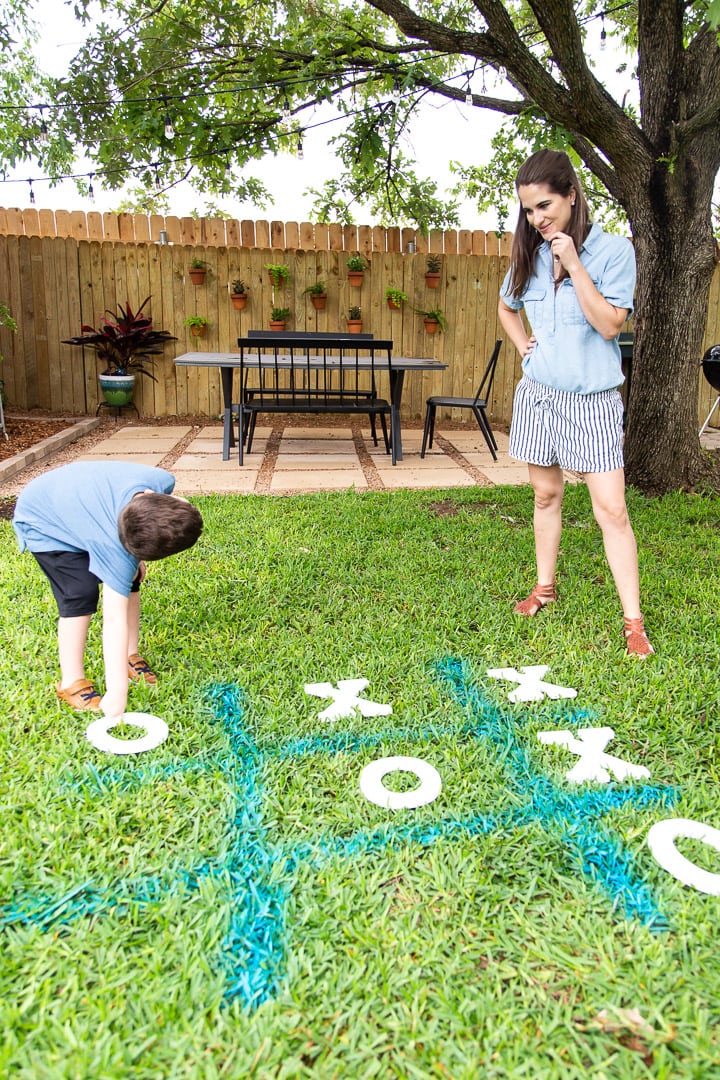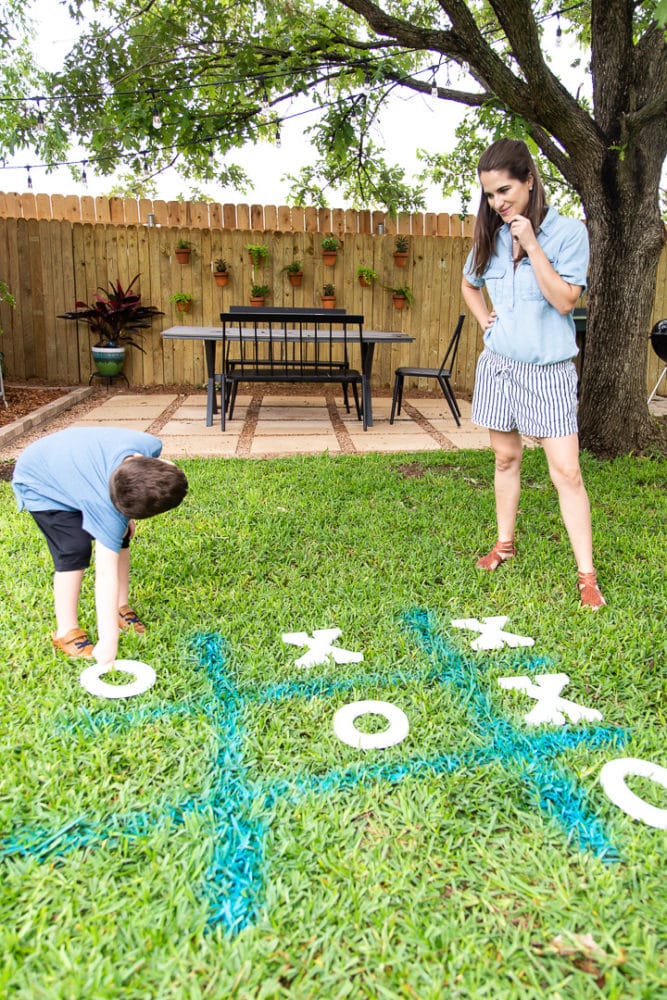 We're only a few weeks into summer, but I find that there are days where I'm already, um, struggling to come up with fun things to keep Jackson entertained.
Summer is great and all, but the days can feel looooooong, and when the kids start telling you they're bored at 9:00 in the morning you know you're in trouble.
That may or may not happen in my home multiple times a week.
Sigh.
But! I have a fun idea for you that should keep your kids happy for quite a while – Jackson has been playing with spray chalk non-stop for about a week now and doesn't show any signs of getting bored. And the best part? He loves the cleanup maybe even more than playing with it, so it's easy on me too!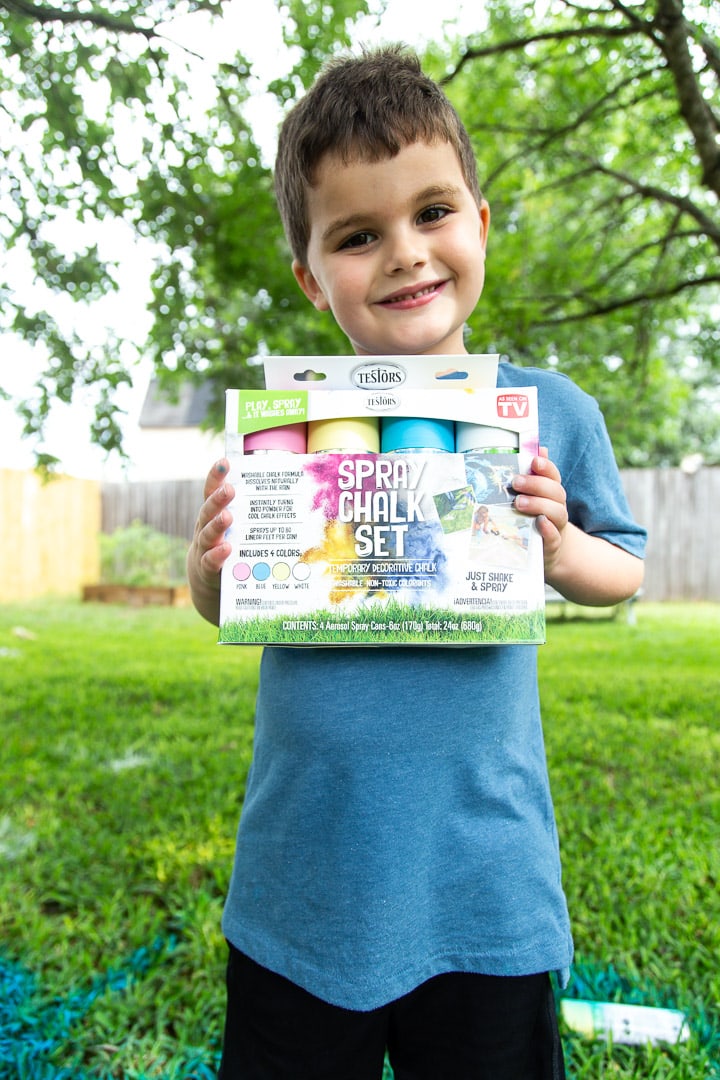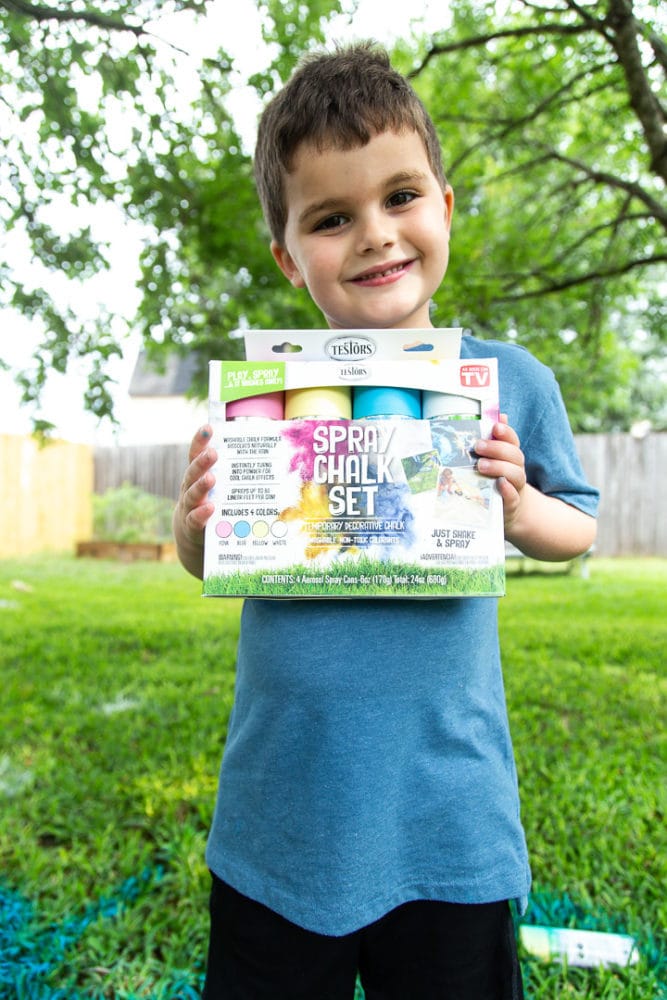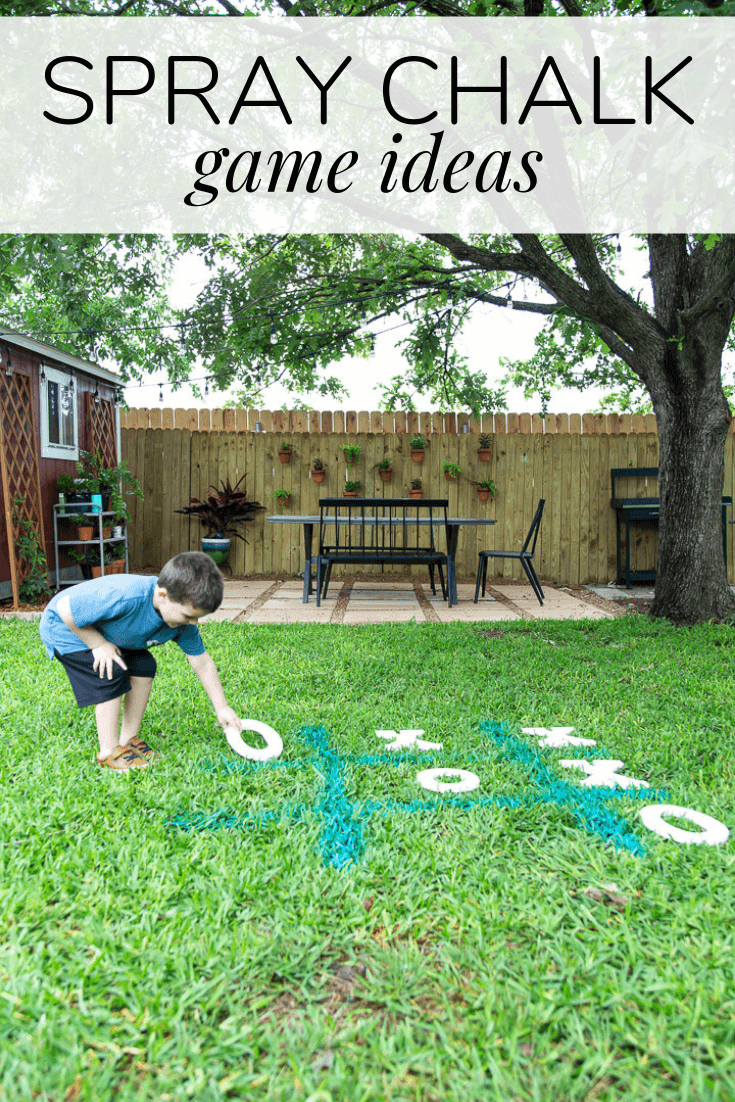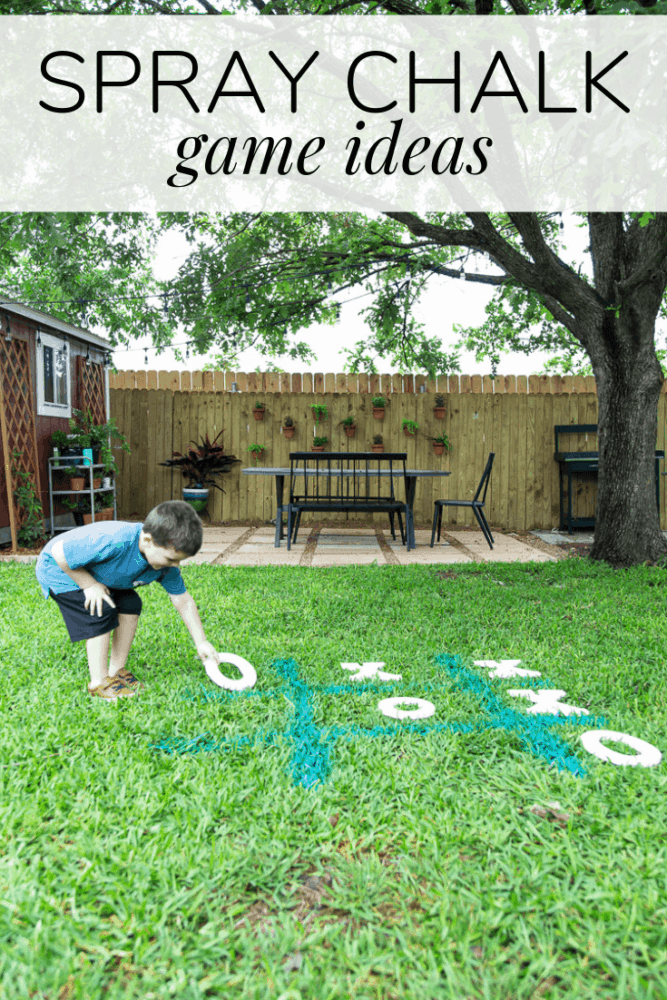 This post is sponsored by Rust-Oleum, and contains affiliate links, but all opinions and ideas are all mine. Thanks for supporting the brands that support Love & Renovations!
So, we all know that chalk is a great option to keep kids entertained during the summer. Jackson loves to draw pictures on the patio and could genuinely spend a long time out there happily playing with chalk. My main problem with it, though, is that it's such a pain to clean up off the patio! Plus, the pieces always get lost or broken and it just seems like an activity that ends up being a little more hassle than it's worth.
Plus, the feeling of chalk all over your hands is the worst, right?!
So, we were really excited to try out Testors' Spray Chalk for a fun alternative to the same old chalk. It's basically chalk in a spray paint can – and y'all, it's SO GOOD!
I made a little video to show you what it looks like and share a few of my ideas for how to use it. As a bonus, you'll get to see me correctly guess what this is in a game of Pictionary: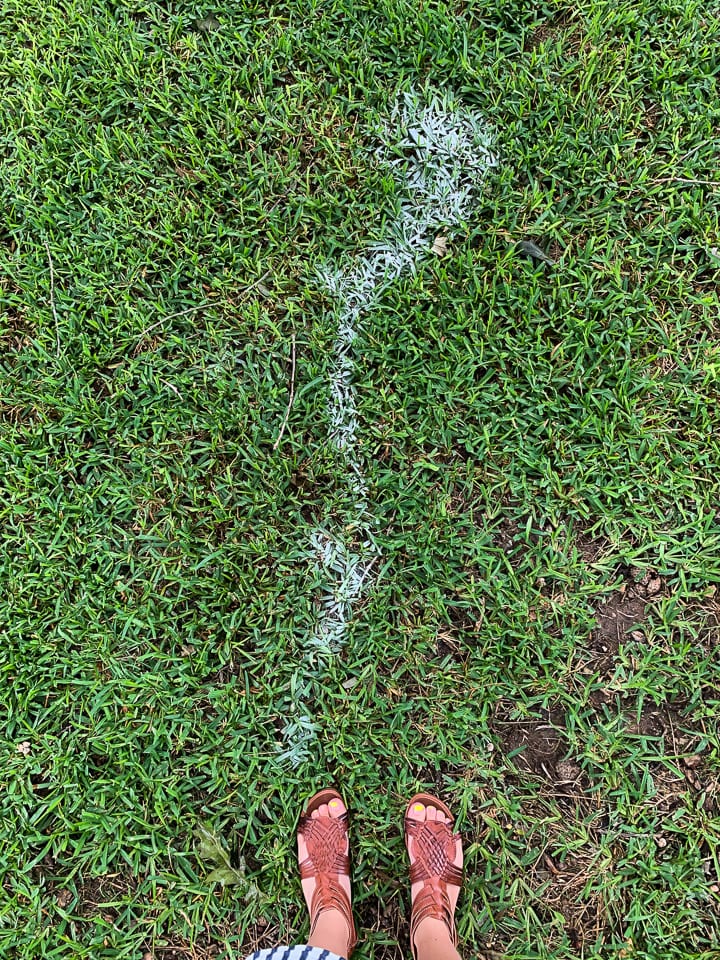 Only a mom could pull that one off, no?
Watch to find out what it is! (Bonus points if you can leave a correct guess in the comments before you watch).
Spray chalk game ideas
There are approximately 7 zillion different ways you could use spray chalk to have a blast in your yard, but first let me point out probably the most wonderful thing about this spray chalk: it can be used in the grass! One of my biggest beefs with regular chalk is that it gets all over my back porch – with this, though, I can send Jackson into the yard and know that my concrete will stay clean.
It takes a minute for little hands to get the hang of spraying it, but Jackson (who is five and has a zero patience for frustrating activities) picked up on it really quickly and was able to draw pictures and even write his name with it.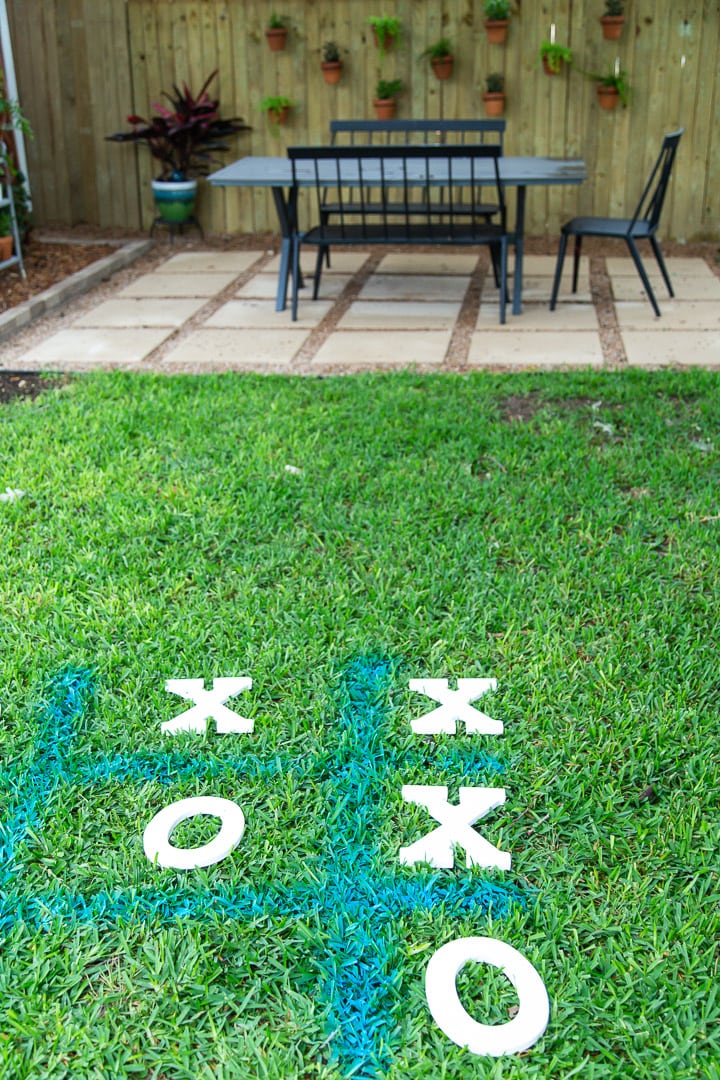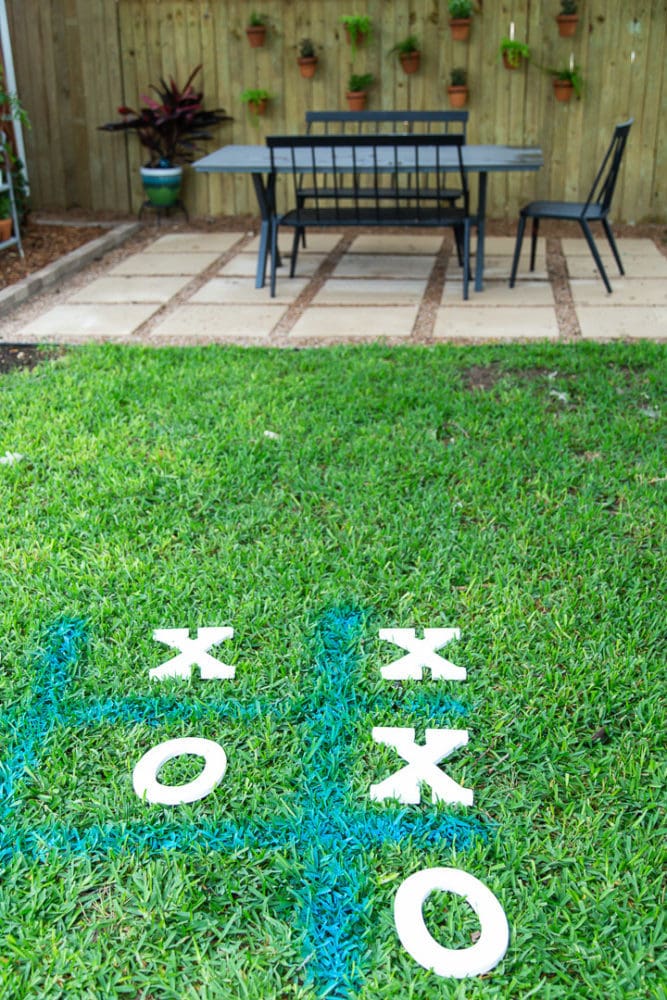 chalk game ideas: Tic Tac Toe
We started off with a game of Tic Tac Toe – you could just write the X's and O's in the grass, but I wanted to be able to play a few games in a row, so I picked up some simple wood letters for us to use. Jackson loved playing the life-sized version of one of his favorite games, and this is something I could see us doing all the time this summer.
If you don't want to deal with keeping track of wooden letters, you can just spray the letters on, too. This would also work great on a fence, on concrete, or even on the side of the house! Since it's so easy to clean up, it honestly doesn't matter where you spray it!
Chalk game ideas: Hopscotch
Next up, we played another classic – and I loved that I didn't have to get my hands all chalky and gross to get it ready!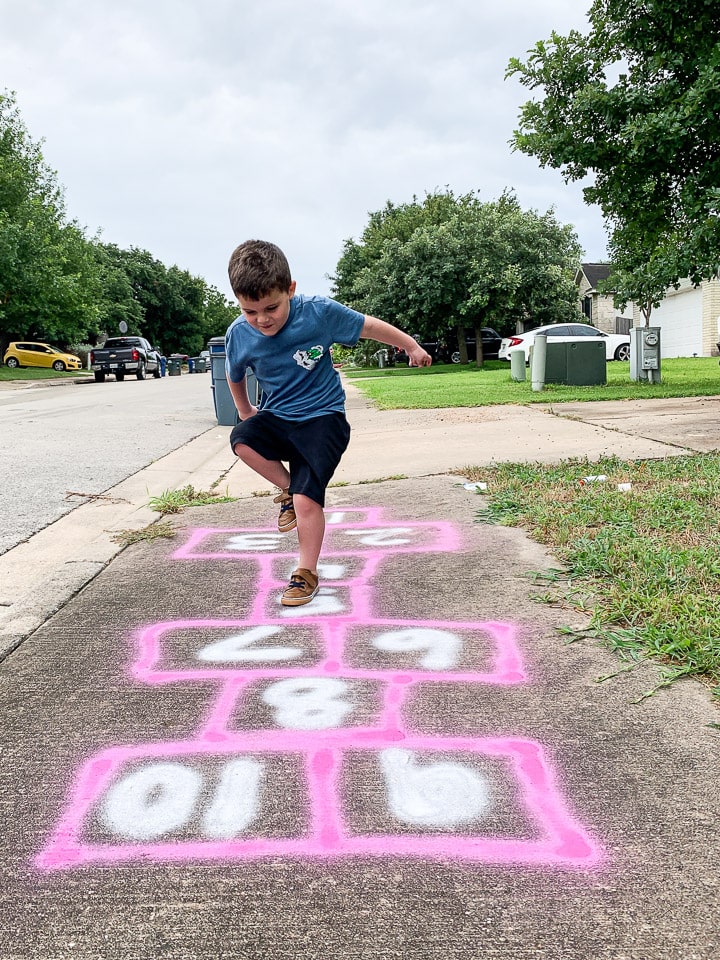 Do kids still play hopscotch like we did as kids? You know, with a rock and actual game rules? I feel like I just see kids jumping on them and moving on. I think we should bring this one back.
I tried to teach Jackson how to play, but he's still focused on learning the whole "hopping on one foot" thing, so he may not be ready yet.
I was really, really pleased with how the spray chalk worked on the sidewalk. The lines were crisp and really saturated and it held up even when we were jumping all over it! I loved how easy it was to put together (just me, or does bending over to draw that hopscotch grid with regular chalk feel like so much work?!)
Chalk game ideas: Pictionary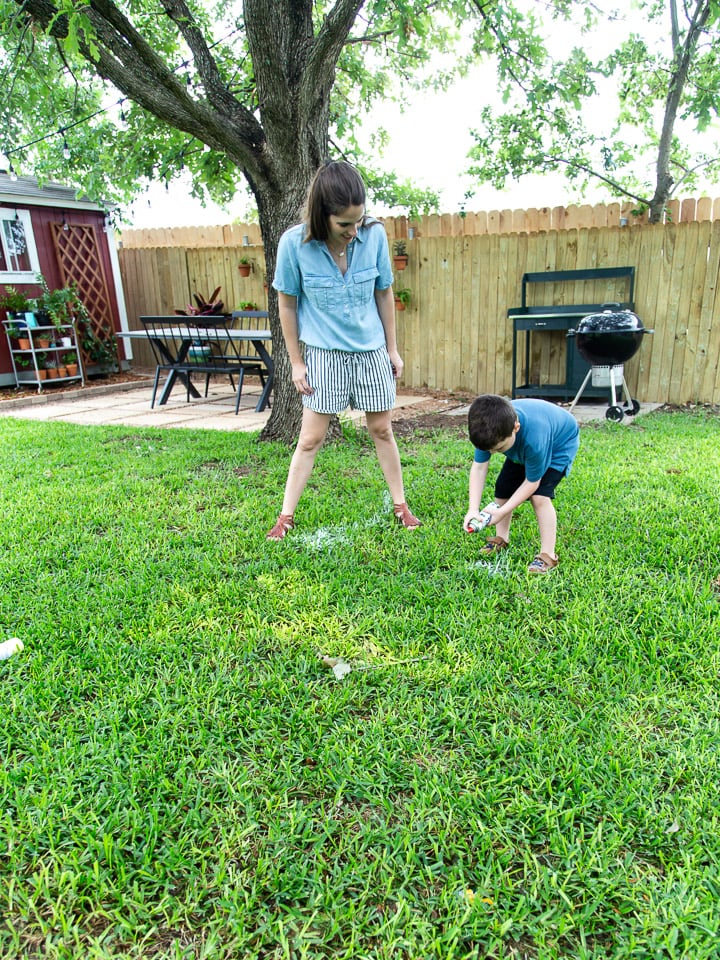 Finally, we decided to play a round of Pictionary! I hadn't ever played Pictionary with chalk before, but why not?!
I was really curious to see how easy it was to draw real pictures with the spray chalk – and it was surprisingly easy! Jack and I were each able to guess the other person's picture and we were drawing in grass – not on the concrete! I'd imagine it's even easier to guess what's going on if you're doing it on concrete or even on the fence.
I'm really impressed with how this stuff shows up on even the more challenging surfaces…and did I mention that I love that I didn't have to get my back porch (and my hands) all dirty to play chalk with Jackson?!
Need a few more ideas?
Other ways to play with spray chalk in the yard
Make a giant game board (like Candy Land, or the kids can create their own game!)
Play Twister in the grass
Have the kids lay down in the grass and trace each other with chalk (it washes off really easily)
Play Hangman
Create stencils from old cardboard boxes and draw pictures with them
Of course, you can also just hand the cans over and let the kids go to town drawing and creating!
How to clean spray chalk
Of course, the most important question for most of us parents is "how easy is spray chalk to clean?"
The answer is: SO EASY! It washes right off with water – I just hand Jackson the hose with a sprayer attachment and let him go to town. Honestly, it's almost just as much fun for him as playing with the chalk itself.
This is definitely my new go-to summer activity – especially when we have friends with kids over. It's so simple to just toss all of the spray chalk cans in a basket and let all of the kids run around and paint everything in sight.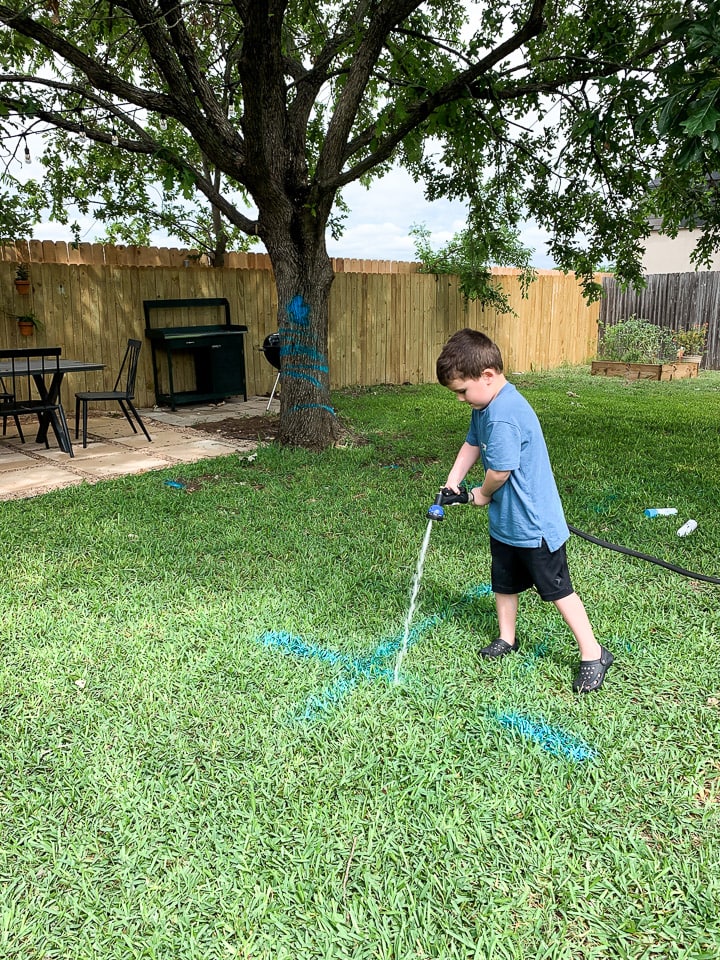 This was so much fun for both of us, and I think we'll be doing this activity a lot – maybe after dinner on our brand new patio?!
Be sure to go snag some Testors' Spray Chalk for yourself. I promise your kids will love it and it will help you stay at least marginally more sane this summer.