How to Paint Stripes on a Wall
Ever wondered how to paint stripes on a wall? I created striped walls in our guest bedroom and it was easier than you might think! Get all the details here.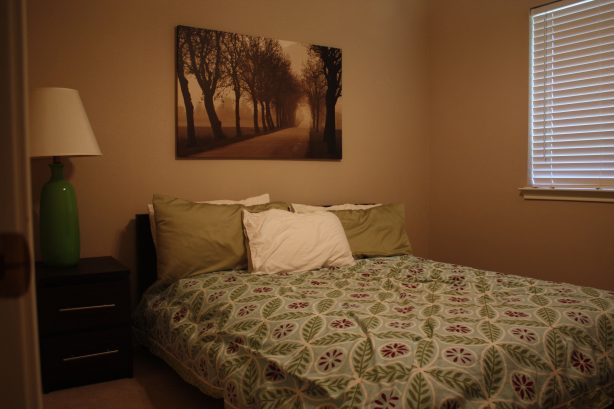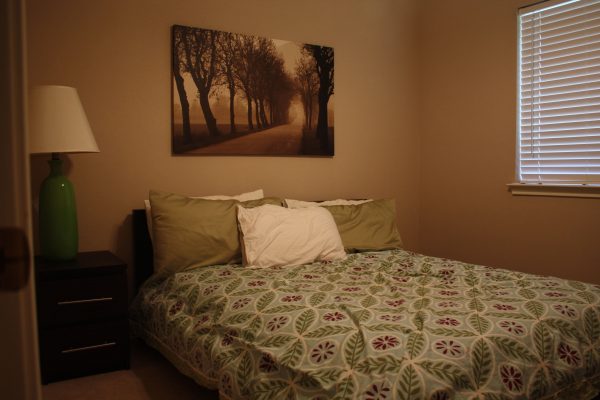 Remember a couple of weekends ago when Corey was out of town and I ran myself into the ground with projects?
Well, this is the one that just about killed me. I spent more than 10 hours over the course of the weekend making this happen and I was completely exhausted at the end of it. But it was oh-so worth it.
Before I get into the details, let's recap what's happened in our guest bedroom over the last 6 months since we moved in. When we first talked about it, we had just plopped all of our old furniture in it without doing much else.
Then, we gave the room a new look with our old bedspread, dyed purple.
And, most recently, we replaced the bed with a beautiful, hundred-year-old brass bed (and promptly turned the room into something that could be straight out of your grandmother's house).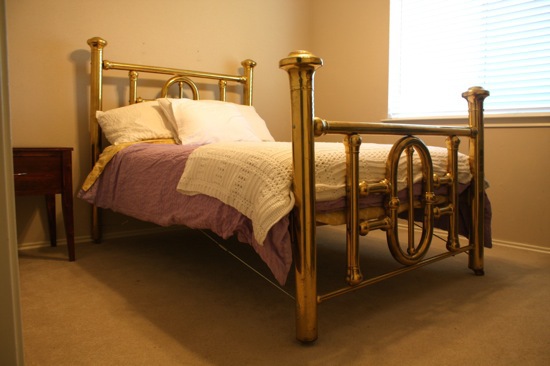 All of these mini-makeovers have made this room the most indecisive room we've ever had – we've only been here six months and it's gone through three different looks!
Well, I have a new (and hopefully moving towards final) look for the room to unveil today. I finally got rid of the awful peachy-purple color in favor of something much better.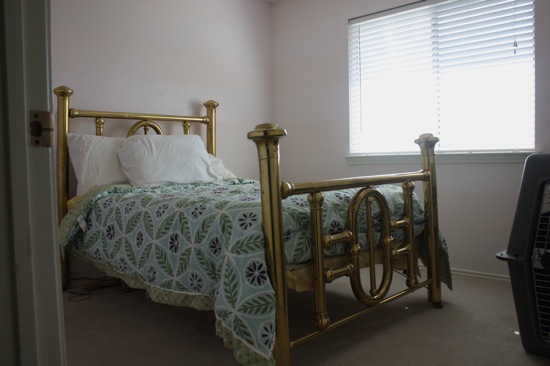 It's almost impossible to capture in photos, but the new look for the room is a super pale pink with tone-on-tone stripes. Why pink? Our original plan was to find a nice, neutral cream color in order to really let the brass bed shine, and paint stripes with that – we planned to add pops of color through accessories and colorful nightstands, so we wanted a color that wouldn't steal the show.
Well, once it came time to actually choose a color we realized how incredibly difficult it is to choose a good cream color. Each one we looked at was either too blue, too green, or too yellow. The only colors we could both agree on were the ones with pink undertones. So, we decided if we were going to go with pink we might as well go for it. So we grabbed a pretty pale pink in both eggshell and high gloss finishes, and got to painting! The color is still very neutral and subtle, but it's definitely pink.
As far as actually making this happen, the stripes were the part that killed me – striped walls aren't that difficult but they are not something I'd suggest you tackle alone. But, through an insane amount of determination (and a slight side of complete mania due to being alone all weekend), I managed to make it work.
How to Paint Stripes on a Wall
Start by painting the entire room your first color.
Then, decide on how large you want your stripes to be.
Tape off the stripes using painter's tape – be sure to use a level to make straight lines!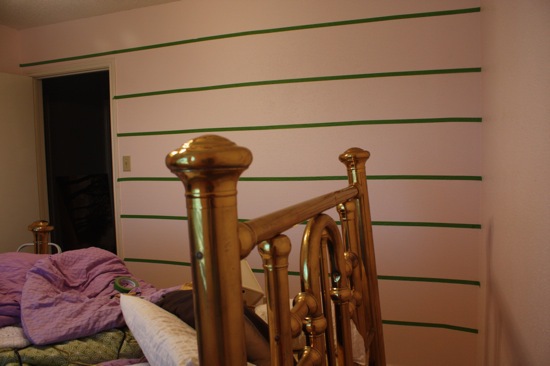 My number one tip for painting stripes (on anything)? Before you start to paint the second color (or sheen, in my case), re-paint over the tape lines with the base color. That way, anything that seeps into the bubbles in the paint will be the color that's already on the wall, and you'll end up with nothing but perfectly clean lines.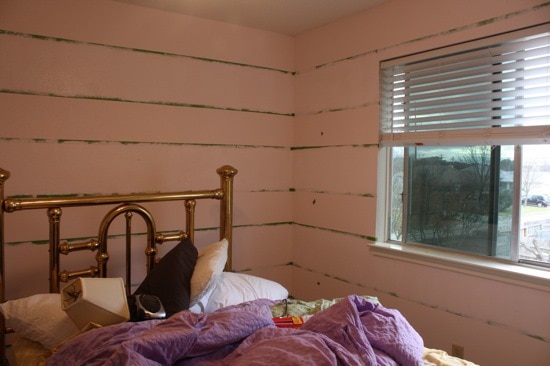 Then, paint the second color (or sheen) in the stripes.
After enough painting to drive any sane person crazy, I was finally done.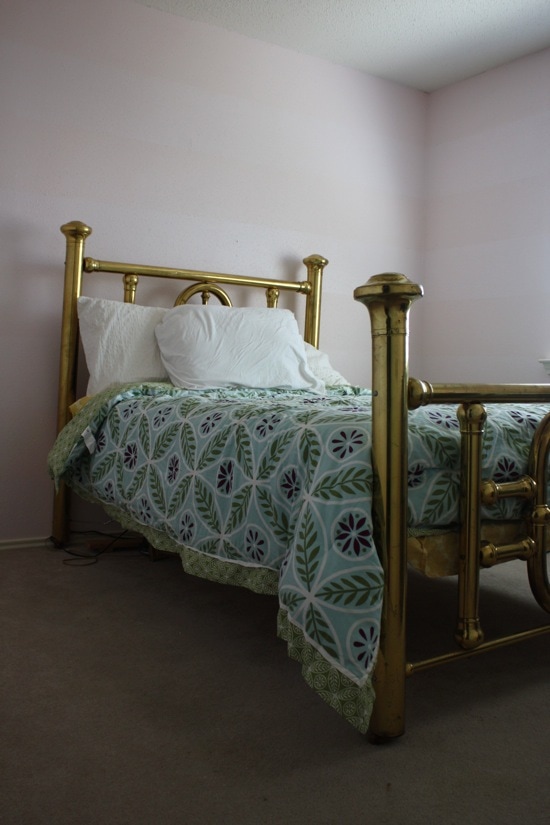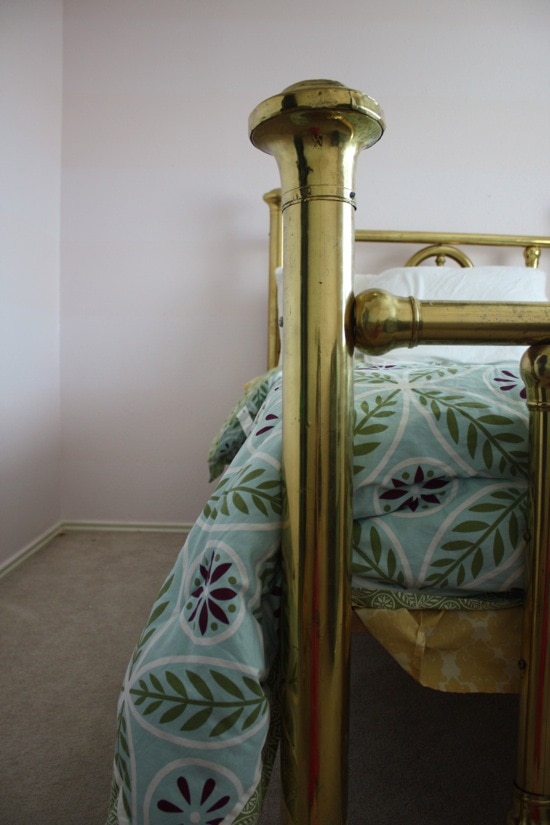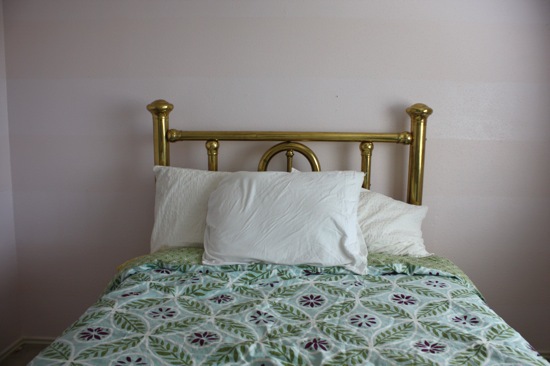 Like I said, it's just about impossible to actually capture what the stripes look like unless you're there in person – they are incredibly subtle and are only visible if you're looking at them in the right light from the right angle. But that's probably what I love the most about them – they aren't in-your-face stripes, and they add so much visual interest to the room because it looks completely different at different times of day. Love.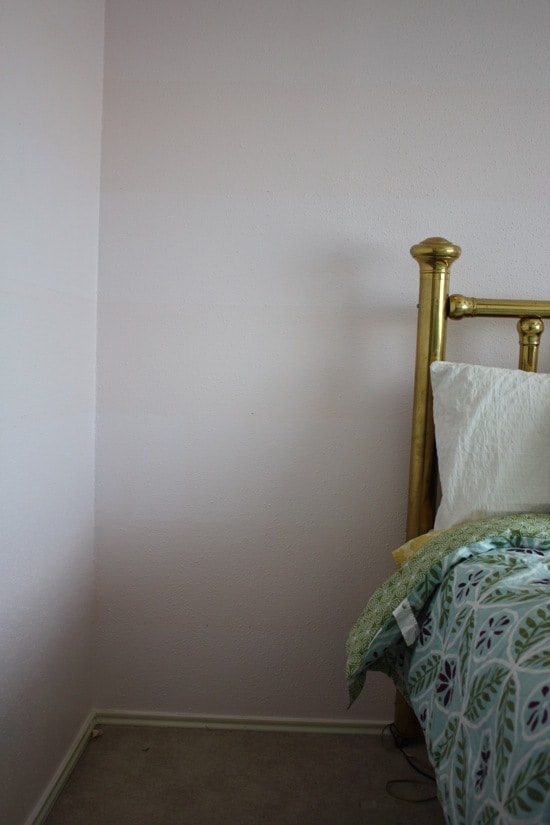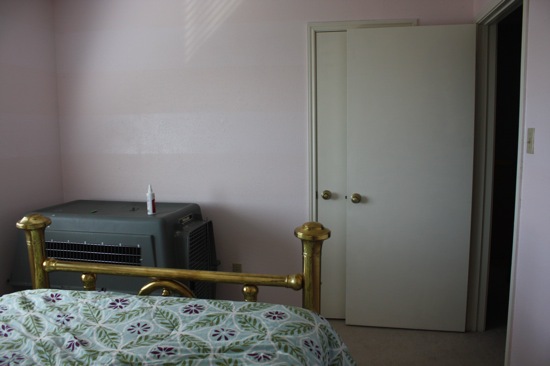 (This photo is particularly ugly because of Ranger's kennel, but it's one of the photos where you can best see the stripes, so I thought it was worth including!)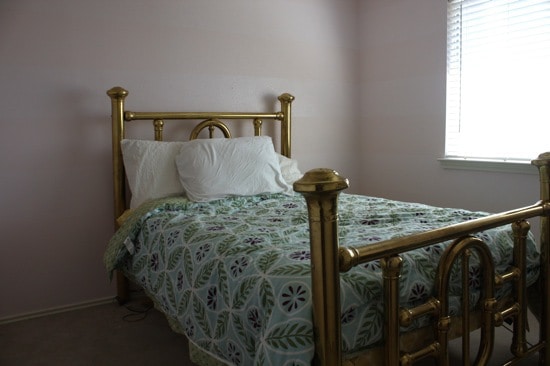 I'm so excited to finally cross one more room off of our to-paint list, and I love how this one turned out. The room is still (obviously) far from done, but this is definitely a step in the right direction!
And for those of you who are skeptical of the pink (I know you're out there!) just trust us on this one. We plan to bring in some much more masculine touches through glossy black accessories, lots of modern artwork, and some much less floral bedding. Once we're done, it will be a calming, relaxing, and neutral room that's more sophisticated than grandma (or baby's room pink). I know this room has been all over the place lately, but we finally have some focus for it and soon enough, I have faith that it will be exactly what we envision!
Have you ever painted stripes on a wall? How do you feel about pink in a guest room?