Blue & White Kitchen Cabinets
It's here! It's here! I've been promising this post about our DIY painted kitchen cabinets for ages and they're finally (finally) done.
I promise I wasn't just holding off on sharing this post. We literally just finished putting the new hardware on the cabinets yesterday. I don't know why this project took me such a long time (maybe because in the last couple of years I've painted cabinets in our old kitchen, our master bathroom, Jackson's bathroom and the powder room and I'm just tired of painting cabinets!), but it's such a relief to have it completed. Finally.
And man, does it ever look good.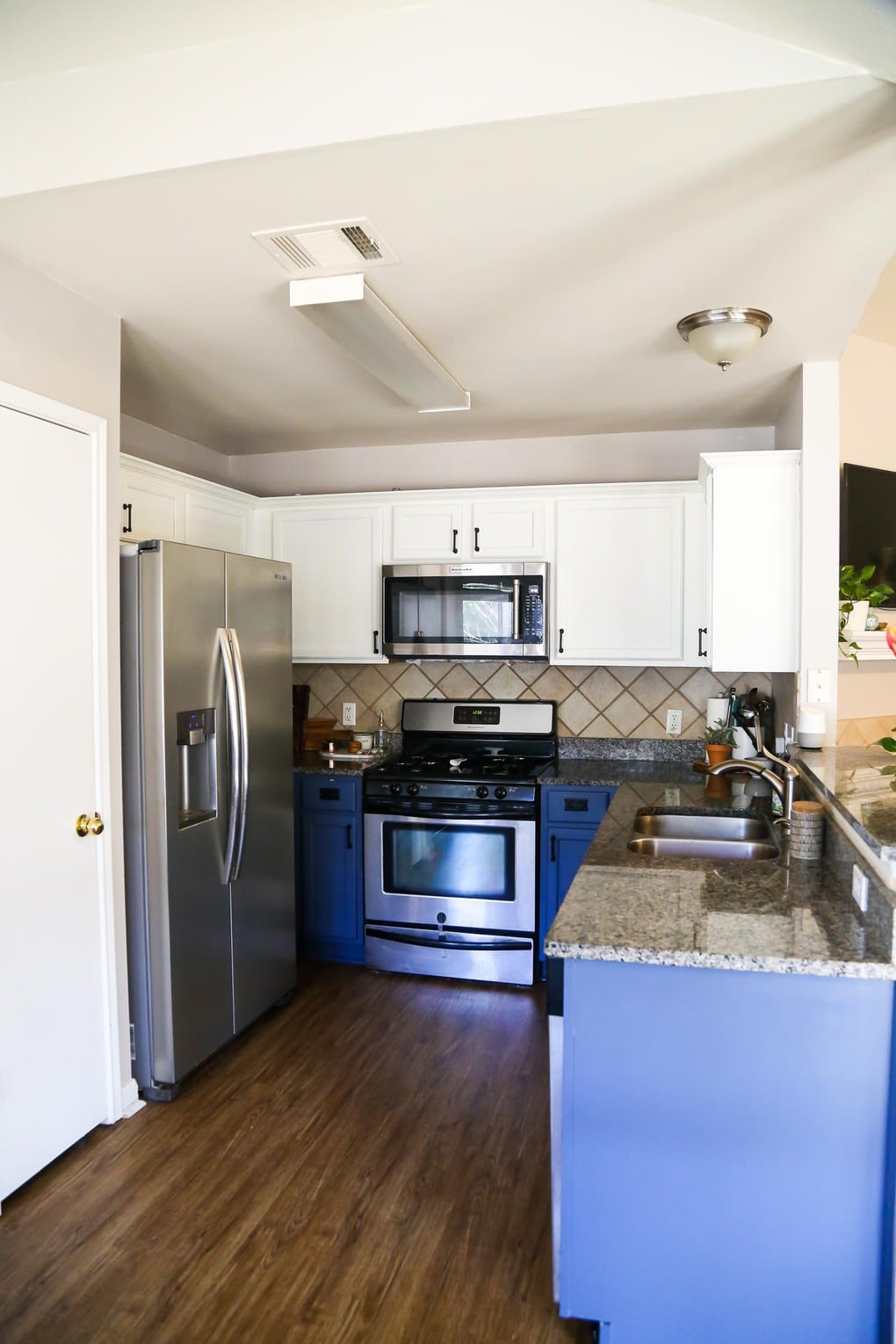 This post contains affiliate links. Click here to read my full disclosure policy. 
I get a lot of questions about kitchen cabinet colors – how we choose them, what colors work best for kitchen cabinets, and all of that. The fun thing, to me, about cabinets is that the sky's the limit when it comes to the colors you choose for your cabinets – there is no right or wrong answer! Of course, most people go with white painted kitchen cabinets, and if not quite it's common to choose another neutral color (like gray or black). I wanted to do something a little different for the kitchen in this house – it gets almost zero natural light and feels a bit cave-like at times, so I wanted to avoid black cabinets (which is what we went with – and loved – in the old house), but I'm also not a huge fan of all-white kitchen cabinets. It's a beautiful look but it's just not for me – I need a bit more contrast!
I love the two-tone cabinet look, so I knew from the beginning I'd be doing white on the uppers and a color on the lower cabinets – I knew the white would bring in some of the brightness that we desperately needed, and doing something a little darker on the bottom would ground things without making it feel too dark. I landed on a pretty blue color (thanks to your super helpful input on Instagram), and I love how it turned out.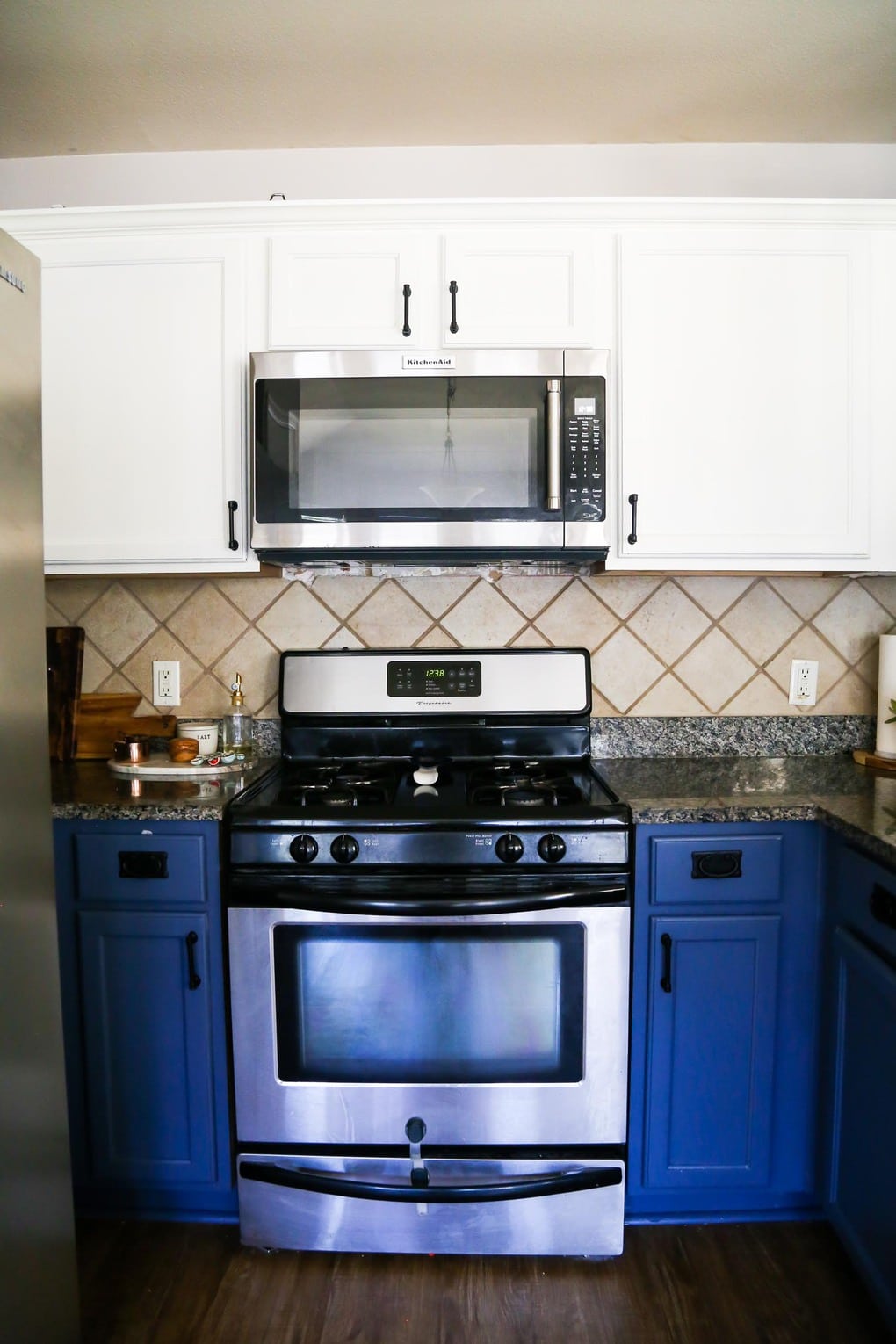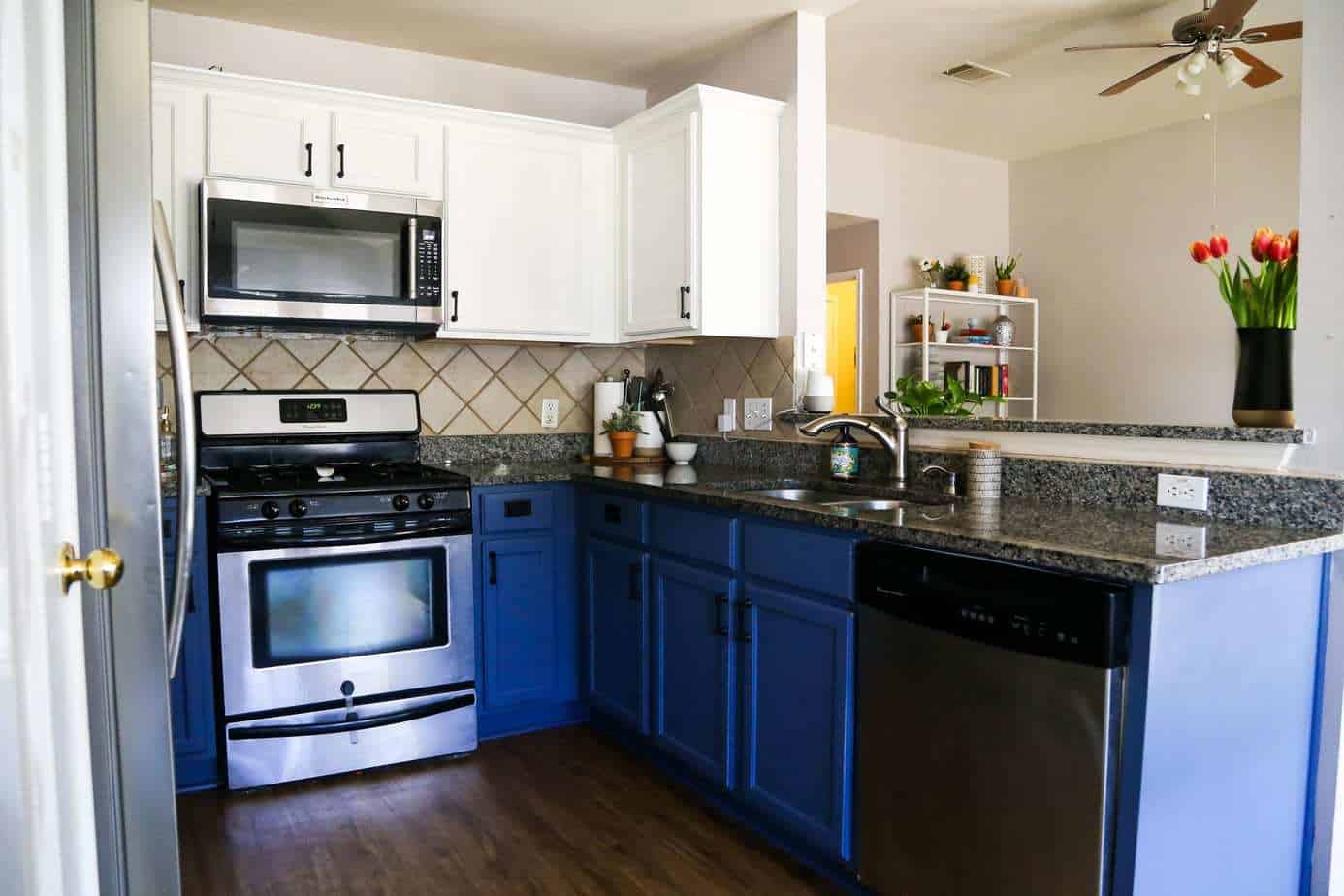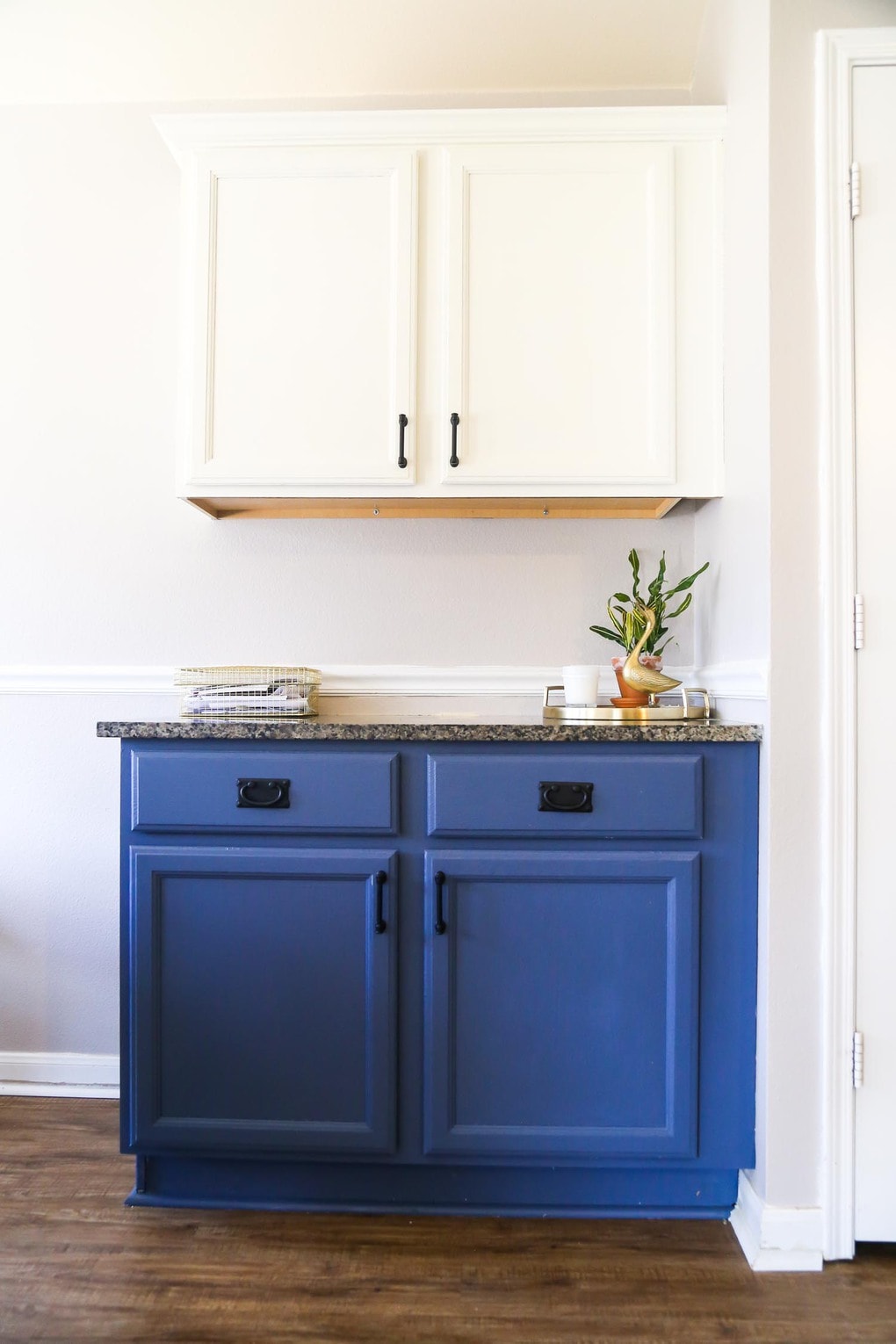 I've written a few posts about painting cabinets before (you can see details on how to paint cabinets here and a look at how they hold up over time here), so I've covered a lot of the details already, but I'll go ahead and cover a few frequently asked questions that tend to come around over and over.
What kind of paint should I use on my kitchen cabinets?
There are a lot of different opinions that you'll hear on this – the bottom line is that most high-quality paints are just fine (meaning, don't buy the cheapest type). However, I have to say I've had fantastic luck with Behr's Marquee line of paint and I can't recommend it enough. This is the paint we have used on every cabinet project other than our last kitchen, and we've been very pleased with it. So, bottom line is that this paint works well for me, and I'll keep using it. We typically go with a semi-gloss finish (though a high-gloss is also a great choice for kitchen cabinets – it's easy to clean!).
What color did you use? 
We used Polar White by Behr on the upper cabinets and Durango Blue by Behr on the lower cabinets. To seal them, we generally use a polyurethane (like this one).
Our hardware was graciously sent to us from Liberty Hardware – we used these pulls for the cabinet doors and these for the drawers, which are probably my favorite drawer pulls I've ever seen in my life. I love how the black plays with the colors of the cabinets and the black countertops, and I think it's a fun choice that you don't see all that often in kitchens.
What is the best way to paint cabinets – should I roll them or spray them?
I prefer to spray the doors with this paint sprayer and roll the bases. I don't have the patience to tape off my entire house to spray the bases, so I use a small foam roller instead. The doors, however, do much better when sprayed so I always take them out to the garage and use my paint sprayer. Again, you can check out this post to see all of the details of my process for painting cabinets.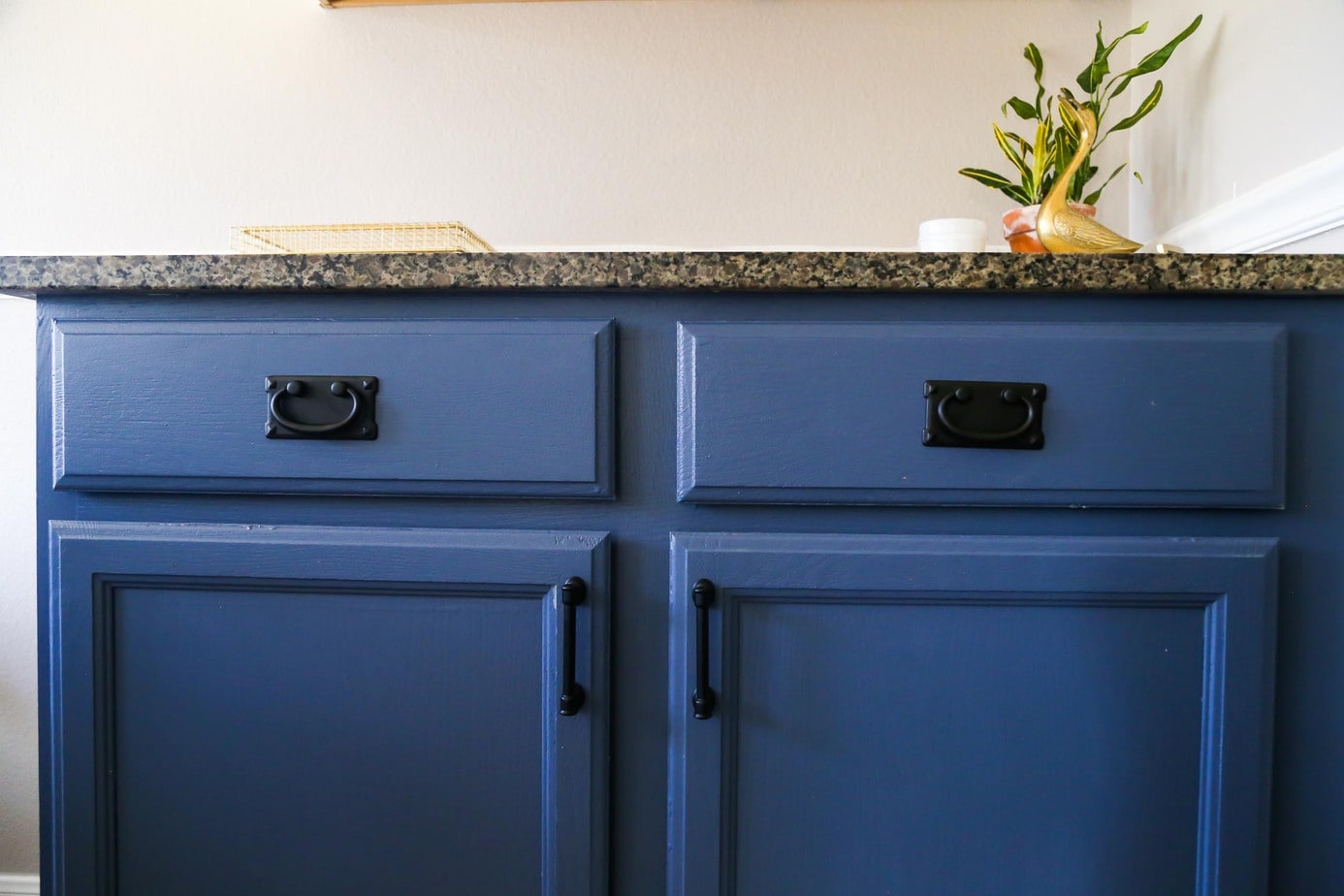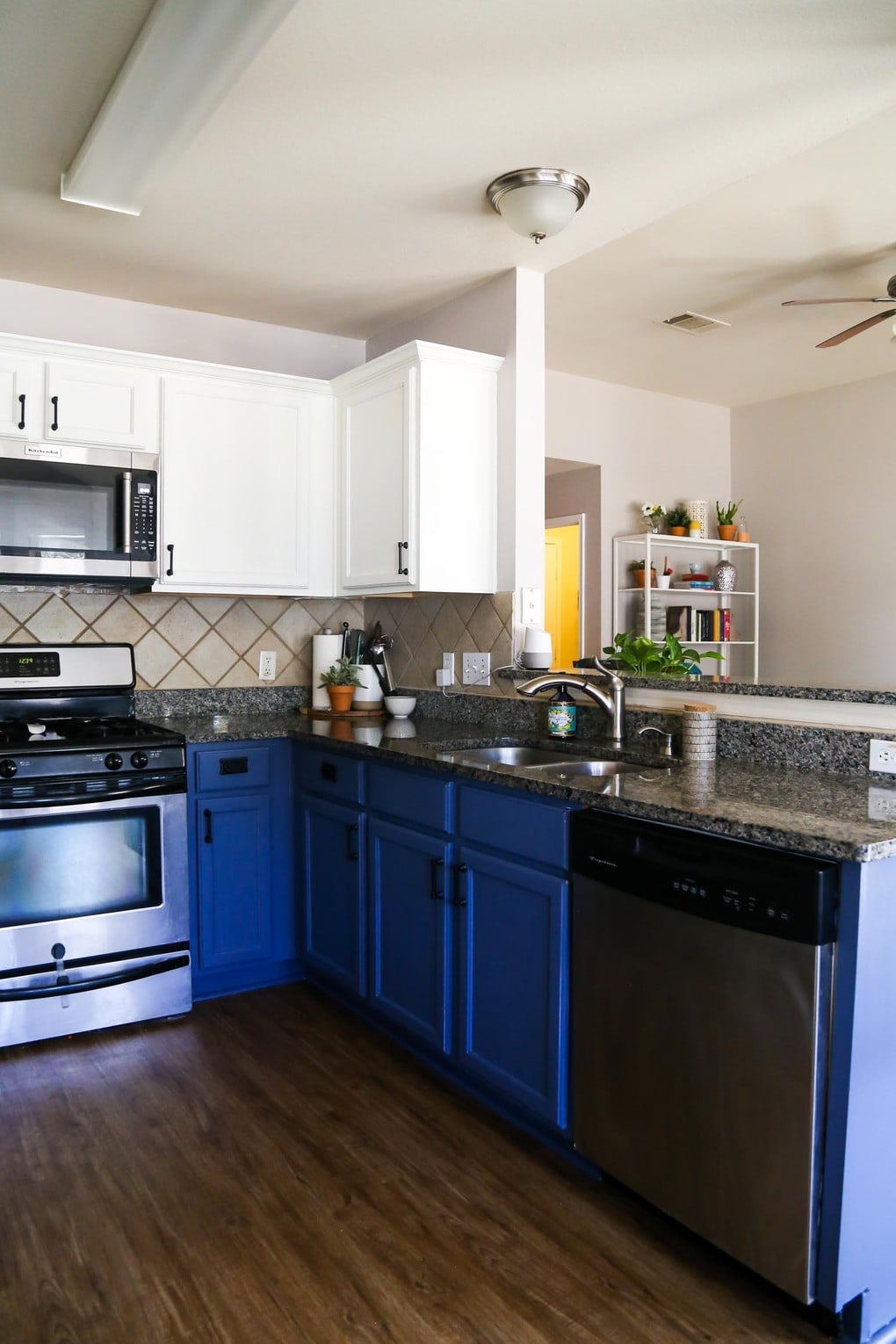 What tools do you use? 
You can check out this facebook live video for a look at the tools I typically use, but here's a quick list:
And that's it! If you have a question that I missed, be sure to let me know in the comments and I'll answer it for you.
There is, of course, still a lot on our to-do list here in the kitchen. This kitchen is much more updated than any kitchen we've ever worked with, but it's still not completely our style. Here's a quick list of the things we're still planning on doing (and, of course, this list will likely grow as we live here longer and learn more about what we want or don't want):
Remove the fluorescent light and replace it with recessed lighting.
Replace the light above the sink with a pretty (but simple) pendant.
Add under-cabinet lighting (this kitchen is very dark, especially over by the stove).
Replace the backsplash (including the short granite backsplash on top of the counters).
Replace all of the appliances (we've already replaced the microwave with this one – and we love it, but the oven and dishwasher are in sketchy shape as well, and once we've replaced them we'll want a new fridge to match – it's like "If You Give a Mouse a Cookie").
Accessorize – we need a rug and some other decor in here.
Re-arrange the cabinets so we can have our trash can inside a cabinet (we did this in the old house and I miss it dearly!).
Down the line, we may knock out the pantry and replace it with cabinetry – and also take the rest of the cabinets up to the ceiling. My sister did this in her house (her kitchen is almost exactly the same layout as this one), and it is so much more functional!
Oh, and, just to celebrate how far we've (already) come, let's take a peek back at how this kitchen looked when we moved in a mere two months ago: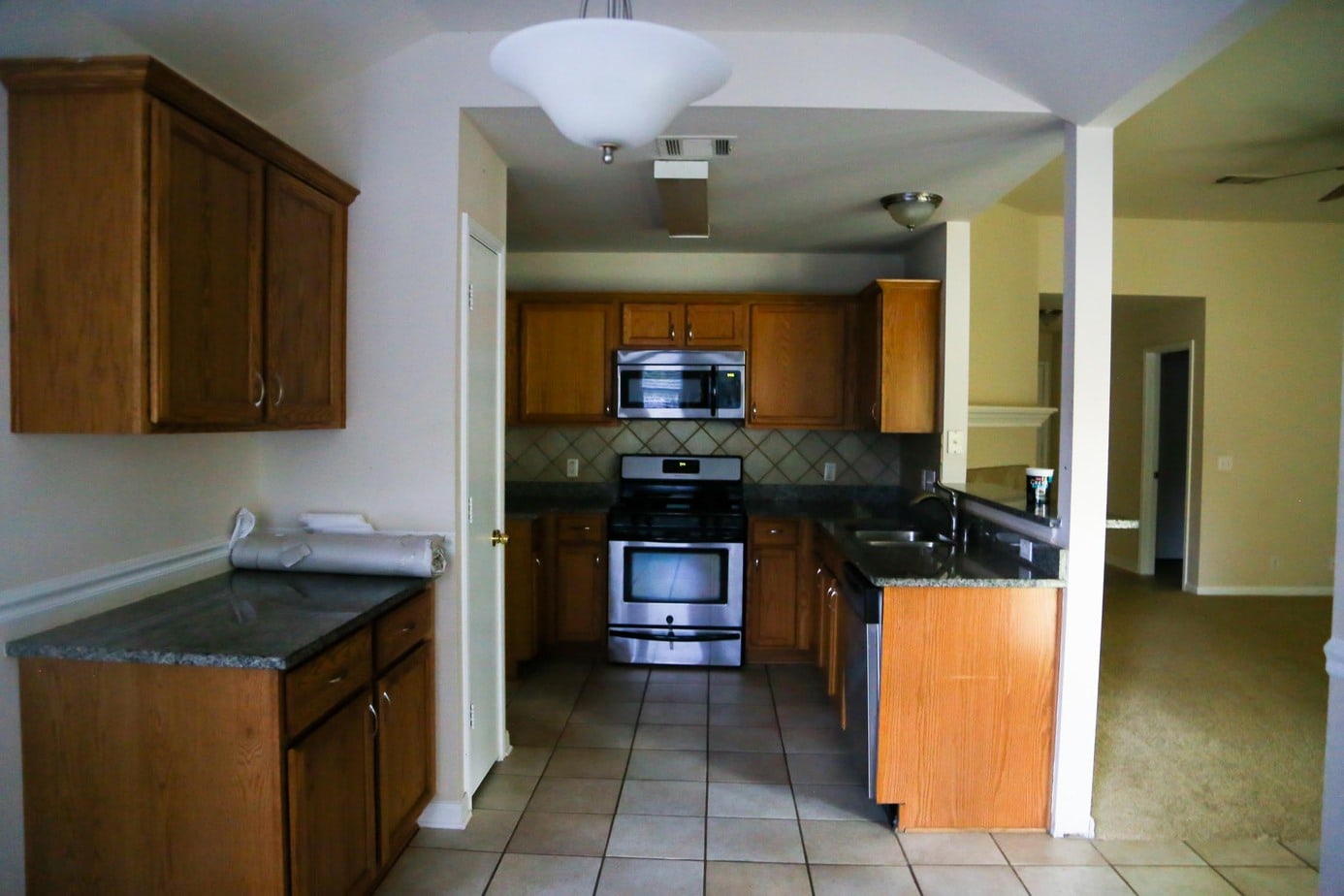 And now…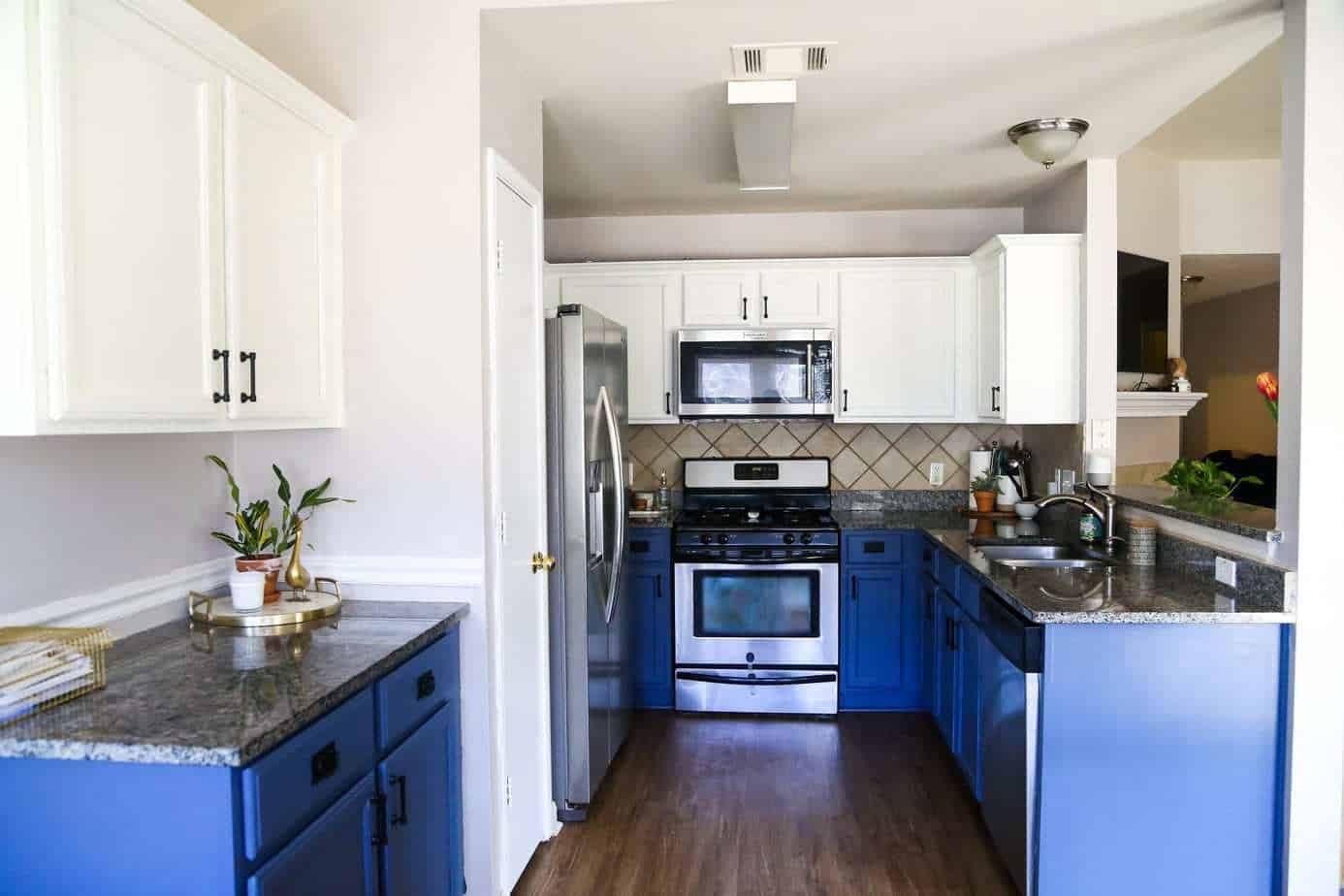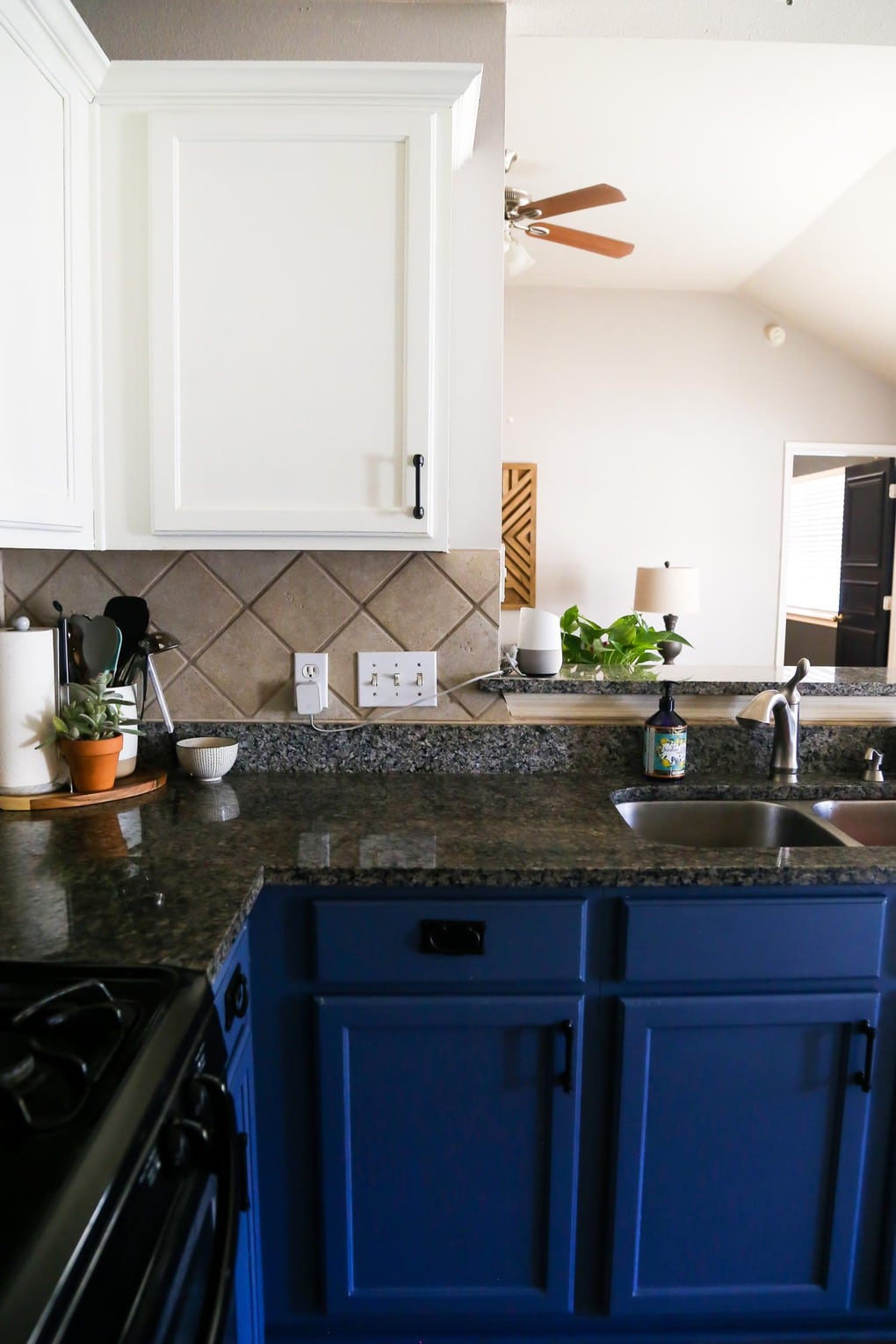 Mmm, better right?
Our to-do list for this kitchen is a much shorter list than I'm used to working with for a kitchen, so I'm feeling good about it so far. We probably won't get around to most of the other things on this list this year, because we have a few other major projects on our radar (like the ones I mentioned in this post, and a couple of other surprises that I can't talk about yet). But thankfully, with the newly painted cabinetry, our kitchen is at a point where I can definitely live with it for a while – although, that backsplash sticks out like a sore thumb! We might need to deal with it soon.
And, you know, if you give a girl a new backsplash…
Psst: Now that you've got gorgeous cabinets, be sure to check out this post with ideas for bar stools to add, and this post for tips on how to tile a subway backsplash!