You may or may not have realized this about me by now, but I'm a bit of a list freak (see Exhibit A, Exhibit B, Exhibit C, and Exhibit D for just a glimpse at my list-making insanity – there are plenty more examples I could show you). So naturally, when I began to think about how tomorrow is my last day of school (!!!) and I will soon have an overwhelmingly awesome amount of free time on my hands, I decided it was high time for me to make a summer bucket list of all the things I'd like to accomplish in my two-and-a-half months of freedom.
Many of the items are pulled off of my 101 in 1,001 list, but there are a few extras on there just for fun.
1. Learn how to use (and be comfortable with) my Cricut
My totally awesome sister bought me one for Christmas this past year, and while I'm completely and totally in love with the idea of having one, actually using it kind of petrifies me. However, I am absolutely and completely determined to at least learn a little more about how to use it this summer – so maybe I can make more projects like this one:
2. Learn more about my camera
I love taking photos, and I absolutely adore having a bunch of photos of the various things we do. However, I still haven't really taken the time to get comfortable with our DSLR and learn how to really use it. I'd like to be able to shoot completely in manual, and end up with photos that I can be proud of!
3. Finish head chairs for the dining room! 
Oh goodness, y'all have no idea how badly I want to get this stupid project done. We've had horribly ugly chairs hanging out in our dining room for as long as we've lived in this house, and it's just about time we actually do something about it. We recently decided to scrap the chairs we had originally bought in favor of something a little different, so I suppose that's the first step, right?! Now we just need to suck it up and get them finished so our dining room can stop looking like this: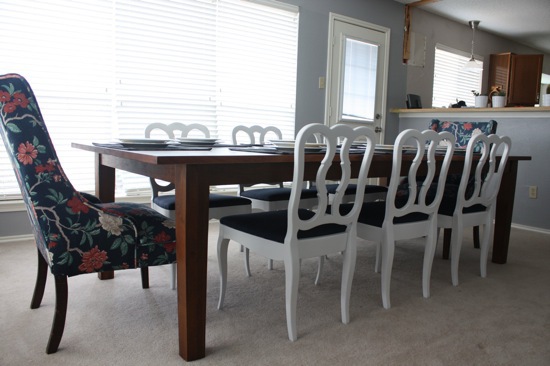 (this photo was taken pre-curtains, obviously)
4. Find two new thrift stores to frequent in Austin. 
We've only spent one day so far really scoping out the thrift stores in our area, and we are seriously missing having a couple of local places to check all of the time. When we were in College Station we had a few that we stopped in every couple of weeks, and we almost always found something! This summer, I'd like to find at least two good thrift stores around us so that when we get the urge to shop, we know where to check first!
5. Spend an entire day together with no technology
It sounds lame, but this one is actually going to be pretty tough for Corey and I! We're big homebodies and absolutely love to lounge on the couch and watch television, but I think that this summer is the perfect time for us to spend at least one day hanging out and being together without any extras – no computers, no television, no video games. We can go shopping, hang out with the dogs, cook an elaborate meal together, and just enjoy one another's company. We kind of like each other, so it shouldn't be too awful, right?
6. Go to the pool (a lot)!
I've never been one to hang out at the pool much, but now that I live only two streets over from my nieces (who are pool addicts in the summer!), I definitely want to spend some time hanging out at the pool with them over the next few months. I've missed out on most of the fun summer-time stuff with them since I've lived in College Station for the past four summers, but I'm determined to soak up as much fun-in-the-sun with them as I can before we all have to head back to school!
7. Spend lots of time outside
Texas summers can be brutal, so I find that it is really easy to shut myself inside and try to hide from the sun – but that defeats the whole purpose of all this time off, right? This summer, I want to take the dogs for walks, go visit the dog park, and just enjoy the outdoors. We have a beautiful backyard that I can't wait to get some more use out of!
8. Give the blog some love
I have a lot of little tweaks and adjustments I've been wanting to make to the blog for a while now (like switching stuff up on the sidebar, playing around with fonts, and adding a few new features) but I just haven't had the time. This summer I want to spend some serious time changing things up so it can all be just the way I want it!
9. Try some new, local restaurants
Corey and I tend to go to the same places over and over when we want to go out to eat. We have a few tried-and-true favorites and since we don't go out to eat often, it's hard from us to deviate from what we know we love. However, Austin has a huge amount of wonderful local places that we've never tried, and we're both dying to get more familiar with what's out there.
10.Re-texture the walls in our powder room
Believe it or not, Corey and I have actually already purchased everything we need to get rid of the weird texture we have on the walls in our powder room (it's also in our kitchen and other bathrooms, but we're starting small!), we just haven't got around to actually doing it. Since I've got some extra time on my hands this summer, I'd like to just get it done – it'll be so worth it to have one less room with that awful texture! For those of you who don't know what I'm talking about – check out the walls in this picture of our kitchen and you'll see what the texture looks like:
Pretty awful, no?
And that's my summer bucket list! It's a pretty long list, so I'm hoping I can actually accomplish all of it – if nothing else, at least I'll have fun trying!
What's on your summer bucket list? Anyone else have a bit of a television and internet addict? Any fabulous suggestions for Austin-area restaurants or thrift stores?