Can we try something…different this summer?
I've been blogging for a long, long time and one thing that I sincerely and deeply miss about the old days of blogging is that it used to be so much more free. Photos didn't have to be perfect (in fact, they were usually terrible), and you didn't have to know exactly what your plan was before you started on a project. Most of us were winging it all the time, it everyone was just along for the adventure.
I've seen some movement back towards the older attitudes on Instagram – like Suzy's #reclaiminstagram journey, this article about how teenagers are using Instagram, and the fact that Instagram is testing out hiding the number likes photos get. It's refreshing to see a renewed effort to simplify and bring the good old days back, and I'm hoping some of it extends to the blogging world as well.
I was brainstorming how I could do my part to bring some whimsy back to my little corner of the internet, and I thought maybe it would be fun to do a little experiment this summer. Want to join me?
We just wrapped up our hallway bathroom renovation, and we've been bouncing around and working on various projects before diving into another room. But, we do have a few rooms we want to make some changes in over the next few months and I'm making you a part of it!
Our Summer Budget Makeover
So, here's the deal. We're going to choose one room in our house to make some changes in this summer. I'm going to let you help me pick the room, I'm going to let you help me pick the budget, and I'm going to let you help me determine the to-do list.
This is going to be a collaborative effort every step of the way. I have no idea what to expect but I think it's gonna be fun.
How can you get involved?
I'm going to be posting about the makeover regularly across all of my platforms (here, Instagram, and the newsletter). Choose your favorite platform to hang out on and that can be where you share your input.
At every step of the way, I'll be asking for opinions – leave a comment, shoot me an email, or DM me on Instagram. I'll be tallying opinions from across all of the platforms, so no matter where you like to consume your content your voice will be heard!
I'm putting myself out there a bit with this one – something like this is no fun if you don't play along. I'm counting on y'all to get invested and be a part of this!
Step One: Choosing a room
And here is where the fun begins. Let's choose a room! I'm going to list a few different rooms in my house that I want to make some changes to, and I'm going to put you in complete control of which one we put our focus into this summer.
Remember that the room makeover won't be the only thing we're doing. We still have tons of fun, random projects planned over the next few months, but I'll be putting the majority of my focus into whatever room we choose here.
Let's do it.
Option 1: Master Bedroom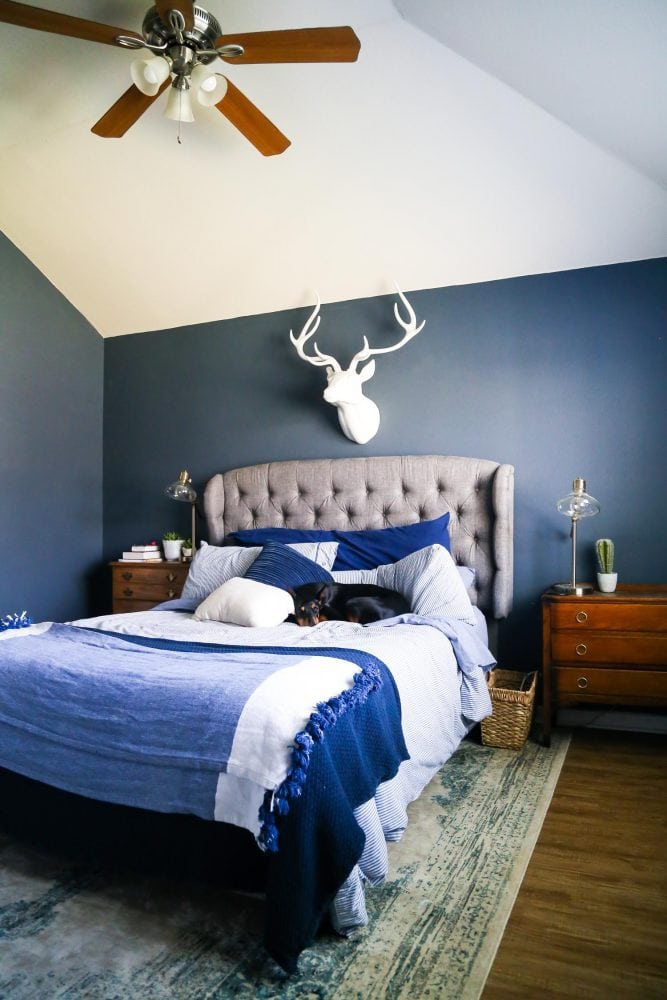 I've been unhappy with our master bedroom for a while now. There are lots of things I want to change, the biggest of which is the wall color! I love the dark blue walls but I'm itching for a change in here, and I think that's where we need to start.
A few thoughts I have in here are that we'd like to lighten up the walls, get new bedding (our dog recently managed to drag red paint all over it!), DIY some nightstands, and get a new dresser. We're also missing window treatments and the rug has to go.
Option 2: Laundry Room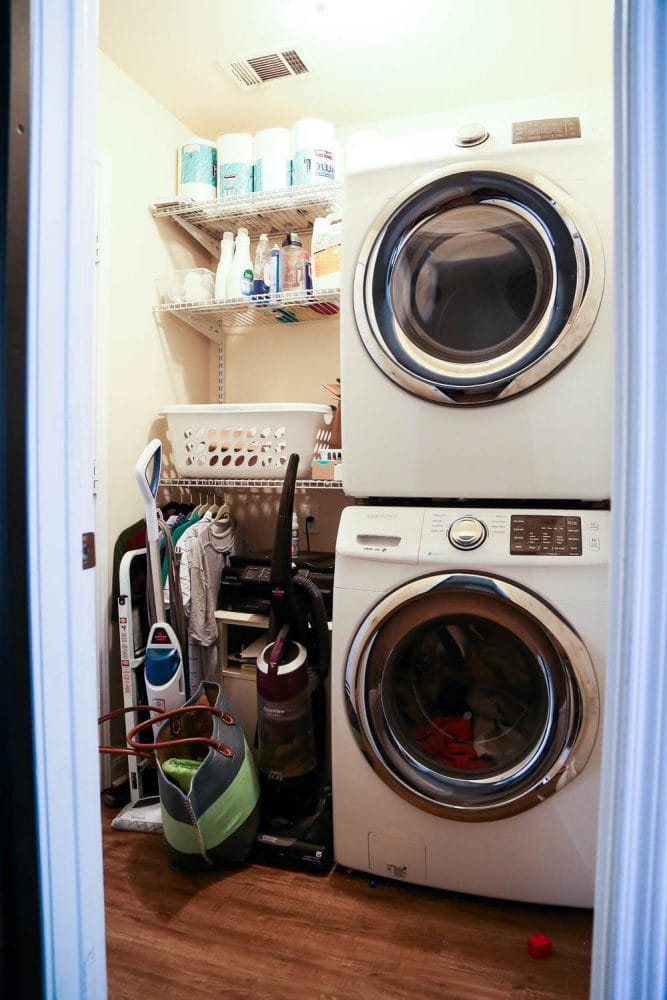 Honestly, I hesitate to even call this a room. Laundry closet?!
Our little laundry room is a tiny little hot mess and I've spent a long time dreaming of how we can make it more functional. I want to paint the walls to freshen it up, maybe add some wallpaper, and get creative with some serious storage in here. I think some sort of cabinet with a countertop would be a great way to add some working space, and I want to come up with some creative solutions to add as much storage as possible. This is really the only place we have to store random things in our house (we have two hallway closets but they're taken up by all of our board games!), so it needs to be able to pack a big punch.
Options 3: The Patio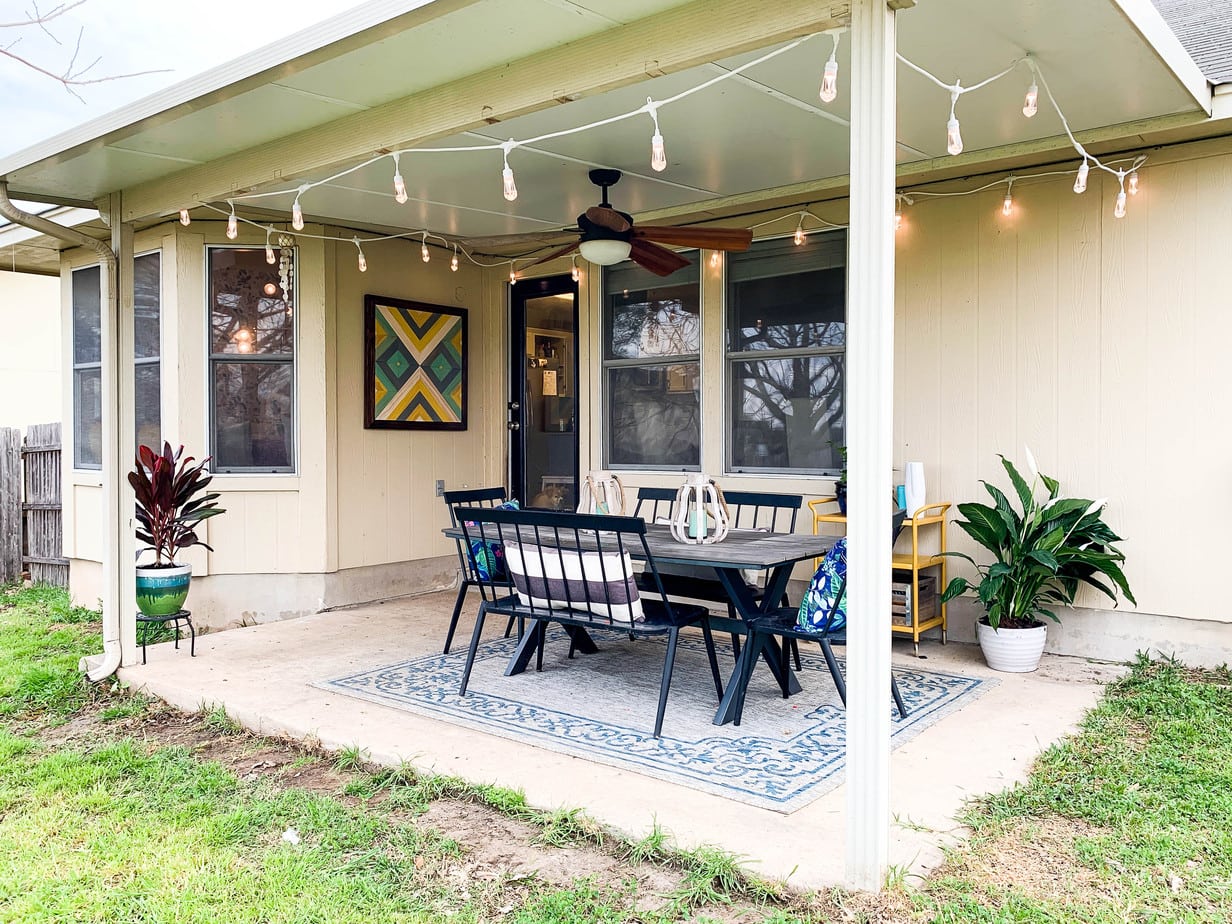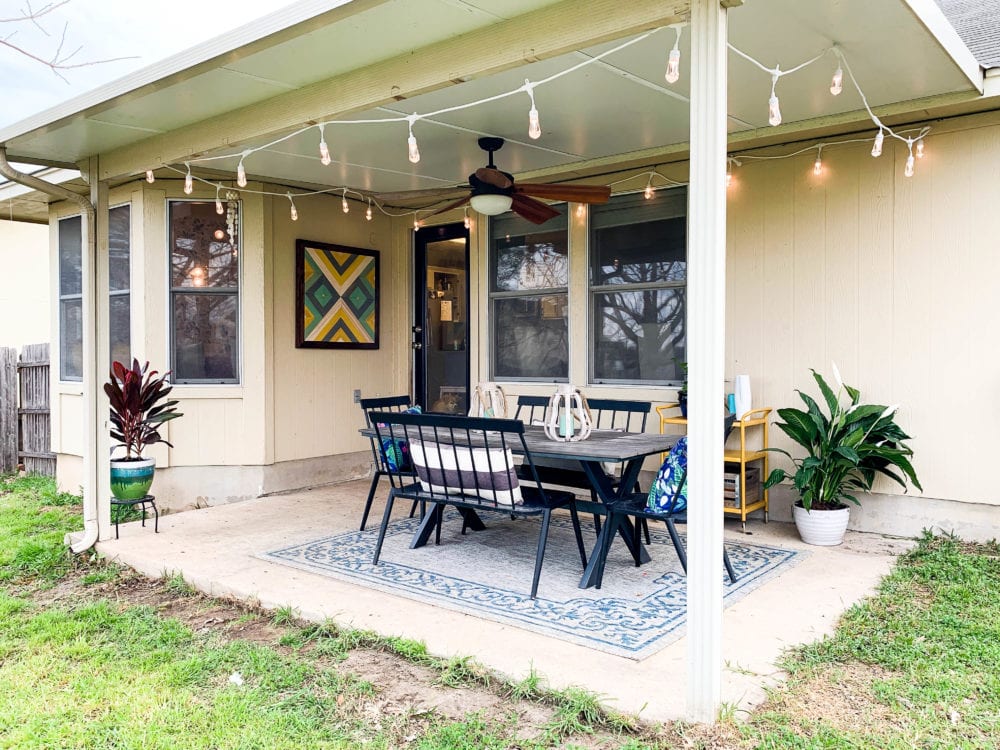 Our final option is a space that's just fine right now but has the potential to be so good!
We have a cute covered patio in our backyard, and as it is right now we don't use it all that much. We'd love to swap out the dining table for some cozy seating (maybe a DIY sectional sofa?!), fill it to the brim with gorgeous plants, and possibly even do something crazy like tile or paint the concrete.
Oh, and we're already planning on painting the exterior of our house this summer, so that alone will make a pretty big difference back here!
Your turn: Time to decide!
Here's where you come in. Leave a comment below (or head over to Instagram) to let me know what room you think we should tackle this summer! Feel free to toss in any ideas you have about the room you vote for, and if you want to see more of each option be sure to watch my Instagram stories today – I'll be giving a tour of each space! I'll leave the voting open for about a week, then I'll be back soon to reveal the room you chose and start talking budget and project lists!
I'm really excited to try this out (and, I'll be honest, a little nervous that no one will care!), and I hope it's as fun for all of us as I think it'll be!
So, which room do you think we should make over this summer?!