The Last of the Christmas Decorations
I promise one of these days I'll stop talking about our Christmas decor. I know I've already talked about it twice now, but we've added a few more things that I just can't resist sharing.
The largest addition? A second Christmas tree.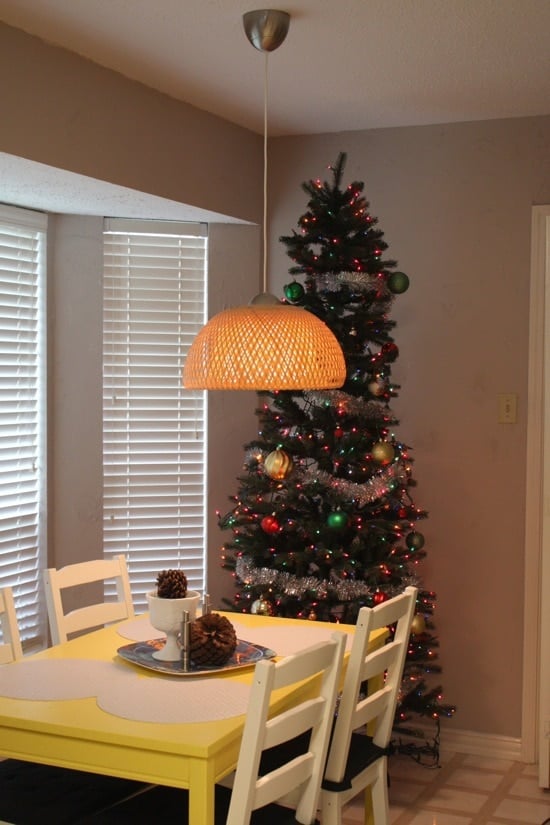 Corey and I have always talked about wanting two Christmas trees – one as the "main" tree, decorated with nicer ornaments, carefully styled, etc., and one as the secondary tree where we can have a little more fun. We were planning on waiting for a few years to start using a second tree, but when Corey's mom offered us their old tree to use for the year, we jumped at the chance to go ahead and use it now.
This tree is larger than what we want to eventually have (we'd like to get a 6 foot tree, so it can fit in the bay window area), and it's looking a bit sad right now since half the lights on it don't work (it's pre-lit) and we had to add in some extras to make it look better. But it does a lot to bring some Christmas spirit into the kitchen and I love having it there! Of course, If I had it my way, every single room would look like Christmas exploded all over it for the entire month of December, so I'm definitely of the "more is more" mentality when it comes to hoiday decor.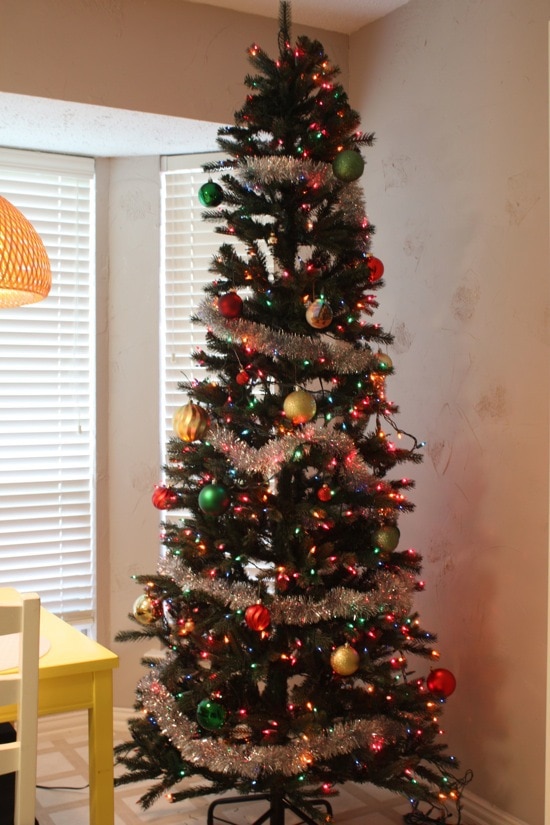 One of the things I'm most excited about adding is the activity advent calendar I made.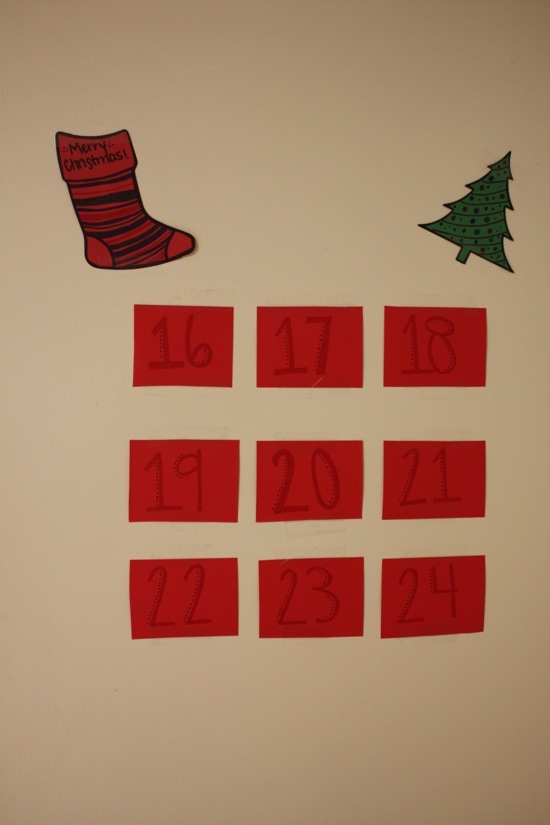 It's simple (and obviously homemade), but Corey and I can't wait until this Friday so we can get started on it. We chose to wait to have it start until the 16th because that's my last day of work before I get two weeks off for Christmas break. If we had started it any earlier, it would have been likely that we wouldn't have done a lot of the activities for lack of time – this way, we're sure to have plenty of time to complete everything on the calendar!
The day I'm looking forward to the most is the last one – we're going to start an annual tradition of sleeping under the Christmas tree on Christmas Eve (or, you know, on the couch next to it) and I think it's going to be a blast. Some of the other activities include things like making Christmas cookies, watching Elf & The Grinch, and going to look at Christmas lights. Nothing huge – just enough to ensure that during each of the last 9 days before Christmas we do something Christmas-related!
Another new tradition for us is the Christmas village. Everyone in my family seems to have one (my grandmother, my parents, and my sister all have Christmas villages at their house) and so Corey and I felt like we should join in on the fun. We bought one piece of it this year (and were gifted one) and we plan to add to it every year with a piece that we feel reflects the year before.
For example, here's what we picked this year: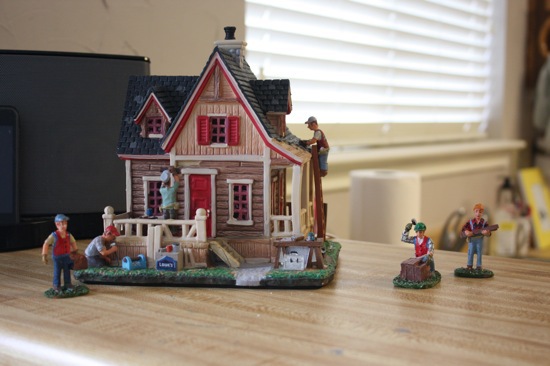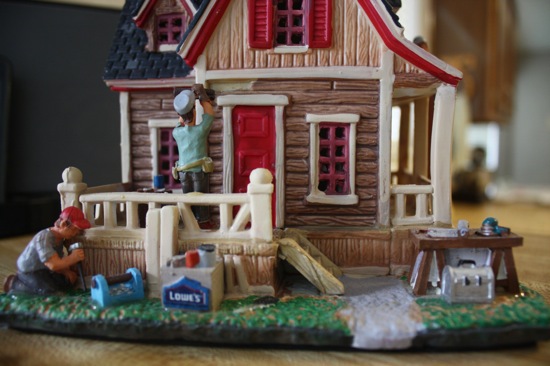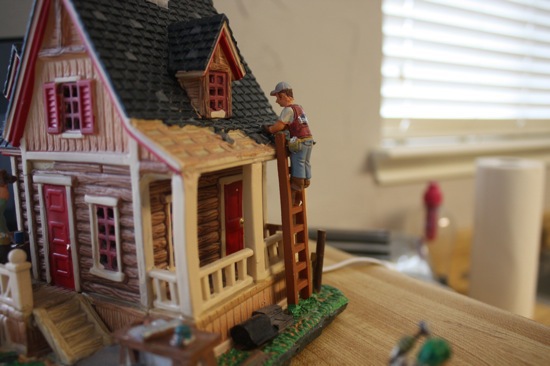 Since this was the year of buying our first house and beginning the (very long) process of making it our own, we knew we wanted to reference that in our village house for the year. And even though we didn't love that the Lowe's logo is plastered all over the workers at first, it's kind of appropriate given that this was also the year that Lowes' rocketed to the top of our favorite store list now that we own a home and can buy all sorts of fun things (and is also probably the store we spent the most money at this year!).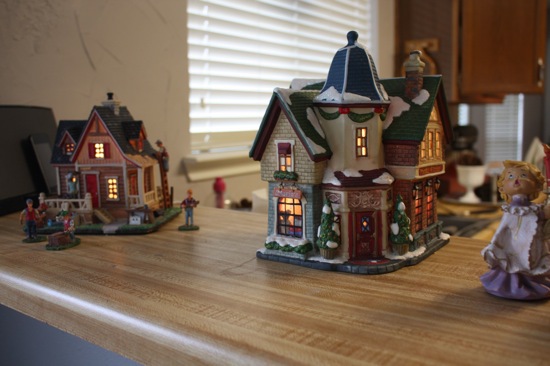 The second piece doesn't have any relevance – just a piece that Corey's mom had with all of her Christmas decor that she doesn't use anymore. Hopefully by next year we'll be able to buy some fake snow and some more people, so it can look a little more like a village and a little less like two random buildings sitting on our bar!
When Corey got the village piece from his mom this week, she also gave us a shoebox full of pine cones from California. They're absolutely beautiful and unlike any pine cones I've ever seen – a couple of them are almost as big as my head!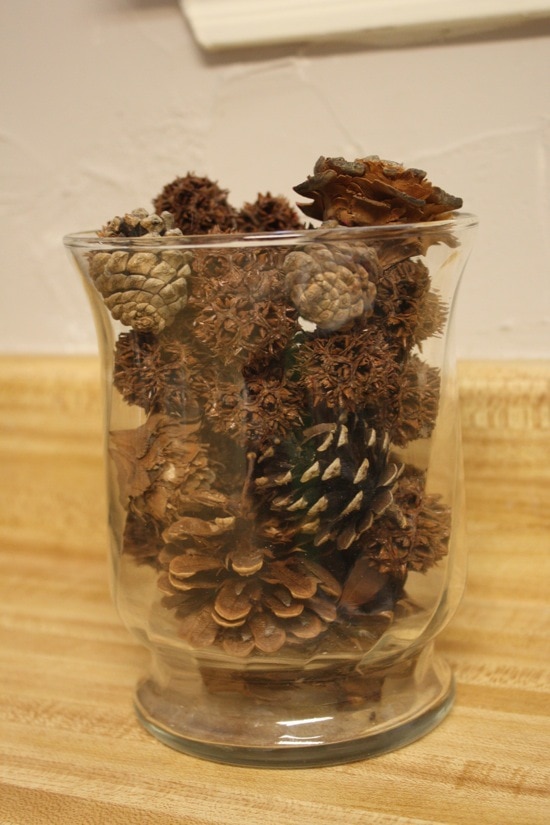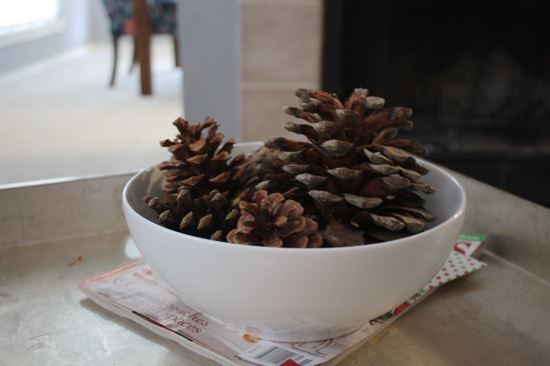 We've got them scattered in a few bowls and containers around the house and I smile every time I see them – I don't know where I got my obsession with pine cones, but they make my soul happy.
Corey's mom also gave us a giant ceramic tree that his aunt made the year I was born – so it's over 20 years old! It's looking a little worse for wear in a few spots, but luckily we were able to put in in a corner and face the broken pieces towards the wall. You can't tell that it's broken at all, and I love that it's a family piece that's been around for as long as I've been alive.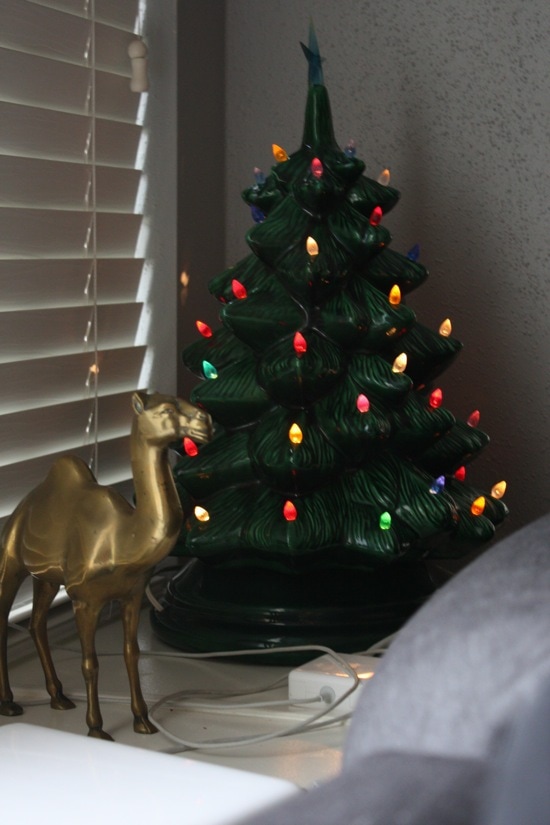 Also, please notice the (completely amazing) brass camel. Corey found it when he was helping his mom clean out her garage and I'm head over heels in love with it. I haven't found a good spot for him to live yet, but I'm determined to find a place where he can be highly visible!
And, finally, the last addition to our Christmas decor: outdoor lights! We haven't completely finished putting them up – Corey still wants to hang some on the house itself – but we got our giant tree in the front yard wrapped, and we added some net lights to the bushes on the side of our house. We love coming home now when it's dark outside because our house feels so cozy and welcoming…there's just something about Christmas lights that makes a house feel so home-y!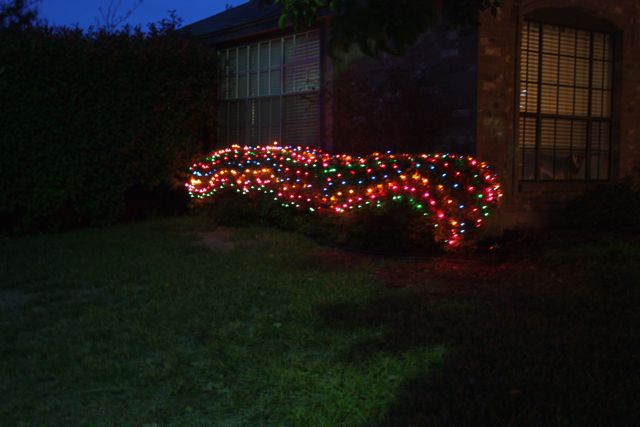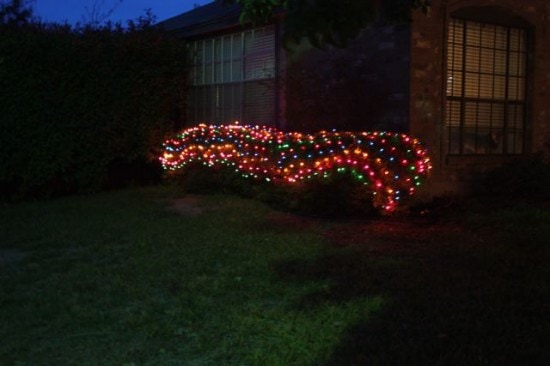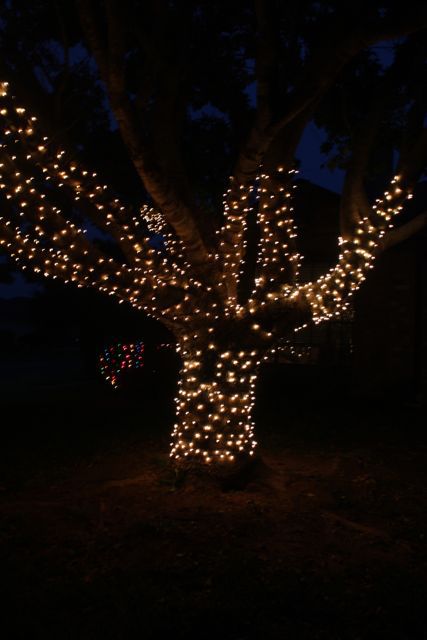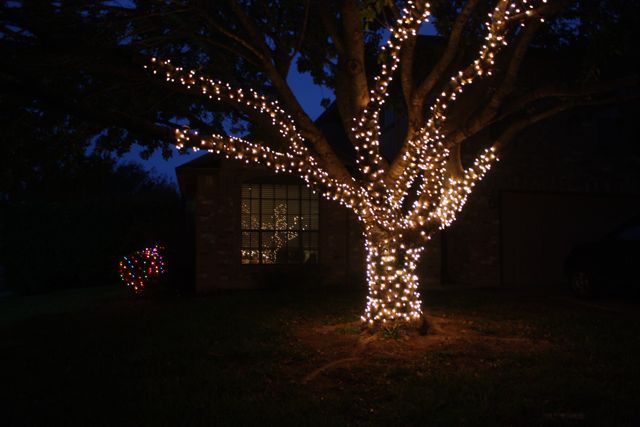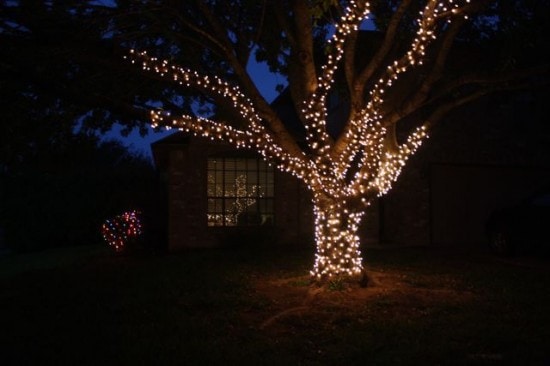 And with that, I think we're officially done decorating for the year. Considering we started off the season with almost no decorations, I'd say we've done a pretty good job of gathering, borrowing, and making decorations so that our first year in our new home can feel Christmas-y. I'm going to really miss all of our decorations when the holidays are over and I have to put them away until next year!
How long do you leave your decorations up? Are you the take-em-down-on-the-26th type, or do you like to leave them up until after the new year?