I can't believe we've had these new windows in for two whole week and I'm just now talking about them.
They're pretty.
I want to kiss them.
(I do. Sometimes. Shh. Don't tell anyone.)
I explained a while back that we were getting new windows in about half of the house because our old ones were horrible, failing, and just generally making our lives miserable (you think I'm exaggerating, but YOU try cooking dinner when it's 100+ degrees outside and your kitchen is basically a greenhouse).
It has made a huge difference in the comfort level of our house to have these beauties. The back half of my house no longer feels like a sauna in the afternoon, and we have a much prettier view of our backyard, thanks to the new setup.
I thought it might be fun (for me, at least – I don't know how much fun you'll have) (at least I'm honest) to go through all the windows we replaced and see what they looked like before and after. Before we started this whole process, I had NO idea that there were so many different options for window configurations, and it felt super overwhelming when we were starting out.
Let's start with my favorite one – the dining room. Here's what it looked like before (all before photos except the kitchen sink window were taken after we took down the blinds):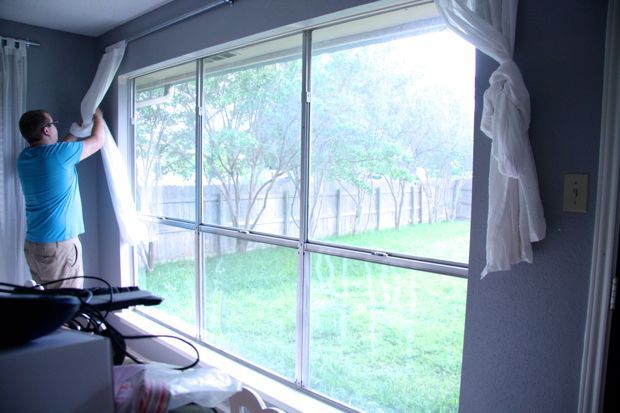 And here it is now: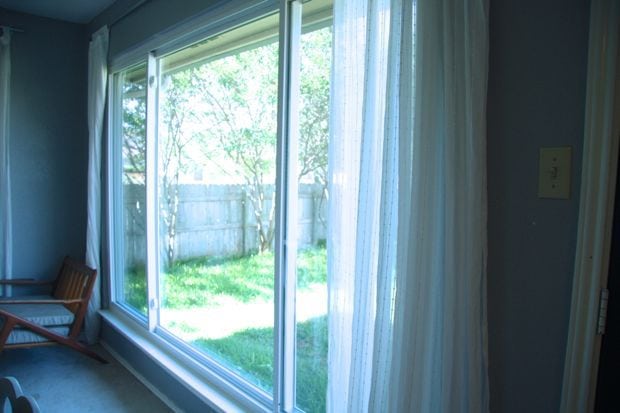 Much better, right? We have two giant sliders that both open up (an important note, since not all of the windows opened before. And not because they weren't supposed to) and an unobstructed view of our backyard.
I have to say, I am NOT missing the three sets of disgusting, chewed-up blinds that we used to have on here, but the windows are looking a bit naked. We have plans to update all of the window treatments throughout the house, but if I'm being honest this one is probably on the back burner for now. We still have pretty good privacy here thanks to our fence and the row of trees in our yard, and the most scandalous thing we might be doing in the dining room is eating dessert before dinner, so I don't mind if someone wants to peek in.
The bay window area in the breakfast nook looked like this before: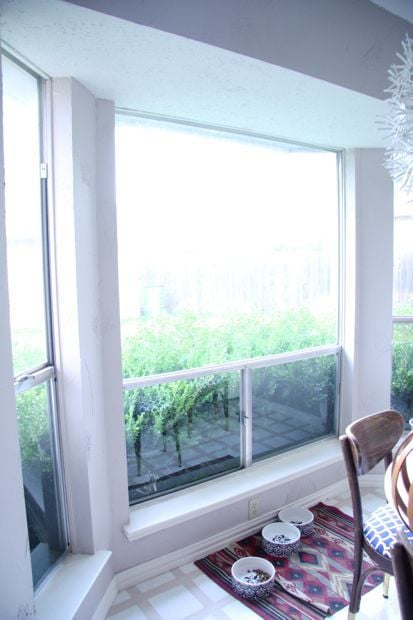 And is much prettier now: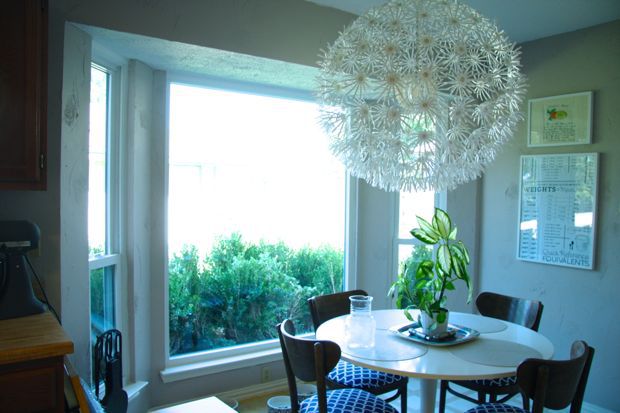 I am SO glad we decided to go with a big picture window in the middle instead of a window that opens. We rarely open windows in our house, anyways (because we live in Texas and there are maybe two weeks out of the year where it's even feasible to do so), and when we do we never really open this one.
Once again, we'll end up with some sort of window treatment in here eventually, but we aren't sure where we're going to land yet. It's such a big area that I feel like we need something neutral-ish, but I also don't want to be too boring. We'll see where we end up!
And finally, our master bedroom. Before: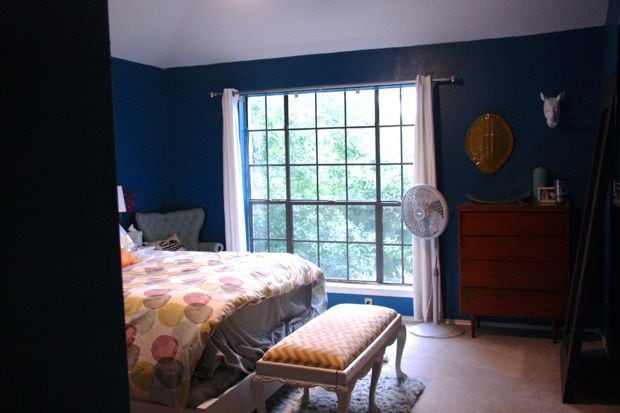 After: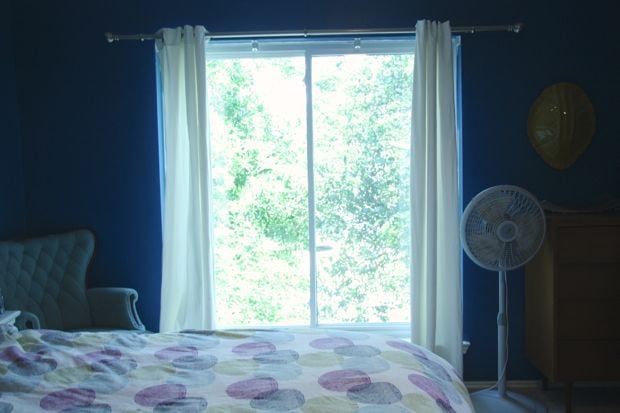 So pretty! This is one that I'd actually love to leave naked because I think the view of our giant tree is just fabulous, but unfortunately having it open also gives all of our neighbors and anyone passing by the house a nice view into our bedroom. Which we don't want. Right now we're still rocking the too-small white curtains that we've had forever, but they're going to get upgraded, stat. I think we're going to go with curtains only in this room (no blinds or shade), so that we can leave 'em open during the day and close them at night – best of both worlds! We'll, of course, make sure the curtains are actually the right size this time.
And with that, you've seen all of our new windows! It'll be awhile before we get around to the next set of windows, because we want to spend some time paying off these guys (and our new garage renovation, which is still chugging along!), but I think with our next round we'll finish the upstairs, and then down the road we'll replace the last few downstairs.
Have you ever had windows replaced? It makes a huge difference!