Oh heeeeeey! It's been a while since we did a weekly wrap up post around these parts, and I've missed it!
If you've been following over on Instagram, you'll know that we've been living our best Christmas life. We've baked cookies and visited Santa and seen lights and watched Elf and had all the fun Elf on a Shelf shenanigans.
After a really, really rough year, so far this Christmas season has been pretty great!
Well, until this week when I came down with a sinus infection and Grant came down with croup and we were all a bit of a disaster for a while there.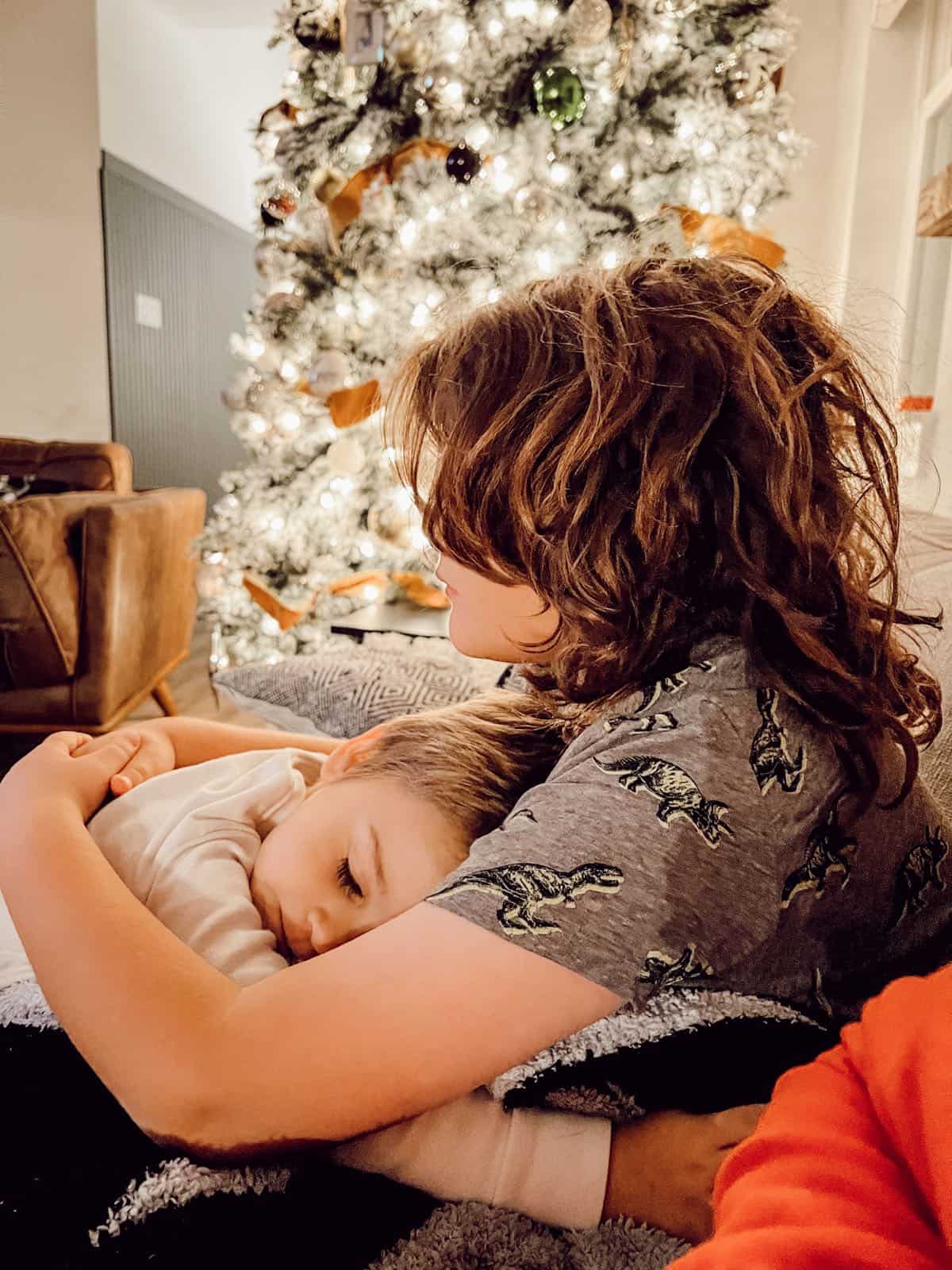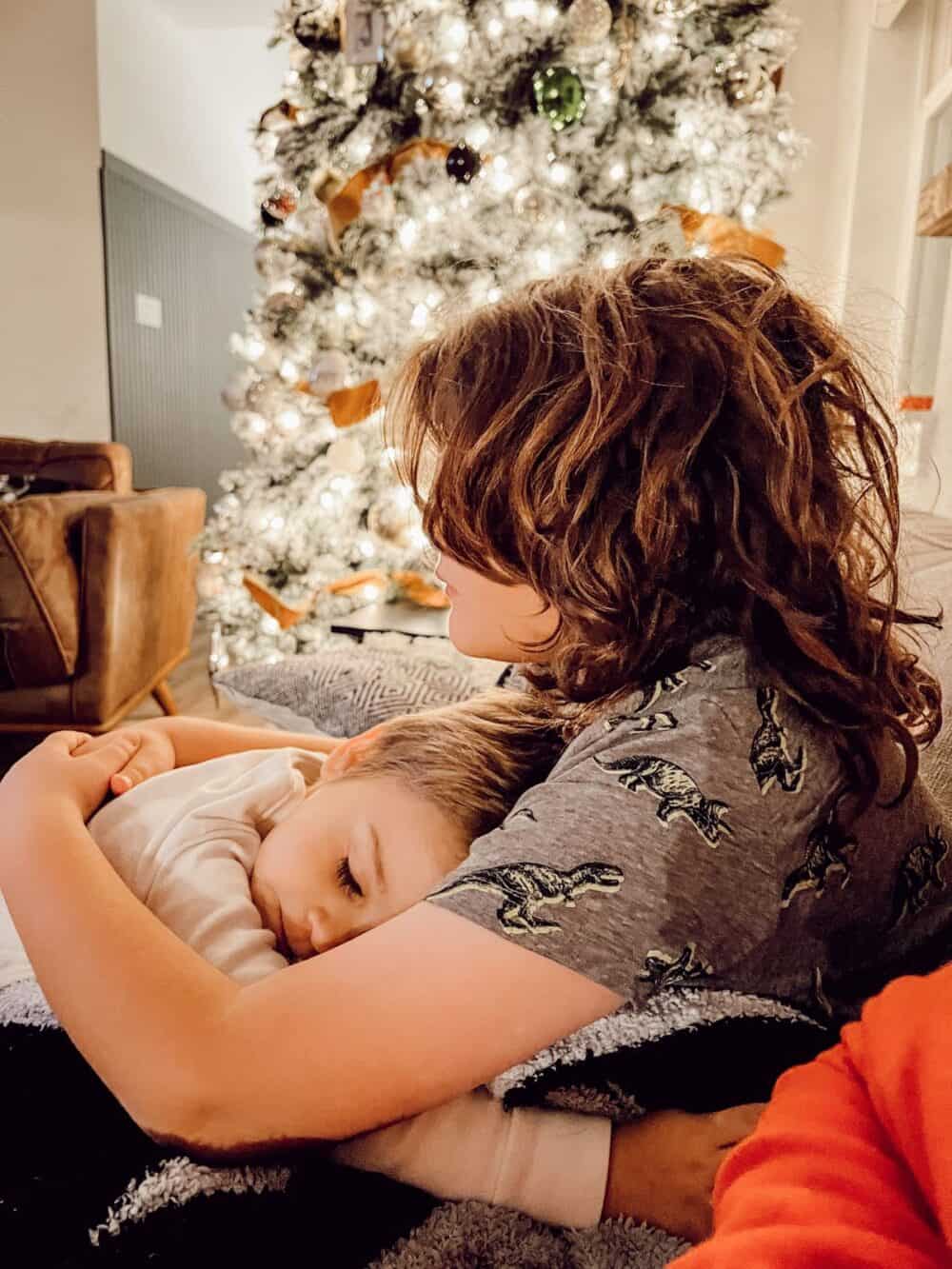 But Grant and I are both on the mend now, and things are looking up!
As we head towards the end of the year and start winding down (thank goodness), I've been thinking a lot about some of the good that came out of this year. The things I learned, the things I loved, the things I discovered.
And, while the list is plenty long – despite all the chaos this year brought, there were plenty of great things too – one of my favorite lighthearted things I discovered this year was AMAZON FASHION.
Y'all.
Why did I wait so long to start buying all of my clothes on Amazon?!
I had a request on Instagram recently to share some holiday outfit ideas and, while I'm absolutely NO fashion blogger, I've been spending a lot more time thinking about clothes lately and I'd like to think I've stepped up my game pretty significantly in the last few months.
So, I thought for our weekly wrap-up post this week, it might be fun to share a few of my favorites from Amazon lately. They aren't anything fancy – goodness knows I don't dress up all that often. But, I've been working on the art of staying cute and comfy this time of year, and I think I'm okay at it. So, here are 5 cute, affordable, easy-to-put-together outfits that should fit just about any occasion this Christmas!
Amazon outfit inspiration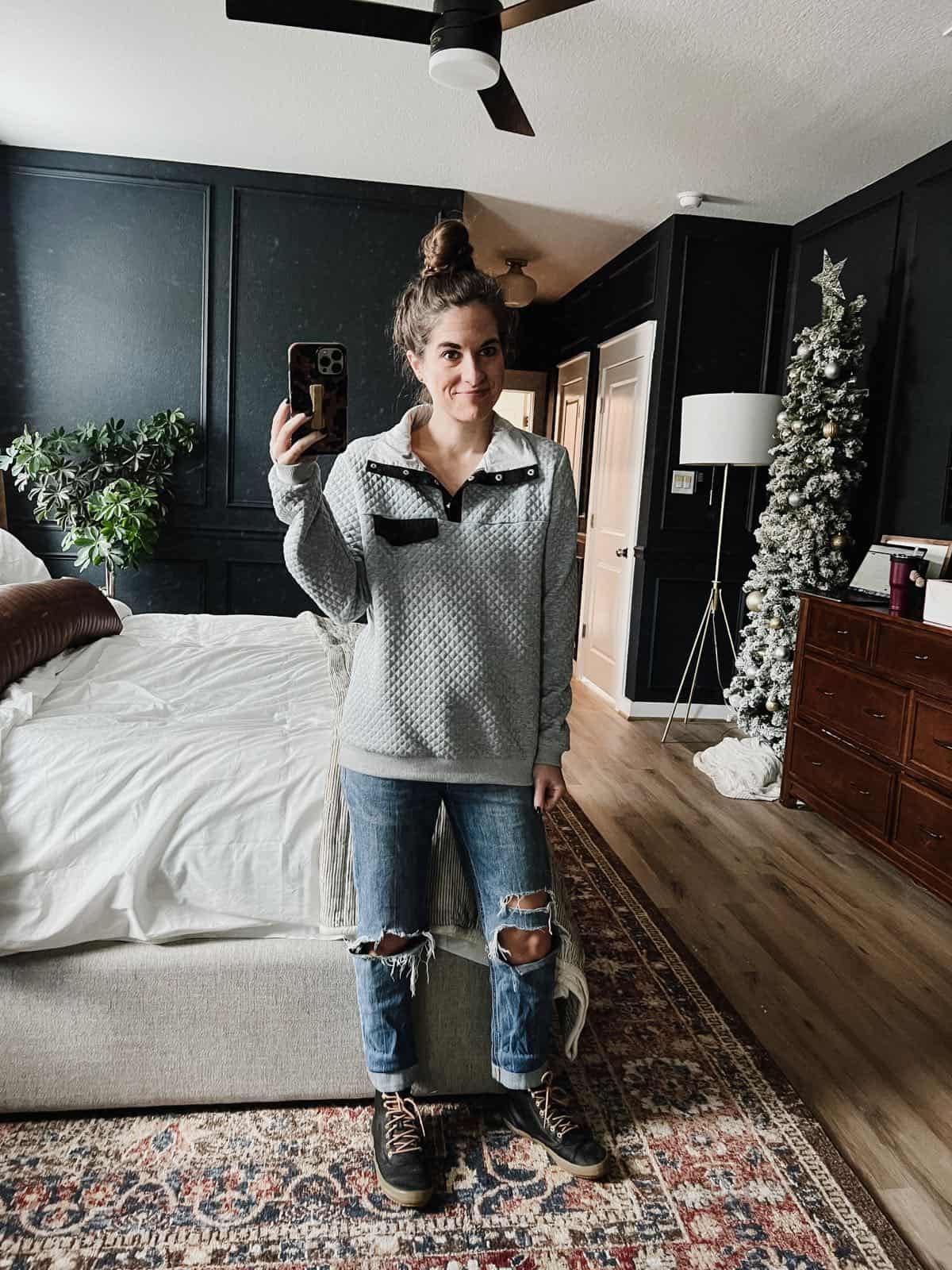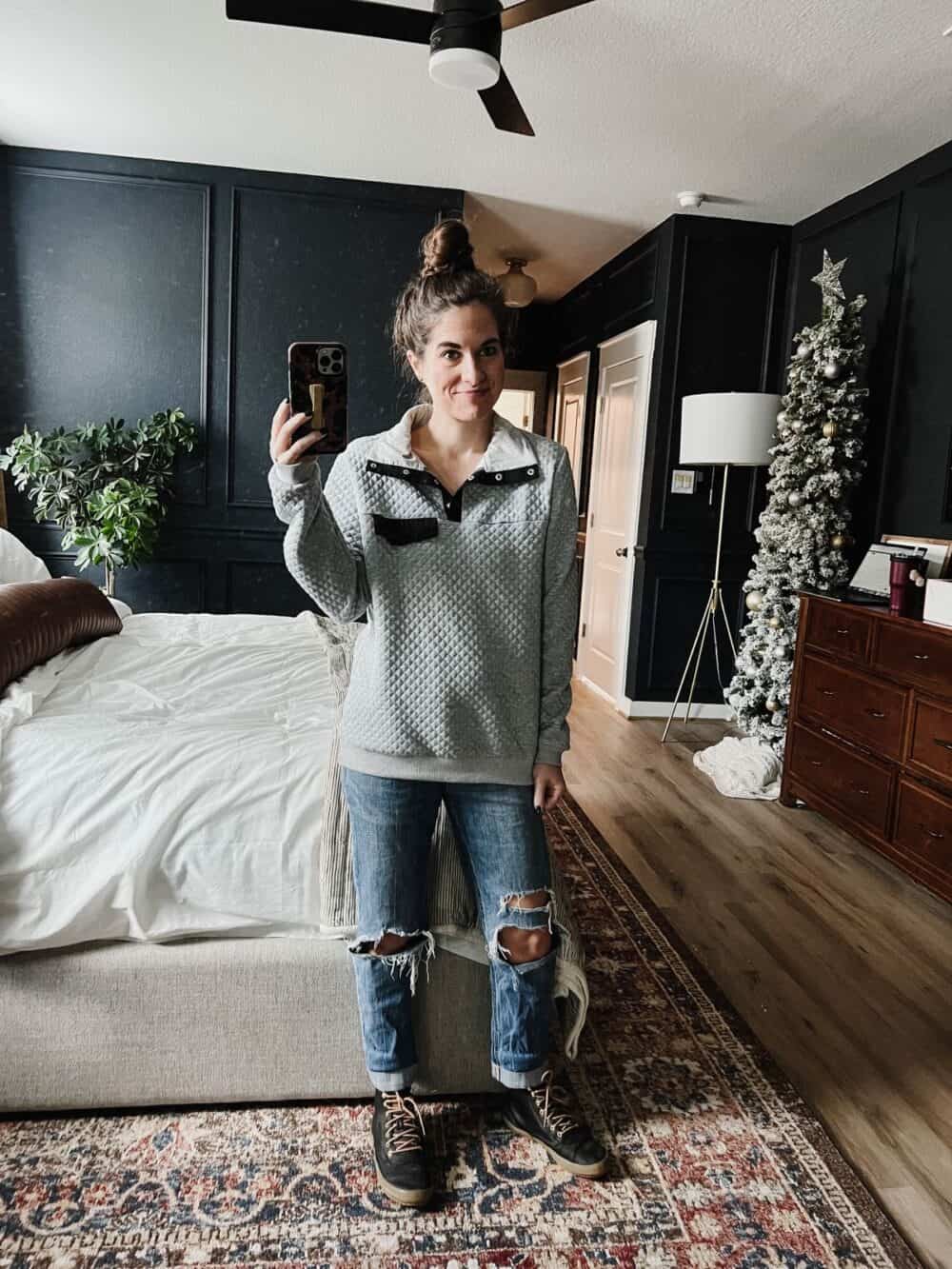 Quilted pullover | Jeans (similar) | Boots
Let's start with my faaaaaavorite sweater I've bought on Amazon lately. I discovered it when I polled my audience on IG about what their favorite Amazon fashion finds were, and this is definitely a winner. I could wear this sweater daily, and it's so cozy but still feels very put together. I 100% plan to buy another color at some point.
The jeans are a few years old from Old Navy, but I found some similar ones on Amazon to link (they're super well-reviewed and I may need to grab some to try them out!). The boots are my #1 go-to this time of year. I wear them constantly and I love that they help me look put together but they also are so comfy and keep my feet warm. It doesn't get much better than that!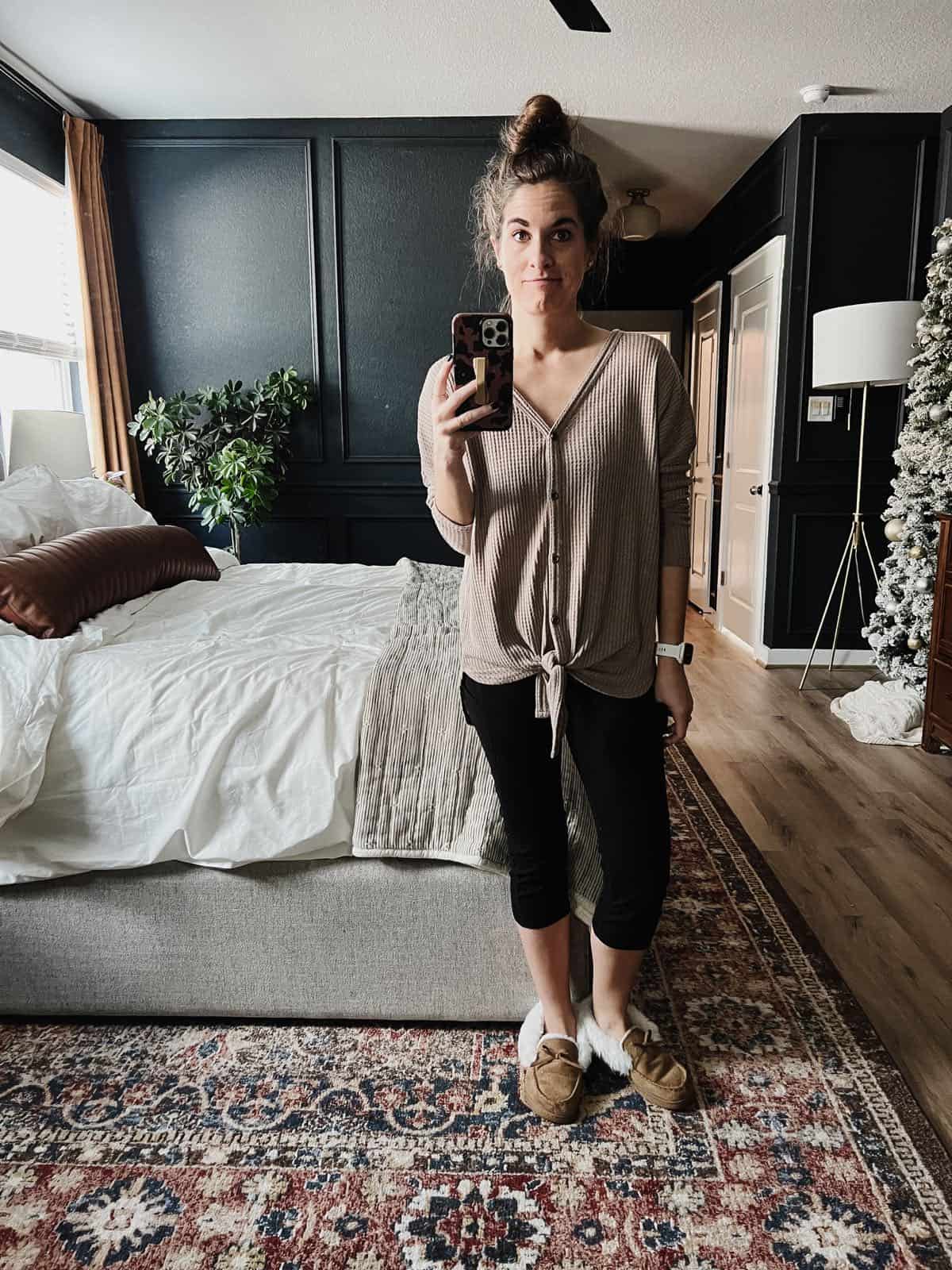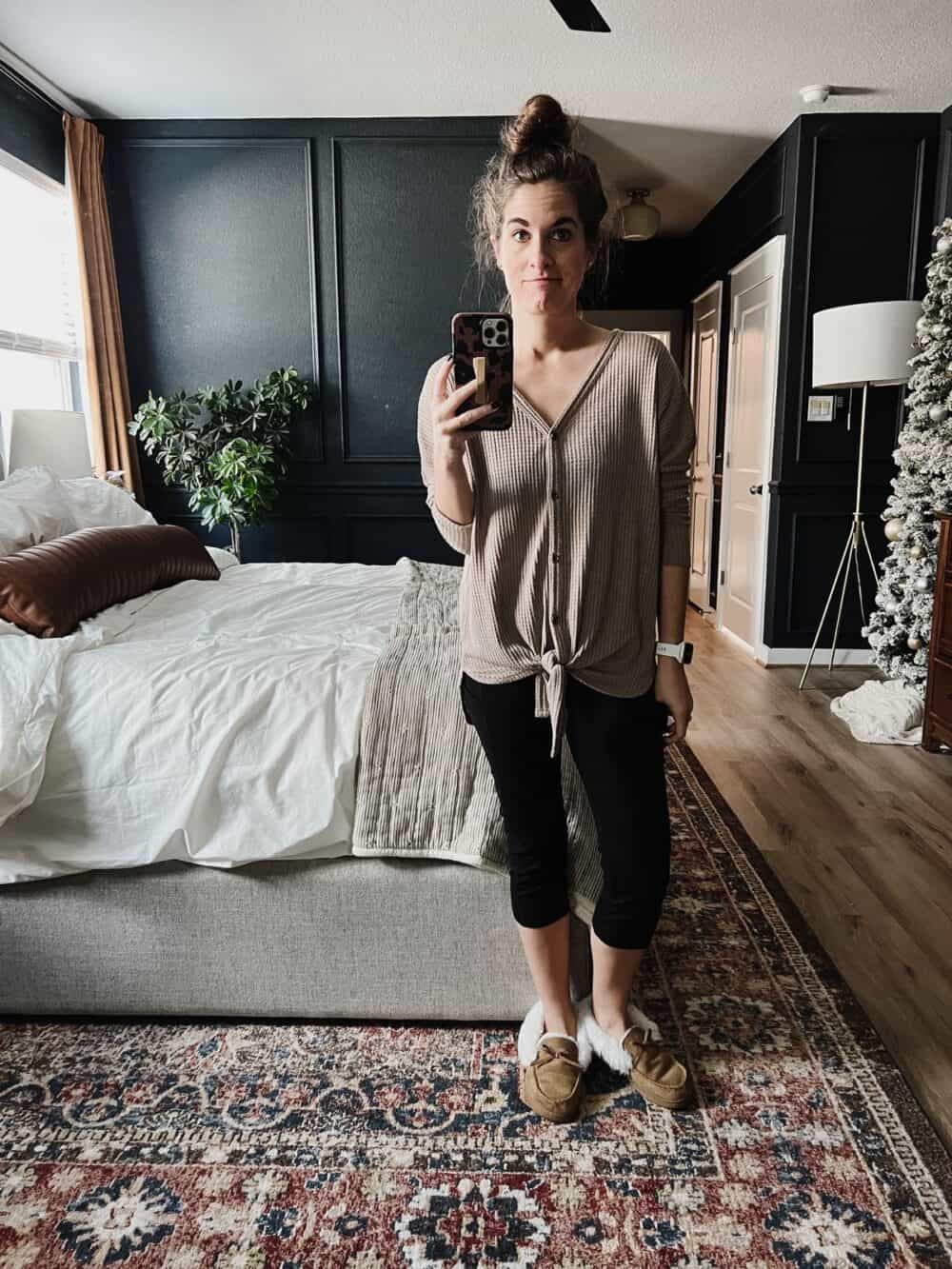 Waffle-knit Sweater | Leggings | Slippers
Next up, this sweater was probably the number one thing you all purchased when I started sharing my Amazon clothing finds, and for good reason. It's so soft and comfortable and so dang cute! I feel really put together when I wear this sweater, but I don't feel stuffy or too dressed up at all.
I also particularly appreciate that it's so lightweight, because I live in Texas and it's entirely possible that it will be 80 degrees outside come Christmas.
The leggings are my ride or die leggings that I own four pairs of (and want to buy more). I size up for a slightly looser fit, they're flattering and comfy, and they have pockets big enough for my giant phone. I wear them both for running and for day-to-day life, and they've held up beautifully to lots of uses since I discovered them last year.
And, of course, the slippers are a new find for me and if I'm at home there's a 95% chance they're on my feet. I've been wearing them non-stop since they arrived, and have even occasionally forgotten I was wearing them and left the house in them. Oops?!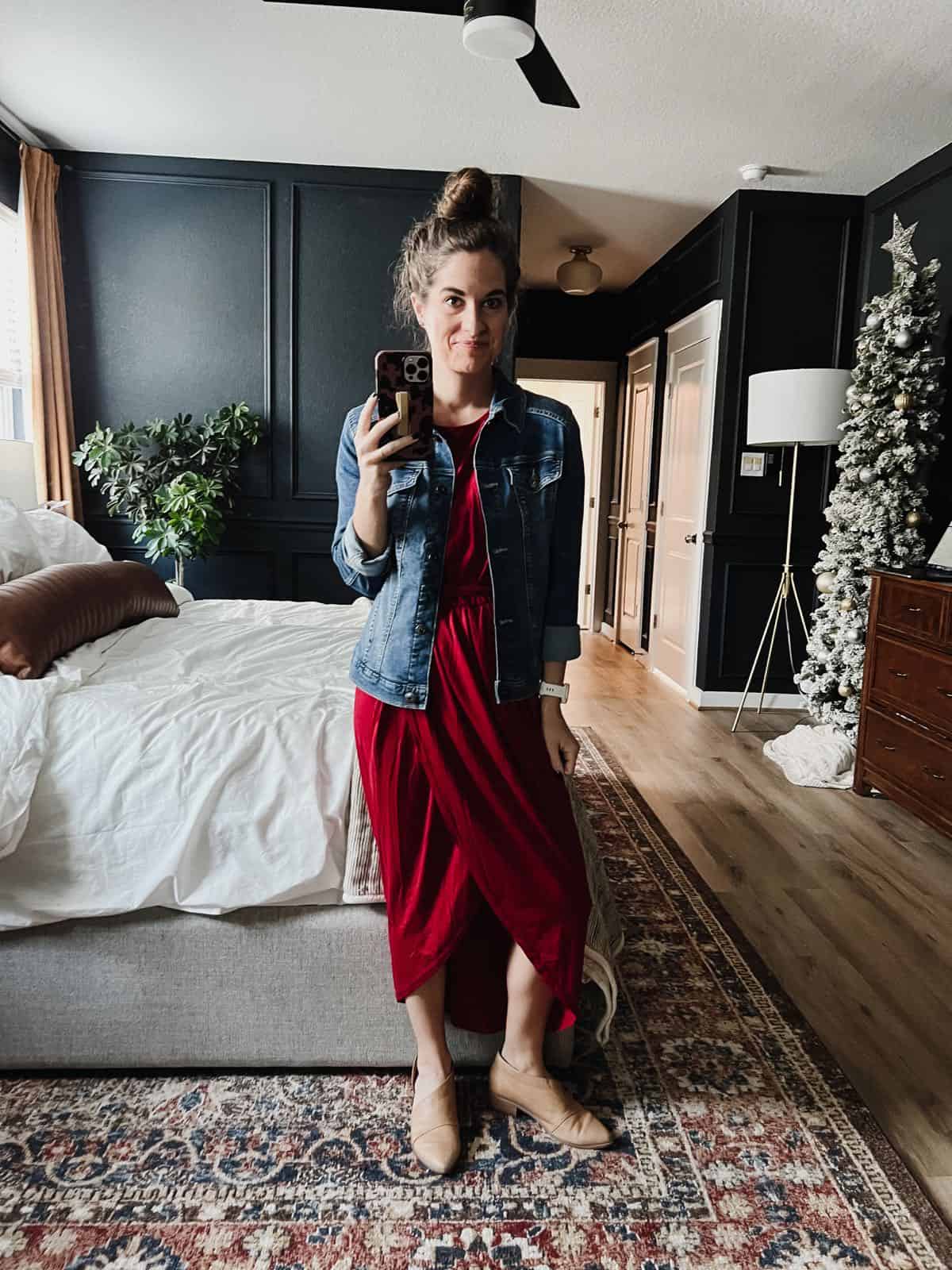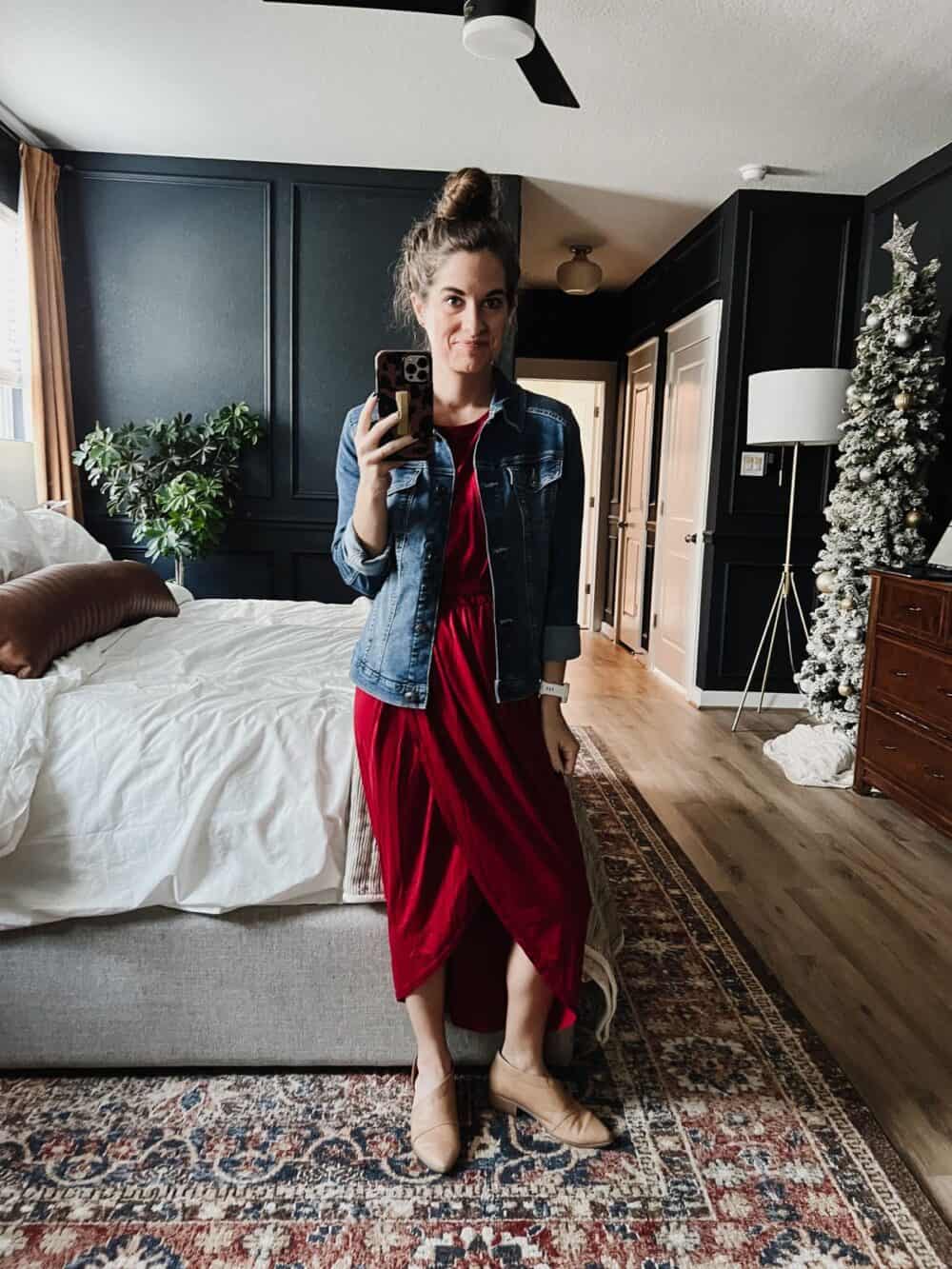 Dress | Jean Jacket | Shoes (similar)
How about something a little dressier?! I don't often go to a lot of events that need a dress this time of year, but I know a lot of you have holiday parties and whatnot where you need to look like a real grown-up. This dress is a total winner for any dressy occasion – it's stretchy and comfy but looks way more fancy than it actually is.
This would be perfect for a Christmas-y date night!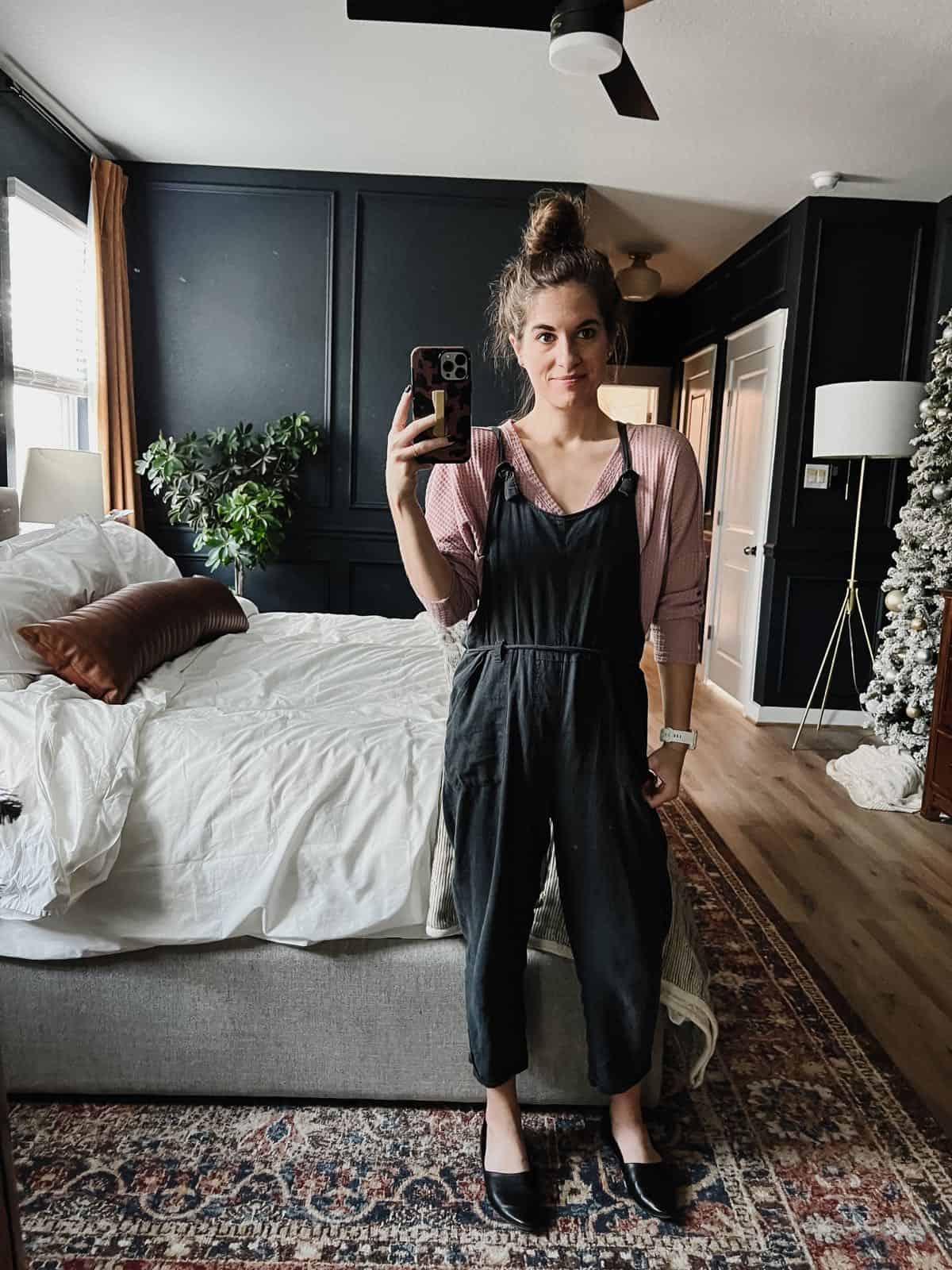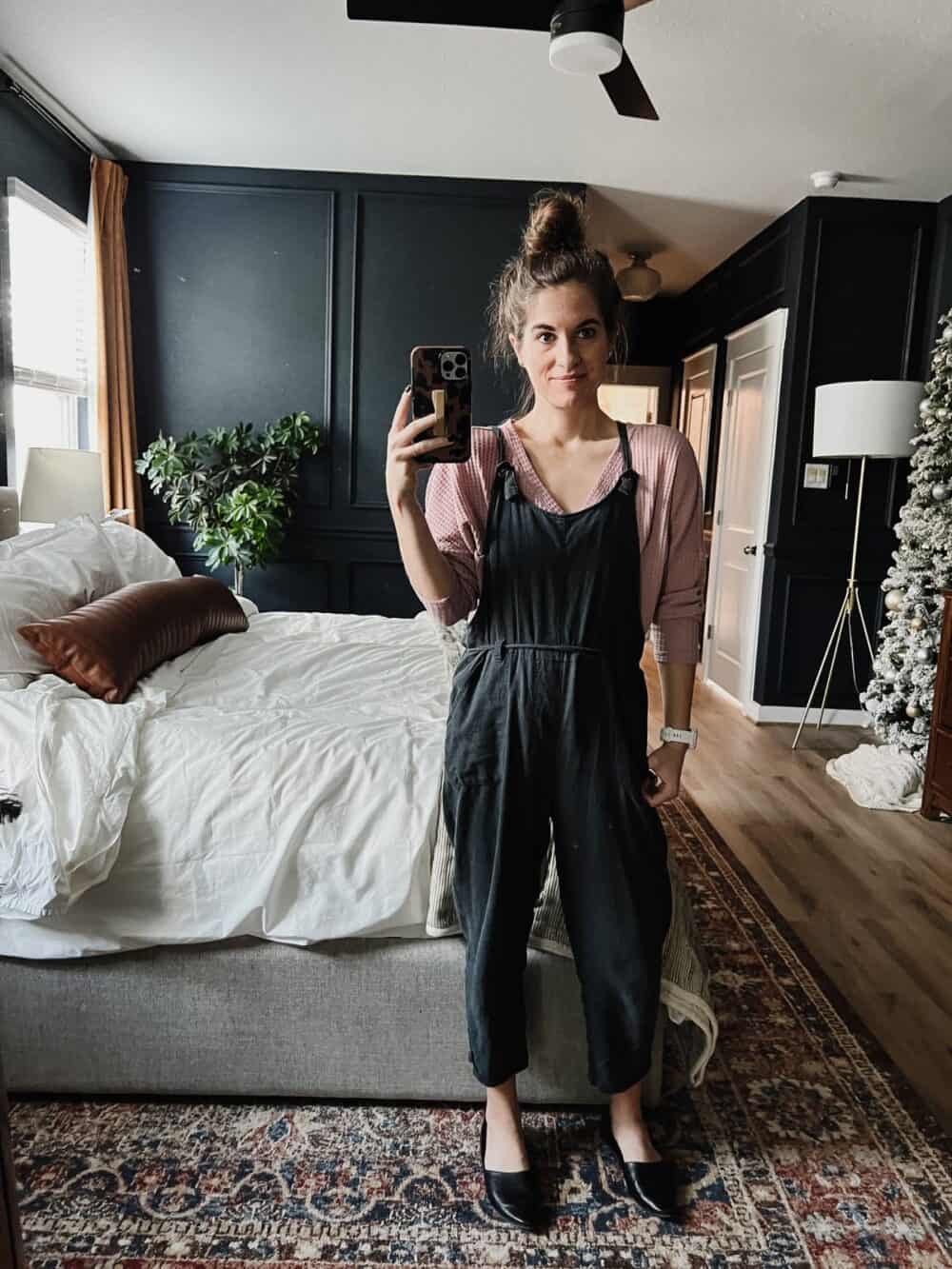 Overalls | Sweater | Flats (similar)
The overalls linked aren't the exact ones I have but they're really dang close – they have great reviews and I know a ton of you bought them the last time I suggested them as an alternate for my black overalls!
I'm really into overalls lately – they're so easy to throw on and feel really cute, and they're comfy cozy for just about any weather. I always feel way cooler than I really am when I put these on, and I get tons of compliments every time I wear them! Seriously, if you've been on the fence about trying overalls consider this your push to just try it! You may be surprised at how much you love it.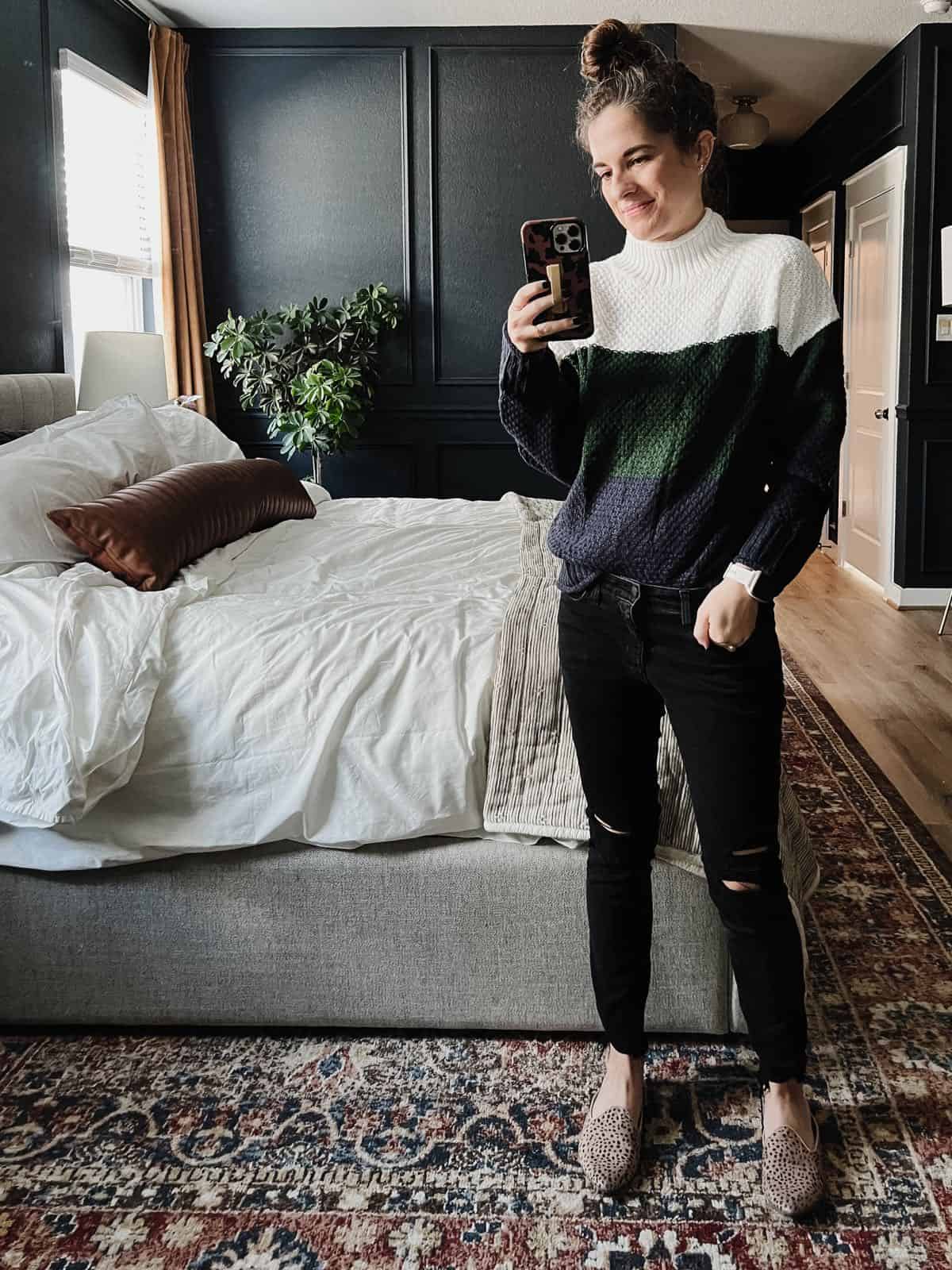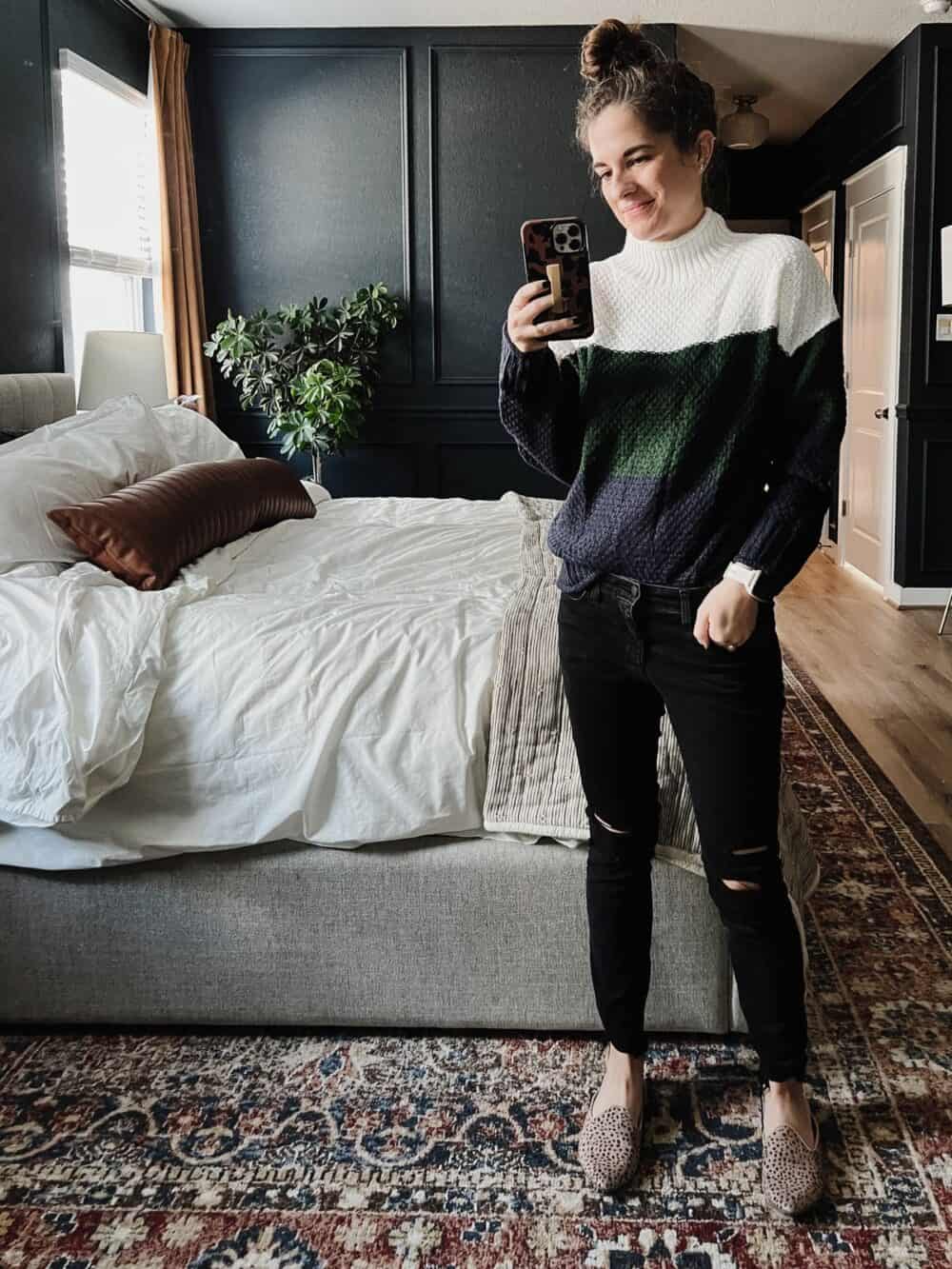 Color-Block Sweater | Jeans | Shoes (similar)
And finally, my newest addition that I haven't even had an occasion to wear yet! I am always in need of cozy sweaters that feel a little more elevated my typical "Luke's Diner" sweatshirt, so when I found this cute, chunky, color-block sweater I knew I had to try it.
It's a good medium weight that will be perfect for our fickle weather (I can toss a jacket on in the morning when it's freezing and roll the sleeves up in the afternoon when it's warm!) and I love the colors. There are a lot of color options for this one, too, which is always a win.
Just me, or do you also like to find one piece of clothing you love and just buy it in every color?!
And those are a few of my favorite outfits lately!
Other honorable mentions that didn't make it here but are equally beloved include…
You can head to my Amazon Storefront for even more favorites.