Our Christmas Eve + Christmas Day Traditions
Last week, I asked on Instagram what sort of holiday-related content you'd like to see as we wrap up the year. One of the questions that came in was, "what are your Christmas Eve traditions?" and I realized I've never dedicated a whole post to our Christmas Eve & Christmas Day traditions!
We've talked a lot about our activity advent tree, Cookie Day, and a few of the other traditions that we love to celebrate this time of year, so it only makes sense to also share a. few of the thing we aaaaaalways do on Christmas Eve and Christmas Day!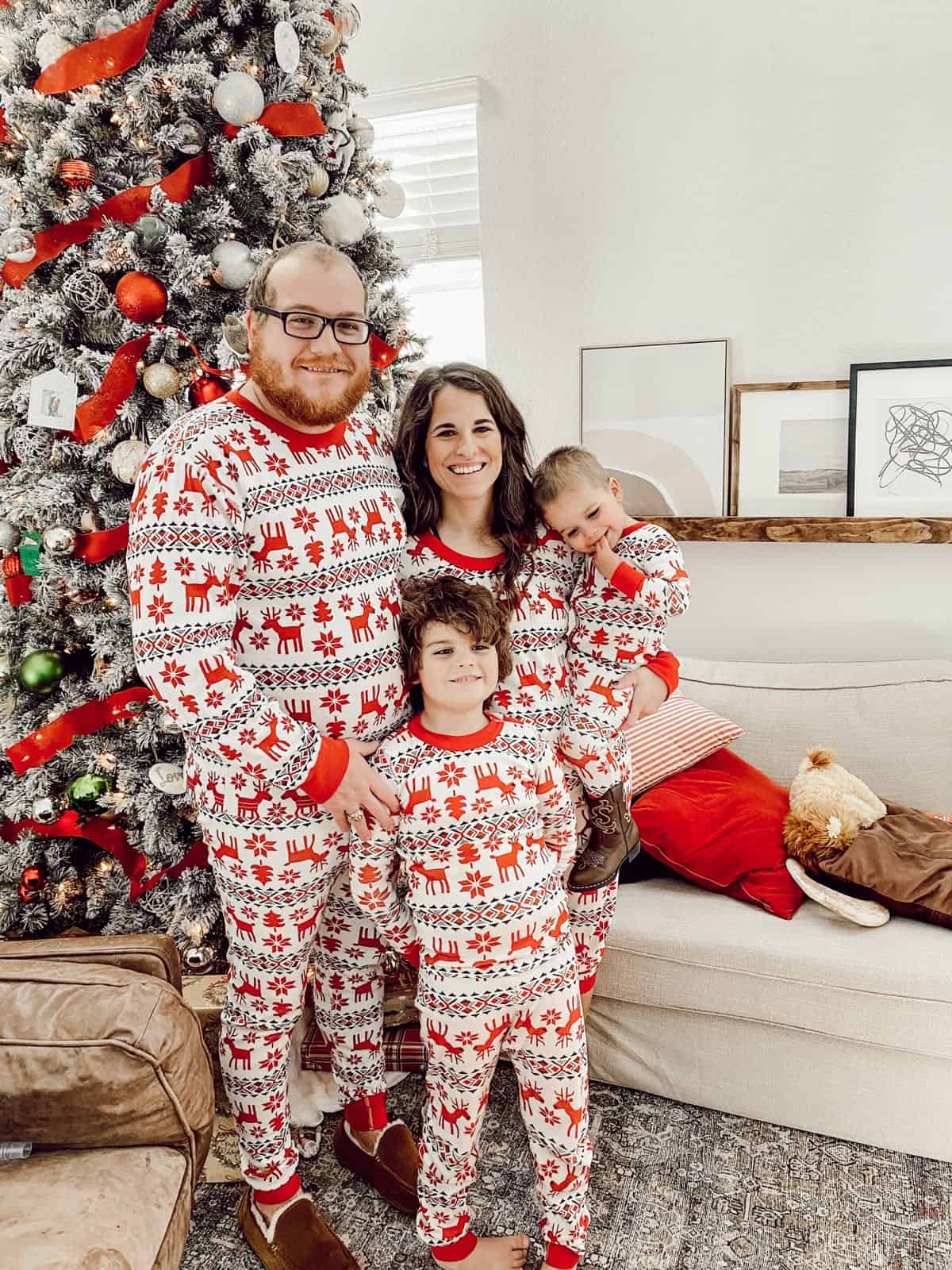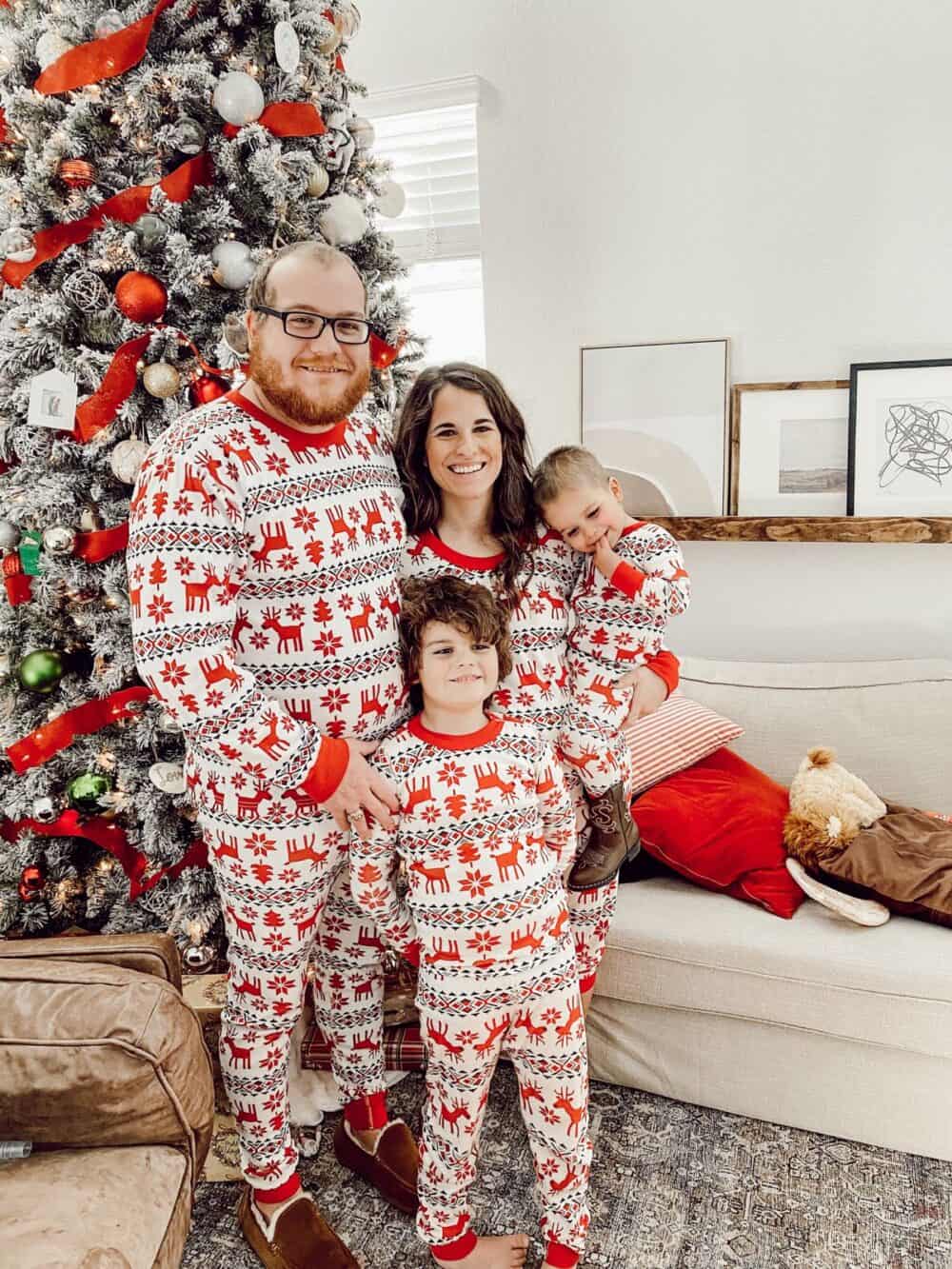 Christmas Eve Traditions
Christmas Eve is always spent at my parents' house. We have held onto a lot of the traditions that were a huge part of our holiday when I was a kid, just moved the location as the years went on! We spend the day playing games, watching Christmas movies, and snacking on Christmas cookies, and it's pretty magical.
Here are a few things that always happen on Christmas Eve.
Somewhere midday (not quite lunch, but not quite dinner!), we have a big meal. Every year we change the theme for the meal, and we start planning as soon as Thanksgiving is over! We've done a Cajun theme, an Italian theme, and one year we just made a ton of different sliders and sandwiches! It's always fun to plan what kind of food we'll have and what everyone will be bringing – this year, we're doing Mexican and I'm already dreaming about the tacos, chips & queso, and margaritas!
We always, always, always have cookies (ALL THE COOKIES) for dessert. Each family who comes bakes several different types and we end up with an absolutely ludicrous amount of cookies that we spread out all over my parents' laundry room and snack on all day long.
Games are a big part of the day. We always play Marbles (I think it's traditionally called Jokers & Marbles and we take it seriously. At Thanksgiving, I may or may not have threatened my niece's boyfriend's life. I remember being a kid and watching all of the adults play for hours on end. I felt like such a grown-up when I finally got to learn how to play! We usually break out a few other games too, but Marbles is always the star of the show.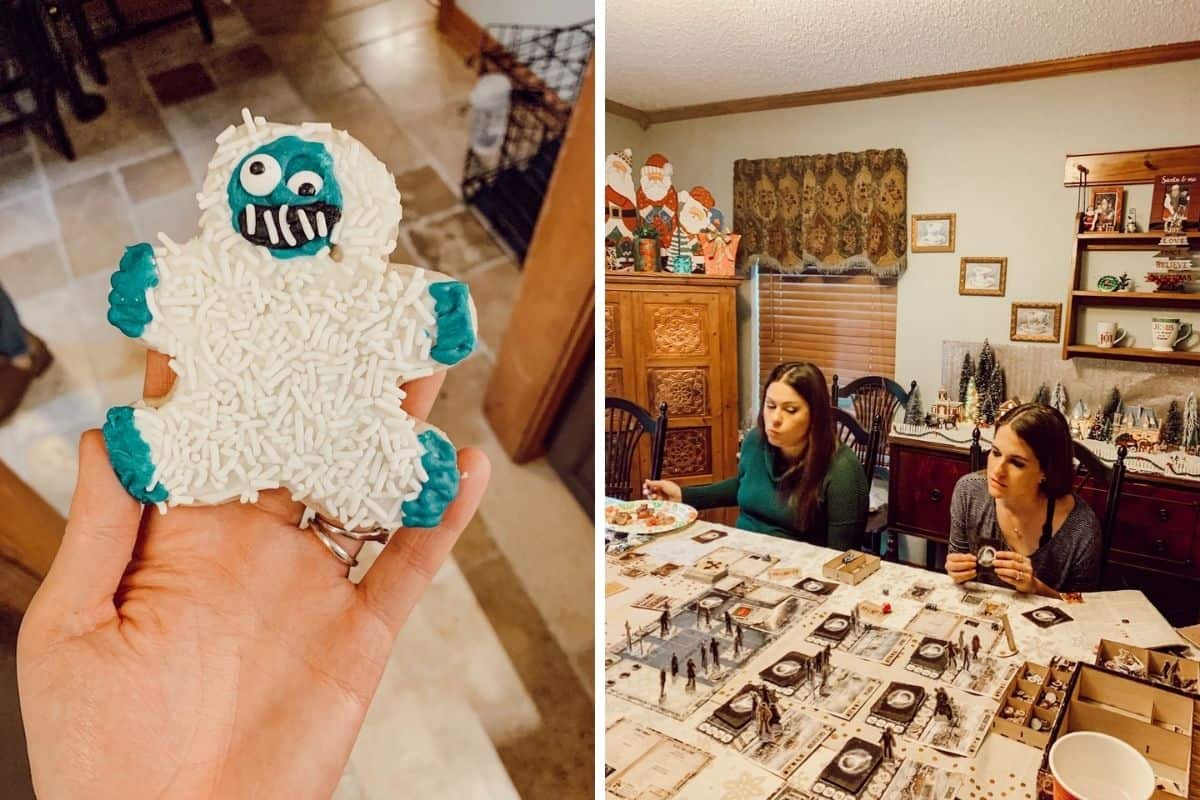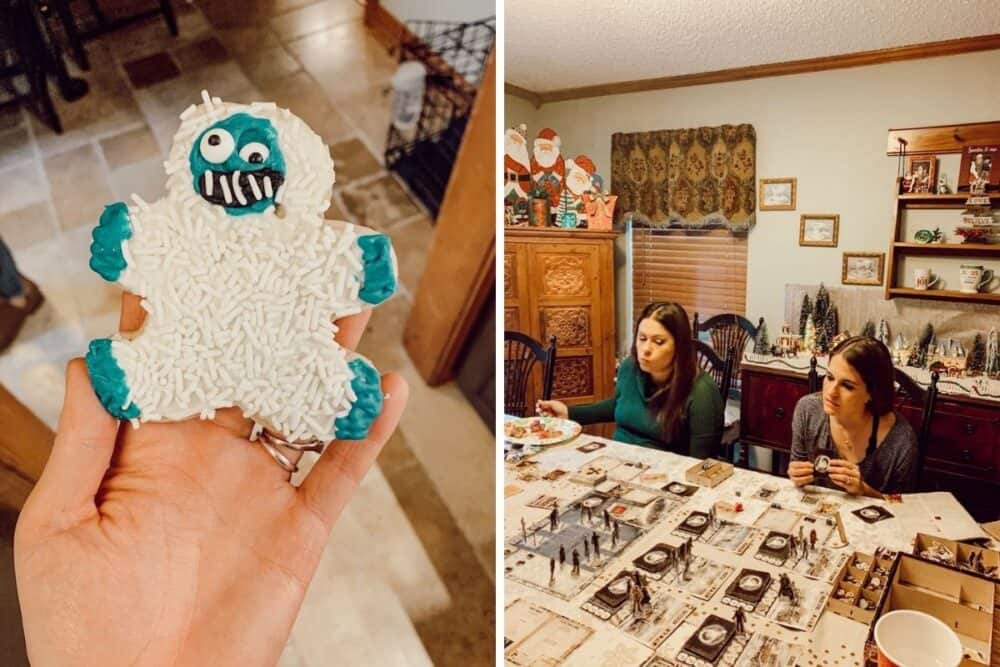 When it starts to get dark (and not a minute sooner!), it's time for the main event. I remember watching the sun obsessively when I was younger, counting down the minutes until dusk. It was torture! We start off by gathering in the living room and singing Christmas carols. We have some print-outs with the lyrics that we've had for as long as I can remember, and we pass them all around the room so everyone has one, even though we all know the words to every one. My dad plays guitar (and occasionally violin) while we sing and it all feels very idyllic and 50's-sitcom. It's lovely!
After we sing for a while and everyone has heard their favorite songs, we read the story of Jesus' birth in the Bible. We all pass around one Bible and all of the kids read. For a long time, "kids" meant me, my sister, and our husbands – but her daughters have been old enough to participate for a while now and Jackson is reaching an age where he could read a few verses too. It's always a bit of chaos figuring out how many people are reading, how we'll split it up, and who is reading what, but it's one of my favorite traditions.
After that, it's present time! We exchange gifts with my parents and my sister and her family on Christmas Eve. We even do stockings – everyone has one and we all buy $5 gifts to bring and stuff into all of the stockings (usually all of the girls get the same thing and all of the boys do too!).
Once presents are opened and the mess has been cleaned up, we all head home to prep for Santa's arrival! The boys pick out a few leftover cookies to leave out for him, change into their Christmas pajamas (we always have matching ones that we wear on Christmas Day) and they excitedly head off to bed.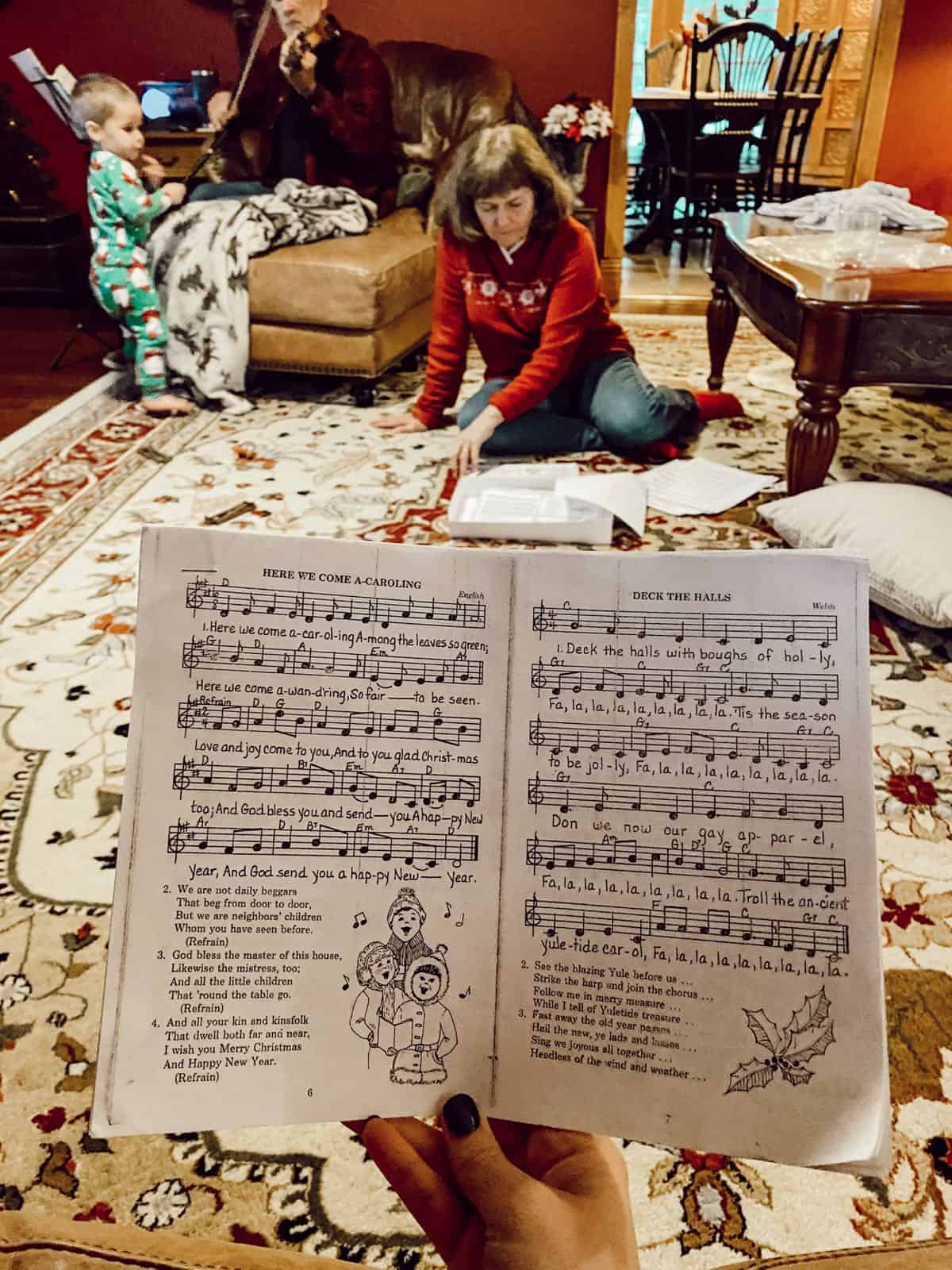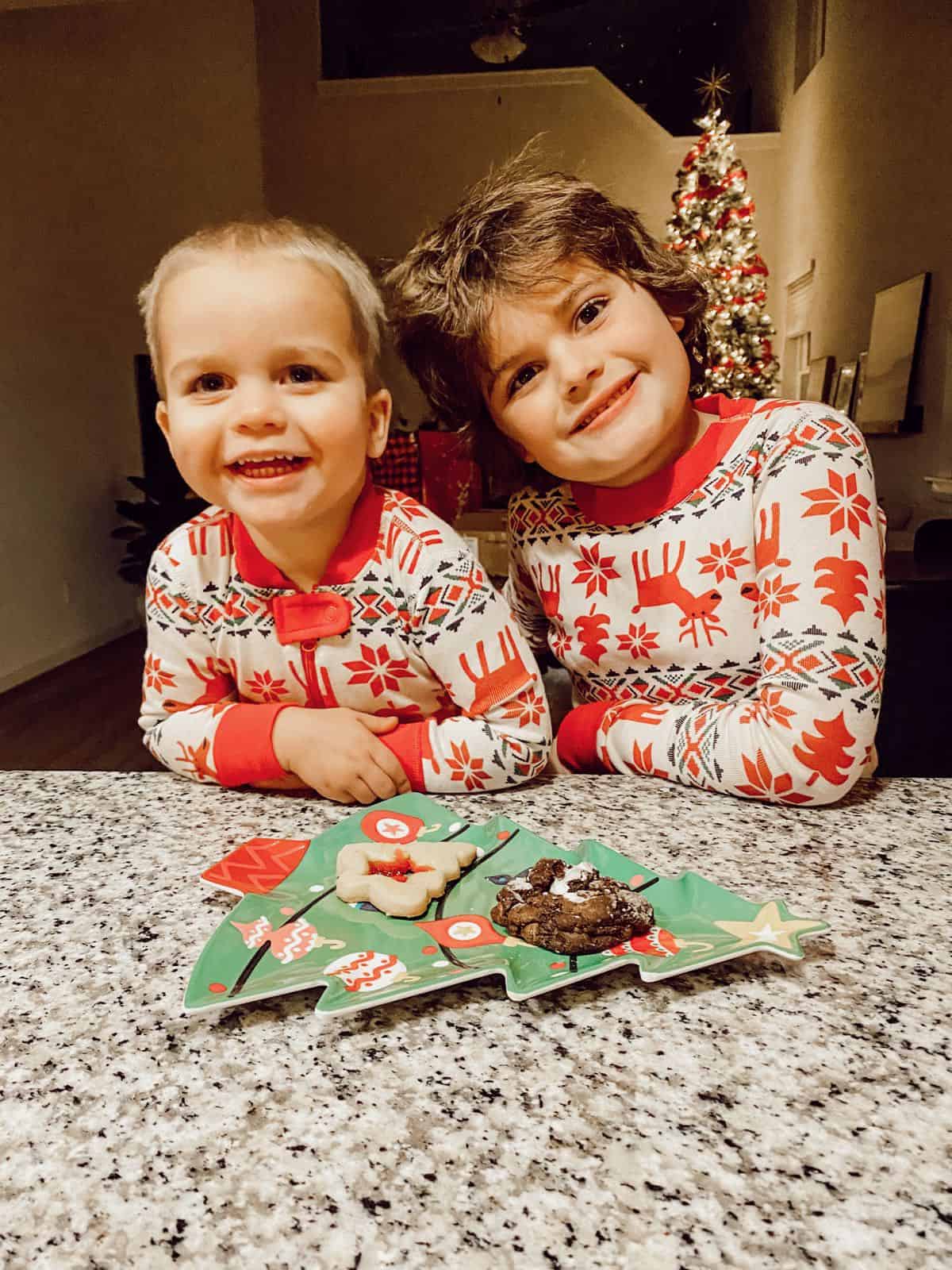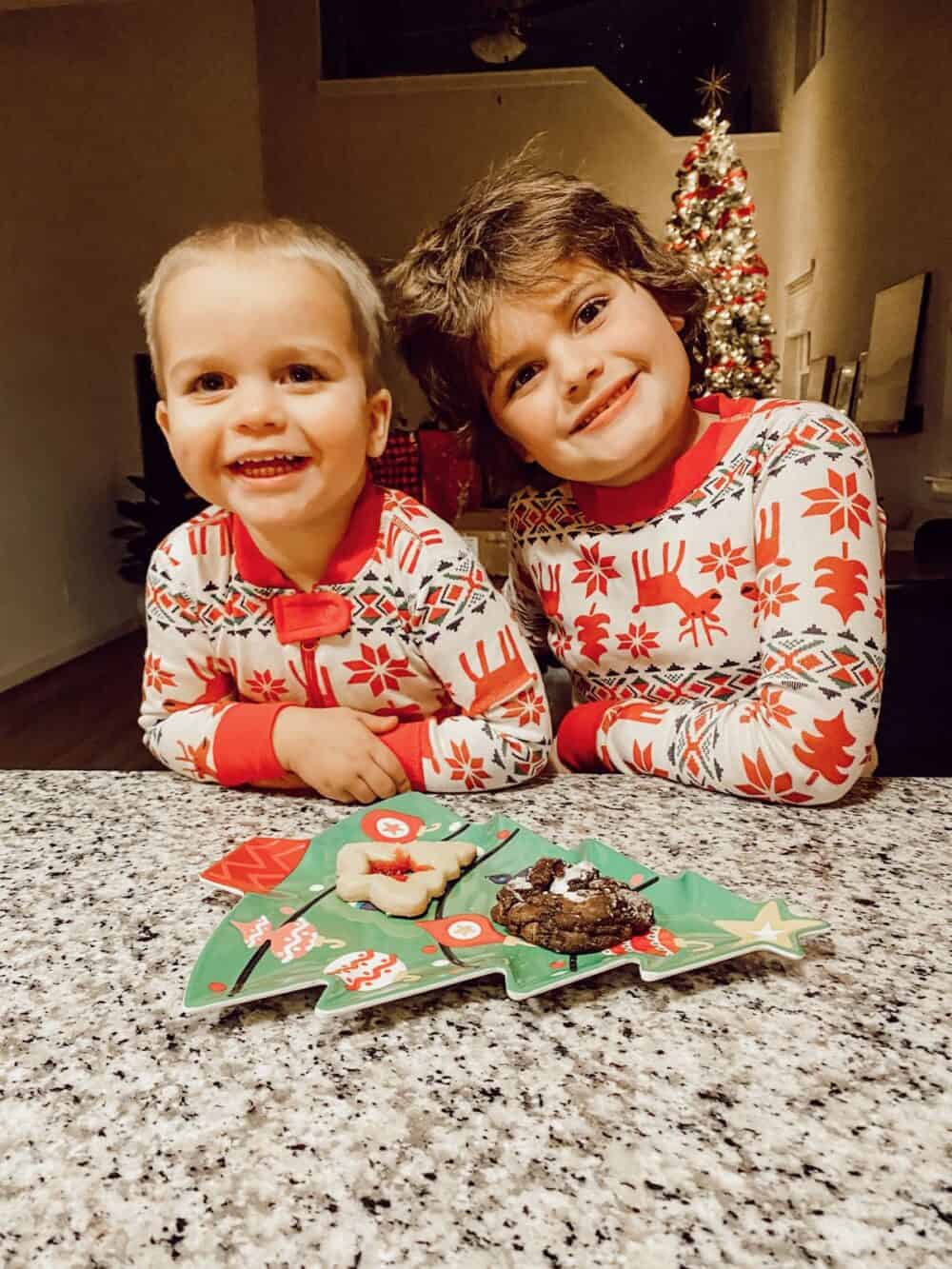 Christmas Day Traditions
Christmas morning in our home looks, I'm sure, like most everyone's houses. Presents and wrapping paper and chaos and joy fill the room and those early morning hours are my favorite of the entire year! We always wake up way too early (Corey and I try to beat the kids to the living room and it's not easy) and take our time opening presents and playing together.
Once the gifts have been opened and the trash has been cleaned up, it's time to start prepping food! My family all comes to our house for Christmas Day, and the big meal is always brunch! I make this orange cinnamon loaf every year and it's grown to taste like Christmas for all of us. The rest of the recipes change from year to year, but there are always mimosas, some sort of breakfast casserole, and way too much other food.
At some point during the day, we always watch A Christmas Story. When I was a kid, I remember it always played on repeat on TBS and it felt like it was on in the background all day long. Because of that, I'm now insistent that we turn it on after brunch and we all snuggle up and watch it while the kids play.
After that we hang out and play a game or two, and everyone usually heads home in the afternoon. Once the chaos settles, we spend the rest of the day relaxing and watching movies, playing with toys, and snacking on leftovers.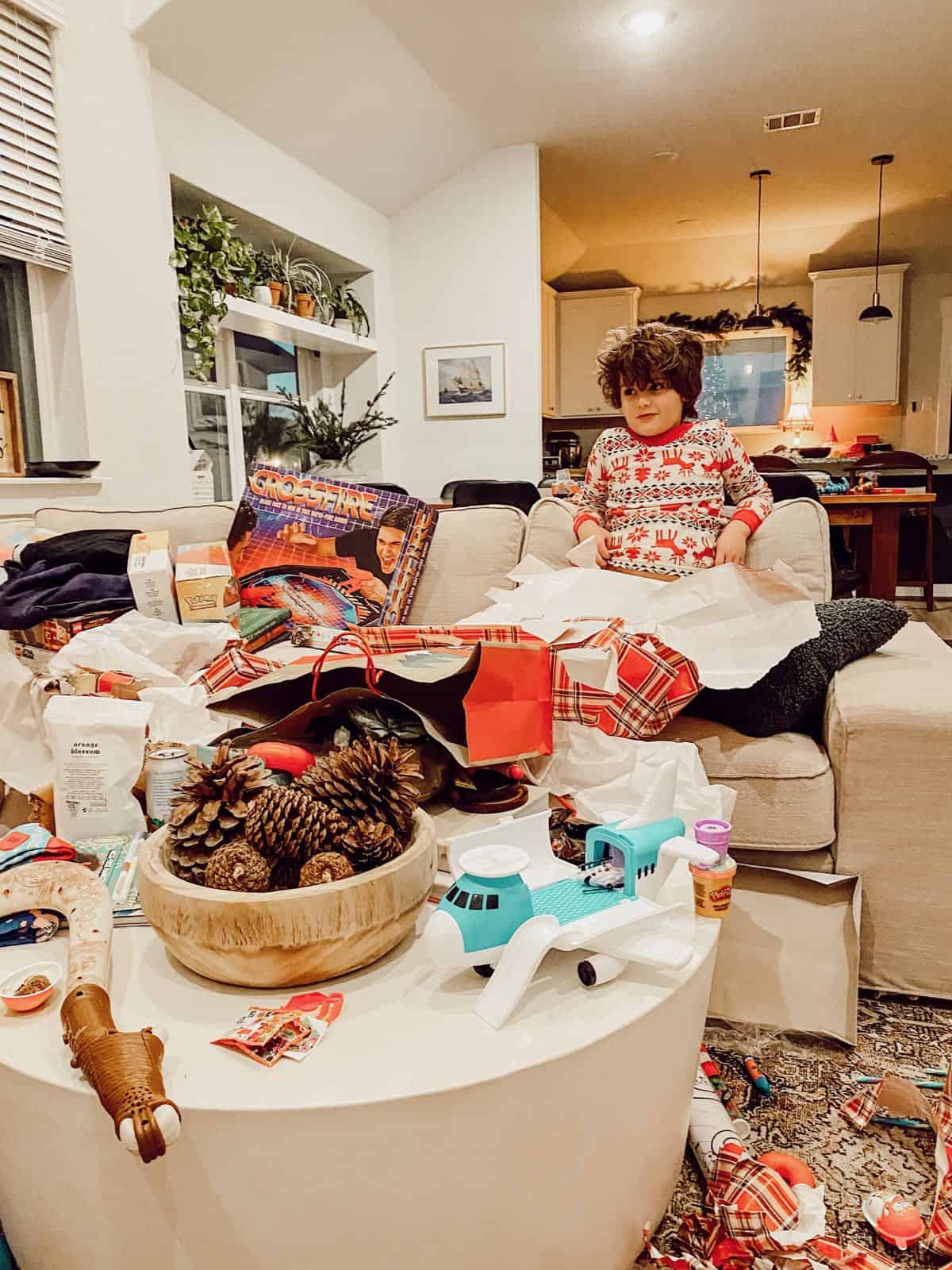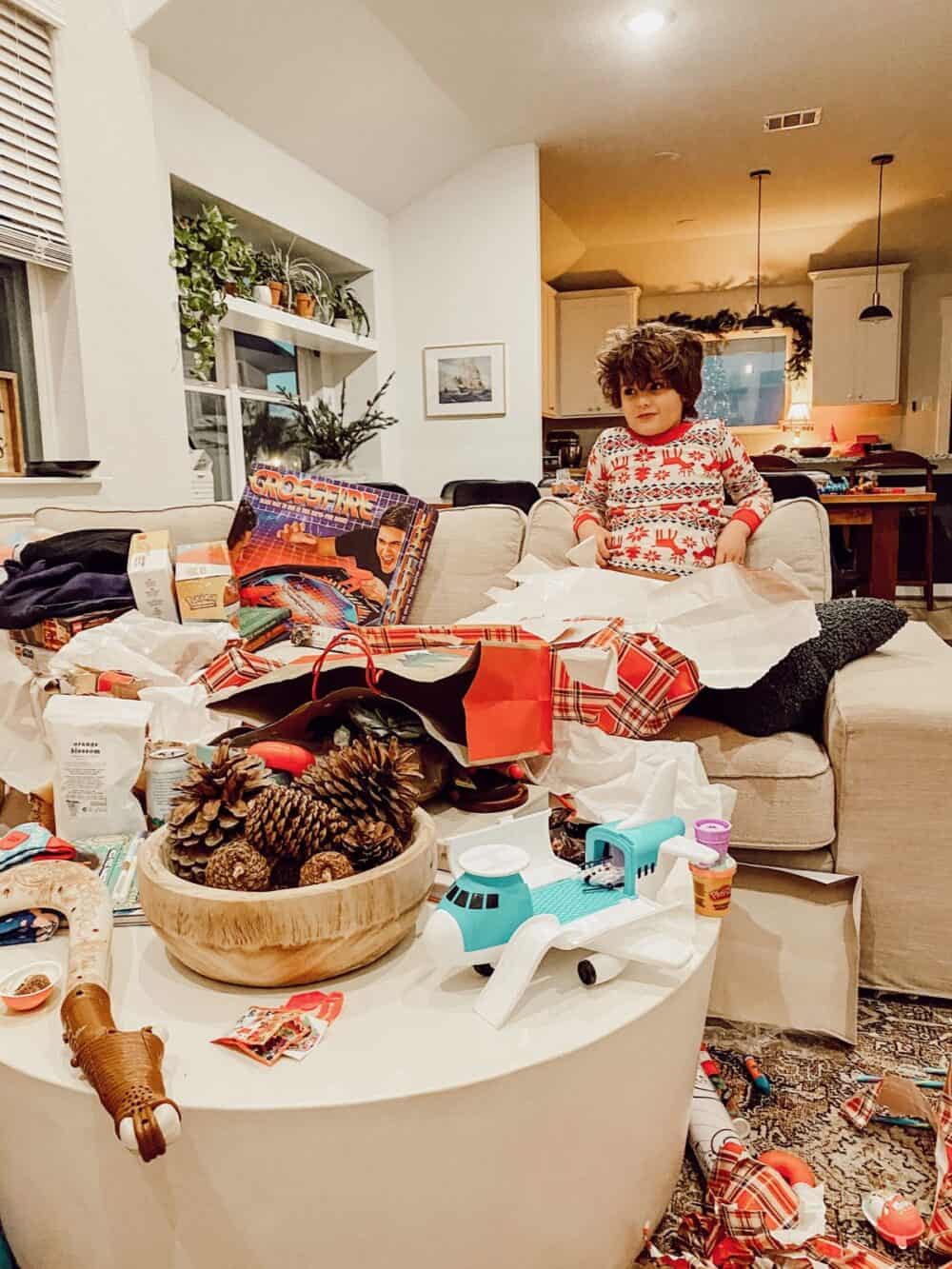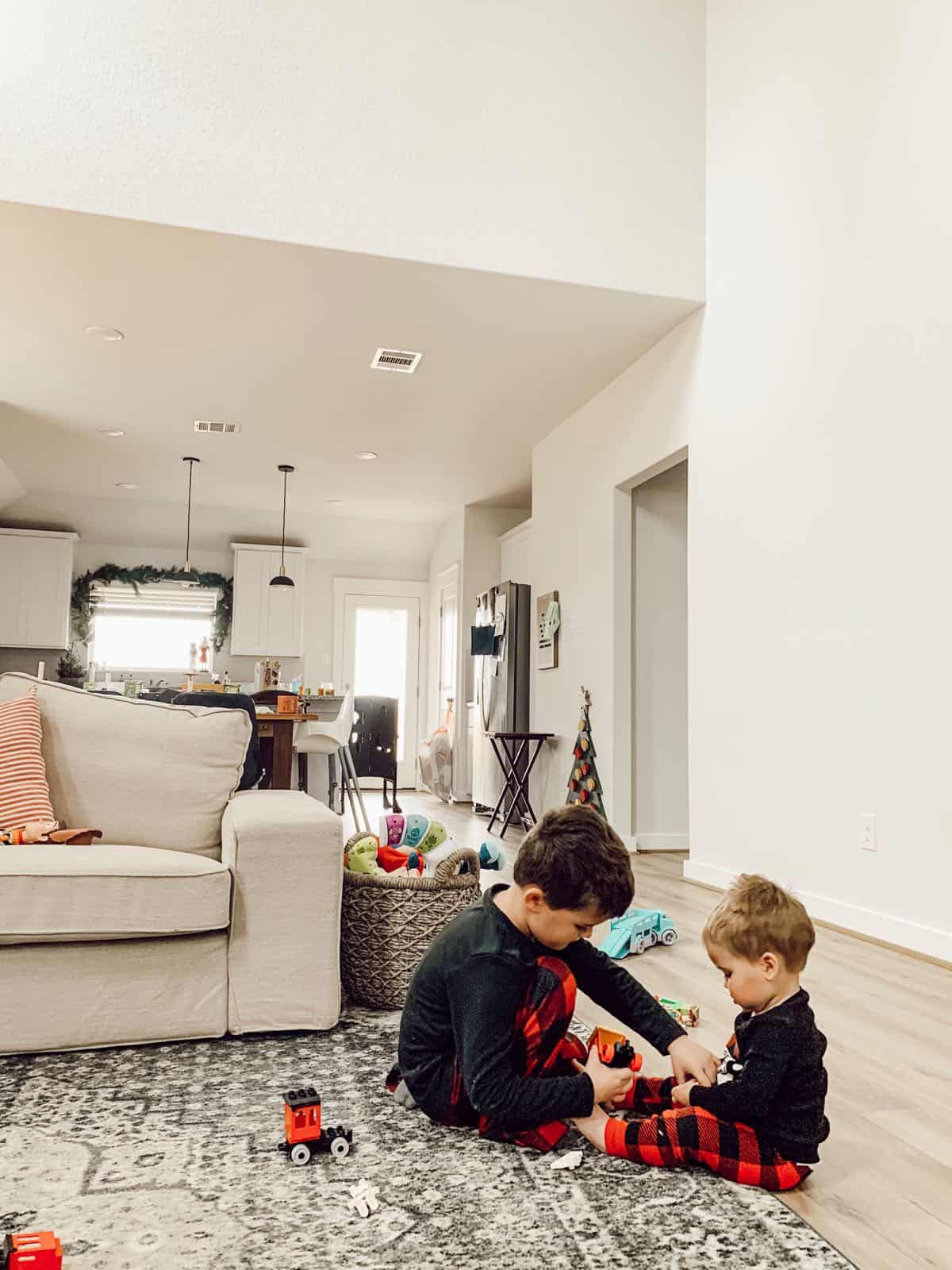 After Christmas traditions
When the holiday is over, it can feel like suuuuuch a bummer. I spend months looking forward to this special day and just like that it's over and we're supposed to go back to normal life. What?! I find it so sad, in fact, that I always take down our Christmas decorations immediately. My house is almost always back to normal by the 27th because my heart can't handle the constant visual reminders that I'll have to wait 12 months do it all over again.
We're working on making the days after Christmas special too, so here are a couple of traditions we're making a part of our routine.
For years, I've always headed out pretty early on the day after Christmas to try and snag a few deals on Christmas decor and clothes. Last year, I found several pairs of pajamas and cute Christmas shirts for both boys at a steep discount on Boxing Day, and I always find some cute decor, crafts, and other things too. Where I go just depends on how much time I have, but Target & Old Navy are always a must!
A movie on Boxing Day! We haven't done this in a few years because Grant wasn't at a good age for it, but we're excited to pick it back up and already have tickets to go see Sing 2! I love having something special to look forward to on the day after Christmas, and it's a good low-stress way to get out of the house for a bit.
And finally, a New Year's vacation! This is a new tradition for us, but it's one I've talked about starting since before we even had kids. I've always loved the idea of heading off on a vacation in the days after Christmas and staying through the New Year, and this year it's finally happening for us! We'll leave for Branson, MO on the 28th and stay through the new year, and I am really loving that I have something to look forward to other than Christmas Day! I'm really hoping it becomes an every-year thing, because I'm already in love with the tradition and we haven't even done it yet.
And that's what we do on Christmas Eve and Christmas Day!
I'd love to hear about your family's traditions for the holiday season.