Answering All the FAQs about Our Weighted Blankets
Everything you ever wanted to know about our Tranquility weighted blankets – how we use them, why we love them, and why you should get one too!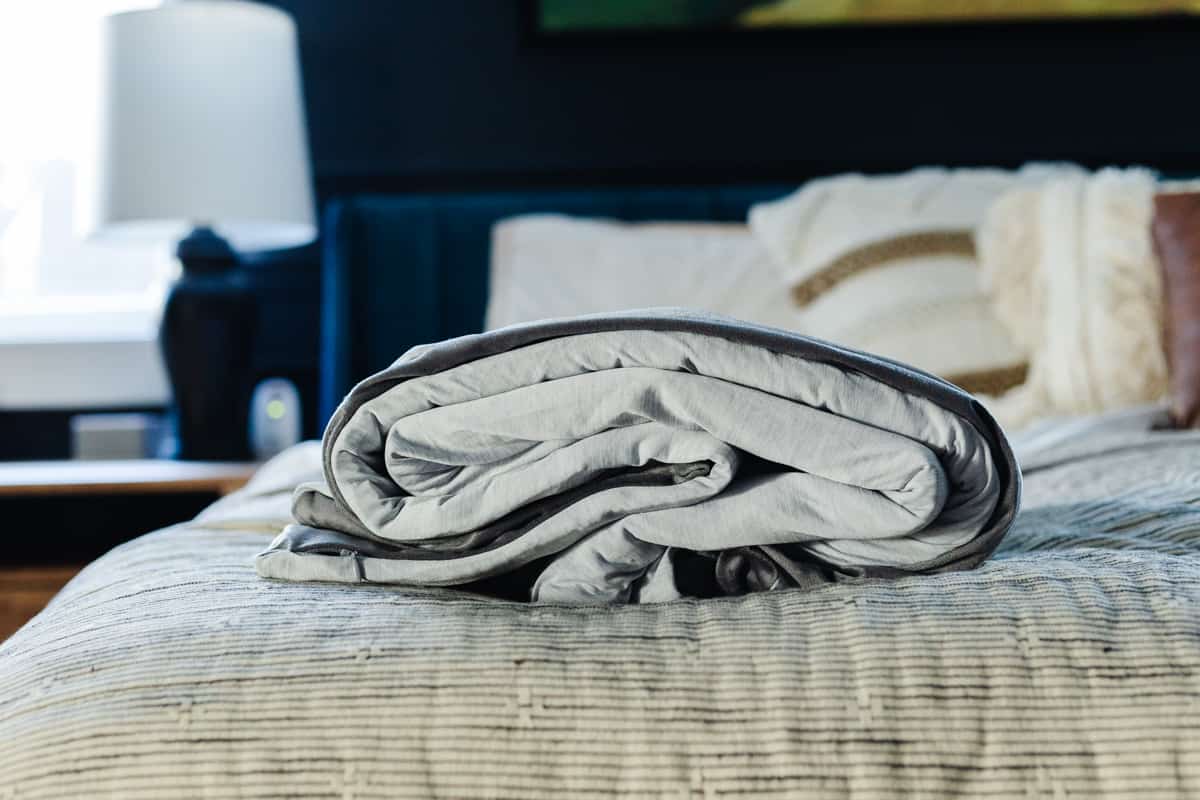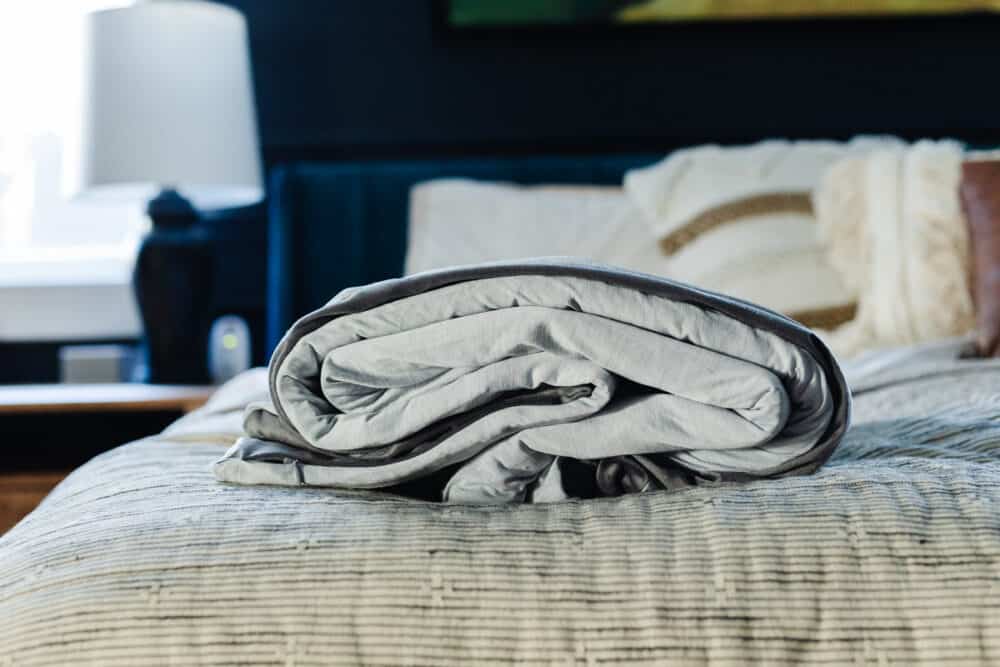 Have you ever used a weighted blanket? Corey and I both started sleeping with one back in November and, y'all, it is life-changing – no exaggeration!
I already raved about the benefits of using a weighted blanket a few months back, so I won't get too into the basics – if you're curious about why they're so beneficial and what kind of a difference it makes for us, click here to read more about it!
We continue to get questions about if we're still liking them, along with a few other questions from some skeptics who aren't totally sure it will work for them. So, when Tranquility reached out and asked if we'd like to work with them this year to share more about our blankets, we jumped at the chance!
For starters, let's talk about the new blanket Tranquility sent over for us. It's a new release for them at Walmart, and based on the questions y'all submitted over on Instagram I think it's one you'll be thrilled about: the Tranquility Cool-to-the-Touch Weighted Blanket. Many of you asked if we get hot under our blankets, and the BlueCool touch fabric that they've incorporated into the cover on this blanket is a great touch that helps things feel a little cooler overall!
I swapped my old 12-pound blanket out for this new, heavier one and I'm loving having the heavier blanket to sleep with. Generally, it's recommended that you choose a blanket that's somewhere around 10% of your body weight, but some people (like me, apparently!) just like something a little weightier.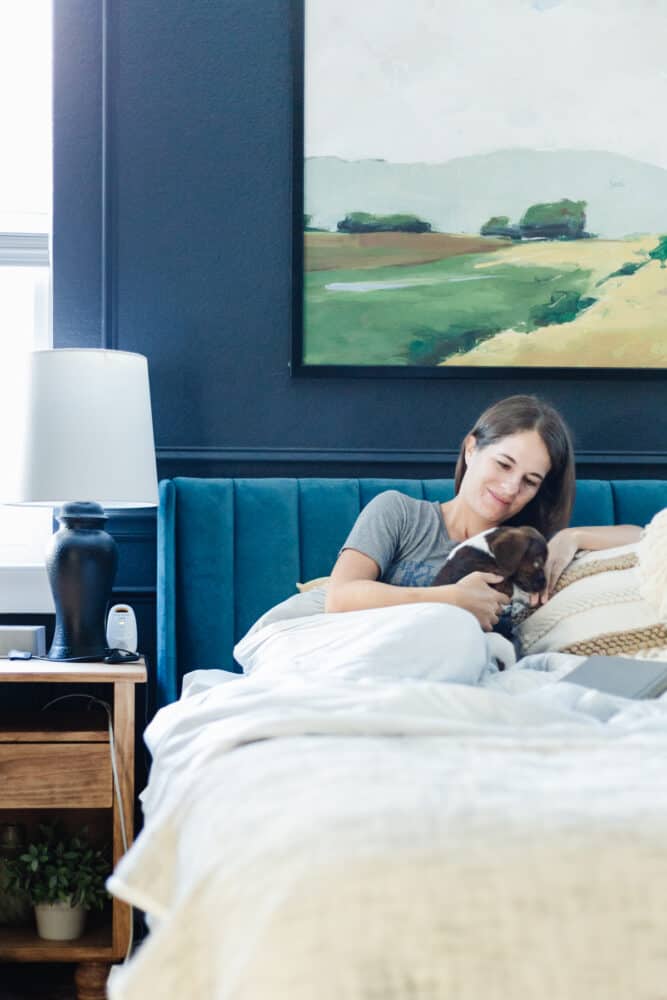 When I asked y'all if you had any weighted blanket-related questions for me over on Instagram, y'all flooded me with a whole host of questions on everything from how they work for us to how we keep cool while we're using them. So, let's jump right into your questions, shall we?
Do you get hot sleeping with it?
This was by far the most common question (as in, about 80% of the questions were some variation on this). And, honestly? Not at all! Corey and I are both hot sleepers and we've never had an issue with our weighted blankets. We're currently going through our first summer using them, and I do find that I sometimes push down my main comforter and sleep with just the sheet and my weighted blanket, but I never get hot.
One other trick I've been using is that I remove the cover on the blanket and sleep with just the insert – it's a small difference but it takes off a bit of the extra weight and it's sandwiched between other blankets, so it doesn't get dirty.
Speaking of…
Where do you store it? Your bed always looks nice!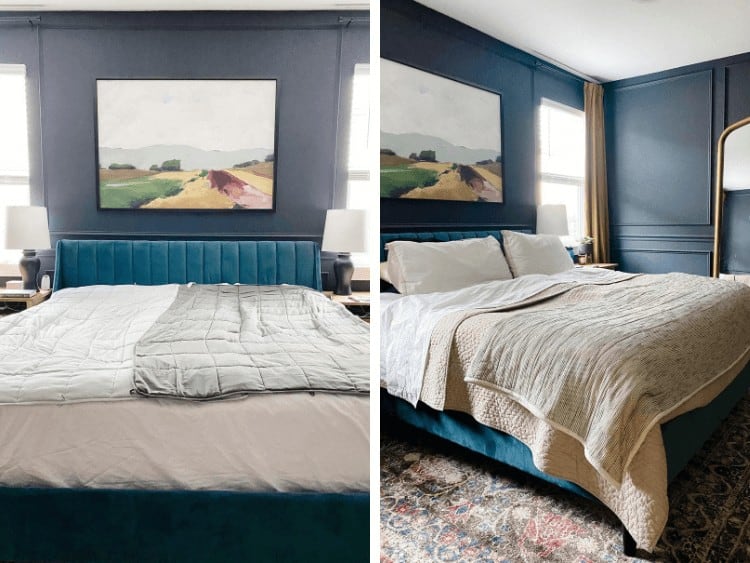 Our weighted blankets hide between our top sheet and the comforter on our bed. We used to just lay them out on top of the blanket every night but they slipped and slid all over the place and we discovered that they stayed in place (and out of sight!) if we placed them between the blankets.
Now, I can make my bed every morning and you'd never know the blankets were there, and we never have issues with them sliding around while we're trying to sleep. The image above shows how it looks before I put any of my throw pillows on the bed – once they're on, you can tell even less that there's a weighted blanket hiding in there!
How do you clean it?
One of my very favorite things about our Tranquility weighted blankets is that they come with a machine-washable cover that's easily removed for cleaning. The insert is spot-clean-only, but if you've got the cover on anytime you're using it out and about in the house, it should always stay clean!
The covers are soft and cozy (and the new Cool-to-the-Touch one is so refreshing on a hot summer day!), and they have plenty of ties on the inside to help keep the weight evenly distributed. They close with a hidden zipper, and it's really easy to remove the cover for washing anytime you need to.
Weighted blankets are so pricey – I'm nervous to invest if I don't like it.
My other favorite thing about Tranquility blankets? They're totally affordable! The high price point of weighted blankets kept me from buying one for years, but these don't feel like a huge investment – and the quality is unbeatable!
We've given these as gifts before, too, and they're always a huge hit!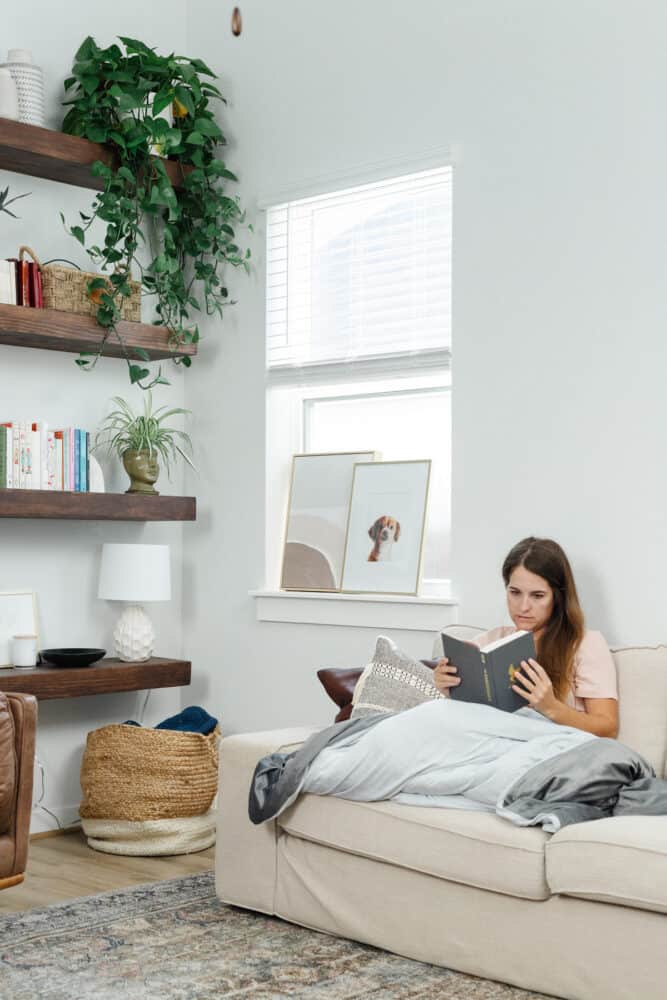 Are they okay for kids toO?
Absolutely! Jackson loves to snuggle up with our blankets, and they're totally safe for kids to use – it's even recommended sometimes for kids who struggle with sensory processing! And, of course, Tranquility makes a kids' blanket, too! Just be sure to get a weight that your kiddo is comfortable with (about 7-10% of their body weight, but some kids like it a little heavier).
Does it come in colors other than gray?
Yes! Tranquility has multiple color options for the covers. The Cool-to-the-Touch blanket comes in both Gray and Tan, and Tranquility offers other color options in their kids' blankets and other weighted blankets as well.
Does it really help you sleep better?
Yes. Yes, yes, yes!
Corey has always struggled to get a good night's sleep, and since we added these to our bed he sleeps so much better. I find my body instantly relaxing the moment I pull my blankets up over me, and I sleep so much more soundly than I did before I got it.
Want to learn more about the benefits of a weighted blanket and why we love ours? Click here for another post all about our weighted blankets! You can also click here to learn more and grab one for yourself, or click here to head to Tranquility's site and learn more!