This summer, my big mission has been to whip my backyard into shape. We've done a lot so far this year (click here to see all of the backyard posts we've done), but there are still a few things left on the to-do list before we can call it completely done.
One of the hardest things for us when it comes to the backyard is maintenance. It's one thing to spruce up your outdoor space and make it look nice, but it's a whole different ballgame to actually keep it looking that way.
I mean, who has time to actually mow every week?!
Ugh, adulting is hard.
While we've spent a lot of time this year working on making our outdoor space pretty and more comfortable, we haven't done a great job of setting things up so that we're able to keep it well-groomed, clean, and easy-to-keep-up-with. I figure if I can come up with habits to help you keep your home cleaner without any extra effort, surely I can come up with some habits and systems to keep my exterior clean and tidy too, right?!
So, here's where we were at before a recent backyard clean-up session: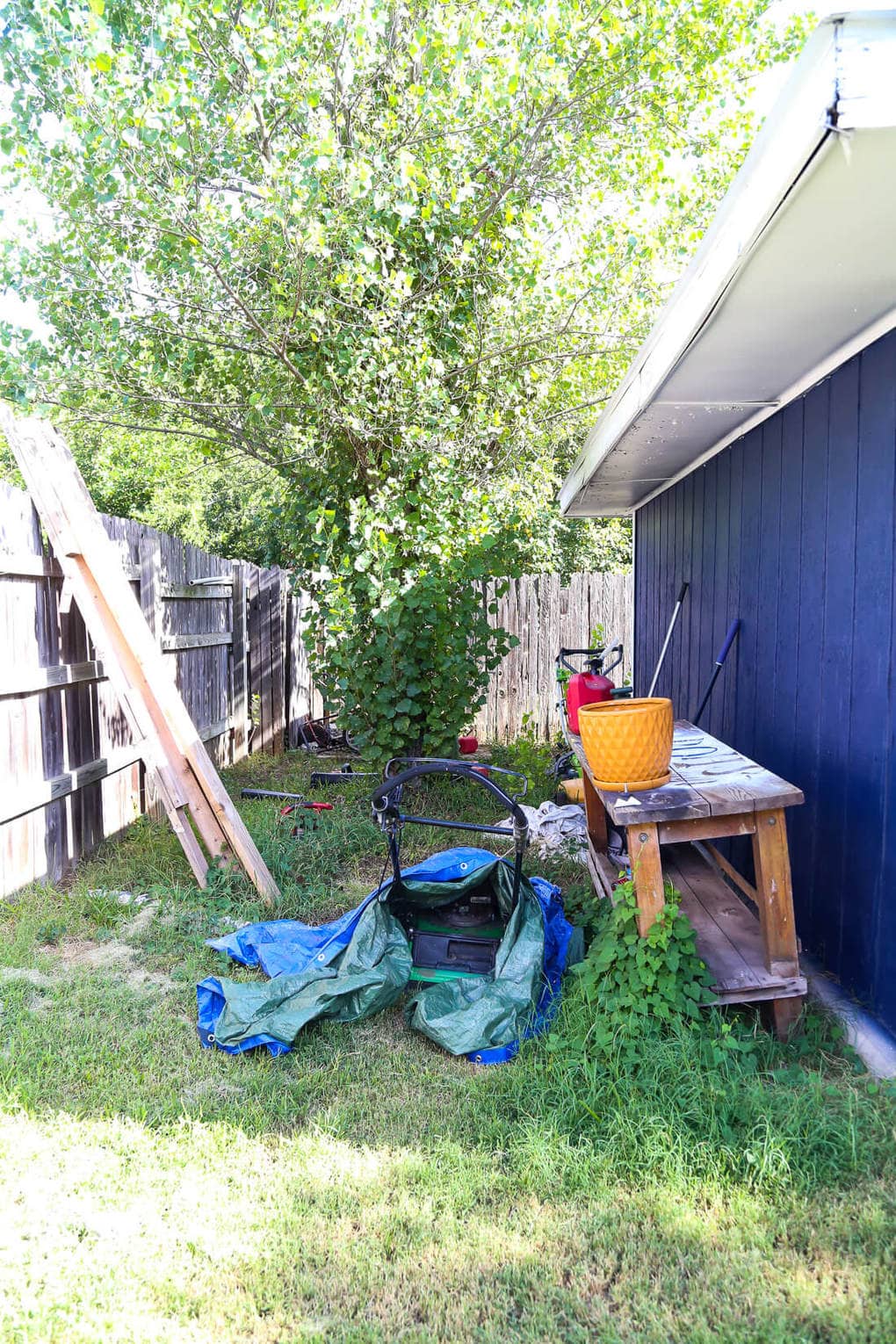 Y'all, this is the space behind the workshop and it was a disaster. To be completely honest with you, I had no idea what was even back here. There's an extra lawnmower and I'm not sure where it came from, an old workbench that I wanted to use as a potting bench but some vines attacked it and pretty soon I think it's going to be buried under leaves.
And the tree – can we talk about that tree?!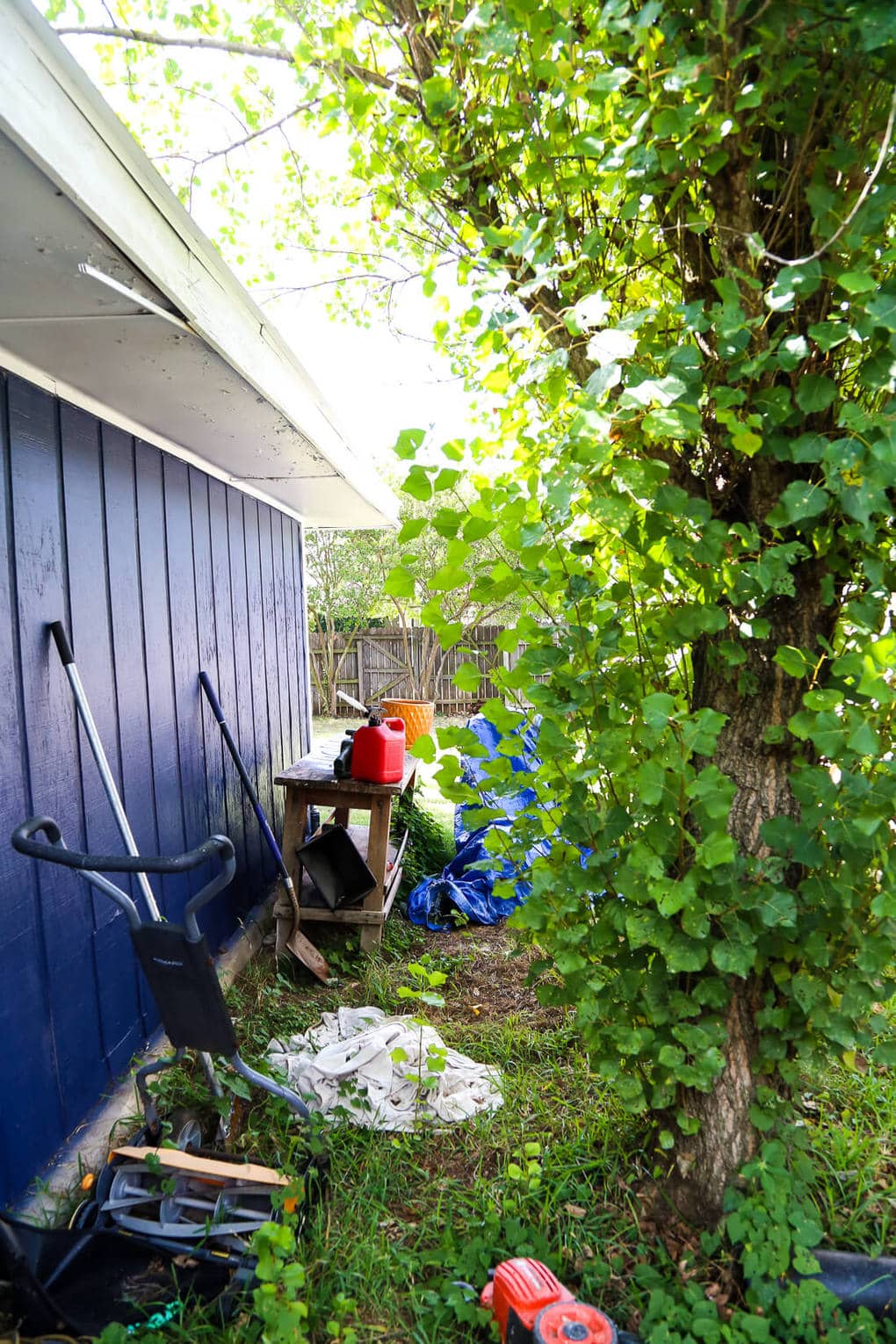 This post contains affiliate links. Click here to read my full disclosure policy. 
I really love it – it's the tallest tree on our property, and it's really pretty…but I hate that the branches grow all the way down like these. As I'm sure you can see, I've tried to keep it pruned over the years hoping that it would eventually just start to grow closer to the top, but it starts to look like this again just a couple of weeks after I prune it. And you guys, I do not have the energy or the desire to trim those stray branches every single week. So, I'm going to have to figure out a long-term solution (or if you have any suggestions, I'd love to hear 'em), but don't worry – I cleaned it up yet again.
As ridiculous as this space is right now, I've actually got big plans for it. We're about to start working on building a little lean-to on the back end of the shop to house our lawnmower and other lawn tools. We don't have space inside the workshop to store them, and we obviously can't just let them sit out in the open all the time. Once we've got that done, I'd love to dig up all the grass that's back in this corner of the yard and replace it with pea gravel – I've done some research and it's surprisingly affordable, and I think it would help this crazy little area look a little nicer. I would also like to either use this workbench (or build a new one) as a potting bench where I can store my potting soil, extra planters, and other gardening tools. We're considering starting a raised garden bed this fall, so I have a feeling my gardening supply collection is going to be growing soon!
The other big thing we still need to do in the backyard is to fix the fence. Our fence is old and it's looking really sad in several different spots (like the spot where it's currently propped up with some 2X4s, or the spot next to Jackson's playhouse that is patched with random pieces of wood from old projects. It's a really cute look. We'd love to fully replace it but that's out of our budget, so we'll probably just be repairing the bad areas ourselves.
Other than that, it's all about setting up a few different systems, habits, and stations around the yard to help us keep everything stored safely, organized, and looking nice. I'd like to get a backyard storage box (something like this) to hold all of our outdoor dishes and other decor, and I have a few other ideas for how to help me keep things clean without a ton of extra effort – I'll be sure to update you once I get around to actually completing all of that.
Anyways, let's chat cleanup and what we have managed to get set up back here. We spent some time organizing and purging the crazy area behind the workshop, and now it's looking at lot cleaner.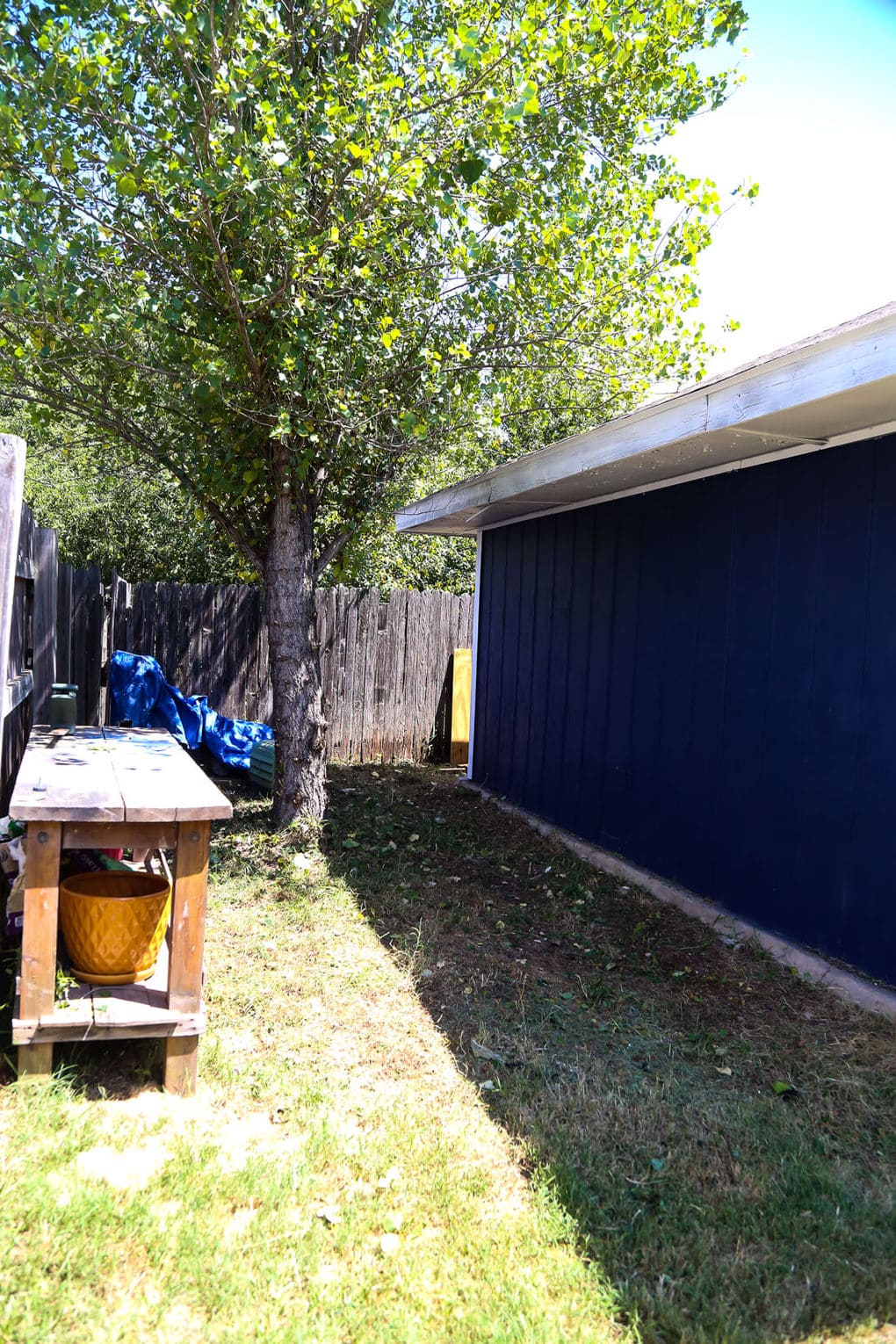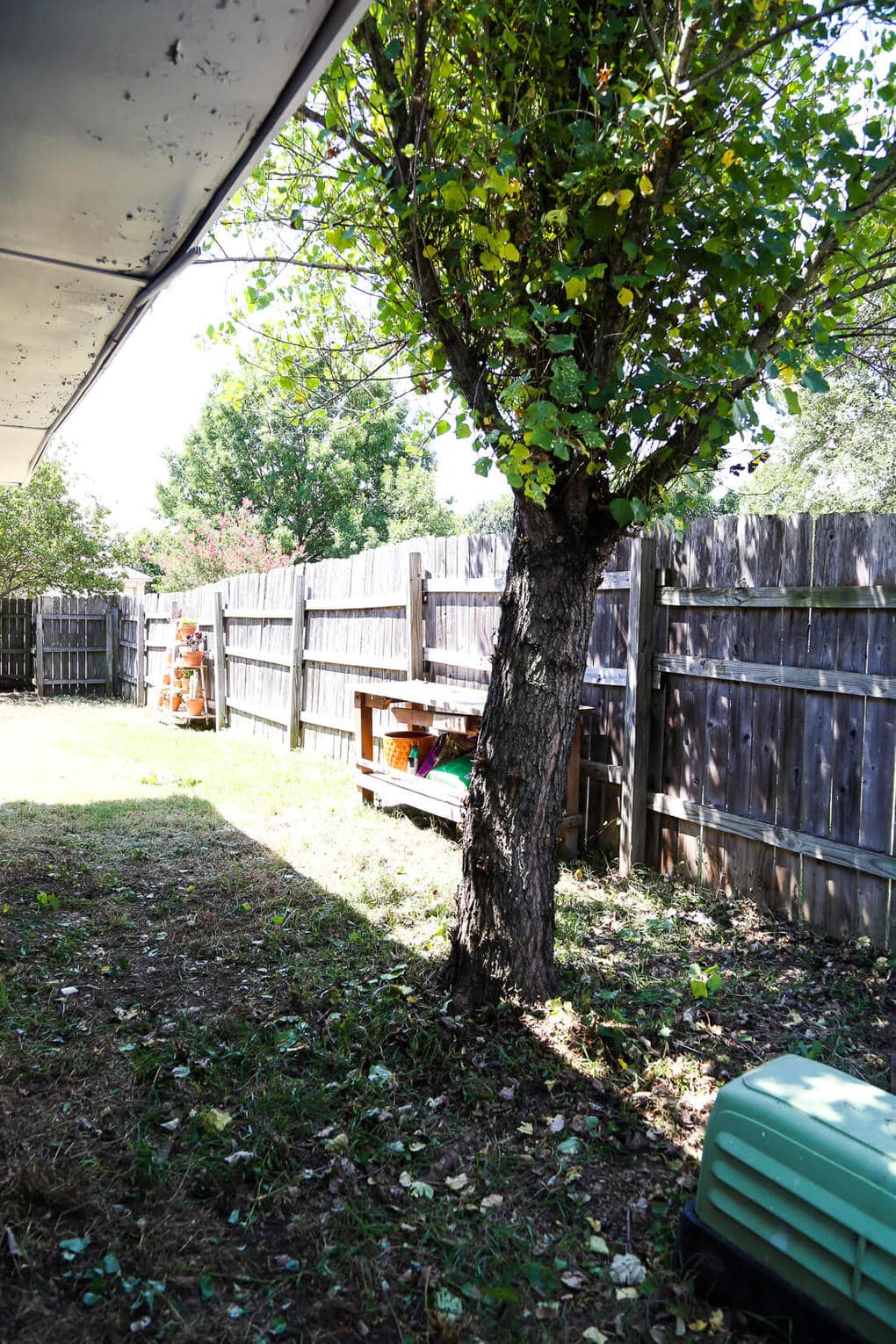 We've also been working on being more consistent about maintaining our yard. I've been trying to learn how to properly prune all of the bushes and keep them looking nice, and Corey's been trying to get in the habit of mowing and edging the lawn each week. Ryobi was kind enough to gift us one of their 40-Volt X Expand-it Trimmers and that has made the job a lot easier.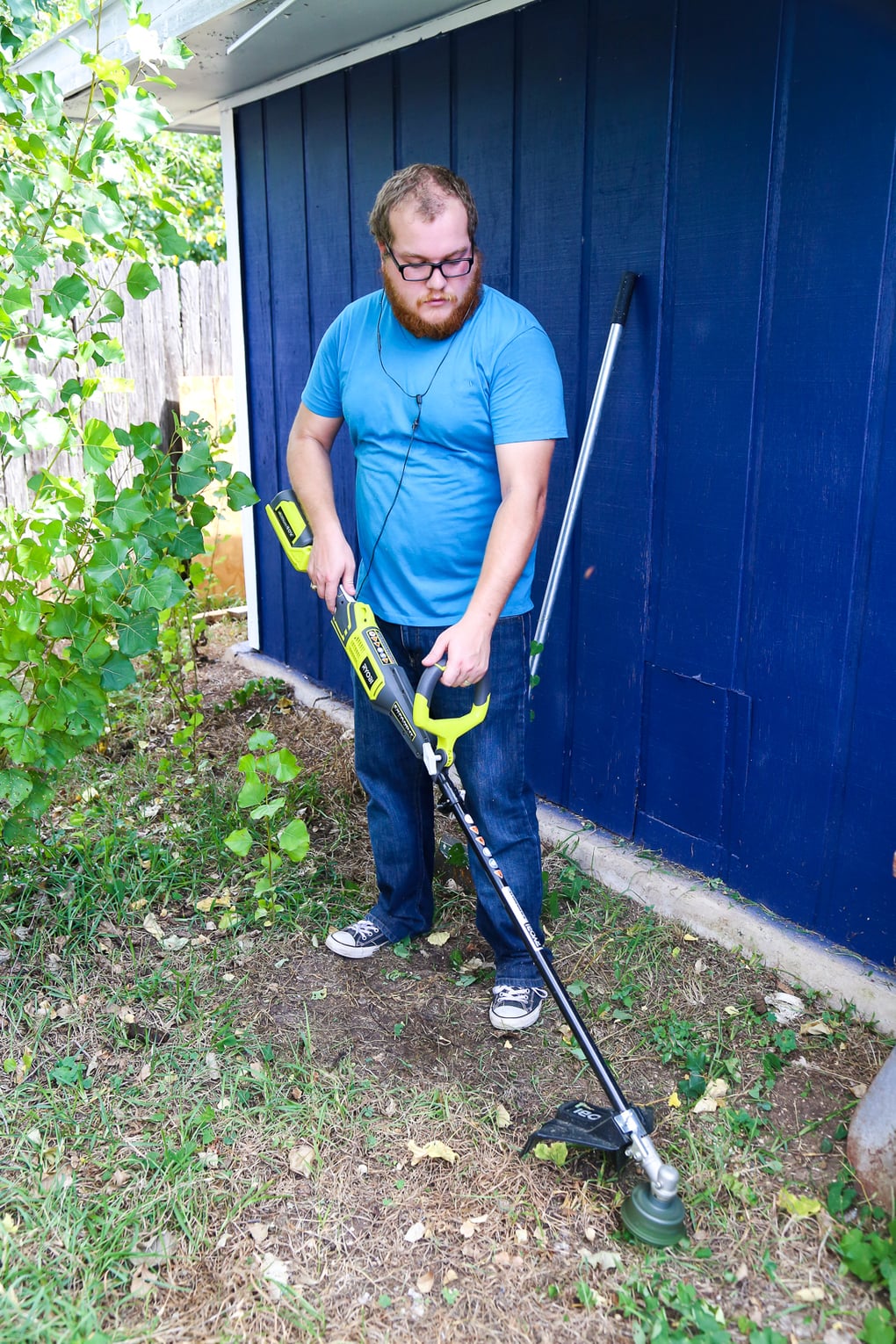 I don't know much about lawn tools, but I know that this thing has made it really easy for us to keep up with things, and I love that it has the capability to attach different tools to it which means that we don't have to store a zillion different tools that take up precious space that we don't have – we just have to worry about the attachments, which take up way less space. We want to add a cultivator attachment to our collection soon – it'd be perfect for a few gardening projects we have coming up and how awesome is it that we can just attach it to the trimmer instead of getting a giant, separate tool?! You can see more about Ryobi's outdoor tools here – they've always got really well-thought-out and well-designed tools, and I can't say enough good things about them!
While we were cleaning up out here, we also used the blower attachment to clean up the little concrete area in the corner – it was perfect for storing our mower (until we build our little shed, of course), but, uh…it looked like this.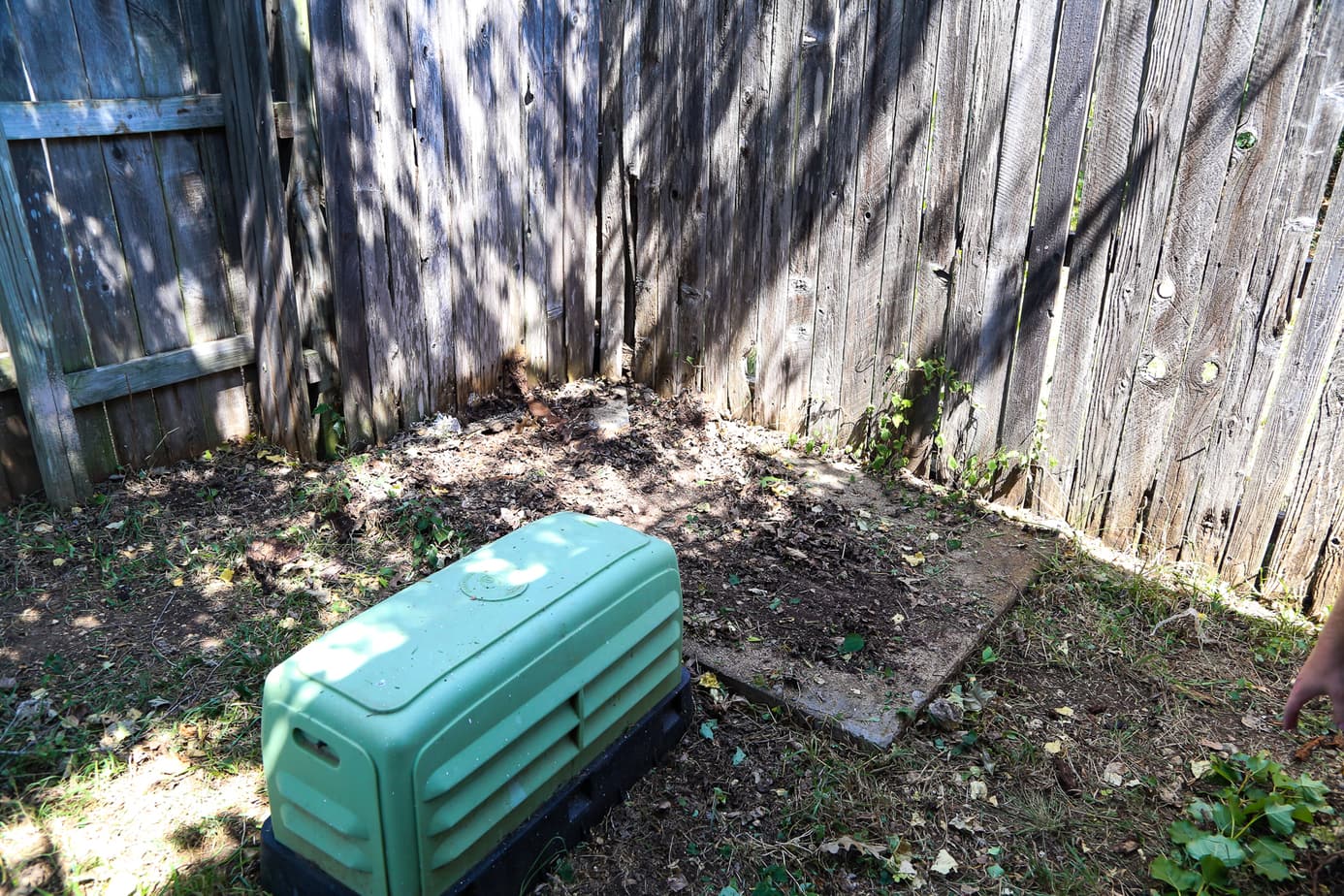 That's just embarrassing.
Thankfully the blower made quick work of cleaning it up, and now we have our lawnmower sitting there (with a tarp over it, for now). I also used it to clean off the patio after we finished mowing and it was so easy. I'm a little addicted now.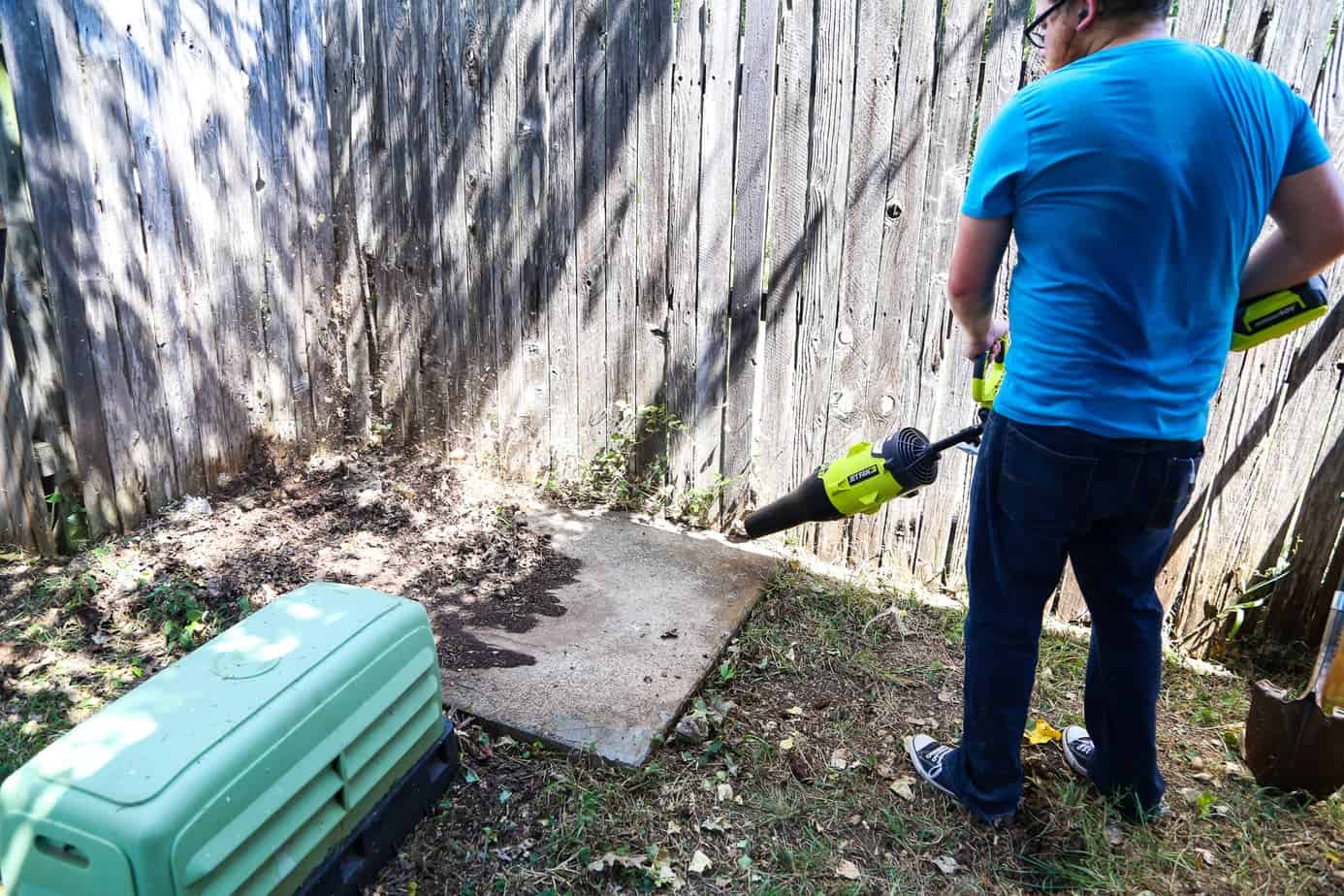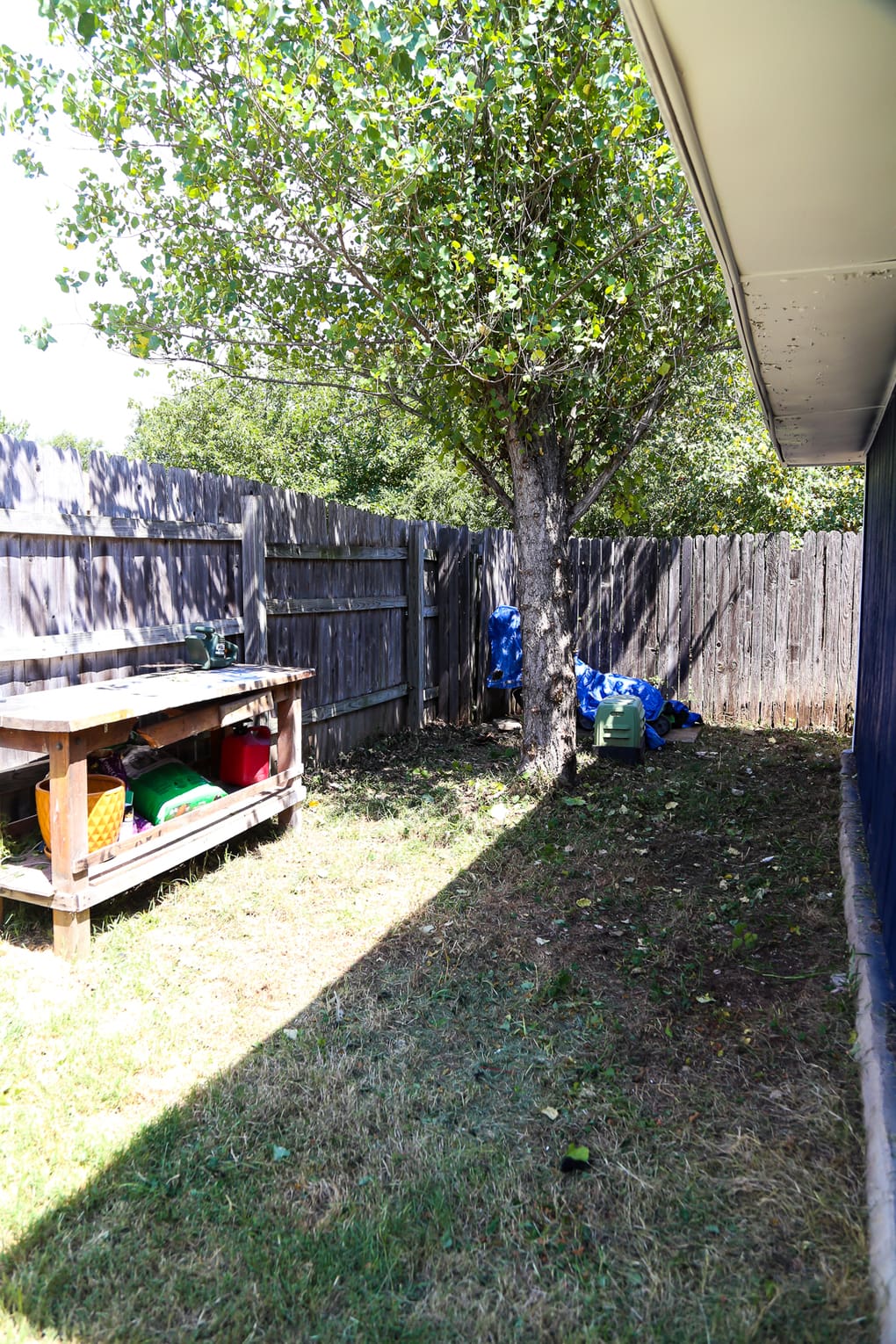 I know it's not the prettiest backyard makeover ever, but sometimes you've gotta do the grunt work before you get to do the stuff that actually makes the yard pretty, no?
So, on the agenda for this area is:
Building a lean-to on the side of the workshop to store yard tools
Digging up the grass and replacing it all with pea gravel
Setting up a potting area to store gardening supplies
And for the rest of the yard, we still need to:
Fix the fence
Set Jackson's playhouse up with some cute accessories
Possibly start a fall garden
Set up some storage and organization systems to keep things under control
Figure out a good area to store our grill + accessories (currently, it's all just sitting in the grass next to the patio)
I don't know if we'll be able to knock out everything before the summer is over, but I definitely feel like we have time to tackle at least a few of these projects! And if nothing else, we actually enjoy spending time in our backyard now, so I'd definitely consider that a win.
Have you been working on any backyard clean-up projects lately? Have any suggestions for how I can keep that crazy tree under control?!