9 Amazon Fashion Essentials for Summer
Slowly over the last few years, I've fallen more and more in love with buying my clothes from Amazon. I've always grabbed the occasional cute dress or top from there when I came across it, and I've always loved looking at other blogger's roundups of Amazon fashion. But, it's kind of turned into a thing for me. I'd estimate that about 75-80% of what I wear these days is from Amazon. It's all quality, it's all affordable, and it's all so cute!
It takes a bit of patience and browsing to find good options on Amazon, though. There are a lot of returns involved, and a lot of time is spent reading reviews. That's why I love to share roundups here on occasion of my favorite pieces. Because then, all my effort isn't wasted, and you get to enjoy the fruits of my labor.
I've already shared some favorite spring tops, the cutest dresses I've bought on Amazon, and my favorite Amazon bathing suits. Today, I'm going to share my top 9 must-haves from Amazon for the summer. These are the things I find myself reaching for over and over (and over and over) again.
And generally, when I love something this much, I know you will too!
It should be noted that every single thing linked below comes in multiple colors/styles. So if you like the item but not the color, be sure to click through because there's options!
Amazon essentials for summer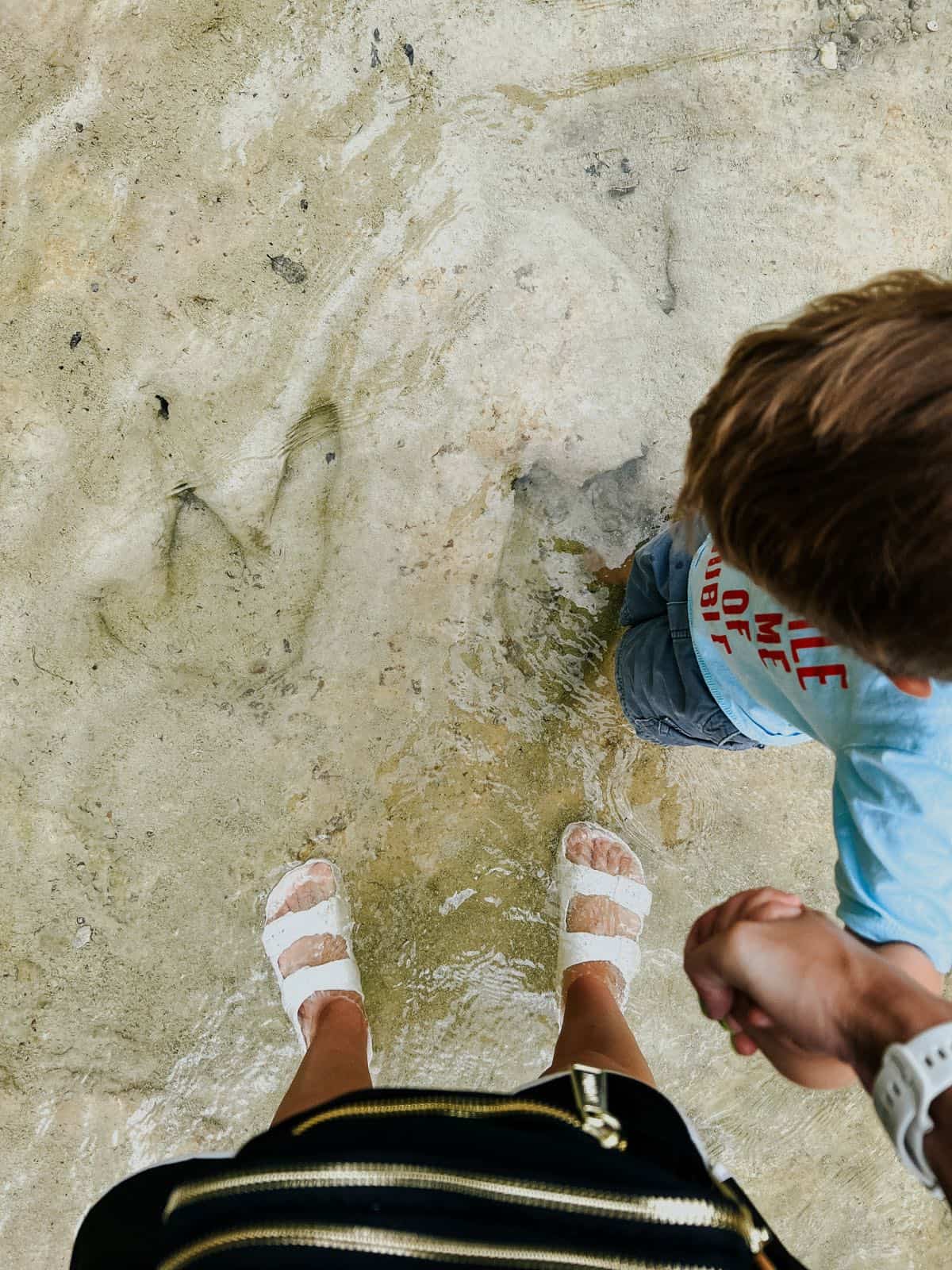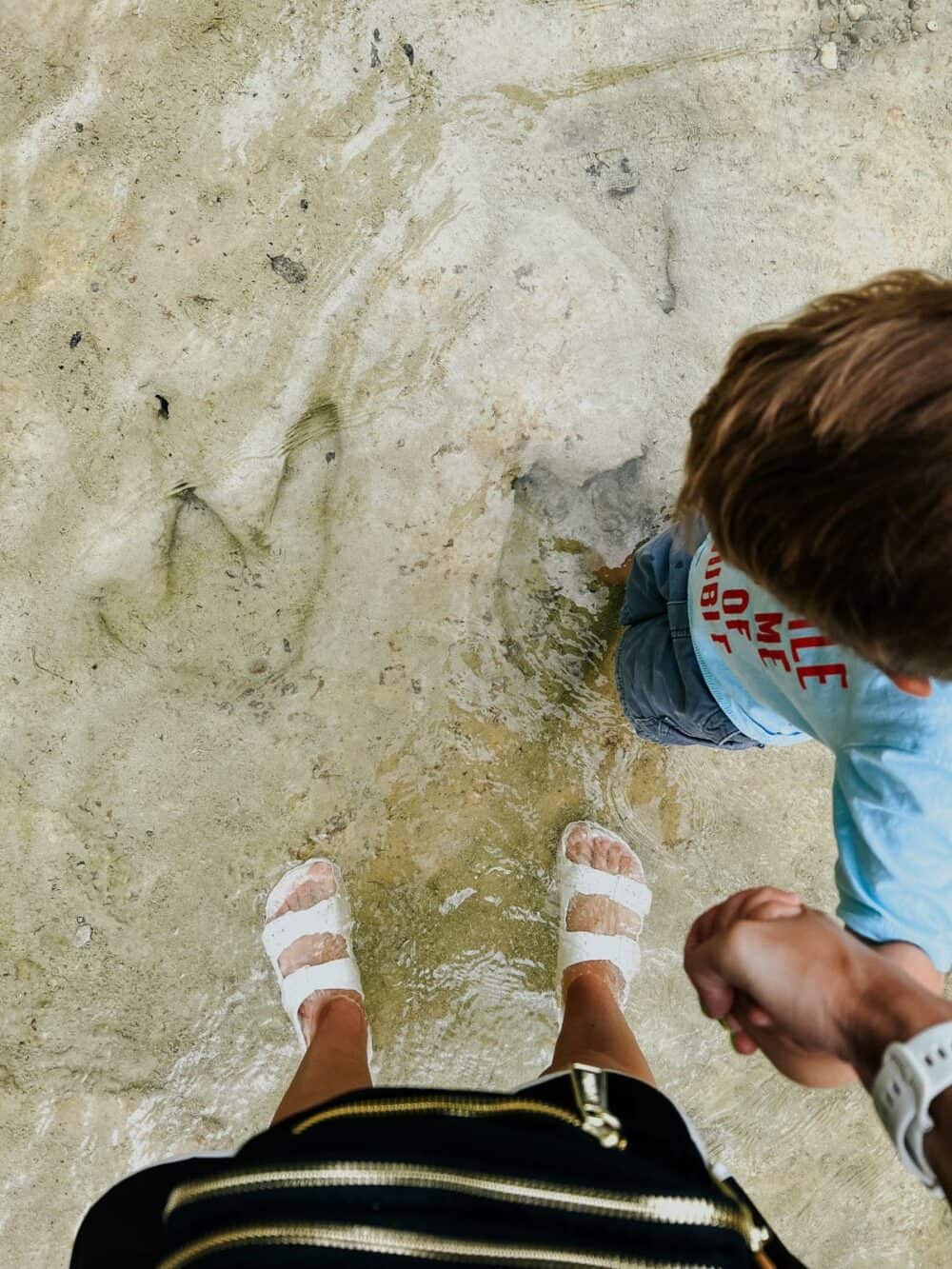 Last summer, I really wanted a pair of the white foam-like Birkenstocks. They're so cute, they felt like the perfect summer sandal, and I needed them. I bought a pair…and I hated them. They didn't fit my foot right, they kept suctioning to the bottom of my foot in a weird way, and they hurt when I walked. So, I immediately returned them and started looking for an alternative.
I found these guys and decided to give them a try. They're half the price of the real thing and they're infinitely more comfortable. I can wear these for mile-long walks with the kids or even on an all-day trip to the zoo and my feet don't hurt at all. I wear them to the pool, around the neighborhood, and literally anywhere else. These are my ride-or-die summer shoes – enough so that I have a really cute tan line on my feet to prove it.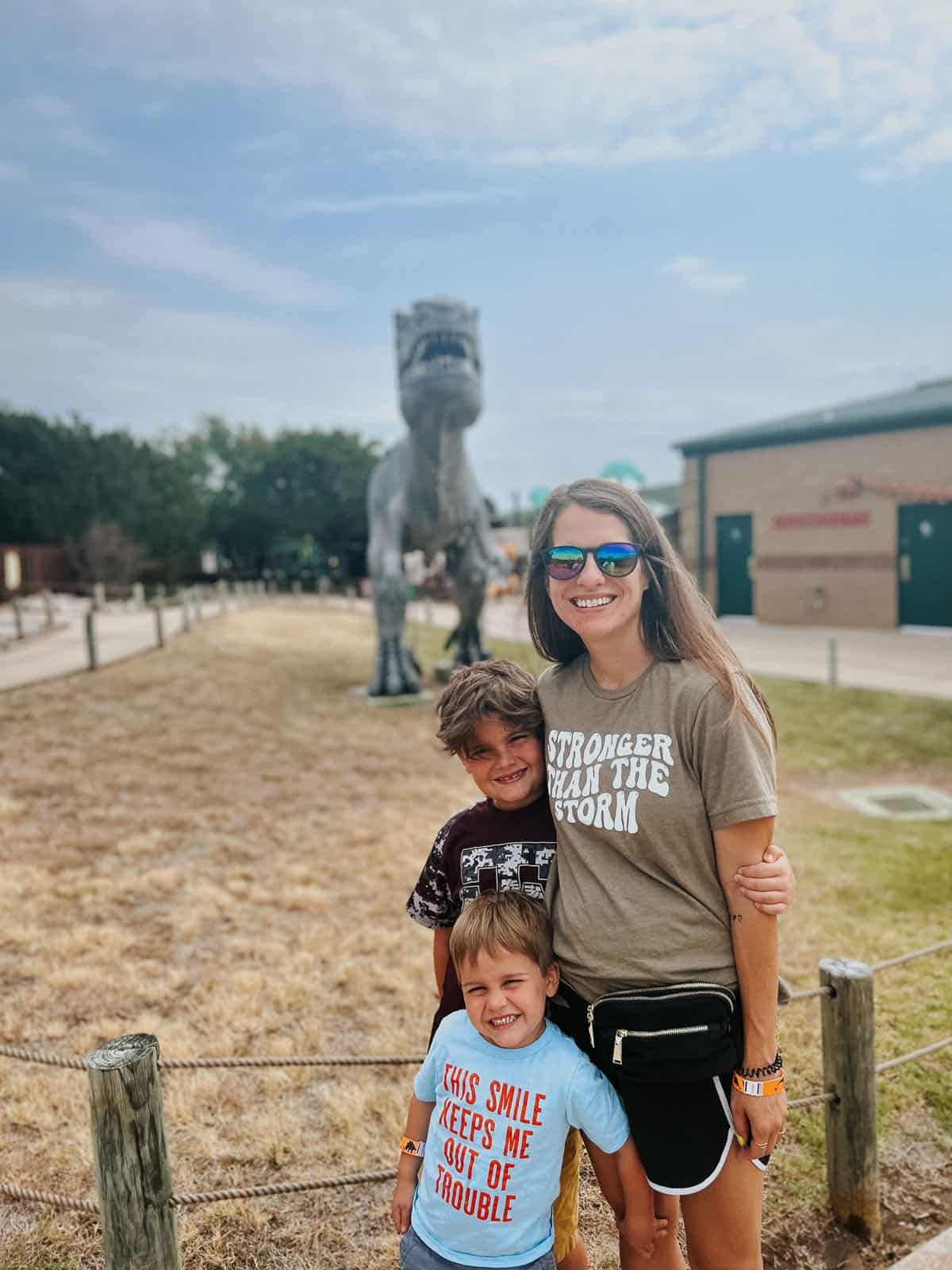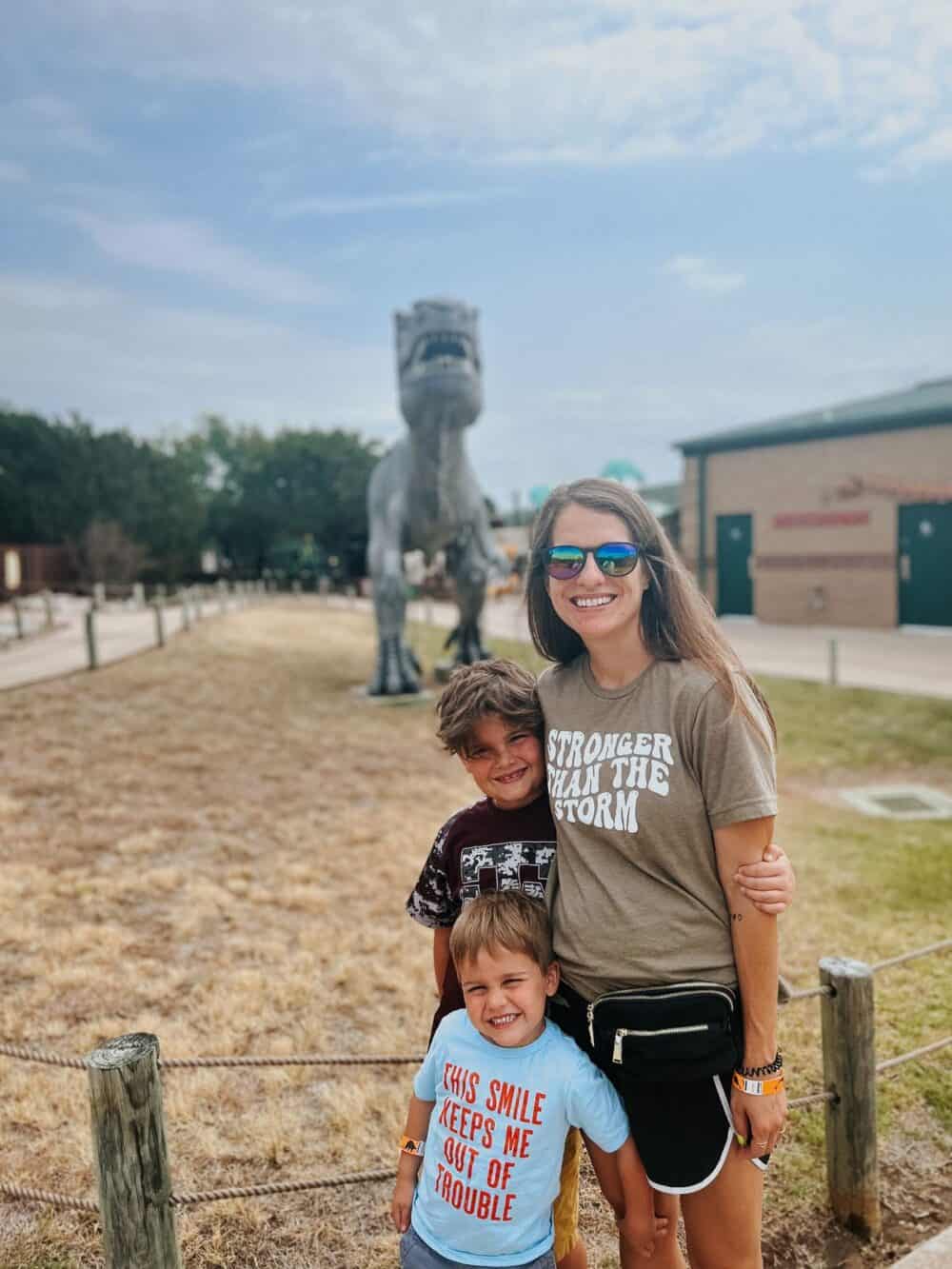 There's nothing I like wearing more in the summer than a cute pair of athletic shorts. They have to have pockets, though, because I hate carrying my phone around all day. I've tried a few different pairs of athletic shorts from Amazon, and I've been pleased with most of them. But these? These are the BEST.
They have a wide waistband, which makes them really comfortable and helps them feel nice and secure. There's only one pocket, but it zips, and it's big enough for my phone (and I have the giant iPhone). They come in a ton of colors, and they're just so dang flattering. I have them in the classic black with a white border (my favorite forever), and I also have a pair of neon yellow ones. They make my heart happy. I'm sure by the time summer's out, I'll have another color or two.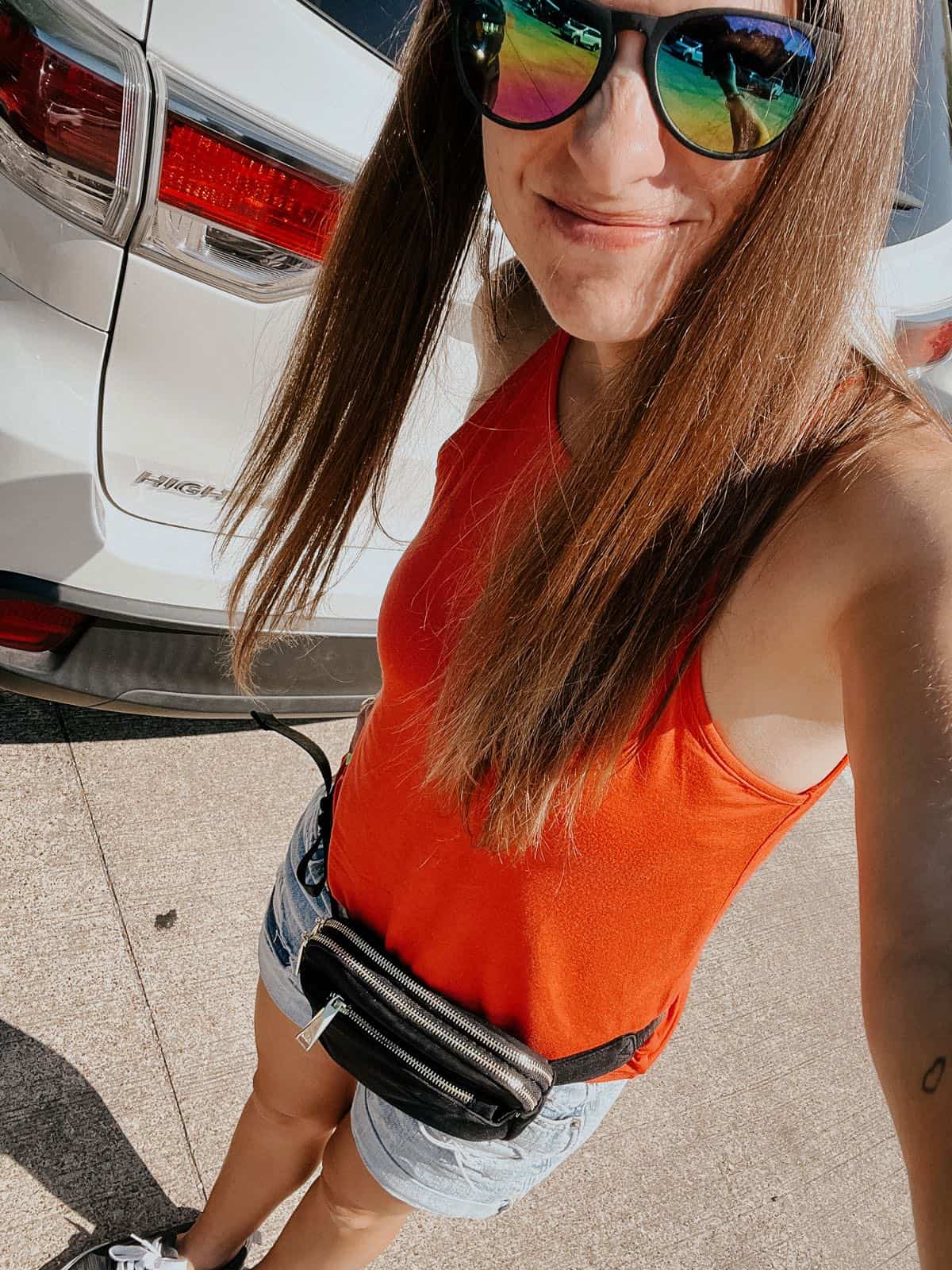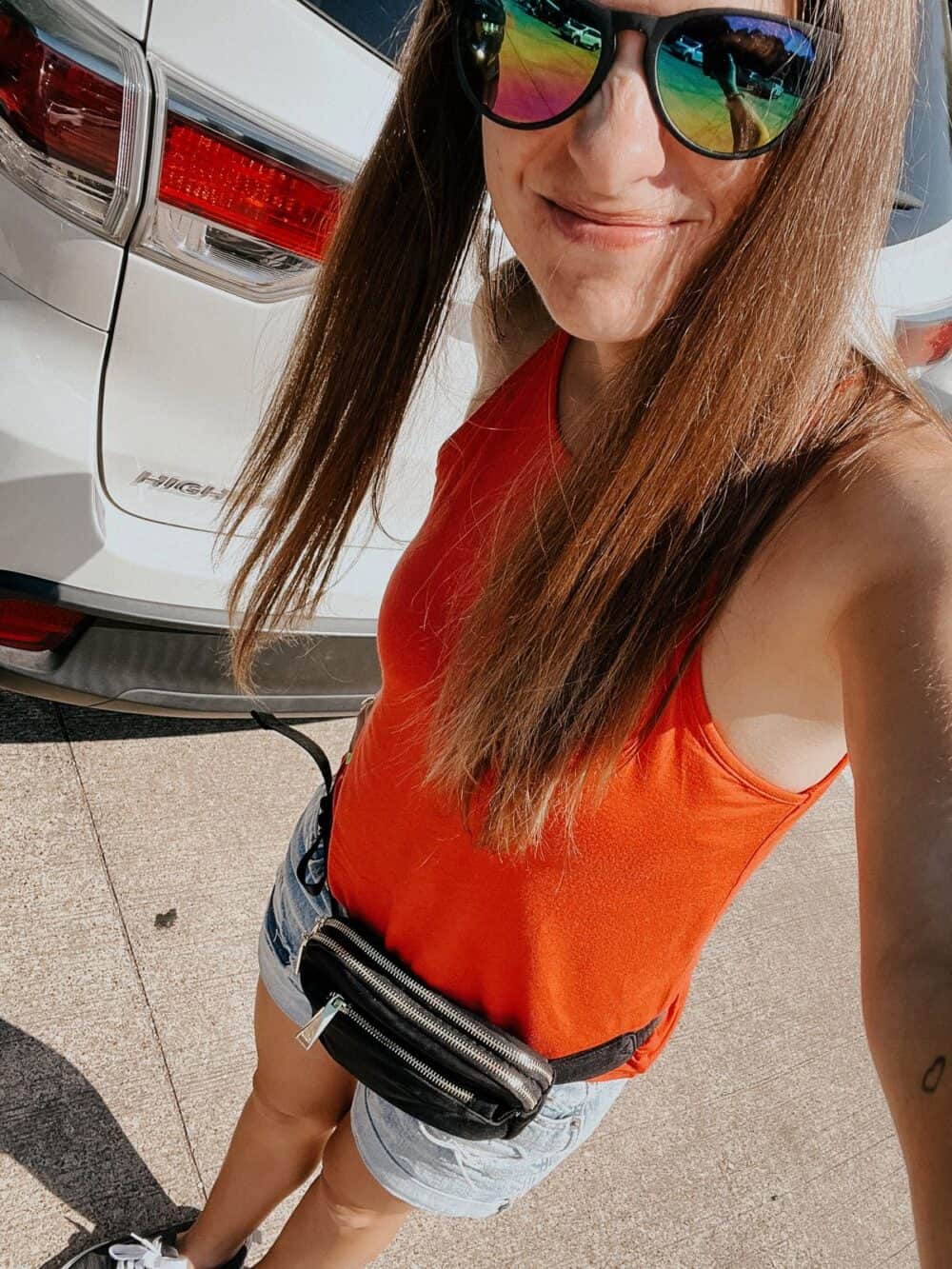 I just recently ordered this bag after seeing just about everyone on the internet rave about it. It's apparently a more affordable alternative to a really well-loved Lululemon bag. I know nothing about the original, but I'm a big fan of this one! I ordered it for our recent trip to Granbury because I didn't want to have to tote my purse around all the time. It was the perfect bag for the trip. It holds exactly what I need it to, it's well-organized, and it's cute to boot.
I never in a million years thought I'd circle back to the whole fanny pack thing, but here we are. Have I reached peak "mom" status yet?! All jokes aside, I love how convenient this bag is and that it doesn't look like a traditional fanny pack. I love the flexibility of being able to wear it around my waist or over my shoulder, and it's definitely a new go-to for me in the summer.
As for the tank top, I grabbed it after I tried (and hated) a bodysuit. It really didn't work for me – way too form-fitting – but I loved the color. I went in search of something similar, and I found this guy. I immediately ordered it, and loved it from the moment I put it on!
The raceback-style straps are really flattering and cute, and I love that it's a good length and also has a nice-high neck. Perfect for wrangling toddlers! I've worn it with shorts, with a skirt, and under my shorts overalls! It goes with EVERYTHING and comes in a ton of color options!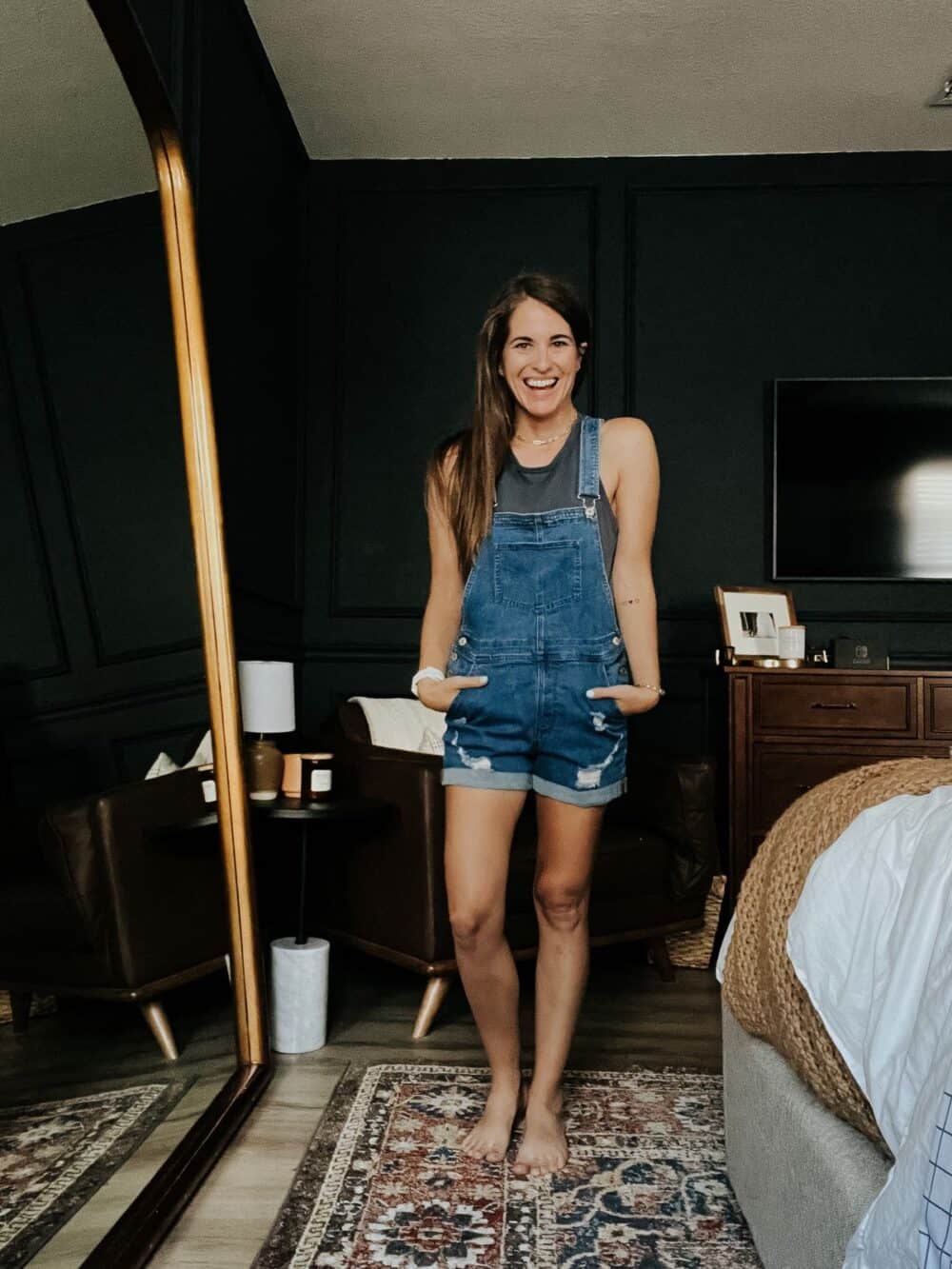 I really fell in love with overalls last fall when I got these guys from Gap. They're the best, most comfortable overalls around, and I wear them all the time when it's cool enough outside. But, that's a limited amount of time here in Texas! So, I really wanted to find some shorts-style overalls to wear throughout the summer.
These had great reviews so I decided to give them a go, and I love them. They're really comfortable, they're stretchy, and they are so so cute. I find that I prefer to wear them with tank tops – there's something about wearing them with a short-sleeved tee that makes me feel a little like an 8-year-old. But, they're such a great option when I want a little something different, and I've found myself wearing them a ton already this summer.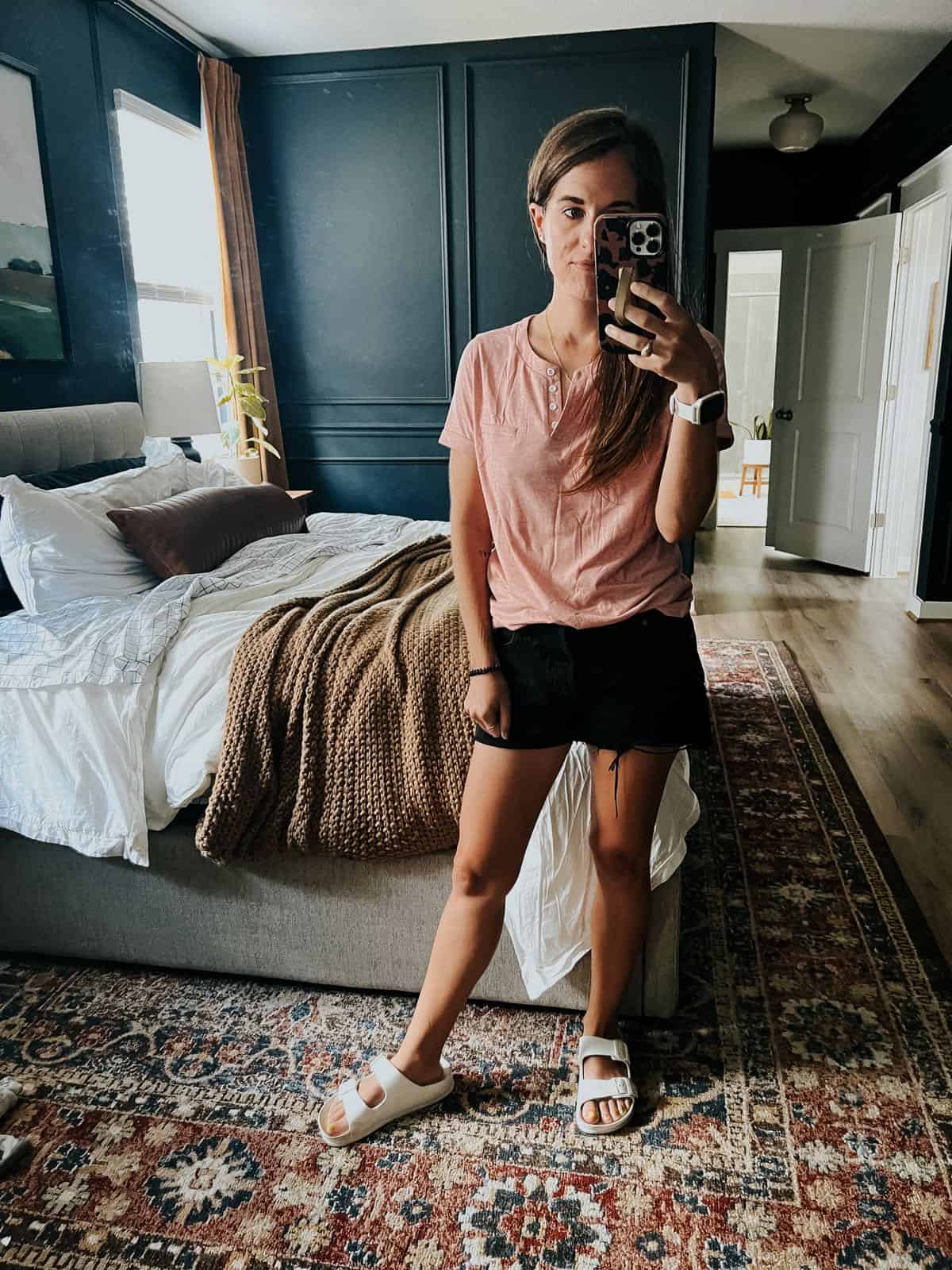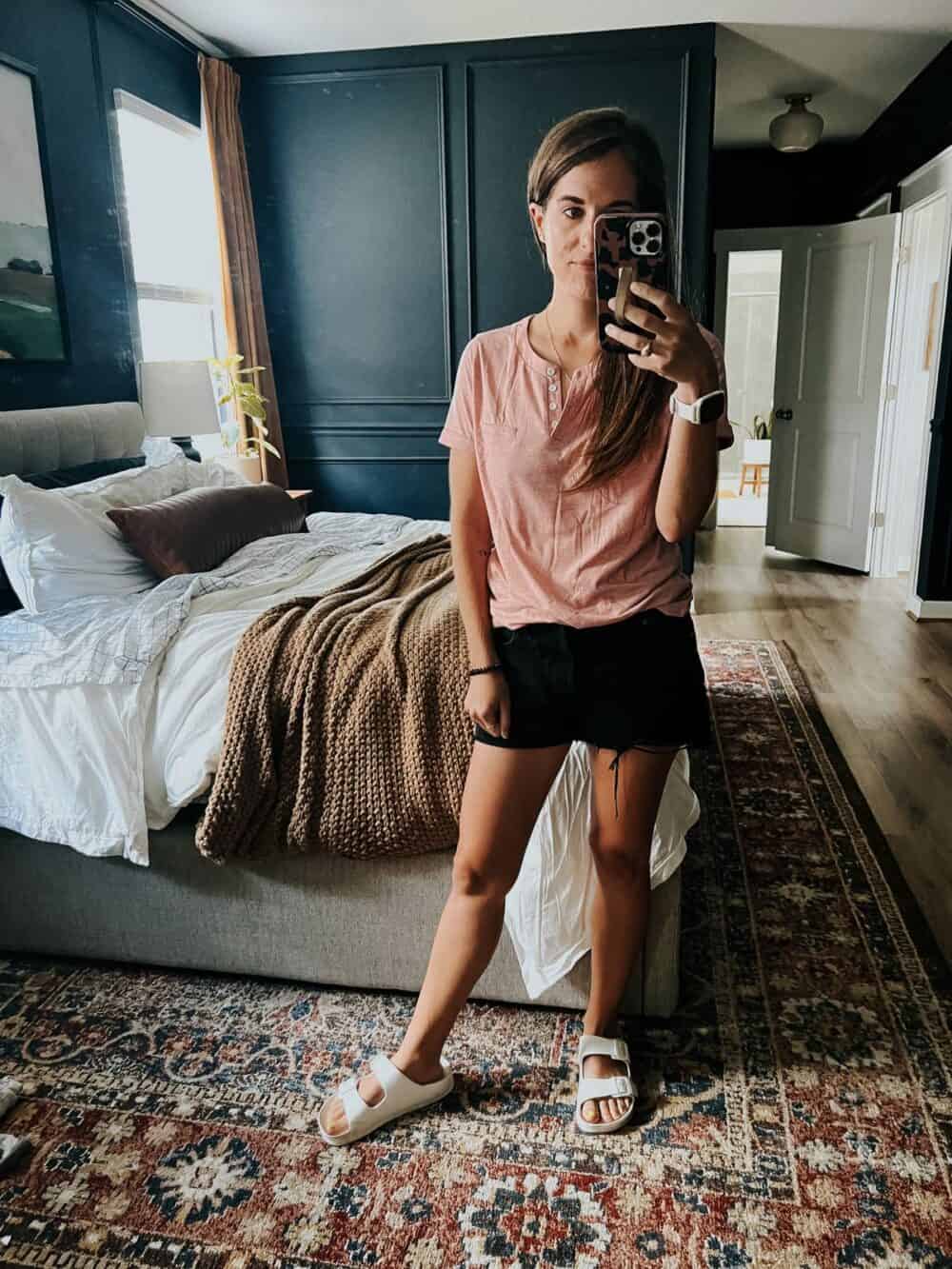 These shorts were a big of a splurge for me – I'm generally pretty thrifty when it comes to my clothes, so $40 for a pair of shorts felt like a lot. But, man oh man, was it ever worth it! These are the most flattering shorts I've ever owned. They're incredibly comfortable, and they look good with literally everything. Though, I'll note, since I've bought them I've seen them listed as low as $24!
Now that I've tried these, I can 100% see myself purchasing them in other washes. They're absolutely worth the price. I wear these when I want to feel a little more put together, but still be comfortable. They're not too short, they're high-waisted (so nothing shows!), and they have the perfect amount of distressing.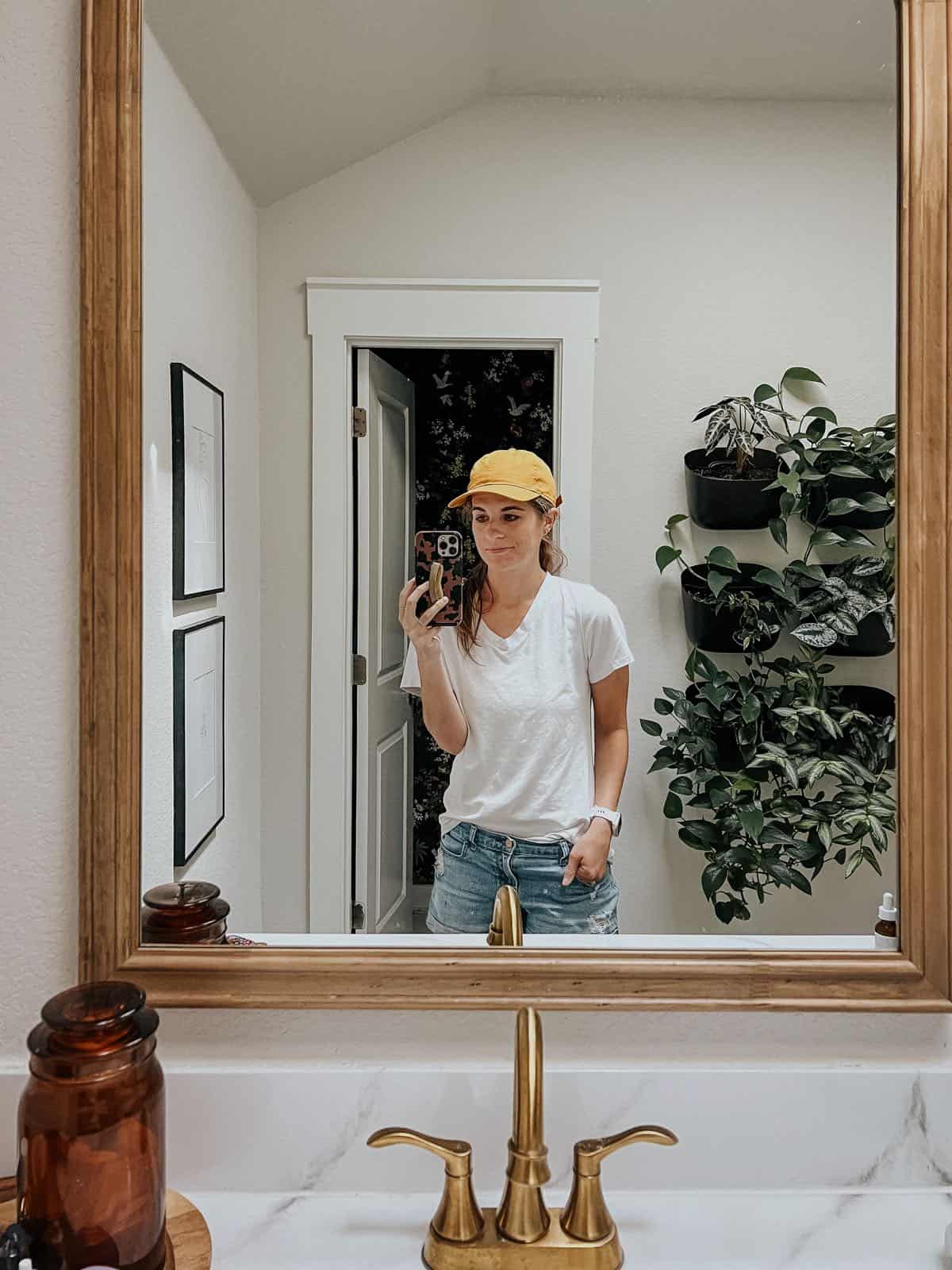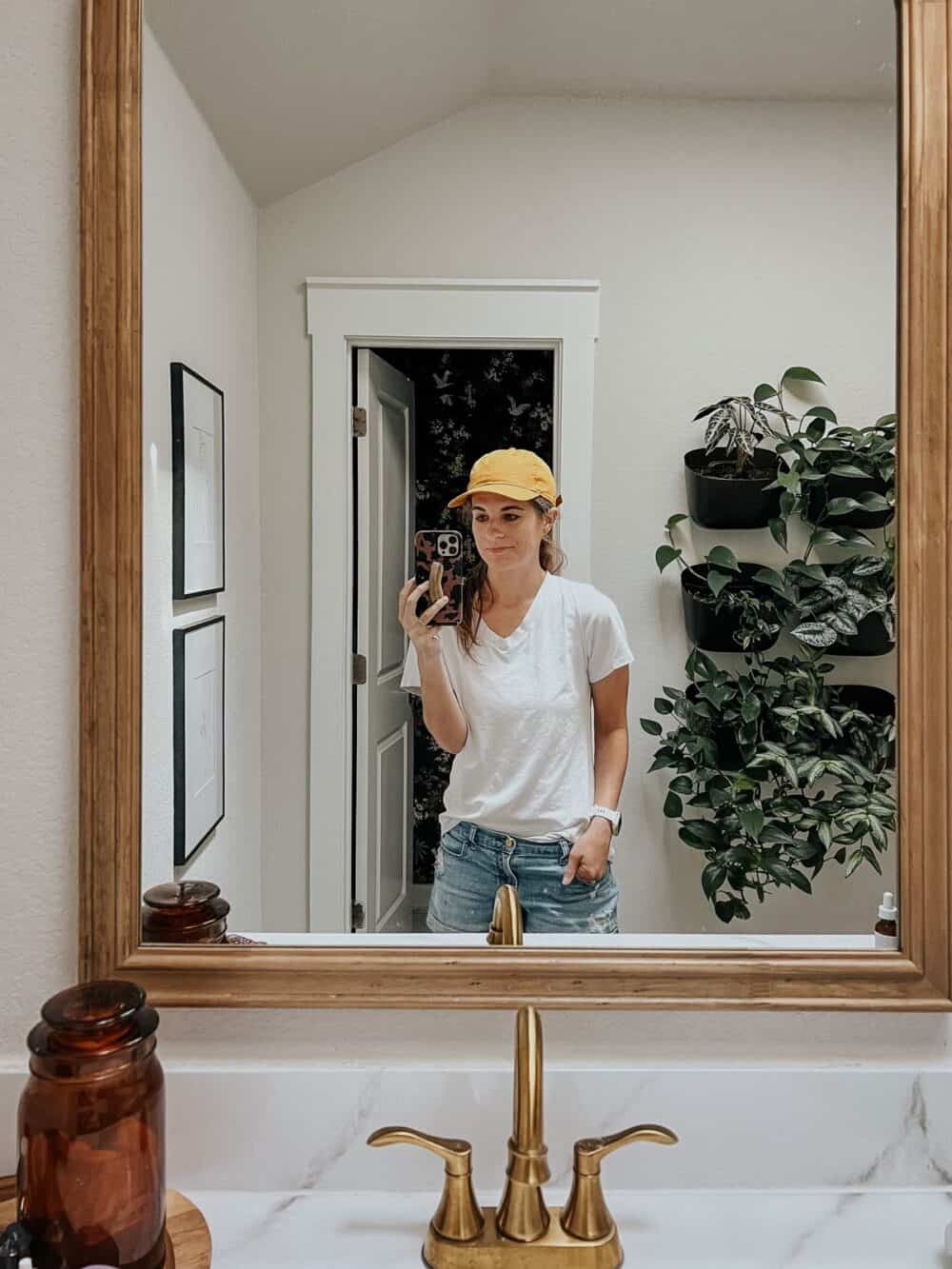 Who doesn't need a perfect white t-shirt? I've had this one for a few years now and it's truly the actual best. It's thick enough that I can wear any bra underneath it without showing. Even a black one! I've got a neon yellow bra on in the photo above, and you can't see it at all. It's got a flattering neckline without being too low, it's nice and long, and it has the perfect loose-but-not-boxy fit.
I don't wear this shirt often enough, but every time I put it on I'm reminded of how much I love it and how versatile it is. Who doesn't look great in a white t-shirt, cutoff shorts, and sneakers?! This guy also comes in a lot of other color options, so it's worth checking out, even if you aren't in search of the perfect white t-shirt.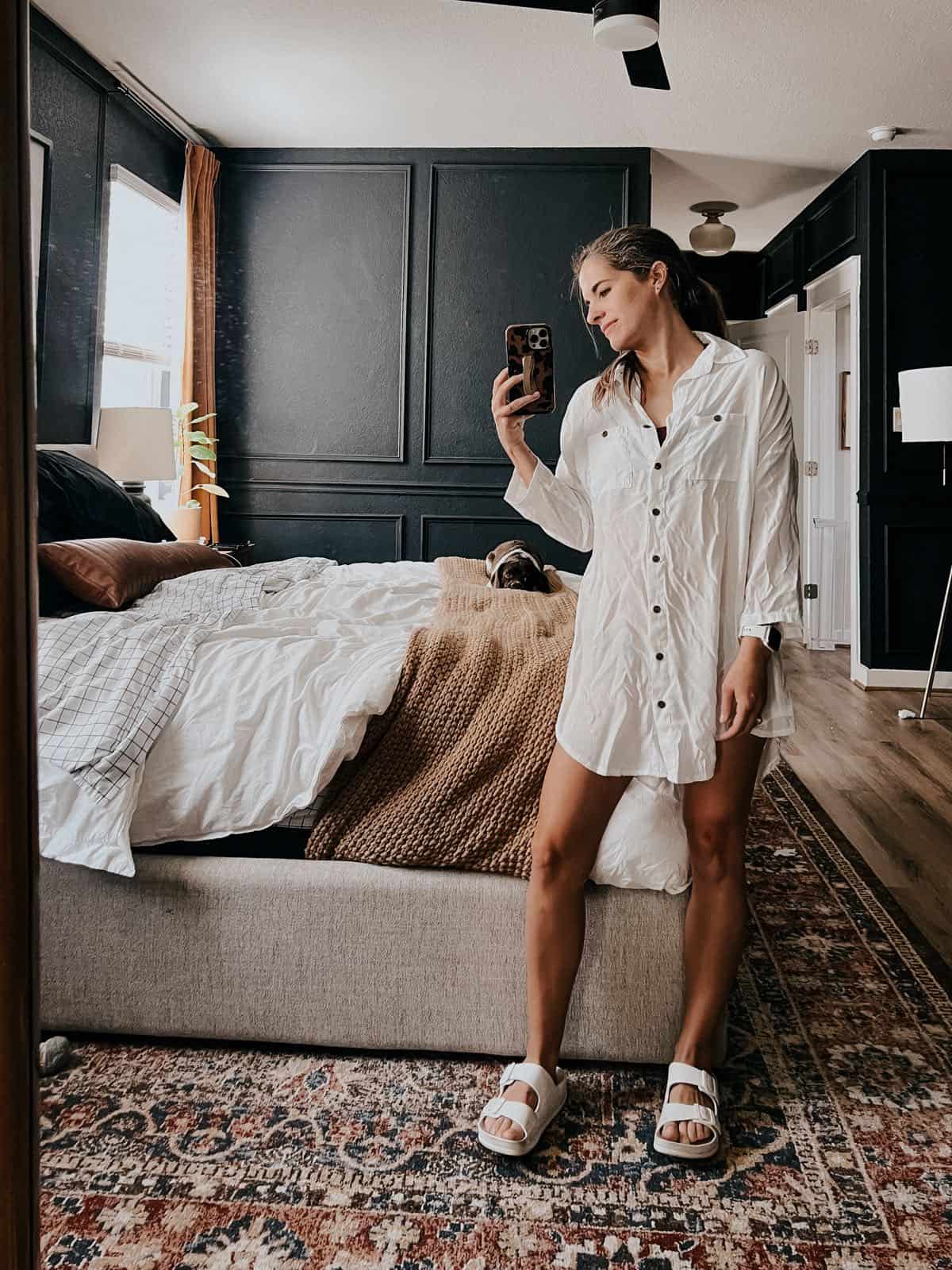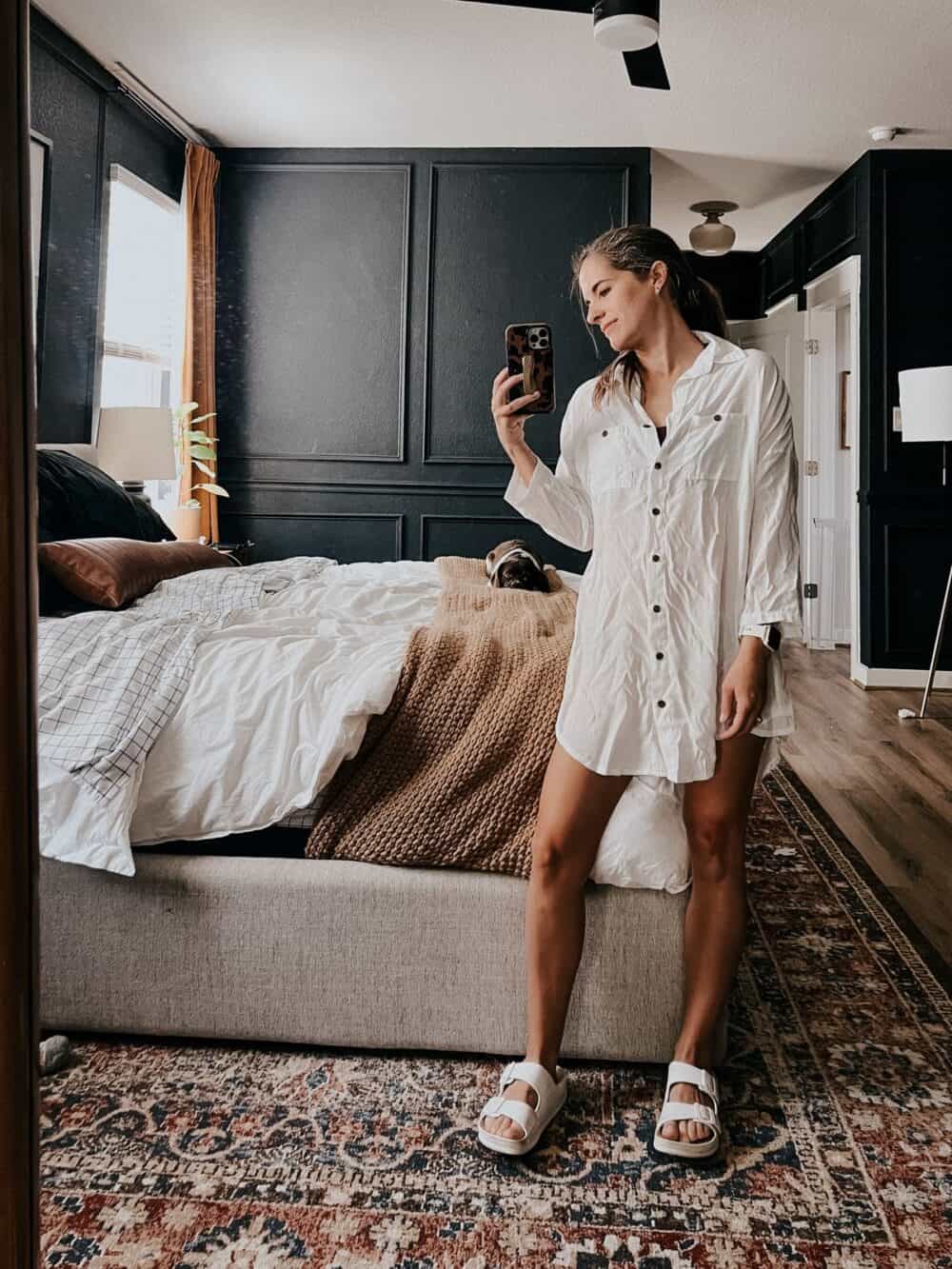 It's not a summer roundup if I don't talk coverups! You can see all of my favorite bathing suits right here, but this guy is the only coverup I have, and I reach for it over and over. I don't love a coverup that looks explicitly like a bathing suit coverup (you know the ones – they're usually robe-like or have a really loose knit on them). It's just not my style. But a big, white button-down? Absolutely my style!
I always feel a little more put together with this on, and I wear it almost every time we go to the neighborhood pool. It's lightweight and flattering and so comfortable. 10/10 I'd buy it again a hundred times.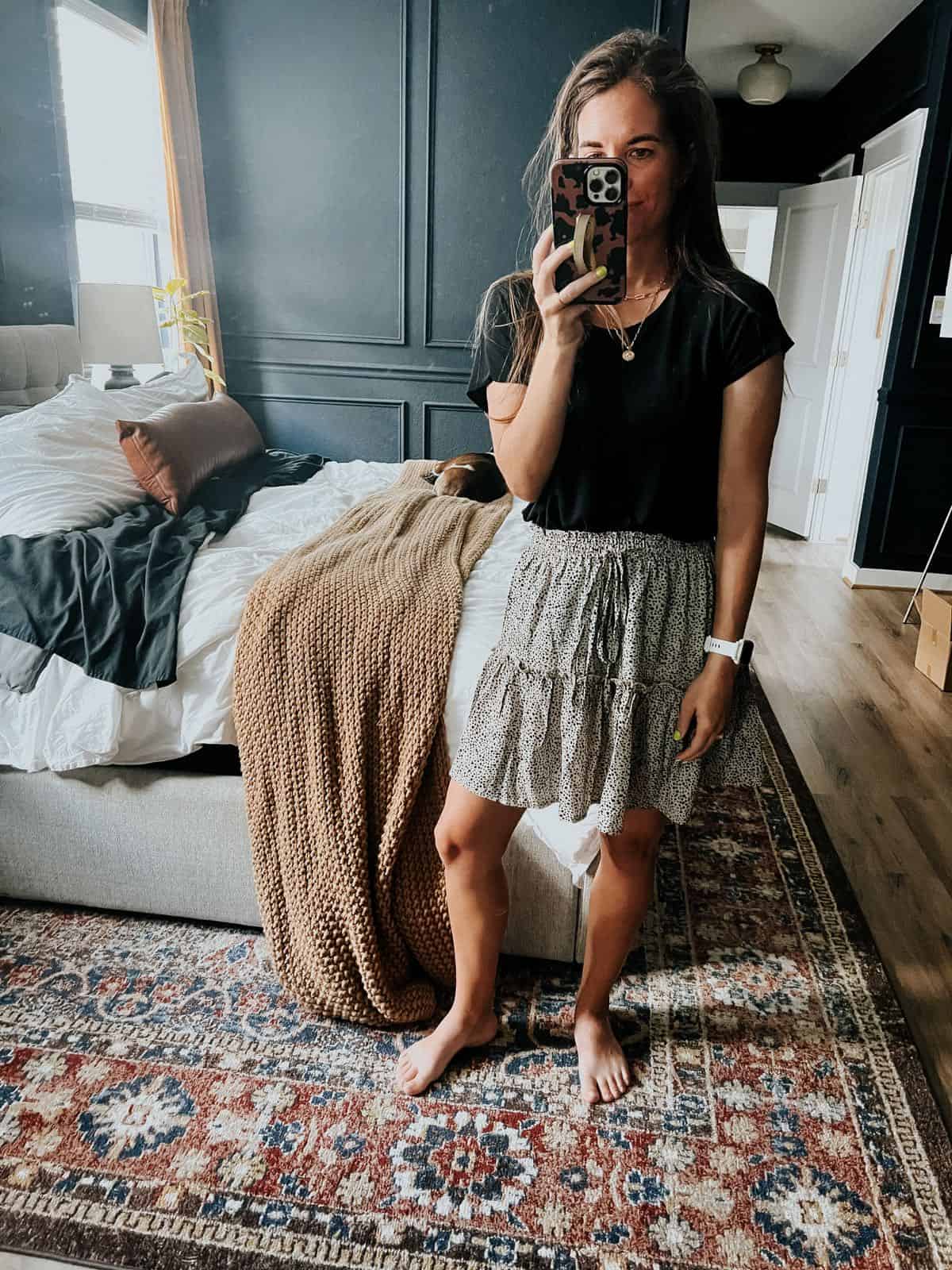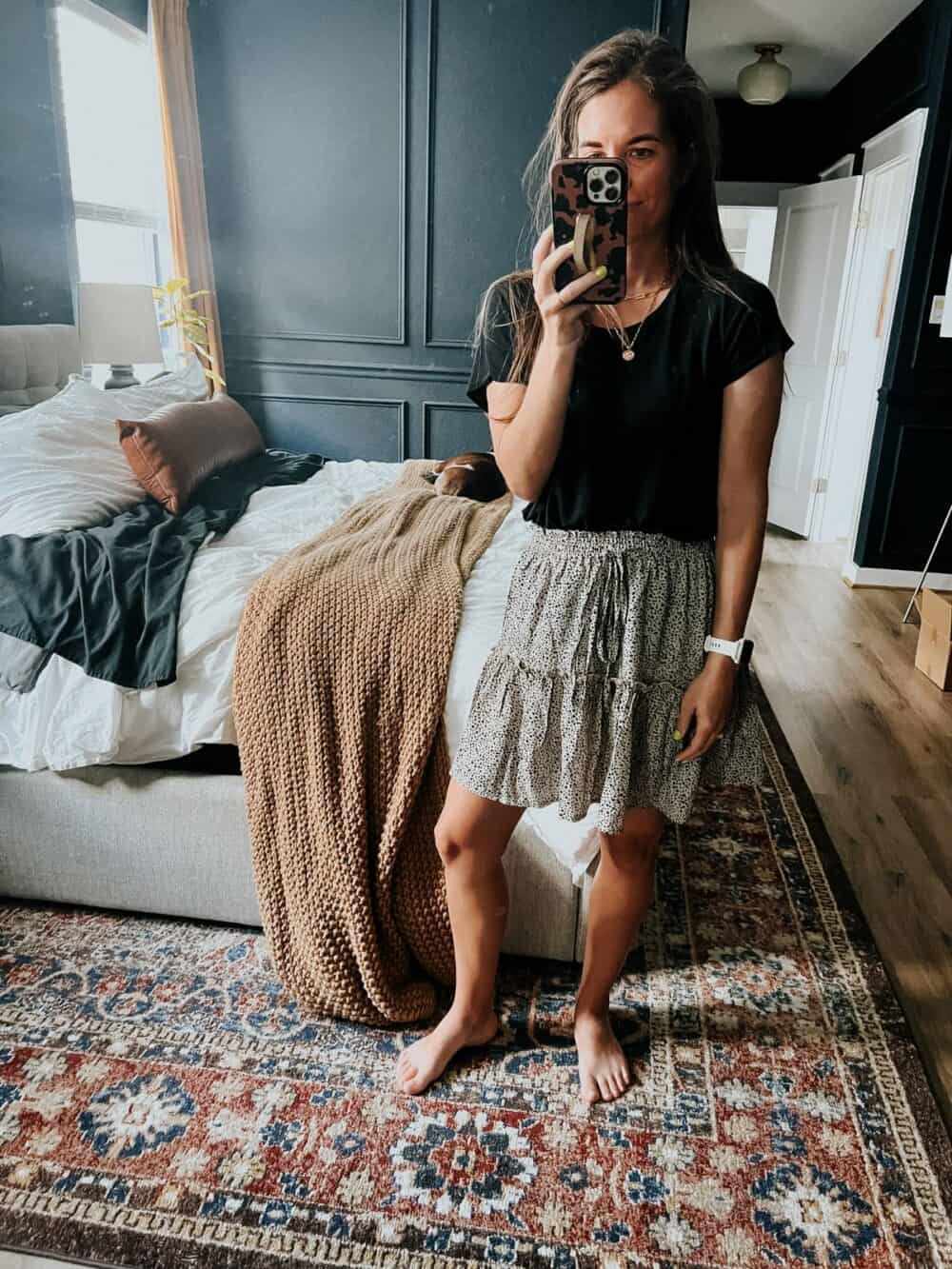 And finally, the skirt! If you follow me on Instagram, you've heard me talk about it a lot. I ordered it a while back because I was really wanting to be a skirt person. But I never have been. I love the idea of skirts, but in reality I just never reach for them. And then I got this guy and, my goodness, I feel so cute in it! I'm officially in love with it, and I find myself reaching for it more and more often lately.
I love that this super casual skirt can be dressed up or dressed down, and I can wear it with just about anything. It's really comfortable and it's the perfect not-too-short-but-not-too-long length for my short body. Now that I've got this one, I'm seriously considering buying another skirt or two, because I think I just might be turning into a skirt person!
Psst: Click here for my Amazon shop if you want to see my other favorite fashion finds, and all of the best Prime Day deals!