Things to Do in Granbury, TX With Kids
Every summer, we like to take a little family vacation (or two!) to somewhere that's within a short drive of our hometown of Austin, Texas. Last summer, we took a trip to San Antonio. This year? Our vacation was in Granbury, which is one of our favorite family destinations! I always love coming back here and giving a little report on all of our favorite this to do, so today I'm sharing a quick recap of our trip and some highlights of things to do in Granbury, TX – especially if you've got the kids along!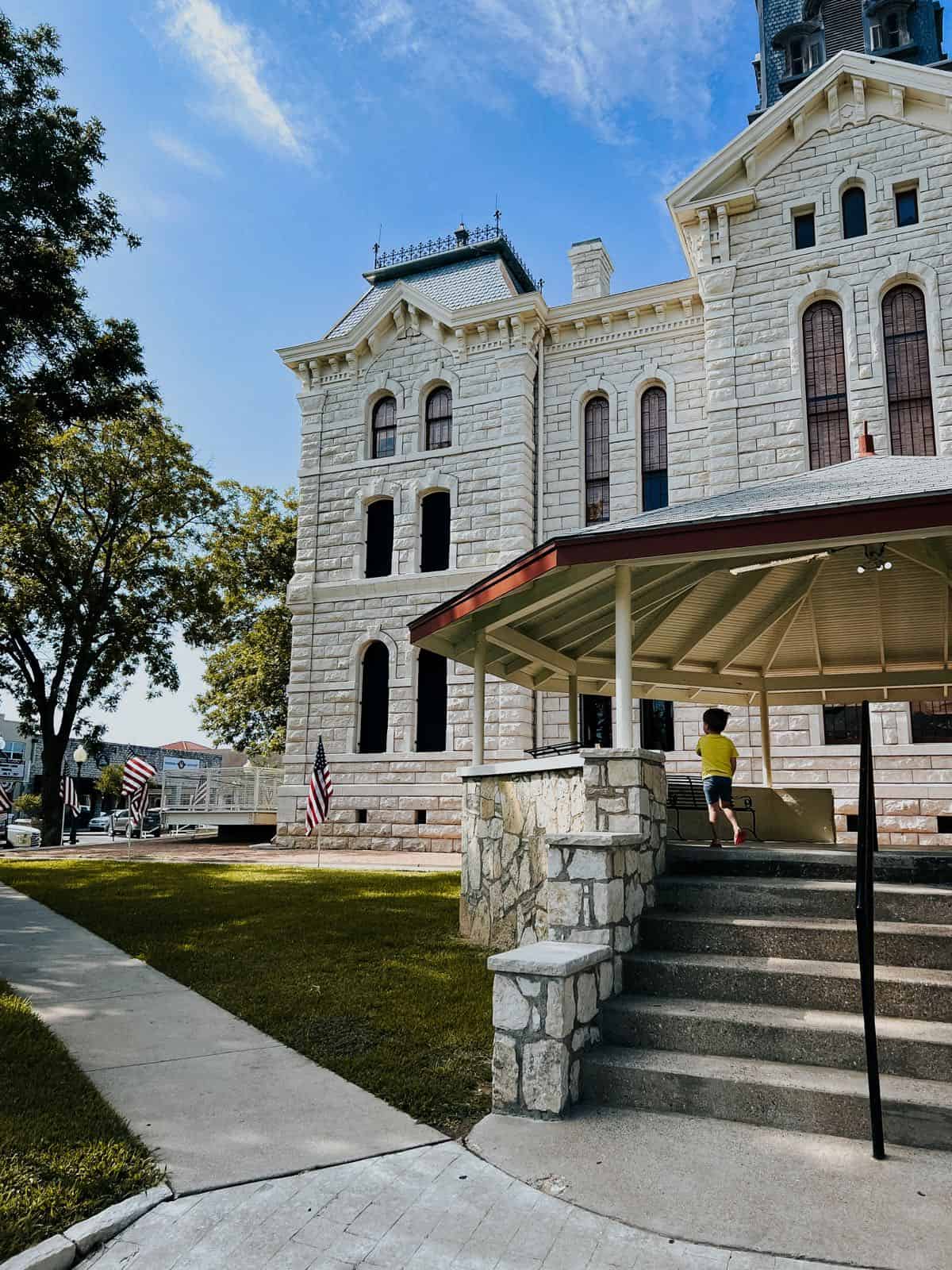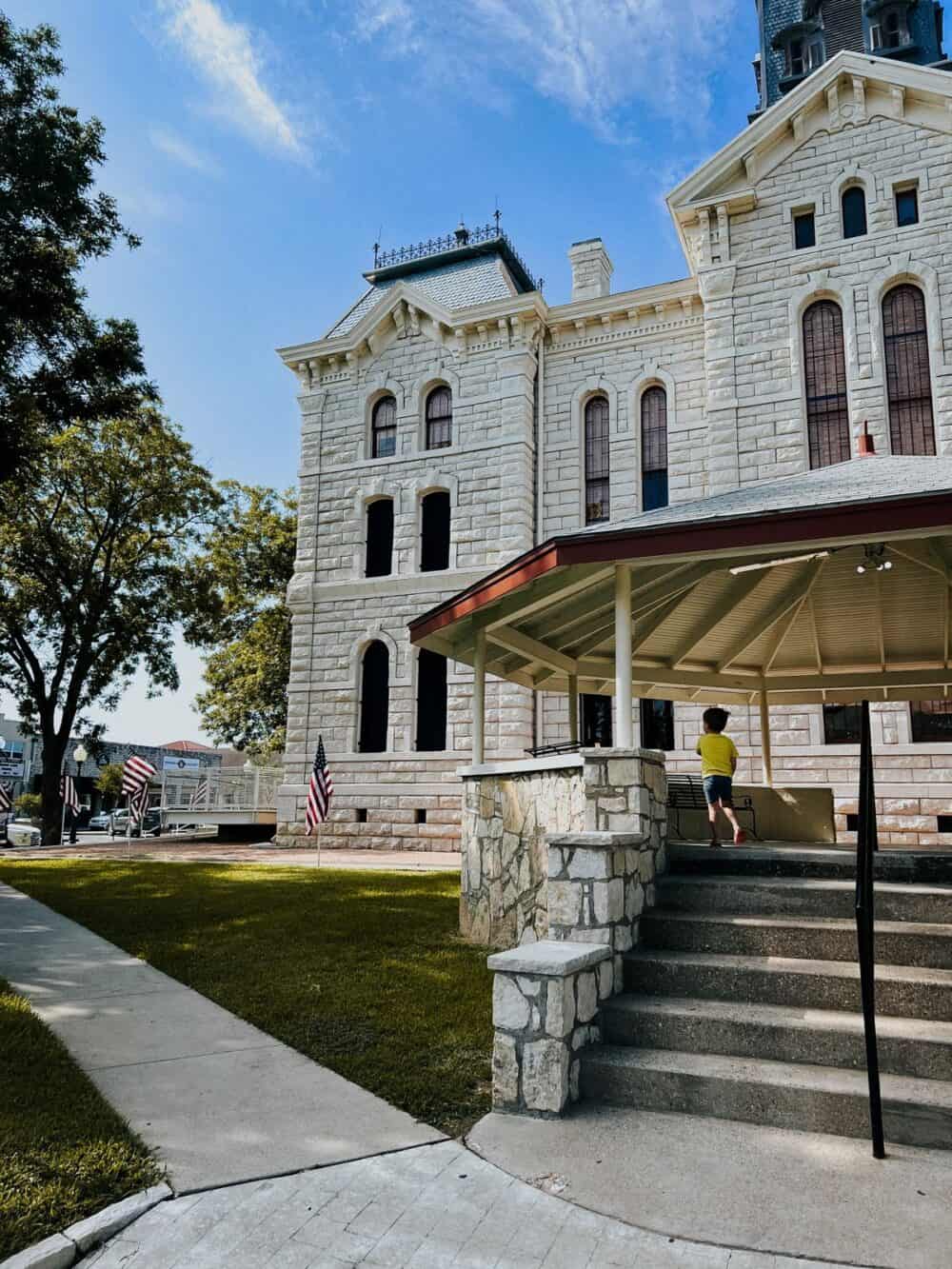 Things to do in granbury, texas
Granbury is a small lake town that's about a 45-minute drive from the Dallas-Ft. Worth area. It's one of the cutest small towns in Texas, if you ask me. From our house just north of Austin, it's about 2.5 hours if we drive straight there. But we never do!
Instead, we like to take our time and go through Waco. It's smack in the middle of the drive and never fails to provide endless entertainment. On this particular trip, we visited Cameron Park Zoo and the Mayborn Museum. But, if you're also driving through Waco and want some ideas, click here for a whole post with ideas of things to do in Waco – other than just visiting the Magnolia Silos, of course!
Once you're in Granbury, here's a quick list of a few of our favorite things to do.
go to dinosaur world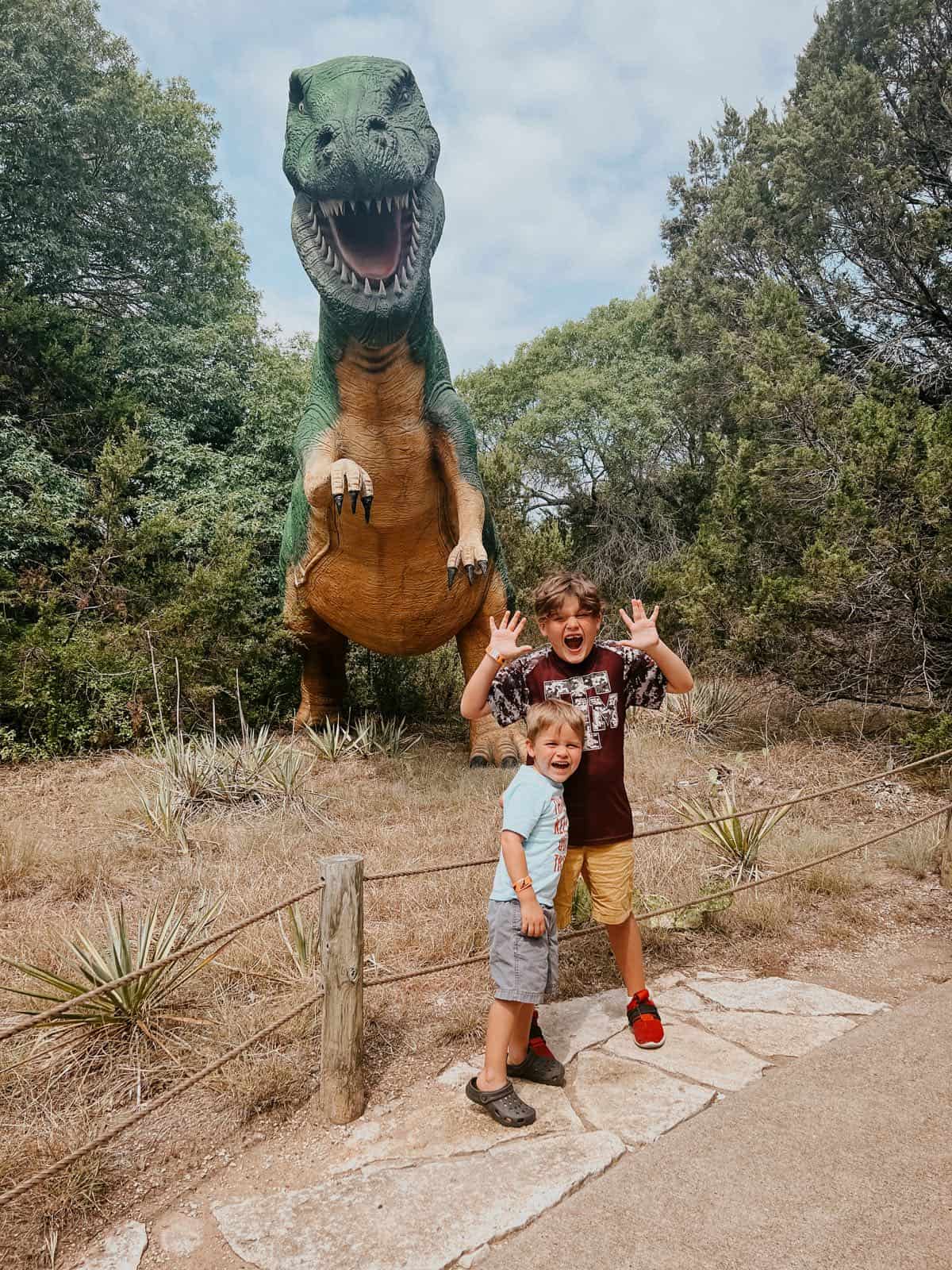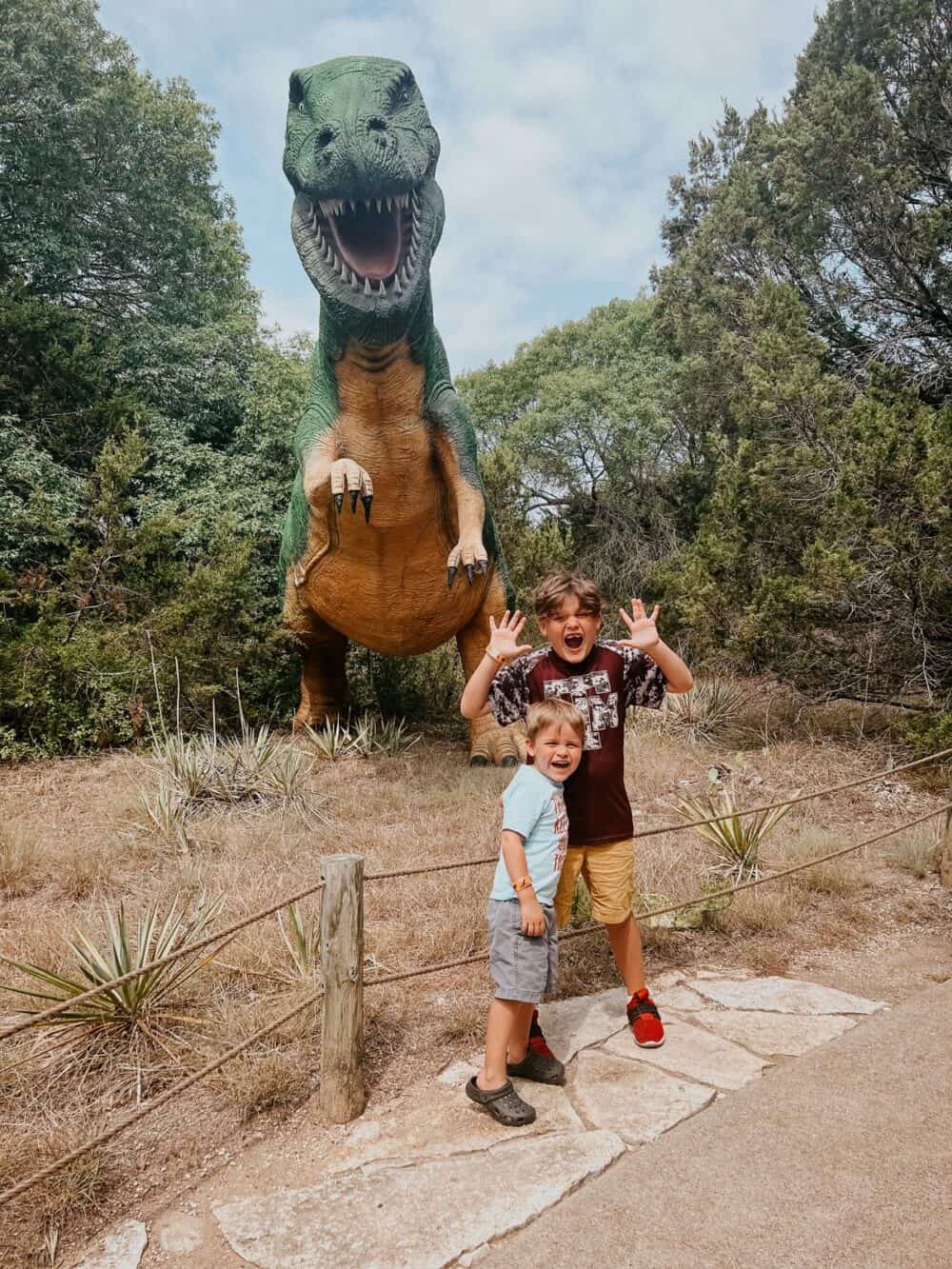 Anyone in Texas who has heard of Granbury has likely heard of Dinosaur World and Dinosaur Valley State Park (more on that one in a second). Dinosaur World is the cheesiest, most wonderful little park you'll ever visit, and my kids are obsessed. This was our third trip to Granbury, and our third visit to this little attraction.
At Dinosaur World, you'll explore the 20-acre park and see 150 different life-size dinosaur replicas. There's a meandering trail you can walk through with dinosaurs tucked into the trees around every corner. About halfway through, there's even a little pond with Koi fish that you can feed (be sure to grab some food when you buy your tickets!).
There's a sprawling playground, a giant "boneyard" where you can dig for dino bones, and a museum with tons of fossils and some animatronic dinosaur displays. There are also two attractions you can pay an additional fee for – the Fossil Dig and Dino Gem Excavation. Food and drink are allowed in the park, so we packed a little lunch and ate it by the playground.
Dinosaur Valley state park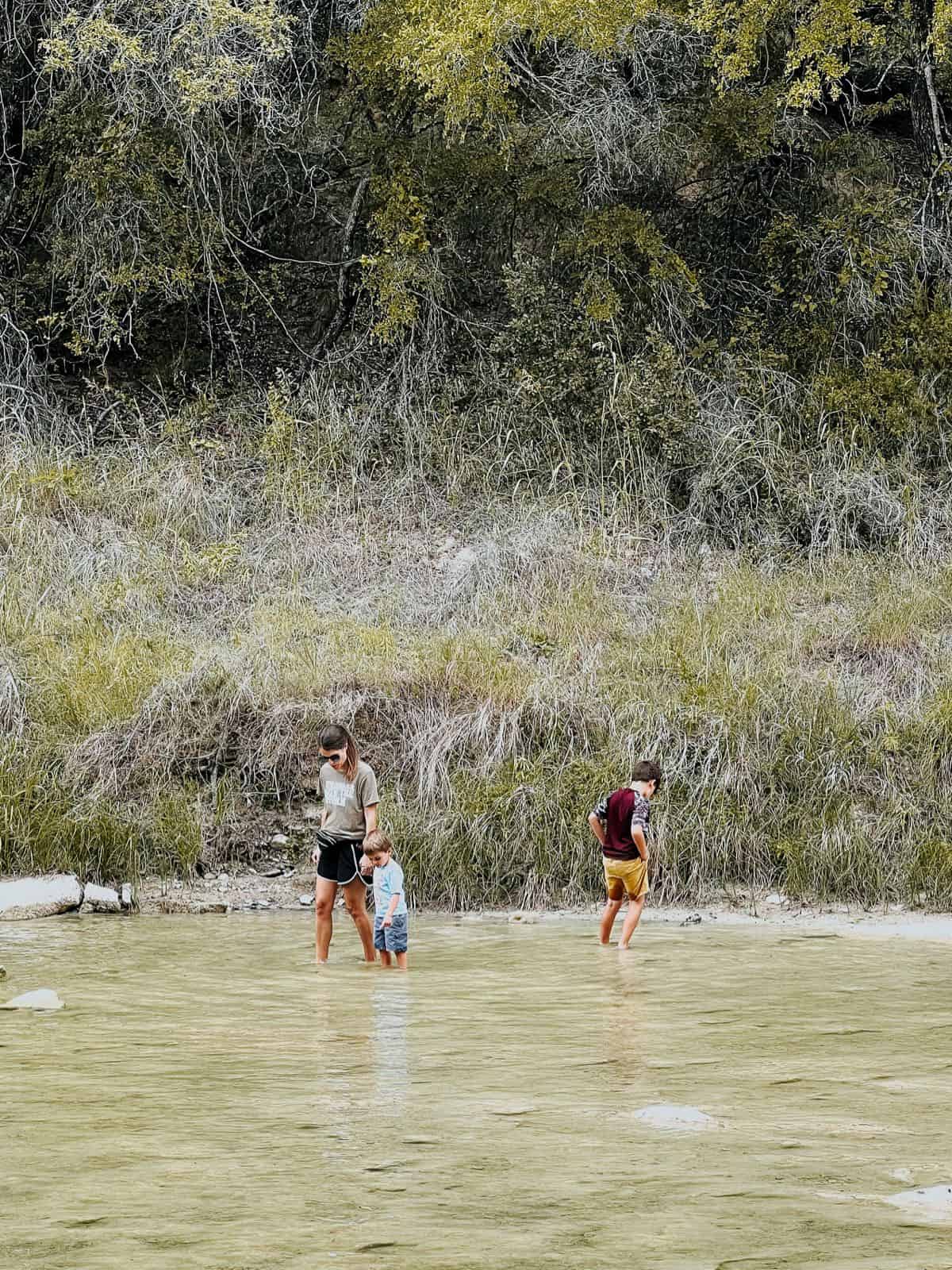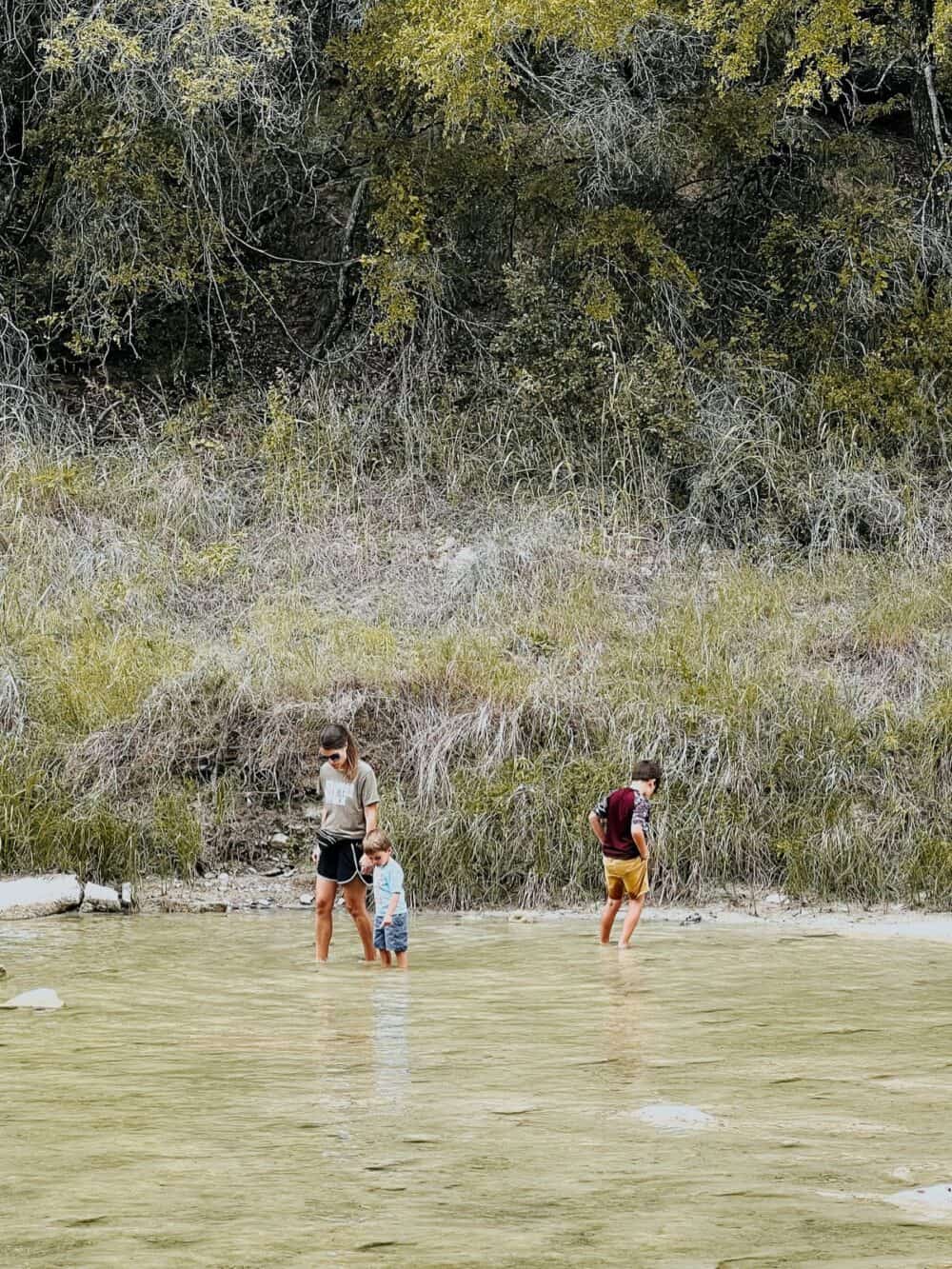 This beautiful state park is about a two-minute drive from Dinosaur World, and is also always a must-stop for us. The river that runs through the park is full of real-life dinosaur tracks, and you can go see them and stick your feet where the dinosaurs walked!
When the river is high enough for swimming, this is a great place to spend some time splashing and playing. There's tons of hiking (20 miles worth of trails!), geocaching, places to fish or take a paddleboat, and of course some beautiful campsites.
On this trip, the river waters were low (which can breed dangerous bacteria), so we only stuck our feet in the water. Last time we were there, we were able to go full-on swimming! We always do a little bit of hiking, and this park also makes a great picnic spot for lunch.
visit granbury city beach park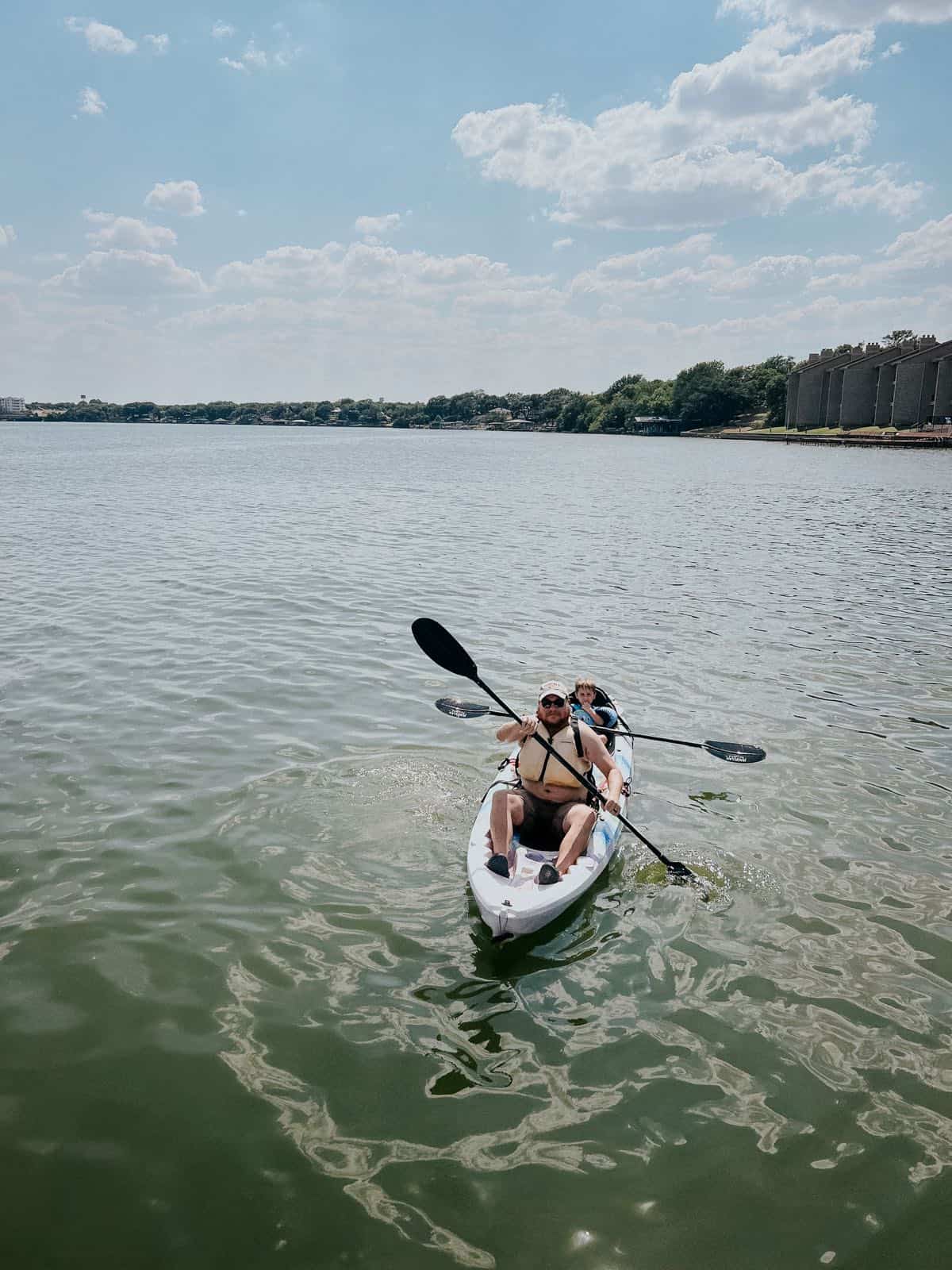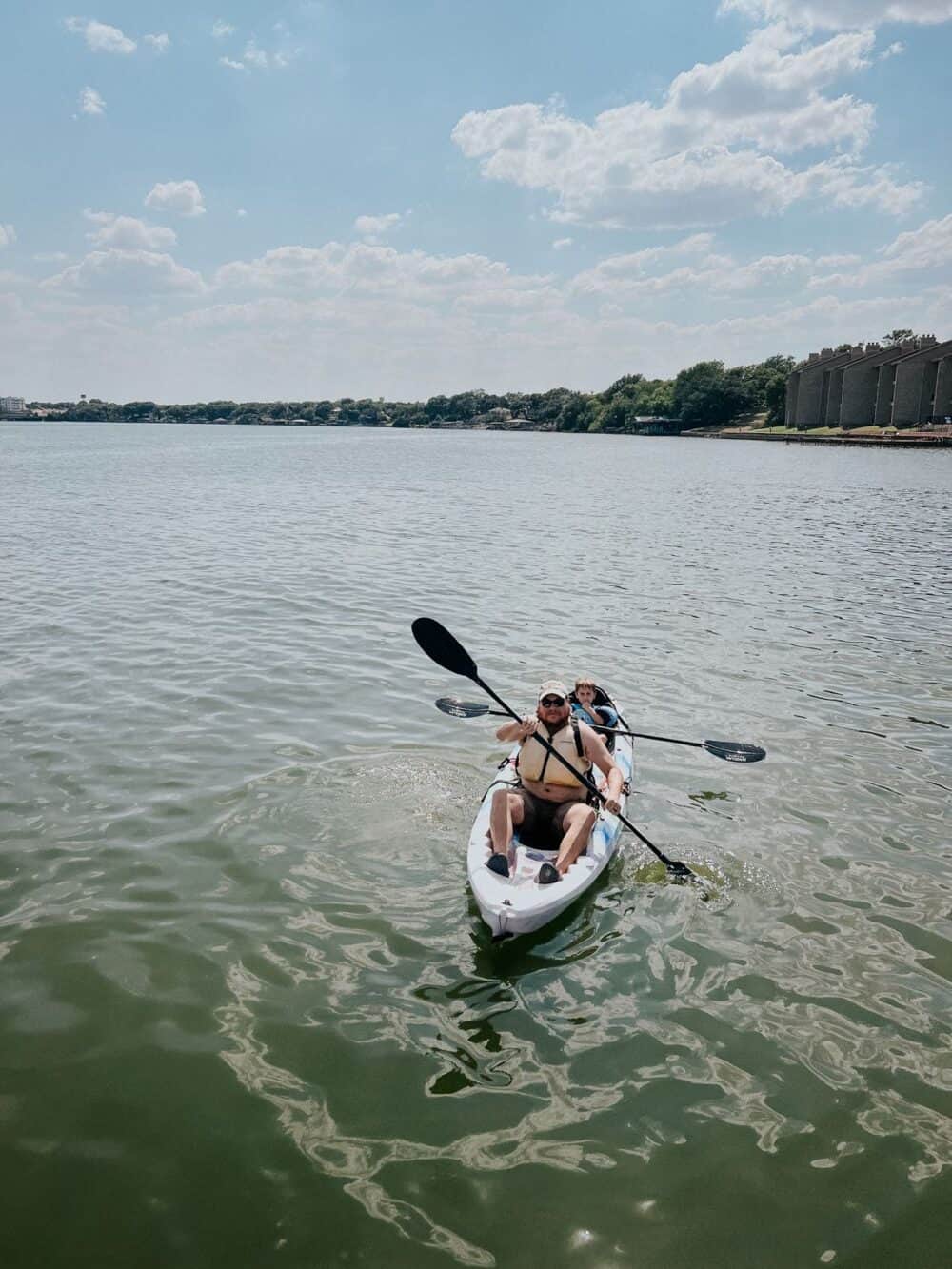 Right next to downtown Granbury, there's a small man-made beach that leads right into Lake Granbury. It's walking distance from the square, and from lots of cute restaurants and shops. The beach is the most adorable spot and it's perfect for a day of swimming for the kids! It's free to get in, and there are paddleboat and kayak rentals at the little snack stand nearby.
There's a small splash pad right next to the beach as well, and Grant loved to hop back and forth between the two. We spent a few hours here swimming, kayaking, building sand castles, and just enjoying the sun. It's the perfect way to spend an afternoon without having to spend a dime, and it's always much less crowded than any other beach I've ever been to!
have ice cream on the square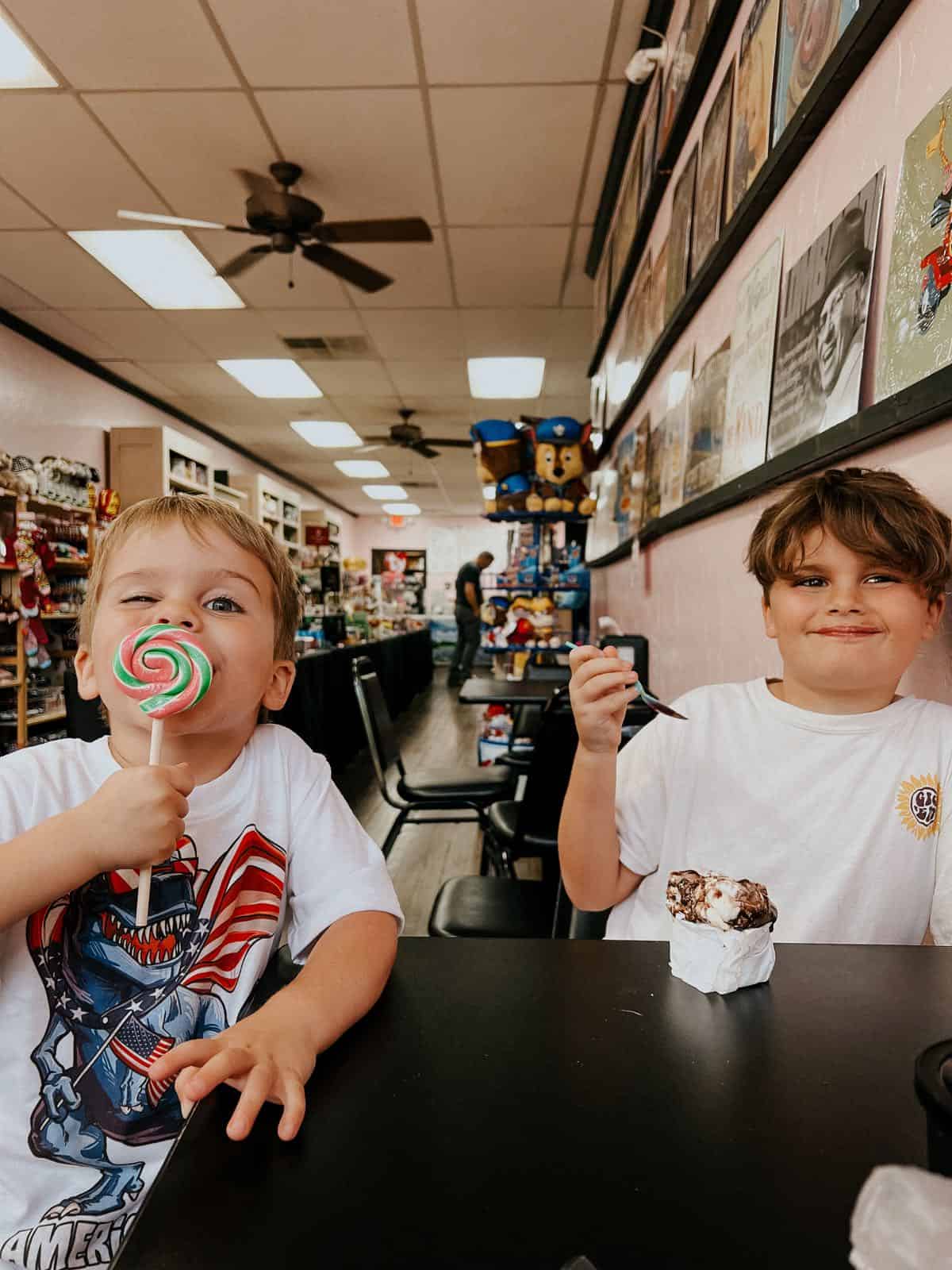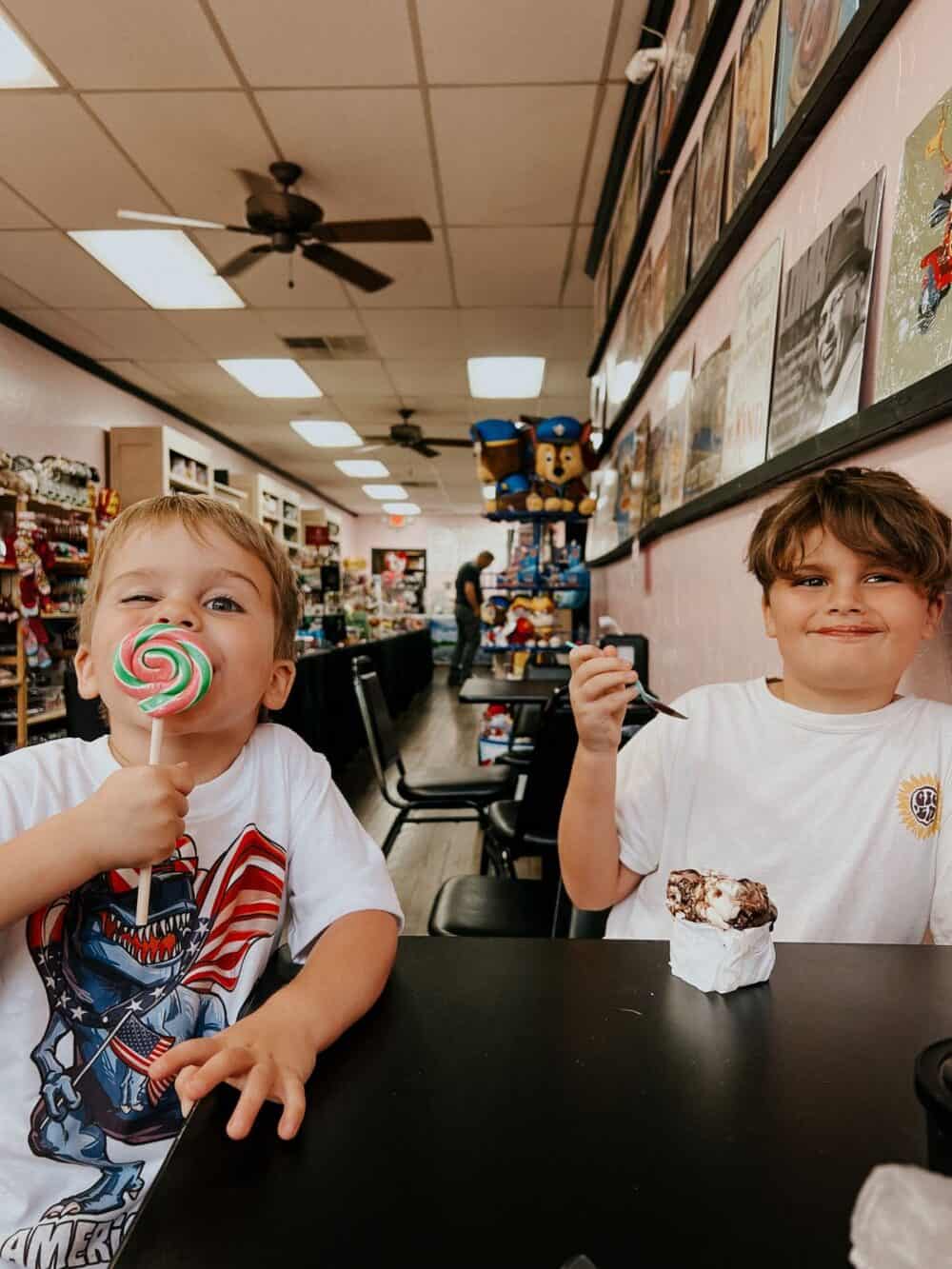 Corey and I could probably spend a whole day walking around the Historic Granbury Square and visiting all of the cute little boutiques and antique shops on and around the square. But, the kids don't have much patience for that. Instead, a highlight of any trip to downtown Granbury is always the ice cream!
We love both Merry Jayne's (which has tons of candy, truffles, and Blue Bell Ice Cream) and the Silver Saddle Saloon (who makes their own delicious and unique ice cream). We like to grab a cone and then wander through the town a bit. The kids loved all the boutiques that had toys (and Jackson particularly loved the store that had a little Build-a-Bear-style setup) and the bookstore on the square was top notch as well.
If you wander down any of the streets on the square just a bit, you'll find a few other hidden gems that you don't want to miss! If you have older kids, or just more patient ones, the shopping in Granbury is something you don't want to miss!
other things to do
Those are the highlights of our trip this time around, but there are lots of other things to do in and around Granbury. Here's a (non-comprehensive) list of other things I'd recommend trying on your next visit!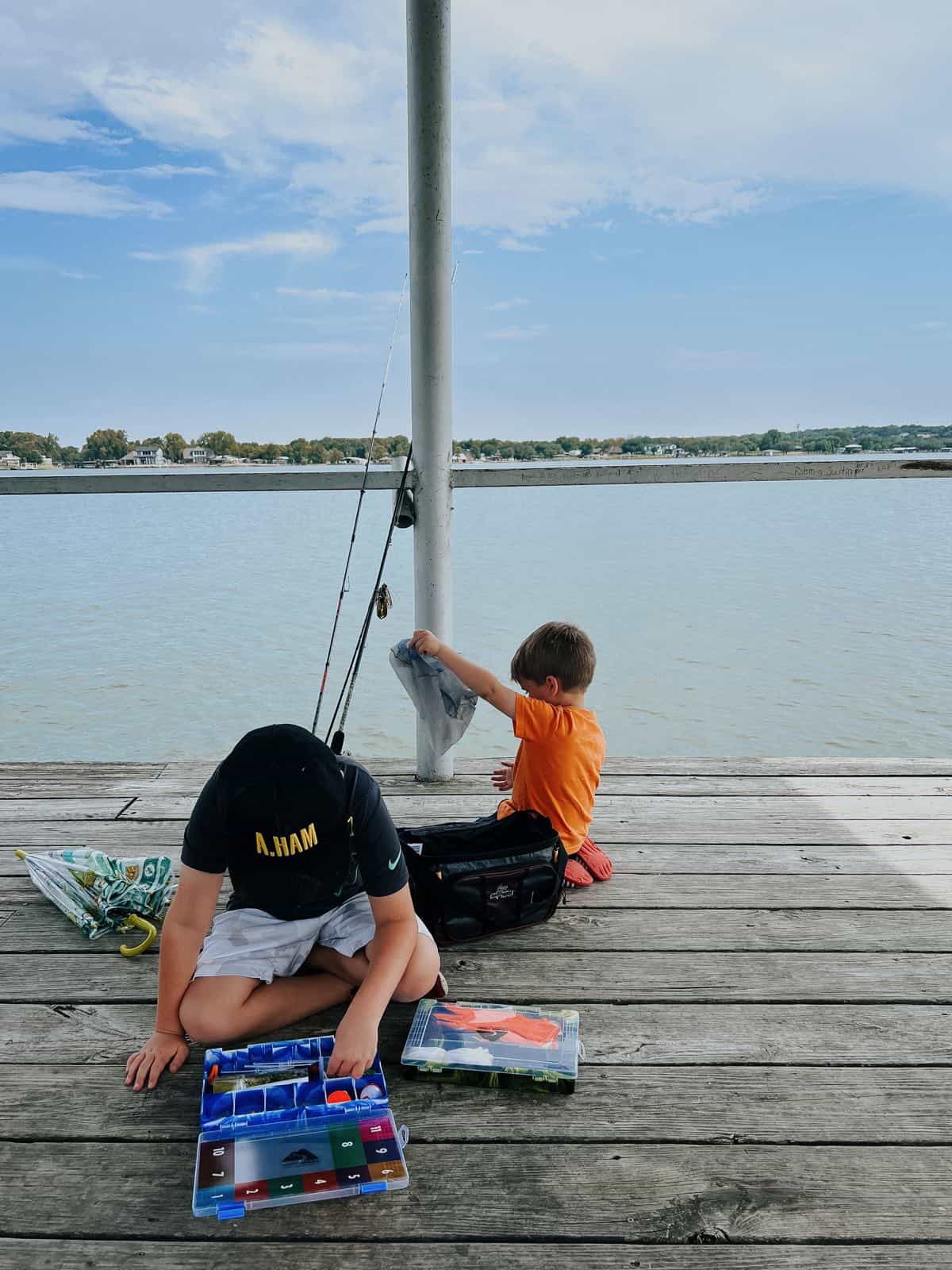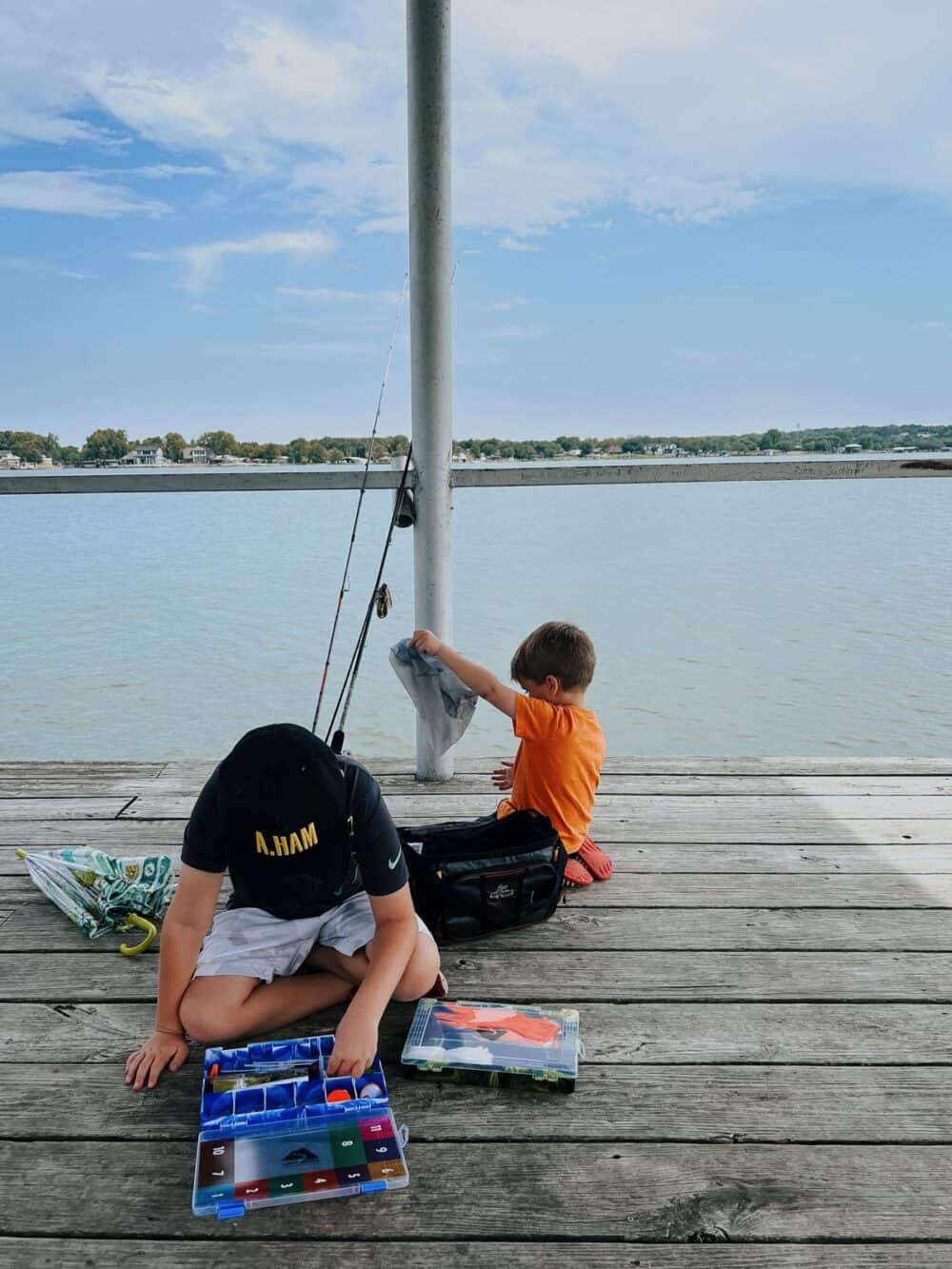 Try the Granbury Hike & Bike Trail. It's just under 3 miles long and connects the Granbury Airport with Shanley Park. It also has plaques scattered throughout the teach you about Granbury's history.
Visit a few art galleries. There are several on the square, and the Lake Granbury Art Association has a beautiful gallery that is located in a historic building that used to be a gristmill.
Try out some local wine. There are several wine shops in the square the sell wine from local wineries – we've never got to fully explore them (because children) but someday I'd love to pop in and do some tastings! There's also Revolver Brewery and a distillery in town, if that's more your speed!
See a show at the Granbury Live or the Granbury Opera House. Both of these venues on the square are absolutely stunning buildings, and we love to visit them even without seeing a show, just to appreciate their beauty! The Opera House is home to shows by the Granbury Theatre Company, and it's supposed to be fantastic!
Visit the Brazos Drive-In. Who doesn't want to visit a drive-in movie theater?! We haven't ever done this because we're rarely in town on the weekends (and they don't operate during the week). But, it's hard to find drive-ins at all anymore, much less ones that are as beloved as this one.
Check out Fossil Rim Wildlife Center. This conservation center for endangered wildlife is a short drive from Granbury and is a beautiful place to visit. You can drive through on your own or take a guided tour to see all of the animals. There's a petting zoo and a cafe that overlooks the center, perfect for a quick lunch stop!
See a museum. There are several small, cute museums in and around Granbury. We found the Hood County Jail Museum to be absolutely fascinating. I've also heard great things about the Railroad Depot Museum and the Granbury Doll House Museum!
Ride the Granbury Trolley. There's also an adorable trolley that goes through town on Fridays, Saturdays, and Sundays! We've never seen it (because we always go during the week), but I'm sure it's incredibly charming.
Granbury Ghosts & Legends Tour. My kids aren't old enough for a ghost tour yet, but I can't wait for the day when they are!
Be sure to pop by the visitors center on the square if you want more info or help with anything while you're in town! There are tons of festivals and special events in Granbury's historic downtown square throughout the year, so make sure you don't miss one!
where to eat in granbury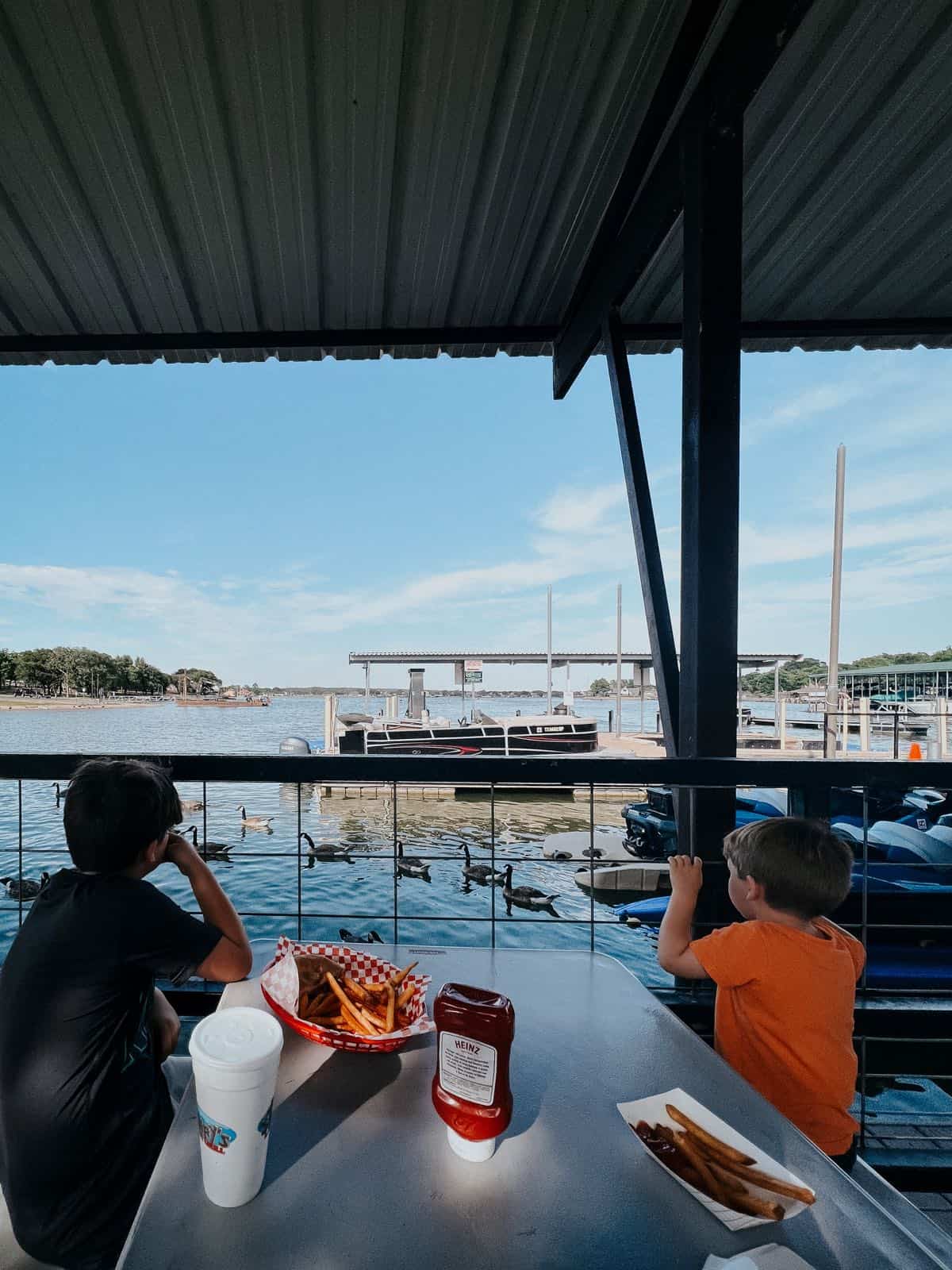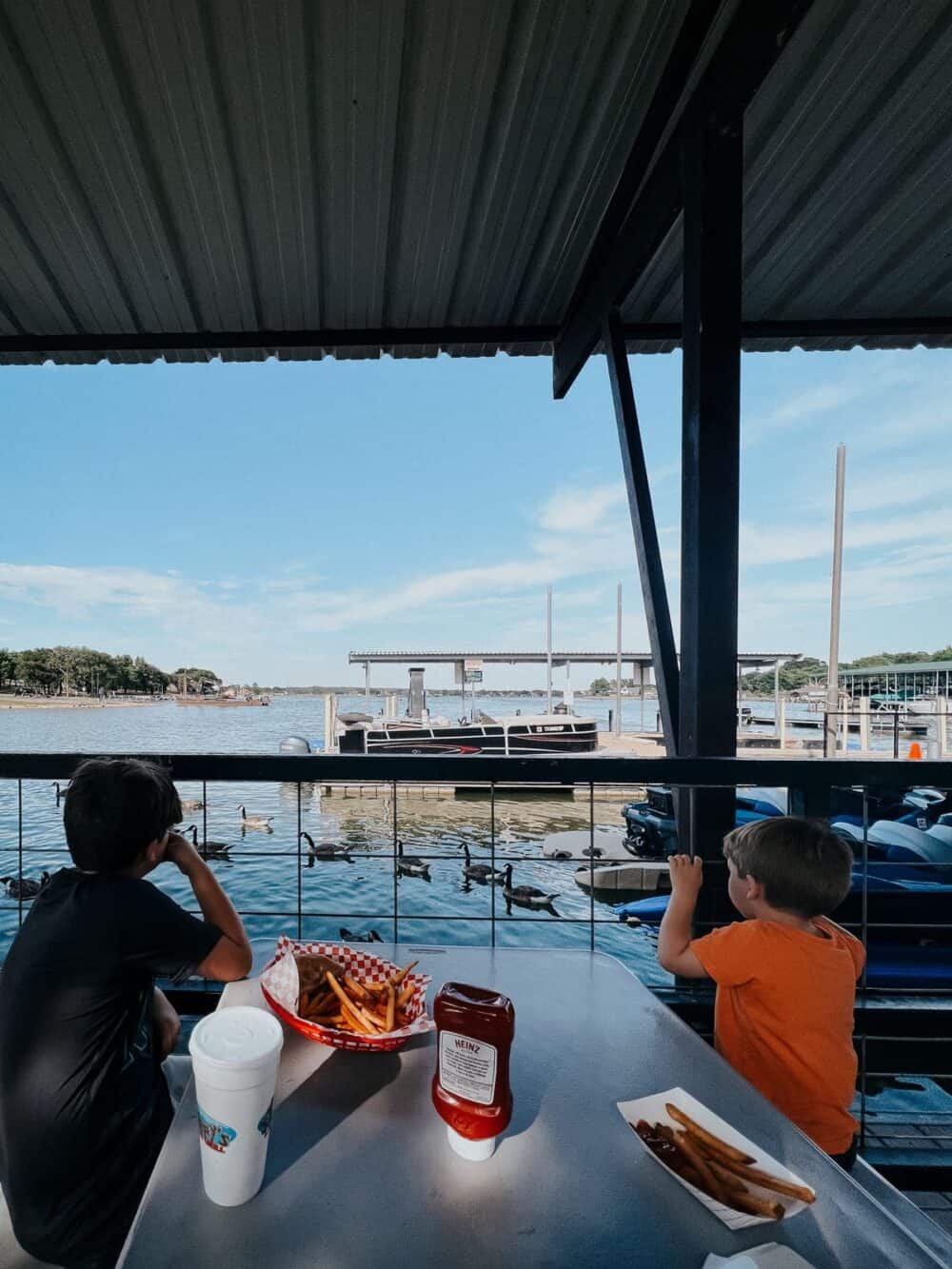 We're big food people, so one of the most important aspects of any vacation is when and where we'll eat! We've tried a lot of different restaurants in Granbury, but we still have a long list of places we want to try!
Our Favorite Restaurants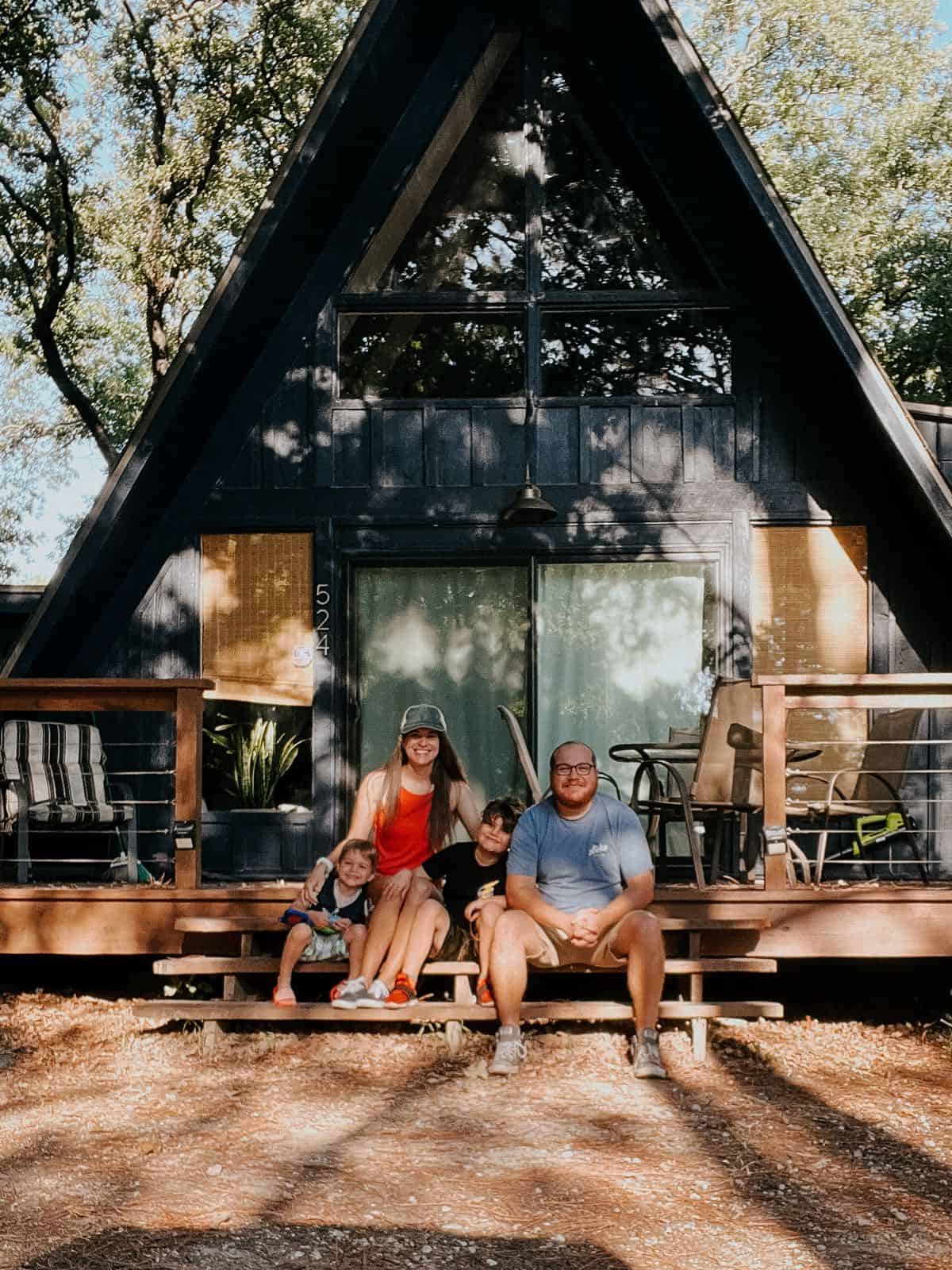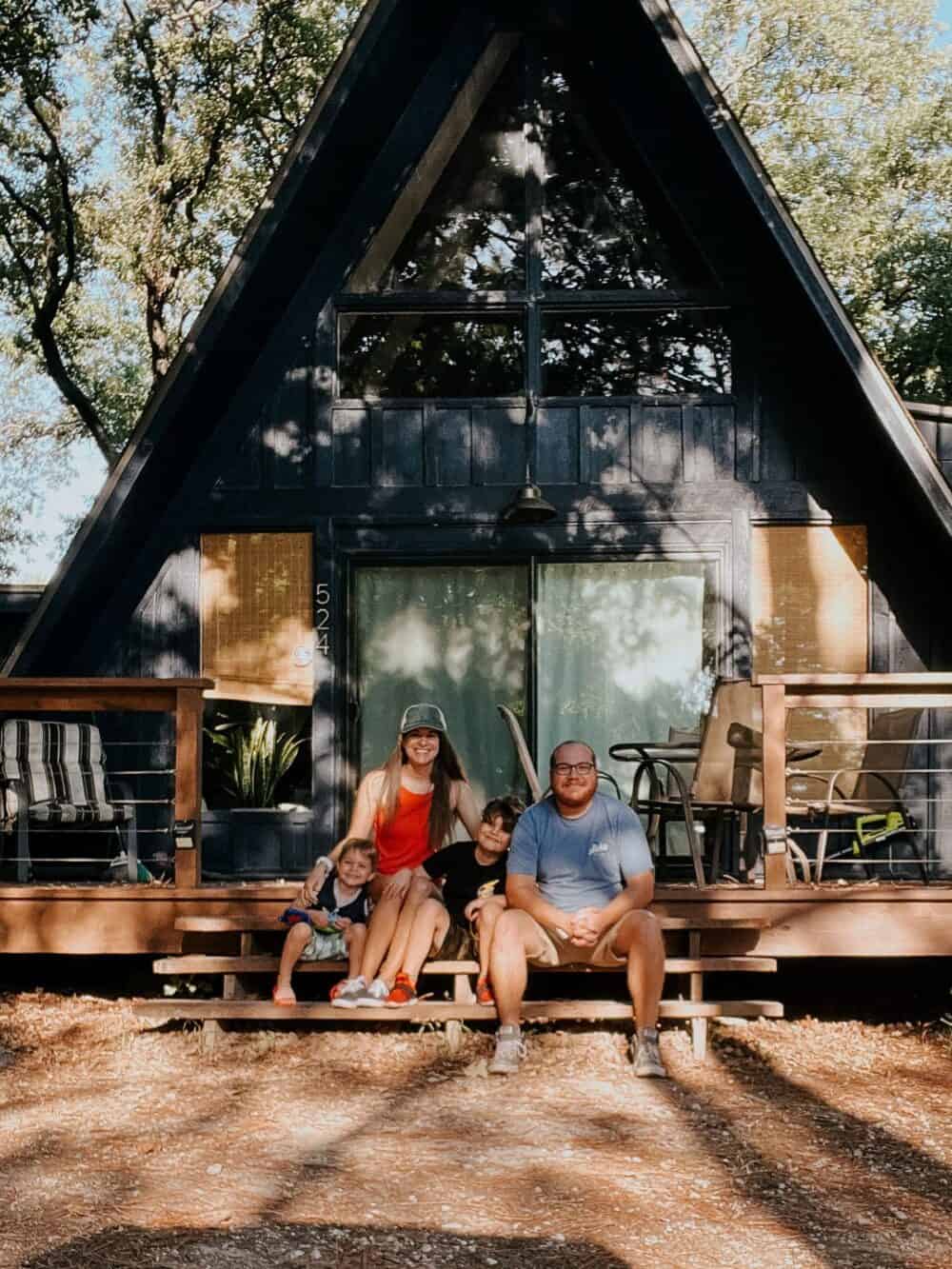 Where to stay in Granbury
There are tons of cute boutique hotels and bed & breakfasts in and around Granbury. But, I can't speak to those. What I can tell you is that we've stayed in two different Air B&Bs in Granbury and have had the BEST experience! The first one was a really beautiful house right on the lake. It was within walking distance to the square – we stayed there two years in a row. Once, it was just our family, and the second time we stayed there with my parents. It doesn't appear to be available for rentals anymore, so this time we found this adorable A-Frame cabin. It was PERFECT for the four of us, and we'd absolutely stay there again!
This little family vacation was the perfect getaway for us. We've been counting down the days to it for what feels like forever, and it didn't disappoint!
If I missed any amazing things to do in Granbury that you know of, be sure to drop them in the comments!
other travel posts you may love