Do you ever wish that bloggers would just slow down and back up and explain things a little better?
Do you ever look at the gorgeous photos you see on Pinterest and think, "that's great, but I could never do that?"
Have you ever crossed your fingers and hoped that a few bloggers would take it a few steps back and just go back to the basics a little bit?
You're not alone. I'm all about beautiful, inspirational images but I also want the things I share here on Love & Renovations to be things that you feel you could do yourself. I don't ever want to sail right over anyone's head with design or DIY terms that are confusing, too complicated, or too advanced for the average homeowner.
Well, if you identify with that at all, I've got great news for you. I'm joining 6 other bloggers for a monthly series where we'll take a topic and dive deep into the very basics of it. We'll cover everything from organizing to decorating to DIY – which means that every month from here on out you'll have not one but seven different bloggers sharing some basic tips and tricks with you that anyone can do.
I'm so excited to be a part of this series because it is exactly what my blog is all about – breaking down the basics of DIY and home decor into simple, actionable tips that you can try yourself.
Nothing too complicated. Nothing too fancy.
Just the way I like it.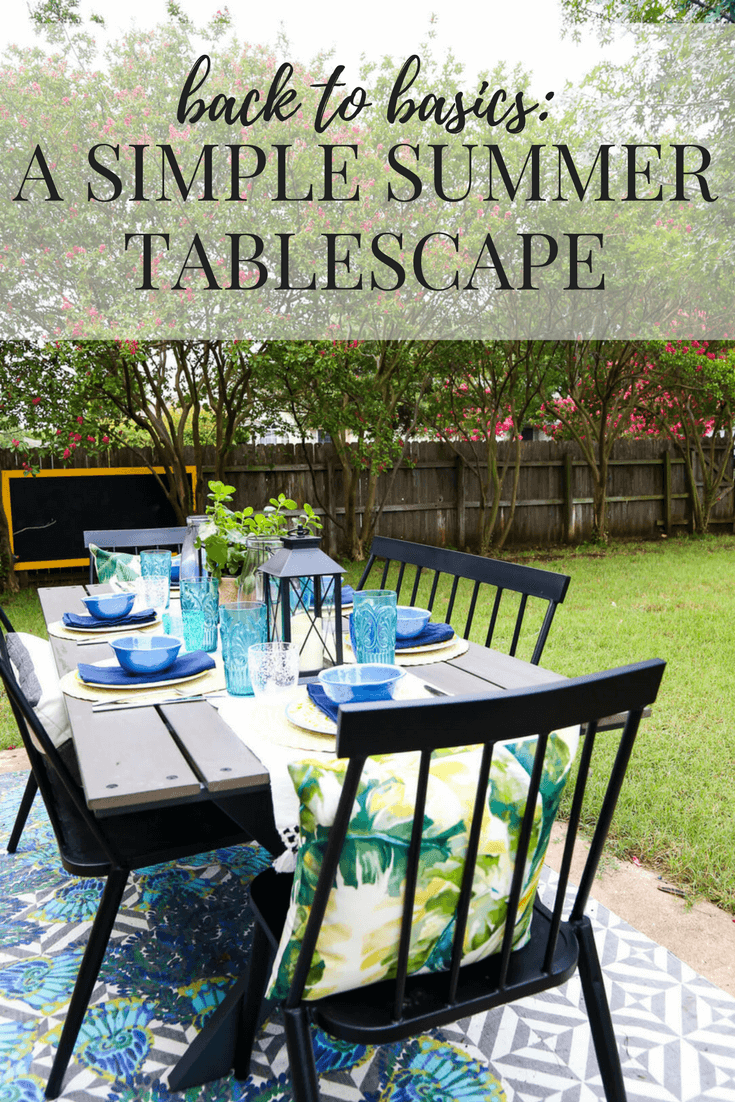 This post contains affiliate links. Click here to read my full disclosure policy.
I'll be the first to tell you I'm not a pro when it comes to table settings. I think they're a lot of fun to set up, but I feel like it's definitely one of my weak areas. But, just like with anything else, the more you practice the better you get, and I feel like each time I give it a go it gets a little bit better.
So, let's chat summer tablescapes. Personally, I'm a big believer that summer is the time to let go of the formality, relax, and take it as easy as possible. That means that it's a priority for me to make my table low-maintenance, easy to set up, and easy to clean up.
I mean, why spend a ton of time on your table when there are sprinklers to play in and sangria to drink?
#priorities
Before we dive into the details, I made a fun, super quick little video showing how simple it was to set up this table. It might look a litle fancy once it all comes together, but I swear it's incredibly simple.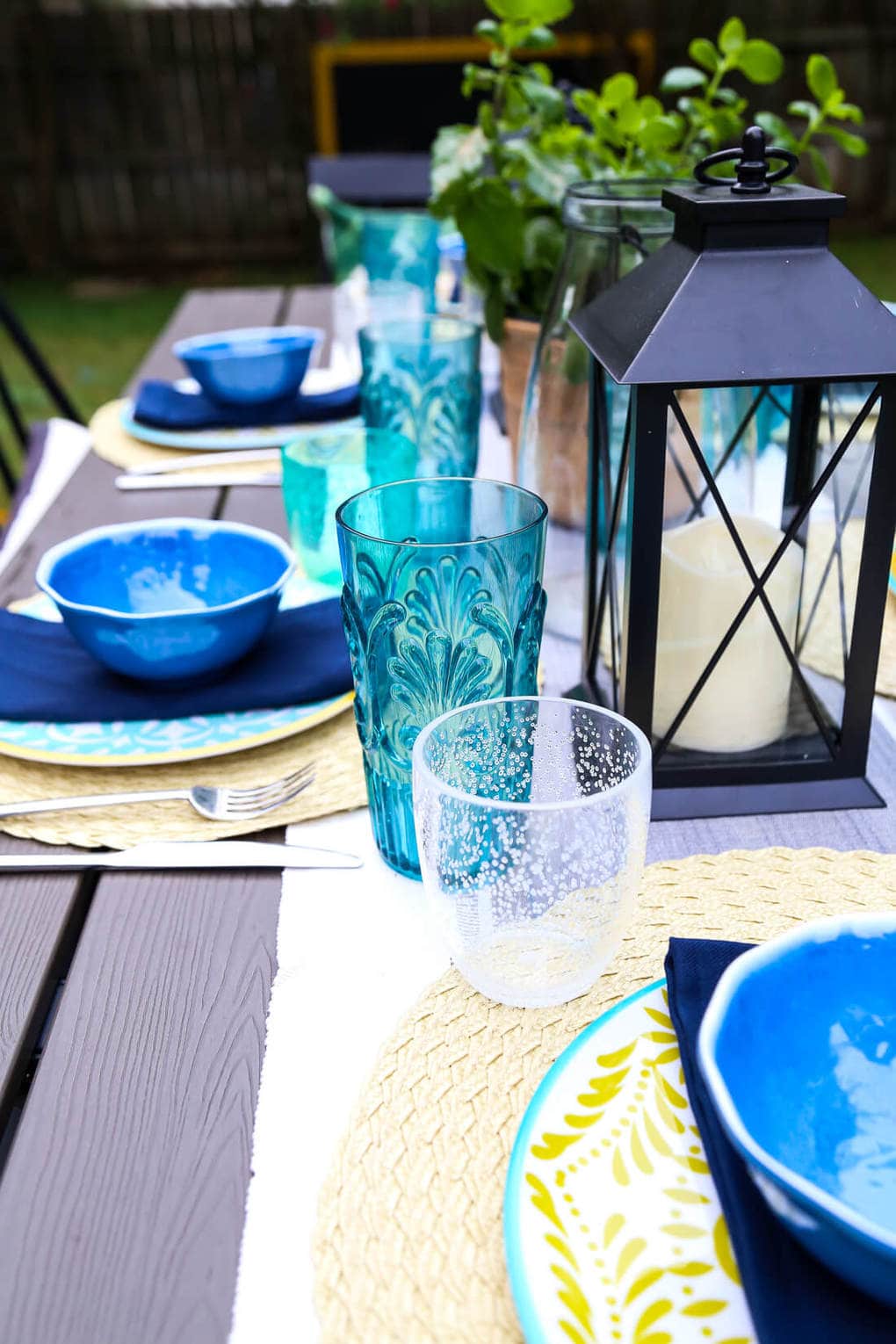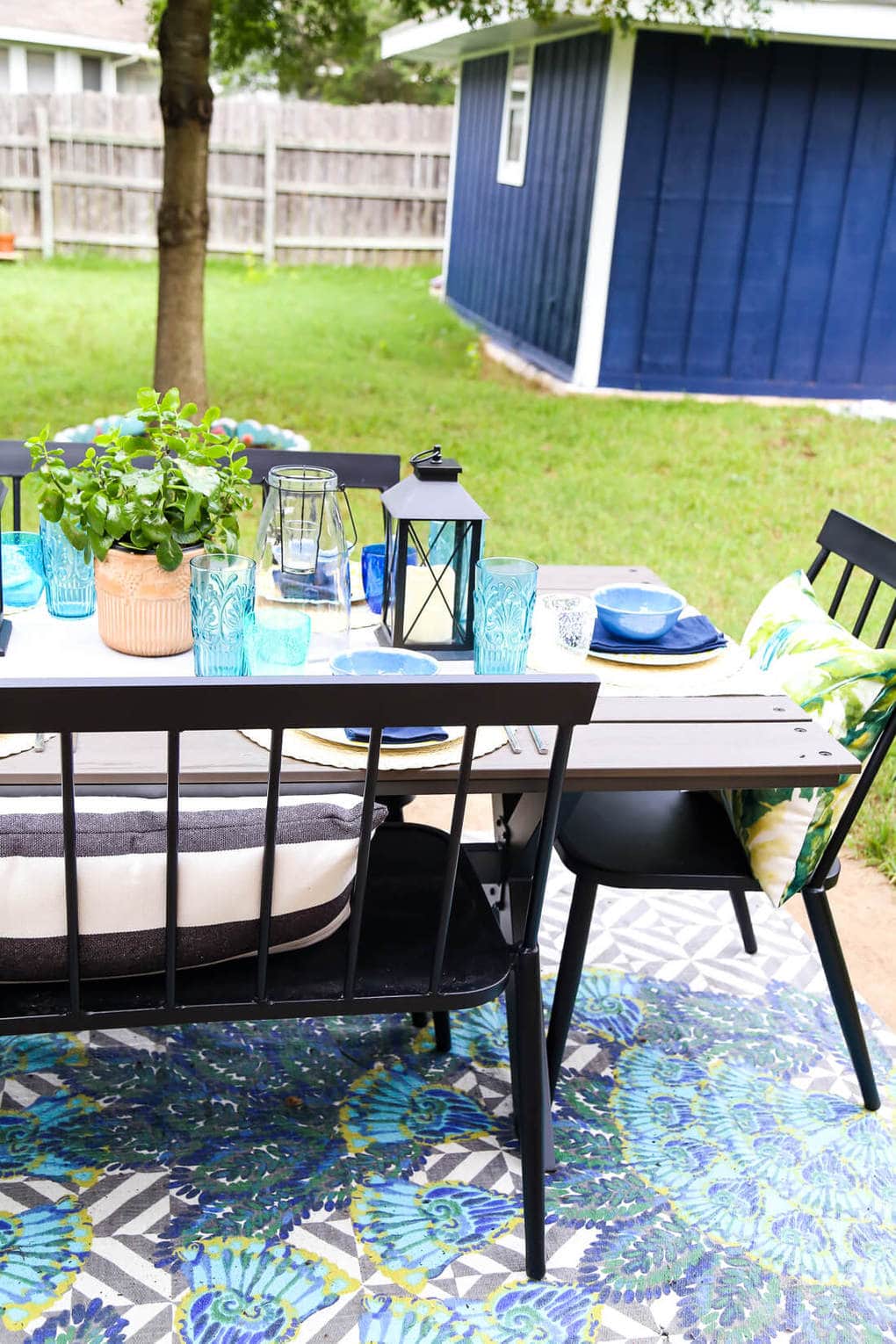 TIPS FOR SETTING A SUMMER TABLE
Stick to things you already have in your home. Summer gatherings are always a blast, but they shouldn't be stressful. Grab some paper plates, pull together all of your random serving dishes, and embrace the casual look. We've got a couple of mismatched sets of melamine plates and we just grab a stack and toss 'em on the table. We don't always end up with the same patterns, but that's half the fun. Never underestimate the power of bright colors and fun patterns when it comes to building a beautiful summer table!
Get creative with your greenery. Summer is busy and ain't nobody got time to run to the store at the last minute for some fresh flowers, amirite?! For this table, I brought one of my houseplants outside and plopped it down – it added some great color and texture and didn't cost me a dime. You could also pick some fresh flowers from your yard (or your neighbor's – shh!), trim some branches off of a pretty tree, or just gather up all of your potted plants and bunch them up on the table for a casual, organic look. Whatever you do, don't stress about filling the table with fancy, fresh-cut flowers – grab what you've got and make it work!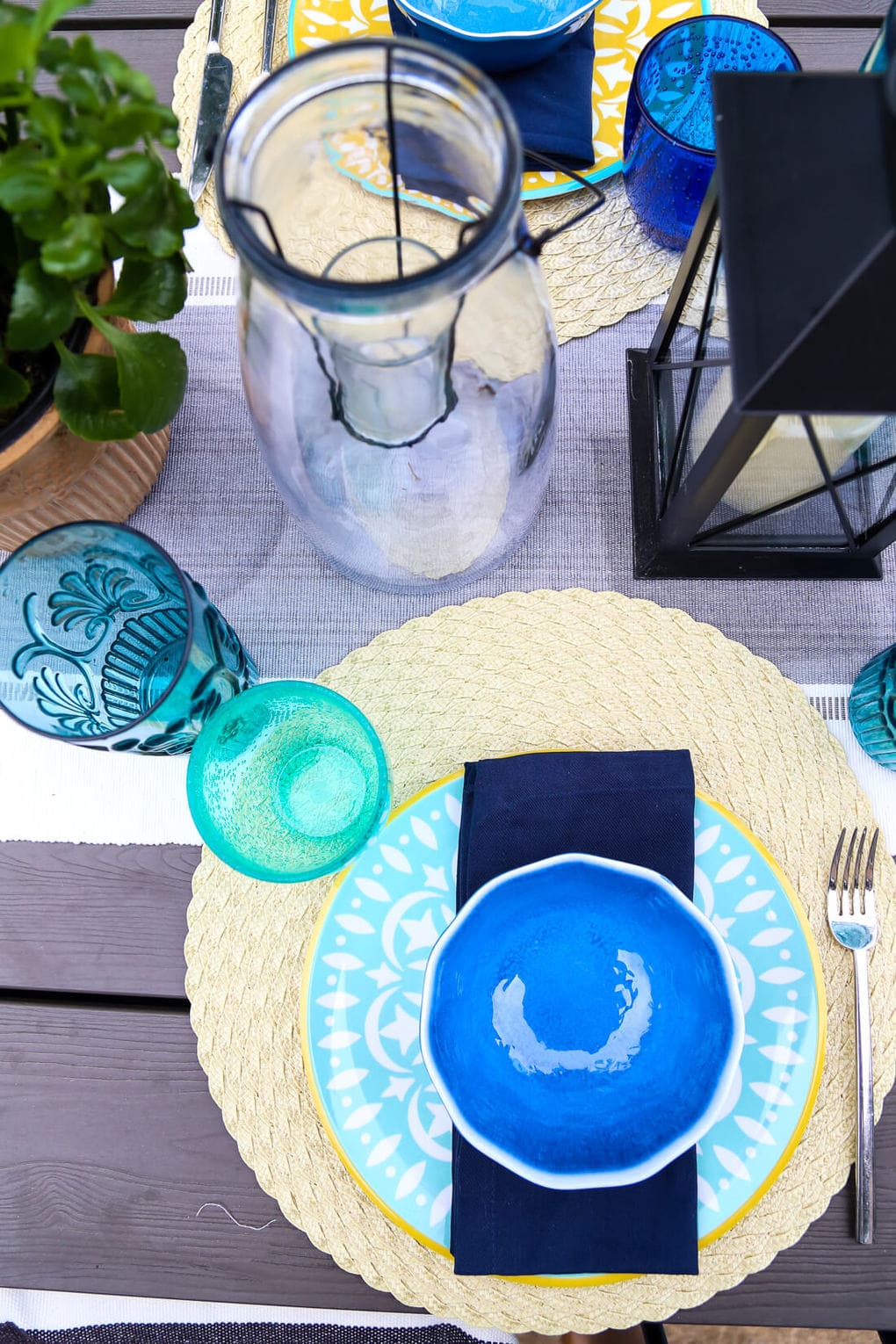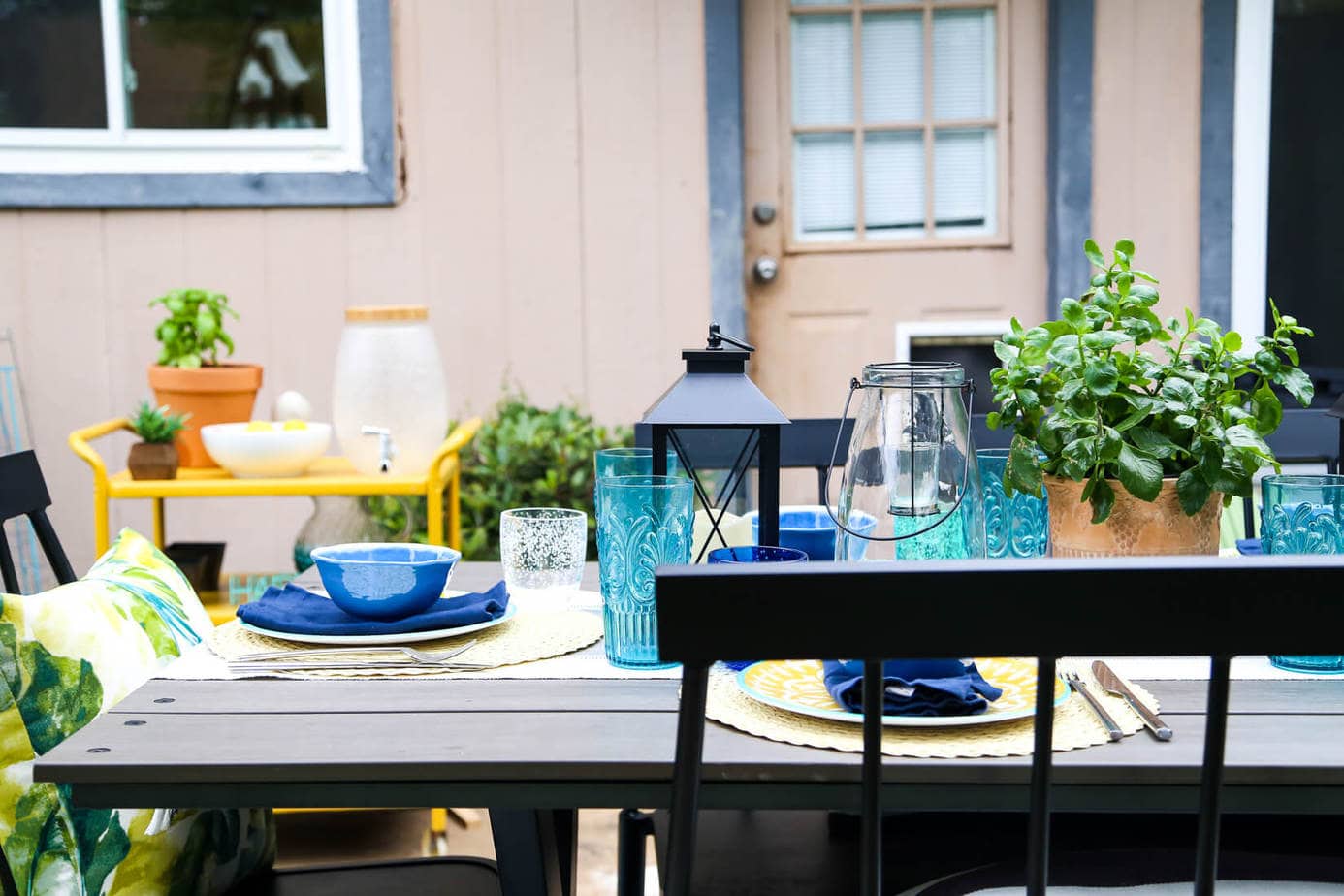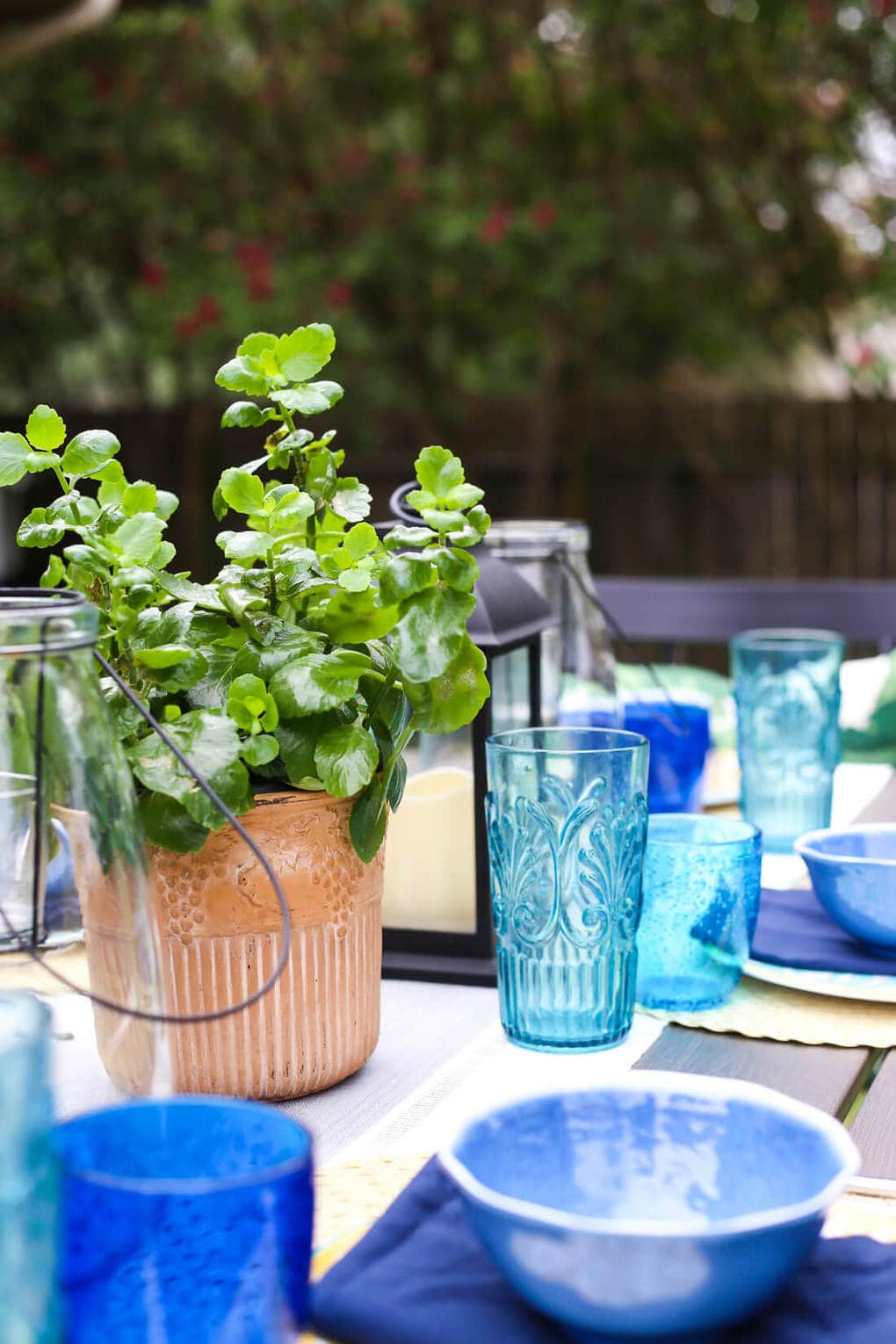 Use lots of candles. Soft lighting adds such a fun ambiance to an outdoor gathering, and if you grab a few citronella candles they have the added benefit of keeping pesky mosquitos away! We have some pretty flameless candles out here, as well as some tall glass lanterns that hold tea lights. We have to be careful not to leave the candles out all the time, or else they melt (hello, Texas summer!), but it's easy to bring 'em out for the evening and toss them back inside when we're all done. If you've got an outlet close, you can also hang up some pretty string lights. We have some but haven't figured out a good way to hang them yet, so we stick to candles for now.
Don't be afraid of color or pattern. I mentioned this already, but I'm a firm believer that when it comes to summer table settings, the more color and pattern you can add the better. Outdoor spaces have such a great neutral backdrop (green grass! Lots of texture!), and it's so easy to add in a ton of pattern and bright colors without overwhelming the space.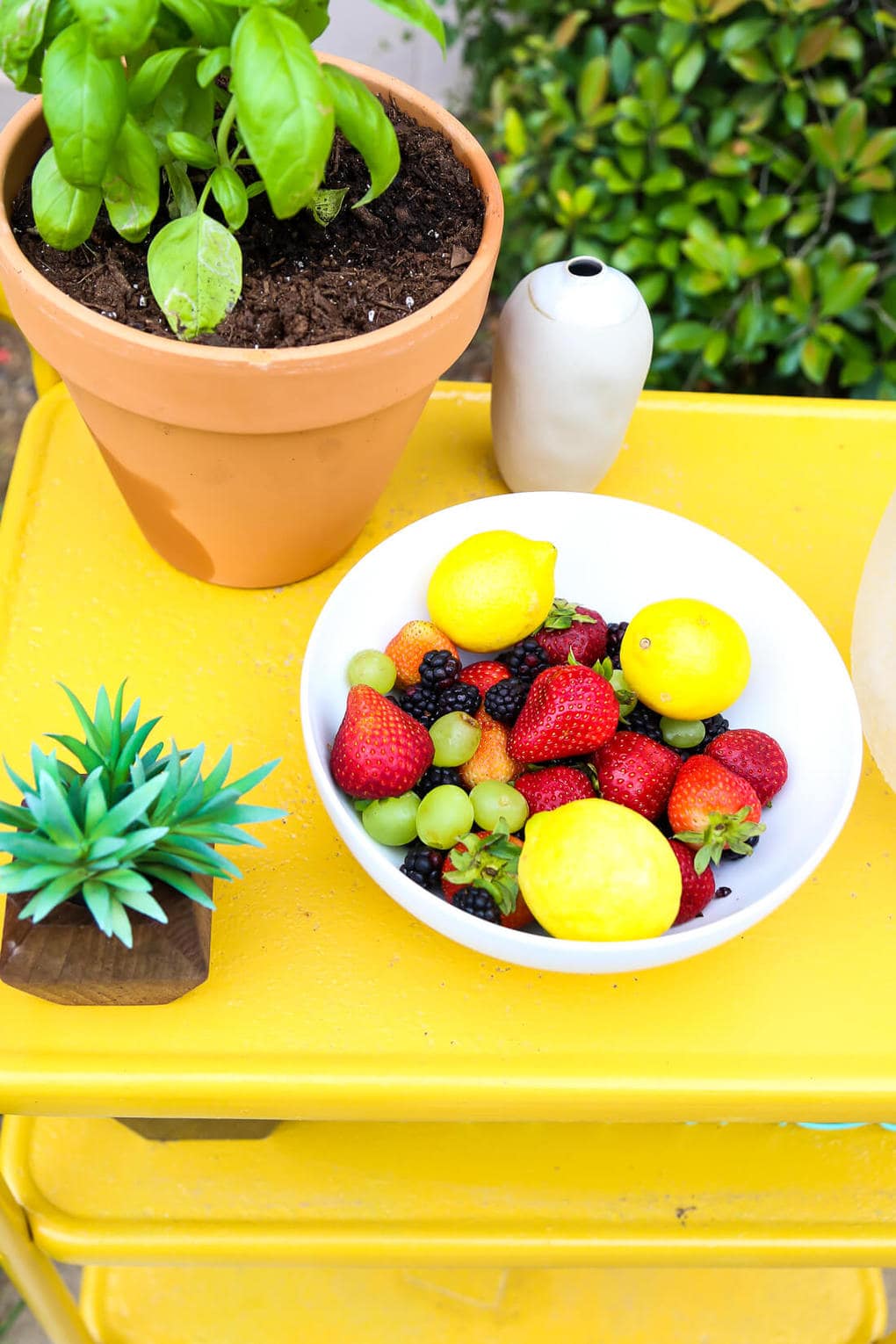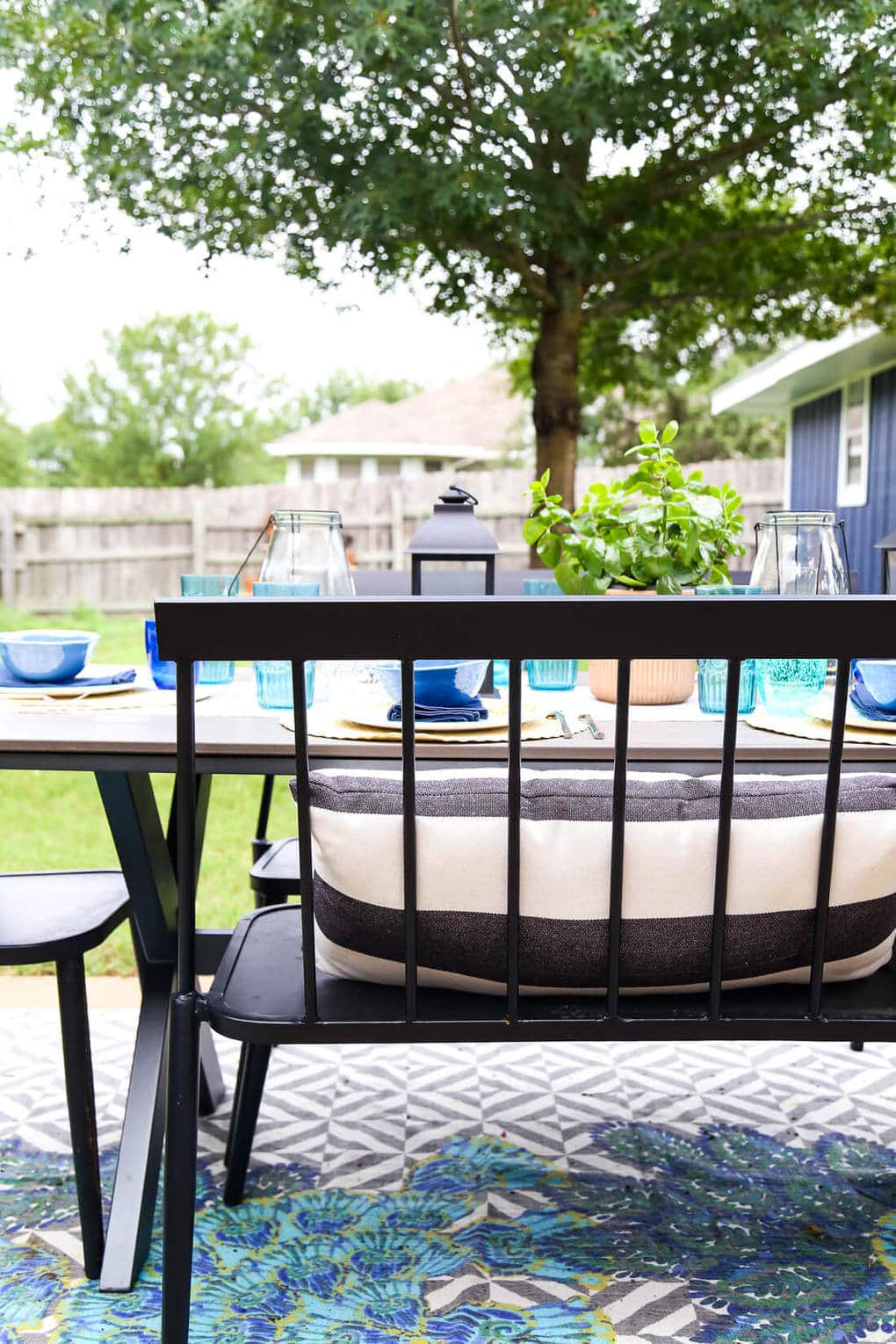 Consider pest control. Our backyard has a serious fly and mosquito problem in the summers and we have to actively work to keep things under control. We have a pest control company come out regularly to keep the bigger bugs away, and we have been using this mosquito spray this summer to keep that problem in check. We have several of these fly traps sprinkled around the yard to keep the fly problem to a minimum – they're definitely the bug we have the most of during the warmer months, and I can't even tell you how big of a difference these traps make. It's kind of disgusting as it starts to fill up with flies, but it's way better than having them buzz around your meal!
Finally, try to have a separate space for food and drinks. When we host meals inside of our home, we generally prefer the "pile all of the food on the table" approach because it feels so cozy and it makes it easy for people to grab more food if they want it. Outside, though, if you bring all of the food over to the table you're a lot more likely to also bring those flies over too. Our little yellow bar cart is the perfect spot to store extra food and drinks, and these easy DIY shelves are a really great option too!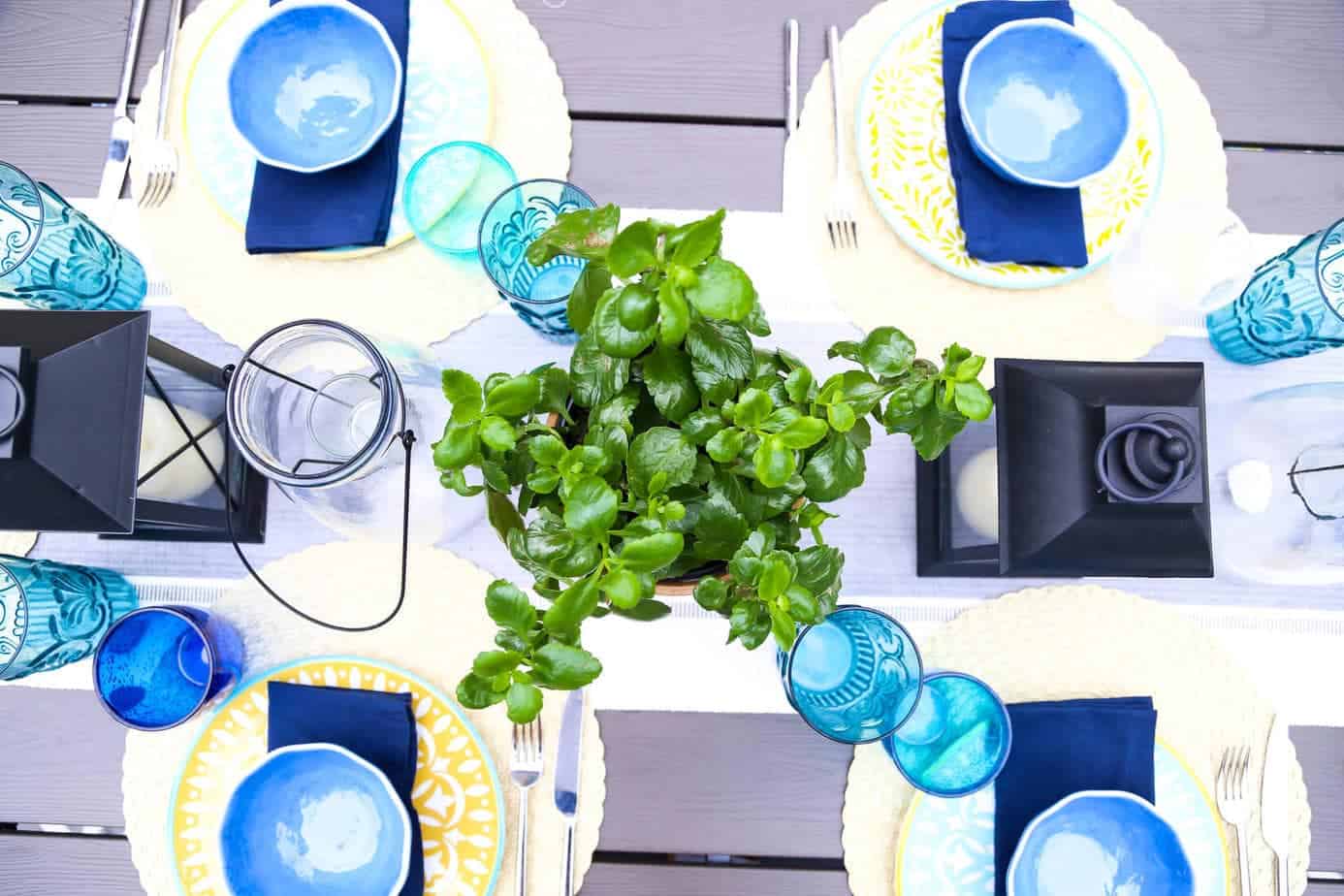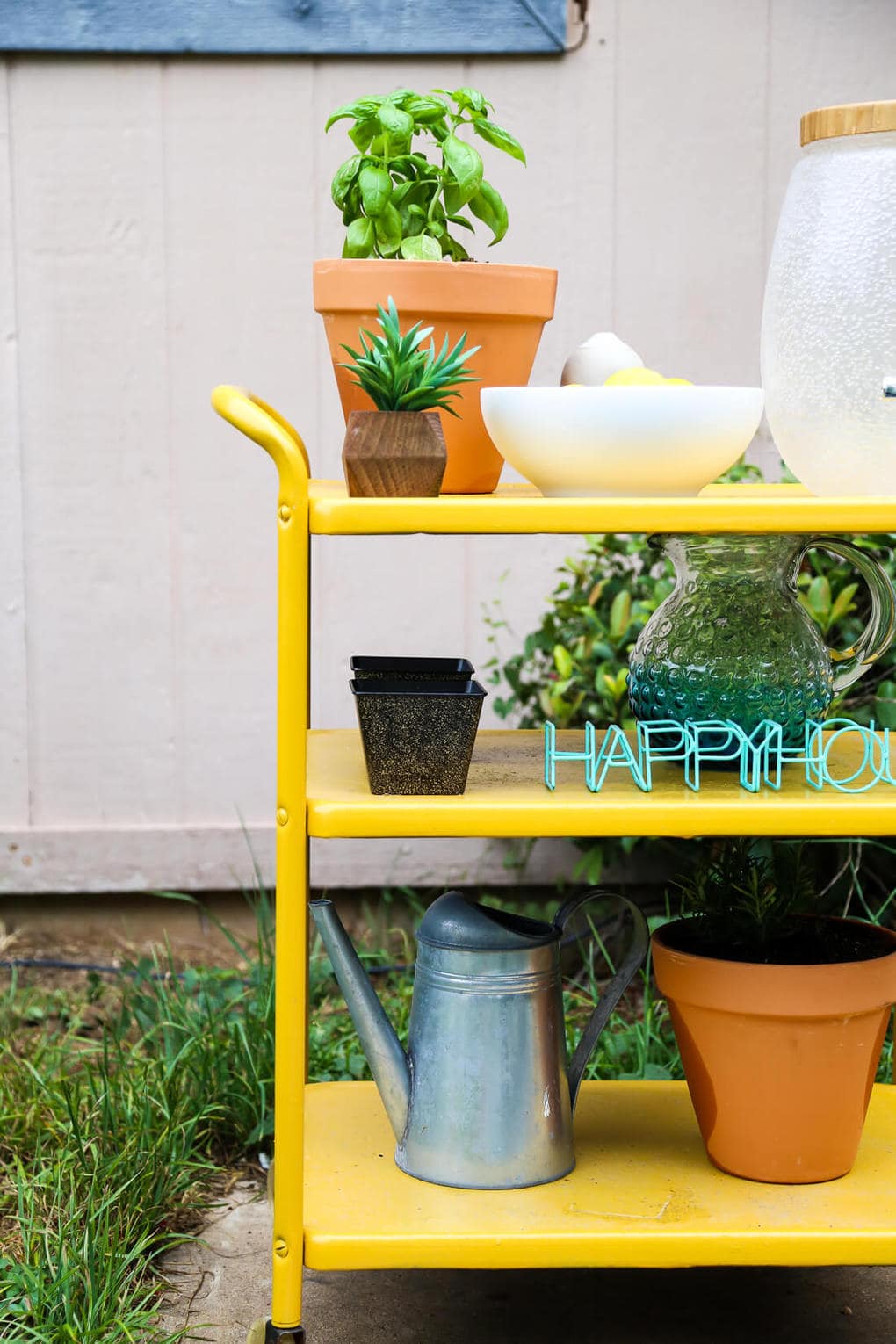 Bottom line? When it comes to setting a summer table, you want lots of color and zero stress. Get creative, use what you've got, and have fun with it!
I've included shoppable links below for most of the stuff I used in this place setting if you see something you've just gotta have.

Don't forget to check out all of the other lovely summer tablescapes from the other bloggers participating! There are some seriously talented ladies here, you don't want to miss out on their tips!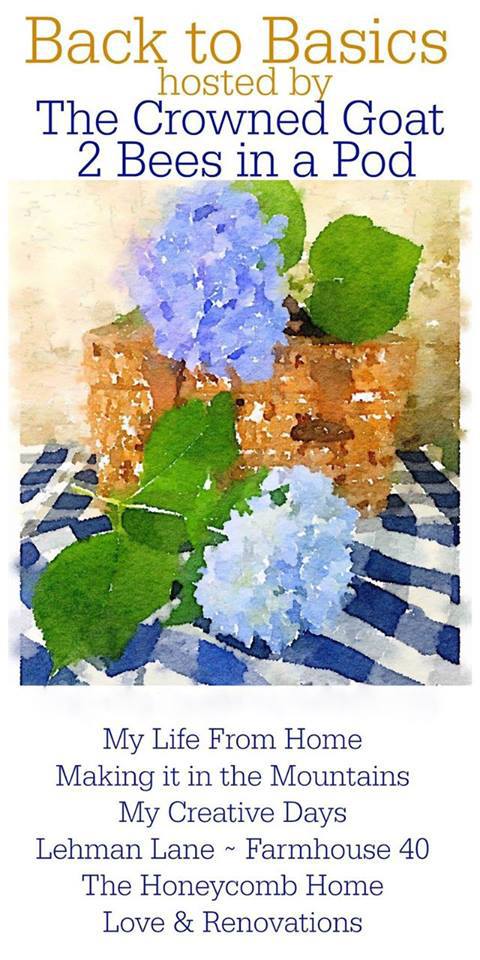 [inlinkz_linkup id=725492 mode=1]