We haven't shown our dining room a lot of love in the last year since we finished it – it was high time for an update! Here are some small changes we've made, plus a peek at how we entertain in our small dining room.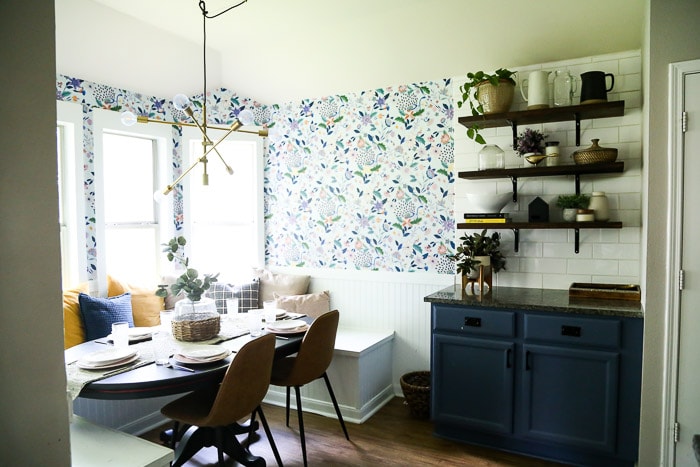 It was right around this time last year that Corey and I took the little dining nook in our home and transformed it from a tiny, boring space into the gorgeous and functional dining room that we all know and love now. You can read more about that makeover right here!
Since we finished the renovation, however, we've done very little to this space. That's kind of the peril of constantly working on your home – when you finish a project you move onto the next one so quickly that you don't take the time to sit with things and tweak – and tweaking is the best part!
I've been wanting to make a few small changes in the dining room for a while now, and I've also been wanting to make a commitment to have people over more often. We used to love entertaining but we've really shied away from it in this house because most of our friends have multiple kids and it just seems so overwhelming to cram everyone into this small space! But, now that warmer weather is here and we're finally finding our stride and feeling more confident with this house, I'm determined to start hosting more – even if our house is by far the smallest among our friends!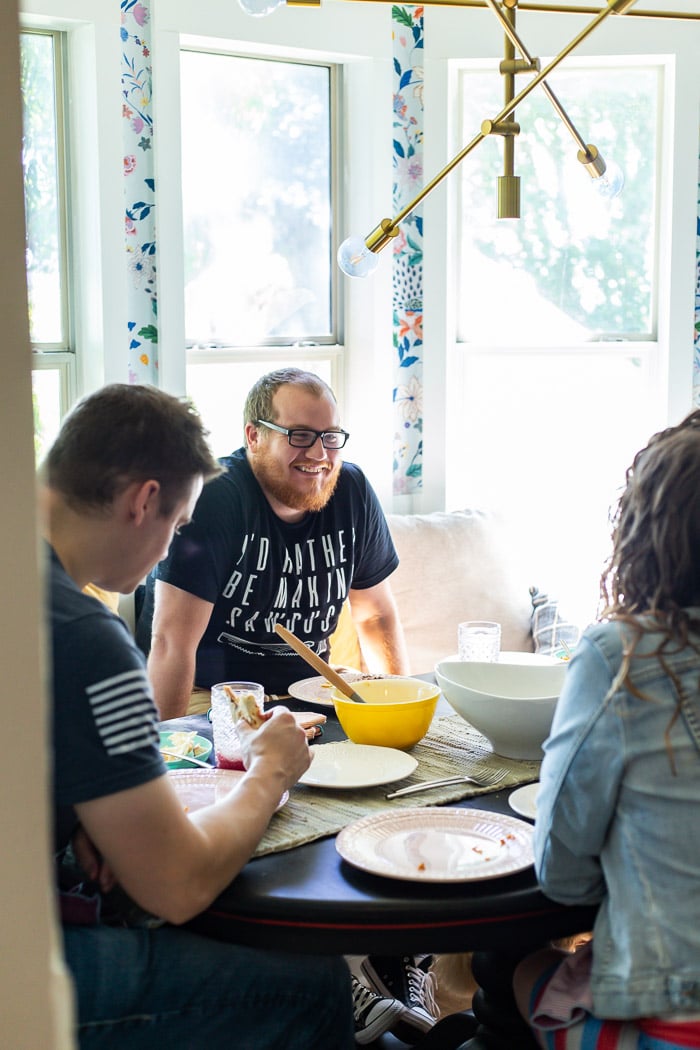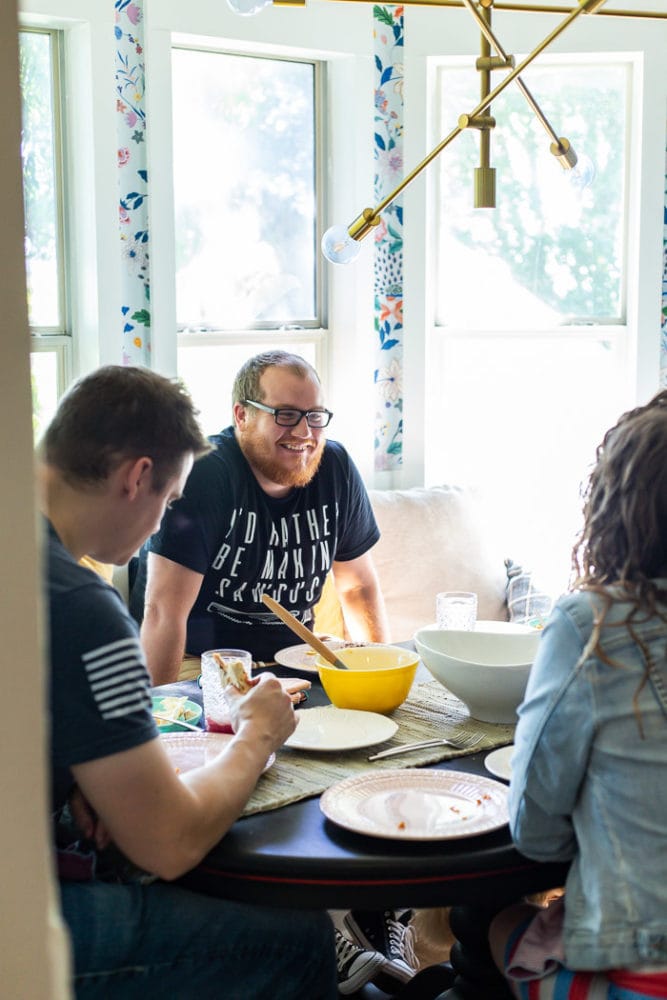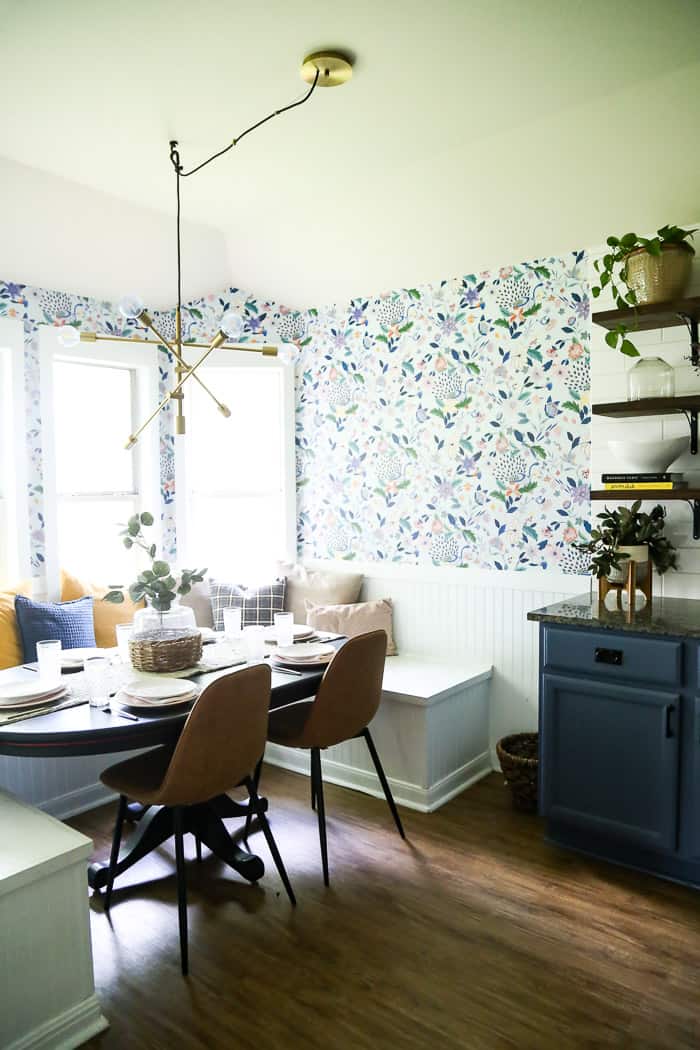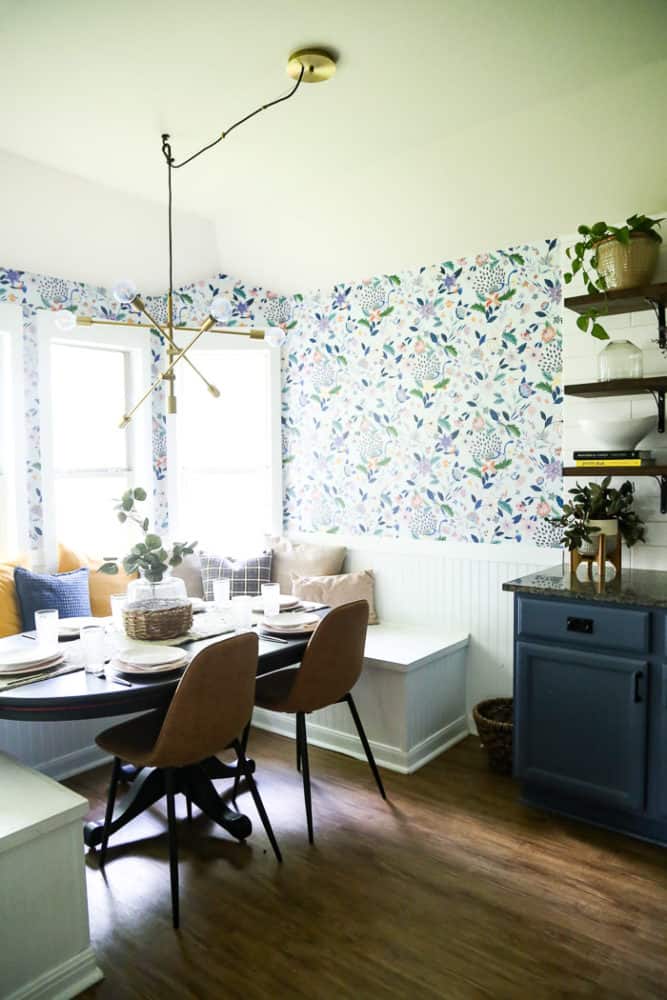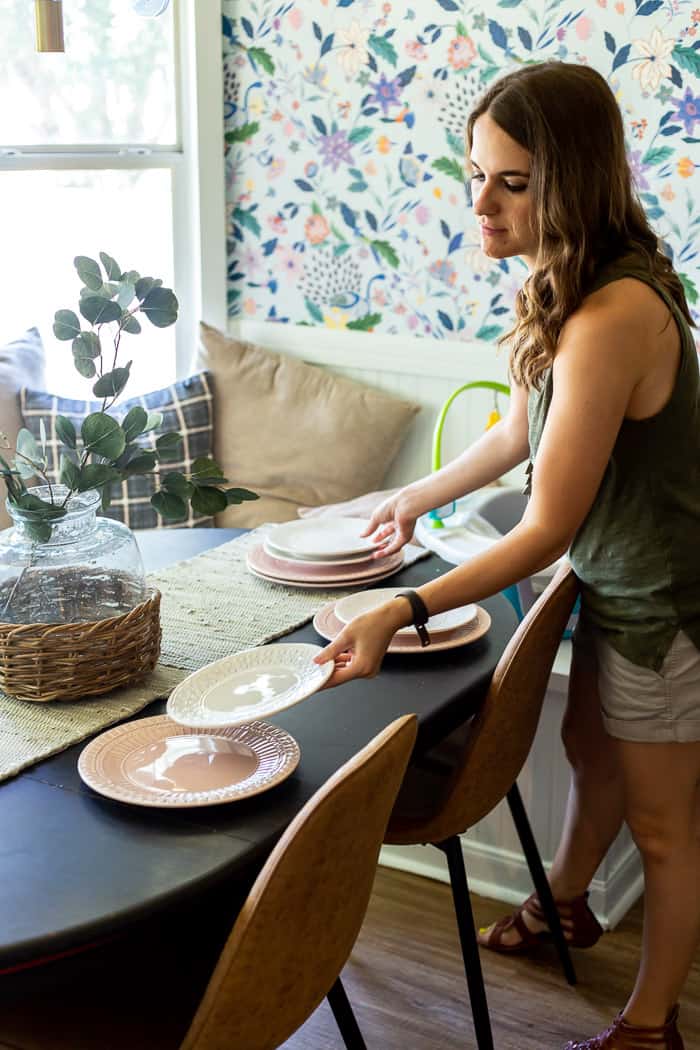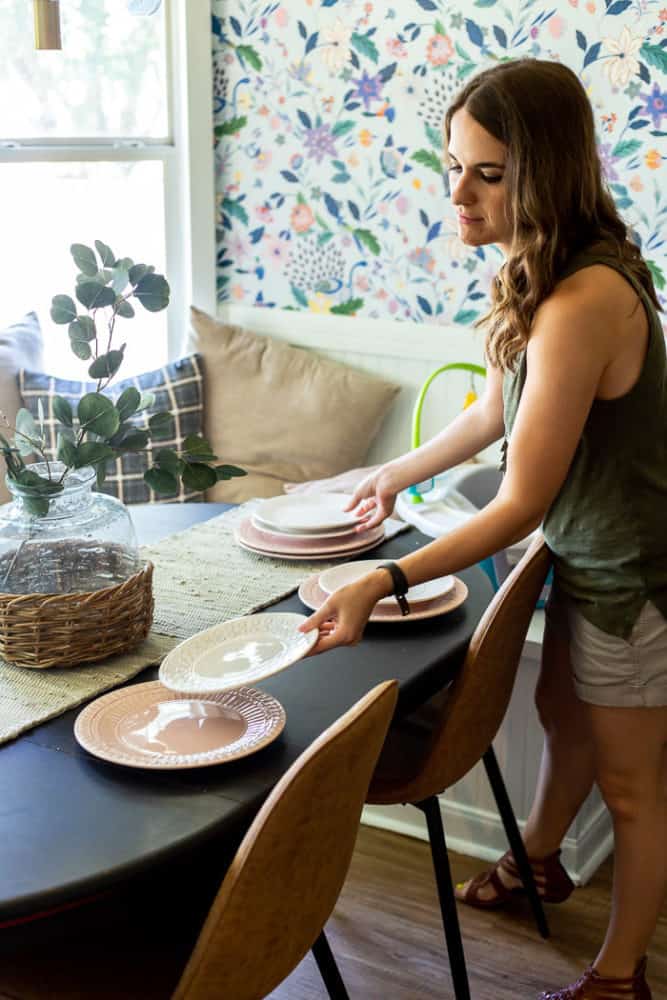 This post is sponsored by Tuesday Morning, but all opinions are 100% mine. Thanks for supporting the brands that support Love & Renovations!
I headed out to one of my favorite places to shop for home decor, Tuesday Morning, for a few new pieces to freshen things up in here. I wanted to create a more neutral feel with a lot of the decor (the wallpaper speaks for itself, you know what I mean?!) and I had really rushed a lot of the decorating elements the first time around – a six-week renovation will do that to you.
I quieted the shelves down quite a bit, and added a gorgeous, simple vase to the table to act as a centerpiece. I'm so pleased with the little updates and now I really smile again when I walk in this room instead of looking at all of the small things I still want to change.
We also hosted some friends for dinner and some games this weekend. There's just something about a refreshed space that energizes me and makes me want to invite others over to enjoy it with us! We've learned a few tips and tricks about how to make the most of a small space when you're entertaining, so I thought I'd share them here.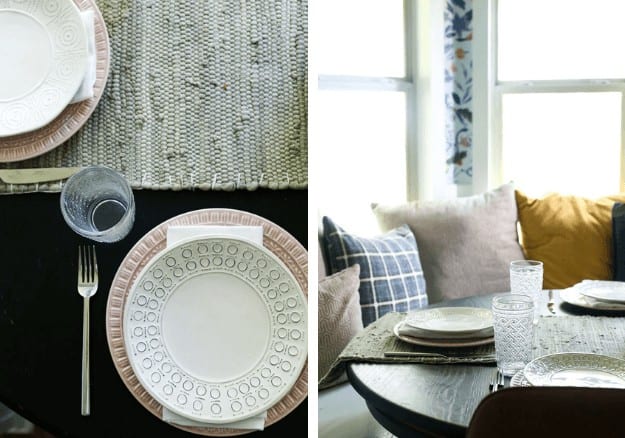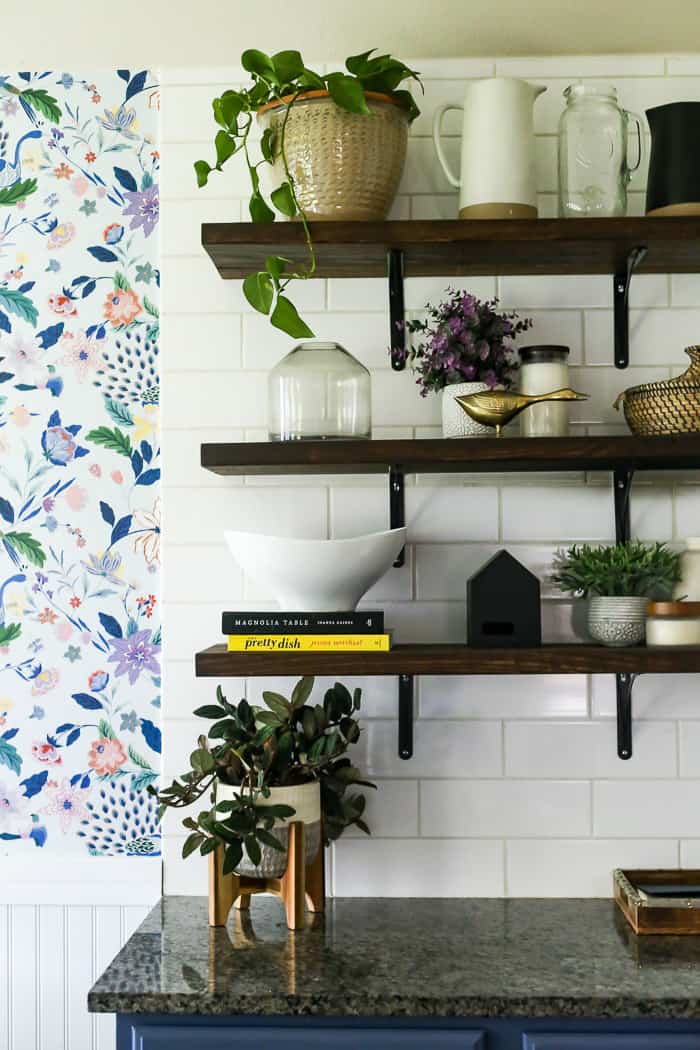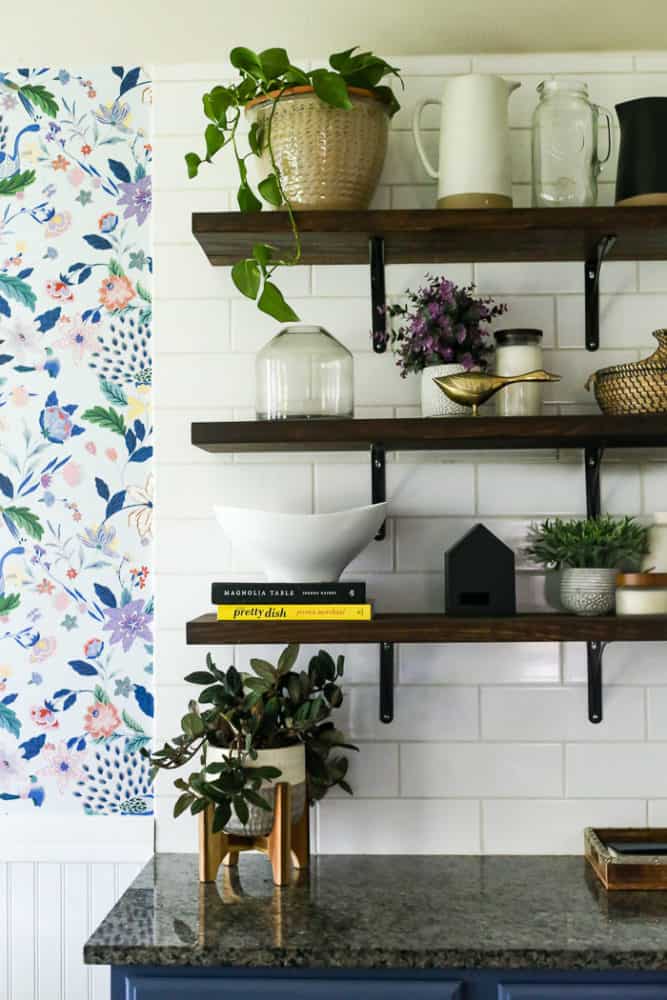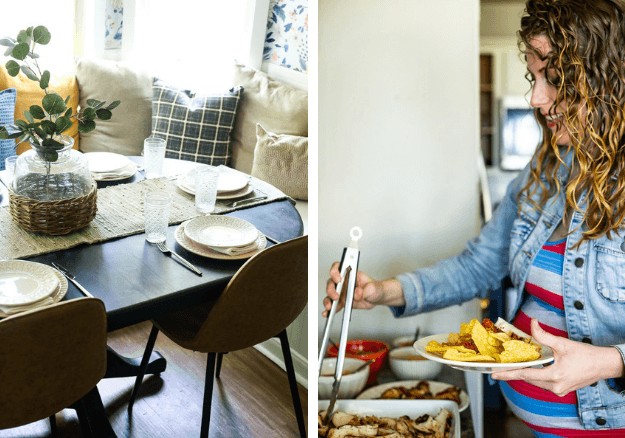 TIPs for entertaining in a small dining room
Have a landing spot for food. In our old home, we had a massive dining room table and we generally placed all of the food on the table so it was within easy reach of everyone. Now, however, it would just feel crowded! Instead, we pile the food up on the counter near the dining room table and allow guests to serve themselves. It's a little more casual and works really well in our small space! The only catch is that whoever is sitting at the back of the bench will likely need some help getting seconds – and sometimes when we're serving something like chips and dip, we'll bring a couple of things over to the table for easy snacking! I also only invest in serving dishes that I love – cooking becomes a lot less of a chore when you get to serve up your food in a gorgeous dish. I snagged two new ones at Tuesday Morning last week, and I think it might be time to admit I have a problem with collecting way more serving dishes than I'll never need.
Consider bench seating. I cannot say enough good things about the built-in bench seating in our dining room. It was the perfect solution for the small space, and we can comfortably fit so many more people than we ever could before! It's easy to fit 6 people at the table, and we've squeezed in as many as 8 – if you're just working with regular chairs this is just about impossible. I highly recommend some sort of bench (or built in) seating whenever possible – especially if you have a more casual space like we do!
Keep decor simple. Fancy, elaborate centerpieces and small dining spaces do not play well together. Instead, keep things as simple as possible so the room doesn't feel crowded. This is a large part of the reason we chose to install floral wallpaper and a dramatic chandelier in the room – they get to be the stars of the show and the room feels nice and decorated without too many other things. I like to keep our centerpiece as simple as I can, and I am very mindful when I'm decorating the open shelving. As soon as things get too colorful or crowded, the room starts to feel even smaller.
Use place settings and decor that you love. On that note, since you're only going to have a few things in the space for decor you should always make sure you're head over heels in love with what you bring in. A perfect example of this for us are all of the throw pillows along the bench – it was quite a headache to style the first time around, and we lived with the original setup for about a year before I finally admitted I just wasn't a fan of what we had. I replaced a few of the pillows with some gorgeous patterned pillows from Tuesday Morning and I instantly fell in love with it again. They're the perfect counter-weight to the super girly wallpaper, and I just can't get over how perfect they are for the space. If you want to love the room as a whole, you've got to make sure you love all the little details along the way!
Stick to simple, easy to prepare foods. I love an elaborate dinner party and nothing makes me happier than cooking all afternoon for a gathering with friends. BUT. I've learned that in a smaller space it's actually much more enjoyable for everyone if I skip the cooking marathon and stick to really easy to prepare and easy to serve meals. If you're still wrapping things up when your guests arrive (and, let's be real, we almost always are!), the clutter and chaos in the kitchen can overtake everything when you're working in a small space! Instead, stick to things that can be fully prepped ahead of time (like slow cooker meals) or things that come pre-prepared – the less work you have to do, the less chaos there will be in your kitchen. One of my favorite strategies is to prepare something that can be served multiple ways (instead of feeling like I need a lot of sides for options) – for this dinner, we cooked up some delicious grilled chicken, and then we had tortillas, tostada shells, and chips, so our guests could make nachos, tacos, or tostadas! You could even whip up some quick quesadillas for the kids. It's really helpful to serve something versatile because then you don't feel like you need as much other stuff. We kept the sides simple – beans and rice, along with some queso and salsa. Add some homemade sangria (I have the best recipe ever) and you're done!
Finally, don't stress or apologize! When you live in a small space, it can be so tempting to apologize to guests for the tight accommodations. I sometimes find myself blurting out an apology as I watch someone slide into the back of the bench or have to ask for help getting seconds. I cringe when I realize that our dining room is about half the size of our guests' dining room…but guess what? Or guests don't think about this or care! If you have a beautifully decorated space that you can be proud of (regardless of its size), you'll find yourself apologizing a lot less and simply welcoming people into your space. Your friends want to spend time with you and don't care if your dining room is a bit cramped – especially if they're busy enjoying your delicious food!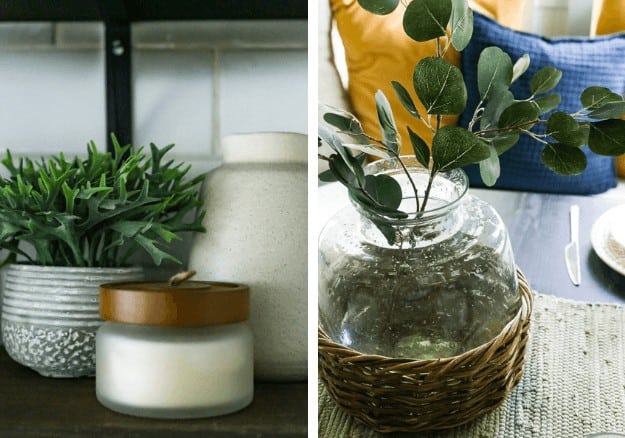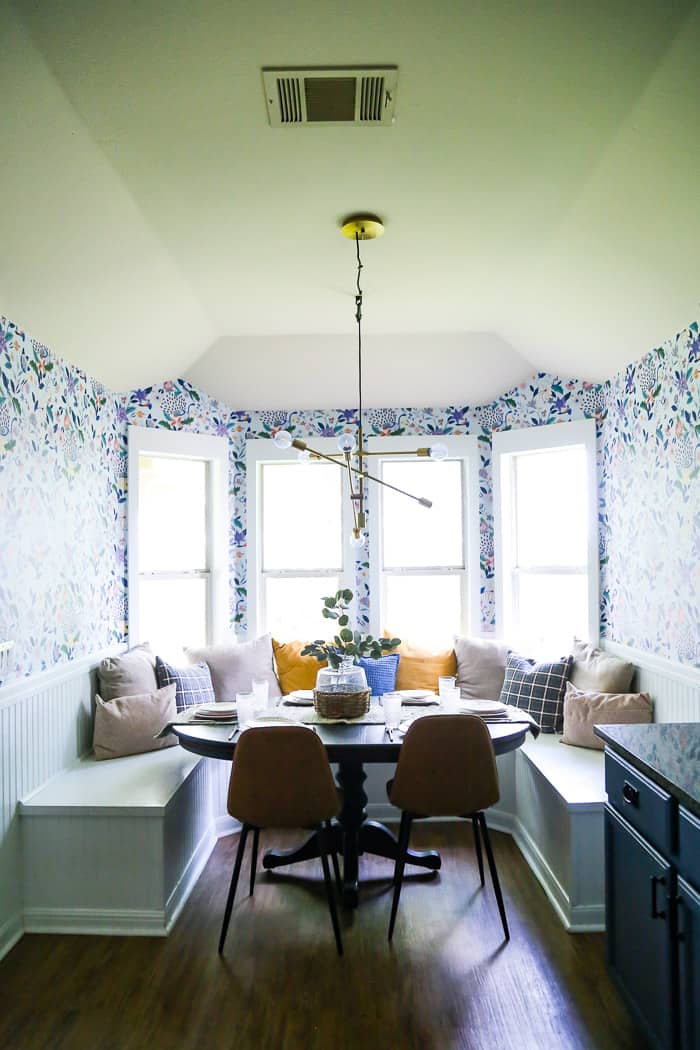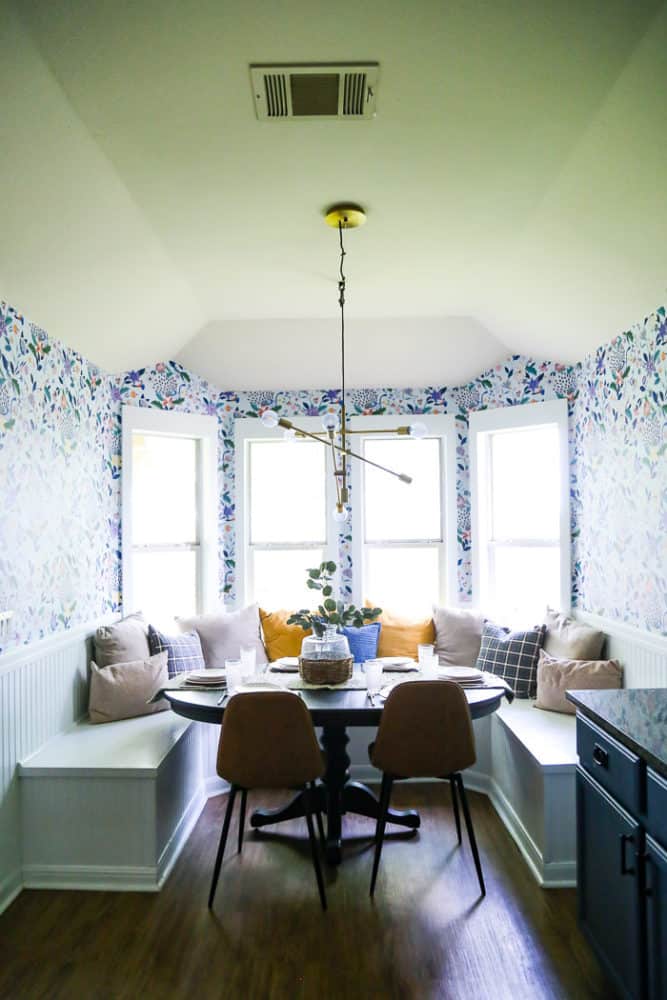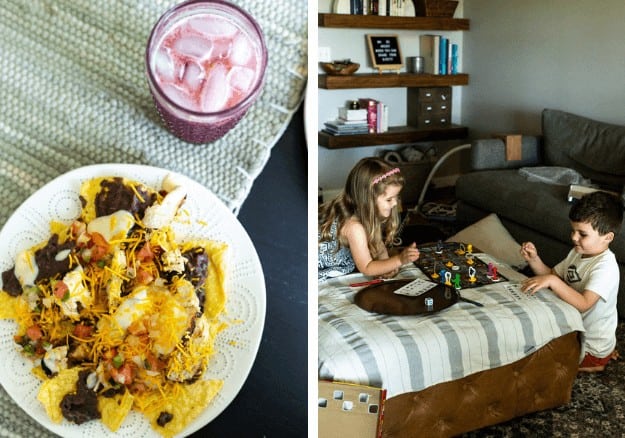 I just love how this room is looking now and I'm excited about the prospect of beginning to host a few more gatherings here – especially now that the weather is warming up and we can kick the kids outside to play for a while!
What rooms in your home are needing a little refresh for the spring? I encourage you to spend a little time this week showing them some love and then having some friends over to enjoy the spaces with you. There's absolutely nothing better than sharing your home with the people you love, no?!
Click here to find your closest Tuesday Morning and get shopping – every time I head in, I'm amazed at the fantastic deals and the quality of what I find. It's like a little hidden stash of treasures just waiting to be found!