My Go-To Thanksgiving Centerpiece
Thanksgiving is right around the corner (already? how?!) and I've been doing a lot of thinking about hosting, setting the table, and finding the best cheap Thanksgiving table decorations to make our home feel cozy without breaking the bank. And, as I was planning for our Friendsgiving dinner this past weekend, I realized that I tend to have a go-to Thanksgiving centerpiece. I use the same basic formula over and over for Thanksgiving and, honestly, almost every other holiday.
So today, let's dive into my formula for the simplest, prettiest Thanksgiving centerpiece around, my favorite table settings and tips for hosting a lot of people, and some gorgeous cheap Thanksgiving table decorations I found to help you host the best Thanksgiving or Friendsgiving around.
My Go-To Thanksgiving Centerpiece
Let's start with the most important part of any table setting – the centerpiece. I love a really beautiful and elaborate centerpiece, but let's be honest: they aren't always practical. A huge floral arrangement looks incredible, but it can make conversation difficult if it's blocking your sightline. I much prefer something that only takes a few minutes to set up (no stress!) and doesn't feel overly fussy. I want my guests to feel comfortable, like they can chat without leaning, and like they don't have to be careful with the table.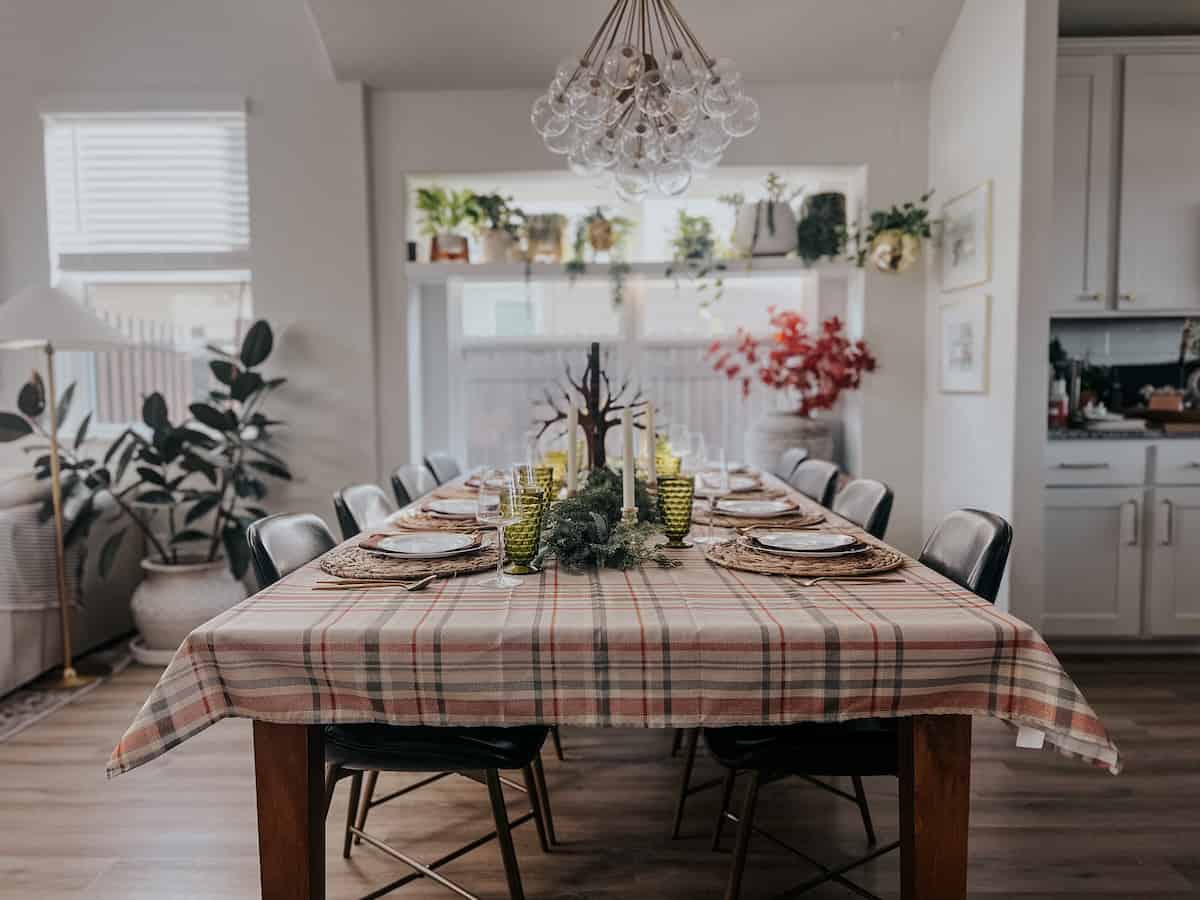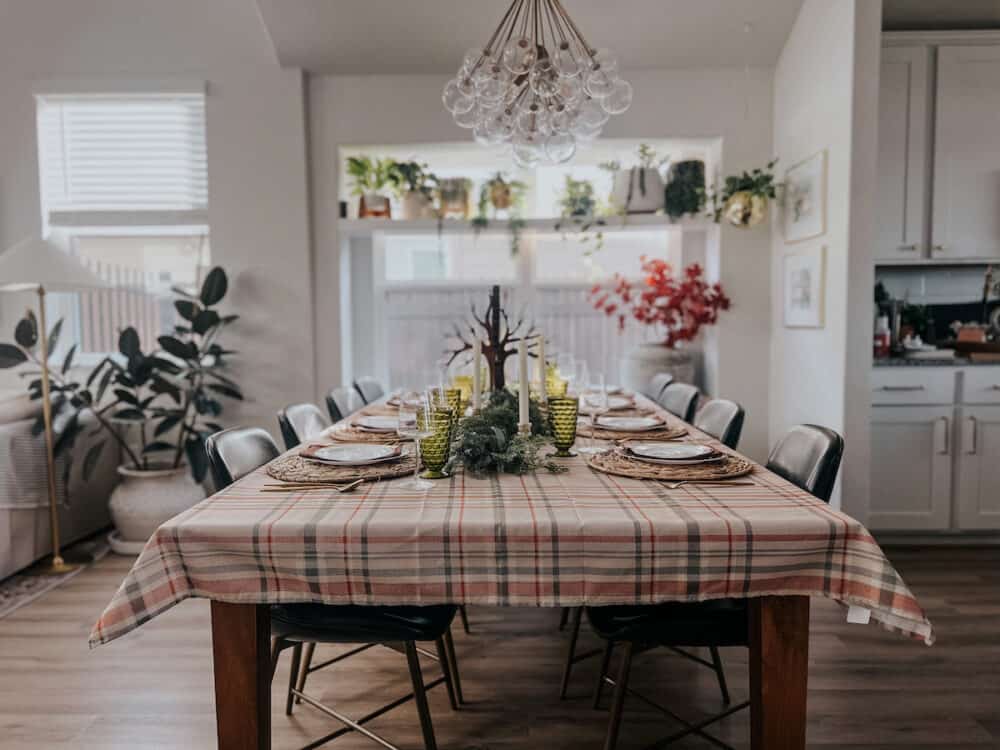 So, here's the basic formula:
A tablecloth or table runner
Some sort of garland or greenery
As many candles as you can squeeze on the table
One or two seasonal extras (like our thankful tree, some gourds, or small pumpkins)
DONE. That's it!
This easy formula can be adjusted and changed up to make it look different each year, but the formula never fails.
Let's take a deeper look at it.
Tablecloth or Table Runner
This is the first year I've ever used a full tablecloth on our table, and I love it. Normally I go for a simple table runner, or even a big ol' strip of butcher paper. I think this might be a new tradition for me, though, because I love how fancy it feels without any extra effort at all.
Garland or Greenery
Here's where it gets fun. I love to spread out a garland for both Thanksgiving and Christmas on the table. It adds some really beautiful texture and visual interest, and it's so much easier than putting together a bouquet.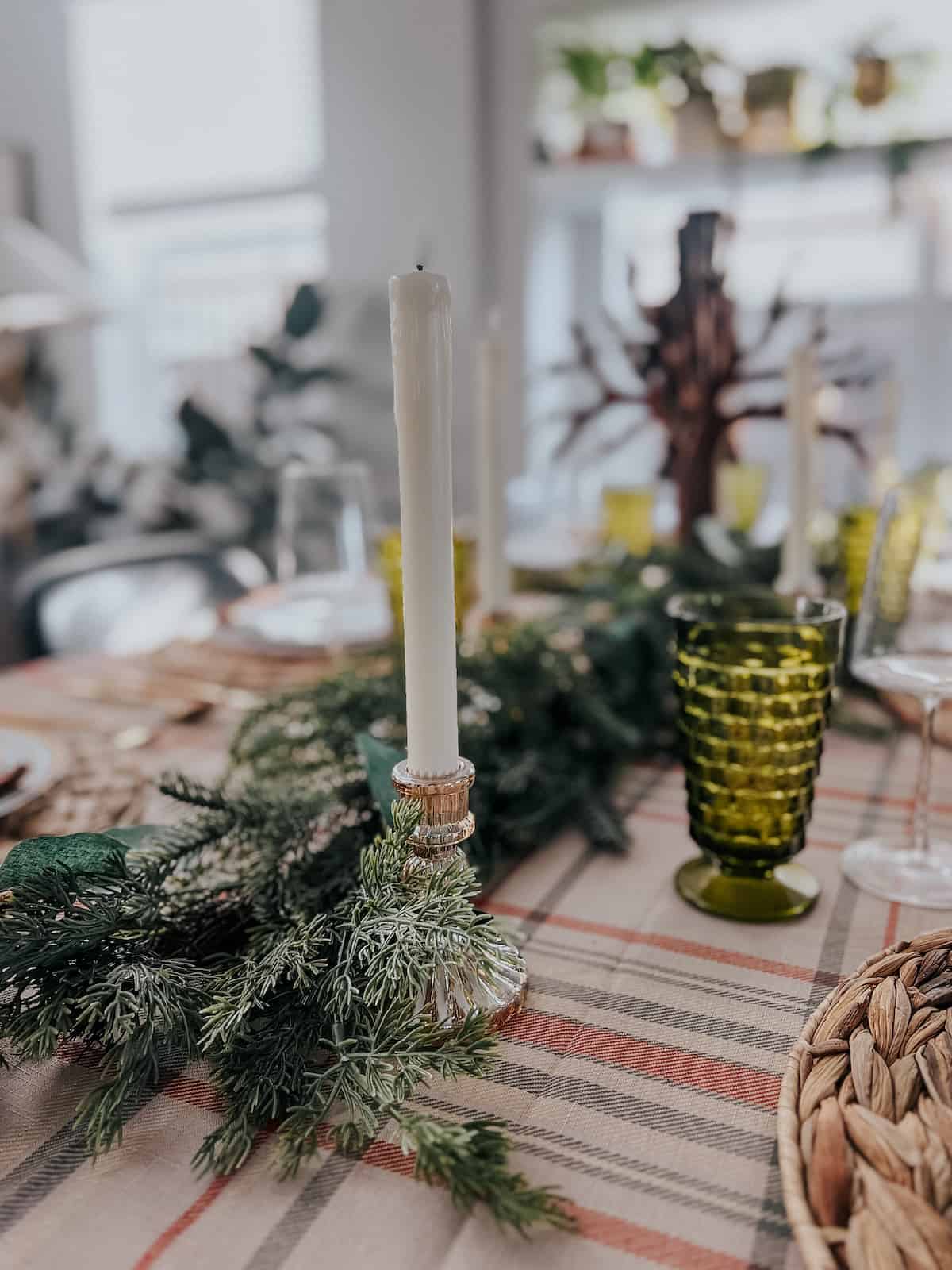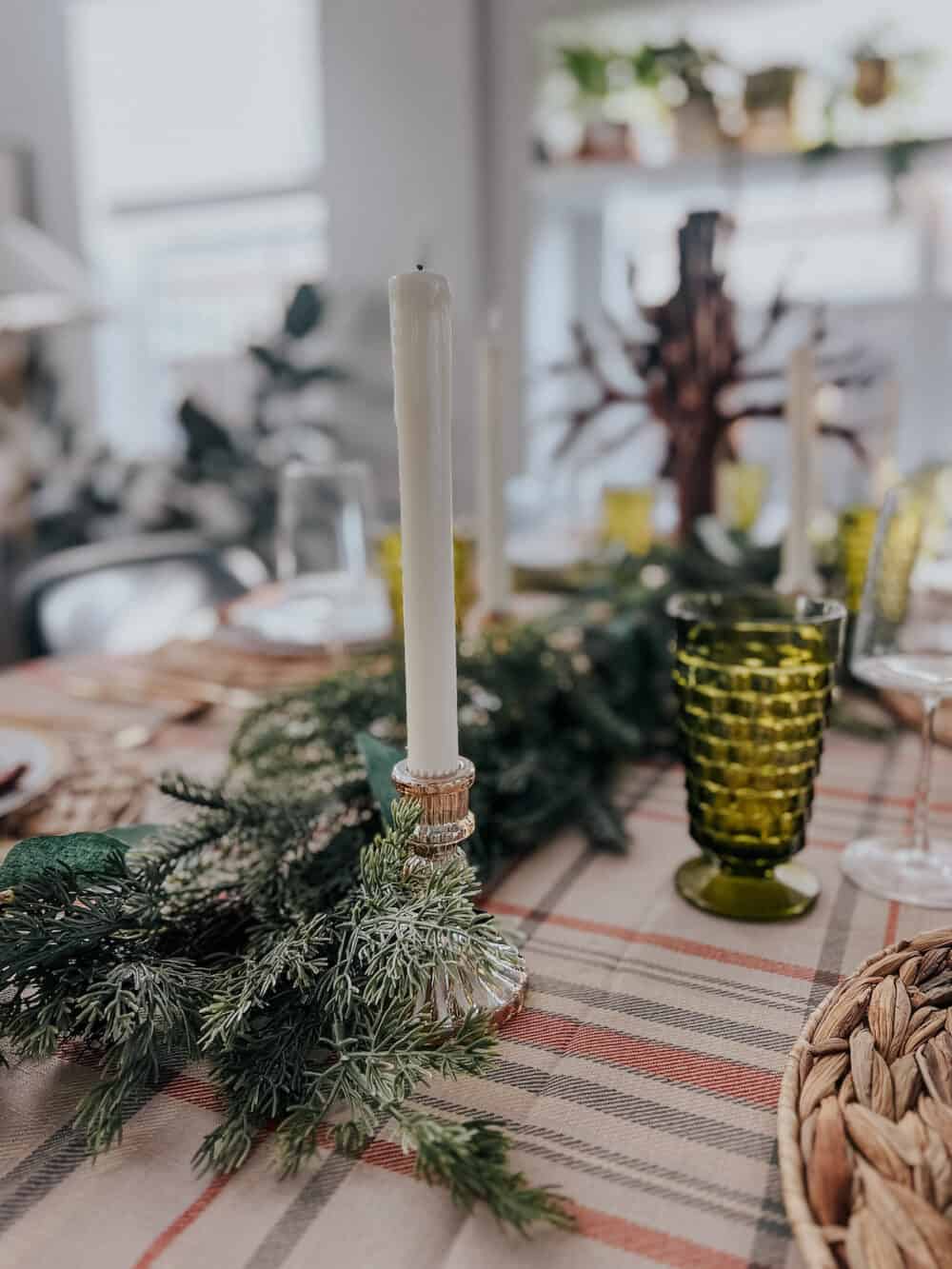 I found this gorgeous garland at Michael's this year, and it's perfect for a fall table. It has eucalyptus leaves mixed in with the pine, and that makes it feel less Christmas-y! You can also find garlands with berries mixed in, or pinecones attached – a little extra texture is always a good thing!
If you aren't a fan of garland on the table, here are some other ideas for adding some fall foliage:
Snip some colorful blooms from your garden or around your neighborhood. Greenery doesn't have to come from a florist, and you can often find gorgeous options right out in nature. Just make sure it's from somewhere you're allowed to take from before you start snipping!
Your local grocery store probably has gorgeous floral centerpieces ready to go! Dahlias, mums, hydrangeas, and lilies are all great options for your holiday table.
All the Candles
This is, to me, perhaps the most important component of a good DIY Thanksgiving centerpiece. Candles. All of them. You can't have enough. I love to spread a ton of taper candles down our dining room table for literally every big gathering we have. It never fails to make things feel special.
Sometimes I use real candles, but this year I decided to opt for these faux candles. I love how low maintenance they are, and they're ideal when you're using a table cloth – no mess! I put them inside these stunning candle holders and ran a bunch down the center of the table.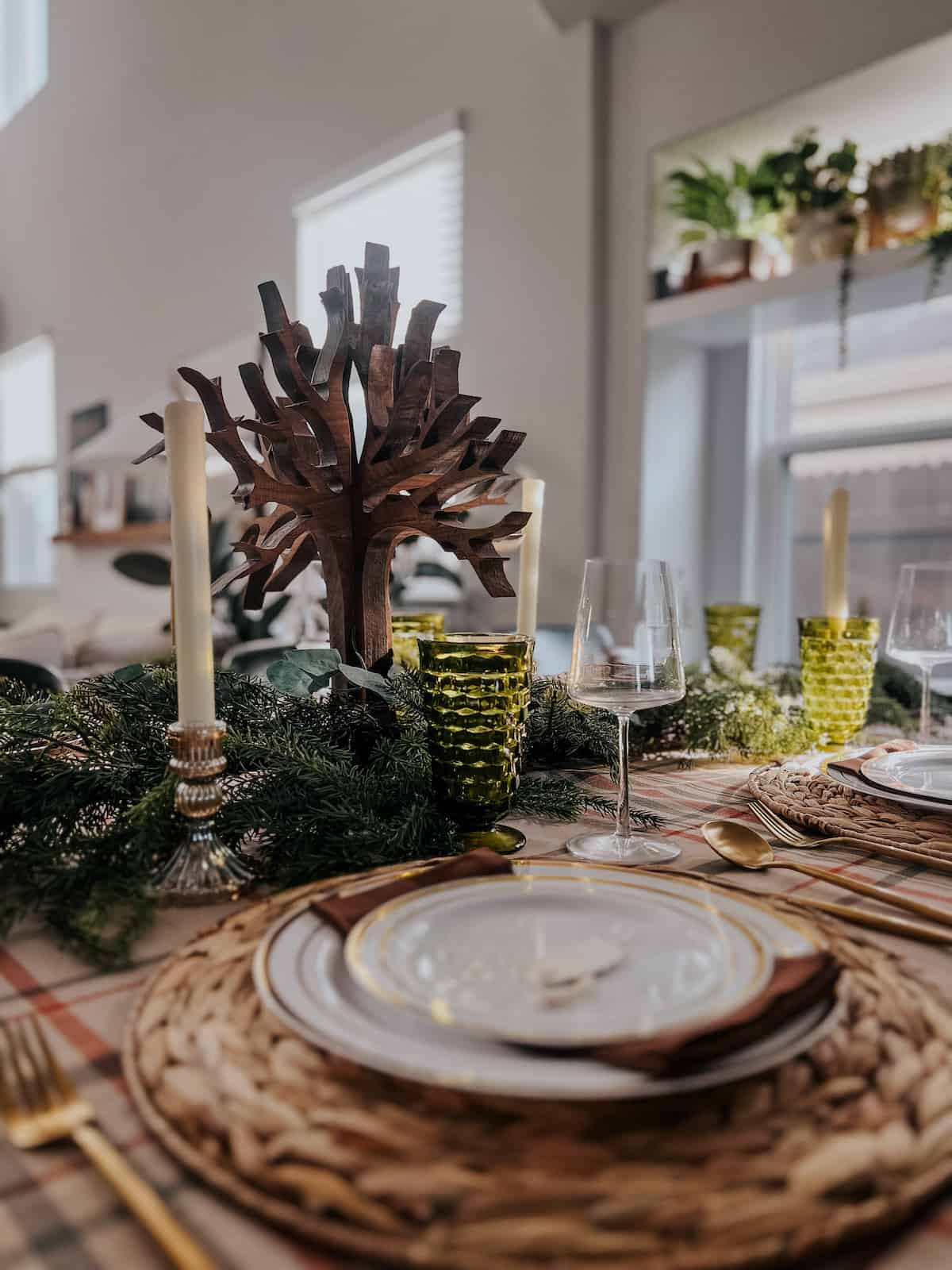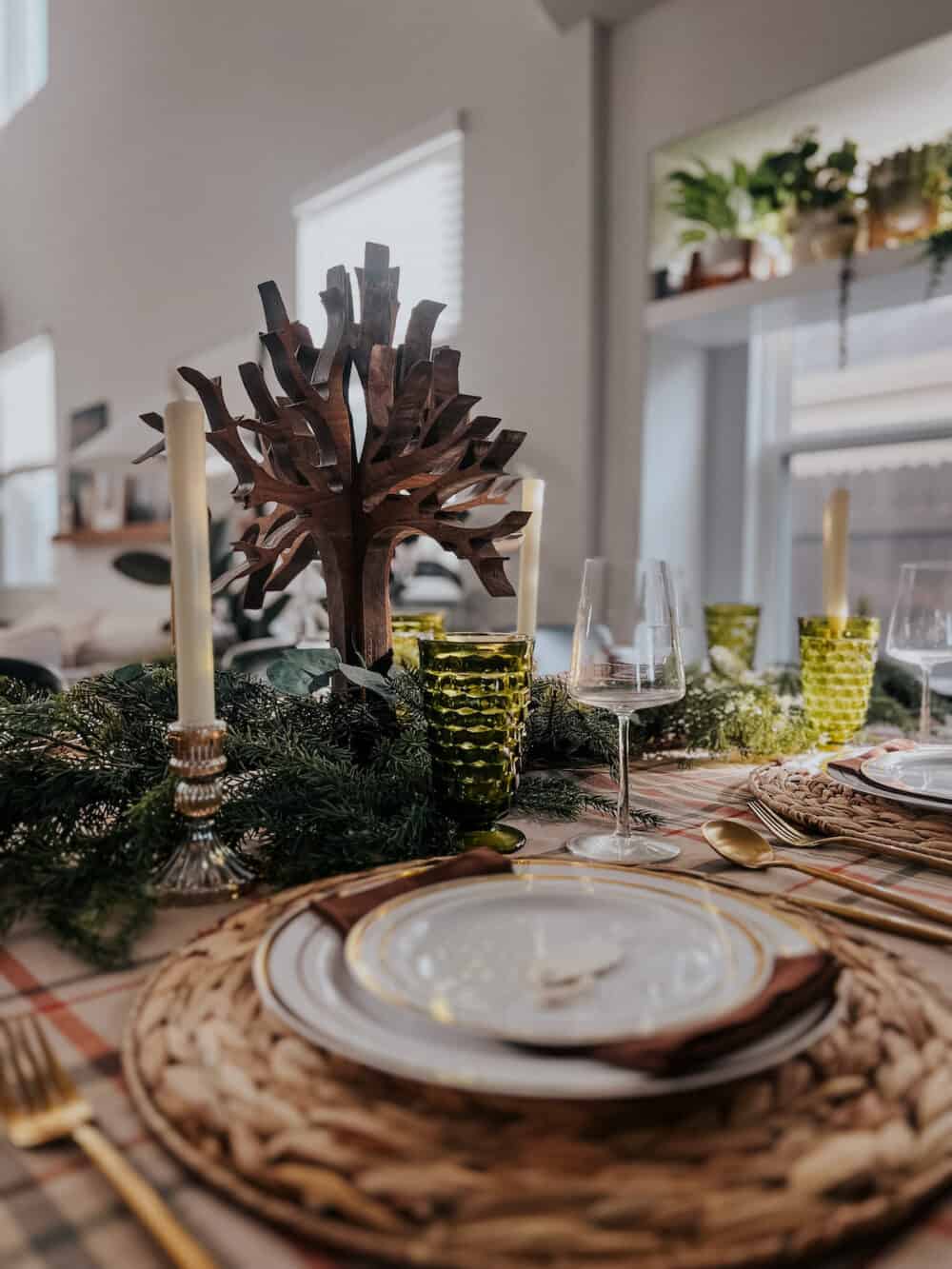 If you want some really special real candles, I have some of these set aside for our Christmas table! I can't get over how gorgeous the texture is and there are so many color options.
Something Extra
And finally, let's talk about adding that little something extra to your table. This is what takes it to the next level and makes your really simple table feel a little fancier!
This doesn't have to be anything difficult or complicated. I always add our thankful tree to our table, and that's an easy go-to. But, if you don't have one of those let me give you a few other options to help your wheels start turning:
Add a pretty bowl or two filled with acorns or pine cones.
Tuck some dried orange slices into your garland
Add a couple of white pumpkins to the table
Sprinkle in some whole fruit on your garland – pears, mini pumpkins, or pomegranates would all look beautiful! Last year, I added fresh apples to each place setting!
Finally, you could make it super functional and add a tray with a water carafe to each side of the table for easy water refilling!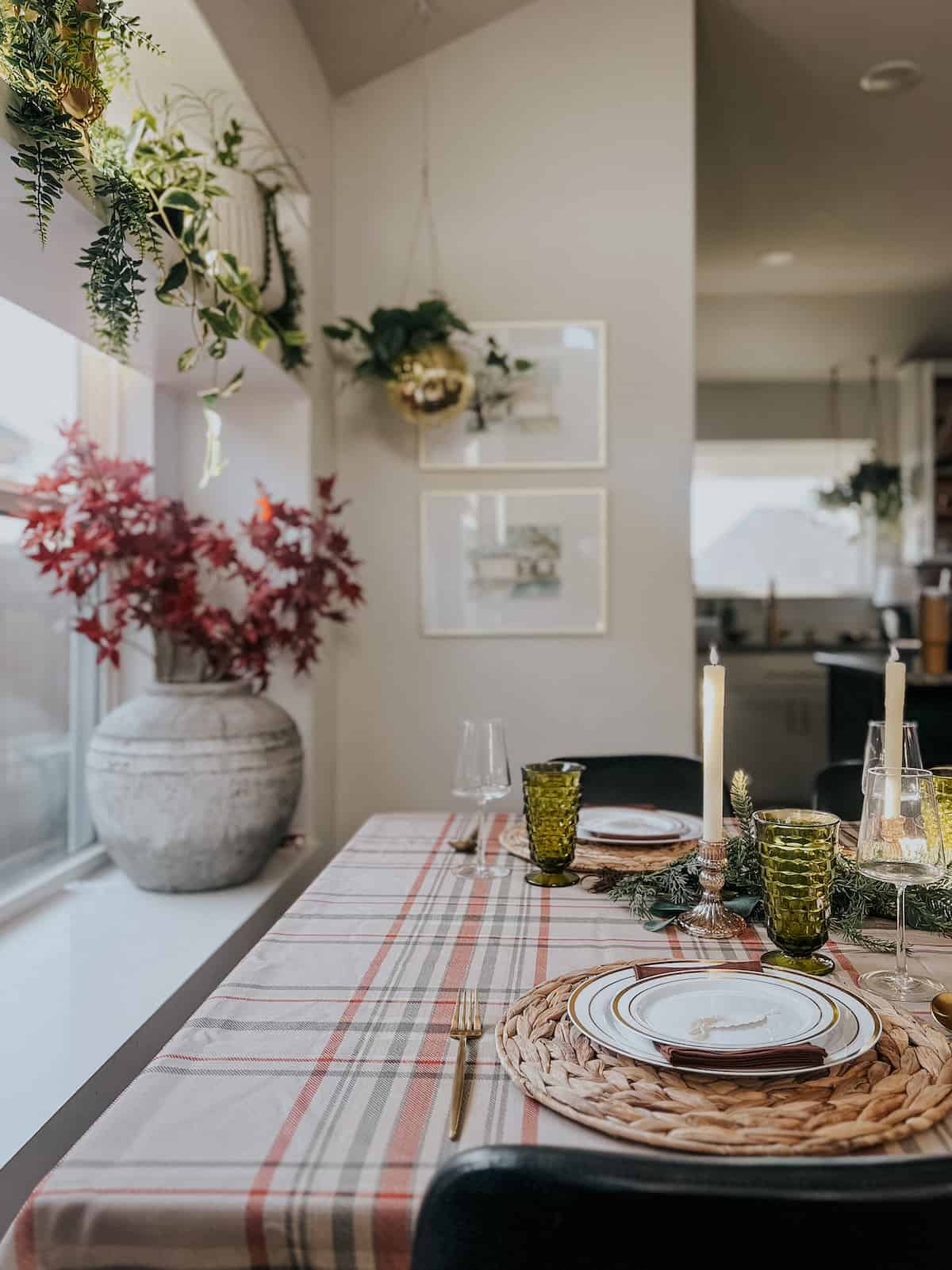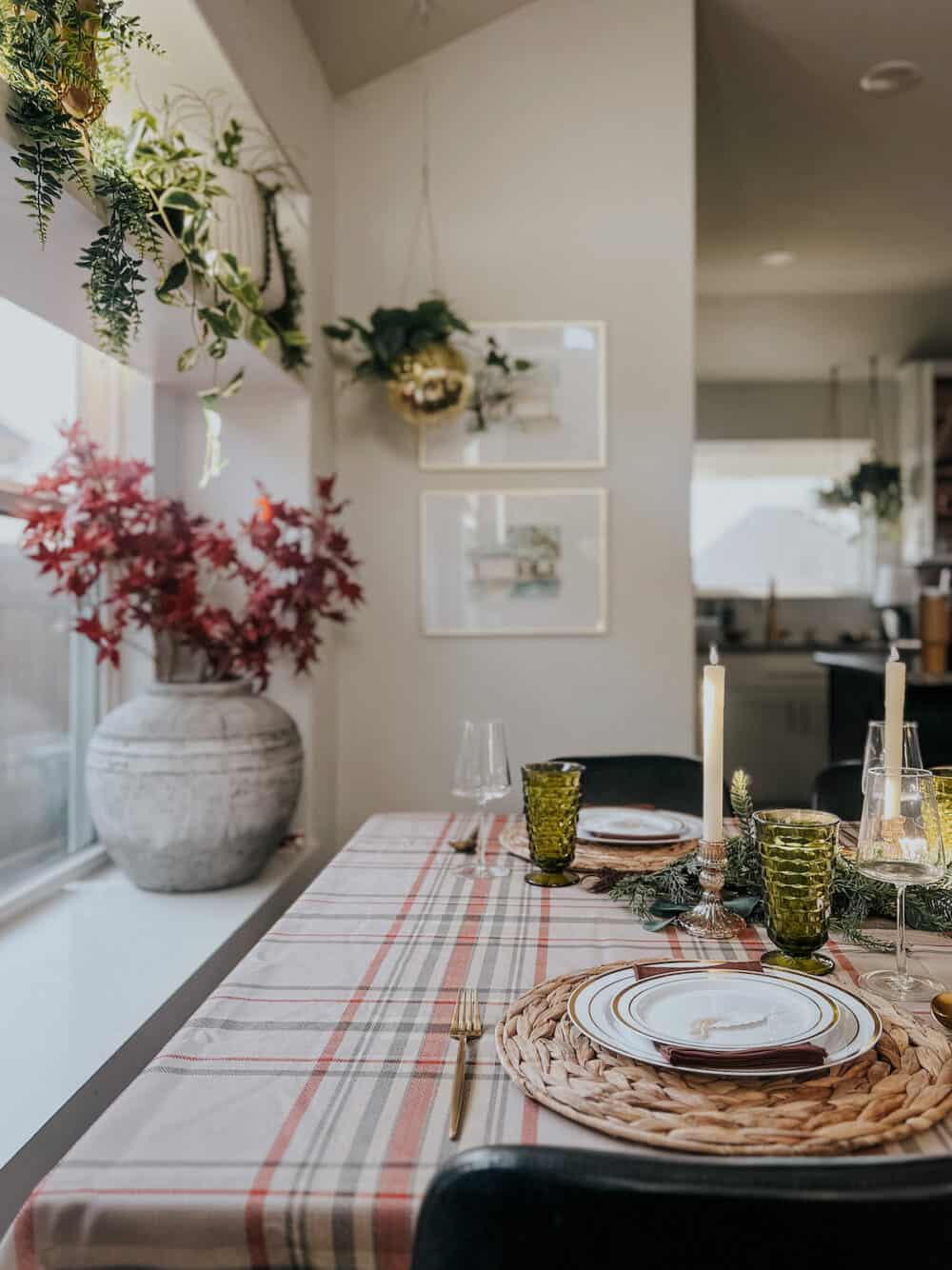 The Easiest Place Settings
Now, let's talk about our place settings. When I'm hosting a lot of people I want things to be easy. I'd much rather focus my attention on prepping our feast (turkey! pumpkin pie! stuffing!) than worrying about making the table look perfect.
I don't often use disposable plates or silverware, but the best time to use them is when you're having a big dinner party. You don't want to spend the whole evening in the kitchen after Thanksgiving dinner! The biggest problem with using disposable dishes, though, is that they can make things feel too casual.
Thankfully, I've solved that.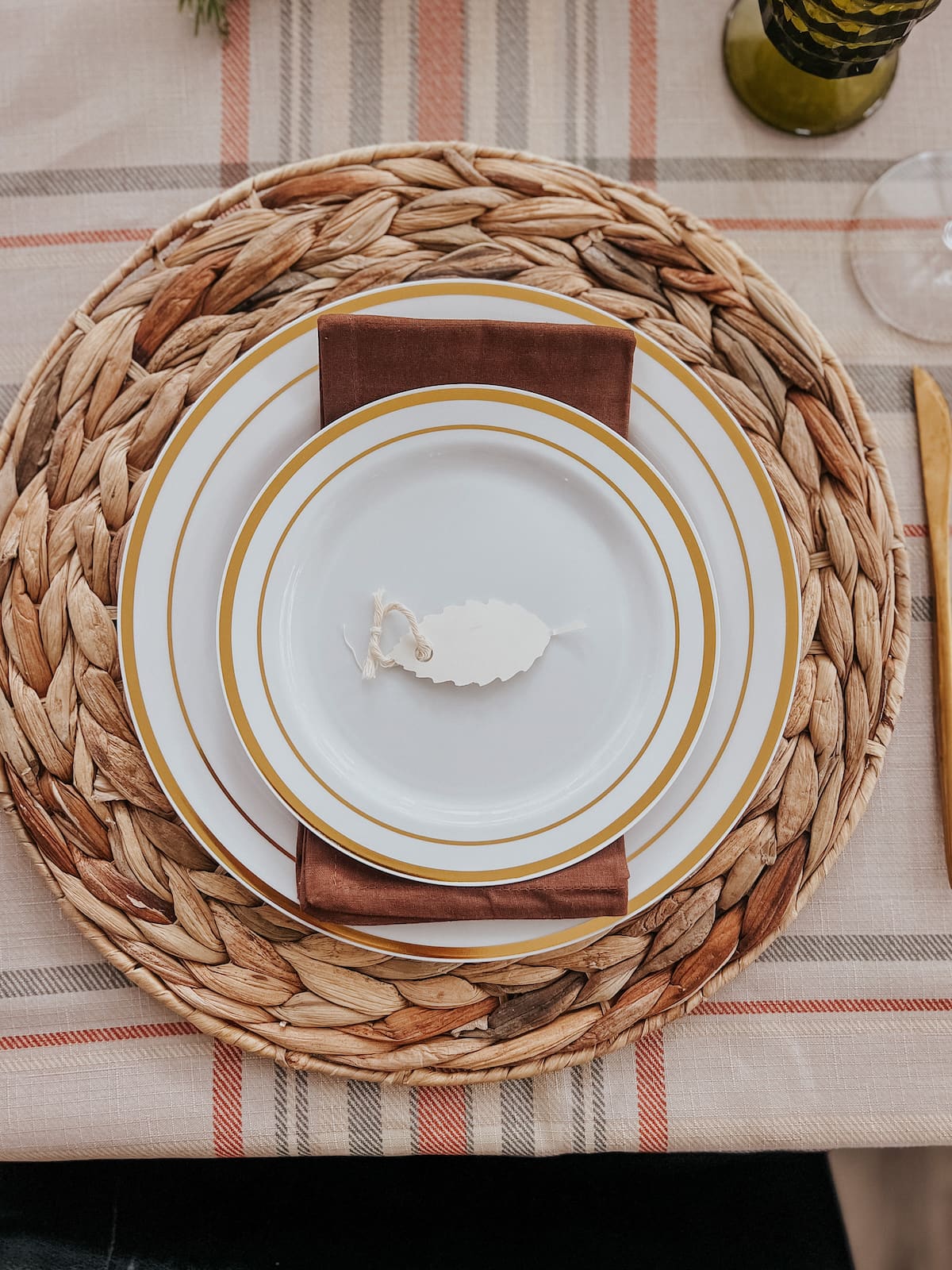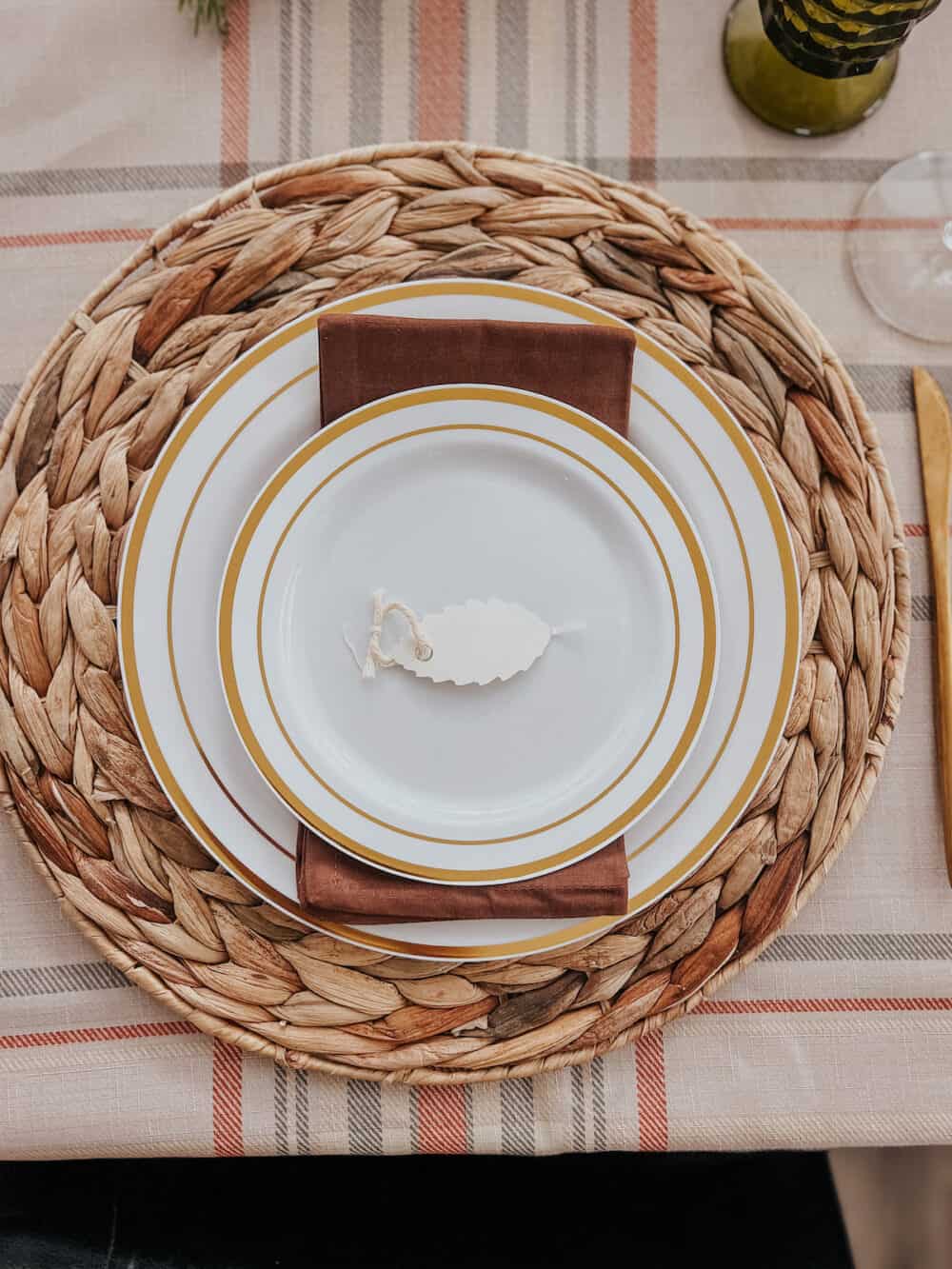 Last year, I discovered these gorgeous disposable plates and they're my new favorite thing. They look and feel so much fancier than any other disposable plate out there. They don't drag my table down and, when I mix them with some real linen napkins they feel really elevated.
I also like to grab this plastic silverware from Target. It's only $6 for a box, and the gold color feels luxe.
You can also grab disposable glasses if you really want to keep things simple, but I always mix in regular dishes. I can just toss the drinking. glasses in the dishwasher once we're done and there isn't any rinsing involved, so it doesn't feel like too much work!
Cheap Thanksgiving Table Decorations
Finally, let's round things out with a few simple serving dishes and table decorations to provide some inspiration! I didn't cover serving dishes at all in this post because we tend to pile all of our food on the kitchen island, but I do put a lot of thought into the serving dishes we're using!
I love using special, beautiful serving dishes for every gathering, and it can add a lot to your table if you end up spreading your food out on the dining room table. So, you'll find some really pretty serving dishes to add to your tablescapes here.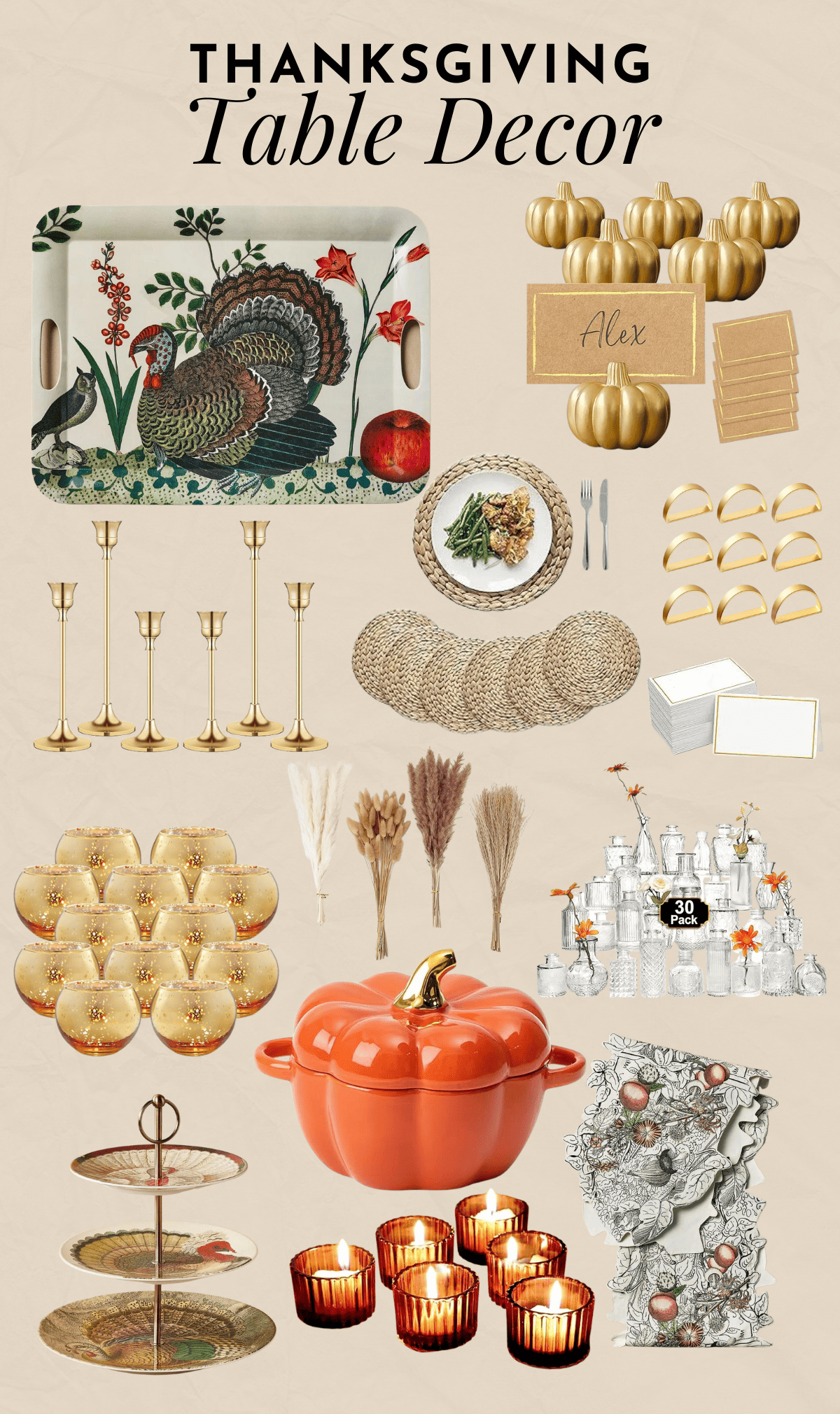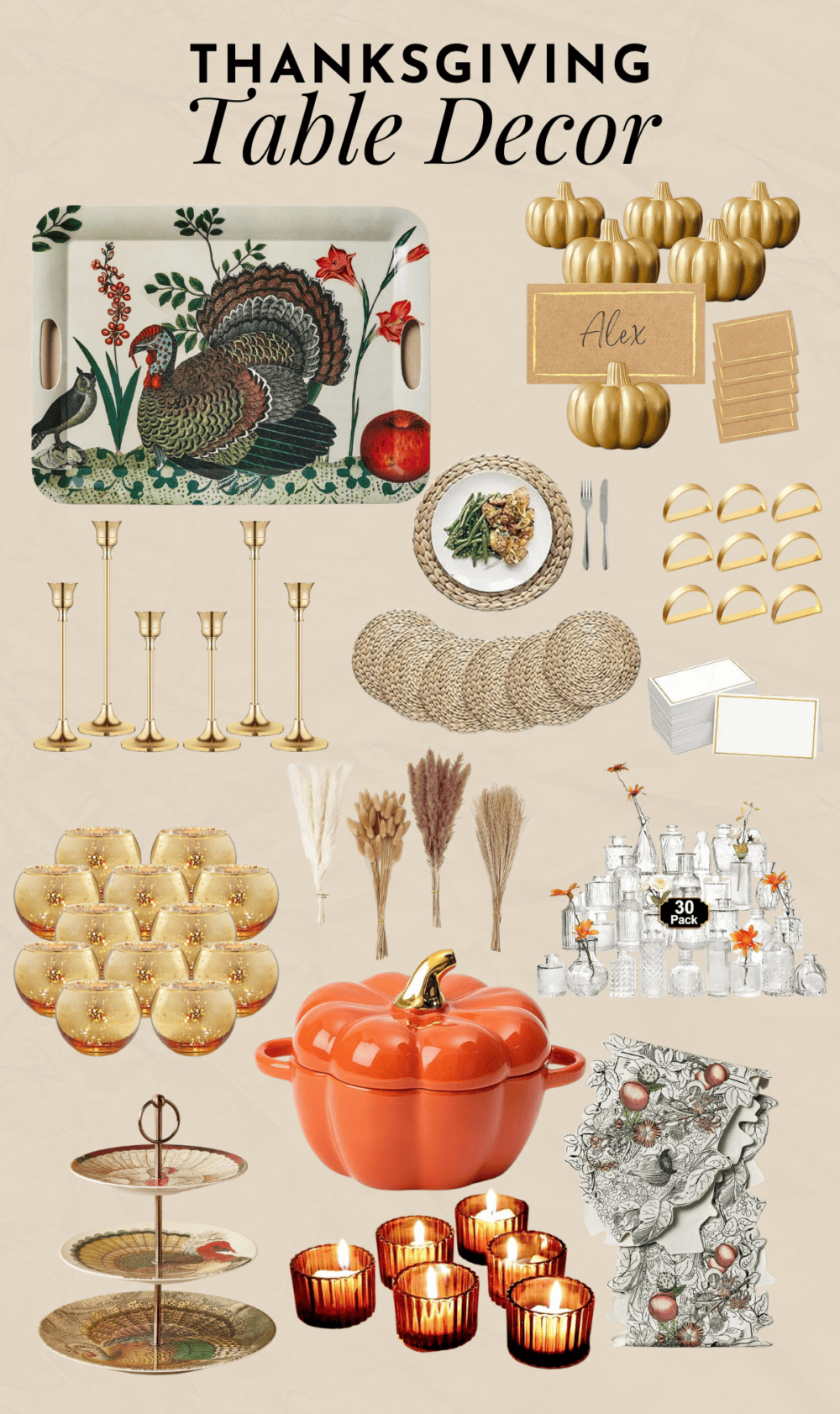 If you want another source for inexpensive Thanksgiving table decor, try the dollar store! I know it sounds silly, but you'd be shocked at how much you might find for your Thanksgiving tablescape at Dollar Tree. I love their gold chargers for Christmas (I use them every year!) and you can find really great platters, packs of fall leaves to scatter on the table, decor for the kids' table, and all sorts of other fall decor that might work. You'll have to sort through some not-so-great stuff, of course, but give it a shot. It just might surprise you!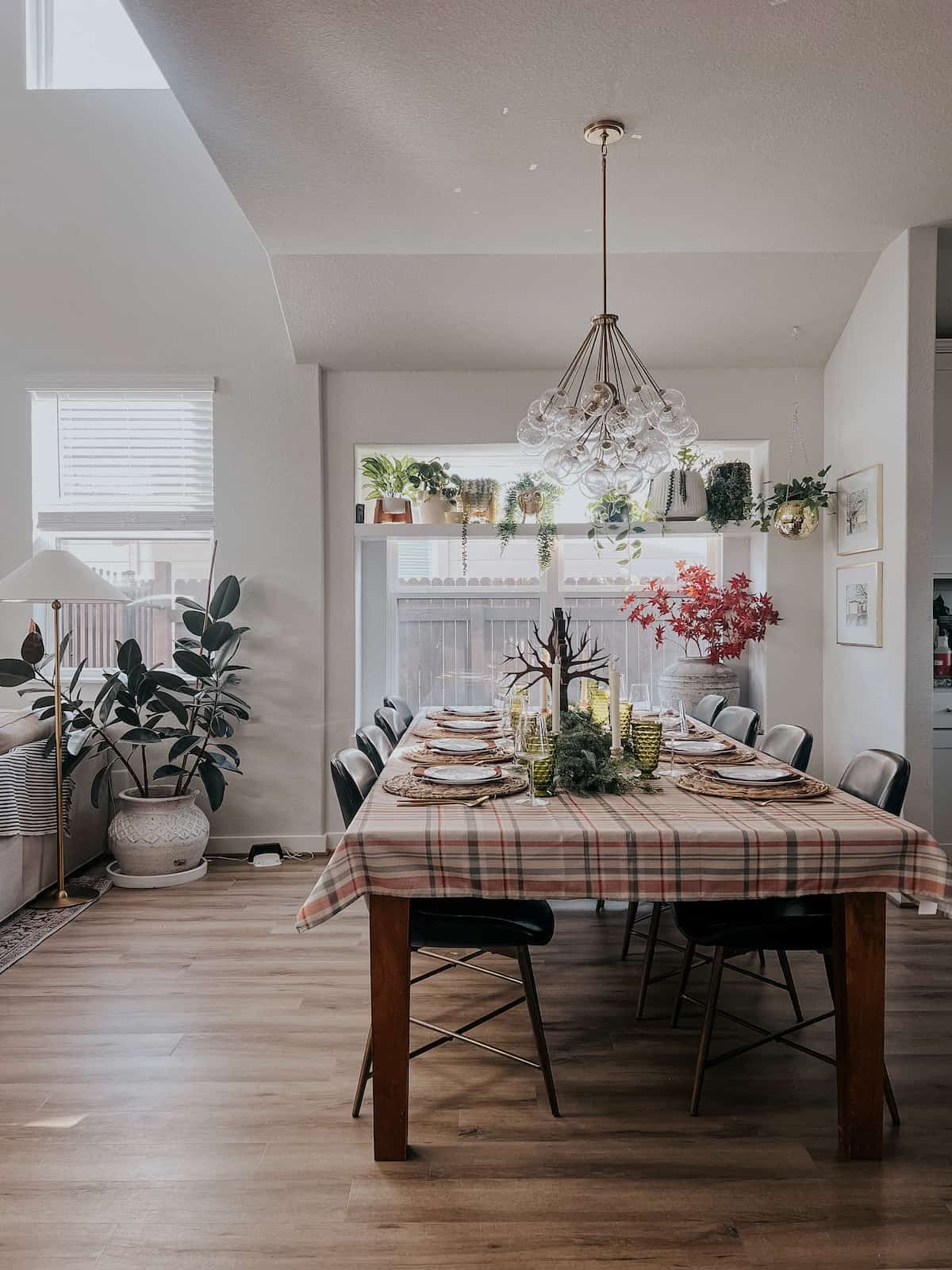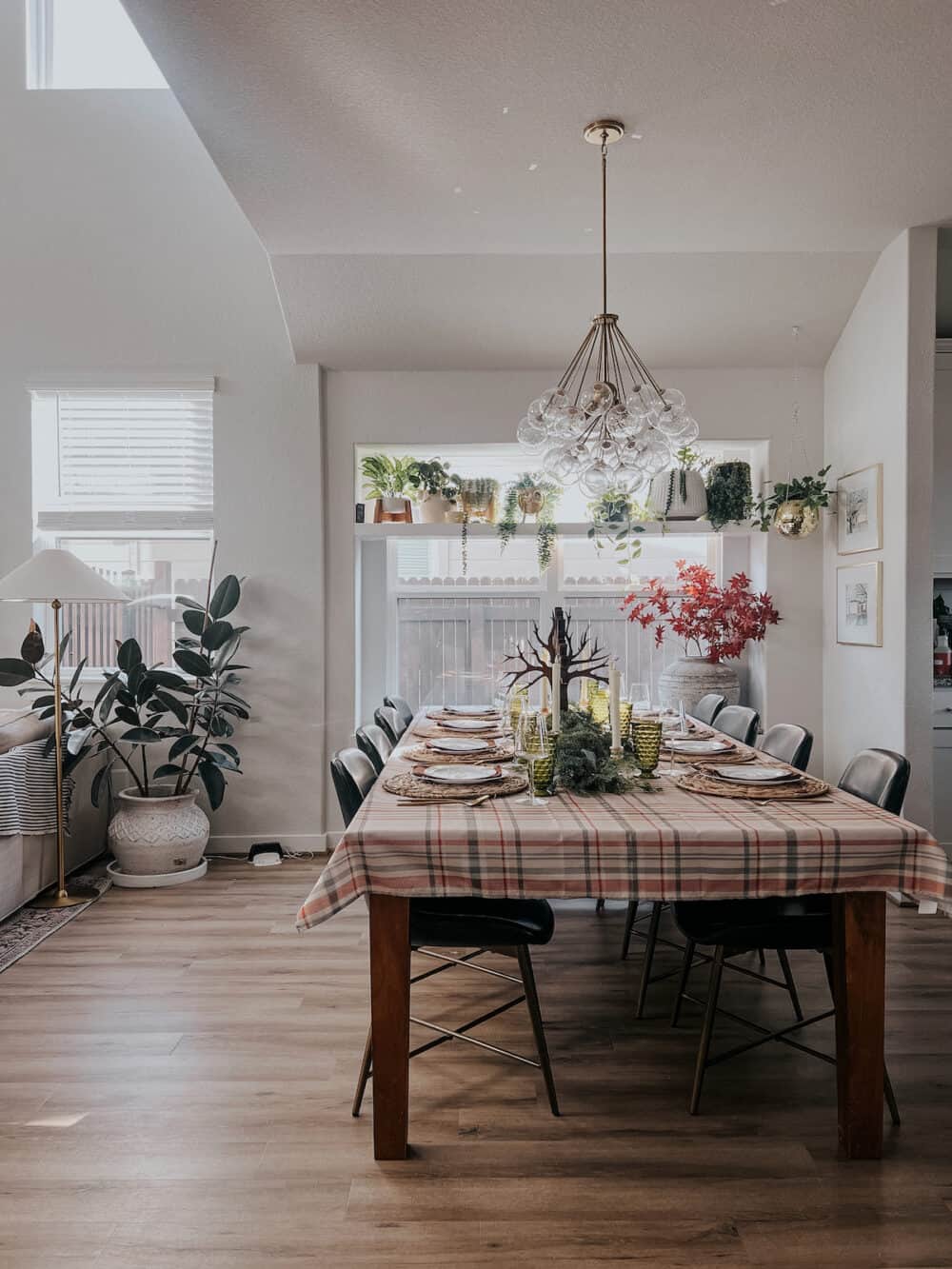 And there you have it. Tons of Thanksgiving table decor ideas that hopefully have you feeling really excited to do some hosting this holiday season!
Happy hosting!
related posts
Thanksgiving Inspiration